Signage as seen outside the One-Stop Career Center in Las Vegas on Thursday, Sept. 3, 2020. (Daniel Clark/The Nevada Independent)
Utility regulators may be next to help DETR; state now borrowing from feds to pay unemployment
December 19th, 2020 - 2:00am
State officials say they're considering bringing on law students and staff from the Public Utilities Commission to help conduct appeal hearings when people contest a denial of unemployment benefits.
Leaders of the Nevada Department of Employment, Training and Rehabilitation (DETR) provided updates on their operations Friday to the Legislature's Interim Finance Committee, which authorized the expenditure of $29 million in federal grants to support DETR operations. But officials said it has been difficult to keep up because 1.5 million initial claims for unemployment have been filed since mid-March — the equivalent of every single person in the Nevada's civilian workforce applying for benefits.
"We've had literally tens of thousands of applications coming in on a continuing basis since the strike force started," said DETR Administrator Elisa Cafferata, referring to a group of outside experts appointed to help DETR sort out chronic issues starting in August. "So it's very difficult to make headway in the overall backlog because of the number of applications that are continuing to inundate us."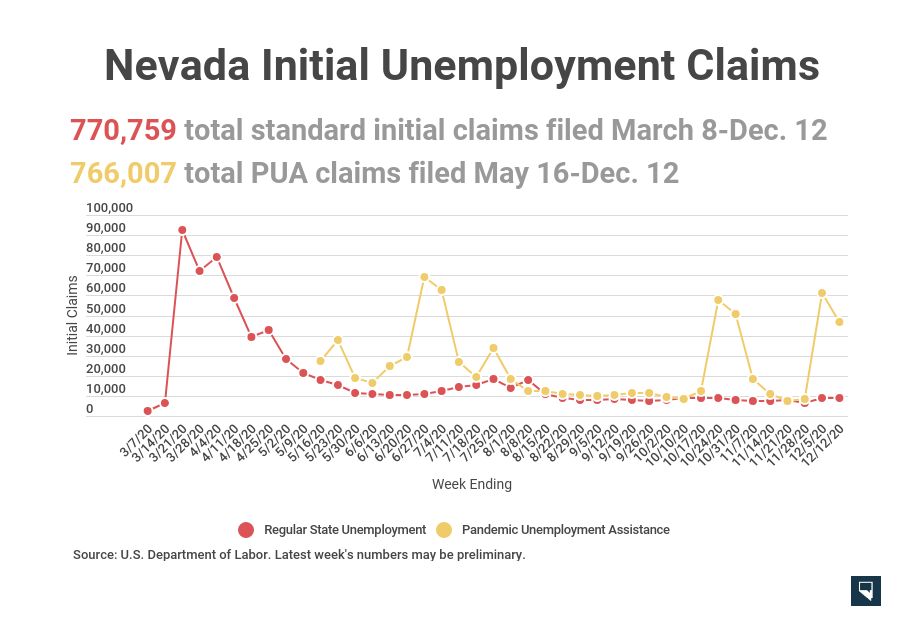 Applications to the Pandemic Unemployment Assistance (PUA) program for gig workers and the self-employed have followed a particularly erratic trend. While economists predicted that 80,000 to 200,000 people in Nevada might be eligible for PUA, the program has seen close to 800,000 applications.
Last week, there were nearly 46,000 initial claims to PUA. The week prior, there were 61,000, and the week before that, there were only about 8,000.
"Applications in the PUA program continue to be highly variable," DETR officials said in a press release on Friday. "Future research may help us to understand this volatility; however, DETR's current focus is resolving claims for eligible Nevadans."
DETR has issued mass denials in the PUA program, disqualifying at least 437,000 claims to date, largely over inability to verify the claimant's identity. Claimants have the right to appeal if they believe they were wrongly denied, although the quasi-judicial hearings that make up appeals can take considerable time and only began last month.
DETR didn't immediately answer an inquiry Friday evening about how many appeals are pending. However, in early November, DETR strike force leader Barbara Buckley said there were about 800 pending appeals and thousands of appeals requests were able to be resolved outside of a formal appeal hearing.
DETR may be seeking help from staff from the Public Utilities Commission because the agency regularly conducts quasi-judicial proceedings involving the utility companies it regulates.
During the meeting, Democratic Assemblywoman Daniele Monroe-Moreno asked Cafferata to bring clarity to the state of backlogged unemployment claims. She noted lawmakers are getting pleas for help through the phone and email "daily, hourly."
Cafferata said that in 2019, DETR had about 18,000 people who were drawing unemployment benefits on the average week. Last week, there were 280,754 people on the rolls, filing "continued claims" each week — a number that is higher than the week earlier in a sign that the employment picture is stagnating.
"'So we are carrying a caseload and providing benefits to almost 300,000 Nevadans every week," Cafferata said. "Of course, those folks are not calling you because they're getting their benefits and the help that they need. So you're hearing from the folks who are in the backlog."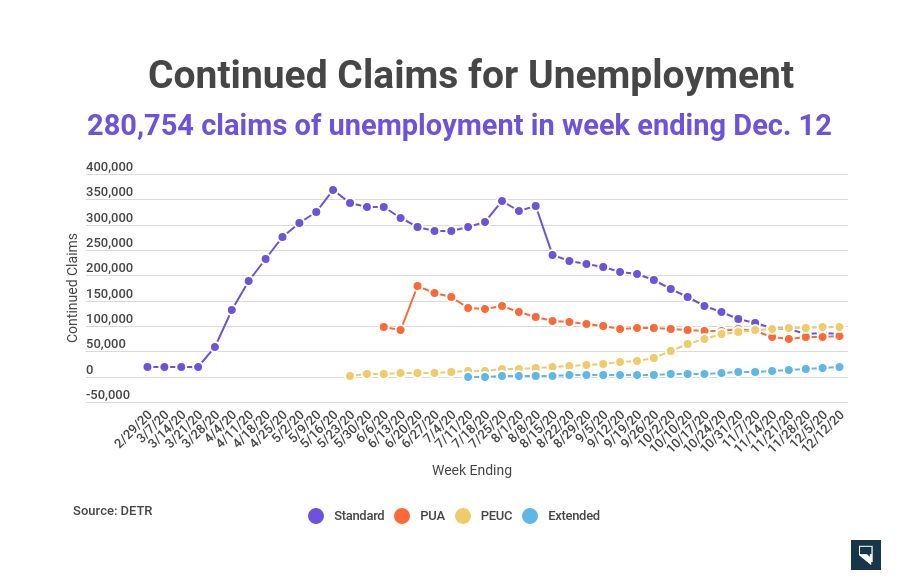 Strike force backlog
Cafferata estimated that since Gov. Steve Sisolak tasked the strike force to help work through the backlog of unemployment claims in August, the expanded workforce has been able to get through about 90 percent of the backlog in PUA and about 90 percent in the standard unemployment program.
"We've made a huge dent," she said. "We think we've got some tools in place to have a better handle on what's coming in and resolve it more quickly."
She said DETR plans to continue into the new year drawing on the help of the approximately 200 welfare workers who are doing overtime hours to help resolve unemployment claims. Some of the $29 million approved by lawmakers on the panel was to support the expanded workforce, she said.
Cafferata noted that the Department of Labor offers flexibility through the end of the year to allow non-state employees to help with administration, so the agency has contracted with the staffing firm Maximus to answer phones and work on claims.
"And then we have ongoing hiring at DETR to bring in our own staff, because over the long term, we'll have to stop borrowing staff from other agencies," she said. "Unless there's a provision in whatever relief bill that Congress passes, we will need to either replace those folks with state staff or it will slow down some of our processing."
Fraud
Lawmakers also asked what the state was doing to combat fraud in the unemployment programs.
Cafferata said DETR plans to contract with an entity that can do a large-scale analysis on the back end and see if there are patterns to fraudulent claims. She also noted there are national efforts to examine interstate fraud, and that banks — which sometimes have more information than the state — are helping to stop fraudulent payments.
"A lot of what you see in terms of the numbers of cases that are not being paid — they represent cases ... of folks who really are not legitimate Nevada claimants," Cafferata said. "And so when people say there's thousands of people you're not paying, that's probably a good thing, because we know they're not valid applications."
She acknowledged that many claimants have received letters demanding they pay back sometimes thousands of dollars to DETR that was wrongly paid out to them. The letters can be exasperating for claimants who are already in dire financial straits.
"Most of those in your constituents' case will be if they got paid in the wrong program and need to go to one of the other programs to get paid," she said.
Depleted trust fund
DETR announced Thursday that it had formally started borrowing from the federal government to keep regular state benefits flowing after depleting a state unemployment trust fund that had a balance of nearly $2 billion heading into the pandemic. That balance was drawn down in nine months.
"I think it's a great credit to the folks at DETR that that fund has been able to stay ahead of the game up until this point," Cafferata said.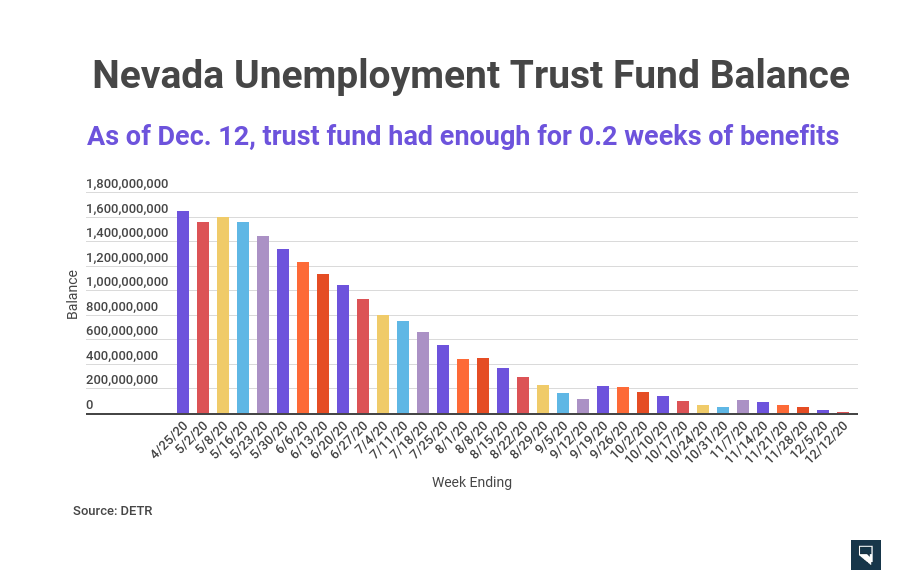 She said that Congress passed a law in 1944 that allows states to borrow to keep paying regular benefits, and that 22 other states have already started borrowing through what she called a "totally standard procedure."
Nevada has informed the federal government that it may borrow about $100 million in December, $82 million in January and $67 million in February. The amount being paid out by the state has been declining as many claimants exhaust their base benefits and move to extension programs that are fully federally funded.
"The other thing to remember for the trust fund is that the employers continue to pay into it," Cafferata said. "So it's a situation where we have a continual balance of what's coming in and what's going out."
Democratic Assemblywoman Maggie Carlton said that when Nevada borrowed from the federal government to pay benefits in the Great Recession, the state got "a little inventive" to craft a repayment plan.
"Once we know where we actually stand, we can start planning on how to get clear," she said. "But it's important that this money gets to families so that they can survive."
Comment Policy (updated 10/4/19): Please keep your comments civil. We reserve the right to delete comments or ban users who engage in personal attacks, use an excess of profanity, make verifiably false statements or are otherwise nasty.