Vegas council votes to extend criminal penalties to sidewalks not covered by encampment ordinance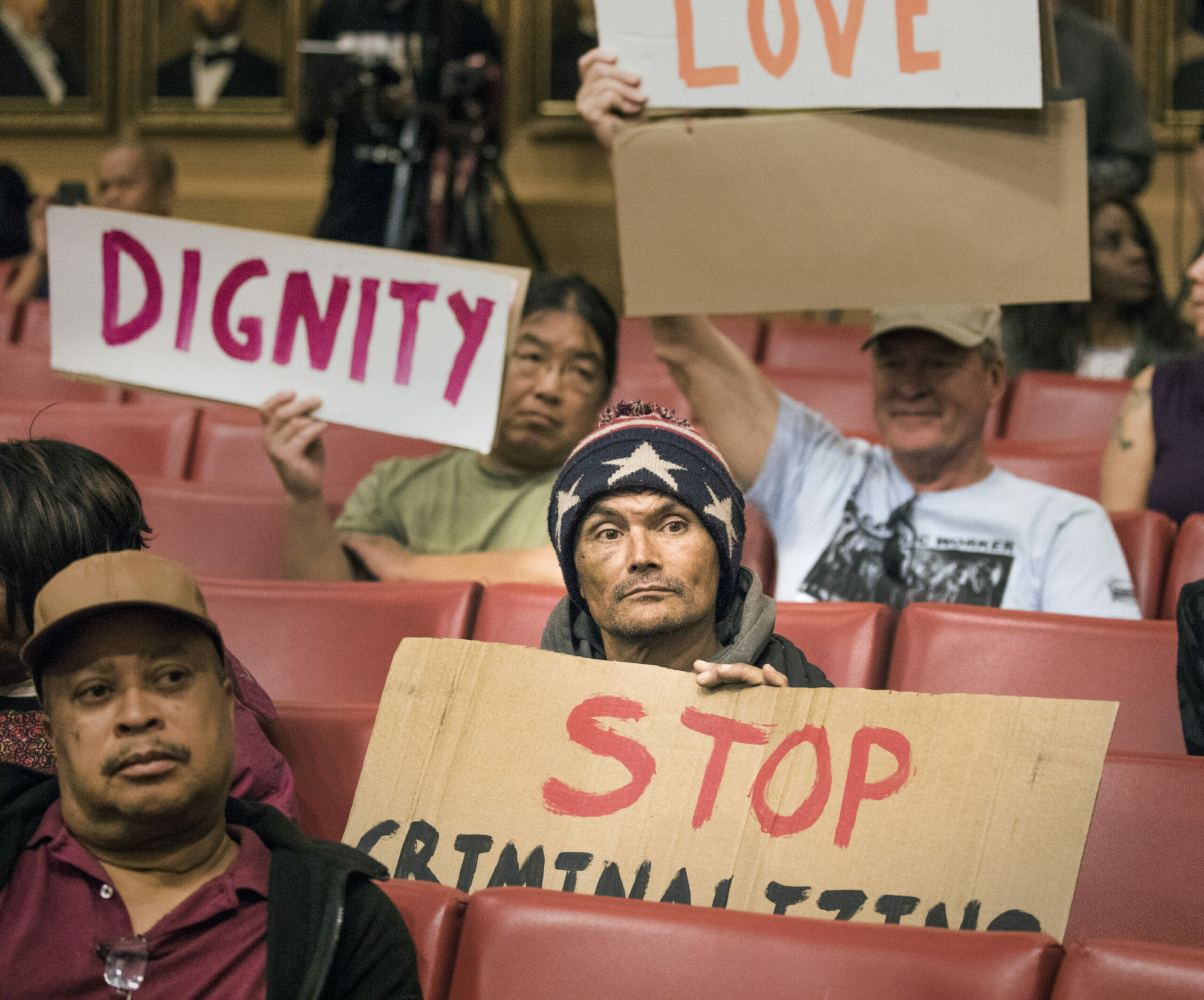 The Las Vegas City Council on Wednesday passed an ordinance to allow city officials to "designate hours of sidewalk cleaning" in areas that are not already covered by an approved ordinance that makes it illegal to sit or lie down in many parts of town.

During the designated hours, those who refuse to pack up and move will be subject to fines up to $1,000 or arrest. Mayor Carolyn Goodman, who proposed the law, and other city officials say that it is necessary to prevent disease outbreaks that can arise from rotting food, human waste and discarded drug paraphernalia such as syringes.

The ordinance passed with only one vote in opposition from Councilwoman Olivia Diaz, who represents Ward 3 that includes the downtown area. Councilman Brian Knudsen was not present for the vote but did later say he would have voted against the ordinance.

Deputy City Attorney Jeff Dorocak, author of the proposed ordinance, distinguishes the sidewalk cleaning bill from a similar ordinance passed in November, which was intended to prevent sitting and camping activities on sidewalks. He said that the ordinance that is up for adoption on Wednesday is primarily to give the Department of Operations & Maintenance the ability to clean areas where encampments would be "still available," such as sidewalks or parking lots in commercial or industrial areas in the city.

"The encampment bill was about taking sidewalks and preventing them from being used," Dorocak said in an interview on Monday. "We needed to build a procedure there to direct [offenders] to services."

A notable difference between the two bills is the absence of guidelines for law enforcement to first direct the offender to services or areas not subject to the ordinance, and then escalate to ticketing and arrest if the individual does not comply. Under the encampment bill, these guidelines prevent city marshals and patrol officers from having to transport or throw away tents, documents, medication, pets and other personal belongings, and prevent having to issue criminal penalties when a simple warning suffices to get them to move.

"We drafted [the sidewalk cleaning bill] purely for the point of cleaning sidewalks. We didn't build anything in there to direct homeless [people]," Dorocak said, adding that the bill was intended for "belligerent" offenders who refused to move when asked by department employees.

City spokesman Jace Radke said that the city's street outreach teams accompany the cleaners to help direct homeless individuals to services. City officials have said that members of law enforcement who are on the outreach teams, including Metro officers and marshals from the city's Department of Public Safety, do not enforce the encampment laws and are solely for protection of the other outreach team members, and that enforcement of the encampment law will fall to patrol officers when criminal penalties go into effect on Feb. 1.

"In the past, some have been resistant to moving to let the crews clean the sidewalks," Radke said in an email on Tuesday.

Language for city signage indicating cleaning times has not yet been decided.

Protesters, who organized through Facebook, demonstrated outside of City Hall in response to the ordinance. Protests also took place within the meeting chamber, with activists speaking during the public comment portion of the meeting and chanting "housing not handcuffs" from the audience.

Goodman initially silenced the audience by chastising protesters for their "disrespect" and threatening to have them escorted from the meeting by city marshals. When chanting picked up again at the back of the chamber following the passage of the ordinance, the protesters were removed.

Advocacy groups including the ACLU of Nevada, Progressive Leadership Alliance of Nevada and Nevada National Organization for Women have asserted that the sidewalk cleaning ordinance criminalizes homelessness as much as the encampment bill, even if the stated intent is purely to sanitize sidewalks.

"What we feel, and most of the activists [at the annual State of the City address] felt, is that there's no plan for what to do with the homeless population other than arrest them," Jeri Burton, president of the Nevada National Organization for Women, said in an interview on Tuesday.

"They've talked about building a bigger area at the Courtyard [Homeless Resource Center] ... [Mayor Goodman] announced that 800 beds would be added," Burton said. "They're talking several thousand homeless people in our community. There's not [enough] room for what they know are the numbers of homeless people, and yet no plan or other options for them."

Burton added that the ordinance will have a lifelong impact on those who are fined or arrested for violating the law, starting a cycle of fines that offenders can't afford to pay. She takes the position of other activists — that homelessness deserves community-wide concern, but heaping criminal penalties on top of the issue does not make it any better.

"We know it's a problem, but I think that's too simple of an answer to say 'arrest them,' instead of providing services," Burton said.

This story was updated at 4:15 p.m. on Jan. 15, 2020 to add developments from council meeting.
The Nevada Independent is raising $200,000 by Dec. 31 to support coverage of the 2024 election.
Tax-deductible donations from readers like you fund this critical work.
If you give today,your donation will be matched dollar-for-dollar.
Give + Get Matched
Featured Videos