What does Faraday's departure mean for dreams of a thriving Apex Industrial Park?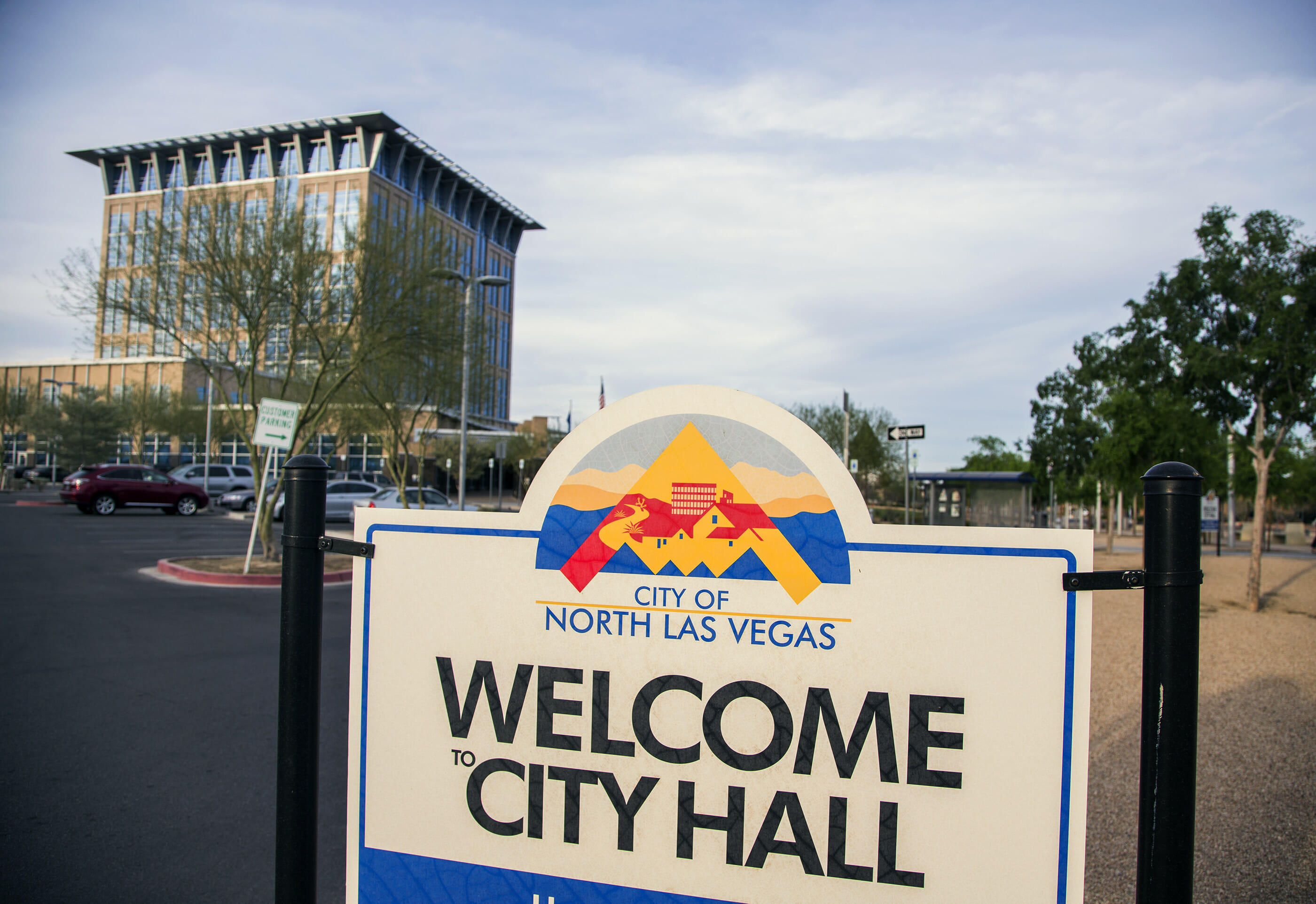 North Las Vegas's fortunes had crashed during the recession, so it was no wonder elected officials used words like "transformational," "historic" and "game-changer" when they announced electric carmaker Faraday Future's plans to locate in the city.
The company was projected to create 4,500 direct jobs at its $1 billion factory, plus another 9,000 indirect jobs in the surrounding community and a total economic impact in Southern Nevada of $87.5 billion over 20 years. That was a huge boon for a city so hard-hit that it laid off more than 800 people, had a long-term deficit of $156 million and declared a state of emergency over its fiscal troubles.
"When we were at the peak of the recession, we had the most people unemployed, people losing their homes and their livelihood," said then-state Sen. Ruben Kihuen at the time he voted for an incentive package to bring the Chinese-backed startup to Nevada. "I am excited to see they are finally going to get a project right in their backyard that is going to help a lot of them get back to work and save their homes and have a good livelihood."
Even those who were more skeptical of the company itself — which, unlike Tesla, hadn't produced a car before seeking tax abatements from Nevada — got behind the project because of what it would do for Apex Industrial Park. The site of vast tracts of land, it lacks basic amenities such as large-scale water service that could turn it into a roaring success like Northern Nevada's Tahoe Reno Industrial Complex.
"The bottom line is we have to have an anchor tenant. We need that infrastructure into Apex," said Republican Sen. Pete Goicoechea, whose district includes Apex. "The bottom line is we have a couple power plants, a couple of wells and a landfill. There is not much going on down there. This will make it happen."
But after a rocky year and a half that included revised deadlines, scaled-back factory ambitions and cash troubles for the Chinese billionaire who's primarily funding the company, Faraday announced it was halting its plan to build the plant at Apex. Officials said they would seek a smaller, existing building, perhaps out of state, in hopes of still rolling out a car by the end of next year.
North Las Vegas officials who were over the moon about the project are now downplaying its significance to the city's turnaround and to the development of Apex. In an interview the day after the company announced it had changed directions, Mayor John Lee argued that the city's health was never contingent on Faraday and he vowed the city would still be the breadbasket of the region.
"At the city of North Las Vegas, we are doing great. We remain focused on Apex and one of our keys to success is to get utilities out to Apex," he said. "Faraday was such a sexy company — it made it glamorous, but it overshadowed a lot of the other good things that we're doing here."
But questions remain about what the company's departure means for the city's quest to rebuild its economy and its reputation after the downturn, and how North Las Vegas will achieve the expensive goal of getting all-important water service to the park. Just a year and a half ago, the city was in too weak a position to bond the project itself and needed to partner with the state, and Steve Hill of the Governor's Office of Economic Development said he's not sure the city has improved enough that the situation has changed.
The quickest path to success is scoring another company that can fill Faraday's place by promising $1 billion of capital investment and reactivating a legislatively implemented infrastructure financing plan that is moot without a "qualifying project." Aside from that, the road is much tougher.
"There are a lot of options. We're exploring them," Lee said. "I have to be hush about that. We're having some meetings on that. But we will get water out there."
A brief history of Apex
Drive north on I-15, past Nellis Air Force Base, past the Las Vegas Motor Speedway, past anything that remotely resembles civilization and then keep driving for 15 more minutes. Scan your eyes to the left, to the dusty desert expanses past the Love's Truck Stop — there lie the 18,000 acres known as the Apex Industrial Park.
The expansive industrial park was created in the wake of the infamous PEPCON (Pacific Engineering & Production Co.) explosion in Henderson in May 1988, which killed two workers, injured 350 people and left the local community scrambling for alternative locations for hazardous industrial plants far from the population center. But Apex still has yet to fulfill its destiny, home today to only a handful of businesses including a landfill operated by Republic Services, a solar field and a pot farm.
Infrastructure has always been Apex's Achilles heel. Without water, without sewer and without roads, the industrial park is just a dusty plot of earth.
It was with those infrastructure improvements in mind that North Las Vegas began annexing portions of Apex in 2008 from the county, which had originally purchased the land from the Bureau of Land Management. It was thought that it would be easier and cheaper for the city to extend its water and sewer lines to the park, opening up further opportunities for development.
That never happened. North Las Vegas's financial situation took a nosedive during the recession, leaving the city strapped for cash and with junk bond ratings.
And so the park sat mostly vacant for the good part of nearly another decade — until a secretive electric car company burst onto the scene.
It wasn't by chance that Faraday began eyeing the little-known industrial park in the north part of North Las Vegas in the summer of 2015. City officials had pored over a tax incentive package passed by the Legislature the previous fall to lure Tesla to build a $5 billion battery factory outside of Reno.
They figured if they could find their Tesla — in other words, an anchor tenant for Apex — they could get the state to use its AA+ bond rating to back the needed infrastructure improvements and, if they could get those improvements in place, other business would flock to the park. So, North Las Vegas Mayor John Lee reached out to everyone he could think of — and a friend put him in touch with Faraday, a stealthy but alluring electric car company headquartered in Los Angeles that was in search of a factory site.
So began the series of events that led to the governor calling a special session of the Legislature in December 2015 and lawmakers overwhelmingly approving $215 million in tax abatements to bring the startup to North Las Vegas. Perhaps more importantly, lawmakers also paved the way for $120 million in water, road and rail improvements at the Apex site.
The legislation authorized paying for those improvements through up to $175 million in general obligation bonds, half of which would be paid by Apex property owners through a special improvement district and the other half through a tax increment area, with the idea that as property values rise at Apex due to the added infrastructure, the portion of the increased tax assessments would go toward paying off the bonds. The Department of Transportation also agreed to pay for road upgrades to improve the entry and exit into Apex.
But with Faraday's sudden announcement that it is pulling out of Nevada, the future of infrastructure improvements at the site — and with it, the future of Apex as a whole — is once again in limbo.
The infrastructure projects
Road
Better highway access is key to opening Apex up to further development. The Nevada Department of Transportation is seeking to build an expanded interchange at the intersection of Interstate 15 and U.S. Route 93.
Five miles of frontage road will be widened in the Apex area in an effort to reduce the number of driveways linking to the main road, and the intersection will be upgraded.
Earlier this year, the agency told lawmakers they had applied for federal grants and wanted to push forward with the project even if Faraday's factory seemed a shaky possibility. Department Director Rudy Malfabon testified that flooding that closed part of I-15 underscored the need for US-93 to be a viable, alternate route.
After Faraday's new announcement, the agency said they're proceeding with business as usual on the road improvement. At an Aug. 14 meeting, the state transportation board is expected to choose a design-build contractor.
At the time of the special session, project costs were estimated at between $45 million and $50 million. The lowest bid so far has come from Ames Construction with Horrocks Engineers, which wants to do the project for $58 million.
"Faraday was only one of several potential tenants at the Apex Industrial Park. As such, we are still moving forward with improvements to the Interstate 15 Garnet interchange, which is currently built to substandard specifications," said spokesman Tony Illia. "The are no changes to our project plans or schedule … Although Faraday may have been a catalyst for these much-needed upgrades, we would have had to do them within the next three to five years, regardless."
Construction is expected to finish in the fourth quarter of 2019.
Rail
The state sought authority to finance a $35 million railport project, which is analogous to a "driveway" to the Faraday factory off the main Union Pacific rail line.
The idea had been scrapped before Faraday made its big decision not to build its big factory there.
Water
State officials sought out about $68 million in improvements to the water system, half of which was to come from levies on property owners in the park (a special improvement district) and half of which would be paid back through new tax revenue generated by the project.
The projects, which would tap into the Garnet Valley Water Basin through wells, were projected to serve about 2,800 more acres of the park — both Faraday and other businesses. Existing businesses in the park already have their own wells, but there could have been a process for new ones interconnecting into the Faraday system
Faraday paid for the engineering and design of a water system, which was budgeted at $6.6 million and overseen by the Southern Nevada Water Authority, according to agency spokesman Bronson Mack. The result is professional, CAD engineering drawings that could be used or modified by another tenant and make the project ready to go if construction money comes through.
"Even though we've got the design done and in the can and it doesn't look like we're going to be constructing it in the immediate future, there is value in having that engineering completed and done and ready to go," he said.
Other ways to finance the project
Because North Las Vegas didn't have an investment-grade credit rating, it needed to partner with the state to issue bonds for the water project and other infrastructure. Since the special session, the city's bond rating has bounced back from junk status and back to investment grade.
"We do have a certain amount of optimism on the opportunities now than we did then," Lee said. "We are exploring those now even as we meet with the state and with GOED. We are in a far better position to work this out than we were in '15."
Assistant City Manager Ryann Juden pointed to bills that expand the city's "toolkit" for bringing water to the park. One is AB399, which passed in the 2017 session. It creates the Nevada Infrastructure Bank — an entity that could accept federal grants and make "loans" to municipalities for infrastructure projects, potentially at lower rates.
While the "bank" was not funded, it's a vehicle that could receive and disburse grants -- something that lawmakers hope they can get amid promises from the Trump Administration and others in Congress to make hefty investments in infrastructure.
"Several tools exist now that didn't when Faraday came," Juden said. "We never took those tools and used them."
In the special session, lawmakers approved a system that allows a municipality to pledge new tax revenues generated after a new project moves in back to making bond payments for improvements on the land. That pledged money can include all of the property tax revenues in a defined region, plus 50 percent of sales tax and modified business tax revenue in that region.
Lawmakers aren't allowed to proceed with the financing model approved in the special session unless a qualified project that has $1 billion to invest comes into the picture -- that could be a business or a data center, which can easily hit the investment threshold, Hill said.
Otherwise, the state could choose to change the law in a special or regular session and remove the requirement that a qualified project move into the park before the financing is activated. From there, the state could finance the improvements on its own, although that's a heavier political lift because it would involve the state helping a private industrial park.
Republican Assembly Leader Paul Anderson said he hasn't heard any rumblings that there's interest in a special session.
Hill said he doesn't think North Las Vegas has rebounded enough to bond for the improvements itself, and would thus need the state's cooperation.
The future of Apex
The future of Apex, local real estate experts say, still hinges on building out infrastructure at the site. And they don't see movement on infrastructure out at the site anytime soon without another anchor tenant like Faraday looking to build there.
Faraday promised to secure a surety bond of up to $75 million and deposit another $13 million into escrow accounts to go toward engineering and the preliminary construction of water, wastewater and rail facilities, which was to be released after Faraday built at least 1.6 million square feet on the site and began generating revenue from selling cars. It was a way of building out the infrastructure at Apex with minimal risk to the state.
"I think that would be too much risk to just do that without having an end user on a speculative basis," said Jay Heller, president of NAIOP Southern Nevada, the association representing commercial real estate developers. "There was no risk to the state until Faraday put up the proper collateral or had the surety that it was going to go forward. Without that surety, I think it would be hard to get something like that."
But Heller said the infrastructure bank created by AB399 could help municipalities like North Las Vegas with development needs ahead of time to increase the stock of "shovel ready" parcels attractive to large companies looking to quickly locate to Southern Nevada.
"That was really the idea behind the infrastructure bank, that you're able to do it on a speculative basis. A developer isn't going to be able to front that cost," Heller said. "It's just hard to justify that and spending all that money on infrastructure without having somebody in hand. With Faraday going away, that makes that difficult to achieve."
Kevin Higgins, executive vice president of the real estate firm CBRE, said the real estate market out at Apex hasn't changed much over the last year as developers were playing a "wait-and-see" game with Faraday and infrastructure improvements at the site. With Faraday out of the picture, he said the biggest question for potential tenants will be what happens with the infrastructure.
"I think that's the biggest question that someone would ask to fit the bill of coming out to Apex. 'What's the timing, and is the infrastructure happening?'" Higgins said. "And that includes the roads but it also includes the additional utilities needed."
Higgins said that Faraday would have enhanced Apex and the viability of other companies moving out there and developing in the area, describing their decision to leave as a "setback."
"Anything that large is going to be a setback and the jobs that it would have created in construction and during its opening, it's a setback, but the Las Vegas Valley is not just Apex and North Las Vegas is not just Apex," Higgins said. "North Las Vegas has a lot going on, particularly out by the Speedway area."
Commercial realtors see a lot of promise in the area out by the Las Vegas Motor Speedway off the I-15, where Prologis, Bed Bath and Beyond and Amazon all have or are building large-scale distribution facilities. The site is much closer to town which means better amenities and infrastructure.
"I was just driving out Las Vegas Boulevard a couple of days ago, and I noticed that the city is building new water lines out to that industrial area around the Speedway," said Mike Montandon, a commercial real estate broker and former North Las Vegas mayor. "That option puts that land way in front of Apex as far as availability."
But he said Apex, which the city began annexing during his time in office, is still designed to meet a different need than the Speedway area — a need for extremely large, contiguous parcels of land. And the effort that the state and city is making to clear the way for infrastructure development — and the excitement created by the possibility of Faraday — could still make the site attractive for someone else.
"There's no question that Faraday pulling out is a disappointment, but I tell you, not just me as a real estate broker, but the city and lots of others have leveraged the Faraday decision to a lot of good deals," Montandon said. "You know there's an old stock market saying that says 'buy on the rumor, sell on the fact.' But the rumor of Faraday has generated a lot of excitement over time."
Update 7-17-17 at 11:16 p.m.: This article has been updated to correct that Tesla's factory cost $5 billion to build, not $5 million.
Featured Videos
Comment Policy (updated 4/20/2021): Please keep your comments civil. We reserve the right to delete comments or ban users who engage in personal attacks, use an excess of profanity, make verifiably false statements or are otherwise nasty. Comments that contain links must be approved by admin.