The Washoe County Registrar of Voters office on June 8, 2020. Photo by David Calvert.
What to watch in Nevada's 2020 primary election
The first results from Nevada's unique, mostly mail primary election will finally be released on Tuesday after more than a month of voting, but calling some of the state's top races could take up to 10 days. 
A substantial number of high-profile races will eventually be decided out of Tuesday's election, including Republican challengers to Democratic Reps. Susie Lee and Steven Horsford, both who represent swing districts and have attracted a broad field of GOP candidates.
But congressional races aside, several major legislative races will be decided in the primary election, and two state Supreme Court seats could also be decided if candidates achieve more than 50 percent of the vote. Other major races include contests for seats on the Clark County Commission and a hotly contested Reno City Council race.
Polls will close at 7 p.m. on Election Night, with counties expected to turn in their initial vote totals to the state by about 8:30 p.m.
As of Monday, more than 343,000 people had cast a ballot for the primary election, or about 18.7 percent of all registered voters. The vast majority of ballots have been cast by mail (339,853), while around 2,971 people have cast a ballot through in-person early voting.
The change in process is likely to help contribute to a higher turnout than most primary elections. The 2018 primary election saw about 22.9 percent of registered voters cast a ballot, for a total turnout of 329,863.
But the switch to a primarily mail-only election has a drawback: potential delays in determining the winners of close election contests. Ballots postmarked by Election Day and received by election officials within seven days will be counted, and county election officials have 10 days to certify the results of an election and declare a winner.
Below, check out The Nevada Independent's preview of the major races up on Election Night. Editors Jon Ralston and Elizabeth Thompson will host a live election show beginning at 7:30 p.m., which can be viewed here.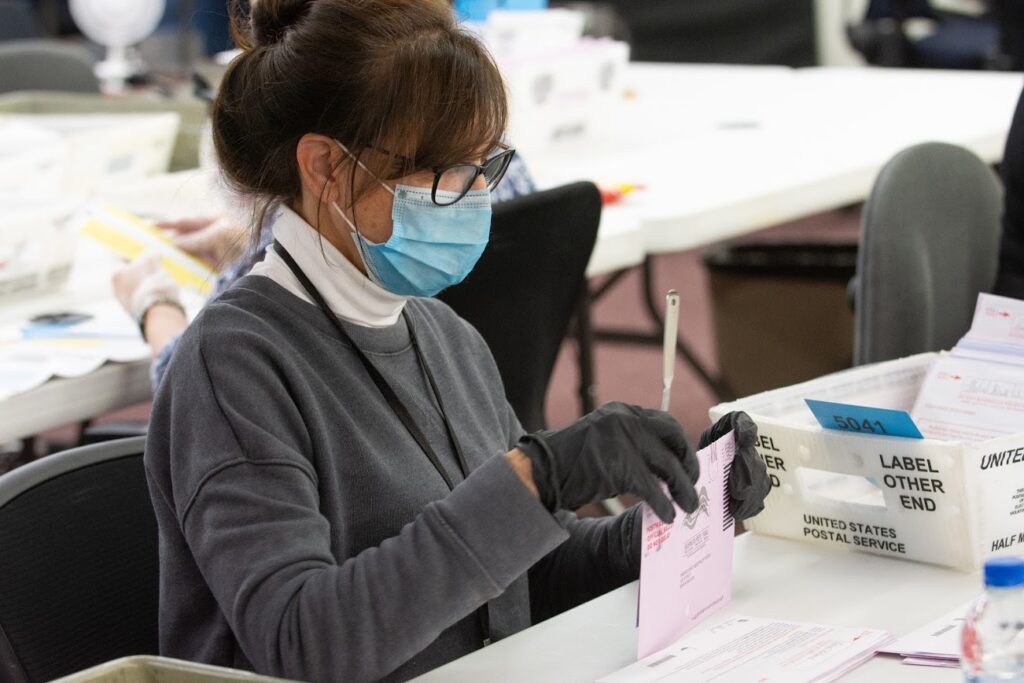 NEVADA SUPREME COURT: Two seats are on the ballot: Chief Justice Kristina Pickering is defending her seat amid challenges from lawyers Esther Rodriguez and Thomas Christensen. And in the open seat held by Mark Gibbons, Judge Douglas Herndon faces off against lawyers Erv Nelson and Ozzie Fumo, the latter of whom is a sitting Assembly member.
CONGRESSIONAL DISTRICT 2: Several Democrats including Clint Koble, who ran unsuccessfully in 2018, are vying for the nomination and chance to face off with Republican Rep. Mark Amodei. The district is safely Republican, meaning even the winner of the Democratic primary enters a long-shot general election contest. Read our preview here.
CONGRESSIONAL DISTRICT 3: A feisty Republican primary is playing out in this swingy Southern Nevada district held by Democratic Rep. Susie Lee. The GOP field includes former wrestler Dan Rodimer, former state Treasurer Dan Schwartz and pro-Trump actress Mindy Robinson. Read our preview here.
CONGRESSIONAL DISTRICT 4: A parade of Republicans is vying to face off with Democratic Rep. Steven Horsford in a district that includes North Las Vegas and rural, central Nevada. GOP contenders include businesswoman Lisa Song Sutton, former Assemblyman Jim Marchant and Nye County Commissioner Leonardo Blundo, among others. Read our preview here.
REGENTS: Four of the 13 nonpartisan seats on the board overseeing the Nevada System of Higher Education are up for grabs, and the primary will narrow the field of candidates to two. One district features former Assemblyman Stephen Silberkraus and former state Senate candidate Byron Brooks; another pits former regent Bret Whipple against former Las Vegas City Councilwoman Lois Tarkanian. Read our preview here.
ASSEMBLY: Democrats are all but guaranteed to retain their majority heading into the 2021 legislative session, but the question is whether Republicans can score enough seats to get out of a weak "superminority" status, in which Democrats can pass taxes without a single GOP vote. The most interesting contests include primaries in swingy suburban districts. Read our preview here.
SENATE: One race for state Senate will be decided in the primary — Senate District 7, a seat held by termed-out Democrat David Parks. The Democratic primary pits two Assembly members — Ellen Spiegel and Richard Carrillo — against former Nevada State Democratic Party Chair Roberta Lange, who has the endorsement of state Senate Democrats. Read our preview here.
CLARK COUNTY COMMISSION: Four seats are up for grabs on the powerful Clark County Commission, including incumbents Marilyn Kirkpatrick and Michael Naft running for additional terms. Crowded Democratic primaries in seats held by termed-out Commissioners Lawrence Weekly and Larry Brown have drawn some familiar names, including former Secretary of State Ross Miller (District C) and Assemblyman William McCurdy, state Sen. Mo Denis and North Las Vegas City Councilman Isaac Barron (District D). Read our preview here.
RENO CITY COUNCIL: Four councilmembers are running for re-election in 2020, including Councilwoman Jenny Brekhus who is in a bitter fight with two well-funded opponents, including one endorsed by Mayor Hillary Schieve. Council members Devon Reese, Neoma Jardon and Oscar Delgado are also running for re-election. Read our preview here.
SPARKS CITY COUNCIL: Three seats on the Sparks City Council have attracted 10 candidates, with each race seeing well-funded incumbents try to fend off multiple opponents. Read our preview here.
CARSON CITY MAYOR & SUPERVISORS: Longtime Mayor Bob Crowell is termed out, and with two incumbents not running for re-election, the Carson City Board of Supervisors will have three new faces come 2021. Read our preview here.
DOUGLAS COUNTY COMMISSION: Three of the five seats on the Douglas County Commission are on the ballot, and they'll be all but decided in the primary because no Democrats filed for the seats. One race features Danny Tarkanian, who has run unsuccessfully for major offices in Southern Nevada before moving north, against incumbent Dave Nelson. Read our preview here.
WASHOE COUNTY SCHOOL DISTRICT: Fifteen candidates have filed to run in the four seats up for election for the board overseeing the state's second-largest school district, including incumbents Scott Kelley and Angela Taylor. Read our preview here.
CLARK COUNTY SCHOOL DISTRICT: Thirty candidates are competing for four nonpartisan seats on the board that governs the nation's fifth largest school district. Three seats are open after trustees termed out; in a fourth, Trustee Lola Brooks is seeking reelection. The primary will narrow the field to the top two, although a candidate who wins more than 50 percent of the vote wins outright. Read our preview here.
NEVADA STATE BOARD OF EDUCATION: The four elected positions on the 11-member board that works in tandem with the state Department of Education are up for grabs. Felicia Ortiz and Mark Newburn are defending their seats, while five candidates are vying for a spot representing a Las Vegas district and a lone candidate — Katie Coombs — is seeking a seat in a Northern Nevada district. Read our preview here.
JUDGES: Numerous judge positions are on the ballot, including District Court and Family Court hopefuls. Read our guide on Clark County judge races here.
Stories
Candidate Trackers
Endorsements, Ads, Policies, Visits
& More
visit now
Comment Policy (updated 10/4/19): Please keep your comments civil. We reserve the right to delete comments or ban users who engage in personal attacks, use an excess of profanity, make verifiably false statements or are otherwise nasty.