With law firm involved in state Senate recalls, Lt. Gov. Mark Hutchison still noncommittal: 'Let the process play out'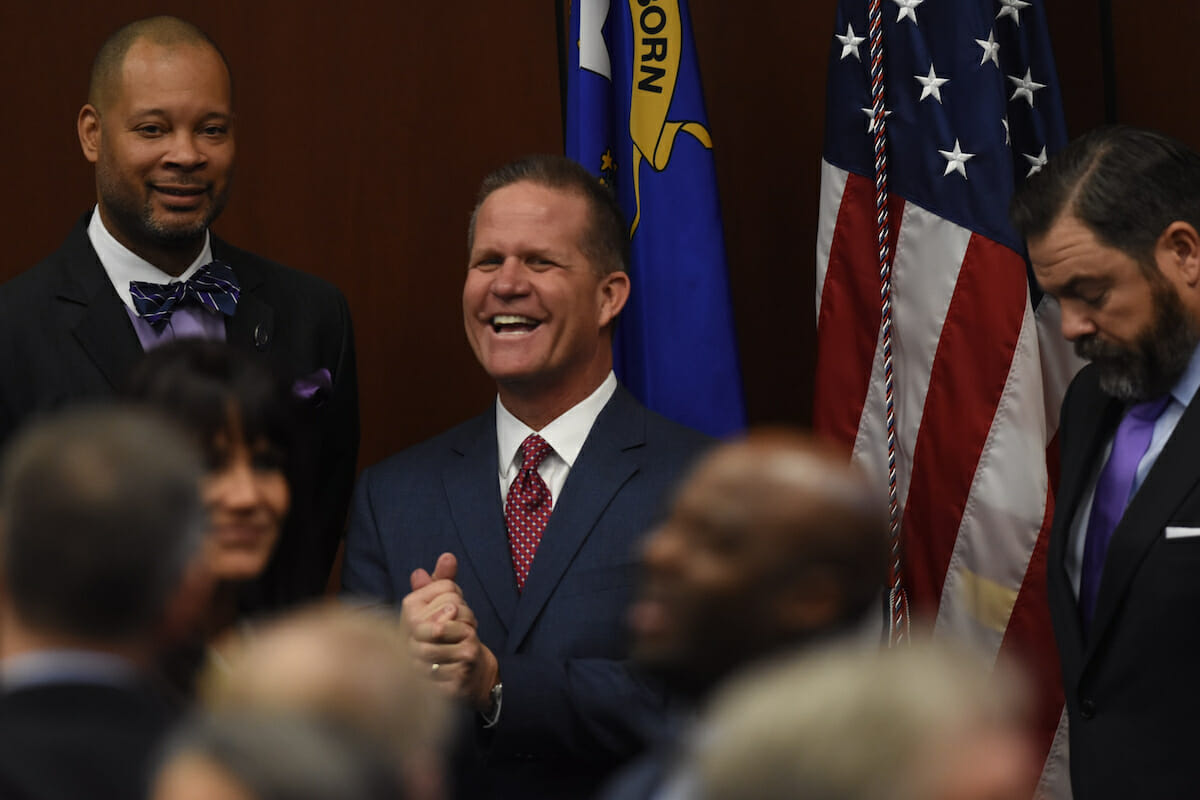 Republican Lt. Gov. Mark Hutchison says he supports the voters "right to choose" whether or not to recall two sitting state senators who caucused with the Democrats, all while his private law firm is serving as legal counsel to groups backing the recall efforts.
In an email sent Monday evening, Hutchison's chief of staff, Ryan Cherry ,confirmed that Hutchison was aware that his law firm, Hutchison & Steffen, was serving as legal counsel to the recall committees against Sens. Joyce Woodhouse and Patricia Farley, and that he wasn't involved in his official role as the state's lieutenant governor.
"As a partner in the firm serving as counsel to recall, he knows about the proceedings and cannot comment further on the specifics of recall efforts and activities," Cherry said.
As for the recalls themselves, Cherry said Hutchison wanted to let the process itself play out before weighing in.
"He supports the voters right to chose whether to recall or retain an elected official," he said in an email. "If 25 percent of voters sign a petition to recall that's an indication that there is an appetite to hold a recall election. Let the process play out. He trusts Nevada voters."
At least two attorneys at the firm — Jacob Reynolds and Gov. Brian Sandoval's former general counsel Daniel Stewart — are involved in the recall efforts, which were quietly launched last week with backers of both efforts largely staying silent as to the reasons why the recall efforts were launched.
John Gibson, chairman and president of the conservative Keystone organization and who is involved in the recall against Farley, said last week that he didn't have a copy of the petition to recall itself, but was approached by a Republican operative who said the recall was based on a swath of issues including  a 2015 vote to raise taxes, criminal justice reform efforts in the Legislature, increasing the cost of school construction by leaving the prevailing wage in place and education reform.
Other Republican senators still in office who also voted for the tax increase include Senate Minority Leader Michael Roberson and Sens. Scott Hammond, Joe Hardy, Becky Harris and Ben Kieckhefer.
Other participants involved in the recall have been less forthcoming. Former Assemblyman Stephen Silberkraus, who also voted for the tax increase and is heading the recall effort against Woodhouse, has ignored repeated calls and requests for comment, as has former Woodhouse foe and the recall's chosen replacement, Carrie Buck.
Several Republican state senators have not responded to The Nevada Independent's requests for comment, including Roberson,  Kieckhefer, Harris, Hardy, James Settelmeyer, Pete Goicoechea and Don Gustavson.
Others said they were not involved.
"I did not know about the recall efforts and have not been involved," Sen. Heidi Gansert said on Monday. "If the signatures are gathered, it will be up to the voters to decide."
Sen. Scott Hammond said Tuesday that he was surprised by each recall announcement and didn't know about them beforehand. He said he was busy running his congressional campaign and didn't have time to involve himself in the efforts, and declined to comment on whether he supported the concept.
Gov. Brian Sandoval said last week that he had no knowledge of the recall efforts, and that he didn't have any plans to support them.
Las Vegas Sands executive Andy Abboud tweeted over the weekend that the casino company and the family of Sheldon Adelson have no involvement in the recalls. The GOP operative who approached Gibson was Ryan Hamilton, who works for Robert Uithoven, a Las Vegas Sands lobbyist.
Editor's note: This story has been updated to correct an error. James Settelmeyer did not vote for the 2015 tax increase.
The Nevada Independent is raising $200,000 by Dec. 31 to support coverage of the 2024 election.
Tax-deductible donations from readers like you fund this critical work.
If you give today,your donation will be matched dollar-for-dollar.
Give + Get Matched
Featured Videos