A blue night: Steve Sisolak triumphs over Republican Adam Laxalt, appears to bring fellow Democrats in statewide races on coattails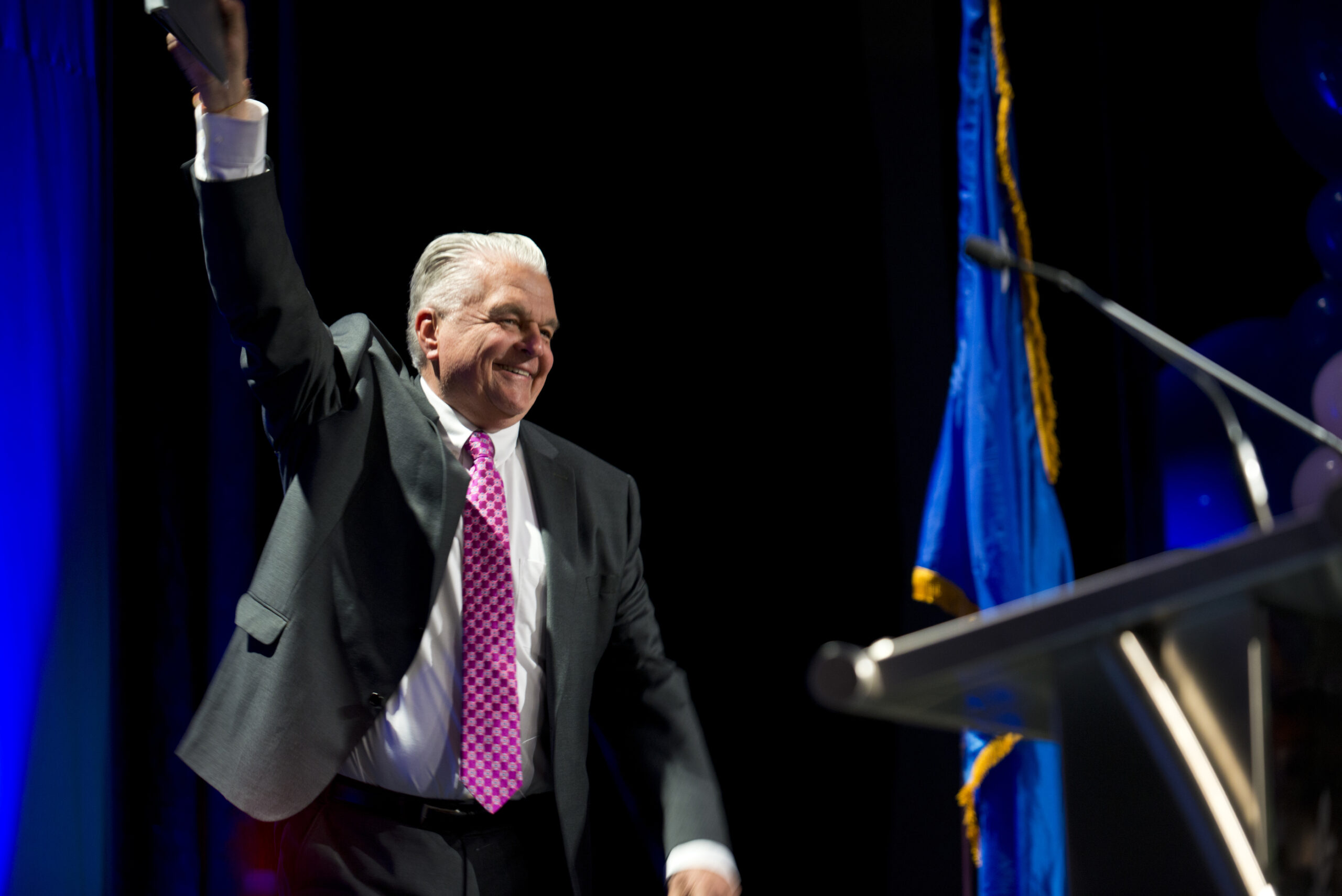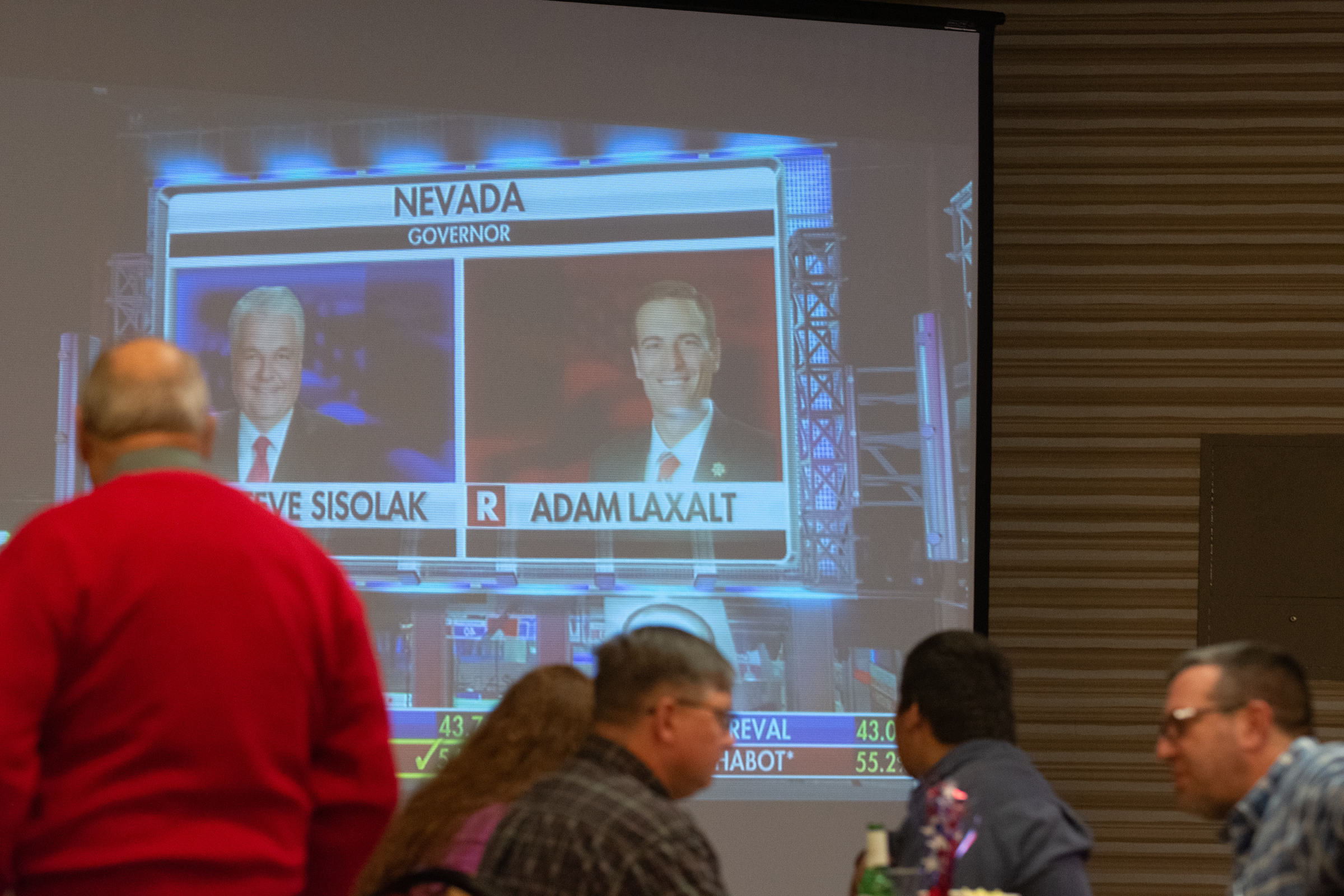 Clark County Commissioner Steve Sisolak defeated Republican Attorney General Adam Laxalt in an intensely hard-fought race to replace Gov. Brian Sandoval, ushering a Democrat into the Nevada governor's mansion for the first time in 20 years.
The fierce contest pitted the staunchly conservative 40-year-old Laxalt against the 64-year-old moderate Democrat Sisolak in a cycle when Democratic enthusiasm bested a similarly charged-up Republican base and appeared poised to carry a slate of down-ballot Democrats in statewide contests to victory.
The governor-elect sounded a message of unity in a speech to supporters at Caesars Palace in Las Vegas, where Democrats were celebrating a series of major wins.
"I want all of you to know that no matter who you voted for, I will work my heart out for you. Because this election is about you. It's about putting your priorities first and that's what I'm determined to do as your next governor," Sisolak said in prepared remarks. "We'll be one Nevada, working together — and that work starts now."
Sisolak was one of the last candidates to speak during Tuesday night's watch party, and some attendees had already filtered out of the room after remarks by Democratic Senate race victor Jacky Rosen. But that didn't stop the crowd from celebrating loudly, cheering often during Sisolak's 10-minute speech.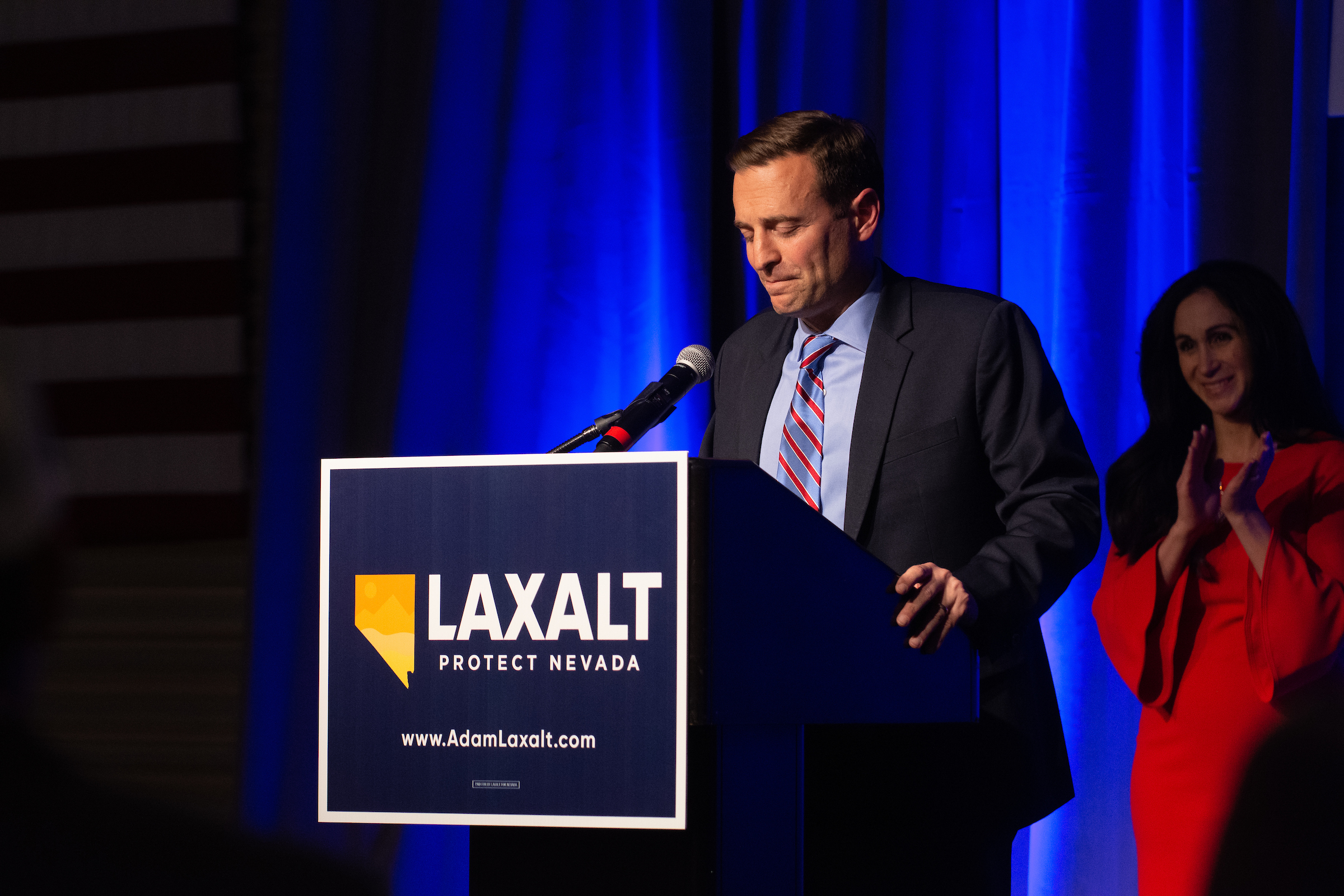 Laxalt told a half-empty Reno ballroom Tuesday night that he'd called to concede to Sisolak, a little more than a day after he told a campaign office of supporters cheering "Adam! Adam!" that he felt great about the race.
"To come up short is always difficult. But I was truly passionate in what I was fighting for for our great state, as were all of you in this room," an emotional Laxalt said. "And I mentioned on the outset that I pledge my support to the governor-elect and ask you to do the same. We need to come together as a state and make sure we can move Nevada forward."
Laxalt had framed himself as a bulwark against the "Californication" of Nevada, signing a pledge to oppose any tax increases, vowing to oppose an increase in the minimum wage and promising to cut regulations. He vowed to protect people with pre-existing conditions in spite of his opposition to Obamacare and add $500 million to education in spite of his promise to try repealing the Commerce Tax that Sandoval brought to pass.
Ever shy of the media, Laxalt never fully explained how he planned to accomplish those two goals. The candidates never debated, making the race the first competitive Nevada governor's contest in some 35 years, and one of two governor's races nationwide this cycle, not to feature a face-off.
Sisolak promised to build on Sandoval's legacy and capitalized on the fact that the popular governor did not endorse Laxalt. He pledged to reduce class sizes, raise teacher pay, protect pre-existing conditions and preserve abortion rights.
Opponents raised the specter that Sisolak would raise property taxes, pointing to a video in which Sisolak told supporters that property taxes would be a way to pay for "it." He said in a primary debate that "everything is on the table" in terms of tax increases, but said in more recent interviews that he doesn't think a tax increase is needed right now.
Laxalt counted on the Republican National Committee's turnout machine to help boost himself and fellow GOP politicians, while Sisolak had support from the powerful Culinary Union and the AFL-CIO, among others. Outside groups also played a major role in the race, spending about $27 million on the race.
Laxalt, a Navy veteran who was born in Nevada but grew up in Virginia, is the grandson of the late, respected former Nevada governor and Sen. Paul Laxalt. In recent years, it was revealed that his father was Paul Laxalt's friend, the late New Mexico Sen. Pete Domenici.
Sisolak, a Wisconsin native who spent a decade on the Nevada Board of Regents and then a decade on the powerful Clark County Commission, owned companies that sold customized promotional items to businesses. He also benefited from a $15 million judgment he scored from the county-owned McCarran International Airport in the early 2000s amid a suit alleging the proximity of the airport and height restrictions devalued property he owned in the area.
Although there was speculation that conservative nonpartisan candidate Ryan Bundy would take votes away from Laxalt, the son of notorious rancher Cliven Bundy appeared to take less than 2 percent of the total votes in the governor's race, a bit more than Libertarian and Independent American Party candidates in the race.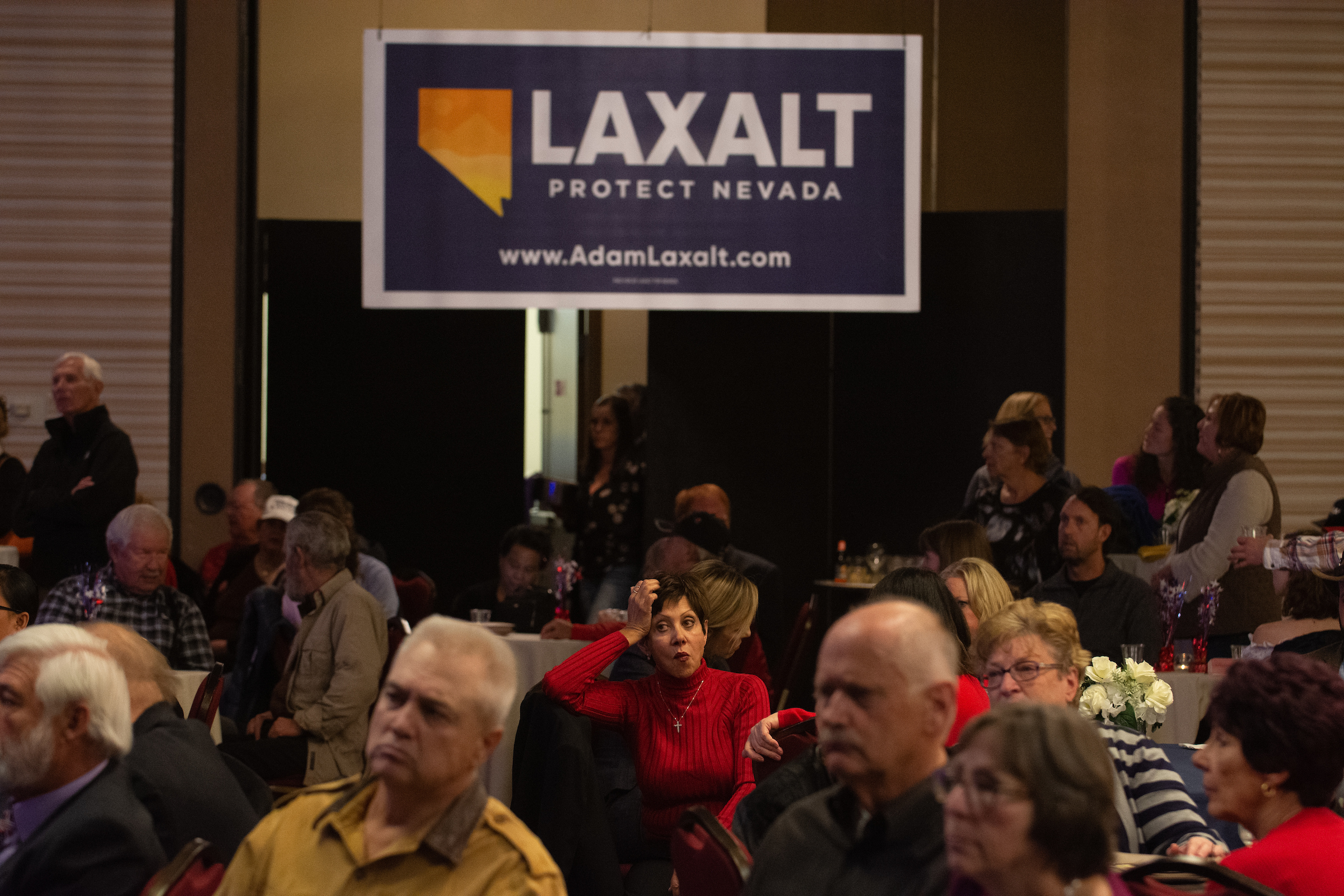 Lieutenant Governor
Democrat Kate Marshall defeated state Senate Republican Leader Michael Roberson in the race for lieutenant governor, a second-ranking officer in the executive branch who presides over the Senate and casts any tie-breaking votes.
Marshall's victory marks her return to Nevada's political world. She previously served two terms as the state's treasurer, having won elections in 2006 and 2010, making unsuccessful bids for a U.S. House seat in 2011 and for Secretary of State in 2014.
"From Day 1, my priority as Lt. Governor will be to build the bridges within our state and across the aisle to create an economy where economic opportunity is shared and prosperity is within reach for all," she said in a statement, calling her election an "honor."
Just before polls closed, Roberson was tweeting about a Kansas Jayhawks basketball victory, but he didn't give a speech after election returns showed a clear defeat. A day earlier, he had predicted to a room of supporters that "we're going to win tomorrow."
Roberson's loss halts his climb up the political ladder in the Nevada Republican Party. He was elected to the state Senate in 2010 and won re-election four years later, capturing 60 percent of the votes for District 20, which includes a large chunk of Henderson.
He shepherded Sandoval's education reforms and tax package as the top senator in the Legislature in 2015, but his support for the tax increase proved an Achilles heel in a 2016 congressional primary against Republican Danny Tarkanian.
Marshall boasted a fundraising edge during the calendar year, banking roughly $682,000 compared with Roberson's $589,000, according to campaign finance reports. She also spent about $784,000 since the start of this year, while Roberson shelled out more than $670,000 during that same time period.
Attorney General
Republican attorney general candidate Wes Duncan conceded the race to Democrat Aaron Ford early Wednesday morning, after the last batch of polls from Clark County showed him more than 7,000 votes behind Ford.
The race proved a disappointment for local and national Republicans, who saw the well-liked Duncan - a former assemblyman and top deputy in Laxalt's attorney general's office - as likely to run ahead of other top Republican candidates on the ticket. Although Ford, the state's senate Majority Leader, received fewer votes than any other Democrat running for a statewide office, strong support in Clark County and a close margin in Washoe County was enough to boost him over Duncan by less than one percentage point.
Other races
As of 2 a.m. on Wednesday, races for controller, treasurer and secretary of state were too close to call.
The Nevada Independent is raising $200,000 by Dec. 31 to support coverage of the 2024 election.
Tax-deductible donations from readers like you fund this critical work.
If you give today,your donation will be matched dollar-for-dollar.
Give + Get Matched
Featured Videos