After latest mass shooting, governor, gubernatorial candidates weigh in on stalled gun background check measure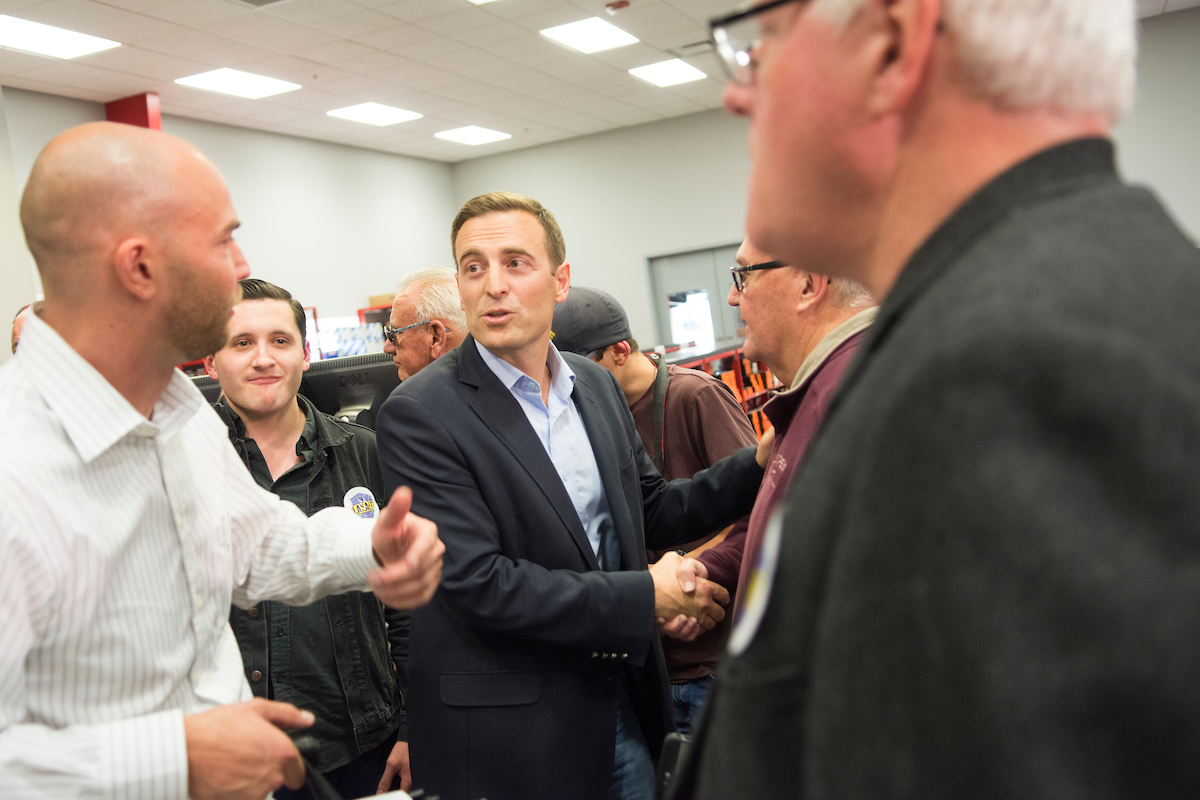 After a deadly mass shooting at a Florida high school on Valentine's Day, more questions are percolating about whether Nevada's voter-approved expanded gun background checks will come to pass.
On Thursday, the Las Vegas Review-Journal published a new interview with Attorney General Adam Laxalt, the perceived Republican gubernatorial primary frontrunner. Among other questions, Laxalt was asked about his intentions on the measure, which he opposed during its campaign and which is currently wrapped up in a lawsuit.
His office initially advised Gov. Brian Sandoval that the law couldn't be enforced because the FBI was unwilling to do the checks and more recently suggested there may be a path toward implementation, but it would be uncharted and uncertain territory given the FBI's stance.
"The bottom line is — they wrote a bad ballot initiative," Laxalt told columnist Victor Joecks. "Until the FBI agrees to do that — which, all indicators are that they're not going to — that's it. I wouldn't change anything as a governor."
The ballot measure, which narrowly passed a statewide vote in 2016, directs the FBI to perform the checks as opposed to staff at the statewide criminal records repository who generally do Nevada background checks (Nevada is called a "point of contact state" for this state-based arrangement). FBI doesn't want to do the checks if the state generally does them itself, and Laxalt argued that the FBI's database is inferior to Nevada's anyway, lacking the breadth of records.
Laxalt did not directly answer Joecks when asked whether, as governor, he would sign a bill requiring state-run background checks on private party gun purchases and transfers. (Sandoval told The Nevada Independent on Thursday that such an arrangement would be the best solution to the problem.)
Instead, Laxalt asked why Democrats didn't try to fix the issue last session.
"It should be pointed out politically that where were all these people in the session when they had two houses? Did they push a bill along these lines?" said Laxalt, who argued lawmakers could have changed the "point of contact" designation that gives the state the responsibility to do the checks.
Laxalt's campaign didn't respond to a follow-up request from The Nevada Independent on whether he would sign or veto a state-run background check mandate if it came to his desk.
Meanwhile, Laxalt's primary and general election opponents pounced on his statements.
Republican Treasurer Dan Schwartz has previously said he thinks Laxalt and Gov. Brian Sandoval need to find a way to implement the checks because voters approved them.
"Sorry Mr. Laxalt, but I will support legislation that prohibits criminals and the mentally ill from owning or obtaining AK-47 or other assault rifles," he said in a statement Thursday. "Killing elementary and high school children does not promote the objectives set forth in our Declaration of Independence or Constitution."
Democratic Clark County Commissioner Chris Giunchigliani, who supported Question 1 during the 2016 campaign and donated $2,000 to the cause in 2015, has tangled with Laxalt before over his role in enacting the ballot measure. She criticized him again on Thursday and listed a number of gun control measures she would support.
"Adam Laxalt needs to do his job and do everything he can to enforce the will of the people. As a teacher, 'can't' was a swear word in my classroom, so I refuse to accept that he can't do anything about this," she said in a statement. "I would sign a bill to mandate background checks for private party gun sales, and would support adjusting our 'point of contact' status. In addition, as governor I would fight to enact a ban on assault weapons, high-capacity magazines and bump stocks; none of these have any place on our streets or in our schools. Further, I would move to prevent people accused of domestic violence or under restraining orders from owning guns."
She also described herself as the only gubernatorial candidate to support Question 1 before it passed, a swipe at her Democratic primary opponent and fellow Clark County Commissioner Steve Sisolak.
Sisolak, whose campaign pointed to his calls for background checks in a 2013 interview, promised to take immediate action to ensure the ballot measure is implemented. He said he supports a ban on bump stocks and assault weapons, as well as limits on high-capacity magazines.
"When asked about common-sense solutions to prevent mass shootings like 1 October, my opponent shrugged his shoulders and said, 'I wouldn't change anything as governor...my guess is you'll see [bump stocks] regulated at the federal level,'" Sisolak said. "That is exactly the attitude that prevents action from being taken. Relying on Donald Trump's Washington to do anything beneficial to the people of Nevada is a fool's errand, but the larger issue is that Nevadans expect their governors to roll up their sleeves and get things done. To claim that there is nothing he could do as governor should be a disqualifying statement. Nevada deserves better."
Sandoval's Role
Proponents of the background check legislation have also been frustrated with Sandoval. They believe he could unilaterally change Nevada's point-of-contact status to hybrid by informing the FBI that Question 1 effectively changes the status for private party sales. They also think he could budget money for the state to do its own background checks should the FBI refuse.
"We have a governor and attorney general who are actively trying to prevent the enforcement of the law. In other circumstances, as constitutional officers, they are required and have actually worked diligently to enforce Nevada's laws," said Elizabeth Becker, volunteer with the Nevada chapter of Moms Demand Action for Gun Sense in America. "Even in the case of recreational marijuana, where the governor opposed the law, he still worked to implement the law. Yet when it comes to background checks passed by the people, he not only refuses to enforce the law, he's actively working to prevent its implementation through the court action."
In an apparent effort to prod more action from the widely popular, lame-duck governor, background check proponents released a poll in December showing his popularity suffers when voters learn of his role in the measure's limbo. In an accompanying memo, proponents say the background check impasse could put his standing and legacy at risk.
Sandoval's office said DPS has contacted the FBI both verbally and in writing to ask them to do the checks, but "the FBI has consistently responded that it will not conduct the checks, because the Nevada ballot initiative cannot dictate how federal resources are applied." One concern FBI has raised verbally is that it would have to use its resources to register Nevada firearms dealers with the federal system for the sole purpose of checking on private sales and transfers; those dealers are currently only registered with the Nevada DPS.
The governor said he believes the best course is having the Legislature change the voter-approved measure once changes are allowed — three years after enactment — so the state does all the checks.
"It is the intent of the Governor to enforce all lawful ballot initiatives passed by the citizens of Nevada. Clearly, the voters of Nevada have indicated that they want background checks for the private party sale of firearms. The legal gridlock created by the drafters of Ballot Question One is frustrating for all parties involved," Sandoval's office said in a statement. "Going forward, Governor Sandoval believes that the best path for both the proponents of the initiative petition, and the citizens of Nevada, would be to work with the legislature after the amendment moratorium has passed, and change the law to allow private party background checks to be conducted through DPS, rather than the FBI."
In the meantime, the Nevada Department of Public Safety (DPS) said it would do voluntary background checks on private party sales and transfers free of charge; the normal cost is $25. Sandoval's office said they're actively looking for firearms dealers who will also waive fees on their end for the voluntary checks.
Disclosure: Steve Sisolak and Chris

Giunchigliani

have donated to The Nevada Independent. You can see a full list of donors here.
The Nevada Independent is raising $200,000 by Dec. 31 to support coverage of the 2024 election.
Tax-deductible donations from readers like you fund this critical work.
If you give today,your donation will be matched dollar-for-dollar.
Give + Get Matched
Featured Videos