At election kickoff rally, Biden tells Democrats to stop moping, start voting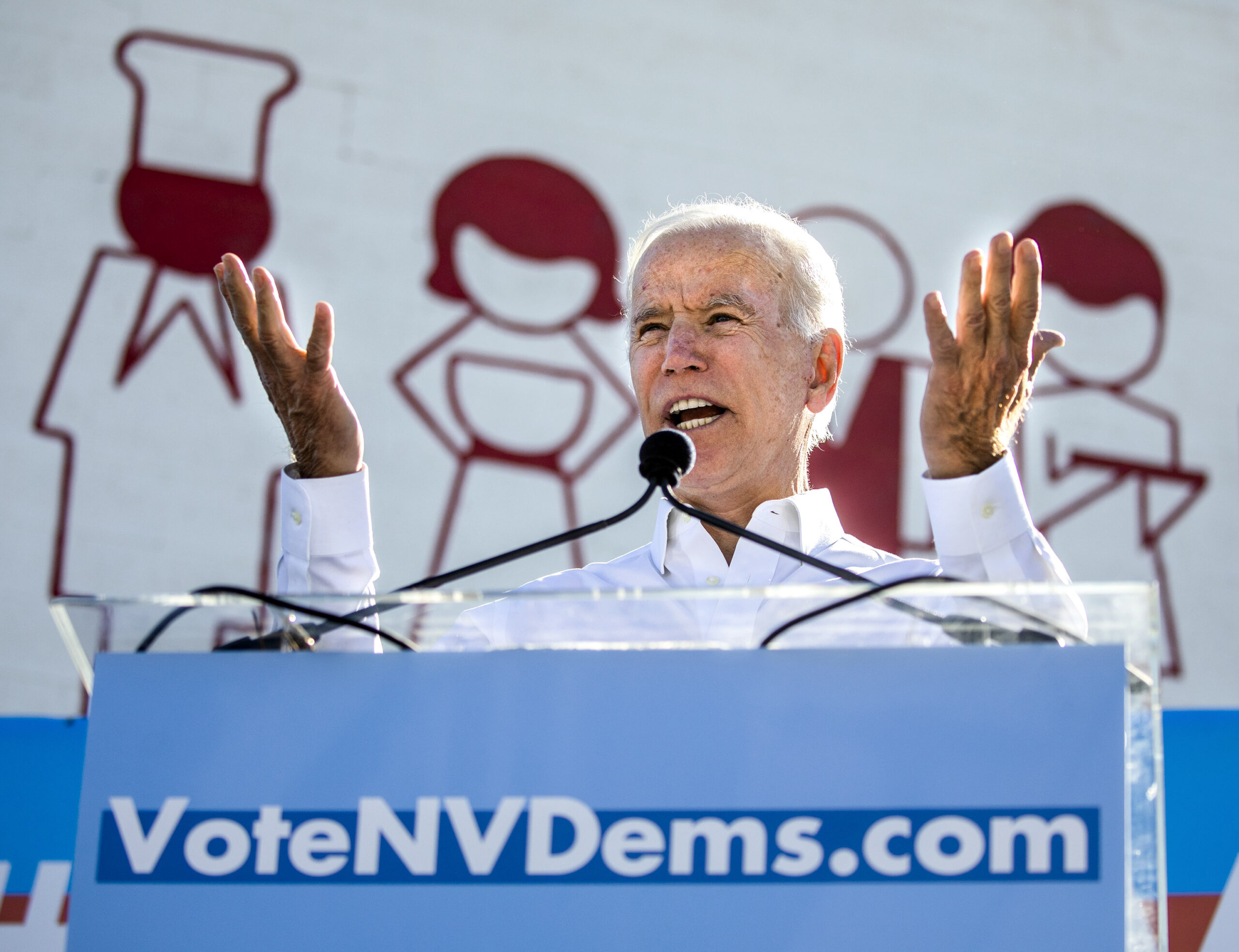 Former Vice President Joe Biden told Democrats to stop moping, lift their heads up and "remember who the hell we are" over the next two weeks in Nevada.
Biden, at a morning rally the first day of early voting in Nevada, told Democrats that the American idea was being "shredded" but that he is more optimistic than he has ever been about the country's potential. His remarks aimed directly at questions about whether Democrats will be enthusiastic enough to turn out in a midterm year to help their party take control of the House and the Senate, as well as win several close races in Nevada.
"I'm so tired of Democrats walking around 'woe is me, things are so bad, what are we going to do.' I've had it with that. We are better positioned than anyone in the world to own the 21st century," Biden said. "Folks, it's time to get up, lift our heads up, remember who the hell we are. This is America. Let's take back the Senate and we will change the world as we know it."
In order to do that in Nevada, Democrats will need to again rely on the power of the so-called Reid machine — named for former Senate Democratic Leader Harry Reid — to turn their voters out to the polls. A critical piece of that machine is the footsoldiers at the Culinary Union, the most politically powerful union in the Nevada representing 57,000 housekeepers, bartenders and cooks, and one that is largely female and heavily immigrant.
"No one is more organized than 226," Democratic gubernatorial candidate Steve Sisolak said, referring to the Culinary's local number. "We're union strong and we're union-organized and you're going to make the difference in this election."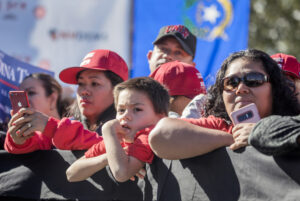 U.S. Sen. Catherine Cortez Masto nodded to their organizing prowess for helping her and Hillary Clinton defy trends and score Democratic wins in in Nevada in the 2016 election.
"In 2016 we turned Nevada blue and you did that, you did that," she said. "And don't you think we can do it again? And we're going to make that happen."
The early vote rally, which featured almost the entire slate of the state's Democratic candidates, comedian Billy Eichner and a student mariachi, was hosted at the Culinary Union's headquarters in Las Vegas. The union's secretary-treasurer Geoconda Arguello-Kline said that more than 200 union workers are organizing, knocking on doors and making phone calls to urge voters to turn out to the polls.
"We have to keep our Nevada blue … We have hard work every day. That's the only way," Arguello-Kline said at the rally. "We know if people start voting today, we are going to win and we have to be sure they're going to vote today, tomorrow, the day of the election, every single day until we win."
Unlike in some high-profile races across the country, Nevada Democrats have been running fairly moderate campaigns, talking often on the campaign trail about their desire to work across the aisle and highlighting their support for pieces of Republican Gov. Brian Sandoval's agenda. Biden, too, spoke to that bipartisanship, telling rally goers that he is often criticized for having "good friends" on the other side of the aisle, including the late U.S. Sen. John McCain, but he "never questioned their motives."
"John McCain on his deathbed asked me to do his eulogy," Biden said. "We fought like hell, but we had the same values. The same values."
But the Republican Party is changing, he said. Biden blamed gerrymandering and unlimited campaign spending for members of the GOP choosing party over country, adding that "these guys are not good guys right now. This is not your father's Republican Party."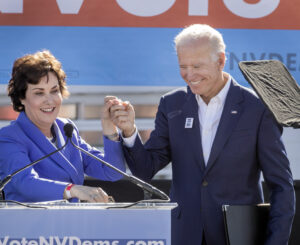 Biden promised the crowd that if Democrats take control of the House and the Senate the country would start to see Republicans in each chamber break with their party and "vote the right way." He said that there is no way that a government can function without consensus and that without it, all power flows to the presidency.
Biden, who is mulling running for president in 2020, sharply decried the current state of the presidency. He criticized Trump for taking the word of Russian president Vladimir Putin, who he described as a "dictator" and a "thug," above that of the U.S. intelligence community and embracing North Korean leader Kim Jong Un, "exchanging love letters, like that's funny."
"The rest of the world is watching the United States of America. We have led the world and they're wondering where in the hell are we, what's become of us?" he said, pointing also to the separation of immigrant families at the border and the suspicious recent death of a journalist critical of the Saudi government. "These values are being shredded. They're being shredded by a president who's all about himself. It's all about Donald."
Rosen echoed those sentiments, calling her Republican opponent, U.S. Sen. Dean Heller, a "rubber stamp" for the president. When the crowd booed a mention of his name, someone shouted the now-famous aphorism from President Barack Obama, "Don't boo, vote," and Rosen said that sentiment was "exactly right."
Secretary of State candidate and Assemblyman Nelson Araujo brought his mom, a housekeeper and Culinary Union member, up on stage as he talked about how union members would "stand up and fight for democracy."
"This is the most consequential election of our time, and we must win. Let's go!" Araujo said.
The rally drew a wide range of attendees, including Mexico City Zola Sanchez, 54. She had been a registered Republican since she became an American citizen, largely because of her views against abortion, but switched her affiliation this spring.
"It wasn't easy to change parties," she said. But "the Republicans aren't the Republicans I felt part of."
She said has many friends, Latino and otherwise, who don't think it's important to vote.
"I hope Latinos pay attention to what's happening here," she said. "Raids are few and they're hushed up, but they happen."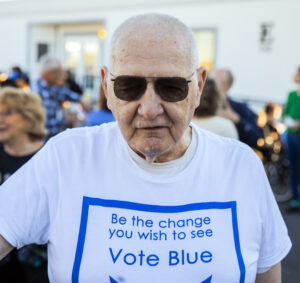 Laughlin resident Dennis Kunecke, 80, drove into Las Vegas for the weekend with his partner to attend both Saturday's Biden event as well as the rally that President Barack Obama will host on Monday at UNLV. He said that he's backing Rosen, his current congressional representative, because he believes that she has been a strong supporter of veterans and will move health-care policy in the right direction.
"Everyone is concerned she's making the move too quick, but we've got to get rid of Heller and she's our best bet," said Kunecke, who already mailed in his absentee ballot.
Las Vegas mass shooting survivor Christine Caria, 50, said that Sisolak was "very compassionate" when she met with him and said that she's hopeful that Attorney General candidate Aaron Ford will be a champion for victims, who she said have largely been abandoned to pay for health-care expenses on their own or directed to the welfare system for help. She noted that the survivors of the shooting span a wide range of political viewpoints but that regardless, they need help.
"No one asked each other who we were voting for when we were getting out," Caria said.
One of the keys for Democrats will be mobilizing Latino voters to turn out in a midterm election when enthusiasm tends to ebb. Oscar Trujillo, 22, said he thinks the reality of the policies that the Trump administration has implemented since 2016 will motivate Latinos to participate at greater levels than Republicans or Democrats expect.
"So it's obvious that this courage against the government is showing in this election," he said in Spanish. "I think it's an advantage, that Latinos really have a reason to turn out and vote this time."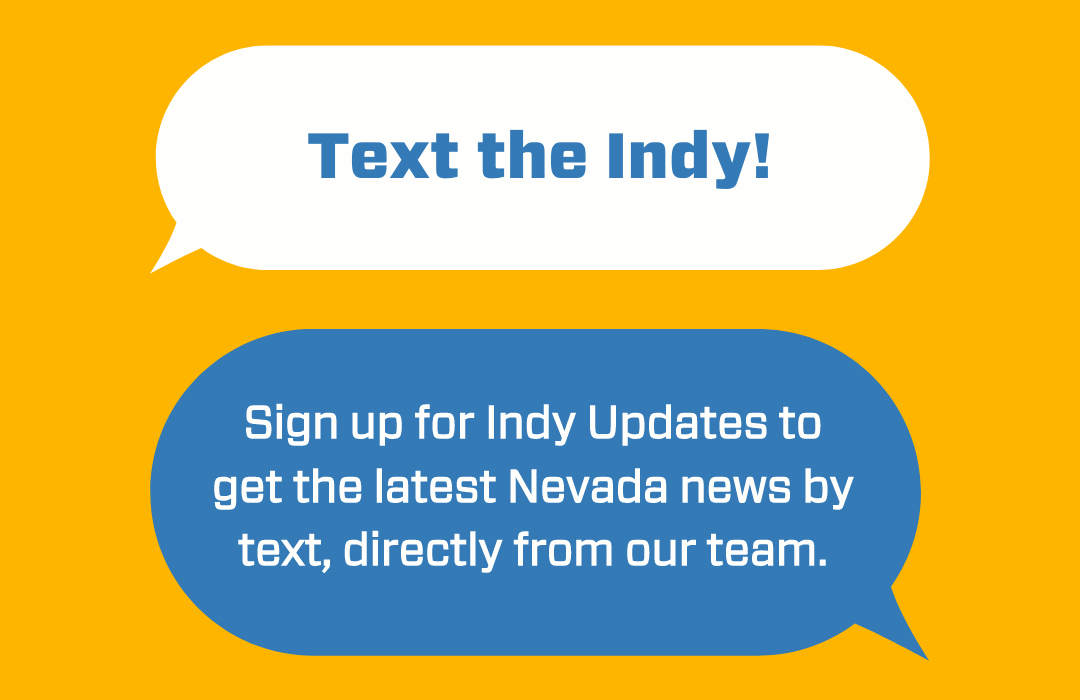 Featured Videos