Backers of North Las Vegas rent control submit signatures to get measure on ballot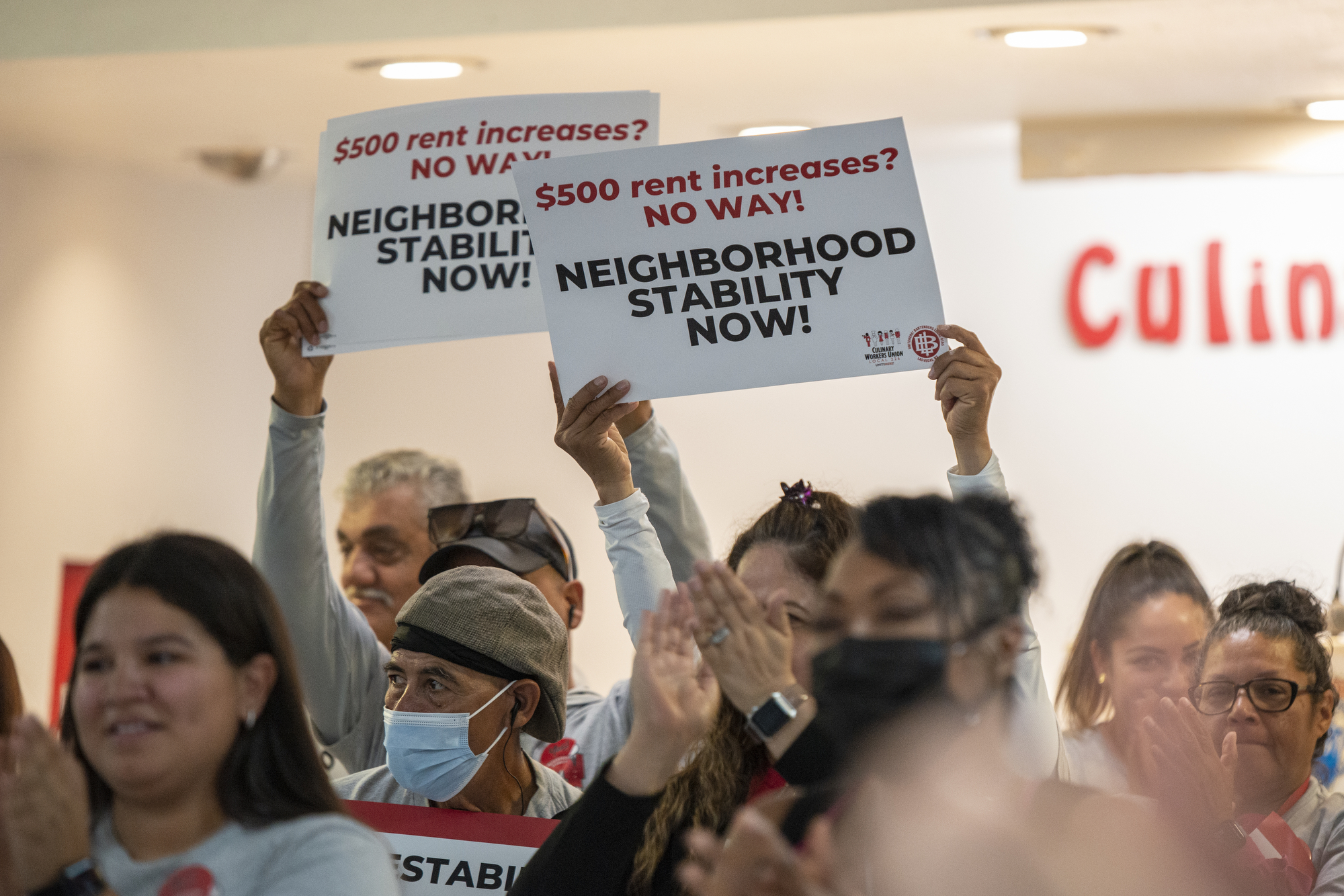 Culinary Union members unfurled a 700-foot-long pasted-together scroll with thousands of signatures in support of a rent control ballot measure in front of the North Las Vegas City Hall on Thursday to cries of "sí se puede" ("yes we can").
The nearly 3,400 signatures — which exceeded the 476 needed to qualify the measure for the municipal ballot — were the culmination of a month of knocking on doors and represented the collective efforts of union members and local leaders to get an initiative to prevent rent increases in North Las Vegas from exceeding increases in the cost of living on the ballot in November.
"T​​he day has finally come and we're here to submit the petition for neighborhood stability," said Ted Pappageorge, secretary-treasurer for the Culinary Union.
The submission of the signatures came one day ahead of a July 1 deadline to submit signatures for a ballot initiative, marking the first step in a journey to get a rent control measure in North Las Vegas on the books. It signifies at least the seventh initiative from across the U.S. proposing to implement or expand rent control measures this year — and the first organized effort to do so in Nevada since the 1970s.
The proposal would tie maximum rent increases to North Las Vegas' Consumer Price Index (CPI), stipulating that rent hikes could not exceed 5 percent year-over-year. Members of the city council and redevelopment agency are set to discuss the financial effect of the proposed ordinance during their regularly scheduled meeting on July 6.
A crowd of residents cheered with hopes that they would not only be able to stay in their homes but also find relief as rents have increased almost 30 percent locally since 2020. One union member and third-generation North Las Vegas resident, Aretha Wilder, testified that whenever she placed an offer to buy a home, she was outbid.
Pappageorge said Wall Street investors are buying houses, apartments and short-term rentals and stealing the American dream from blue-collar workers, driving up housing prices and pushing rent prices out of reach for working-class families.
"We're going to make sure our neighborhoods are safe, and we're going to go after these out-of-state, corporate-price-gouging landlords," he said. "We're going to roll back these rents with the help of our allies."
At the event, Rep. Steven Horsford (D-NV) announced that upon returning to Congress after the July 4 recess, he would introduce the Home Act (Housing Oversight and Mitigating Exploitation Act). The measure is aimed at holding out-of-state corporate investors responsible for price gouging and for targeting Black, Latino and single-parent neighborhoods.
Horsford said the proposed law would fine out-of-state corporate investors and put those fines into the National Housing Trust Fund. State and local governments could then use the money to develop more affordable housing in neighborhoods across the country.
"These out-of-state corporate investors wouldn't invest in our neighborhoods to make them better, but now they want to come in and buy them up and push us out," Horsford said. "Not in our neighborhood!"
His announcement follows the release of a memo from the House Committee on Financial Services indicating that companies managing single-family rentals often target home purchases in low-income neighborhoods, communities of color and areas with high rates of single-parent households, driving up home prices and contributing to racial, wealth and homeownership gaps.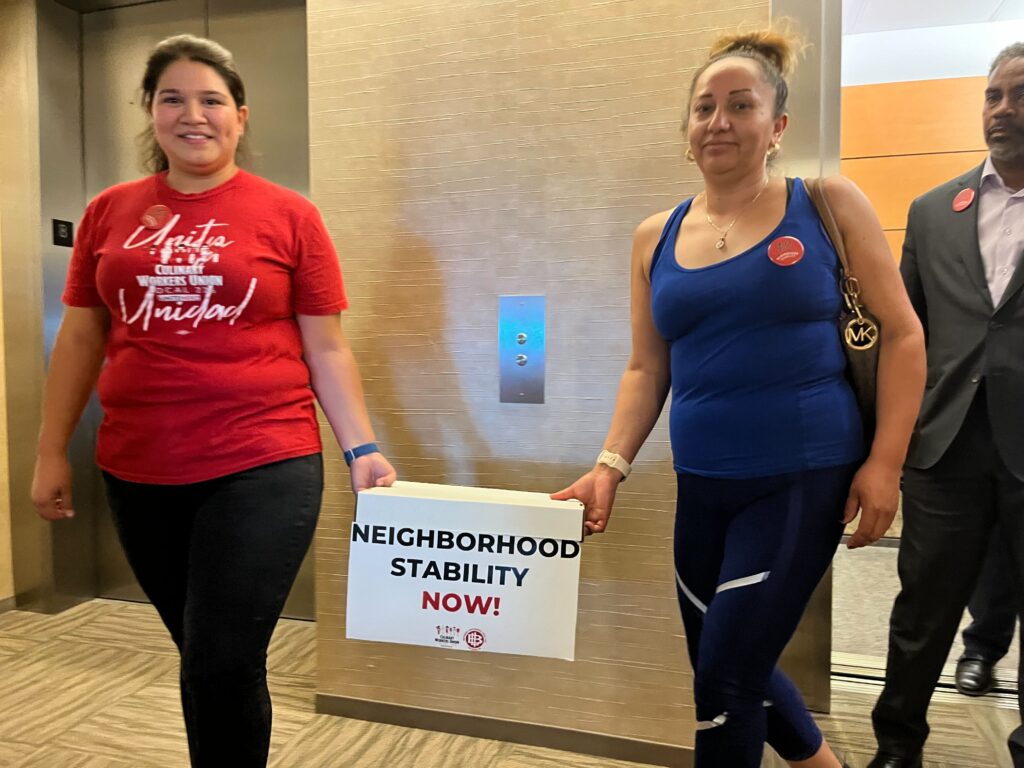 What happens next?
Rising inflation is a troublesome burden on working people still recovering from the ongoing COVID-19 pandemic, said Pappageorge, who emphasized that passing the rent cap measure is essential for people on a fixed income and families struggling to keep up with skyrocketing rental prices.
"We called it [neighborhood stability] because if you're a homeowner, and 40 percent of every neighborhood are renters … Those renters are constantly being forced out of their home because of jacked-up rents," he said. "That destabilizes the whole neighborhood for everybody."
Under the proposal, landlords would not be able to increase the rent for a rental unit during the first year after the tenancy begins and at any time after the first year without giving a tenant written notice at least 90 days before the rent increase would go into effect.
Though no rent control or rent stabilization laws are in effect in Nevada, an April Nevada Independent/OH Predictive Insights poll indicated that 65 percent of Nevadans from across the political spectrum support enacting rent control policies or limiting the amount a landlord can demand when leasing a home or renewing a lease. Candidates for North Las Vegas mayor also agreed they would, if elected, enact a policy to stabilize rental fees earlier this year.
Despite the success of the rent cap initiative so far, questions remain about who has the authority to implement such policies. If the measure succeeds, it may face a lawsuit – a possibility that has kept local government officials from bringing forward such measures in the past.
But Pappagegeorge said he and other union officials are not worried about legal challenges.
"We're very confident that we'll withstand any court challenges that the opponents of neighborhood stability may try to do, but then [the ballot initiative's] got to win in November," Pappageorge said.
State and local leaders respond to the call for action
At the press conference, Gov. Steve Sisolak praised the Culinary Union for pushing the ballot initiative so strongly.
He touted the state's commitment of $500 million for affordable housing, adding that the effort is just the beginning. Sisolak said the state needs more than 80,000 units to meet the need for housing amid unprecedented growth as speculators purchase homes in neighborhoods, contributing to rising rent.
"I'm a firm believer that every family should have a chance at the American dream — the dream of purchasing a home and living in a home that they can call their own," Sisolak said. "Unfortunately, it's not possible right now … These investors that are coming in and buying up the homes … they don't care about you. They care about a buck, that's all they care about is making an extra buck at the expense of our working families in the state of Nevada. That has to stop."
As of July 1, Nevada's minimum wage is set to increase to $9.50 an hour for employees receiving health benefits and $10.50 an hour for those without benefits — far below what's needed to afford apartments in the Southern Nevada region.
"Housing [un]affordability is at its all-time highest but wages aren't at its all-time highest," said Clark County Commissioner William McCurdy II.
He added that rent control should be a statewide initiative in Nevada.
But not everyone responded positively to the ballot initiative.
North Las Vegas Mayor John Lee, a former Republican candidate for governor, said housing is the most severe crisis the state is facing, but government officials who spoke at the event could be taking more of an active role in the crisis.
"Sisolak has the unilateral constitutional authority to call a special session to fix this housing emergency right now," he said in a statement after the event. "The talking points and pandering we've received to date may sound good on a campaign flyer, but does absolutely nothing to help the scores of Nevadans struggling right now."
In a statement released Thursday, the Nevada State Apartment Association criticized the rent cap ordinance, adding that the association would continue to address Nevada's housing problems beginning with "well-rounded" solutions.
"Any initiative to cap rents has never provided sound and effective solutions," said association Executive Director Susy Vasquez. "Today's rapid inflation adds uncertainty for Nevadans, and for the entire rental housing industry. We'll continue working with lawmakers and other stakeholders to address Nevada's housing problems."
The rent control push is part of the union's prolific political activity, which also includes getting involved in other races. Pappageorge told The Nevada Independent in an interview that the "Culinary Union army" will knock on a million doors this election cycle because of what's at stake for not only their 60,000 members who mostly live in North Las Vegas but also the rest of the community.
Updated: June 30, 2022, at 4:40 p.m. to include additional information about a city council meeting set to discuss the proposed ordinance on July 6 and July 1, 2022, at 8:20 a.m. to include a statement from the Nevada State Apartment Association.
The Nevada Independent is raising $200,000 by Dec. 31 to support coverage of the 2024 election.
Tax-deductible donations from readers like you fund this critical work.
If you give today,your donation will be matched dollar-for-dollar.
Give + Get Matched
Featured Videos