Biden comes to Vegas to raise money, drum up support for prescription drug proposal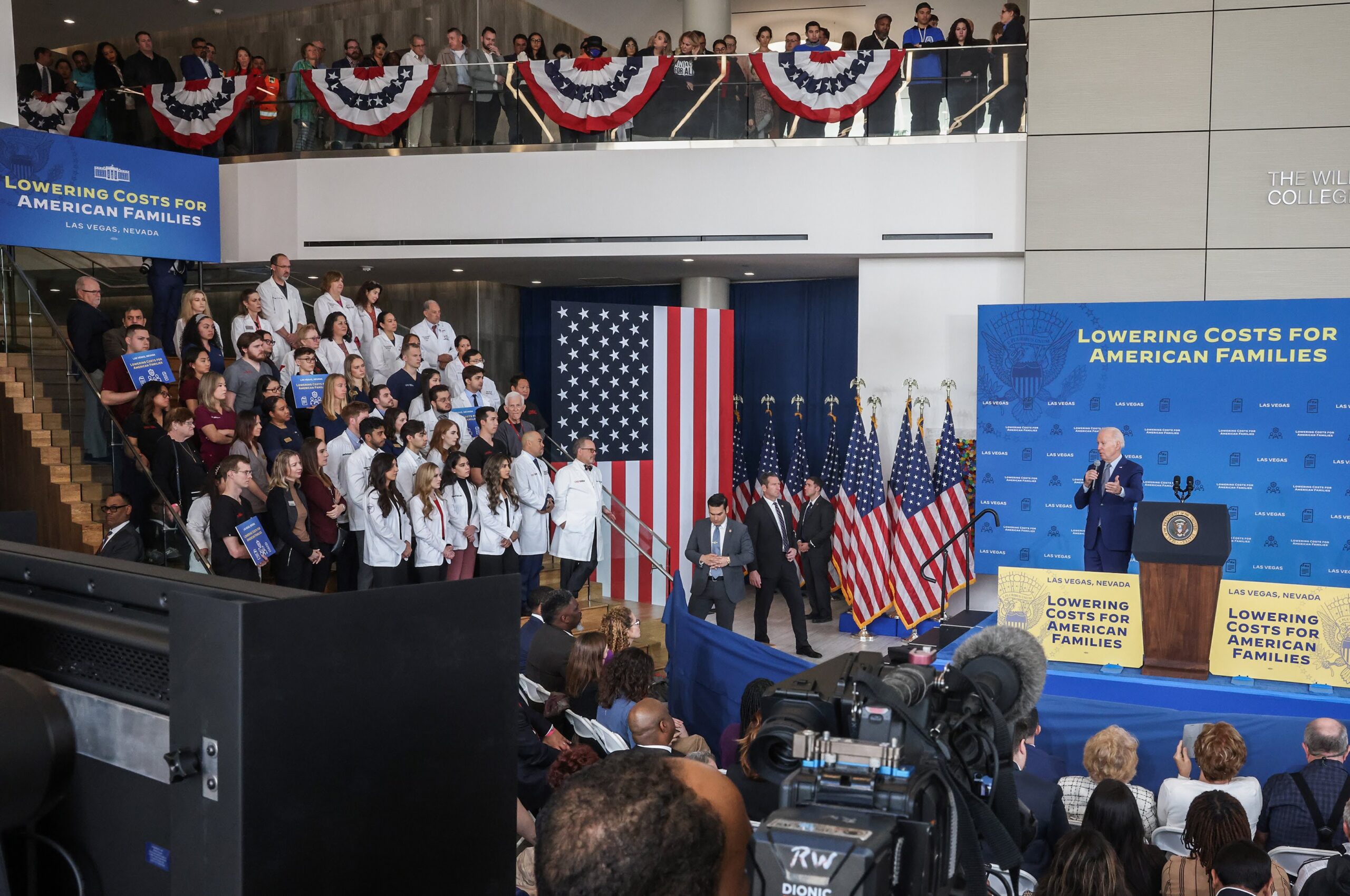 President Joe Biden doubled down on his commitment to lower prescription drug prices during his address at UNLV on Wednesday morning.
Biden brought his message of lowering prescription costs for American families to the event held in the atrium of the William F. Harrah College of Hospitality, where students and professors from UNLV's medical school, some in their white coats, listened to his message from the sidelines of the stage. Other attendees watched from the second floor.
"It's going to save seniors money; it's also going to save the government money," Biden said of his efforts. "So it's not only the right thing to do, it is a conservative thing to do in terms of cutting the federal budget."
U.S. Rep Dina Titus (D-NV), Nevada Attorney General Aaron Ford, Fort Mojave Indian Tribal Chairman Tim Williams and former Gov. Steve Sisolak were also among the attendees.
Biden recently unveiled major policy changes in Medicare infrastructure, including capping insulin prices at $35 a month starting at the beginning of the year, and authorizing Medicare to negotiate prescription drug prices with manufacturers. During Wednesday's event at UNLV's College of Hospitality, the 80-year old Democrat highlighted the Medicare changes, which stem from passage of the Inflation Reduction Act.
Biden said he wants to continue lowering prescription drug costs further by setting a $2,000-a-year cap by 2025 for Medicare patients who use many or very expensive drugs. The amount of the cap would rise based on specific indexes.
His budget for fiscal year 2024 details how he plans to build on the reforms made through the Inflation Reduction Act. He proposes expanding Medicare's ability to negotiate drug prices, requiring drug manufacturers to pay rebates for commercial drug sales and enabling the Department of Health and Human Services (HHS) to negotiate additional, supplemental Medicaid drug rebates on behalf of states.
But he noted that some Republicans want to see the act repealed, along with the Affordable Care Act that passed while he was vice president under former President Barack Obama.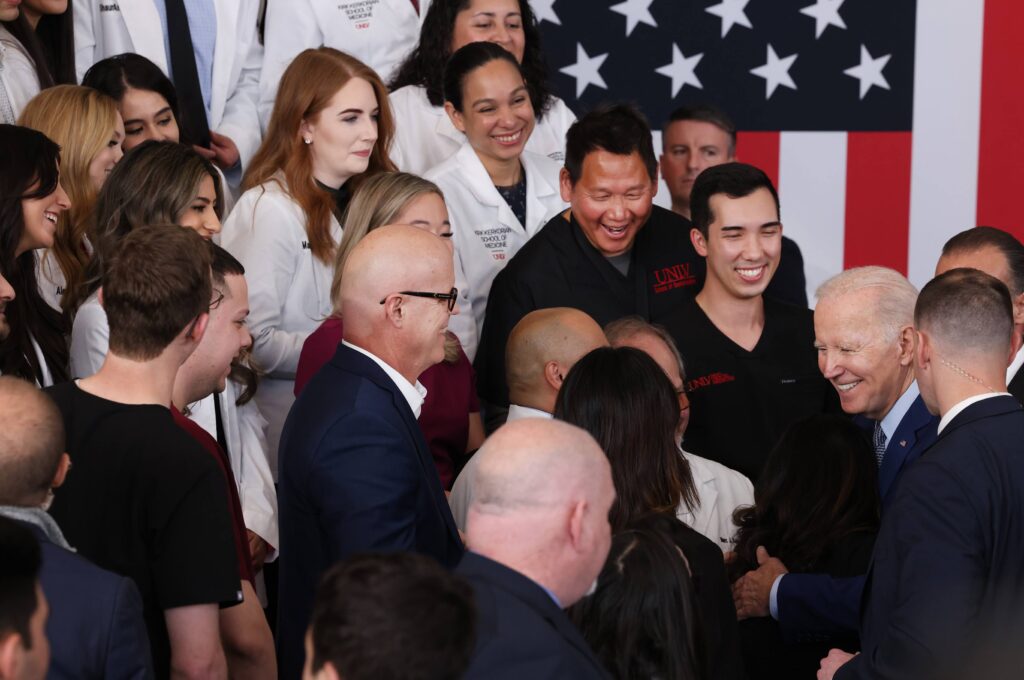 Biden landed in Southern Nevada on Tuesday evening for a visit where he promoted the plan to reduce prescription drug prices and aimed to raise $1 million as he builds momentum for an unannounced 2024 re-election campaign, sources said.
The trip was originally set to include him designating Avi Kwa Ame as a national monument, something he has pledged to do since last November, but that plan changed in the days leading up to the visit.
Biden kicked off his first day in Las Vegas with an evening reception as part of a three-day fundraising swing across the West Coast. Politico reported that Biden has already held a handful of fundraisers to benefit the Democratic National Committee in Eastern states. Hosts of the Las Vegas fundraising event include prominent local developer Jess Molasky, Thrive Cannabis Dispensary chain owner Phillip Peckman, and Las Vegas Sun publisher Brian Greenspun.
The visit comes days after Florida Gov. Ron DeSantis came to Las Vegas to promote his new book at an event at Stoney's Rockin' Country bar in a stop that was unofficially viewed as a precursor to his potential 2024 run for president. Although Biden is not expected to face a fierce primary challenge, only one prominent Democrat, author, spiritual adviser and former presidential candidate Marianne Williamson has announced a bid to become the Democratic presidential nominee for the 2024 election.
This is Biden's first trip to Nevada in three years. The president was absent from Silver State during the 2022 election season, although Obama did take part in a November rally as part of a last-minute push for Democratic candidates. Last August, Vice President Kamala Harris came out to Las Vegas to discuss with state legislators and advocates on efforts to protect access to abortion in the wake of the U.S. Supreme Court overturning Roe v. Wade.
Political challenges
Biden's budget is mostly symbolic because it's not likely to pass in the Republican-controlled House, and instead serves more as a source for political talking points and an opportunity to draw a contrast with Republicans.
Biden shared insight into his challenges with some Republicans at a Thursday fundraising event.
"They're telling me that unless I vote the way they want and I go along with their budget, they're not going to, in fact, pay our debts. We're going to, for the first time in American history, renege on the federal debt," he said.
Biden's approval rate remains low in Nevada. According to a recent Nevada Independent / OH Predictive Insights poll, 42 percent of Nevada voters would choose DeSantis and 36 percent would commit to Biden if the two end up in a matchup, and more Nevadans would opt for former President Donald Trump over Biden, but by a smaller margin.
Biden's ratings have largely remained underwater since the 2021 removal of U.S. troops out of Afghanistan.
Health care cooperation, calls to end gun violence
The Biden administration estimates Americans pay two to three times more for prescription drugs than citizens in other countries. Biden told the audience on Wednesday that American families deserve the right to survive and afford the care they need during an illness or accident.
"But the truth is too many folks lie in bed at night staring at the ceiling wondering what they would do if something happened if their spouse got a serious illness or they got very sick and their child got sick and something happens to them," he said.
Biden added that the purpose of his administration's intense focus on lowering the cost of health care is to give families in scenarios like this "a little bit of breathing room."
Biden's efforts are already having some success. Since last week, two major insulin makers announced plans to slash some of their U.S. insulin prices later this year and next.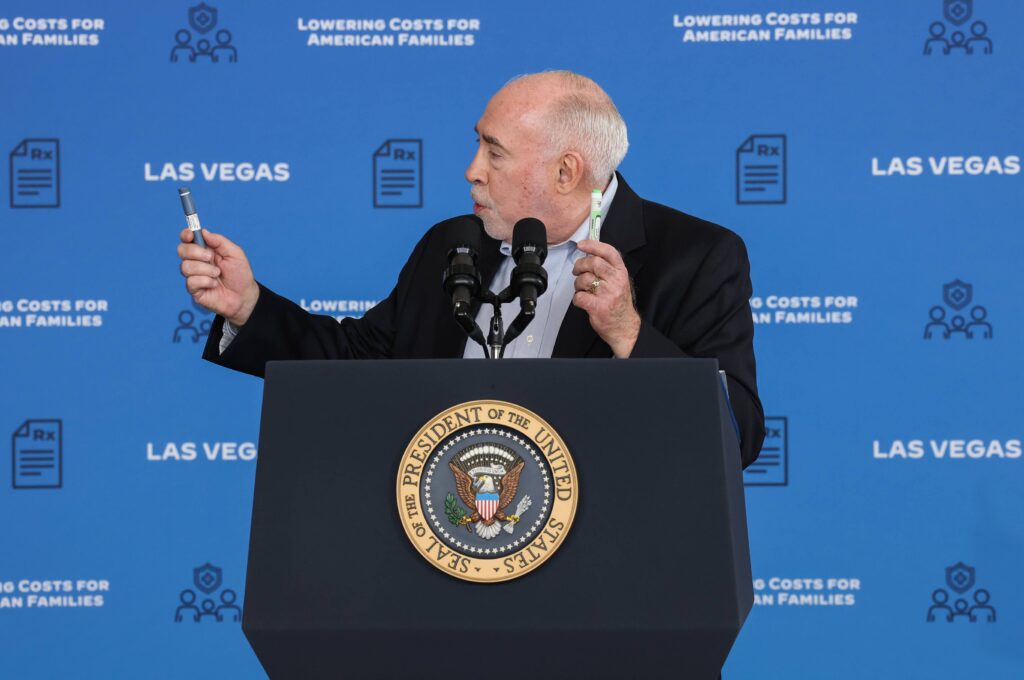 Nevada resident and Medicare beneficiary David Berman, who has type 2 diabetes, said he's already feeling the effect of Biden's policies in his pocketbook.
"Thanks to Joe Biden's efforts and the assistance of a Democratic Senate and House of Representatives, my monthly insulin costs dropped by 50 percent. That's real money in my pocket folks; money that comes in handy on a fixed income," he said before welcoming Biden to the stage.
Other policies kicked off through the Inflation Reduction Act include requiring that certain adult vaccines, such as those for shingles and tetanus, be covered at no cost for those on Medicare. It also requires prescription drug companies to pay rebates to Medicare if they raise their prices faster than inflation, as was the case last year with 1,200 prescription drugs, according officials with the Biden administration.
Officials estimated that 3.4 million people with Medicare would have saved an average of nearly $70 per person in 2021 had the Inflation Reduction Act already been in effect.
On Wednesday, HHS published a list of the first set of prescription drugs that will be subject to Medicare inflation rebates because they raised their prices faster than inflation. Those 27 drugs include Aveed – testosterone used to treat male hypogonadism, gender dysphoria and certain types of breast cancer – and Humira – an immunosuppressive drug treat arthritis, plaque psoriasis, ankylosing spondylitis, Crohn's disease, and ulcerative colitis.
Starting in April, some Medicare beneficiaries will have lower coinsurance for the 27 prescription drugs, HHS said in a press release.
According to U.S. Health and Human Services Secretary Xavier Becerra, the list will be updated quarterly.
HHS also released guidance Wednesday on how to negotiate prescription drug prices while Medicare releases the names of the first 10 drugs selected for negotiation.
"We finally, finally won," Biden said on Wednesday. "Now instead of paying whatever the drug company wants to charge, Medicare will be able to negotiate prices."
Before arriving in Vegas, Biden visited Monterey Park in Southern California, the site of a mass shooting in January during a Lunar New Year celebration where 11 people were killed and nine others were injured. Before his remarks honoring the victims, Biden issued a new executive order "with the goal of increasing the number of background checks conducted before firearm sales, moving the U.S. as close to universal background checks as possible without additional legislation,'' according to the White House.
It also directs the Federal Trade Commission to issue a report on how gun manufacturers market their products to minors as well as asks Biden's cabinet to explore how the federal government can better support communities affected by mass shootings.
There have been 110 mass shootings in the U.S. so far this year, with CNN reporting that the numbers have escalated since the 2020 COVID-19 pandemic.
"I won't stop fighting to end the scourge of gun violence," Biden said in a Tuesday tweet.
This story was updated on 3/15/23 at 3:34 p.m. to include new comments from President Joe Biden.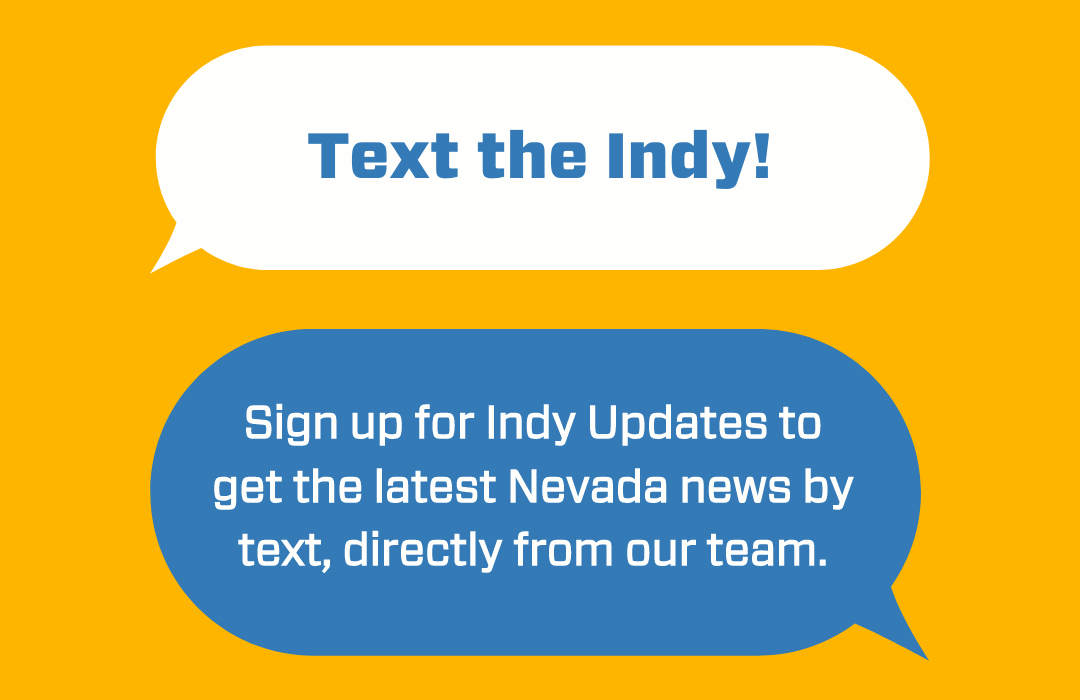 Featured Videos