Biden expands narrow lead in Nevada though presidential race remains too close to call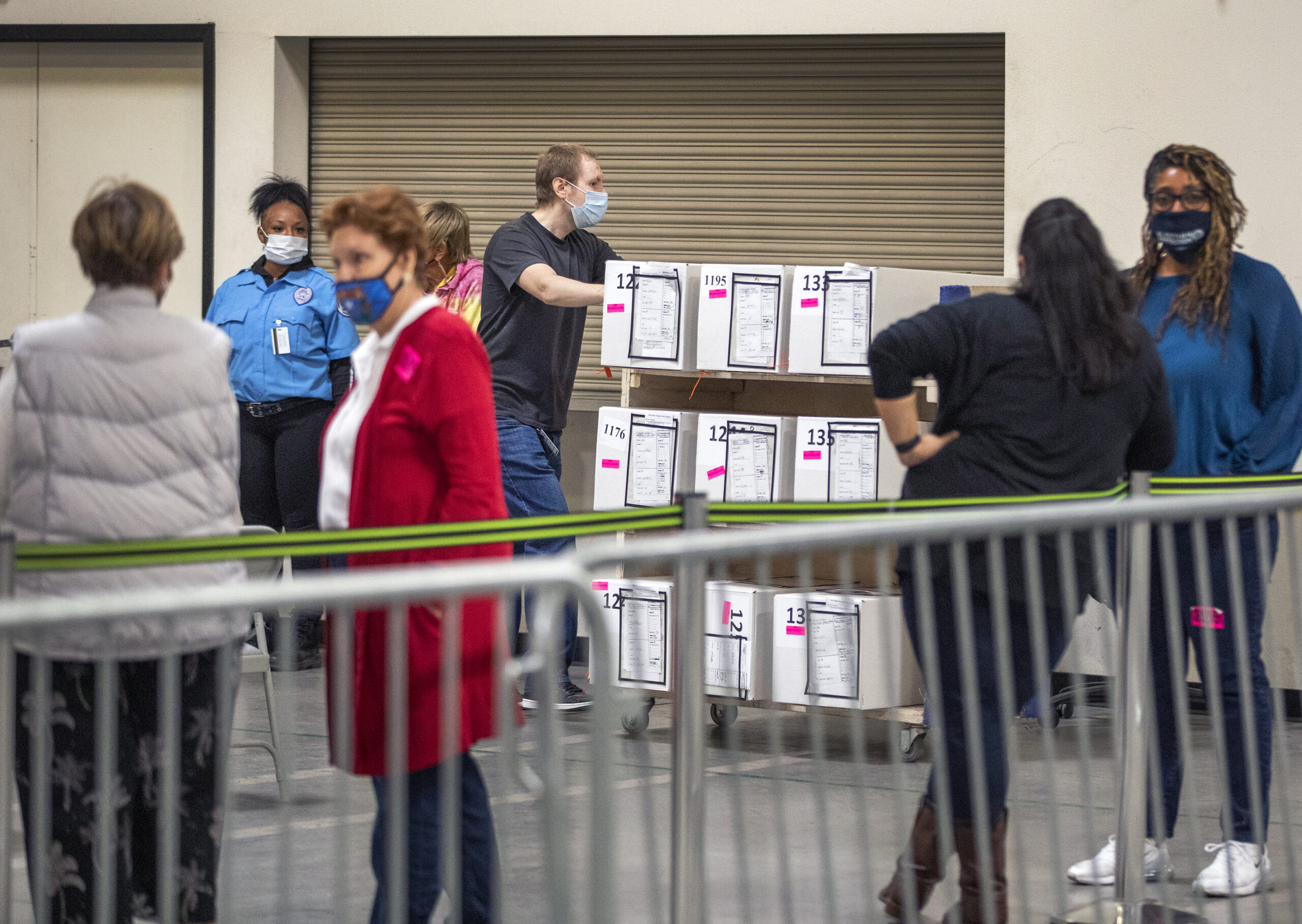 Former Vice President Joe Biden expanded his narrow lead over President Donald Trump in Nevada on Friday, placing him on what is expected to be a path to victory in the Silver State, though the race still remains too close to call with about 120,000 ballots still outstanding.
Biden now has a more comfortable 1.8 percentage point lead in the Silver State, up from just under a percentage point Thursday, as he managed to expand his lead over the president to 22,657 votes. However, fewer votes than expected rolled in on Friday, with Clark County posting tallies for only about 39,000 ballots instead of an anticipated 51,000 after election officials accidentally reported the total number of ballot pages to be counted rather than total ballots.
Among those 39,000 ballots, reported in two batches on Friday, the former vice president continued to capture about two votes for every one vote received by Trump, a result of the fact that the county is currently working through a stack of tens of thousands of mail-in ballots, a voting method much more preferred by Democrats than Republicans.
Those Clark County ballots represented almost all of the 47,000 new votes reported statewide on Friday, illustrating how difficult a path to victory is for Trump in the Silver State if Biden continues to win mail-in ballots in the county by the same margin, as he is expected to do. Rural counties, where Trump has been winning mail ballots by a 2-1 margin, only reported the results from 8,000 ballots Friday.
There are about 55,000 mail ballots left to count in Clark County, which Joe Gloria, the county's registrar of voters, said he expects to be mostly counted by Sunday, though mail-in ballots postmarked by Election Day can still be counted if they arrive by Tuesday. There is no way to know how many of those ballots might arrive in the next five days.
The next batch of election results are expected to be released about 9 a.m. on Saturday.
The challenge for the president in Nevada now is that there just aren't that many votes left in Trump-friendly rural Nevada to balance against those in Biden-friendly Clark County. Trump gained in rural Nevada by 2,072 votes Friday while Biden gained in Clark County by 13,158.
In addition to mail ballots that are still expected to favor Biden, Clark County has another 60,000 provisional ballots to process, anticipated to split somewhat evenly between the two candidates. Additionally, the county reported on Thursday that there are another 44,000 ballots requiring voters to provide proof of identification by 5 p.m. on Friday in order to be counted and 2,100 mail ballots needing to have their signatures verified by Nov. 12.
As of Thursday, there were about 169,000 outstanding ballots to be counted statewide, which, after subtracting the Clark County ballots, left only about 16,000 ballots to be counted between Washoe County, which has slightly favored Biden, and ruby red rural Nevada. After the new results were released on Friday, that total dwindled to a little more than 8,000.
That leaves the president in a precarious position, with most news outlets projecting that Biden has secured 253 electoral votes out of the 270 needed to win the White House and one, Decision Desk HQ, already forecasting that Biden has won the presidency with the help of Pennsylvania. Other news outlets have deemed the race in the Keystone State too close to call, meaning that Nevada, with the help of another state, could still help notch Biden a victory.
The Trump campaign, however, in a statement Friday morning was unwilling to concede the election might be over and continued to assert that there were "thousands of individuals" in Nevada who improperly cast mail ballots, referring to a list of 3,000 voters who cast ballots but had supposedly moved out of state. That list, however, which was sent by the Trump campaign and the Nevada Republican Party to the U.S. Department of Justice on Thursday, appeared to include a significant number of military families who still maintain residency in Nevada.
"The election is not over," Matt Morgan, general counsel for Trump's re-election campaign, said in the statement. "The false projection of Joe Biden as the winner is based on four states that are far from final."
At the same time, the Biden campaign appeared to be preparing for the possibility that Trump might never concede the presidential race.
"As we said on July 19th, the American people will decide this election. And the United States government is perfectly capable of escorting trespassers out of the White House," Biden campaign spokesman Andrew Bates said in a statement.
Down ballot, Democrats in the state's two competitive congressional races continued to widen their leads Friday, once again lifted by thousands of votes from Clark County.
In swingy District 3, incumbent Democrat Susie Lee extended her lead over Republican Dan Rodimer to 11,437 votes, or 3.08 percent. Since Wednesday, Lee's percentage-lead has more than doubled from 1.5 percent, and her raw vote-lead has more than tripled as thousands of ballots in Clark County — where she is winning newly counted votes roughly 2-to-1 — have slowly been added to the state's count.
Incumbent Democrat Steven Horsford secured victory in the race for District 4, where he lengthened his lead to 3.9 points, or 11,558 votes, over Republican Jim Marchant by Friday afternoon. Friday's tallies also marked the first point this cycle that any candidate in a competitive race netted more than half of all votes, as Horsford sat at 50.38 percent of the vote as of the afternoon count.
Updated Clark County vote totals also provided some good news for legislative Democrats, with state Senate Majority Leader Nicole Cannizzaro posting a narrow lead over her Republican opponent, April Becker, and the gap narrowing in Senate District 5, where Republican Carrie Buck holds a slim lead over Democrat Kristee Watson. Cannizzaro leads by 311 votes as of Friday afternoon, while Buck's lead now sits at 165.
No race leads shifted in the state Assembly, though Democrats continued to narrow the gaps in several key races where incumbents trail Republican challengers including Assembly Districts 4 and 37.
Control of either legislative chamber isn't expected to flip, though Republicans can block a supermajorities in the state Senate by continuing to hold Senate District 15, where incumbent Heidi Gansert leads Democrat Wendy Jauregui-Jackins by about 2,700 votes, and in the Assembly by winning back at least two seats.
And in the campaign for Ballot Question 1, a measure that, if passed, would remove the Board of Regents from the state Constitution, votes from Clark County continued to narrow the lead for the "No" campaign, dropping the margin to 51 percent against and 49 percent in favor, or a difference of 23,680 votes as of Friday afternoon.
With most of the remaining votes left to be counted in Clark County, that margin is expected to continue to tighten considerably through the weekend. With Friday's update of the 39,000 votes in Clark County, the margin for "No" dropped by more than 7,300 votes, reducing the raw vote differential by nearly a third.
Election workers, meanwhile, continued to process ballots on Friday amid the increased national attention on Nevada. Amid heightened tensions, protesters have demonstrated outside the Clark County Election Center for the last two nights.
Security was noticeably beefed up Friday morning at the election center, which Gloria acknowledged during the press briefing. Law enforcement authorities are monitoring social media for messages that appear threatening toward the county's election workers.
Because some election workers are leaving late at night, Gloria said they have encouraged people to not walk outside alone — a situation underscoring the tense nature of the presidential election.
"They can also request an escort from our security people or law enforcement," he said. "So we are doing everything we can to protect our employees, and I think the response from local law enforcement and the assistance we have received from our county commission has helped to make sure that happens."
And as vote counting continues, litigation lurks in the background. A lawsuit backed by the Trump campaign and the Nevada Republican Party was filed in Las Vegas federal court late Thursday. The six-page court document challenges Clark County's ballot-counting process and seeks an injunction that would bar it from continuing use of a signature verification machine known as the Agilis system.
On Friday morning, the Democratic National Committee and the Nevada State Democratic Party filed a motion to intervene in that lawsuit. The matter was still being heard in court as of Friday afternoon.
Gloria reiterated that any discontinuation of using the Agilis system would hamper the county's ability to efficiently process mail ballots.
"We're working hard to get everything through now so we won't have to worry about that, but that would slow down our process tremendously," he said.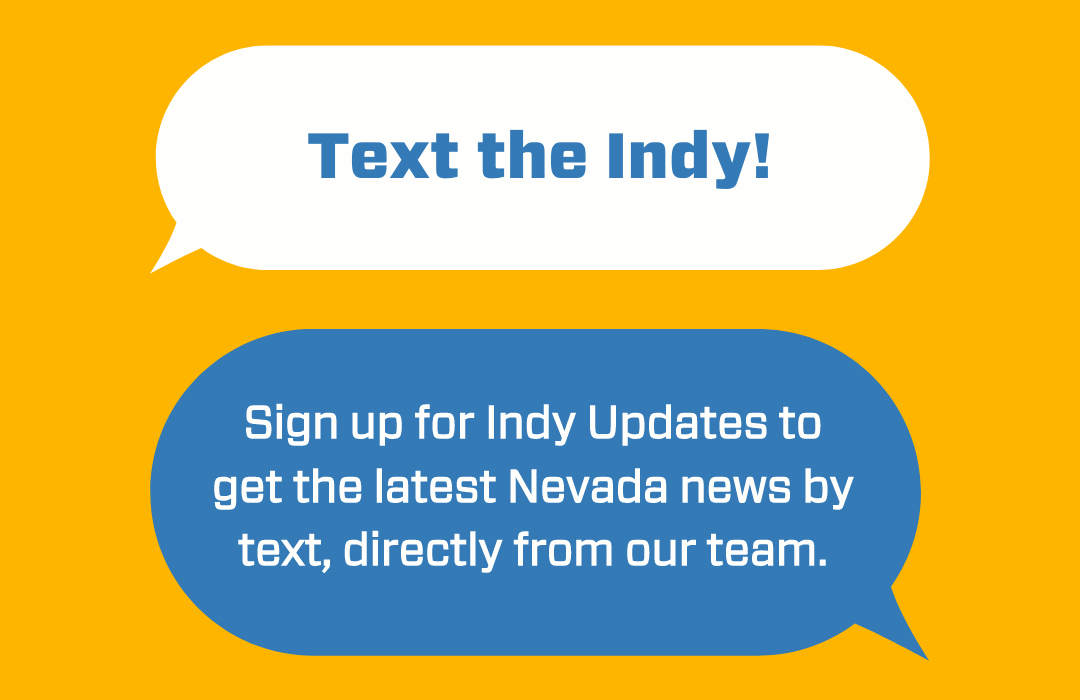 Featured Videos