Candidate filing roundup: Dozens file to run for local Clark, Washoe offices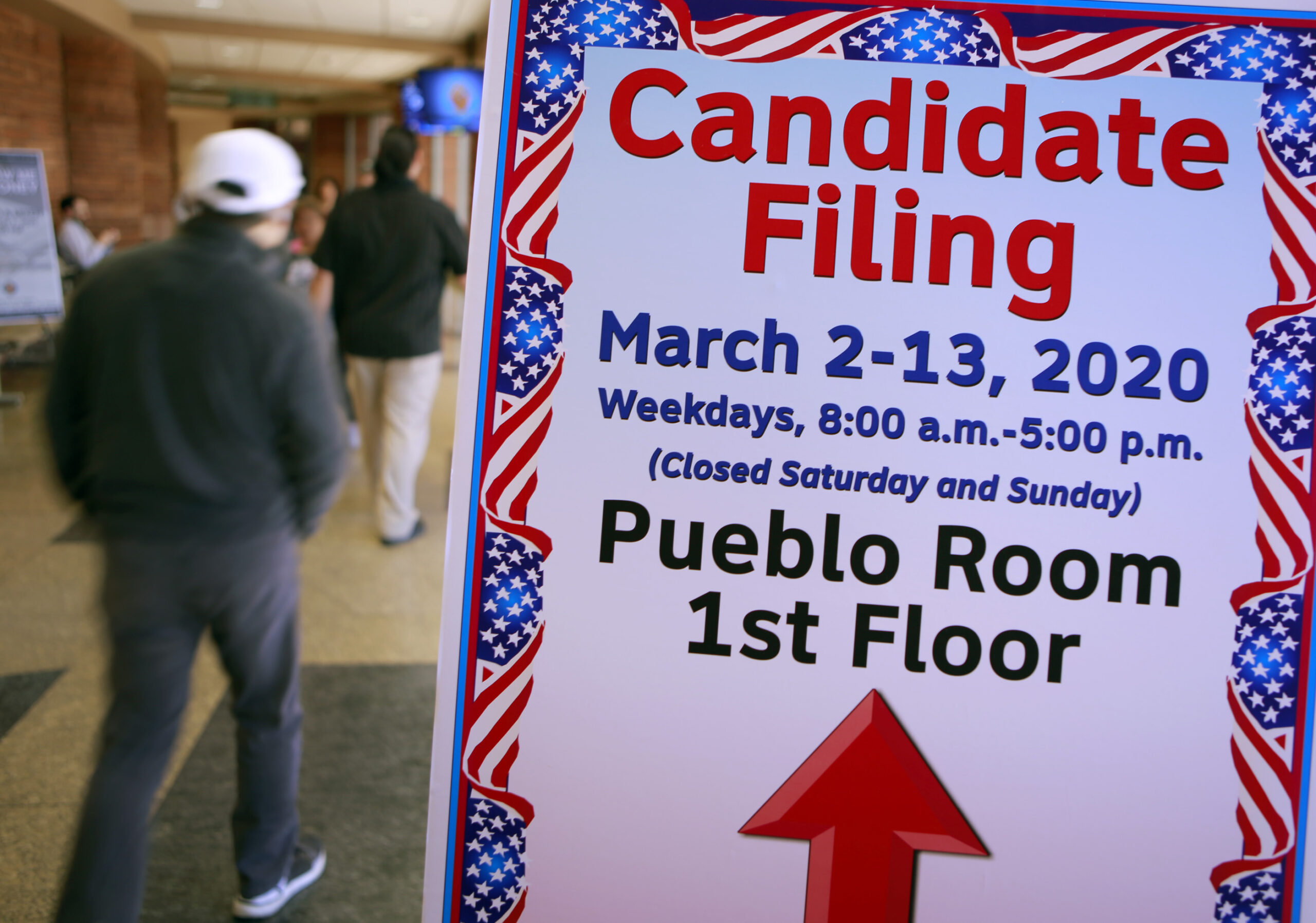 Nevada's two-week candidate filing period wrapped up earlier this month, with dozens of down-ballot candidates filing for crucial, yet under-the-radar local offices in the state's two most populous counties.
Down-ballot races often play a bigger role in the day-to-day life of communities than contests with more pizzazz, with school boards setting education policy and municipal governments overseeing land use planning and business licensure.
Several local government races are nonpartisan, which means candidates are not identified by political party and all voters regardless of party registration can vote in the race.
In nonpartisan races, the June 14 primary election can be even more pivotal than in partisan races, as candidates who win more than 50 percent of the vote are automatically elected to the office without having to run in the  Nov. 8 general election. Candidates had until March 29 to withdraw from races.
For a full list of candidates running in major races, check out last week's edition of Indy 2022 or the spreadsheet on our candidate filing live blog. Here's a look at the local government highlights from the candidate filing period.
CLARK COUNTY
Clark County Commission
Three incumbent members of the Clark County Commission, all Democrats, are running for re-election to the board that governs and provides social, legal and other services to Clark County. The commission has seven members who serve staggered four-year terms, and is considered one of the most powerful political bodies in the state given the size of its budget — not much smaller than the state's general fund — and the geographical area it covers.
Commissioner Richard "Tick" Segerblom is running for re-election to District E, which covers parts of central and east Las Vegas including Paradise, Sunrise Manor, Whitney and Winchester.
Segerblom, an attorney, served in the Legislature for more than a decade before winning a 2018 race for county commission. He eked out a close victory in the primary over labor organizer Marco Hernandez, winning by 183 votes out of nearly 12,000 cast, before winning the general election by a comfortable margin.
Hernandez is again running in 2022, but this time with no political party listed — meaning he'll skip the primary and appear on the general election ballot. One additional candidate with no party listed, Joette Luiz, filed to run for the seat.
Segerblom attracted one Democratic primary opponent, Jacob "Jake" Macias (who does not have a campaign website), and two relatively unknown Republican opponents, Dennis Ayala and Jon Rider. He will also be running against Independent American Party candidate Randy Rose. Rose, who worked as a branch manager for Empire Futures Group, previously ran to represent District E in 2018 and lost in the Republican primary.
In District F, which covers portions of Enterprise, Paradise, Spring Valley and Winchester along with southern parts of the county, Commissioner Justin Jones is running for a second term after defeating Republican Tisha Black in the 2018 election. Jones is a former state senator.
He's being challenged by four Republican candidates: Mike Campion, Drew Johnson, John Ovnik and Jenna Waltho. Ovnik is a music producer and Waltho is a member of the county planning commission.
Campion is the director of a local credit union. Johnson is a conservative columnist who has contributed to publications such as Newsmax, The Washington Times and Fox News, expressing support for free speech, pornography as a way to reduce sex crimes, same-sex marriage and drug legalization.
Commission chair and former Henderson Mayor Jim Gibson (D-NV) is running for re-election in District G, which covers portions of Henderson and Boulder City. He defeated Republican Cindy Lake in the 2018 election.
Gibson attracted two Republican challengers — U.S. Navy veteran Billy Mitchell and Joe Ludwig. One Libertarian candidate, Jesse James Welsh, also filed for the seat.
District Attorney
Democratic incumbent Steve Wolfson, who assumed office in 2012 and won re-election in 2014 and 2018, is running for another term to lead the district attorney's office, which employs nearly 700 people and prosecutes crimes on behalf of the government.
Wolfson faces a Democratic primary challenge from attorney and former Assemblyman Osvaldo "Ozzie" Fumo, a staunch critic of Wolfson who wants to end use of the death penalty and has led efforts against the use of cash bail.
The winner of the Democratic primary will face Republican Timothy Treffinger, a criminal defense attorney.
Las Vegas City Council
Three seats on the Las Vegas City Council are open in 2022, with two incumbents leaving their seats to run for higher office. Members of the council serve four-year terms and run as nonpartisans, overseeing a city government that manages parks, roadways, a fire department, traffic court, building inspections and more.
Incumbent Councilwoman Victoria Seaman is running for re-election in Ward 2, after winning a special election in 2019 to replace Councilman Steve Seroka after his resignation. She served one term in the Assembly.
Her five opponents include Army veteran and fire services specialist Alan Bigelow, real estate broker Jeff Bradshaw, Ronald McWhorter, dental surgeon Erika "Doc Smith" Smith and retired Las Vegas Fire and Rescue professional Mike Tomko.
Ward 4's termed-out Councilman Stavros Anthony is running for lieutenant governor. Four candidates want to replace him, including former Councilman Bob Beers and former Assemblywoman Francis Allen-Palenske. Other candidates include Brenda Flank and Robert J. Plummer.
Ward 6 Councilwoman Michele Fiore is running for state treasurer. The race has attracted seven candidates, including author and Sprouts Market manager Luke R. Anderson, former Guinn Center executive director Nancy Brune, attorney and event producer Paul I. Casey, labor activist and Las Vegas Planning Commission Chairman Lou DeSalvio, college student David Dillie, finance professional Matt Passalacqua and Metro police homicide Lt. Ray Spencer.
Municipal races this cycle are the first to be conducted in even-numbered years, after legislators ended off-year elections, known for low turnout.
North Las Vegas mayor, City Council
In North Las Vegas, seven candidates filed to run for mayor as incumbent John Lee seeks the governor's post.
Candidates include entertainment producer Gary Bouchard, who lost to Lee in 2017.
Other candidates include educator and North Las Vegas city Councilwoman Pamela Goynes-Brown, former Regent and North Las Vegas planning commissioner Laura E. Perkins, Democratic state Sen. Pat Spearman, business owner and community organizer Robert "Twixx" Taylor, business consultant and veteran Nathan Atkins and police officer and veteran Jesse Addison III.
Two incumbent councilmembers are also up for re-election. In Ward 1, Councilman Isaac E. Barron is running against hospital services professional Lance Robert Eliason.
In Ward 3, Councilman Scott Black is running against civil rights advocate Jovan Jackson and veteran Mario Mitchell.
Henderson mayor, City Council
In Henderson, three candidates have filed to run for mayor as Mayor Debra March, who served on the city council since 2009, runs for lieutenant governor. In Henderson, the mayor and four city council members are elected at-large (meaning city-wide and not by voters in specific wards) and run in nonpartisan elections.
Councilwoman Michelle Romero, who took office in 2019, is running for mayor. Prior to being elected, she worked as a redevelopment manager for the city.
Other mayoral candidates include Frank Ficadenti, who heads a Virginia-based investment advisory firm, and Drew Dison, who does not have a campaign website.
In Ward 3, six candidates filed to replace Councilman John F. Marz, who has held the seat since 2012 and is not running for re-election. Candidates include NV Energy project manager John "Jack" Niland, commercial real estate and business attorney Steve Rice, educator and business owner Carrie Cox, real estate broker and education advocate Trish Nash, Three Square food bank vice president Jodi Tyson and Republican Doug Perns.
Rice has been endorsed by Marz, March and Councilman Dan Shaw.
Clark County sheriff
The prospect of leading police officers in Las Vegas has drawn interest from seven candidates who filed to run for Clark County sheriff.
Kevin McMahill, who recently retired as undersheriff of the force, has raised the most money. Trailing him in fundraising are Assemblyman Tom Roberts — who also spent his law enforcement career with Metro Police, most recently as assistant sheriff — and Stan Hyt, another veteran of the department.
WASHOE COUNTY
Washoe County Commission
Three of the five seats on the Washoe County Commission are up for election in 2022.
In District 2, which borders the southern edges of the county, Bob Lucey is seeking his third and final term. Lucey, a Republican veterinary clinic owner and real estate professional, was first elected to represent the district in 2014.
Lucey's challengers include Republican Michael Clark, running for the seat after serving almost two terms as the county assessor. The two remaining candidates, Democrat Keith Lockard and Libertarian David Banuelos, do not have campaign websites.
Republican Jeanne Herman is running for her third and final term in District 5, representing the county's largest physical district and including portions of Reno and Sparks and areas bordering California and Oregon.
Her campaign filing comes after the defeat of her controversial recent election measure, which called for reverting to paper ballots and stationing Nevada National Guard members at each polling site. The measure failed on a 4-1 vote.
The five candidates challenging Herman include nonpartisan Krysta Jackon, founder of a confections manufacturer; Republican Wendy Leonard, a retired Washoe County Sheriff's Office lieutenant; Republican "MO" Molezzo, an attorney, and Democrat Edwin Lyngar, a freelance writer and adjunct faculty member at Truckee Meadows Community College. Democrat Joe Rector also filed for office, but withdrew his candidacy.
Five candidates are battling to replace termed-out Democratic Commissioner Kitty Jung in District 3.
The race includes Democrats Hawah Ahmad, a Democratic Party activist and former teacher's union lobbyist; Marilux Garcia, the executive director of UNR's Dean's Future-Scholars program, and Kyle Isacksen, a science teacher at Reno's High Desert Montessori Charter School. Republicans George Lee and Denise Myer also filed, but did not have campaign information readily available.
District Attorney
Republican Christopher Hicks is running unopposed in his re-election campaign for district attorney. He first assumed office in 2014, following in the footsteps of his father, who filled the role from 1974 to 1978.
Reno mayoral race
Reno Mayor Hillary Schieve is defending her seat for the third and final time against 10 other contenders, including sitting councilwoman Jenny Brekhus, perennial candidate Eddie Lorton and IMBĪB brewery co-founder Matthew Johnson. The race, featuring some candidates who ran for the seat in 2014 and 2018, will likely be one of the most competitive local government races this election cycle.
The position of mayor is nonpartisan, meaning that the two candidates who receive the most votes in the primary election will proceed to the general election and no candidates will have political party affiliation listed.
Reno City Council
Two seats on Reno's City Council are up for election – both feature well-established incumbents squaring off against relative newcomers.
In Ward 2, which covers the southwestern parts of Reno, Councilwoman Naomi Duerr is running for her third and final term. A geologist, Duerr has served as the Nevada state water planner, director of the Truckee River flood management program, and on the board of UNR's Mackay School of Mines.
First elected in 2014, Duerr faces challenges from Jay Kenny, owner of three Doughboys Donuts shops in Reno and Sparks, and Tyler Hinman, who does not yet have a candidate website.
Councilwoman Bonnie Weber is also facing two challenges for her Ward 4 seat, which represents neighborhoods in northeastern Reno and includes portions of the North Valleys. Weber was first elected in 2018 and will be running against Meghan Ebert and Dennis Owen, who do not yet have campaign websites.
Before serving on the city council, Weber served as a Washoe County commissioner for three terms and worked for 11 years at the Washoe County School District.
Withdrawals from legislative races leave some candidates with less competition
Only a few candidates left their races by a Tuesday deadline to withdraw their election bid.
In Senate District 20, Assemblyman Glen Leavitt's (R-Boulder City) withdrawal leaves longtime California politician Jeff Stone as the only GOP candidate in the running for the heavily Republican district. Stone, who received the endorsement of Senate Minority Leader James Settelmeyer (R-Minden), served previously in the California state Senate and in the U.S. Department of Labor under the Trump administration.
In another solidly Republican district in Northern Nevada, Democrat Lance West withdrew from the Senate District 14 race, leaving incumbent Sen. Ira Hansen (R-Sparks) to join his wife Alexis Hansen (R-Sparks) as two of only three sitting lawmakers who face no opponents to re-election this year. The other is Assemblywoman Jill Dickman (R-Sparks).
In Las Vegas' safely Democratic Assembly District 18, two Republican candidates — Miguel Navarro-Garcia and J.W. Vogelsang — withdrew from the race. The remaining Republican candidate — health insurance company owner Christine DeCorte, who lost a race for the district by 28 points in 2016 — will face Assemblywoman Venicia Considine (D-Las Vegas) in November.
— Sean Golonka
Editor's Note: This story appears in Indy 2022, The Nevada Independent's newsletter dedicated to comprehensive coverage of the 2022 election. Sign up for the newsletter here.
Update: 3/31/22 at 8:00 a.m. — This story was updated to update language regarding the candidate withdrawal deadline.
The Nevada Independent is raising $200,000 by Dec. 31 to support coverage of the 2024 election.
Tax-deductible donations from readers like you fund this critical work.
If you give today,your donation will be matched dollar-for-dollar.
Give + Get Matched
Featured Videos