Candidate filing live blog: Danny Tarkanian to challenge Amodei, Cresent Hardy returns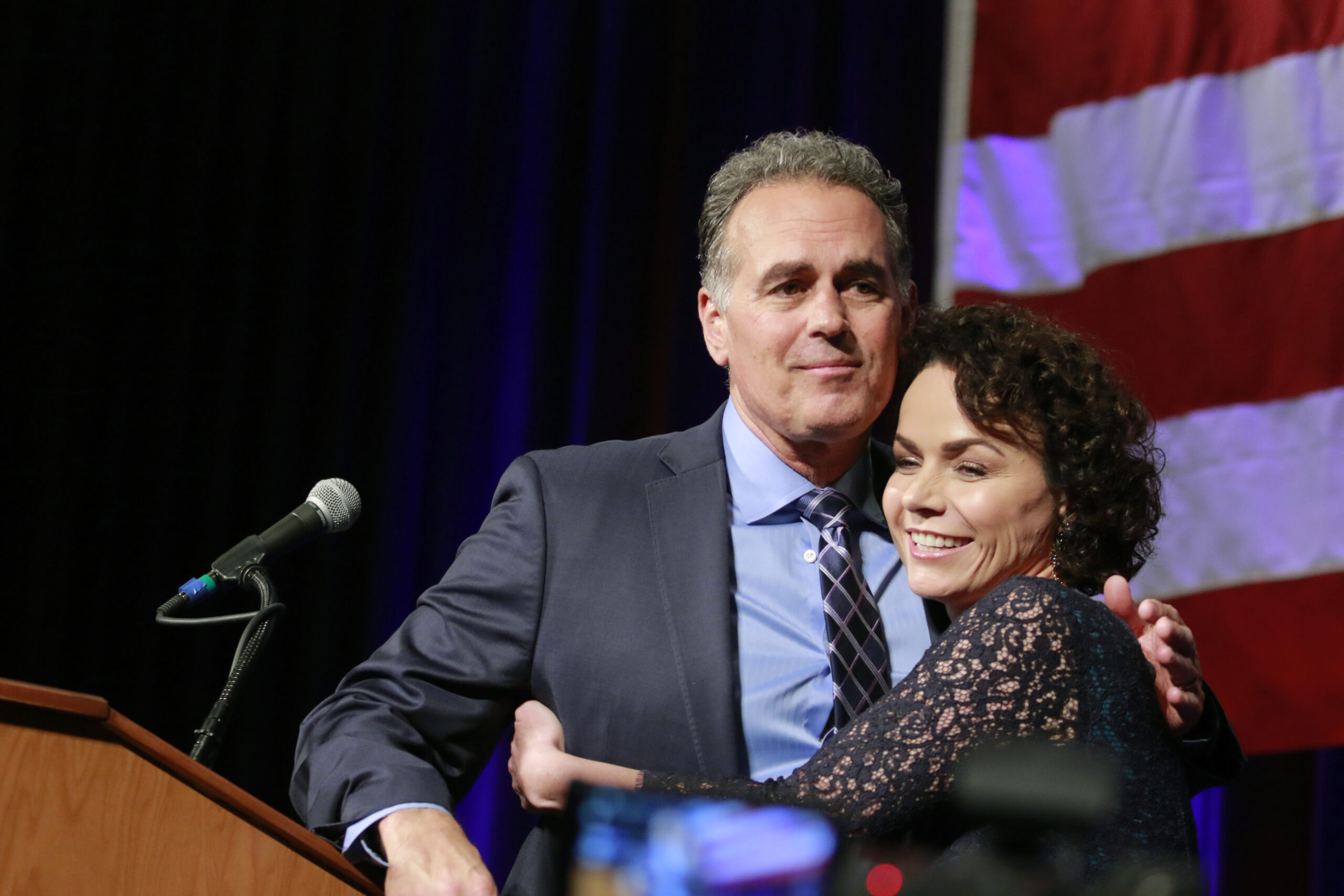 Months after many candidates launched their campaigns for elected office, Nevada's two-week candidate filing period kicked off on Monday.
The filing period, which runs until March 18, is a major step for candidates to make their bids official, even though many already have announced intentions to run, started fundraising and held public events. It often brings surprises, such as when candidates decide not to carry through with an announced campaign, switch races or make an unexpected run for a seat.
The filing period is also the first to occur under the new congressional and legislative district maps approved by lawmakers late last year, many of which shore up Democratic advantages in voter registration. Those maps, roundly criticized by state Republicans, have been challenged in court by a group including two GOP lawmakers, with a hearing requesting a delay in the filing period scheduled for Friday.
Candidates must appear either virtually or in person, pay a filing fee, show identification and sign paperwork to complete the transaction. For seats within a single county, candidates file at that county clerk's office; for multi-county or statewide seats, they file with the secretary of state's office.
Judicial candidates typically have a separate filing period in January, but that was pushed back to March and aligns with the period for all other candidates because of legislation passed in the redistricting special session last fall.
The primary election is June 14, and early voting runs from May 28 to June 10. The general election is Nov. 8, with an early voting period that runs from Oct. 22 to Nov. 4. Mail ballots will be sent out no later than 20 days before Election Day, but are often sent out even before the start of early voting.
Below are highlights from the candidate filing period, as well as a spreadsheet of filed candidates.
Cresent Hardy makes surprise return, files to challenge Titus
Republican Cresent Hardy, who previously represented Nevada's Congressional District 4 from 2015-2017, has filed to run for District 1, a seat held by Democrat Dina Titus since 2013 but that has become newly competitive after redistricting.
Hardy last ran for office in 2018 but lost the District 4 race to Rep. Steven Horsford (D-NV), whom Hardy previously defeated in a 2014 red wave that saw Republicans take control of a majority of statewide offices. Hardy also lost the District 4 race in 2016.
Hardy, who had not announced his intentions to run and filed for office roughly 90 minutes before the deadline, declined to answer questions after filing.
In a release announcing his candidacy, the former two-term assemblyman said he has "unfinished business in Congress" and pointed to high inflation and his desire to improve Nevadans' quality of life as reasons for running.
"As Nevadans deal with an economy that is leaving them behind as inflation and gas prices skyrocket, I see another opportunity for me to do what I was born to do: serve my community," Hardy said in a statement.
Hardy joins seven other Republican candidates — including Carolina Serrano, Mark Robertson and David Brog — running for a seat a Republican last won more than 20 years ago, when Rep. John Ensign won re-election.
District 1 saw an influx of Republican voters following the redistricting special session last fall, which reshaped the district to extend further east and include more of Henderson and Boulder City. The new lines are expected to make the seat more competitive.
— Sean Golonka, 3/18/22, 4:25 p.m.
In surprise filing, Danny Tarkanian to challenge Amodei in GOP primary
Douglas County Commissioner Danny Tarkanian is filing to run for Northern Nevada's Congressional District 2, challenging incumbent Rep. Mark Amodei in the Republican primary after weeks of alluding on Twitter to a potential run.
Tarkanian, the son of legendary UNLV basketball coach Jerry Tarkanian, currently holds a county commissioner seat won in 2020 after losing several bids for office over the past two decades. Those unsuccessful bids include a run for Congressional District 3 in 2018 against Rep. Susie Lee, another loss in 2016 against then-Rep. Jacky Rosen in the same district and a loss in 2012 against Rep. Steven Horsford in District 4.
In a statement announcing his run, Tarkanian described himself as a "forceful conservative" and said he was inspired to run for this office after seeing Amodei vote to confirm a $1.5 trillion omnibus federal spending package last week that funded the federal government through fiscal year 2022.
Amodei was one of 39 House Republicans to vote in support of the two omnibus bills, citing millions of "earmarks" that funded a long list of projects in Nevada and a provision that continues to restrict use of federal funds for abortions as provisions that made the bill more palatable to him.
"At that moment, I realized how important it was for a strong conservative to run against Mark," Tarkanian said in a statement. "It is tough beating an incumbent. However, I have never backed down from a challenge in my life. I was raised to be a fighter, to persevere, and to never give up."
In a brief interview prior to Tarkanian's announcement, Amodei said he would welcome a primary challenge.
"I'm the guy who had a primary against Sharron Angle, and a ton of people in the [2011 special election for District 1]," Amodei told The Nevada Independent. "In the six or seven times that I've run, it's always been contested and that's just the nature of the beast,"
According to the secretary of state's office, District 2 has more than 192,000 voters registered as Republican and nearly 136,000 Democrats. After redistricting, the Northern Nevada district maintains a GOP advantage and covers an area that went for Trump by a 10-point margin in the 2020 election.
Six Democrats have filed so far to run for District 2, and the Republican primary will now be between Amodei, Tarkanian and Brian Nadell (who previously ran for District 3).
Even if he loses the congressional race, Tarkanian will remain in elected office, because Douglas County commissioners' terms last four years.
— Jannelle Calderón and Humberto Sanchez, 3/18/22 at 1:25 p.m.
Dina Titus files for re-election to seat that became more competitive after redistricting
Rep. Dina Titus (D-NV) filed for re-election in Congressional District 1 in Las Vegas Friday, becoming the last of the state's House representatives to file.
District 1 gained Republican voters and became more competitive after the redistricting special legislative session last fall, which reconfigured the district to extend further east and include more of Henderson and Boulder City. Titus has held the seat since 2013.
Joined by about 40 supporters outside of the Clark County Government Center, Titus highlighted Nevada's economic recovery from record high unemployment and said she was focused on bringing services to "those who don't have so much as opposed to those who've got it all."
Speaking to reporters after filing, Titus downplayed the differences in her district following redistricting, pointing to her experience representing the Las Vegas area during her time in the state Senate and before the last redrawing of the district lines in 2010.
Prior to representing District 1, Titus represented Congressional District 3 for just one term between 2008 and 2010 before losing in a close race against Republican Rep. Joe Heck. Before that, Titus served in the Legislature starting in 1988 and was Senate minority leader from 1993 to 2008. She was also a political science professor at UNLV before retiring in 2011.
Titus faces a challenge in the primary from Amy Vilela, who champions Medicare for All and has criticized Titus for not being progressive enough. Seven Republicans — including Carolina Serrano, Mark Robertson and David Brog — have filed hoping to turn the district red.
Titus sought to differentiate herself from Vilela, describing her challenger as a "socialist."
"I'm the progressive Democrat in this district, always have been," she said. "We'll just talk about the issues, and I think she'll have a hard time breaking through the support we have in the Democratic Party in the district."
Titus added that she has not talked with Vilela about a primary debate, but did not answer a question about whether she would agree to debate with her opponent, instead saying, "I don't know if she'll want to debate me, so we'll see."
Titus also addressed climate change and the scarcity of water in the West, noting she was concerned about water in relation to the Clark County lands bill — legislation introduced by Sen. Catherine Cortez Masto (D-NV) that would pave the way for the Las Vegas metro area to expand toward California while setting aside land for conservation and recreation.
"That's why I voted for the infrastructure bill that includes a water project where we're sharing with California recycled water, and more enhancement of conservation projects, just like the county here taking out unnecessary turf," Titus said.
She pointed to other forms of irrigation as another way to reduce water usage and noted that the Desert Research Institute was looking into irrigation systems used in Israel.
— Jannelle Calderón and Sean Golonka, 3/18/22, 12:20 p.m.
Fiore makes surprise switch, jumps from crowded governor race to treasurer contest
Months after announcing a bid to run for governor, Las Vegas City Councilwoman Michele Fiore is making an unexpected leap into the treasurer's race.
Fiore announced the decision in a video she tweeted on Thursday, making it official in the Carson City office of the secretary of state on the second-to-last day candidates are allowed to file in order to appear on the Nevada ballot.
"Inflation is sky high, our economy is falling apart and gas is nearing $7 a gallon," she said in the one-minute spot. "After talking with President Trump's team, I've decided that now is the time to focus on our economy. I'm running for Nevada state treasurer."
Known for her penchant for guns and attention-grabbing commercials, the former Republican assemblywoman is leaving a crowded primary for governor that includes 15 GOP candidates for the sleepier treasurer's race, which so far only includes businessman Manny Kess on the Republican side. The winner of the GOP primary is likely to face Democratic Treasurer Zach Conine, who has not yet drawn a primary challenger.
Fiore said in the video that she's been CEO of multiple businesses — although some have closed under questionable circumstances — and employed more than 2,000 Nevadans over her career. She also said she would ensure children "get the education they deserve."
The state treasurer's duties include overseeing government investments, certain scholarship programs, college savings plans and unclaimed property disbursals.
— Michelle Rindels, 3/17/22, 4:15 p.m.
Brown makes Senate bid official, repeats call for debate with Laxalt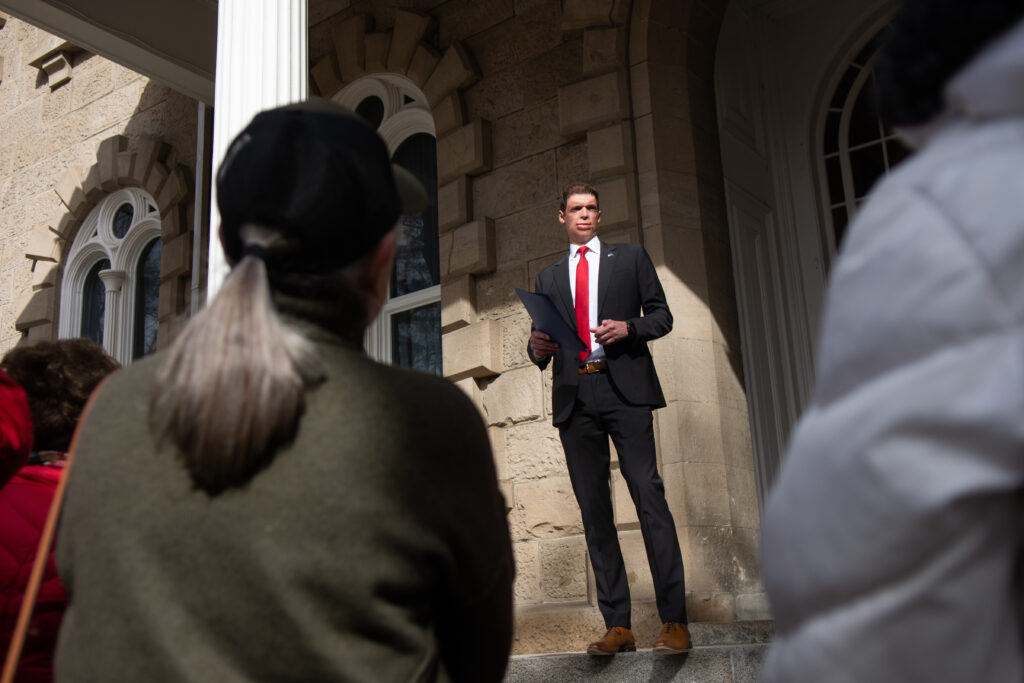 Surrounded by sign-waving supporters in front of the state capitol in Carson City, veteran Sam Brown filed the paperwork Tuesday to make his underdog campaign for the Republican U.S. Senate nomination official.
Though former attorney general Adam Laxalt has vacuumed up support from high-profile Republican leaders — including President Donald Trump and Florida Gov. Ron DeSantis — Brown's campaign has continued to plug along, powered by sizable fundraising totals and support from prominent Republican donor Don Ahern.
Speaking to a crowd of several dozen supporters after filing with the secretary of state's office, Brown did not mention Laxalt by name, but criticized "leaders who are more concerned about their social media following than they are about actually doing something for their constituents."
Recently, Brown's campaign has been pushing for a debate with Laxalt ahead of the June primary election, with Brown himself saying that Laxalt has not agreed to any of at least three proposed primary debates. Laxalt's campaign told KSNV that "Sam Brown's attention-starved campaign is well aware that we are discussing opportunities for a Republican Senate debate with potential hosts."
Asked in an interview how he would contrast himself with Laxalt, Brown said it was tough because "he won't even list his issues on his website." Brown also acknowledged the "challenge" of running against a candidate explicitly endorsed by Trump, but said he had found primary voters in Nevada were willing to give him a chance.
"Nevadans are smart. They can see who's really for them and who's let them down and failed them in the past," he said. "And that's why I have so many of their votes and committed support."
Brown declined to say if he thought Trump should run for president again in 2024, saying "that's for President Trump to figure out on his own and what's best for him and the country."
— Riley Snyder, 3/15/2022 at 5:38 p.m.
Cano Burkhead launches bid to keep lieutenant governor role after appointment to job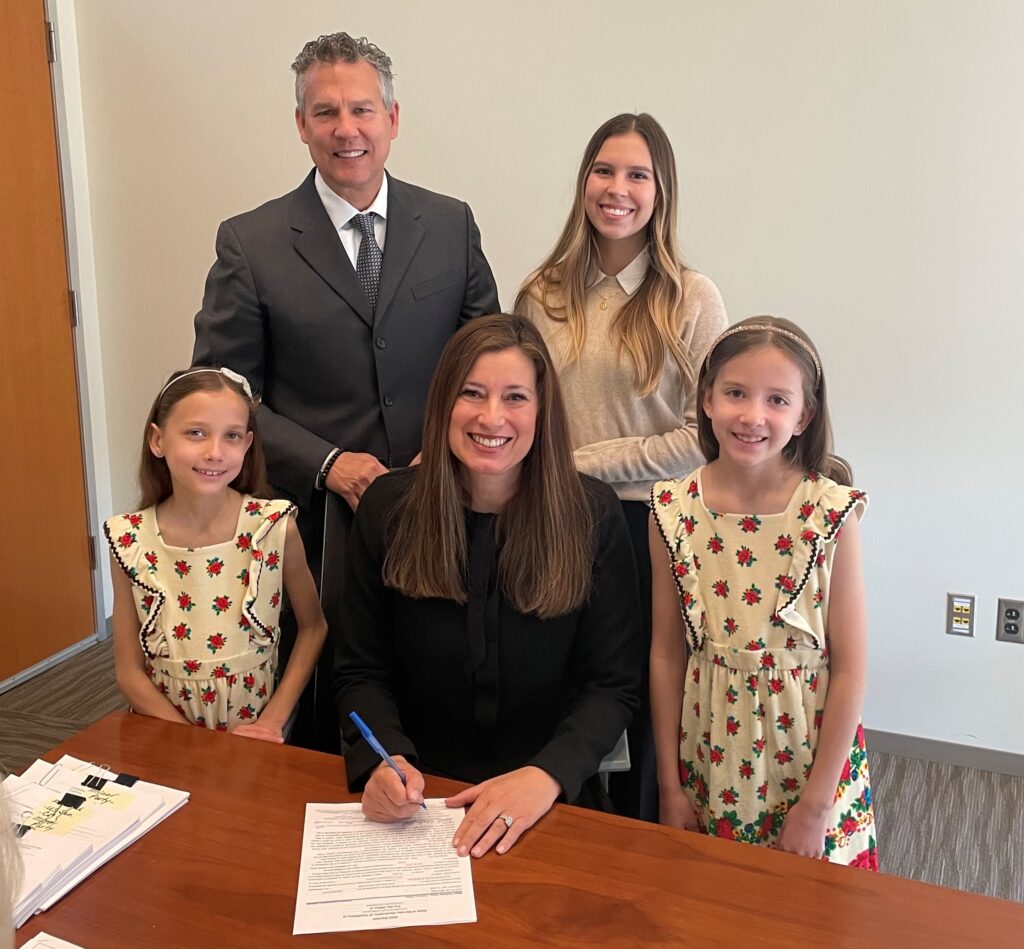 Lt. Gov. Lisa Cano Burkhead filed paperwork to run for election Tuesday morning, just three months after she was appointed to the position by Gov. Steve Sisolak.
She was joined by family — her husband and three daughters — as she formalized the bid in the secretary of state's North Las Vegas office.
Although it was a quiet affair, with an absence of crowds of supporters or outpouring media attention, Cano Burkhead said she feels "incredible" and "emotional" to be with her family.
Cano Burkhead, a Democrat, was raised by immigrant parents from Argentina and Paraguay. She was an educator in the Clark County School District for 25 years before Sisolak appointed her as lieutenant governor last December, following former Lt. Gov. Kate Marshall's departure to join the Biden administration.
"I am an outsider coming in with a fresh perspective and I have dedicated my entire life to education," Cano Burkhead said. "When we are talking about economic development, tourism and all the different areas that a lieutenant governor oversees, I bring that perspective and I am confident that I will continue to do so in this role."
She will be joining the Democratic primary race that includes Henderson Mayor Debra March and Rural Nevada Democratic Caucus Chair Kimi Cole. March was appointed to the Henderson City Council in 2009 and won re-election in 2011 and 2015. Cole, if elected, would be the first openly transgender politician in the country elected to a statewide office.
Asked how she feels about running against more widely known Democratic candidates, Cano Burkhead said she plans to focus on herself and let her work speak for itself.
Since taking office three months ago, Cano Burkhead said she has focused on helping small businesses recover from the pandemic. She created the Office of Small Business Advocacy to serve as a hub for small businesses to access resources and government representation.
She also launched Battle Born Education Heroes, a program for acknowledging educators throughout the state. She said she is planning to collaborate with the state superintendent to facilitate a roundtable to hear from students, parents and educators.
"There's so much more work to be done," Cano Burkhead said.
The Republican field of candidates heading into the primary election includes Stavros Anthony, a Las Vegas city councilman; Dan Schwartz, the former state treasurer; and Mack Miller, a one-time Nevada Assembly candidate.
"I feel that I'm the right person at the right time," she said in an interview with The Nevada Independent. "I know that having a full term is going to allow me to get more work done and I am really excited about that."
— Da Yeon Eom, 3/15/22, 1:05 p.m.
Lombardo files for governor, says 'no vision provided' by Sisolak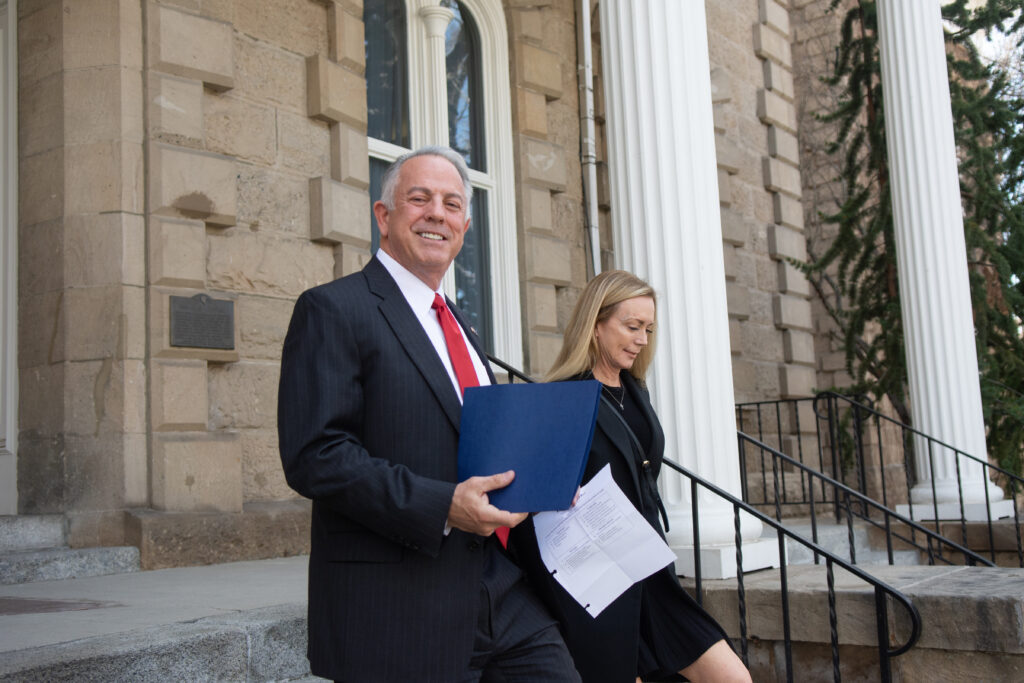 Republican gubernatorial candidate and Clark County Sheriff Joe Lombardo made his gubernatorial aspirations official in Carson City on Monday, saying that his "leadership experience" made him the best candidate to take on Democratic Gov. Steve Sisolak in 2022.
Flanked by supporters, including his wife Donna and two other elected sheriffs, Lombardo said in a brief speech that he wanted to file the paperwork to run for office in the seat of the government and said his leadership experience as the elected head of the state's largest law enforcement agency made him the best candidate for governor.
"My complaint currently is there is no vision provided," he said. "My complaint is there is no direction being provided for us to have an understanding of the success of Nevada."
Recent polling by Public Policy Polling (PPP) shows Lombardo commands a plurality of support (26 percent) in the Republican primary for governor, but a significant percentage of voters — 27 percent — are still undecided. Lombardo also significantly outraised all other Republican candidates on year-end fundraising reports released in January.
Responding to questions from reporters about his position on abortion, Lombardo said he is "pro-life" with exeptions related to the health of the mother, incest and sexual assault. He said he would support a policy of requiring parental notification before a minor receives an abortion; an initative to implement that policy was filed by an anti-abortion group last month.
He also said he supported the American Rescue Plan — the federal $1.9 trillion COVID relief legislation signed last year opposed by all congressional Republicans — but opposed Sisolak's proposed spending plan outlined in his off-year State of the State address last month. Lombardo declined to elaborate further.
Though several other Republican gubernatorial hopefuls have attacked him for not appearing at debates or other candidate forums, Lombardo said he's been "very communicative" as sheriff and during the current campaign.
"I have never shied away from public discourse or confronting the problems as they've been presented," he said. "I think it's important for people to realize that I continue to do that, the full transparency, moving forward."
Asked to respond to criticism about being "too liberal or moderate" to win a Republican primary, Lombardo said he's been a "lifelong Republican" and suggested others in the primary field have not always adhered to party values.
"There's people that haven't stood tall to the conservative values with their voting record, as part of the process, and I have," he said. "I've always stood tall and respected the conservative values of the Republican Party."
— Riley Snyder, 3/14/22, 2:10 p.m.
Cortez Masto says Laxalt is 'focused on old lies about election fraud'
Speaking to a packed room at IBEW Local 401's union building in Reno, Sen. Catherine Cortez Masto took aim at her likely Republican opponent for the first time this campaign season, emphasizing that he represents the antithesis of everything she is fighting for in the Senate.
During a 10-minute speech to supporters made shortly after officially filing for re-election on Monday, Cortez Masto highlighted her pro-labor record, her focus on lowering the rising cost of living and a commitment to boost American manufacturing. She said Nevadans resoundingly rejected Laxalt the last time he ran for office, implying they would do so again.
"He opposes the new union jobs coming to Nevada because of that bipartisan infrastructure bill. He opposes and does not support women's reproductive rights," she said. "And he's focusing his campaign on old conspiracies, old lies about election fraud that our Republican secretary of state has dismissed."
On the campaign trail, Laxalt has raised doubt about Nevada's elections system saying that the Legislature's 2020 expansion of mail-in voting was enacted "in the middle of the night, 80 days out" to give President Joe Biden a "leg up" over former President Donald Trump. Laxalt has also claimed the 2020 presidential election was "rigged."
Laxalt's campaign responded after the speech, saying Cortez Masto is failing to see how badly Nevadans are hurting.
Democrats have also attacked Laxalt for his opposition to the federal infrastructure bill which dedicates $1.2 trillion dollars to rebuild the country's roadways and fund new climate resilience and broadband measures. His campaign said in a statement to 13 Action News last year that the bill allocates "trillions of dollars on liberal wish lists."
Nevada is set to receive more than $4 billion over five years through the bill, but opposition to the measure has focused on the bill's broad definition of infrastructure — which includes electric vehicle charging, wildfire prevention and water system upgrades — and the high amount of spending.
Laxalt has remained relatively silent on the issue of abortions this election cycle, but as attorney general, he signed onto multiple legal efforts aimed at restricting abortion access and pledged to "look into" rolling back a 1990 Nevada law codifying Roe v. Wade.
Cortez Masto, last elected in 2016, is expected to be one of the most vulnerable Senate Democrats up for reelection in 2022. Laxalt, who filed his candidacy last week, has been endorsed by Trump and a host of other conservative elected officials but is facing a well-funded primary challenge from veteran Sam Brown.
"I can tell you, people are ready for change and we're ready to give them change," Laxalt said on Twitter last Monday.
Speaking to reporters following the speech, Cortez Masto said there is a "clear distinction between us and the voters will be able to know that."
— Tabitha Mueller, 3/14/22, 2:10 p.m.
Fumo says he's running to change culture at the Clark County district attorney's office
After running unsuccessfully for a Nevada Supreme Court seat in 2020, attorney and former Assemblyman Ozzie Fumo is looking to unseat Steve Wolfson as the Clark County district attorney.
Wolfson has held the top prosecutor role for nearly a decade, in spite of challenges such as one in 2018 from progressive attorney Robert Langford — and Wolfson had about 40 times the campaign funds of Fumo heading into 2022. Asked how he plans to defeat the current district attorney, Fumo said he has the support of the people.
"If they look at my history and look at his history, they're going to see who the better person is," Fumo said in an interview with The Nevada Independent after filing for office on Friday.
Fumo said he is running to change the culture at the office, including discontinuing the use of the death penalty. If elected, he said he plans to operate a fair district attorney's office by basing decisions of imprisonment on a person's threat to society rather than on social or financial status.
When it comes to cash bail, Fumo said judges are responsible for first seeking non-monetary conditions for release, and that release should be the norm when it comes to offenders who aren't a danger to the community. Fumo sponsored a bill as a lawmaker in 2019 that aimed to reduce the use of cash bail, although it died in the Legislature that session; a Nevada Supreme Court decision in 2020 later imposed many of the provisions he sought into the bail system.
"To the poor, bail means jail, but to the rich, clout means you're out," Fumo said.
He said the practice of cash bail unfairly disrupts the lives of people living with low income and their ability to defend themselves in court. Fumo added that it is the duty of judges to follow the law, which he said means the prosecution must prove based on clear and convincing evidence that nothing short of cash bail would assure the defendant's appearance in court.
Fumo's campaign website says that if elected, a district attorney's office run under his leadership would focus on prosecuting violent criminals and getting justice for victims and their families while "ending the crisis of mass incarceration."
— Naoka Foreman, 3/11/22, 6:45 p.m.
Lee files for re-election to "defend our democracy"
Rep. Susie Lee (D-NV) filed for her third consecutive term in Las Vegas Friday, formally launching her re-election bid for Congressional District 3 in a battleground race that could prove vital to Democrats' attempts to maintain control of the House in 2022.
Joined by more than 20 supporters outside of the Clark County Government Center, including Assemblyman Steve Yeager (D-Las Vegas), Lee pitched herself as a candidate that would defend democracy, noting recent attacks on democracy at home — the Jan. 6 insurrection — and abroad — the Russian war on Ukraine.
"What's at stake in this election is really someone who's going to stand up for our community versus someone who believes in 'stop the steal,' or who basically does not believe that we should have a peaceful transfer of power," Lee said.
Though Lee is not expected to face a serious primary opponent, several Republicans are jockeying for a chance to face the incumbent in November in a district that national Republicans have pegged as vulnerable. But District 3 is home to a larger share of Democratic voters than in past elections, following a redistricting special session in November that saw Democratic state lawmakers bolster the party's voter registration advantage in the district.
Lee characterized this midterm year as her "toughest election yet," but pointed to Democrats' record, highlighting the passage of the American Rescue Plan and federal infrastructure bill that brought billions of dollars to Nevada.
"I know people are out there saying, 'Oh, you know, Democrats are in trouble,' and I keep saying, 'Look at what we've done,'" Lee said. "We passed the American Rescue Plan. It really basically saved thousands of businesses, thousands of jobs in our community."
She also addressed rising prices for groceries and fuel, and said she was working to "beef up our supply chain to bring manufacturing back to America."
Though Lee previously took fire for failing to report stock trades before a statutory deadline, she told The Nevada Independent in an interview after filing she has never traded stock based on inside information. Lee did file disclosures of her stock transactions shortly after the deadlines. She added that she was looking at proposals related to ensuring no members of Congress could trade stocks based on information they received in their role, but did not endorse a ban on members of Congress from trading stocks while in office, a concept backed by House Speaker Nancy Pelosi.
When it comes to her re-election campaign, Lee said she thinks "the results speak for themselves" and noted she was focused on bringing down rising prices for consumers and getting the economy back on track.
— Sean Golonka, March 11, 2022, 4:10 p.m.
Heller, Lee make GOP governor bids official
Former U.S. Sen. Dean Heller made his gubernatorial aspirations official Tuesday, filing for office in Carson City after speaking at a "Back the Blue" rally organized by the Nevada Police Union ahead of a meeting to approve the labor group's long-pending collective bargaining agreement.
Heller, speaking to dozens of union members and supporters, called the state's police officers the state's "real heroes." The union endorsed Heller shortly after he announced his campaign in September.
He also criticized Gov. Steve Sisolak for failing to better fund state police salaries and compensation, which lags behind other county or city police agencies.
"Our politicians make it more difficult for our police officers to do their jobs," he said.
The former senator also took aim at fellow Republican candidate and Clark County Sheriff Joe Lombardo, saying he had turned Clark County into a "sanctuary city." It's a reference to the police agency (under Lombardo) suspending its formal federal immigration enforcement agreement with ICE in 2019, though Metro quietly continued to help ICE seize undocumented immigrants arrested for nonviolent crimes in the following years.
"Officers here in this state and in that county have continual problems, continual problems because of what these politicians are doing out there," he said.
Heller, in an interview after the rally, also pointed to Lombardo's 2020 comments about defunding the police "in some aspects," and said that the Democratic-controlled Legislature had "defunded the police during the last legislative session."
According to a budget overview prepared by the Legislative Counsel Bureau, the state's public safety spending decreased from $774 million in the 2019-21 budget cycle to $769 million for the next two fiscal years. Sisolak's initial two-year budget would have pushed public safety spending to $802 million, but lawmakers reduced that total by about $32.6 million.
In an interview, Heller said he was generally opposed to collective bargaining — saying it "destroys budgets" — but that it wasn't fair for state employees when local governments were already engaged in collective bargaining.
"I'd take it away from everybody if it was up to me," he said. "But needless to say, I'm not going to hold the state employees out alone. I think if everybody has collective bargaining, the state employees here in Nevada ought to have the same opportunity to make their argument."
Heller supported collective bargaining for state workers during his time as a state legislator in the 1990s.
If elected, Heller said he would push to make sure that state police become the "premier law enforcement agency … and they will get the compensation and the benefits that they've earned and deserve."
Asked about the Russian invasion of Ukraine, Heller said that it was "very clear, had President Trump been re-elected, the Russians wouldn't be in Ukraine today."
"(President Joe) Biden is a rollover, and (Russian leader Vladimir) Putin knew it. And I think the conversations between Trump and Putin would have Putin out of Ukraine," he said.
Heller said he was in "constant contact" with the former president, but said "I don't know what he's going to do in this race."
Also on Tuesday, North Las Vegas Mayor John Lee — who switched parties to run as a Republican — signed the official paperwork to run for governor.
In a press release, Lee called himself a "life-long 'Fearless Conservative'" and noted the requirement that candidates running for office show identification was more evidence that ID should be required to vote.
"If candidates running for office in Nevada need to show an ID, people should also produce proper identification to vote," he said in the release.
Two other Republican gubernatorial candidates — Barak Zilberberg and Tom Heck — also filed to run for the office on Tuesday.
— Riley Snyder, March 8, 11:52 a.m.
Assembly Dems in Vegas say 'we took a good first step last session, but we have a ways to go'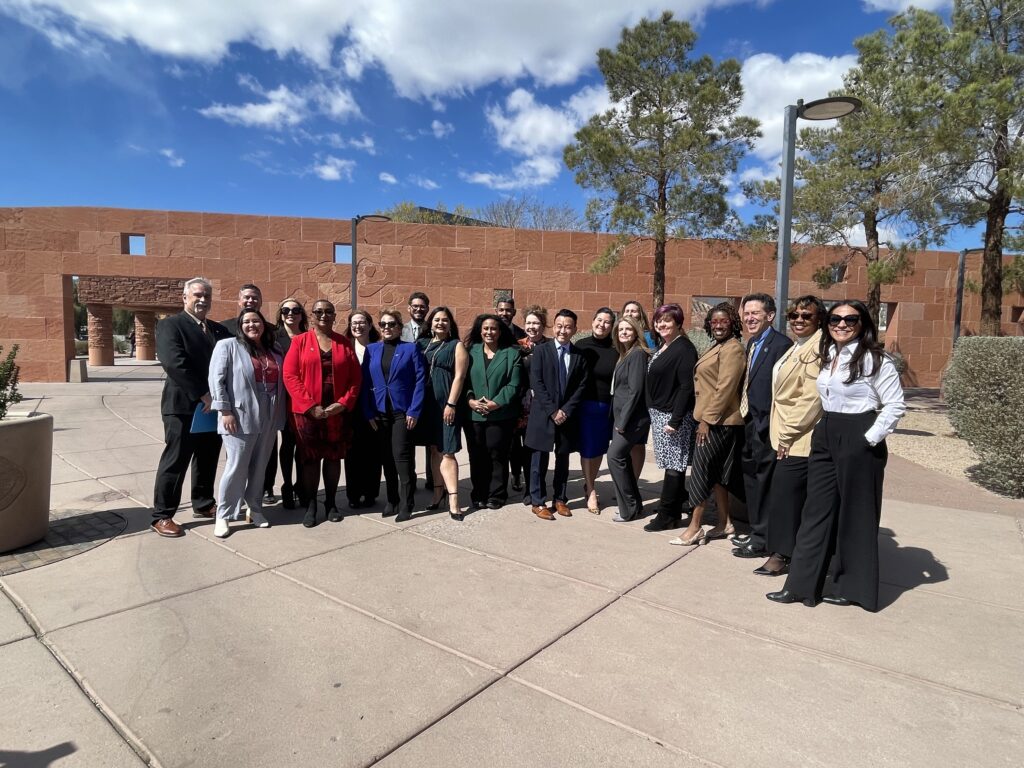 A group of Democratic Assembly members gathered Monday afternoon outside the Clark County Government Center, gleefully chatting and taking selfies to commemorate the occasion before going in to fill out their candidacy paperwork.
Assemblyman Steve Yeager (D-Las Vegas) spoke to members of the media on behalf of the group, saying lawmakers are prioritizing education funding and teacher shortages heading into the 2023 session.
"I think we took a good first step last session, but we have a ways to go. How we get there, I don't quite know yet," Yeager told The Nevada Independent. "Part of it is, we need to talk to the teachers themselves and learn about what their concerns are. We can't have an effective public education system without effective teachers who have the ability to teach."
Yeager also addressed several pressing energy issues, including the state's climate change priorities. The Nevada Division of Environmental Protection's greenhouse gas emissions report published in January shows the state is falling short of meeting its carbon reduction goals.
But Yeager said it takes work to reach net-zero. Currently lawmakers are taking part in interim meetings, and are discussing what's realistic to achieve ahead of the next legislative session.
Regarding rising gas prices, Yeager said there's nothing that state lawmakers can do right now until the legislative session starts next year.
"A lot of the gas pricing that you're seeing is a result of global economics and the result of the conflict in Ukraine. As Assembly Democrats, there's not anything we can do about that," he said. "But we're certainly aware that it's hitting people in the wallet. When the time comes, we'll look at what we're able to do."
In Congress, bills aiming to provide a federal gasoline tax holiday amid rising gas prices nationwide might not benefit Nevada because of an existing law that automatically raises Nevada's fuel tax by the exact amount of any reduction at the federal level. Though Rep. Dina Titus(D-NV) has called on Gov. Steve Sisolak and others to suspend that portion of the law, Yeager said it is "too early to tell" if a bill amending that law will be introduced during the 2023 session.
— Jannelle Calderón, March 7, 2022, 5:40 p.m.
---
Assembly Democrats call housing 'foundational,' but noncommittal on rent control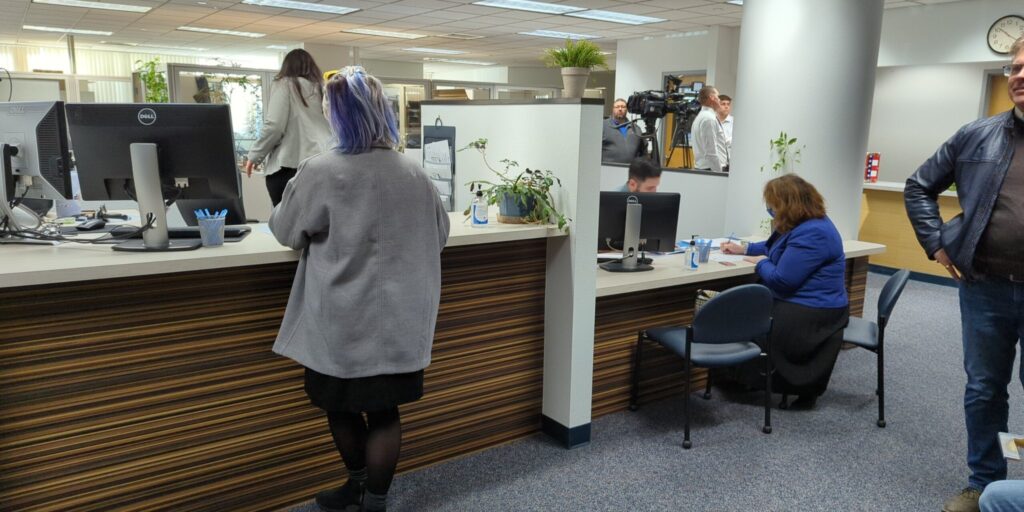 Speaking on behalf of Nevada Assembly Democrats, Assemblywoman Sarah Peters (D-Reno) said affordable housing will be a "criteria issue" during the 2022 election cycle in an interview outside the Washoe County Registrar of Voters' office Monday.
"We can't get people to move for jobs because there's nowhere to live," Peters said. "We can't get families into homes because there's not enough family complexes that are able to hold the type of income-based families that we really have a need for."
Along with working to increase housing stock and access to affordable housing, some local government officials and candidates have indicated support for rent control measures to mitigate the steeply rising cost of rent in Nevada. But their hands are tied until the Legislature grants them explicit authorization to enact policy.
Peters said lawmakers are already prioritizing the issue of affordable housing during the interim period between sessions, but was noncommittal on whether that included giving local governments authority to implement policies such as rent control.
"Right now we are only about two months into the interim committees. So we will see more of that discussion in the coming months," she said.
Asked about criticism from Republican candidates — including governor hopeful Sheriff Joe Lombardo, who said the Legislature is "a threat" to law enforcement — Peters argued that lawmakers are trying to balance protecting police while holding them to the standard "that really our community desires them to be."
Since 2019, lawmakers have taken concerted steps toward criminal justice reform with an eye toward spending less on incarceration and reinvesting the money elsewhere. Those initiatives have included reducing penalties for certain violations of law, decriminalizing traffic tickets and reevaluating sentencing practices.
Lombardo blamed sentencing changes, as well as anxiety stemming from the pandemic, for an uptick in property crimes in the first part of 2021. Data analyzed by The Nevada Independent show a mixed picture on crime trends, with murder rates up significantly in the U.S. and Nevada from 2019 to 2020, but crime rates significantly lower now in Nevada than in the 1990s.
"I think that the data speaks for itself. We are not seeing upswings in crime the way that you would think we would be if those were accurate assumptions," Peters said. "We're continuing to be in one of the safest periods of time in history."
— Tabitha Mueller, March 7, 2022, 11:40 a.m.
---
Sisolak makes re-election bid official, says no new taxes if elected to second term
Gov. Steve Sisolak formally kicked off what is expected to be a tough campaign for a second term, filing for office on Monday at the secretary of state's office in North Las Vegas flanked by sign-toting fans.
The Democrat, who isn't expected to face a serious primary opponent, is eyeing a large Republican primary field that's taken relentless aim at his COVID mitigation measures. Polling predicts a tight race in November and he faces the headwinds of a midterm cycle expected to be unfavorable for his party. But he argued Monday that he could eke out a win.
"This country is divided right now … there's a lot happening nationwide," he told reporters. "I'm confident that we get the message out in terms of what we've done, and what we intend to do, that we're going to be OK."
Sisolak also defended actions taken by his office and the state during the pandemic, saying it "presented us with challenges that were never thought of before," and that his "primary focus always was keeping as many people alive as we possibly could."
"I think we did that. We saved a lot of lives," he said. "The economy, you can always get back, and we did get our economy back. It has come back stronger than it's ever come back before."
Sisolak also clarified that his recent off-year State of the State speech remark about holding the line on taxes also applies if he wins re-election.
"I said we're not going to raise taxes, and my intent is not to raise any taxes in the second term," he said.
Asked about his priorities if voters grant him another term, he said he wanted "to focus a lot more on education."
"We have funded education stronger, but more needs to be done," he added.
Teacher vacancies remain high, and educators say pay hasn't kept up with the growth in their responsibilities and costs of living. Asked about the issue, the governor took oblique aim at his Republican opponents' plans, which propose greater school choice and more reliance on charter and private schools — something Democrats say detracts from investment in traditional public schools that are obligated to serve all students.
"We're working with the superintendents, all the county school boards. Something clearly needs to be done," he said about teacher vacancies. "All kids are entitled to a quality education. And they shouldn't be discriminated against based on their parents bank account or their ZIP code."
— Jannelle Calderón, March 7, 2022, 11 a.m.
The Nevada Independent is raising $200,000 by Dec. 31 to support coverage of the 2024 election.
Tax-deductible donations from readers like you fund this critical work.
If you give today,your donation will be matched dollar-for-dollar.
Give + Get Matched
Featured Videos