Trump administration alums boost Laxalt, bash Cortez Masto at Henderson campaign stop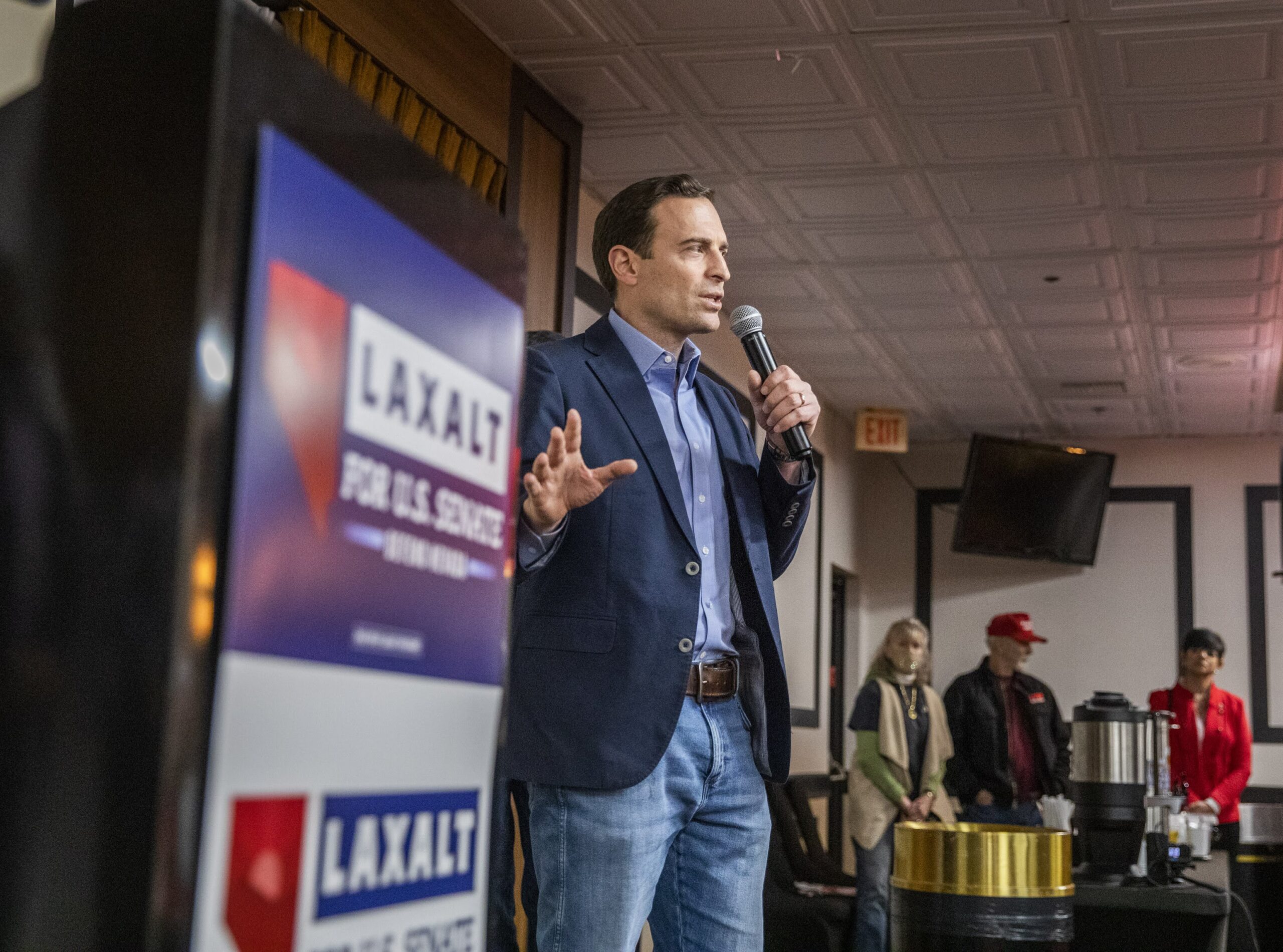 Flanked by Trump White House alumni, Republican U.S Senate candidate Adam Laxalt portrayed himself as Nevada's chance to dissent from President Joe Biden and Sen. Catherine Cortez Masto (D-NV) as part of a two-day tour through Southern Nevada.
Hinging his Friday stump speech in Henderson on immigration, COVID restrictions, election laws and the media, Laxalt's message stuck to familiar ground as he accused his likely opponent of failing to buck national Democrats during the 2020 summer of protests, riots and unrest that followed the death of George Floyd.
"No leadership, refusing to cross her party or refusing to cross the brand, the peaceful protest brand," Laxalt said. "They just can't survive if violence continues to increase. We're a tourism economy, people are scared to come here. This city cannot grow and thrive."
Speaking to a crowd of roughly 120 packed into the ballroom known as "the Venue" inside The Pass Casino, he attacked Democratic politicians for wavering on COVID policies, especially masking, as they dined out or took photos at events.
"This is our time to harness this energy, harness this frustration and be able to turn our country around," Laxalt said. "And it's not just Republicans that are mad. Independents are mad, moderate Democrats are mad. Are we going to ever win the left? No. And in fact, we can't just try to work with the left, we must defeat the left."
Laxalt — who unsuccessfully sued the state in a Trump-linked challenge to the election process in 2020 — also attacked state Democrats for changing election laws in 2020 and again in 2021.
"They went in the middle of the night, 80 days out, and they fundamentally altered our election," Laxalt said of changes made to election laws by Democratic lawmakers in 2020. "And they did that to give Biden a better chance. They did that to change the system, to give him a leg up."
Laxalt's recent history in Nevada and early fundraising lead have led him and Cortez Masto to spar early, as each eye the general election push beginning after the June primary. The former attorney general did not mention his top primary opponent, veteran and business owner Sam Brown, during his speech on Friday — Brown has kept pace with Laxalt on fundraising but trails him in recent polls.
But as the former attorney general and one-time gubernatorial candidate worked the crowd, Laxalt's invited guests — many of whom held prominent positions in the Trump White House — made the case for his candidacy.
Speakers included Kash Patel, a former aide to Rep. Devin Nunes (R-CA) who was deeply involved in efforts to debunk the Trump-Ukraine scandal, and Ric Grenell — the former director of national intelligence and key Trump proxy in Nevada who alongside Laxalt attempted to cast doubt on the results of the 2020 election without evidence. Both heaped praise on Laxalt as the "right" Republican for the race and tied him to an endorsement last year from Donald Trump himself.
"[Laxalt] doesn't want to go to Washington, but he's taking that commitment, because he knows he's the only person from the state of Nevada we can send to the U.S. Senate to fix it," Patel said. "And when he gets there, we can do constitutional oversight for investigations that matter, like what actually happened on Jan. 6."
Grenell said Masto should not have the reputation as a moderate.
"She's no [Sen. Kyrsten] Sinema (D-AZ), she's no [Sen. Joe] Manchin (D-WV), she's decided to be a far-left progressive," Grenell said. "I actually think she doesn't want to be in the Senate anymore because she lives in Washington. I think she wants to be in the Biden cabinet, so she's gonna wave the progressive flag knowing she's gonna go down in flames."
Cortez Masto emerged among a handful of centrist Democratic senators negotiating the finer details of the Biden agenda last year. But Republicans have nonetheless sought to tie her to Majority Leader Chuck Schumer (D-NY) as they attempt to brand her as a "fake moderate."
There is also no evidence that Cortez Masto has angled for a cabinet position, though she was among a handful of Latino senators who pressed Biden to improve Latino representation in his administration in a private letter to the White House late last year.
And on the issue of guns, Laxalt was boosted by Tim Macy, chairman of the board for the pro-gun advocacy group Gun Owners of America.
Laxalt has been criticized by his primary opponent, Brown, for his history on the issue of red flag laws — or laws allowing the temporary seizure of firearms by police if a person is thought to be a threat to themselves or others — pointing specifically to a 2018 recommendation from the Laxalt-run attorney general's office to explore the implementation of such laws in Nevada. Laxalt has otherwise opposed the implementation of similar laws.
"Every candidate running for office in a primary on the Republican side is pro-gun right?" Macy said. "You have to be pro-gun to run in a Republican primary. Just doesn't always work out so well. What we find out afterwards is that some of them are kind of pro-gun, but not totally."
The event kicked off what Laxalt's campaign is calling the "America First Tour," which includes a stop in Pahrump on Saturday and the opening of a Las Vegas field office on Sunday.
Laxalt has so far led the fundraising race in a narrow primary field, with only Brown having emerged with financial backing anywhere near Laxalt's. Still, Laxalt and Brown have both been far outraised by Cortez Masto, who has for two quarters straight raised more than both Laxalt and Brown combined, including raising more than $3.3 million in the fourth quarter of 2021.
In the handful of hypothetical head-to-head polls conducted so far, Laxalt has remained at or around the margin of error with Cortez Masto, including in an October survey from The Nevada Independent and the Mellman Group (45.5 percent for Cortez Masto to 42.2 percent for Laxalt; 4 percent margin of error) and a November poll from the GOP-leaning Trafalgar Group (44.1 percent for Laxalt to 40.9 percent for Cortez Masto; 3 percent margin of error).
However, a Nevada Independent/OH Predictive Insights poll from this week found Cortez Masto with a 9 point lead, 44 percent to 35 percent with a 3.5 percent margin of error, even as Biden's approval in Nevada sagged to just 41 percent.