Crowded races, some surprises at close of Nevada candidate filing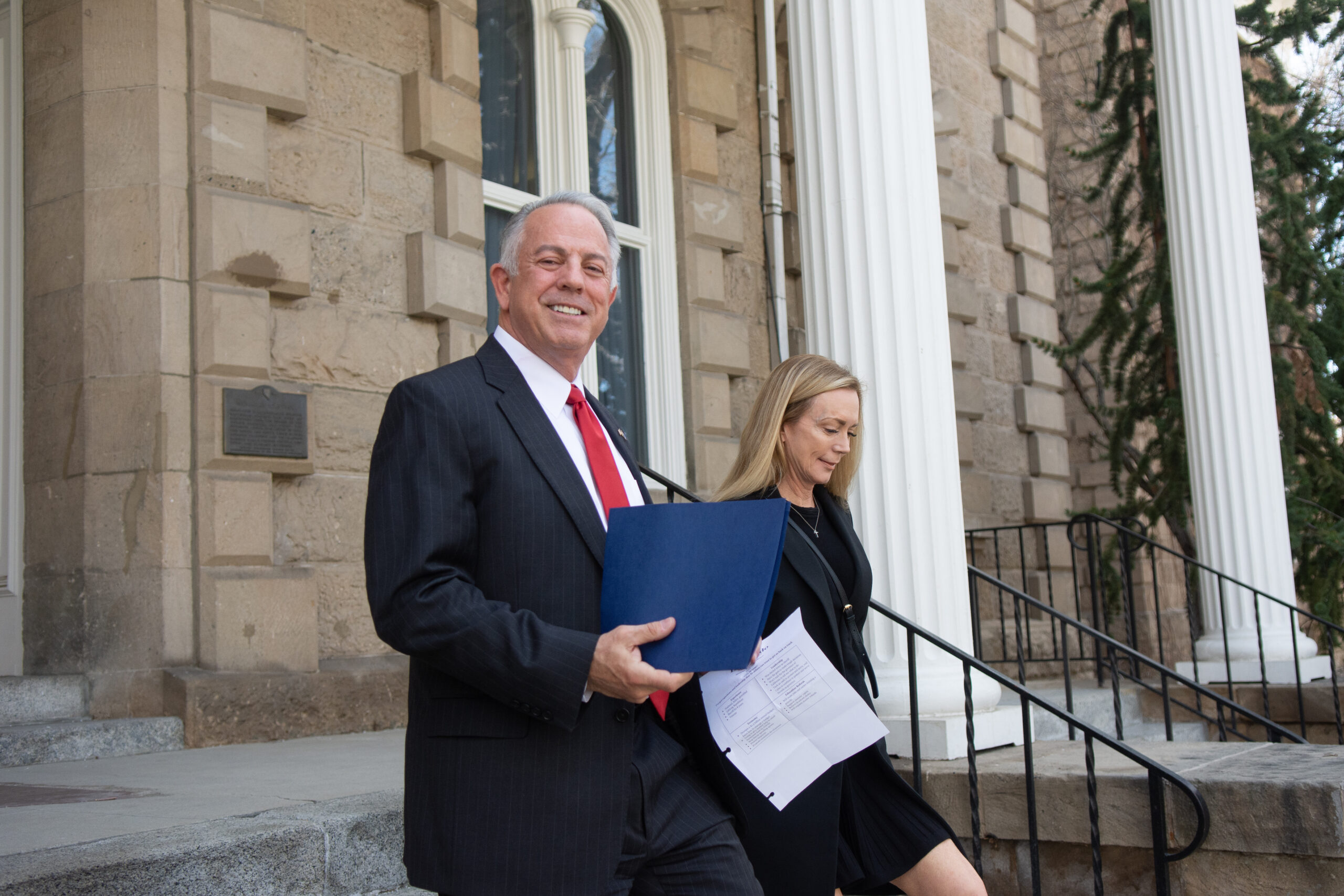 Nevada's nearly two week-long candidate filing period came to a close on Friday, setting up crowded races for statewide, congressional, legislative and down-ballot seats up for election in 2022.
The end of filing means campaign season is officially underway, as candidates — including more than 60 who filed in Clark County on Friday — prepare for the June 14 primary election and Nov. 8 general election. Candidates have until March 29 to withdraw from races.
In a midterm election year without a presidential contest, Nevada's incumbent Democrats are facing challenges up and down the ballot, including Gov. Steve Sisolak, one of 22 candidates who filed for governor.
Other non-judicial statewide seats, up for election for the first time since 2018, have also drawn long lists of candidates. Recently appointed Democratic Lt. Gov. Lisa Cano Burkhead is facing 13 challengers in the race for lieutenant governor. Ten candidates filed for secretary of state.
Sen. Catherine Cortez Masto (D-NV) and Nevada's three Democratic House representatives are facing a bevy of Republican challengers looking to take advantage of President Joe Biden's poor approval rating and high inflation in a year that could bring a red wave of Republican victories.
The final days of filing even brought surprises to Nevada's congressional races, as former Republican District 4 Rep. Cresent Hardy filed to unseat District 1 Rep. Dina Titus (D-NV), and frequent candidate and Republican Douglas County Commissioner Danny Tarkanian — who has lost past bids for secretary of state, state Senate, U.S. Senate and two different House seats — filed to run against Rep. Mark Amodei (R-NV) in District 2.
Candidate filing also provided an early look at which lawmakers will be holding office again in 2023, as two legislative incumbents did not attract any opponents, essentially guaranteeing their re-election. Another four seats are set to be decided in the primary. But most seats have multiple candidates and opponents from different parties, as Republicans hoping to take advantage of a possible red wave are running for all 53 legislative seats up for grabs in 2022.
For a full list of candidates running in major races, check out the spreadsheet on our candidate filing live blog. Here's a look at the highlights from the candidate filing period.
STATEWIDE RACES
Governor
A record 22 candidates, including incumbent Steve Sisolak, filed for governor over the last two weeks, making it the most crowded gubernatorial race in the state since at least 1962.
Candidates who filed included 15 Republicans, five nonpartisan or third-party candidates, and two Democrats — Sisolak, and former Clark County Commissioner Tom Collins, a vocal critic of the incumbent governor.
Few surprises emerged on the Republican side, save for Las Vegas City Councilwoman Michele Fiore opting to switch races and run for treasurer on the penultimate day of filing. Top GOP candidates include Clark County Sheriff Joe Lombardo, former U.S. Sen. Dean Heller, Reno attorney Joey Gilbert, North Las Vegas Mayor John Lee, businessman Guy Nohra, Dr. Fred Simon and Tom Heck.
Lieutenant Governor
Lt. Gov. Lisa Cano Burkhead, a Democrat, filed her bid to keep the office for a full four-year term, after she was appointed to the position in December. Thirteen candidates are vying for the job.
Cano Burkhead is entering a Democratic primary that includes Henderson City Mayor Debra March and Rural Nevada Democratic Caucus Chair Kimi Cole, who could be the country's first transgender politician elected to a statewide office.
On the Republican side, seven candidates have entered the race, including Las Vegas City Councilman Stavros Anthony, Las Vegas-based bank founder John Miller and former State Treasurer Dan Schwartz.
Attorney General
Incumbent Democrat Aaron Ford faces an easy primary with only one opponent — Stuart MacKie, who ran against him in the 2018, lost handily and has no political presence to speak of. The contest is more lively on the Republican side, where stridently anti-mask mandate lawyer Sigal Chattah is running a grassroots bid against Tisha Black, who counts on the deep political expertise of general consultant Chris Carr and proved her fundraising chops in raising millions for a 2018 Clark County Commission bid she lost to Justin Jones.
Secretary of State
Former Nevada Athletic Commission Chairman Cisco Aguilar is running unopposed in the Democratic primary after former Assemblywoman Ellen Spiegel bowed out and jumped into the controller's contest instead last month. There's much more excitement in the seven-way GOP primary, which features well-funded Reno developer Jesse Haw and Sparks City Councilman Kristopher Dahir — both more moderate in their views — as well as former Assemblyman Jim Marchant, who doubts the results of the 2020 election and has pushed for drastic overhauls of election processes in Nye and other rural counties.
Former Judge Richard Scotti and former TV reporter Gerard Ramalho have also entered the field. Another familiar name: lobbyist Janine Hansen running on the Independent American Party ticket, after losing a handful of races in the last decade.
Treasurer
Perhaps the biggest surprise of candidate filing was Las Vegas City Councilman's Michele Fiore's last-minute jump from the crowded governor's race to the sleepier treasurer's race, citing guidance from "Trump's team." She'll bring her brash brand into a race with businessman and political newcomer Manny Kess, who has support from former Lt. Gov. Mark Hutchison and has already sunk a considerable amount of his own money into the race.
The ubiquitous Democratic incumbent Zach Conine, who has sought to bring more relevance to the seat by taking a major role in disbursing billions in federal COVID relief dollars, signaled he would not go down without a fight. He shot back on Fiore's news with a release highlighting the "serious work" of the office and vowing a campaign to underscore "the importance of keeping a qualified and proven leader in this position."
No other Democrats are running for treasurer; two minor party candidates have filed.
Controller
Former five-term Assemblywoman Ellen Spiegel faces political unknown Alex Costa in the Democratic primary for controller, the lowest-profile of six statewide executive offices and one that oversees state accounting systems. Incumbent Democrat Catherine Byrne is not seeking re-election.
Rookie Republican Assemblyman Andy Matthews, a former executive at libertarian think tank Nevada Policy Research Institute who has worked for former Attorney General Adam Laxalt's PAC, is uncontested in the GOP primary for the job. The only other candidate who filed is Libertarian Jed William Profeta.
Supreme Court + Court of Appeals
Nevada Supreme Court Justice Ron Parraguirre and Eighth Judicial District Court Chief Judge Linda Bell did not draw opponents in their runs for state Supreme Court, meaning the two will be automatically elected to a six-year term on the state's highest court.
On the three-member Court of Appeals, which was created through a ballot initiative in 2014 and hears cases pushed down from the state Supreme Court, Justices Michael Gibbons and Bonnie Bulla both filed for re-election for a six-year term. Neither justice drew an opponent.
Court of Appeals Judge Jerome Tao, who ran unsuccessfully for a state Supreme Court seat in 2018, did not file to run for re-election. Two candidates — Clark County Family Court Judge Rhonda Forsberg and Clark County Chief Deputy Public Defender Deborah Westbrook — filed to run for Tao's seat.
CONGRESSIONAL RACES
U.S. Senate
Though there are just three Senate candidates with substantial financial backing for the 2022 election cycle, 16 people ultimately filed ahead of Friday's deadline.
The field features four Democrats, including incumbent Sen. Catherine Cortez Masto; eight Republicans; and four non-major party candidates.
The wide Republican field is topped by two well-funded contenders — former Attorney General Adam Laxalt, endorsed by Trump and long viewed as a favorite for the race, and Sam Brown, a dark horse who has kept pace with Laxalt in large part due to several sustained months of big money.
Other Republican candidates include veteran and health care executive Bill Hockstedler, and business owner and pageant winner Sharelle Mendenhall, William "Bryan" Conrad, Tyler Perkins, Carlo Poliak and Paul Rodriguez.
Among the Democrats, Cortez Masto will run against several relatively unknown candidates, with the highest profile belonging to self-described Democratic-Socialist candidate Allen Rheinhart. Rheinhart ran and lost in major elections dating back to 2014, including bids for Nevada's Senate seats in 2016 and 2018 (elections in which he garnered 5.6 percent and 3.6 percent of the vote, respectively).
Other Democratic candidates include Corey Reid and Stephanie Kasheta.
District 1
District 1 became more competitive after the Legislature reconfigured the district to extend farther east and include more of Henderson and Boulder City, adding more Republican voters.
Rep. Dina Titus (D-NV) has held the seat since 2013, but she faces a primary challenge from progressive Amy Vilela, who previously ran for District 4 in 2018.
The eight Republicans running in District 1 include Cresent Hardy, who served one term representing Nevada's Congressional District 4, Colonel Mark Robertson, Latinos for Trump leader Carolina Serrano and conservative activist David Brog.
District 2
The race for Northern Nevada's Congressional District 2 got more interesting on the final day of filing when Douglas County Commissioner Danny Tarkanian jumped in to challenge Rep. Mark Amodei.
Although the district maintains a sizeable GOP advantage, Amodei faces a tougher path to another term with four Republican opponents. They include Tarkanian, who won the commissioner seat in 2020 after losing several bids for office over the past two decades, and Joel Beck, an Air Force veteran who lost in a primary to Amodei in 2020.
Six Democratic hopefuls joined the race, including Tim Hanifan, a UNR graduate who has so far based his campaign on being younger than other candidates and a fifth-generation Nevadan.
Independent Russell Best, who lost previous races for other districts and the governor's office, is also running for District 2.
District 3
Rep. Susie Lee (D-NV), vying for her third consecutive term in a district that became more favorable to Democrats after redistricting, faces just one primary challenger in Randell Hynes.
The Republican primary features a more crowded field, including April Becker, a real estate attorney who narrowly lost a state Senate bid in 2020 and was endorsed by House Minority Leader Rep. Kevin McCarthy, self-funded construction company owner John Kovacs and attorney and business owner Noah Malgeri. UNLV machine shop manager Clark Bossert and Albert Goldberg, who lost a California congressional primary as a Democrat in 2020, also filed as Republicans.
District 4
In wide-reaching District 4 that covers parts of rural Nevada and North Las Vegas, Rep. Steven Horsford (D-NV) will cruise to the November general election with no primary opponents.
Annie Black, an assemblywoman, real estate agent and former Mesquite city councilwoman, was one of three Republicans to file for the seat. She'll face insurance firm owner Sam Peters, who finished second in the district's 2020 Republican primary, and Chance Bonaventura, a senior aide to Las Vegas City Councilwoman Michele Fiore.
Former world champion professional boxer Jessie Vargas, who had mounted a campaign, did not file. In a statement released Monday, Vargas said he was suspending his campaign to focus on his family and boxing career, including a fight scheduled for April 30.
Legislature
After several Republican legislative candidates filed to run on the final two days of the filing period, only two legislative races failed to draw more than one candidate — Assembly District 31 in Sparks, represented by Republican Assemblywoman Jill Dickman, and Assembly District 32, which covers parts of rural Northern Nevada and is represented by Republican Assemblywoman Alexis Hansen.
It's a significant departure from 2020, when nine state lawmakers, including five Democrats, failed to draw a primary or general election opponent. The Nevada Republican Party took credit, issuing a statement Monday from party Chairman Michael McDonald saying "we have made a strategic investment to recruit and train Republican candidates across the board. That investment has paid off."
Still, Democrats are expected to maintain their current legislative majorities (26 of 42 Assembly seats, and 12 of 21 state Senate seats) after building in structural advantages in voter registration through last year's redistricting process.
A handful of legislative races will be decided in the primary election or did not draw a Democratic opponent, including:
Senate District 17, where Assembly Republicans Robin Titus and Jim Wheeler will face off for the seat held by termed-out Sen. James Settelmeyer. The reliably Republican district, which covers parts of Northern Nevada, did not draw any Democratic or third-party candidates.
Assembly District 4, where incumbent Republican Assemblyman Richard McArthur will face no Democrats and only one Libertarian, Darby Lee Burn, in his re-election bid for this northwestern Las Vegas district that leans Republican.
Assembly District 19, the Mesquite-area district where four Republican candidates are vying to replace Assemblywoman Annie Black, who is running for Congress. The winner of the four-way Republican primary between Amy Groves, Charlie De La Paz, Gerald Swanson and Toby Yurek will represent the district, as no other candidates filed to run.
Assembly District 26, which covers Verdi, parts of South Reno and Incline Village and is represented by Republican Assemblywoman Lisa Krasner, who is running for state Senate. Five Republicans — Tom Daly, Bret Delaire, Rich DeLong, Jay Dixon and Greg Juhl — will duke it out in the primary, with the winner only facing general election opposition from Libertarian candidate Reed Mitchell and no Democrats.
Assembly District 36, where incumbent Republican Assemblyman Greg Hafen II is running for re-election against one Republican challenger, Matt Sadler, to represent this Pahrump-area district. Republican activist Melissa Blundo had launched a campaign for the seat, but ultimately did not file to run.
Assembly District 38, where two Republicans are vying for the seat left open by Titus' departure, including Lyon County Commissioner Vida Keller and Churchill County Commissioner Greg Koenig. The district covers Churchill, Mineral and Esmeralda counties and parts of Nye and Lyon counties.
Editor's Note: This story appears in Indy 2022, The Nevada Independent's newsletter dedicated to comprehensive coverage of the 2022 election. Sign up for the newsletter here.
The Nevada Independent is raising $200,000 by Dec. 31 to support coverage of the 2024 election.
Tax-deductible donations from readers like you fund this critical work.
If you give today,your donation will be matched dollar-for-dollar.
Give + Get Matched
Featured Videos