COVID in Context: As emergency fades to new normal, Nevada reduces COVID reporting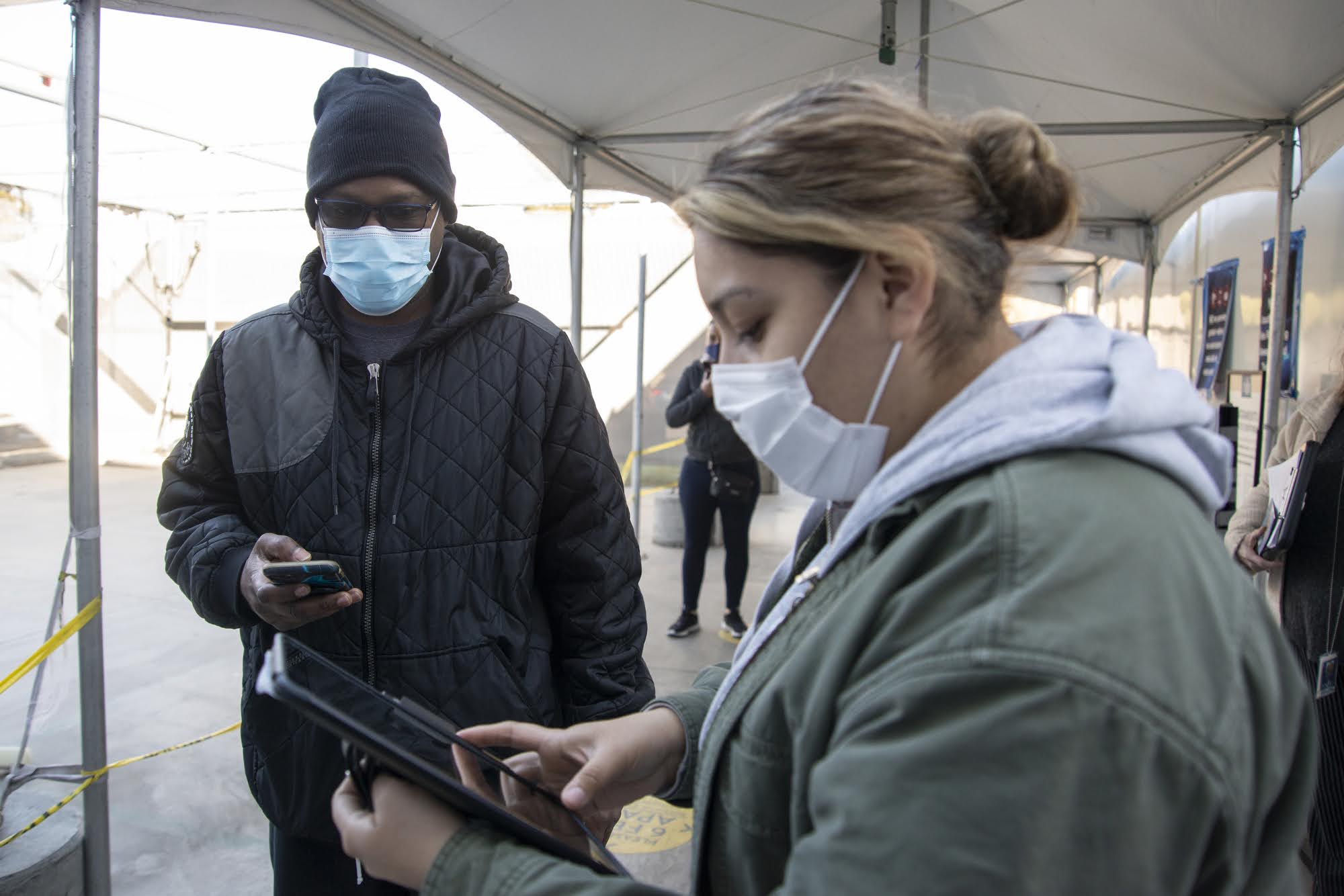 Welcome to COVID in Context, where staff at The Nevada Independent provide context and clarity on what's happening with COVID-19 in Nevada.
COVID in Context will change depending on the situation at hand. If you have any questions, thoughts or suggestions, please reach out to [email protected], send me a direct message on Twitter, or submit them using this form.
For daily updates, check out our constantly updating data page and follow @nvindycovidbot on Twitter.
— Tabitha Mueller
What's behind the decision to move to weekly, not daily, COVID-19 data reporting?
On Thursday, health officials announced that Nevada would be reducing how often it reports COVID-19 data, along with a host of other changes, joining a list of at least 34 states that no longer report daily COVID-19 data.
The announcement came amid Nevada's lowest case incidences in nearly a year and is one of the most public recognitions yet that the virus is here to stay. A week earlier, local officials said they would no longer hold weekly press briefings on the matter.
"COVID is becoming endemic … it will persist in our communities at some level," Chief Biostatician Kyra Morgan said during a press conference Thursday. "The definition of something becoming endemic lends itself towards this type of weekly surveillance, where we're not necessarily raising a huge alarm because we see cases go up."
Health officials said the changes are intended to streamline the reporting process and address misinterpretations of the data and "things that are happening behind the scenes" that cause reporting delays. They also align with updated guidelines from the Centers for Disease Control and Prevention that focus on minimizing the effect of severe illness on health and society as opposed to preventing the spread of the disease altogether.
Changes to the data reporting include:
Shifting from daily reporting to weekly reporting. Data released on Wednesday will reflect COVID trends through the previous Monday.
Removing the county tracker and dashboard pages related to testing volume and test positivity rates, or the percentage of all COVID-19 tests that are positive
Adding reinfections to case counts, meaning anyone testing positive more than 90 days after the original test result will count as a new case
"It is important to understand that there is no light switch to the endemic phase of COVID-19, but rather a process," State Epidemiologist Melissa Peek-Bullock said. "The way that we're looking at the data currently is just becoming a little bit obsolete, and we need to shift and make sure that we're looking at the data in the way that makes the most sense for long-term surveillance."
The reduction in reporting frequency reflects a shift from a public health emergency position to one of routine disease surveillance efforts, and aligns with what officials described as "more traditional communicable disease reporting" for diseases such as E. coli, pertussis and diabetes.
As far as removing the testing positivity rates, Morgan said test positivity is becoming "obsolete" because the introduction of widespread at-home testing has made it impossible to gather accurate test positivity rates. The rates are incomplete without including at-home testing results. She added that public health agencies do not typically collect test results for other infectious diseases.
"The test positivity rate was originally designed to indicate a need for more robust testing," Morgan said. "We've met that need with at-home test kits, and so just the relevance of test positivity, in general, loses a little bit of weight."
The rollout of the changes will take place next week in conjunction with local health authorities. Shortly after the press conference, the Washoe County Health District and Southern Nevada Health District announced the adoption of a similar weekly COVID-19 data reporting schedule.
For those wondering about what metrics to use as far as mask-wearing and other precautions, Morgan said the CDC's updated indicators for community transmission should be considered the official resource for assessing community risks. The new CDC metrics focus on a combination of three factors: new COVID-related hospital admissions, percentage of hospital beds occupied by COVID-19 patients and new cases per 100,000 people.
"Behind the scenes, public health, we're going to continue to do our jobs at monitoring the information," Morgan said. "It won't be as robust as the public-facing dashboard being updated on a daily basis, but that doesn't mean that routine disease surveillance will not continue to take place."
It remains to be seen how the new guidelines will affect the reporting of the state's dashboard, and The Nevada Independent is still discussing how the change will affect our COVID-19 dashboard. Whatever the decision, we're committed to bringing you relevant information about COVID as best we can.
— Tabitha Mueller
Understanding the numbers
The number of new COVID-19 cases reported on average each day is down from last week, although still well below the Omicron peak.
As of Thursday, 384 new cases were reported on average each day over the previous seven days, down from 729 one week earlier. That number is still significantly less than the highest point of the winter Omicron surge, 6,410, which the state hit on Jan. 24.
The statewide test positivity rate, which looks at the percentage of tests coming back positive out of the total people tested, has been dropping steadily since it hit a peak of 36 percent at the height of the Omicron wave.
The testing positivity rate is calculated as an average over a 14-day period with a seven-day lag. (That 14-day lag may be responsible for differing trends between cases and test positivity.)
As of Thursday, test positivity was 5.5 percent, down slightly from 7.9 percent last week. The state's test positivity rate still remains above the World Health Organization's recommended 5 percent threshold.
The pace of vaccine distribution in Nevada is beginning to plateau with only a 0.33 percent increase in doses of the COVID-19 vaccine administered week-over-week compared with a 2 percent increase over the first week in January.
As of Thursday, more than 74 percent of Nevadans have been either partially or fully vaccinated against COVID-19, with 37.5 percent fully vaccinated but with no booster and 22.4 percent fully vaccinated with a booster.
Since vaccinations became available in December 2021, more than 2.2 million people have received at least one dose of the COVID-19 vaccine, more than 1.8 million Nevadans have been fully vaccinated and more than 690,000 people have received the booster.
The latest wastewater sampling data from the Southern Nevada Water Authority shows decreased concentrations of the virus from sites in Las Vegas, North Las Vegas and Boulder City but increased concentration from samples taken in Henderson and unincorporated parts of Clark County.
Overall, the concentration levels in Southern Nevada are lower than those seen at the peak of the Omicron surge in January.
Though concentrations of the virus in wastewater sampling in Washoe County showed some increases last week, the levels are beginning to tick downward and remain lower than those tracked during the peak of the Omicron wave.
— Tabitha Mueller
More than 150,000 vaccine doses discarded, more on the way as vaccine pace slows
Tens of thousands of COVID-19 vaccine doses have already been discarded, and health officials expect they'll need to throw out thousands more as the pace of vaccination slows in Nevada and nationwide.
But officials say Nevada's rate of wasted doses is significantly lower than the national rate of 9.5 percent of the more than 687 million doses delivered nationwide as of February.
According to the Nevada Department of Health and Human Services (DHHS), 156,000 doses — less than 3 percent of COVID-19 doses in the state — have been wasted for any reason, including expiration, dilution error, broken vials or missing doses. The spokesperson for DHHS said since COVID-19 vaccines were introduced in Nevada in mid-December of 2020, more than 5.6 million doses have been delivered to the state.
In Washoe County, approximately 2,000 doses of Moderna and Janssen vaccines are expected to be discarded in the upcoming months, according to Scott Oxarart, spokesperson for the Washoe County Health District (WCHD).
In 2021, the WCHD discarded approximately 520 Janssen vaccines. In 2022, due to the decline in community demand and transfer requests, the district said it has supplies of Moderna vaccines that will expire in March and Janssen vaccines that will expire in April. Pfizer and Moderna have a shelf life of nine months, whereas AstraZeneca, Janssen and Novavax vaccines have a shelf life of up to six months.
"At this time, the WCHD has not received any notifications of the expiration date of either vaccine being extended," said Oxarart.
However, on March 21, WCHD was notified that expiration dates for Janssen vaccination doses are being extended for additional three months. The health district has 560 doses that are set to expire in July.
Last week, the pace of vaccine distribution in Nevada began to plateau with only a 0.33 percent increase in doses of the COVID-19 vaccine administered, compared with a 2 percent increase over the first week in January. In total, more than 4.7 million vaccine doses have been administered in Nevada.
Following the reduced demand, state health department spokeswoman Shannon Litz said the Nevada State Immunization Program has seen a decrease in the COVID-19 vaccine quantities requested. In response, she said the program is redistributing smaller, more manageable vaccine quantity sizes, as well as establishing a Pharmacy Depot Program, where providers can pick up smaller vaccine quantities from chain pharmacy locations.
"The State works closely with enrolled providers, and if they have more doses than they anticipate using before the expiration the Nevada State Immunization Program will coordinate transferring those doses to another facility to ensure as many doses are used as possible," Litz said.
A Southern Nevada Health District spokesperson said in an email that their team and vaccine manager forecasts trends daily and tracks inventory to match the trends to prevent over-ordering or missing the expiration date. SNHD did not fulfill The Nevada Independent's request for raw numbers as to how many vaccines were received and how many doses were discarded.
— Da Yeon Eom (This brief was updated at 10 a.m. on 3/11/22 to add statewide statistics on wasted doses, and on 3/21/22 to update the expiration date for Janssen doses.)
TSA extends mask requirement until April 18
The Transportation Security Administration (TSA) on Thursday extended its mask mandate aboard airlines and other means of public transportation until April 18, saying the move came at the recommendation of the Centers for Disease Control and Prevention (CDC).
The mandate, which also covers facilities inside Harry Reid International Airport in Las Vegas and Reno-Tahoe International Airport, had been scheduled to expire on March 18.
The announcement comes as most states have rolled back rules that people wear masks indoors. On Tuesday, Hawaii became the final state to announce that it will drop its universal indoor mask mandate, saying it will end the rule on March 26.
Nevada lifted its mask mandate on Feb. 10.
Representatives for Nevada's two major airports said the facilities will continue to comply with federal guidelines.
Reid Airport Chief Marketing Officer Chris Jones said the facility will keep its awareness signage in place and continue to remind travelers of the rules.
"It's been intriguing to consider how, exactly, the TSA might respond as more states removed their mask requirements," Jones said. "But now that we have an answer, we'll continue to follow that mandate into next month, and believe air travelers in Las Vegas and elsewhere will be understanding of the circumstances."
Reno-Tahoe Airport spokeswoman Stacey Sunday said in an email Thursday, "We understand it might be more challenging to remember a mask when you travel, but we ask that passengers continue to wear a mask at the airport."
In a statement, the TSA said it will work with government agencies over the next month to create a revised policy framework covering when masks should be required in the public transportation corridor.
"This revised framework will be based on the COVID-19 community levels, risk of new variants, national data, and the latest science," the TSA said in the statement. "We will communicate any updates publicly if and/or when they change."
— Howard Stutz
News you can use
Proof of vaccination
If you got your vaccine in Nevada, you can now access and download your COVID-19 vaccination records through the state's immunization information system here.
If you receive an error message as you try to sign into the system, call 1-800-401-0946 or email [email protected].
Searching for COVID-19 testing sites?
The Nevada Hospital Association's latest report indicates that "COVID-19 is continuing to resolve in Nevada" and hospitalizations have declined to a level similar to one year prior. As hospitalizations continue to decline, staffing concerns have shifted from "crisis" to "alert" status.
The association noted that there are free therapies available throughout Nevada for COVID-19 positive patients, including Evusheld, Sotrovimab, Paxlovid, Molnupiavir, and soon Bebtelovimab. Patients can complete the pre-screening tool at https://nevadacovidtreatment.com/ or call 800-401-0946 (7 a.m. - 8 p.m. seven days a week) to locate and schedule these treatments.
For those looking for testing, the association notes that individuals should get tested at testing sites, not hospital emergency departments.
To find a testing site in Nevada, including pharmacies, head on over to the state's COVID-19 test site finder.
Rapid Tests
Here's the link to order free at-home COVID-19 tests through the United States Postal Service.
Residential households can now order up to two sets of four free at-home tests for a total of eight free at-home tests per household.
The United States Postal Service announced last week that more than 270 million free tests have been sent to nearly 70 million households since the initiative launched in mid-January.
As part of a federal effort, private insurance companies will cover at-home test kits purchased at pharmacies. Companies will cover up to eight kits per month, depending on the number of people on a health plan.
Here's a guide for getting your over-the-counter COVID-19 test reimbursed.
Updated COVID-19 Guidelines
The Centers for Disease Control and Prevention updated its COVID-19 guidelines, relying less on new cases to determine risk levels and instead focusing on a combination of three metrics: new COVID-related hospital admissions, percentage of hospital beds occupied by COVID-19 patients and new cases per 100,000 people.
The community levels of COVID-19 are broken into low, medium and high categories.
Recommendations for counties falling within the categories are as follows:
Low: Stay up-to-date with COVID-19 vaccines and get tested if you have symptoms
Medium: For those at high risk for severe illness discuss precautions, talk with a health care provider, get tested if you have symptoms and stay up-to-date on COVID-19 vaccinations.
High: Wear a mask in indoor public places, stay up-to-date with COVID-19 vaccines and get tested if you have symptoms.
As of Thursday, under the new guidelines, all of Nevada's counties fall within the "low" COVID-19 community risk level category.
For complete guidelines and recommendations surrounding quarantine and isolation guidelines, head over to the CDC's COVID-19 Quarantine and Isolation page.
What we're reading
An estimated 57 percent of Americans have not yet contracted COVID-19. As the U.S. transitions into the endemic stage of the pandemic, experts told the San Francisco Chronicle that while case rates are low, booster shots and vaccinations will help people remain protected.
"Are we all going to get it? Yes, biologically, that might happen," said Dr. Peter Chin-Hong, an infectious disease specialist at University California San Francisco. "Are we at a time to embrace that philosophy? No, because the virus is still causing a lot of suffering. Almost 2,000 deaths per day is no walk in the park."
Looming on the horizon is the potential loss of Medicaid insurance for millions of vulnerable Americans once the pandemic ends. Politico's Megan Messerly has the details.
The World Health Organization reported Wednesday that the number of new coronavirus cases and deaths globally has continued to drop in the past week. Only the Western Pacific region saw a rise in cases. More in this story from The Associated Press.
The Boston Public Health Commission voted unanimously on Wednesday to rescind the city's public health emergency status beginning April 1. To learn more about the decision coming from one of the country's most prominent cities, head to this piece from WBZ NewsRadio.
It looks like Pfizer will begin late-stage testing of a COVID-19 antiviral treatment for children as young as 6 years old who test positive for the virus, per reporting from Politico.
The Nevada Independent is raising $200,000 by Dec. 31 to support coverage of the 2024 election.
Tax-deductible donations from readers like you fund this critical work.
If you give today,your donation will be matched dollar-for-dollar.
Give + Get Matched
Featured Videos