D.C. Download: What Biden and DeSantis said in Las Vegas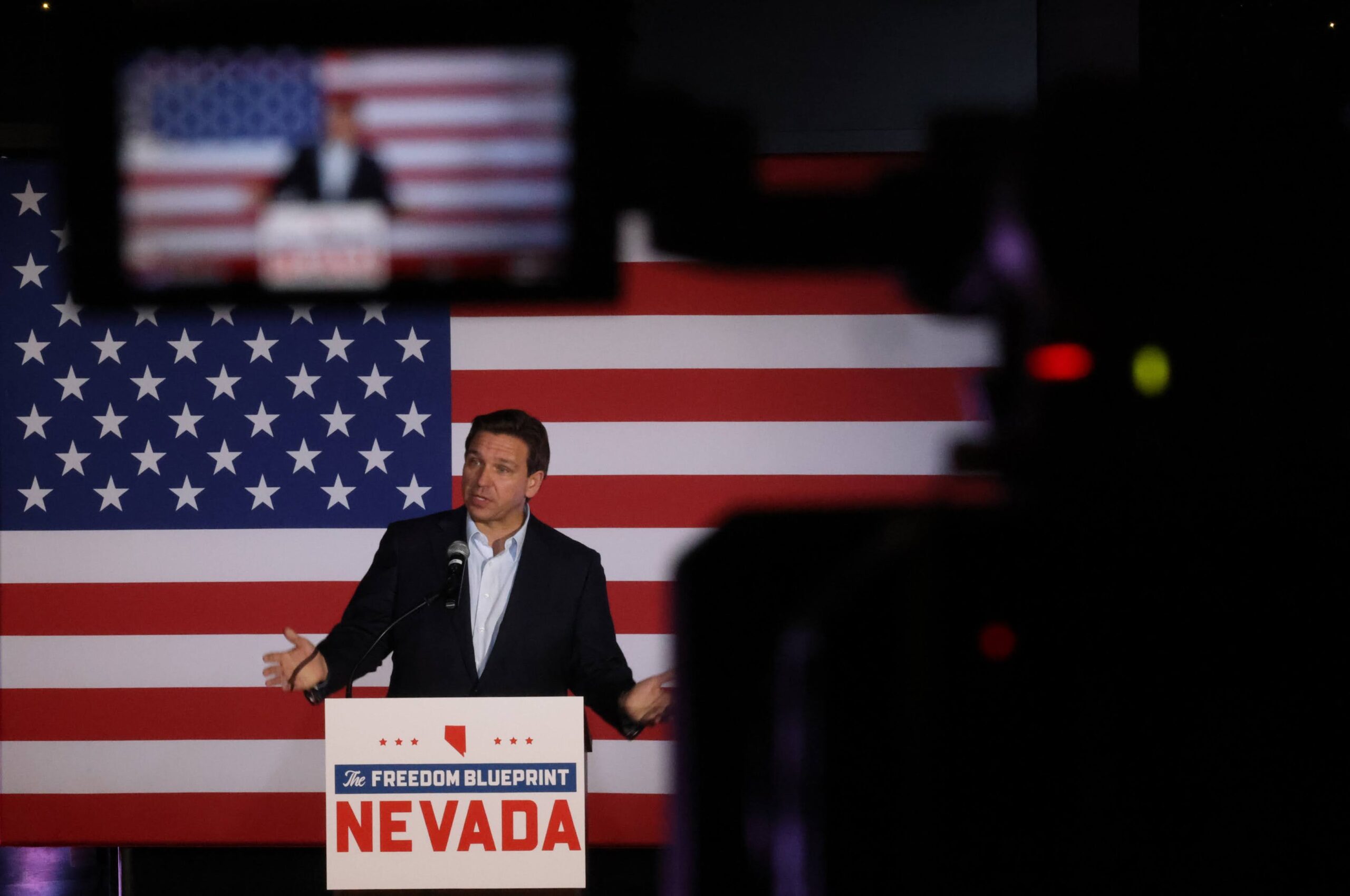 In the last week, President Joe Biden and Florida Gov. Ron DeSantis came to Las Vegas with dueling messages about the state of the country. While neither candidate has officially declared their candidacy for president, their speeches are early indicators of the messages they will hone during the coming months as they attempt to convince Nevadans — and Americans — that they deserve to be the president.
In Las Vegas, competing visions of America
Neither Biden nor DeSantis have announced their candidacies for president. The election remains more than 18 months away. But Las Vegans would be forgiven for thinking the two were already the major party's candidates and that the election was imminent.
While neither were billed as official campaign events, Biden and DeSantis touted the policies they had enacted as chief executives and derided their political opponents.
But that's about where the similarities ended. The two depicted wildly differing visions of the country and the challenges it faces, portraying the government as a salve to restore affordability and dignity, in the case of Biden, or freedom from left-wing ideology and policy, per DeSantis.
In Biden's America, things are looking up. In his first visit to the Silver State since he was a candidate, he spoke about a country being rebuilt from the middle class up, and a restoration of dignity — through lowering prescription drug costs, bringing manufacturing jobs back and protecting and expanding the social safety net. Republicans, he said, threaten that progress, speaking about the ongoing budget battle with the GOP and the threat to democracy that the party has enabled. He described a party gone astray — referring to his positive working relationships with some in the GOP and portraying the influence of extremism as the party having gone awry.
"There are a lot of good Republicans from this state that I worked with over the years, and from every other state," Biden said to a room full of Democrats at a private DNC fundraiser Tuesday night in Las Vegas. "But this is not the same deal. This is a different breed of cat … and the fact of the matter is that they want to undo even the bipartisan things we got done."
He spoke about the crowning policy achievements of his first two years in office — the Inflation Reduction Act, which incentivizes green energy like battery recycling and electric car manufacturing in Nevada, the Bipartisan Infrastructure Law, the CHIPS and Science Act, to invest more in chip manufacturing, and lowering the cost of insulin for seniors.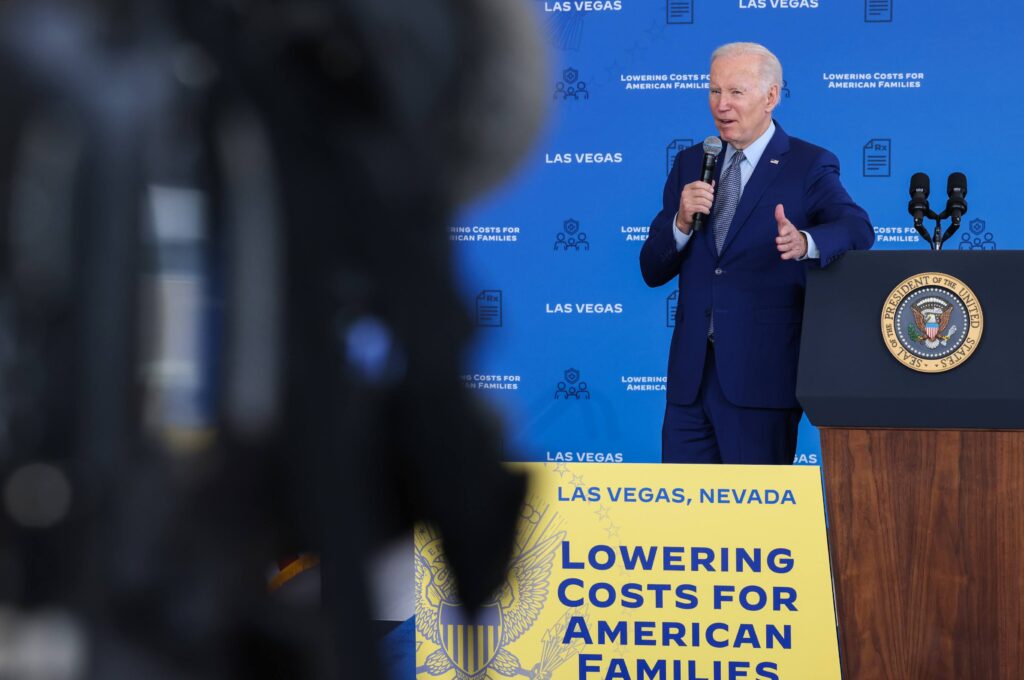 At a public event the next day at UNLV, Biden spoke to an audience of health care professionals in personal terms about the importance of affordable care, from the stress on his family when his father lost his health insurance to the importance of funding cancer research, the disease that claimed his son Beau. He presented the coming election as a clear contrast between Democrats, who want to protect the Affordable Care Act and empower Medicare to negotiate the price of drugs, and Republicans, who want to make cuts to Medicare and have continually voted to repeal the ACA.
He also spoke of himself as a steadying hand domestically and globally that had restored confidence in America in the wake of former President Donald Trump's isolationism and represented a welcome reprieve from the histrionics of the MAGA win of the Republican Party, now represented by Rep. Marjorie Taylor Greene (R-GA), whom he joked about.
"I am — have never been so – optimistic about the chances for America to take back the standard we had where the rest of the world looks to us and we look to them, because we are — as Madeleine Albright said — the essential nation," Biden said.
DeSantis — nearly 40 years younger than Biden and far more combative — painted a much darker picture. In DeSantis' America, average people are under siege from the left. Florida, he said, is a refuge against the "woke" policies and culture that have driven thousands of Californians to move to Nevada, for example.
At his Saturday speech at Stoney's Rockin' Country, ostensibly to promote his new book, DeSantis presented a "blueprint" for defeating the Democratic Party politically and culturally — taking aim at mask and vaccine mandates, critical race theory, prosecutorial reform, gender ideology, refugees and universal vote-by-mail. He cast himself as a warrior for right-wing cultural causes, taking the fight to everyone from Dr. Anthony Fauci to Disney. Florida — with no state income tax, a large economy and higher-performing schools than states that spend more money on education — is a model, he said, for how the U.S. should be run.
"In the last four or five years, [there's] really been a great American exodus away from states governed by leftist politicians imposing leftist ideology into states like Florida that really represented the promised land of freedom," DeSantis said.
In DeSantis' formulation, the right should offer freedom and sanity, while Biden and the left — aided by people like Hungarian billionaire and megadonor George Soros — have embraced crime, restrictive COVID policies and open borders.
Both likely candidates also addressed the declared elephant in the room — Trump. Biden called him out by name, telling supporters at the fundraiser that the former president created more deficit in four years than any other president.
While DeSantis did not name him, he told supporters that he ran a tight ship — "no leaks, no drama, no palace intrigue, just daily execution," he said, drawing an implicit contrast with the Trump White House.
The only other declared Republican presidential candidate, former South Carolina Gov. Nikki Haley, has yet to visit Nevada, despite making multiple stops in Iowa, New Hampshire and South Carolina in the month since announcing her candidacy. Nevada Republicans will vote fourth in 2024, while Nevada Democrats will go second if states like New Hampshire adopt the proposed Democratic nominating calendar.
Around the Capitol
President Joe Biden listened to Sens. Catherine Cortez Masto (D-NV) and Jacky Rosen (D-NV), including a line item in his proposed budget to build a new veterans' hospital in Reno.
Sen. Jacky Rosen (D-NV) and Rep. Susie Lee (D-NV) introduced bicameral, bipartisan legislation to allow the Department of Veterans' Affairs to implement new suicide prevention techniques at its medical centers.
The Department of the Interior announced $417 million for 47 recreation and restoration projects in Nevada through the funds generated from the latest round (number 19) of Southern Nevada Public Lands Management Act (SNPLMA) sales. The funding will go toward maintaining parks, trails and natural areas, wildfire prevention, habitat conservation and capital improvements on existing public lands.
President Joe Biden is expected to officially designate Avi Kwa Ame as a national monument next week in a ceremony in D.C.
Reps. Dina Titus (D-NV) and Guy Reschenthaler (R-PA), co-chairs of the Congressional Gaming Caucus, reintroduced a bill to repeal the handle tax, a 0.25 percent excise tax on sports bets.
Cortez Masto reintroduced the Fairness for Immigrant Families Act, which removes barriers for long-term immigrant families to become permanent residents and combats notario fraud against immigrants.
The Department of Transportation granted $3.5 million to improve road safety in Las Vegas and Lake Tahoe.
Notable and Quotable
"I predict a guy you're going to see being a leading role in Democratic politics nationally, and he's already off to a good start: Steven Horsford is a great guy."
President Joe Biden, on Rep. Steven Horsford (D-NV)'s future. This from a guy who might know a few things about politics!
Legislative Tracker
SEN. CATHERINE CORTEZ MASTO
Sponsored:
S.784 – A bill to require the Secretary of the Interior and the Secretary of Agriculture to complete an interagency report on the effects of special recreation permits on environmental justice communities, and for other purposes.
S.819 – A bill to protect immigrant families, combat fraud, promote citizenship and build community trust, and for other purposes.
Co-sponsored:
S.Res.106 – A resolution condemning Beijing's destruction of Hong Kong's democracy and rule of law.
S.Res.110 – A resolution honoring the life and legacy of the late James George Abourezk.
S.811 – A bill to amend the Securities Exchange Act of 1934 to further enhance anti-retaliation protections for whistleblowers, and for other purposes.
SEN. JACKY ROSEN
Co-sponsored:
S.Res.110 – A resolution honoring the life and legacy of the late James George Abourezk.
REP. DINA TITUS
Co-sponsored:
H.Res.225 – Expressing support for the designation of the third week of March 2023 as "National CACFP Week."
H.R.1588 – To establish an AmeriCorps Administration to carry out the national and volunteer service programs, to expand participation in such programs, and for other purposes.
H.R.1595 – To amend the Omnibus Crime Control and Safe Streets Act of 1968 to provide for grants for state firearms dealer licensing programs, and for other purposes.
REP. MARK AMODEI
Co-sponsored:
H.R.1610 – To amend title XVIII of the Social Security Act to provide Medicare coverage for all physicians' services furnished by doctors of chiropractic within the scope of their license, and for other purposes.
The Week Ahead
The Senate will vote to repeal the 2002 Authorization for Use of Military Force Against Iraq Resolution.
The Nevada Independent is raising $200,000 by Dec. 31 to support coverage of the 2024 election.
Tax-deductible donations from readers like you fund this critical work.
If you give today,your donation will be matched dollar-for-dollar.
Give + Get Matched
Featured Videos