Election Live Blog: Lombardo, Laxalt win Republican primaries; Titus, Amodei survive challenges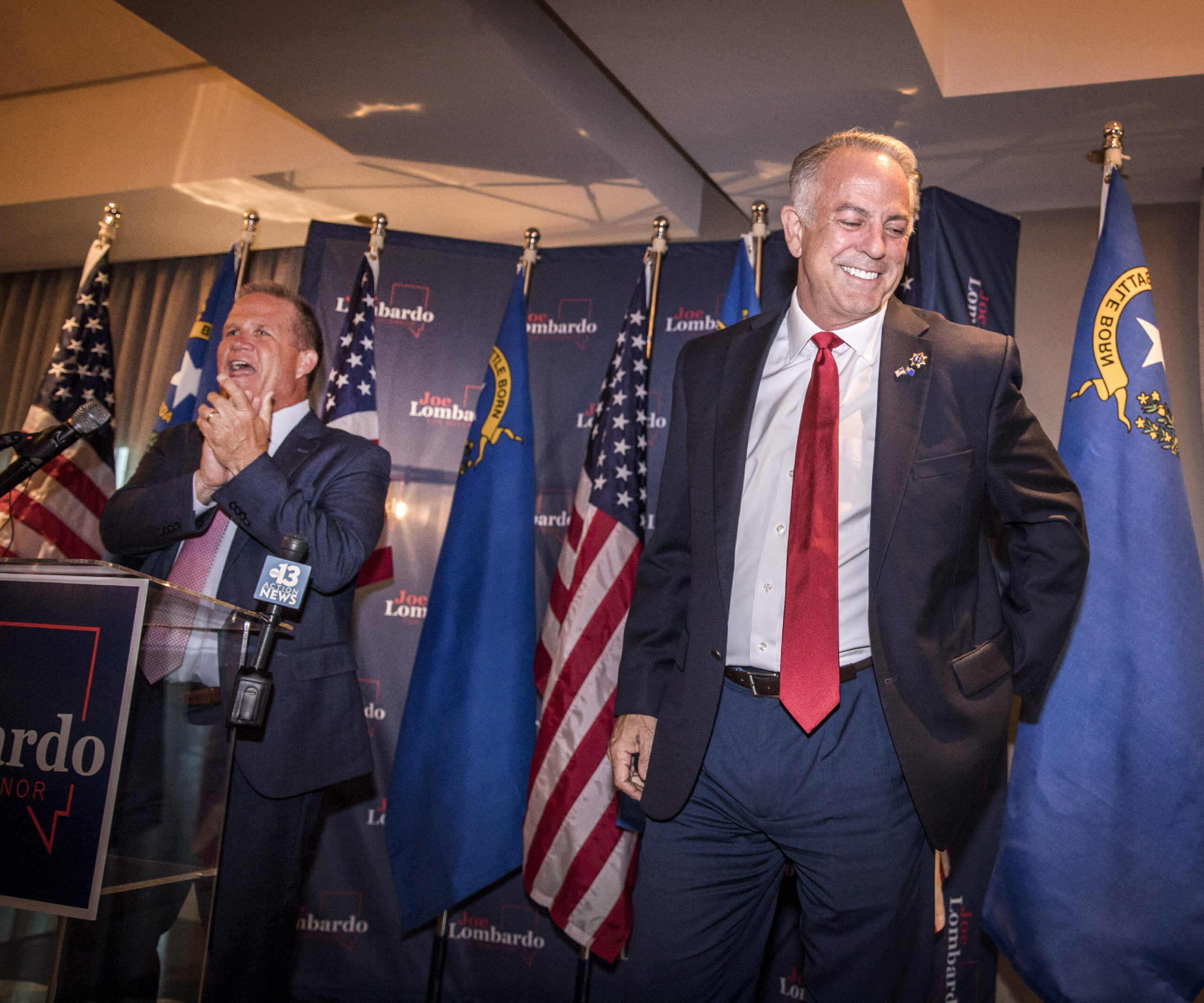 Editor's Note: This is The Nevada Independent's 2022 Primary Election Night Live Blog. We'll be updating this story constantly as initial results are published and when we can project the winners of key races. You can find full election results on our Primary Races page, and follow the team on Twitter for the latest news and updates.
Peters defeats Assemblywoman Annie Black, will face Horsford in 4th District
Sam Peters, a veteran and insurance firm owner, has defeated Mesquite-based Assemblywoman Annie Black in the Republican primary for Congressional District 4.
He advances to face incumbent Democratic Rep. Steven Horsford in a closely watched general election matchup that could help swing control of the House, as Peters hopes to secure a Republican victory in District 4 for just the second time in its roughly decade-long history. Peters took second place to Jim Marchant in the Republican primary for the district two years ago.
In a statement released Wednesday, Peters highlighted the economy as an important issue in the District 4 race.
"As your champion, I will make sure our government honors its commitment to our seniors, our law enforcement, and our veterans. We must bring back economic prosperity for all," he said.
In a tweet on Wednesday morning, Black thanked her supporters and said she'll endorse, campaign for and donate to Peters.
Horsford, who has done little campaigning and amassed a campaign war chest of more than $2 million while facing no primary challengers from his party, now must fend off a challenge from the Trump-aligned Peters, who has used former President Donald Trump's image in campaign materials and pushed for finishing "Trump's wall" at the southern border.
Though a Republican candidate has only won the district once before — when Cresent Hardy defeated Horsford in a red wave year in 2014 — the current political conditions, including high inflation and a Democratic president with poor approval ratings, could propel Peters to a victory in another potential red wave.
Peters will have to make up significant financial shortcomings and a more than 10-point Democratic voter registration advantage, but he will have the backing of national Republicans who are pouring money into the Las Vegas market as they hope to flip the "toss-up" seat, as well as Districts 1 and 3.
Sigal Chattah defeats Tisha Black in attorney general primary
Firebrand lawyer Sigal Chattah has defeated Las Vegas attorney Tisha Black in the Republican primary for attorney general, setting the stage for a feisty race in November with Democratic incumbent Aaron Ford for the state's top prosecutor post.
The Israeli-born Chattah has made a name for herself fighting Gov. Steve Sisolak's COVID restrictions in court. Black, who was seen as a more mainstream alternative, was previously the head of the Nevada Cannabis Association and has carved out a niche helping clients score coveted marijuana business licenses in the nascent industry.
Ford, who was previously the top-ranking state senator and has held the office since winning the seat by less than a percentage point in 2018, is by far the fundraising leader in the state, but is seen as endangered in a midterm year with a potential red wave.
The attorney general defends state agencies in court, but often takes partisan positions. Ford, for example, has used his platform to push back against restrictions on abortion seen elsewhere in the country.
Michele Fiore wins GOP treasurer primary over Manny Kess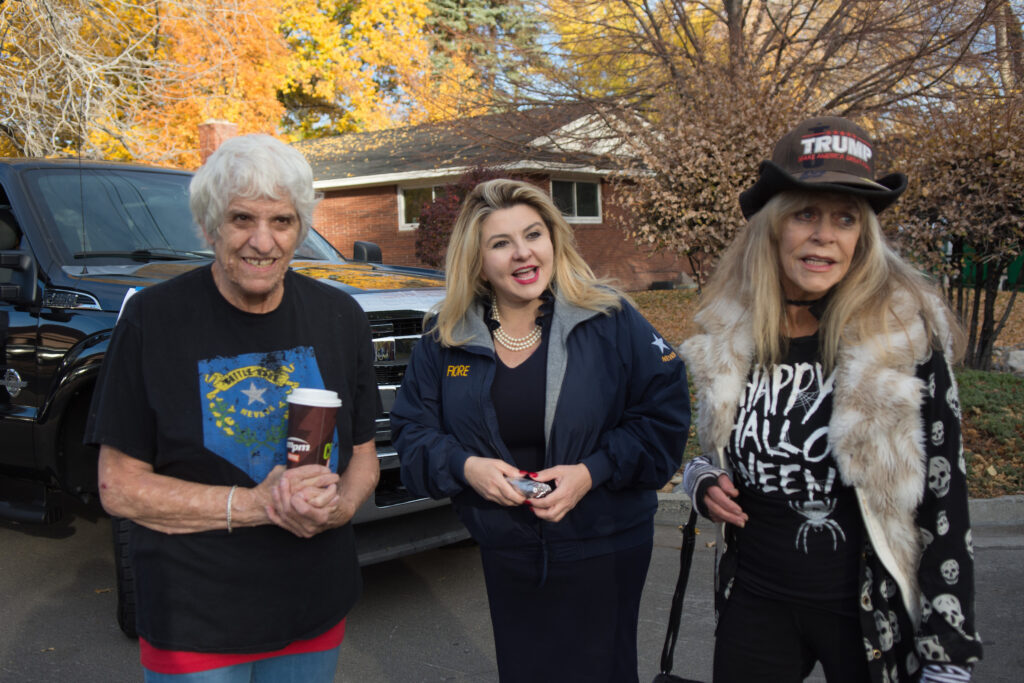 Las Vegas City Councilwoman Michele Fiore defeated businessman Manny Kess in a colorful Republican primary for treasurer.
The outspoken Fiore, a former Assembly member, had been running for governor for months but switched races at the last minute this spring, citing advice from "Trump's team." She is known for attention-grabbing activities, including making a television commercial where she shoots bottles labeled "CRT" and "vaccine mandates," creating a glamour calendar of herself posing with assault rifles and joining anti-government activists during a major standoff.
Kess had tried to make a splash himself. The former restaurant owner recently released an ad where he donned a blonde wig and mocked Fiore by shooting a gun haphazardly in the desert.
Fiore will face Democratic incumbent Zach Conine, who has reserved a record amount of television ad time ahead of the general election in a bid to keep his seat.
As treasurer, Conine is in charge of managing state funds, college funds, maintaining state and property records, investing and other financial responsibilities. His office has taken a significant role administering federal COVID-19 relief funding, including by creating a small business grant program that disbursed more than $100 million.
Election doubter Jim Marchant wins GOP primary for secretary of state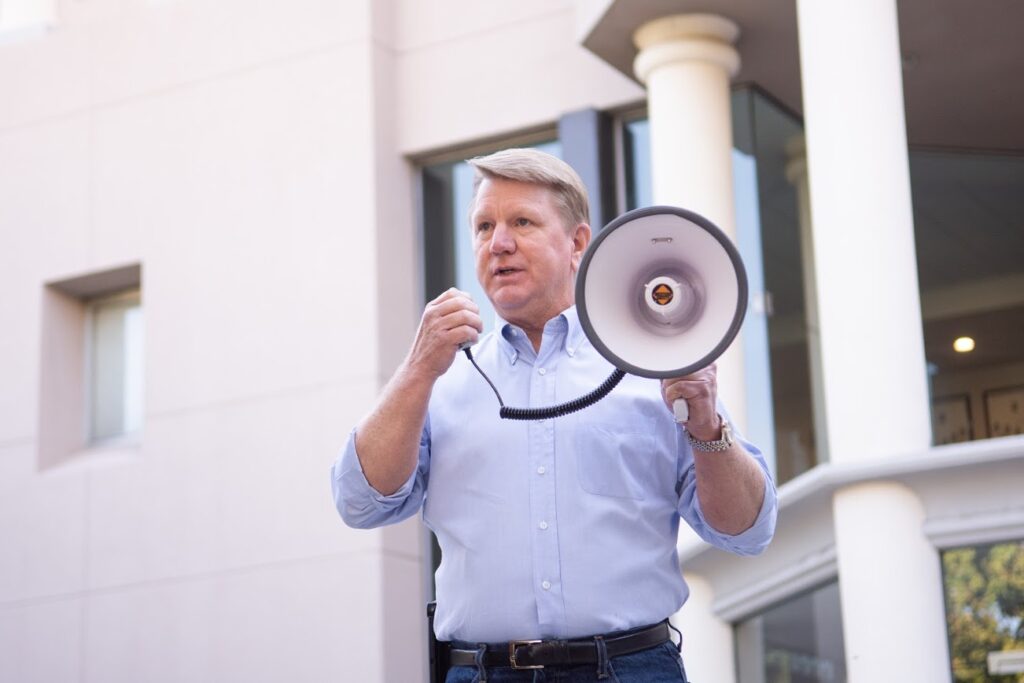 Former Assemblyman Jim Marchant prevailed in a high-stakes Republican primary for secretary of state, meaning a candidate who fundamentally distrusts Nevada's election system and believes results have been fraudulent for decades could be in charge of running the voting process.
Marchant, who lost a Southern Nevada House race in 2020, has raised his public profile during campaign season by promoting in rural counties the idea of abandoning electronic voting machines in favor of paper ballots and hand-counting. Many clerks have pushed back on the idea, arguing it would represent a massive expansion of time and resources to execute, could open the system to more human error and is based on a false premise of widespread fraud in the system.
He defeated several candidates in the primary including well-funded Reno developer Jesse Haw, who was seen as the more moderate contender in the race, although both Haw and Marchant have advocated for voter ID, a concept that has repeatedly failed to gain traction in the Democrat-controlled Legislature.
Marchant will face two minor party candidates and the lone Democrat in the race — former Nevada Athletic Commissioner Cisco Aguilar. The seat will be open as Republican Secretary of State Barbara Cegavske is termed out.
"It's gonna be an absolute battle," Aguilar said Tuesday, just before polls closed, about the road ahead for him. "When you look at an election as three factors — one, it's timing, it's luck, and it's hard work. I can control one of those three aspects. I'm going to put everything into this. I'm a pretty hard worker, and I will work until we actually win."
— Jannelle Calderon
Cano Burkhead heads off challenge to win lieutenant governor primary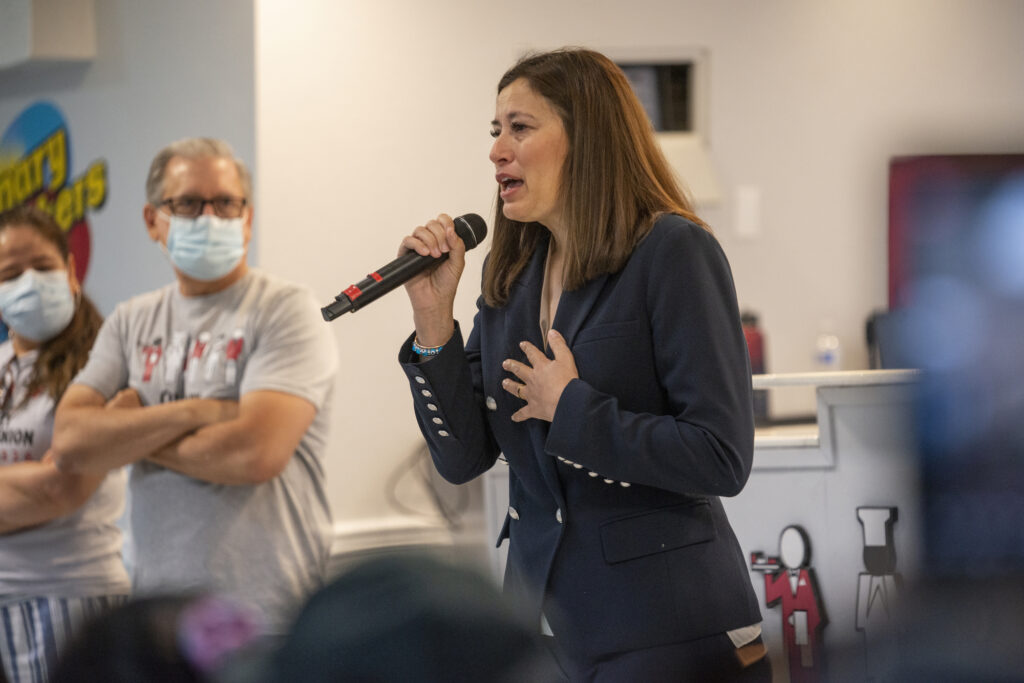 Lt. Gov. Lisa Cano Burkhead has triumphed in a competitive Democratic primary for the second-highest statewide elected office, defeating Henderson Mayor Debra March.
Cano Burkhead, a former principal, was appointed by Gov. Steve Sisolak in December but had been a virtual political unknown before that and struggled to sufficiently establish herself and fundraise to keep her seat. Outside groups poured hundreds of thousands of dollars into boosting her in the final sprint to Election Day.
March, on the other hand, has more than a decade of experience in Henderson elected office. Her term as mayor ends in January.
Cano Burkhead enters a general election contest against Republican Las Vegas City Councilman Stavros Anthony, who rose above a crowded field of candidates that also included former Treasurer Dan Schwartz and Lexicon Bank founder John Miller. Anthony has been a councilman for more than a decade and lost a 2020 race for Clark County commissioner to Democratic candidate Ross Miller by a few dozen votes.
The lieutenant governor is next in the line of succession if the governor is unable to perform his or her duties, but the part-time role has relatively few major responsibilities in normal times, including the largely symbolic role of presiding over the state Senate and a chair role on the state's tourism commission.
Wolfson wins primary for Clark County district attorney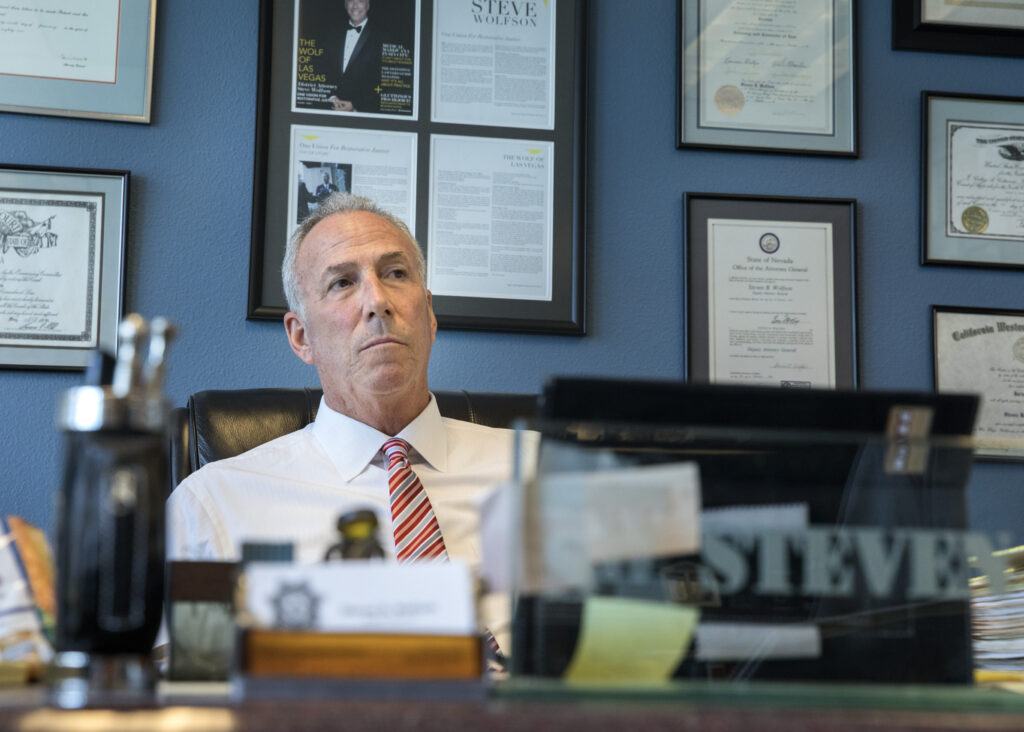 Incumbent Democrat Steve Wolfson has defeated a progressive challenger, former Assemblyman Ozzie Fumo, in the Democratic primary, making him the overwhelming favorite to lead the Clark County District Attorney's Office for a full third term.
The pair clashed on the current state of criminal justice, with Wolfson – who has held the seat for a decade – stating that the system gets it right 99 percent of the time.
Fumo, meanwhile, had promised to make a number of changes at the district attorney's office, such as stopping the use of the death penalty, no longer arresting and prosecuting sex workers and helping the governor with seal cannabis charges prior to legalization. Fumo previously ran an unsuccessful campaign for Nevada Supreme Court in 2020.
Wolfson had $1.2 million cash on hand for his re-election campaign, compared to Fumo's $26,709. In an interview with The Nevada Independent, Wolfson said that there are many Nevadans that still want the death penalty and that rising crime across the country calls for his good judgment.
Wolfson will face Republican attorney Tim Treffinger in the general election. Treffinger has criticized Wolfson's office for sentencing inconsistencies, but has only raised a negligible amount of campaign cash for the race.
McMahill wins Clark County sheriff race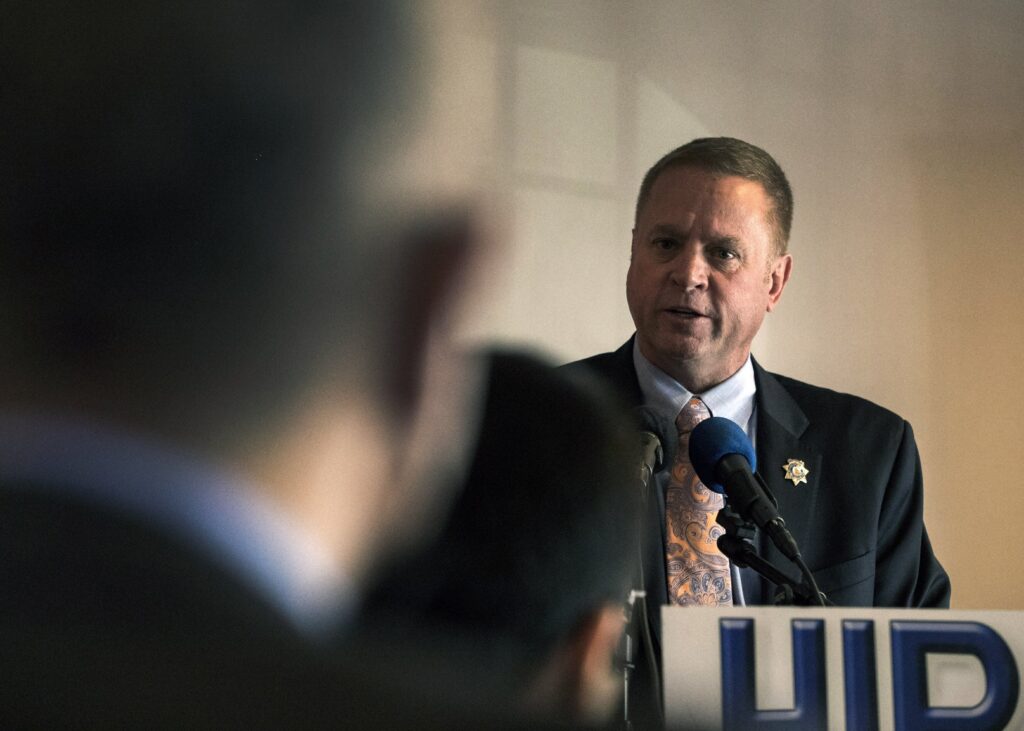 Retired undersheriff Kevin McMahill has defeated two other former officers with the Las Vegas Metropolitan Police Department in the race to become Clark County sheriff.
McMahill had earned the endorsement of Sheriff Joe Lombardo, who is leaving the post after eight years to run for governor, and emerged as the fundraising leader in spite of being dogged by a 27-year-old allegation of sexual misconduct. He also racked up endorsements from a number of organizations including the 3,000-member Las Vegas Police Protective Association.
In second place was Tom Roberts, a moderate Republican Assembly member and retired assistant sheriff. Roberts had endorsements from the Clark County Black Caucus and Clark County Education Association, but the $45,700 cash on hand he reported in April was far behind the $1.3 million raised by McMahill.
Stan Hyt, a retired police sergeant, almost entirely self-funded his campaign and reported $101,000 cash on hand. He self-identifies as a Christian, patriot, and constitutionalist.
The sheriff contest is a nonpartisan race, meaning if a candidate receives more than 50 percent of the vote, he or she is declared the outright winner.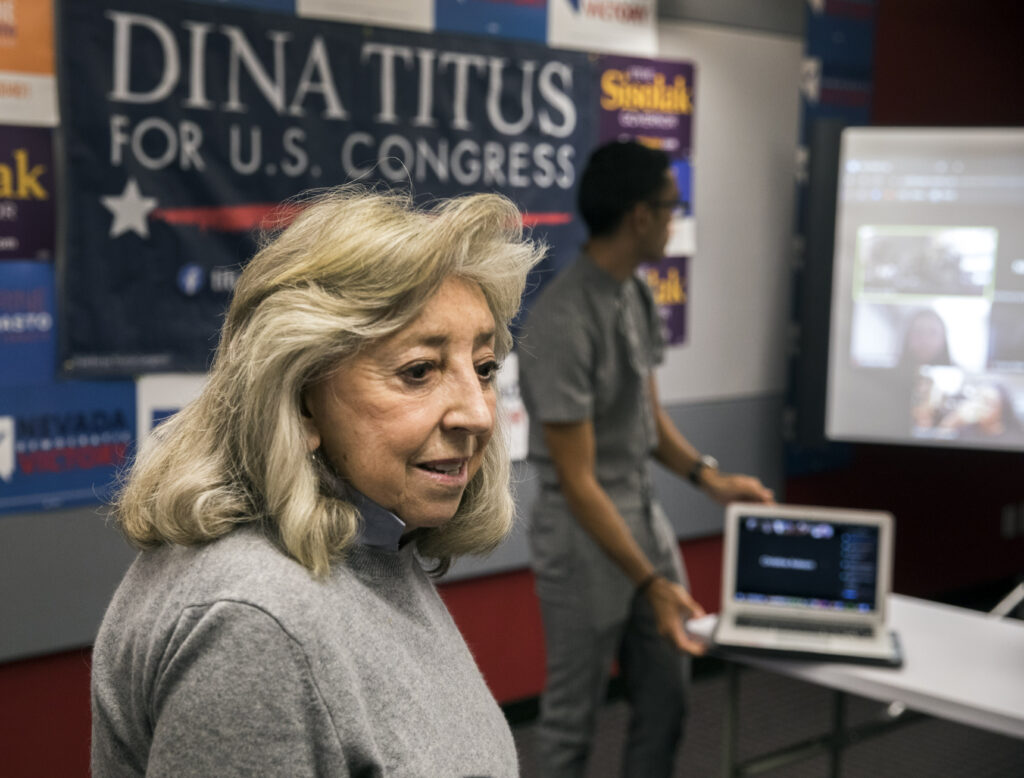 Titus heads off primary challenge from the left; Robertson wins GOP primary
Democrat incumbent Dina Titus will be the Democratic nominee in the Las Vegas-area House district that's newly considered a "toss-up," handily defeating Bernie Sanders-endorsed progressive opponent Amy Vilela.
Titus released a statement Tuesday night saying she was "humbled" that Democratic voters backed her again in the 1st Congressional District.
"This is the most crucial election of our lifetimes," she wrote. "From voting rights and reproductive freedom to economic recovery and workers' rights, there is too much at stake to sit on the sidelines."
Henderson resident and former U.S. Army Colonel Mark Robertson won the crowded Republican primary that featured eight candidates all trying to flip Titus's seat, which she has held since 2013. The district has only had a Republican representative from 1995 to 1999, when then-Rep. John Ensign took office, but has a much larger group of registered Republicans after redistricting last year.
Republican Carolina Serrano, a former Latinos for Trump leader, garnered an endorsement from the Nevada GOP, which did not appear to be enough to get her across the finish line in the primary.
— Jannelle Calderon
Amodei defeats Tarkanian in GOP primary for 2nd Congressional District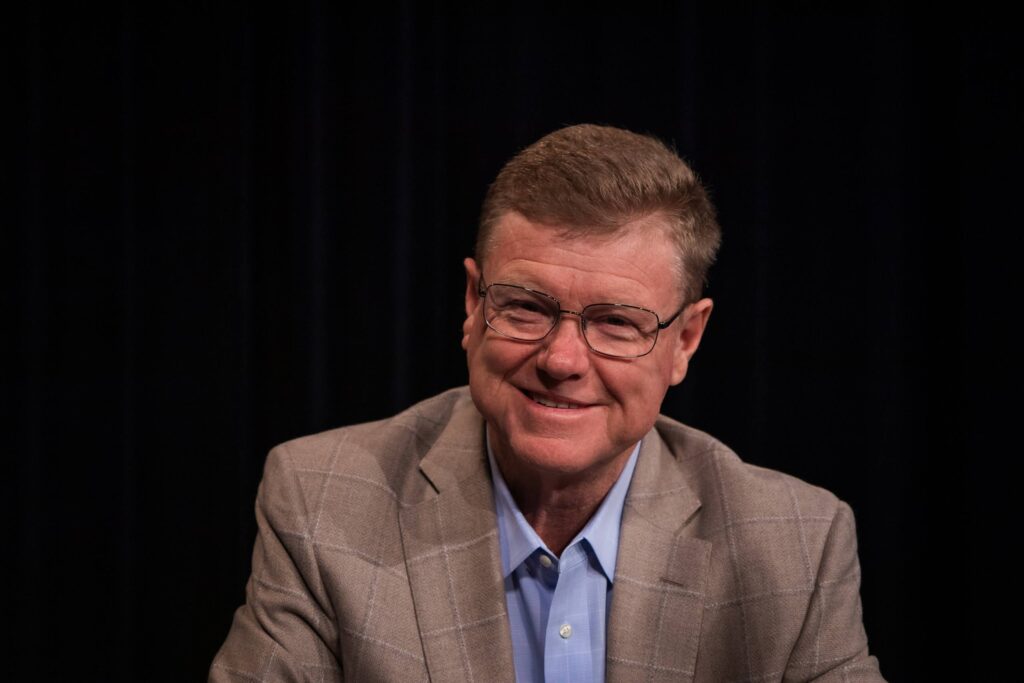 Despite facing his most formidable challenge in the Republican primary in a decade, Rep. Mark Amodei triumphed in Nevada's safely GOP 2nd Congressional District and appears poised to be re-elected for the sixth time this fall.
Amodei, who was endorsed by the Nevada GOP, came out on top of his Republican contenders, who included Douglas County Commissioner Danny Tarkanian and lesser-known candidates Joel Beck, an Air Force veteran; Brian Nadell, a professional poker player; and emergency response instructor Catherine Sampson.
Tarkanian has previously run numerous times, including losing three other races for House seats in Southern Nevada before moving to the more Republican 2nd District. The Douglas County commissioner will remain in his seat as he is halfway through a four-year term.
While District 2 is Nevada's only safe red district, educator and union activist Mercedes Krause will challenge Amodei as the Democrat candidate after defeating six other contenders in the Democratic primary. But Democrats typically fall far short of victory in the 2nd District. In the 2020 general election, Democrat candidate Patricia Ackerman lost to Amodei by 15 points.
April Becker to face Susie Lee in 3rd Congressional District
Las Vegas real estate attorney April Becker, a well-funded candidate backed by the GOP establishment, handily won the Republican nomination for District 3, landing her a spot in what is expected to be one of the most hotly contested House races in the country this year.
Becker, hoping to flip the district red for the first time since 2016, will take on incumbent Democratic Rep. Susie Lee, who roundly defeated a single primary challenger as she seeks a third term in Congress. Becker said Lee's responses to economic crises were "callous" and "out-of-touch," and that she had no business in Congress.
"With inflation at record highs, gas prices soaring, and Nevadans having a tough time making ends meet, Susie Lee refuses to offer solutions or even acknowledge her role in this disaster," Becker said in a statement on election night.
In a statement, Lee also took a shot at her general election opponent, describing Becker as "totally out of touch with southern Nevadans" and framing the midterm election as "a referendum on our rights, on our democracy, and on our families' futures."
"April Becker has already turned her back on southern Nevada families. She's catering to Big Oil, Big Pharma, and the other corporations that are price gouging American families. She has proven that she will sell out our democracy if it serves her own selfish interests," Lee said.
The Cook Political Report and other observers rate the race as a "toss-up," and in 2020, President Joe Biden won the district by just 0.2 points. Though redistricting saw more Democratic voters added to the district last year, national Republicans and Democrats alike have poured money into television advertisement placements this fall in the Las Vegas market, recognizing Lee's vulnerability in a midterm cycle unfavorable to Democrats.
Because Becker narrowly lost a state Senate race against Senate Majority Leader Nicole Cannizarro (D-Las Vegas) in 2020, she has garnered widespread support from popular national and state Republicans, including endorsements from House Minority Leader Rep. Kevin McCarthy (R-CA) and former Attorney General Adam Laxalt.
With that support, Becker spent the primary season looking ahead to November. Through a barrage of fundraising emails and her first major television ad, she has railed against Lee for high inflation and surging gas prices, and she has repeatedly linked Lee with Biden, who remains unpopular among Nevadans.
And though Becker outraised her primary opponents, she entered late May with about one-ninth as much campaign cash ($250,000) as Lee ($2.3 million).
— Sean Golonka
Laxalt triumphs in GOP Senate primary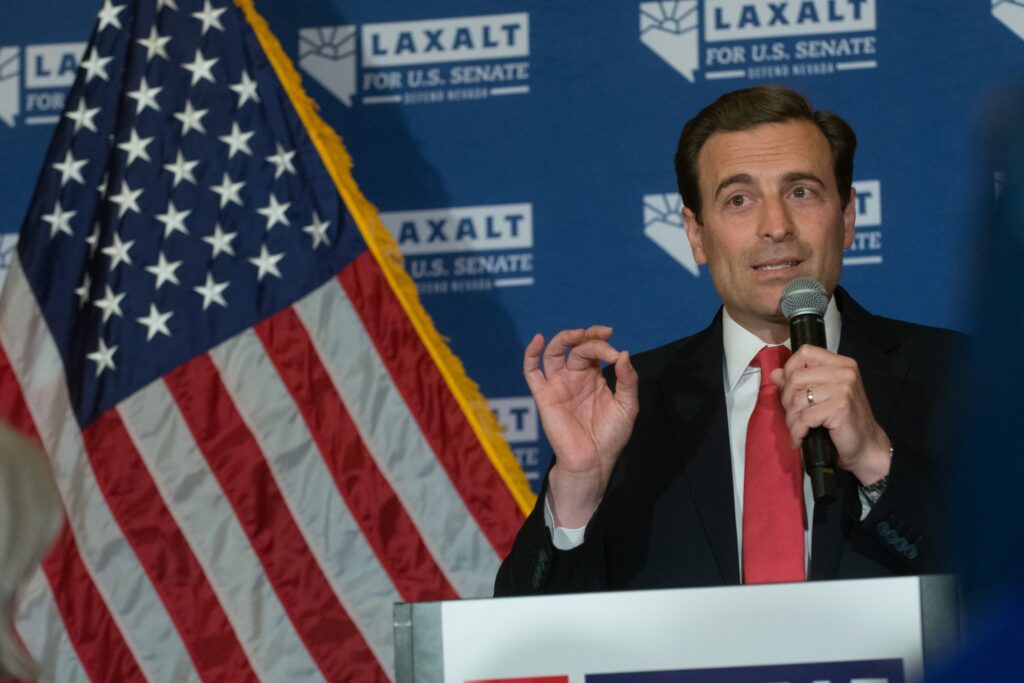 Former Nevada Attorney General Adam Laxalt has prevailed in an unexpectedly competitive primary and now heads into what promises to be one of the country's most-watched Senate contests against Democratic incumbent Catherine Cortez Masto.
Political newcomer Sam Brown, a veteran severely wounded in Afghanistan, trailed behind Laxalt, despite inching closer in the polls the past couple of months and mounting respectable fundraising numbers. Laxalt, who was former President Donald Trump's Nevada campaign co-chair in 2020, has prominently touted his endorsement from Trump during campaign season and took a lead role in challenging President Joe Biden's victory in Nevada.
Cortez Masto, also a former Nevada attorney general, became the first Latina in the Senate when she was elected in 2016. That year, she defeated GOP Rep. Joe Heck by 3 percentage points.
Cortez Masto overwhelmingly defeated several political unknowns in the Democratic primary on Tuesday.
Nevada's contest is one of the top three races in the country expected to determine whether Democrats or Republicans control the U.S. Senate. The chamber is divided 50-50 between both parties.
Lombardo wins Republican governor primary
Clark County Sheriff Joe Lombardo sailed to a decisive victory atop a sprawling field of Republican gubernatorial candidates, setting up a fierce contest with Democratic Gov. Steve Sisolak in November.
Lombardo led the pack in fundraising in spite of attempts from Democrats and fellow Republicans to slow his momentum. An endorsement from President Donald Trump last month also helped cement his victory in the primary, although it could be a liability among moderates in the purple state.
Reno attorney Joey Gilbert, who attended Trump's "Stop the Steal" rally in Washington, D.C., on Jan. 6, 2021, has been a strident opponent of COVID mandates and vowed to take control of public schools through a state of emergency upon taking office, appeared to be in second place. North Las Vegas Mayor John Lee and former Sen. Dean Heller trailed further behind.
Lombardo has taken more moderate positions on gun control than his opponents and has expressed his stance on abortion as vaguely "pro-life," rather than staking out specific and aggressive anti-abortion positions as compared to opponents such as Heller. That could help him in the general election.
While Sisolak has posted record-breaking fundraising totals, he carries baggage over shutdowns and mandates during the pandemic, and faces the headwinds of inflation and Biden's unpopularity in his quest for a second term.
Sisolak easily won his primary over Tom Collins, a former lawmaker and Clark County Commissioner (and former colleague of Sisolak) who has been an outspoken critic of the governor and has had a long and tense working relationship with him.
Gun safety, health care motivate first-time voter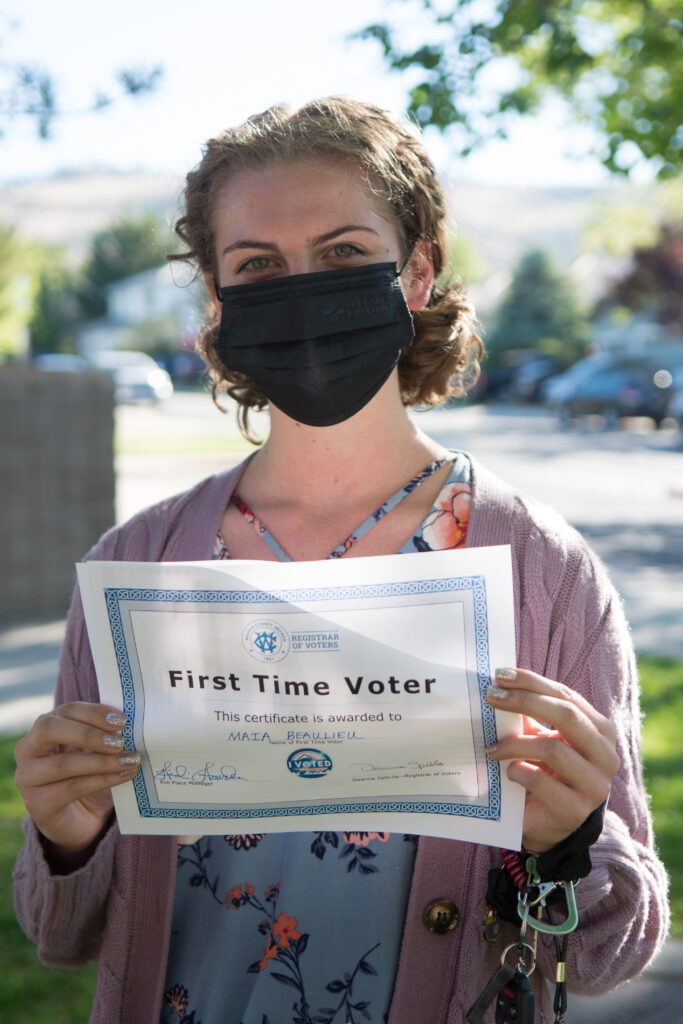 Applause broke out as 18-year-old Maia Beaulieu cast her first ballot at Caughlin Ranch Elementary School in Reno.
A recent graduate from Reno High School, Beaulieu had participated in her alma mater's "We the People" civics program. She researched every candidate's website and policies before deciding how to vote and said it was exciting to finally participate in a system she studied throughout the school year.
"I was paying attention to all of [the races]," she said. "I learned in school how important each one is, even though not all of them seem as big as the others."
Beaulieu listed her top concerns this election cycle as health care, education and equity. Though many criticized mask mandates, she said she appreciated the protections they gave people with inherent health risks, including her grandparents.
"It was very clear why they were in place, and it kind of sucked to miss out on the high school experience," Beaulieu said. "But I also know that it was saving lives by staying home and wearing a mask and getting vaccinated."
She said recent gun violence played a role in some of her decision-making, and though the Second Amendment protects the right to bear arms, it is necessary for people to feel safe in schools and public places.
"It's not fair that we as students have to go to school and be concerned for our safety," Beaulieu said. "Our representatives should be showing us that our lives are important and that they're protecting us rather than a gun."
— Tabitha Mueller, 8:15 p.m. 6/14/22
Polls close; candidates make final campaign rounds
Polls have closed around the state after hundreds of thousands of Nevadans participated in the primary election distinguished by lively Republican contests to challenge incumbent Democrats for Senate and governor.
Heading into Election Day, officials had received nearly 260,000 ballots by mail or through in-person voting during the two-week early vote period. That represents a turnout of 14 percent of the more than 1.8 million active registered voters in the state.
By late afternoon, Clark County had reported more than 50,000 people had cast a ballot during in-person Election Day voting. More than 12,000 cast an Election Day ballot in person in Washoe County.
Final turnout statistics have not yet been released, and results are not expected to start rolling in until after the last voters in line at the 7 p.m. poll closure deadline have cast a ballot. Additional votes are expected to be tabulated over the next few days, as mail ballots postmarked or submitted in dropboxes as late as Tuesday evening will be counted.
Candidates in major races made their last campaign stops to drum up votes and thank their supporters. Shortly before polls closed at the Nevada Democratic Victory Las Vegas office, attendees chanted "Dina! Dina!" when Rep. Dina Titus (D-NV) arrived. She thanked volunteers for their efforts to contact voters to get them to the polls.
"I don't know what I'll do without you guys," she said. "I mean, what's at stake, what we're doing here today is not just about this primary — it's about the future of democracy."
She said she is feeling confident and optimistic to come on top in the primary, where she faces Bernie Sanders-endorsed Amy Vilela, but "it's going to be hard work" to win in November in a district that was formerly safe but has a new infusion of Republican voters after redistricting.
"We never take any race for granted," Titus said, acknowledging that the midterm election means lower turnout, but the issues that voters are facing "make a difference."
"I think it will be a hard-fought battle, but we'll come out on the right side of history," she added.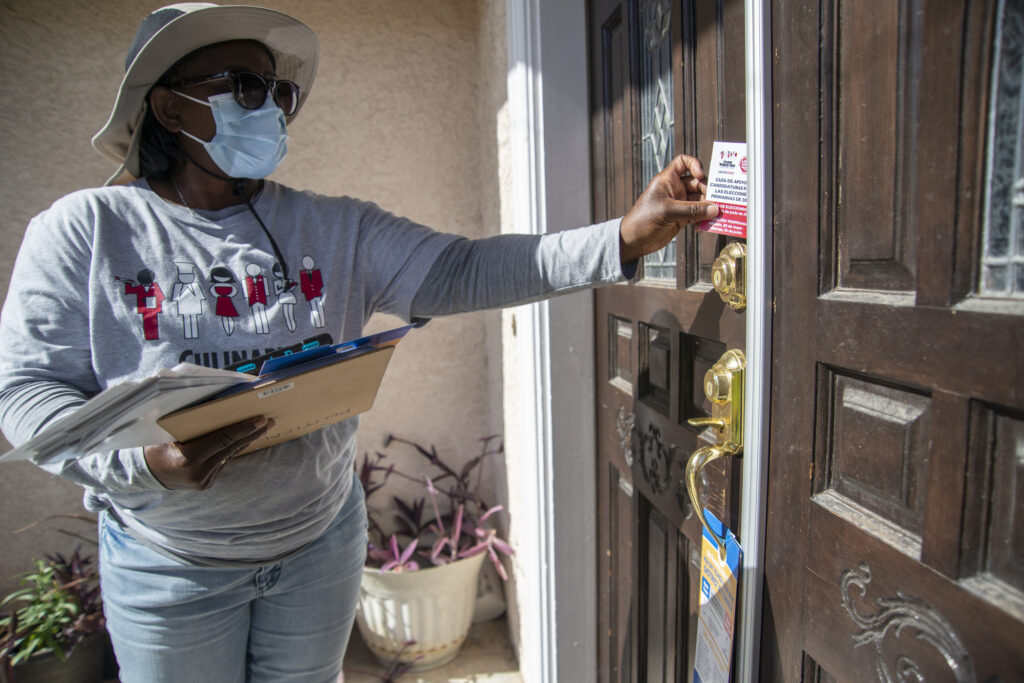 Elsewhere in Las Vegas, volunteers with PLAN Action Nevada, a progressive organization focused on racial injustice and environmental issues, were phone banking up until polls closed on Tuesday. They said they are optimistic about former Assemblyman Ozzie Fumo winning the Clark County district attorney primary against incumbent Steve Wolfson.
Members and supporters of the organization said if Fumo wins the seat, Nevada could end mass incarceration and the use of the death penalty, along with seeing other decriminalization measures implemented by the district attorney's office. PLAN had scheduled get-out-the-vote efforts in the days leading up to the election to support Fumo's campaign.
"Fumo promises to find diversion programs for non-violent offenses and he's made a commitment to not seek the death penalty," said Cassie Charles, 24, campaign director for PLAN Action."Those are two things that are very powerful and have the ability to change the way our communities see criminalization."
In Reno, Republican Senate candidate Sam Brown flew up from another campaign event in Las Vegas to vote in person with his family.
Supporters waited outside Reno High School, donning Sam Brown T-shirts and hats, and greeted the candidate with cheers and hugs when he arrived.
"What do I like about Sam? He's honest. He's a true patriot. He's an American. He believes in what he can do for Nevada … Adam believes in Adam, and that's it," said Melissa Lopez, 70, a Brown campaign volunteer.
She argued that Laxalt was not strong enough to beat Gov. Steve Sisolak in the 2018 governor's race and he isn't strong enough to beat Democratic competitor Catherine Cortez Masto in the general election this fall.
But at Caughlin Ranch Elementary School, not too far away from where Brown was voting, 80-year-old Thomas Urbina said he cast his vote for Laxalt because of his experience.
"He's got a good track record," Urbina said. "He hasn't done too much damage."

— Carly Sauvageau, Jannelle Calderon, Naoka Foreman, Tabitha Mueller
Featured Videos
Comment Policy (updated 4/20/2021): Please keep your comments civil. We reserve the right to delete comments or ban users who engage in personal attacks, use an excess of profanity, make verifiably false statements or are otherwise nasty. Comments that contain links must be approved by admin.