Poll: Laxalt has a 14-point lead over Brown in week before Election Day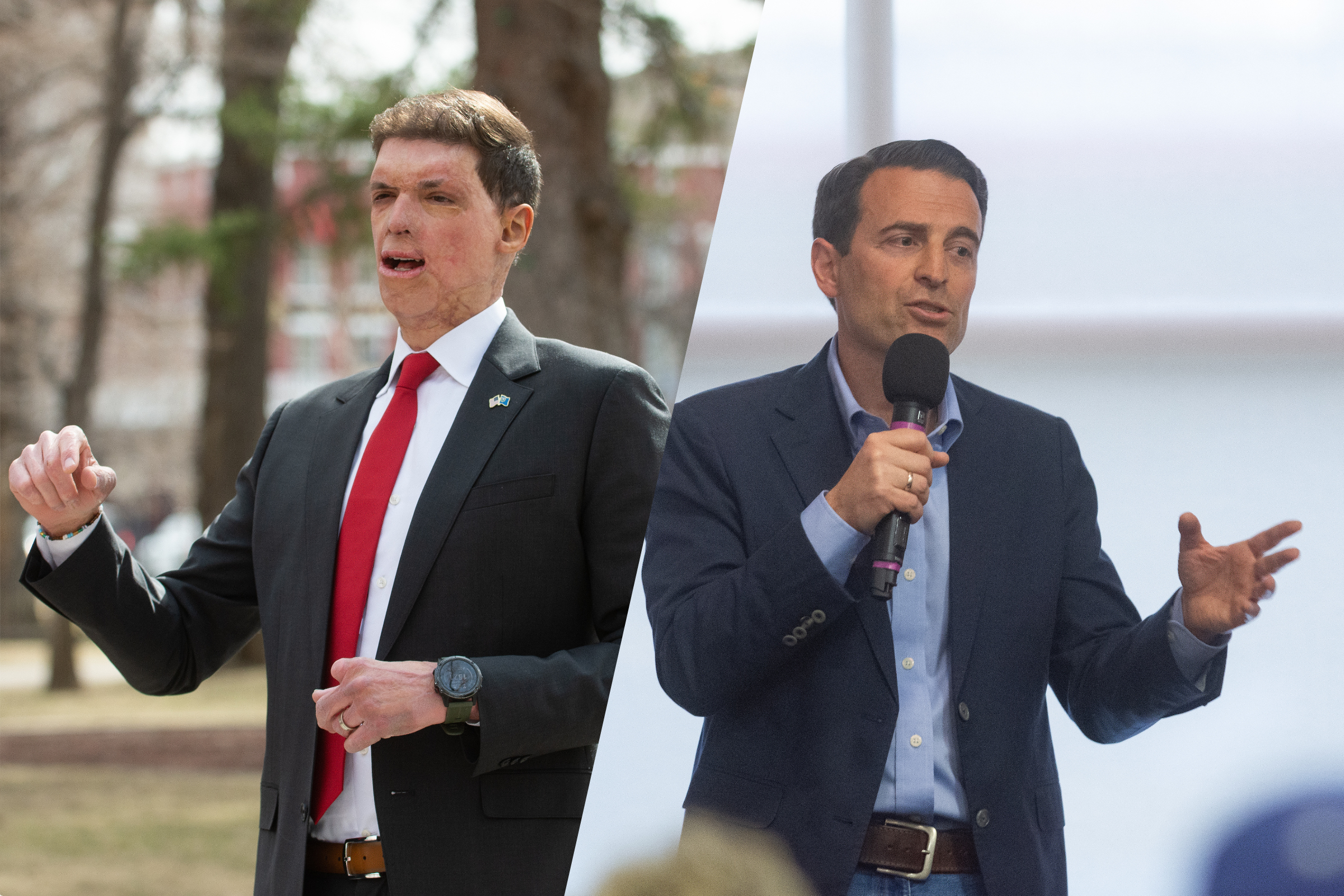 Despite efforts to close the gap in the Republican primary to be Nevada's next senator, political newcomer Sam Brown trails former Attorney General Adam Laxalt by 14 points with less than a week of voting left.
According to a new Nevada Independent/OH Predictive Insights poll of 525 likely GOP primary voters on June 6 and 7, Laxalt won 48 percent and Brown received 34 percent. The poll had a 4.4 percent margin of error.
A poll conducted last month by the same firm showed some momentum for Brown, a West Point graduate wounded in Afghanistan, who had managed to make the primary a two-person contest. Laxalt had a 15-point lead in that poll. In a February poll, Laxalt had a 23-point lead.
But he has failed to close the gap much further in the last month amid an advertising blitz from Laxalt and his allies that has blanketed Nevada airwaves with major GOP endorsements.
"Sam Brown really needs to pull a rabbit out of his hat if he wants to pull off the win come Election Day," Mike Noble, chief of research and managing partner of OH Predictive Insights, said in an interview.
Noble added that Laxalt appears to be in a good position going into the general election if he wins the primary. Intra-party contests typically damage a nominee, but in this case, Laxalt appears relatively unscathed given his low unfavorable rating. His likely opponent, Sen. Catherine Cortez Masto (D-NV), has no serious challenger.
"Typically primaries are very bruising, especially when you have a competitive one and your opponent doesn't," Noble said. "But frankly, given the size and scope of this GOP Senate race, [Laxalt] should be actually very happy where his unfavorables are so low right now moving into the general election."
Laxalt was viewed unfavorably by 17 percent of voters and Brown got a 10 percent unfavorable rating. Laxalt edged out Brown on favorability, 69 percent to 61 percent, respectively.
The poll also showed a split among GOP voters between those loyal to Trump, 42 percent, and those more supportive of the party, 35 percent. Eighteen percent indicated an affinity for both.
Noble also said that Laxalt, who in addition to previously holding statewide office, is the grandson of the late former Sen. Paul Laxalt (R-NV), has benefited from name recognition. Five percent of voters said they had not heard of Laxalt, while 15 percent said they had not heard of Brown.
"A nice little advantage there for Laxalt in this primary [that] could wind up making the difference," Noble said.
Laxalt also did better with women than Brown, 50 percent to 29 percent. Noble attributed that to the fact that historically, women voters decide on a candidate closer to Election Day and tend to gravitate toward the leading candidate.
Another key advantage for Laxalt is the endorsement of Trump, who continues to be enormously popular among Nevada Republicans. Eighty-nine percent said they view Trump in a favorable light. That is up from an 85 percent favorability rating for Trump last month.
Trump has campaigned semi-directly for Laxalt as the primary has drawn closer, giving him a "complete and total" endorsement in a direct-to-camera television ad and boosting the former attorney general in a "tele-rally" on Wednesday.
Laxalt has also been the beneficiary of increasingly aggressive outside spending from the conservative economic organization Club for Growth.
Club for Growth has also taken direct aim at Brown, funding an ad that criticized the candidate for a failed state legislative campaign in Texas in 2013.
Brown's campaign has sought to pivot those messages, arguing in ads of his own that "desperate D.C. PACs" are trying to influence the election and that Laxalt is "recycling" endorsements from prior cycles.
The winner of Tuesday's primary will likely go on to face incumbent Cortez Masto in what is expected to be one of the most competitive Senate elections in the country.
Find the full poll results and crosstabs here.
Editor's Note: This story appears in Indy 2022, The Nevada Independent's newsletter dedicated to comprehensive coverage of the 2022 election. Sign up for the newsletter here.