Personas sostienen velas y encIenden la luz de sus teléfonos durante la vigilia Lights for Liberty frente al edificio de la corte federal Lloyd D. George en el centro de Las Vegas el viernes 12 de julio de 2019. (Foto: Daniel Clark / The Nevada Independent).
EN FOTOS: Las Vegas se unió a vigilia para protestar por condiciones insalubres en centros para inmigrantes
El bienestar de inmigrantes y refugiados quienes se encuentran en centros de detenciones en los Estados Unidos sigue siendo el centro de atención luego de que han salido a la luz reportes recientes de muertes, condiciones insalubres y abusos.
Estos hechos han generado fuertes críticas y llamados de acción, incluyendo Nevada, que este viernes se unió a una serie de eventos nacionales en protesta por el ambiente que rodea a los inmigrantes. 
Este jueves, la Senadora Demócrata por Nevada Catherine Cortez Masto anunció que es co- patrocinadora del proyecto de ley Detengan la Crueldad Hacia Niños Migrantes, que busca terminar con la separación de familias en la frontera Sur, implementar estándares de salubridad y seguridad en estaciones de la Patrulla Fronteriza, requerimientos para contratistas que manejan albergues, y asegurar que los menores migrantes no acompañados tengan acceso a consejería legal, entre otros puntos. 
A fines del mes pasado, un grupo de legisladores Demócratas, incluyendo la Senadora por Nevada Jacky Rosen, se unieron a diferentes llamados para que el Congreso aborde el tema de las condiciones de bienestar de inmigrantes quienes se encuentran en la frontera entre México y Estados Unidos.
A principios de este mes, Rosen también visitó Caridades Católicas del Sur de Nevada para abordar los servicios que esa agencia brinda a inmigrantes y refugiados.
El tema de las condiciones cuestionables en centros de detención tomó relevancia este jueves cuando Yazmín Juárez, originaria de Guatemala, testificó ante un comité de la Cámara de Representantes que su hija Mariee, de 19 meses de edad, murió en mayo del 2018, poco después de que ambas fueran liberadas de un centro de detención del Servicio de Inmigración y Aduanas (ICE) en Texas. 
La madre, quien llegó junto con la niña a los Estados Unidos en busca de asilo, indicó que la menor desarrolló una infección respiratoria cuando ambas estuvieron bajo custodia de esa agencia federal.
Trump abordó el tema a través de un mensaje de Twitter en 2018:
"Cualquier muerte de niños u otras personas en la frontera es estrictamente culpa de los demócratas y sus patéticas políticas de inmigración que permiten a las personas hacer un largo viaje pensando que pueden ingresar ilegalmente a nuestro país", escribió.
Bajo ese panorama, varias organizaciones progresistas y líderes locales se unieron este viernes por la noche a la serie de eventos "Luces por la Libertad: Una Vigilia para Terminar con los Campos de Detención de Humanos" que se llevaron a cabo a nivel nacional.
Acompañados por letreros y velas, los asistentes a la vigilia se dieron cita a las afueras del edificio de la corte federal Lloyd D. George en el centro de Las Vegas para protestar por las "condiciones inhumanas" que enfrentan inmigrantes y refugiados quienes se encuentran en los diferentes centros de detención del país.
"Queremos que ya se pare la tortura, la encarcelación, que no hagan a nuestros inmigrantes como criminales, porque sabemos que son gente trabajadora", dijo a través de un video Dolores Huerta, cuya fundación apoyó el evento. "Tenemos que terminar todo esto. Yo estoy con ustedes para la luz y para la libertad".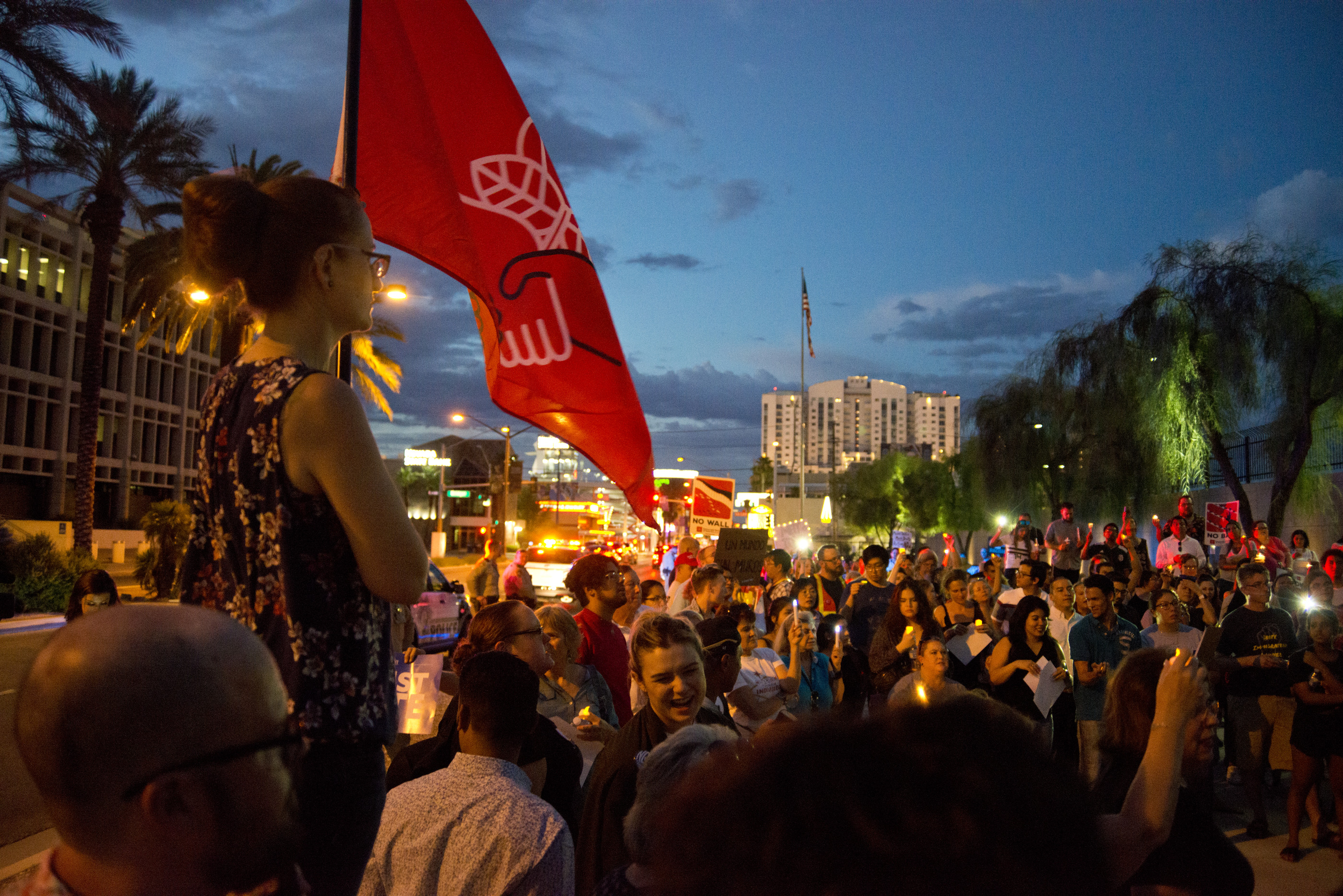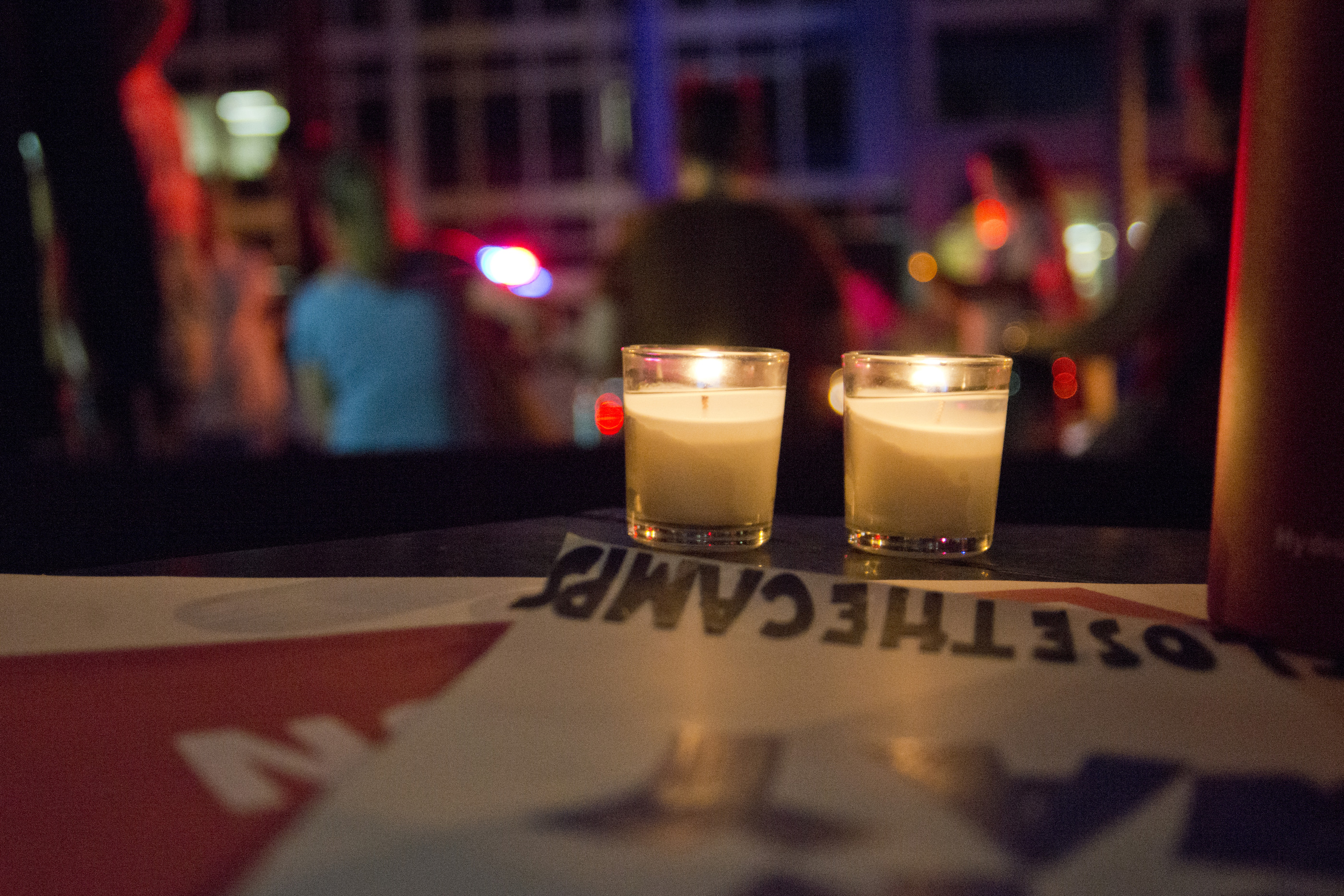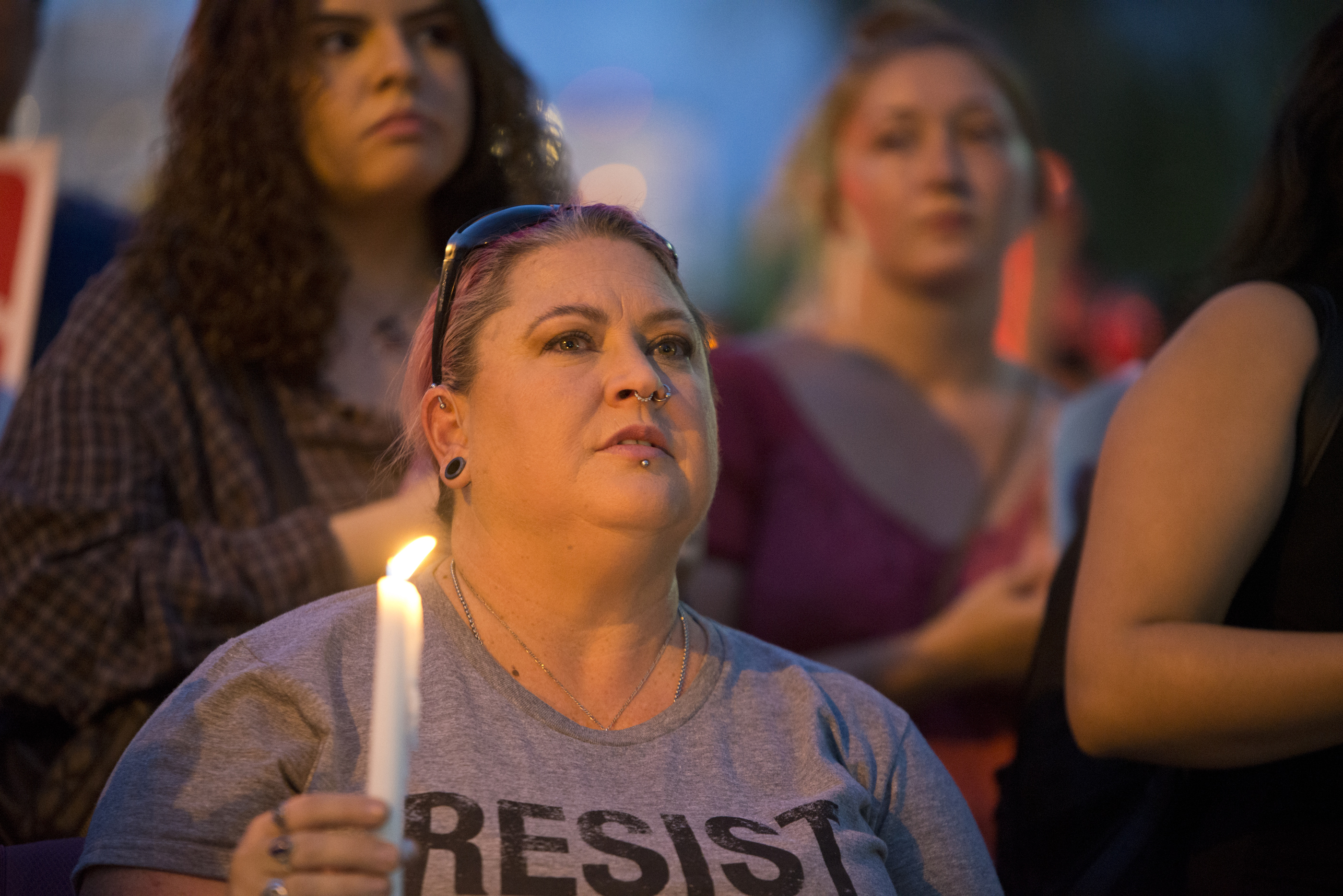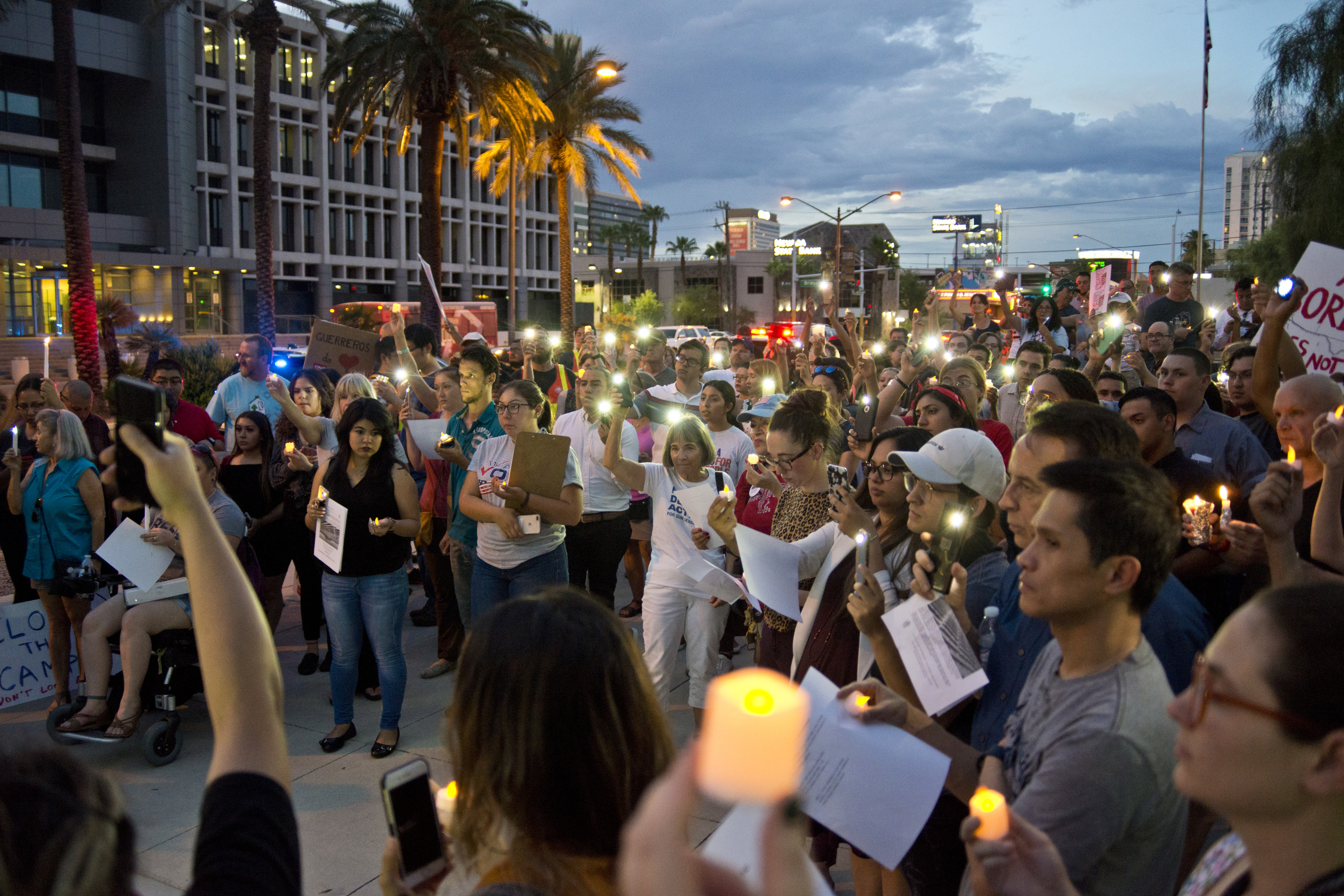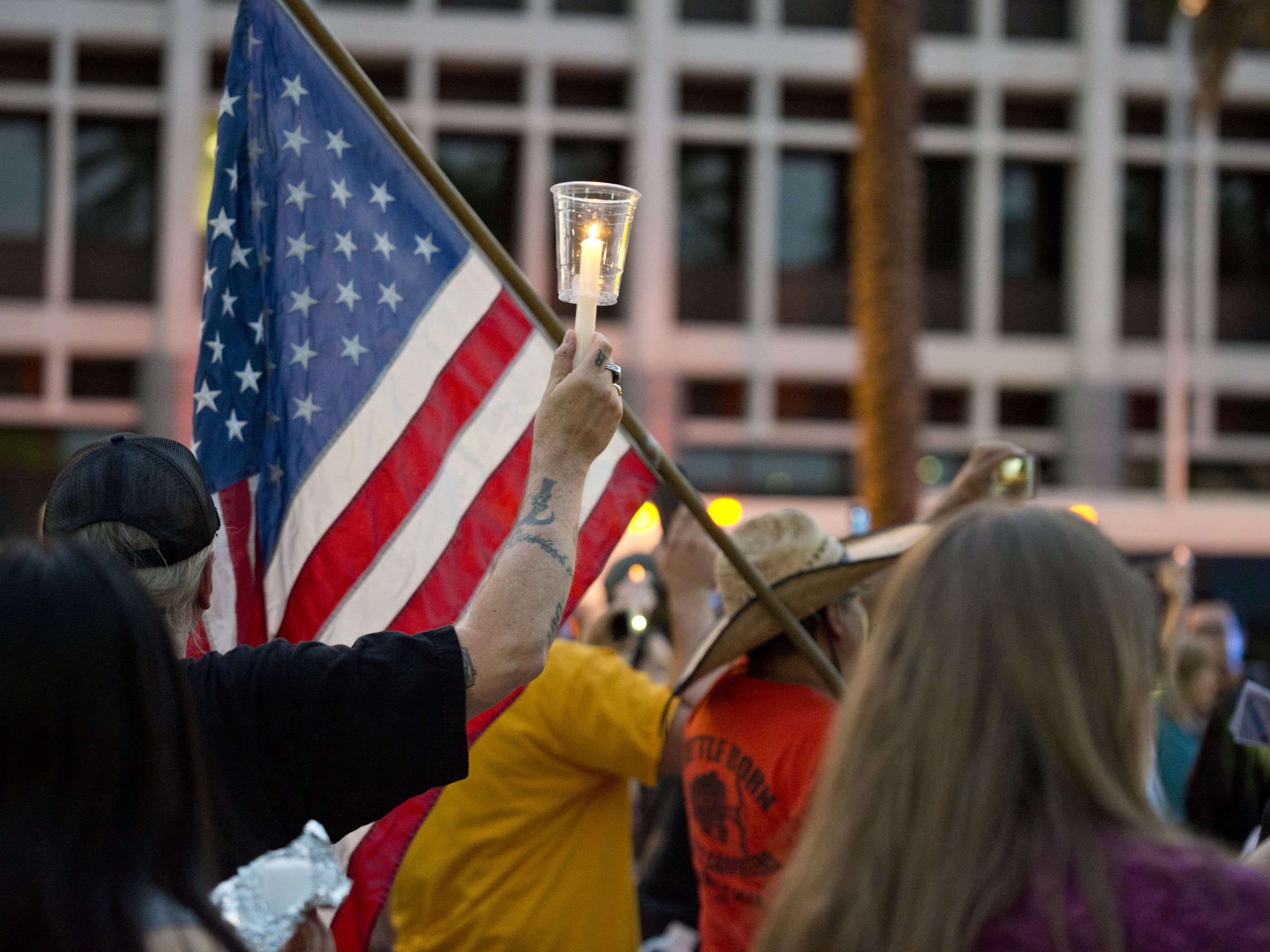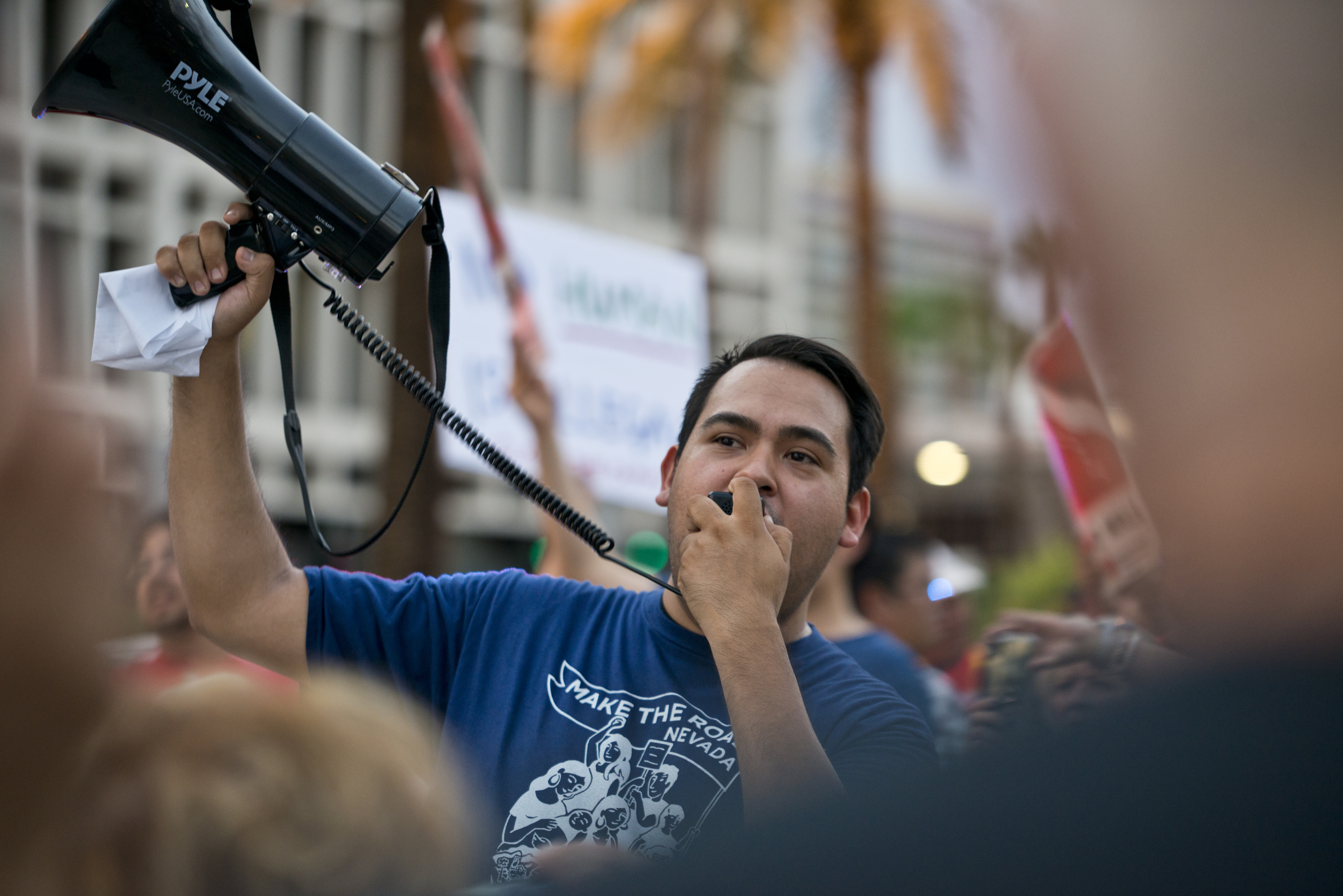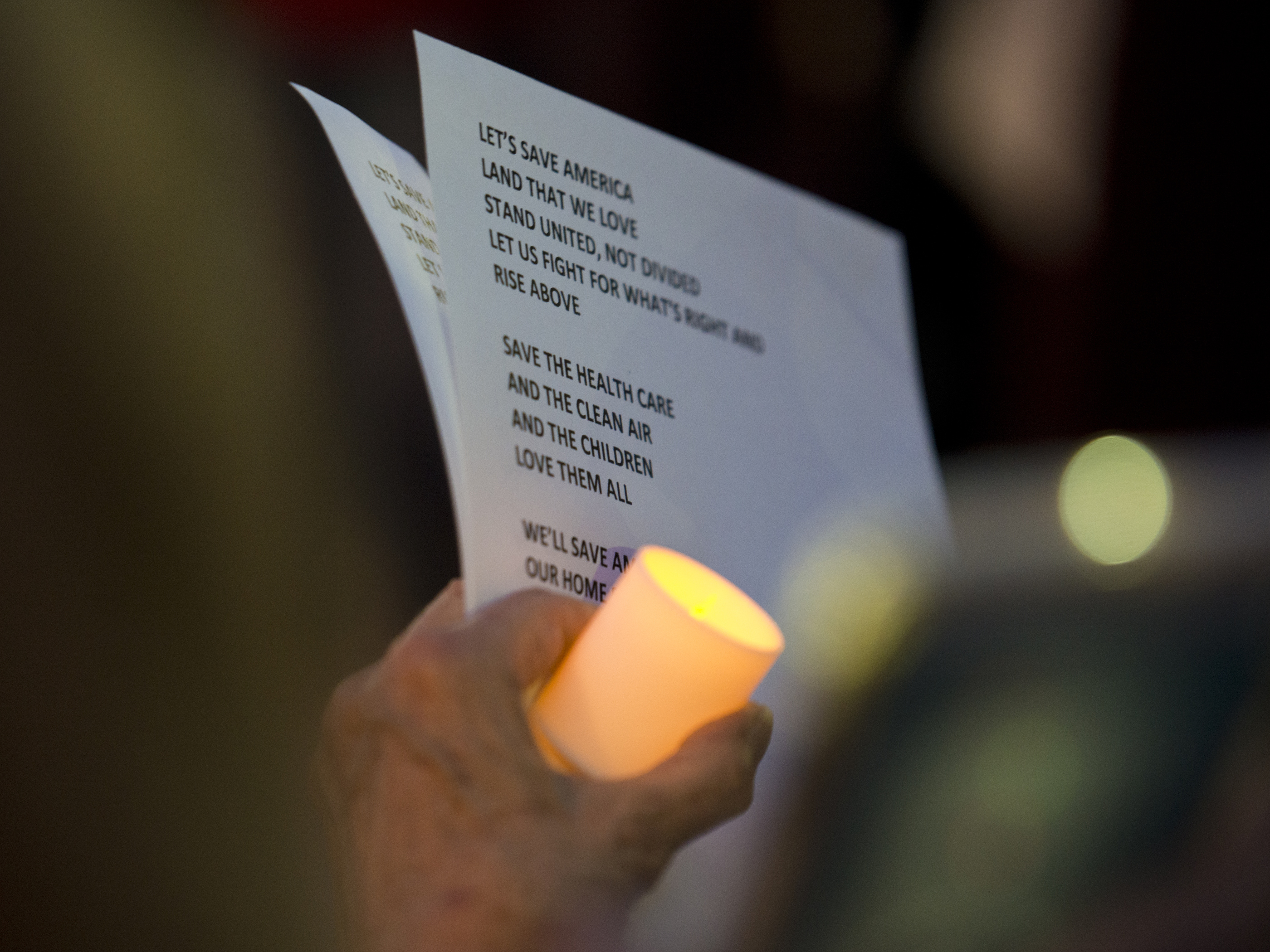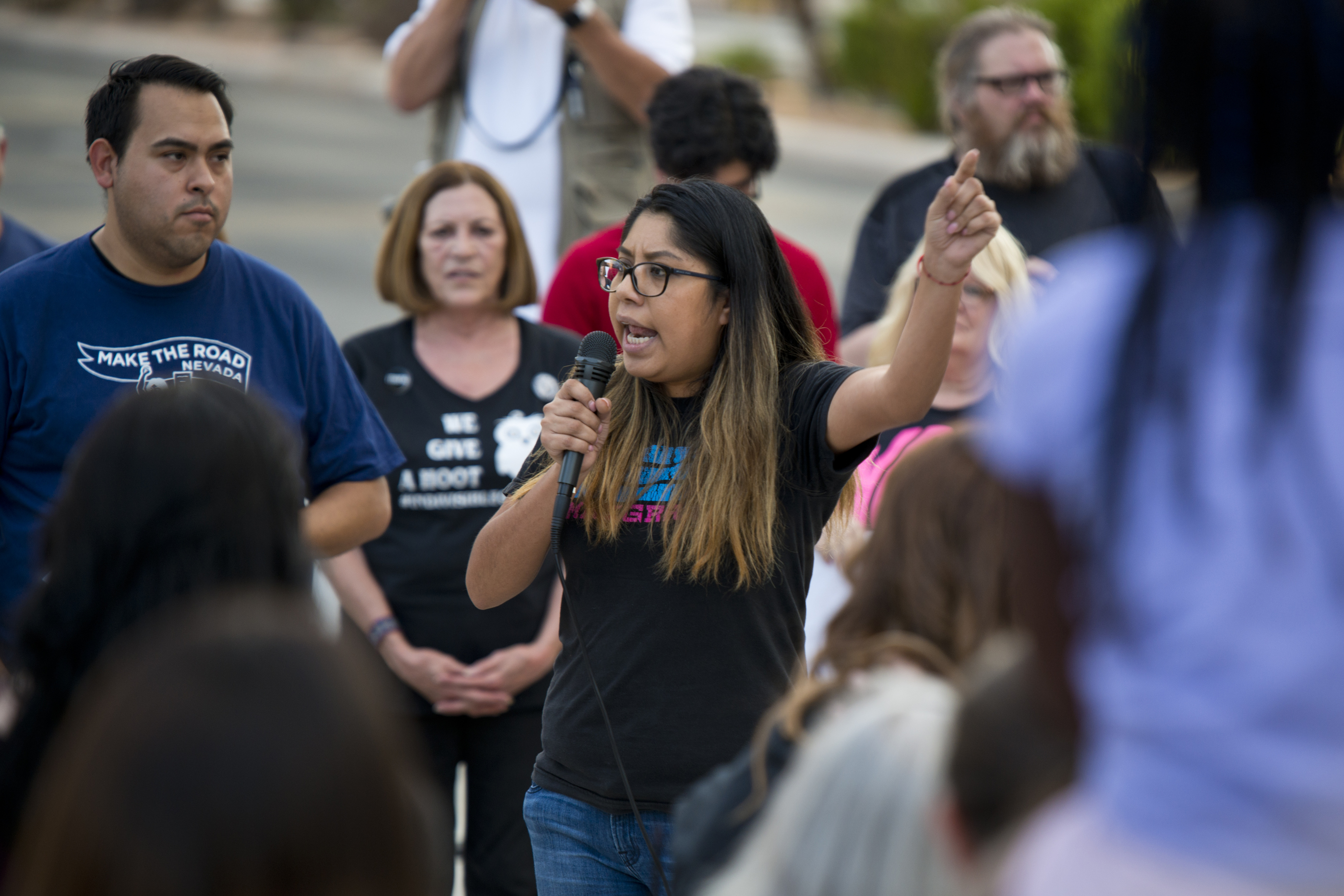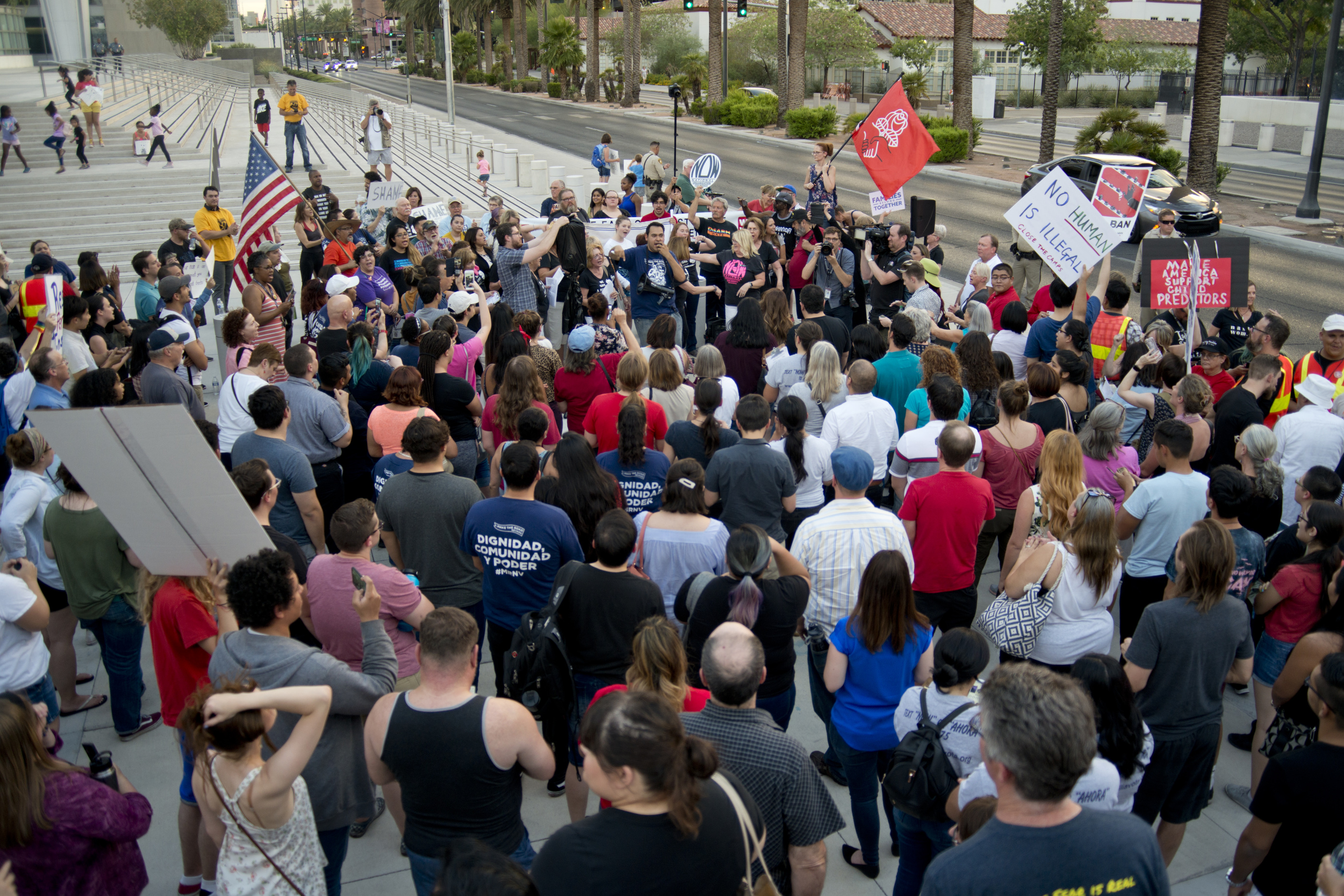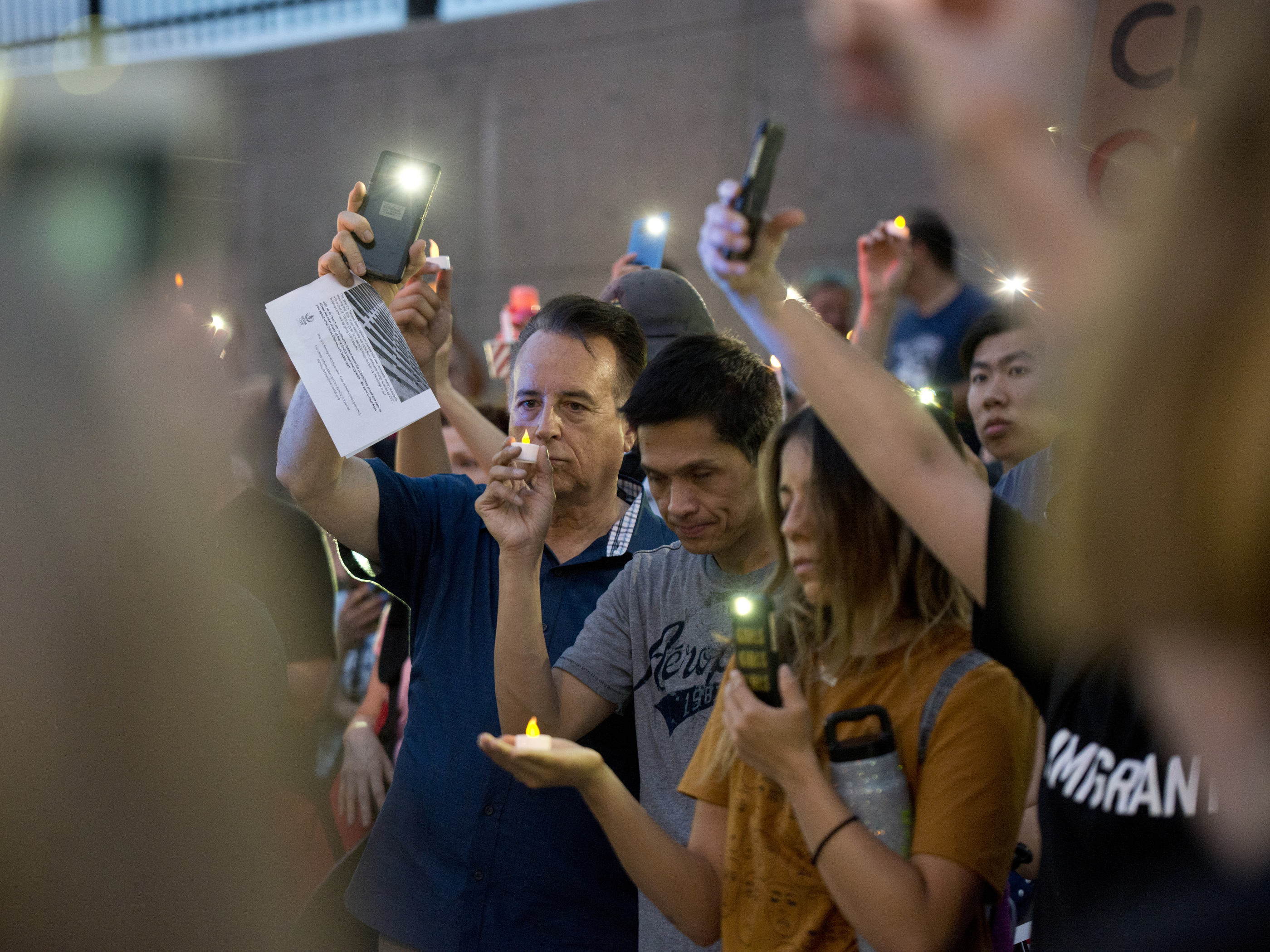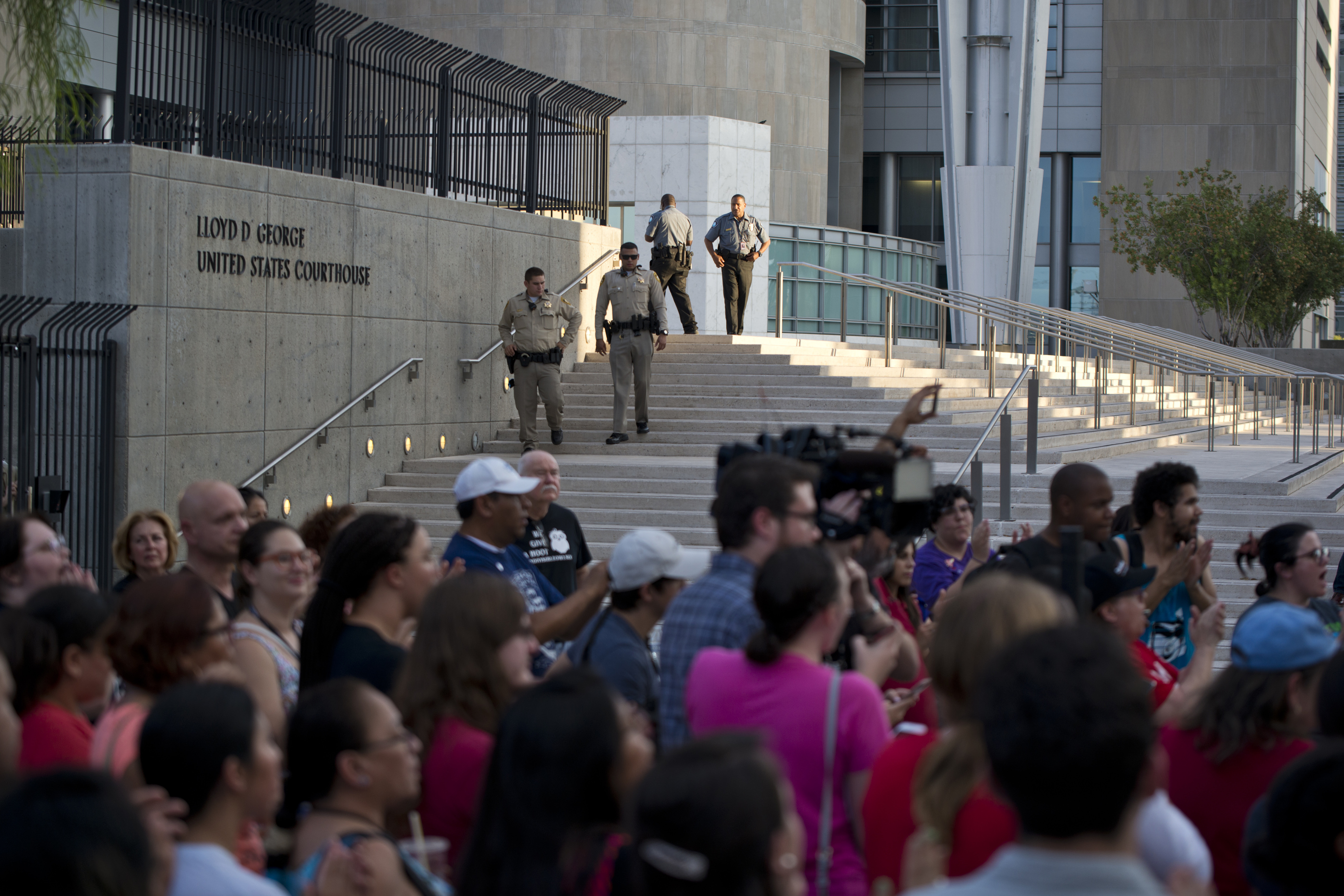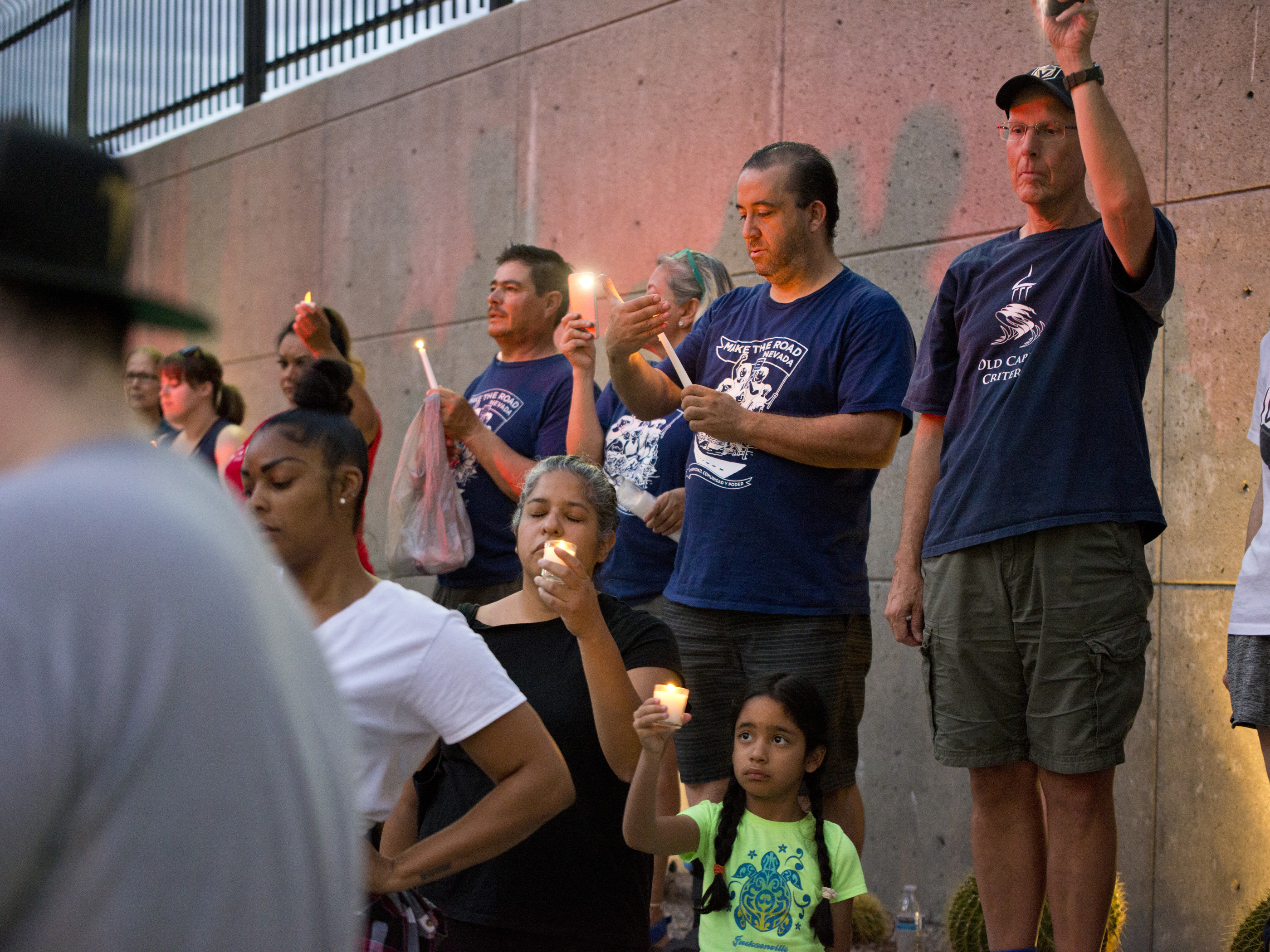 Comment Policy (updated 3/21/19): We welcome reader comments on our stories. However, in keeping with our general policy of transparency, accuracy and accountability, we do not accept comments from anonymous accounts. Anonymous accounts are those without a valid first and last name. Any such comments will be deleted, and anonymous users will be blocked from commenting further. We also will block commenters who use offensive language, engage in personal attacks or state things that are verifiably false.
get our morning newsletter, The Daily Indy
@TheNVIndy ON TWITTER
CAFECITO CON LUZ Y MICHELLE