Eric Trump stumps for Hardy, warns of 'anarchy' if Democrats take control of Congress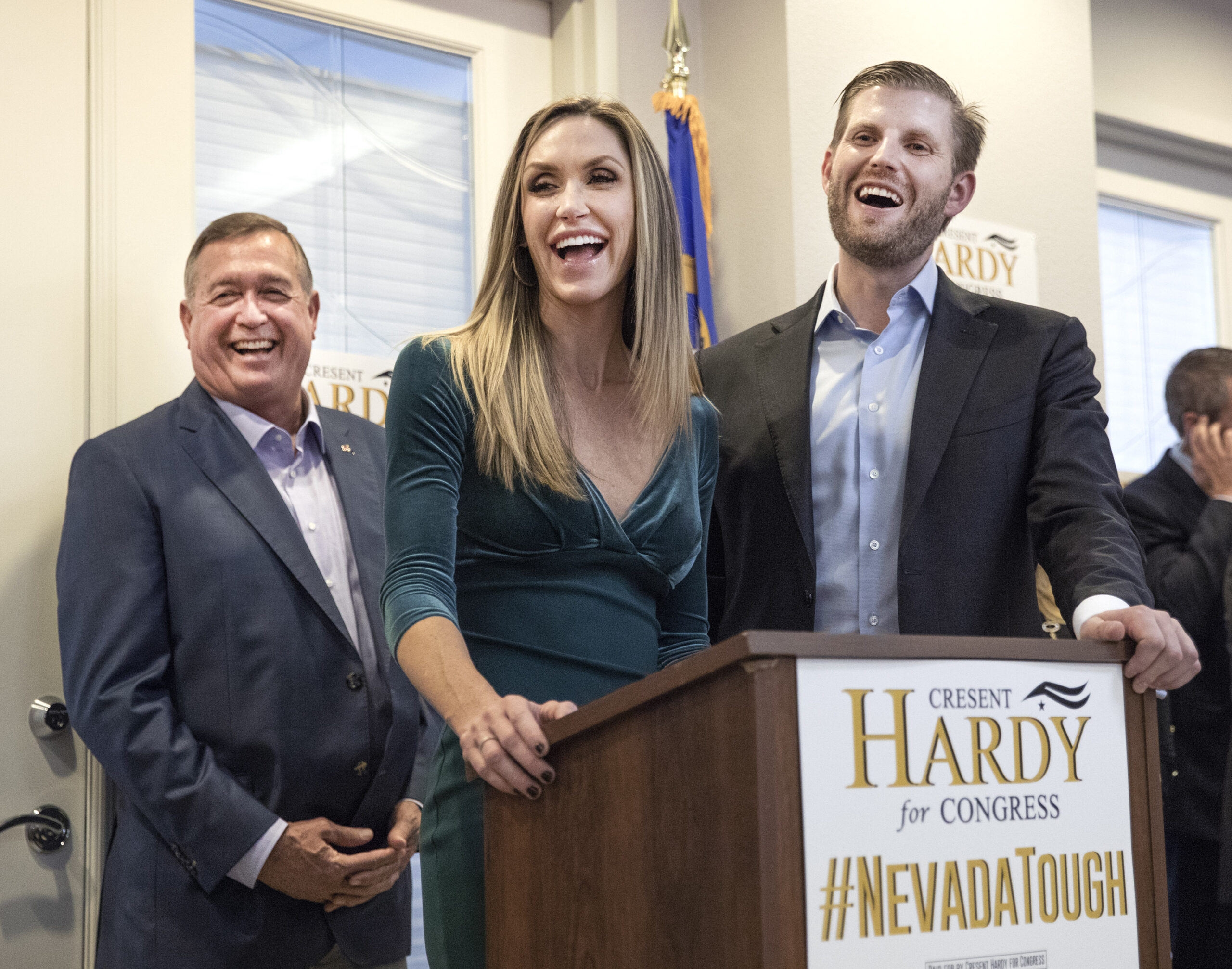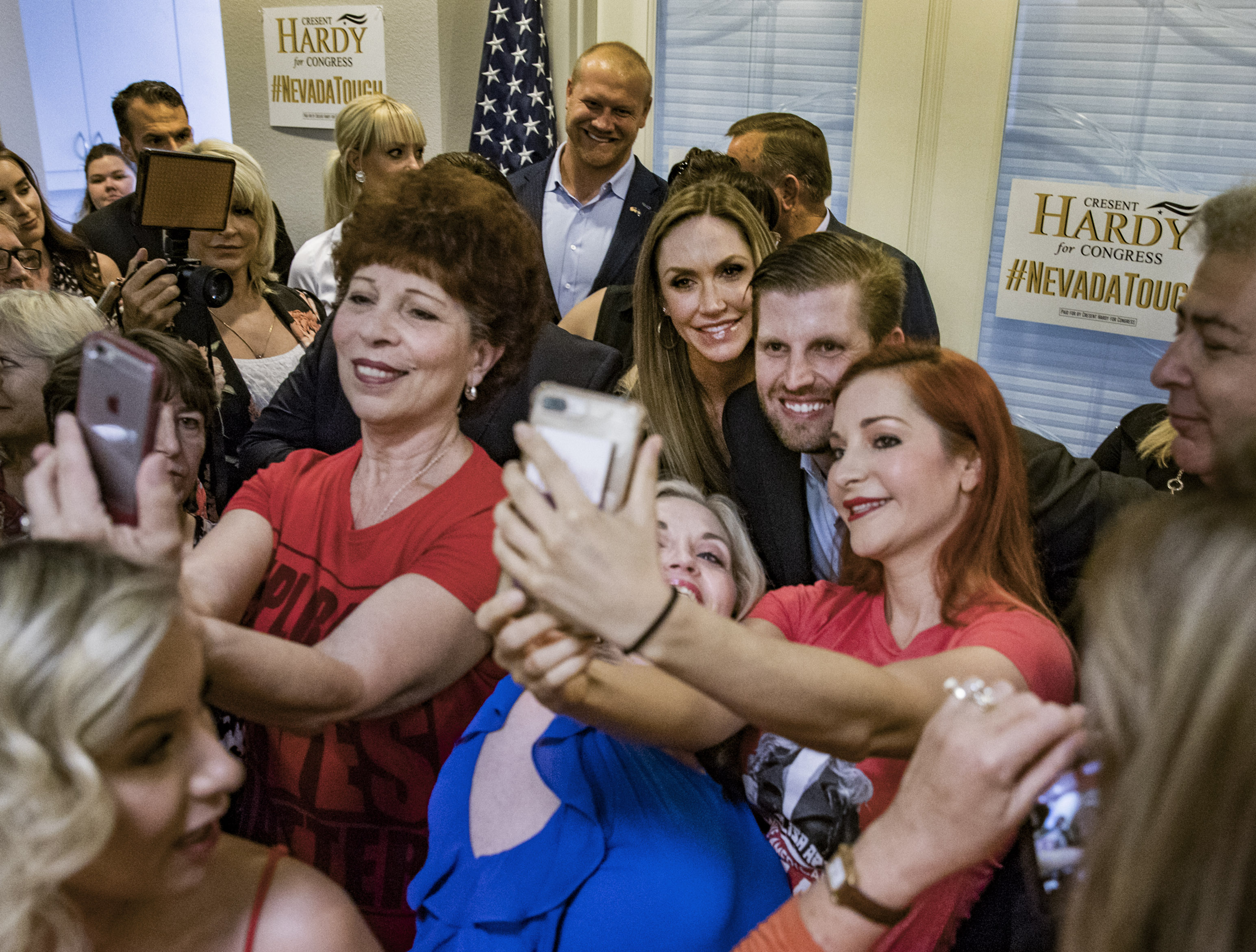 President Donald Trump's son, Eric, talked up Republican congressional candidate Cresent Hardy — who he called a "truly, truly tremendous person" — and pushed back on criticisms that his father was inflaming the political discourse in a stop at a crowded Summerlin campaign office on Monday.
Hardy is in a tough race against Democrat Steven Horsford in a district that leans Democratic, and the visit from Eric and his wife, Lara, comes two days after Vice President Mike Pence headlined a rally at The Venetian for Hardy. Eric Trump sprinkled his speech with Republican crowd-pleasers, telling the audience that the Democratic platform could be boiled down to abolishing ICE and banning straws, and he praised his father for bringing back the use of the phrase "Merry Christmas."
"If Nancy Pelosi and Chuck Schumer control, it will be anarchy in this country. Nothing will get accomplished, they will block every piece of legislation and it will halt American progress in a meaningful way," Eric Trump said in an interview about the stakes of the election, adding that the Democratic leaders seem bent on obstruction. "Everybody should want America to succeed and sometimes it feels like not everybody actually does want America to succeed on the opposite side."
Hardy, who had rescinded his support for President Trump in the weeks before the 2016 election after the release of Access Hollywood tape in which Trump made sexually aggressive comments about a woman, said he regretted the unendorsement and "shouldn't have been the judge and the jury." Now, Hardy said of Trump, "His policies are my policies."
"You just never met anybody that was so genuine and personable," Hardy said of the president. "He's just a good person. I think if people had the chance to meet him one on one there would hardly be a person out there who wouldn't vote for him."
Hardy, who previously owned a construction business, credited Trump for the economic boom and said the administration's efforts to roll back regulations have driven the recovery even more than a major Republican tax overhaul passed last year.
"Right now we're in the number one job sector growth ... anywhere in the nation. That didn't happen from the previous administration," he said. "That happened because a person who wants us to win. He gives us hope … This guy is giving us hope that we have that capital opportunity as free market capitalists to be able to do what we want the way that we want."
That argument runs counter to what former President Barack Obama said at a rally in Las Vegas a week earlier: "When you hear all this talk about economic miracles right now, remember who started it," he said, alluding to his own administration.
Eric Trump affirmed that the hatchet has been buried between his father and former Trump opponents, including with Sen. Dean Heller, who said before the 2016 election that he was "99 percent" against Trump. Heller has had much more flattering comments about Trump since then, including telling him at a recent rally in Elko that everything he touches turns to gold.
"You had people like Heller who quite frankly didn't know him and he didn't know Heller," Eric Trump said, "and I think it's actually amazing that both, as they've won on so many issues, whether it be Kavanaugh, whether it be massive tax cuts, whether it be, you know, the deregulation that Cresent just mentioned or so many other things — all of a sudden you start winning, you start forming a true bond."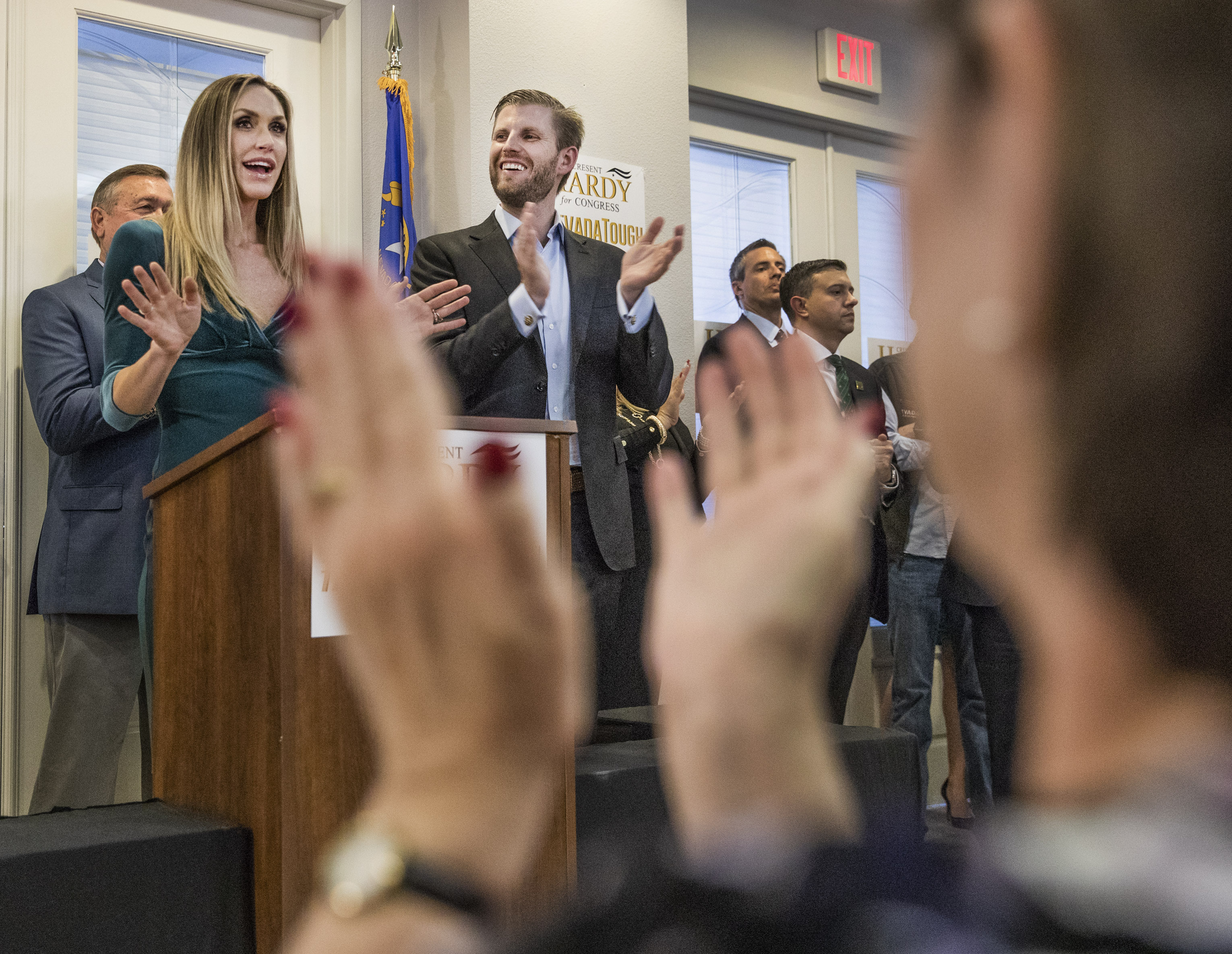 The president's son also addressed the latest criticisms directed at his father. In the wake of a mass shooting at a Pittsburgh synagogue on Saturday, Trump has come under fire for his harsh political rhetoric, with critics arguing that the president's sharp words have agitated the public and instigated crime.
"I find the irony tremendous. You see 93 percent of the press coverage about my father is negative," Eric Trump said, rattling off a list of ways in which Republicans have been targeted, including the shooting of Republican Rep. Steve Scalise by a Bernie Sanders supporter during a baseball practice and the disruption of a dinner Sen. Ted Cruz was having with his wife by protesters upset by the confirmation of Supreme Court Justice Brett Kavanaugh. "There's nothing civil about any of that. So again I find it hugely ironic when the finger is pointed."
"At the same time, I think when you look at the incidents of this week, they don't represent either political party," Eric Trump said. "You have a whack job who's the worst piece of garbage in the world, who committed an unthinkable, unthinkable crime. He doesn't represent the left. He doesn't represent the right. He doesn't represent anybody."
But he didn't concede that his father — who he said was "the greatest guy in the world. He's got a heart of gold" — needed to soften his tone.
"If he was perfectly PC [politically correct] and he didn't have that same attitude, I don't think he would've gotten elected … maybe the thing that the media points to, what you might call a weakness, it's actually his greatest strength," he said. "And I don't think that you take that out of a person. I think either you are a fighter and you're always a fighter, or you're not, and he is one and America needed it."
He also pushed back against a lawsuit, first reported by The New York Times, alleging that Trump, his company and three of his children including Eric used the family name to lure vulnerable people into get-rich-quick schemes. At issue are three companies, including one that marketed vitamins and another that put on multi-day seminars to teach people Trump's business "secrets," that allegedly provided clandestine payments to the Trump family.
"It's nonsense. They name a claim in the lawsuit — it's a bunch of gibberish," he said, casting suspicion on the fact the suit was filed eight days before the election. "That's a system that we actually have to destroy in this country, because it's really third world. If you're not happy with somebody on the other side, let's sue them, let's take them to court, let's go right after them, let's weaponize the legal system."
Eric Trump acknowledged that his visit, and a planned visit from his older brother Don Jr. on Friday, come in part because early voting returns show Democrats turning out at higher levels than Republicans in the already blue-leaning district. He noted that "we care about winning" and it would be "horrible" if Democrats seize control of Congress.
"The races are going to be close and if Trump wins, Cresent wins," he said. "If Republicans sit back and they say, 'Hey, you know, life's really good, I got an increase in my job, I've got a great job, no problems, I'm doing really well, I live a nice comfortable life, everything's running awesome, and I'm not going to show up because I'm complacent,' if that's the attitude, it's going to be a problem."
But, he said, "If people come out and see how well the economy and everything else is doing, and because of that they want to vote and vote in support, I think it's game over for the Democrats."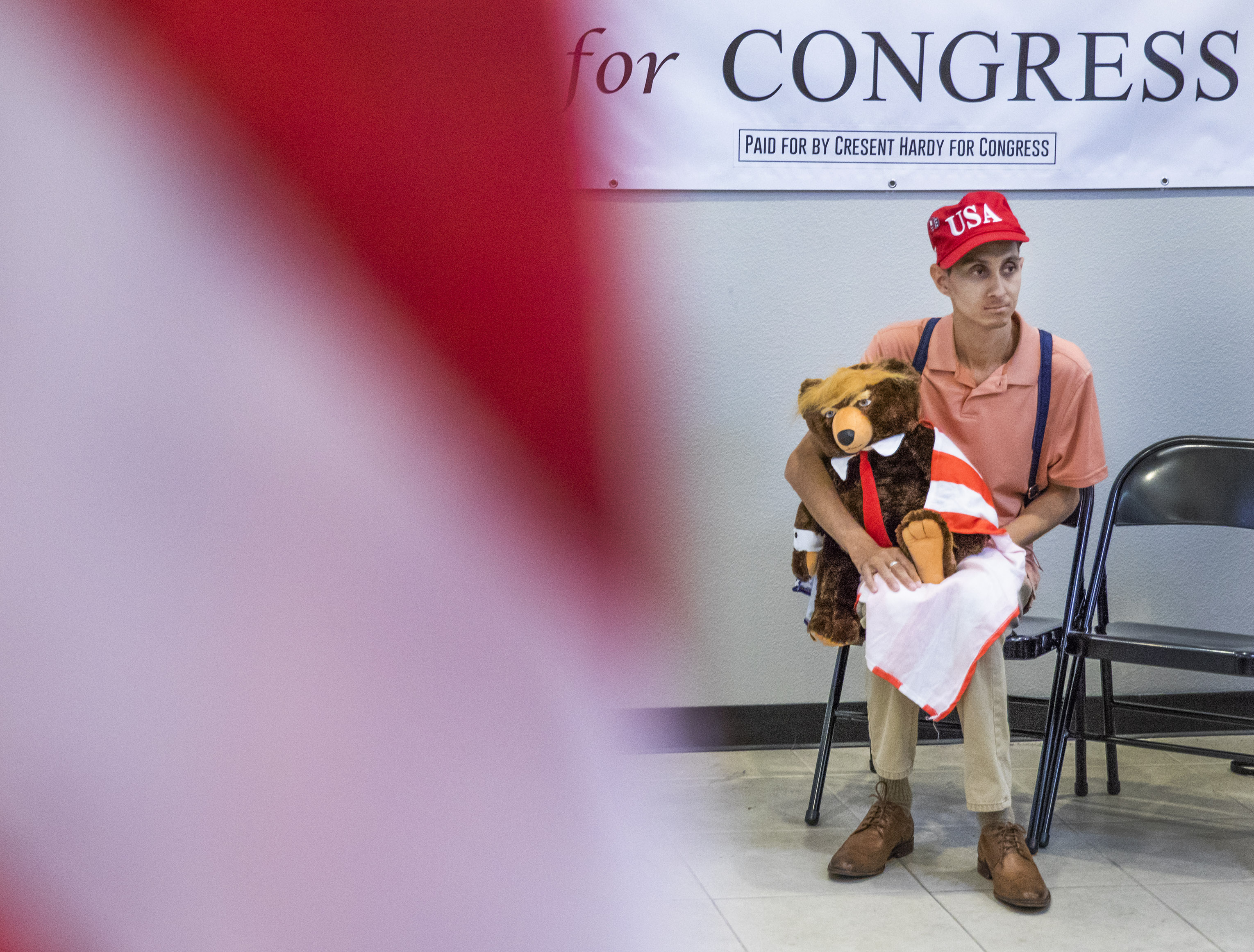 IndyFest is proudly sponsored by:
Comment Policy (updated 4/20/2021): Please keep your comments civil. We reserve the right to delete comments or ban users who engage in personal attacks, use an excess of profanity, make verifiably false statements or are otherwise nasty. Comments that contain links must be approved by admin.