President Barack Obama, holds hands with Steve Sisolak, left, candidate for governor, Jacky Rosen, candidate for U.S. Senate, Susie Lee, candidate for NevadaÕs Third Congressional District, and other Democratic candidates during a rally at UNLV on Monday, Oct. 22 2018. (Jeff Scheid-Nevada Independent)
Obama hails power of voting as way out of 'political darkness' at Vegas rally
October 22nd, 2018 - 3:13pm
Former President Barack Obama made an impassioned plea Monday to a crowd at the University of Nevada, Las Vegas, telling them that the biggest threat to democracy is indifference or the cynical idea that their vote doesn't matter.  
Obama was joined by a cadre of Nevada Democrats on the 2018 ticket ahead of his speech Monday afternoon to about 2,000 people. It was part of a nationwide swing to boost candidates locked in tight races, including Senate candidate Jacky Rosen and gubernatorial candidate Steve Sisolak.
"When there's a vacuum in our democracy, when we don't vote, when we take our rights for granted, when we turn the other way to politics because we think its ugly and messy and we don't want to hear it, that's when voices fill in the void," he said. "And demagogues start promising simple fixes to complicated problems."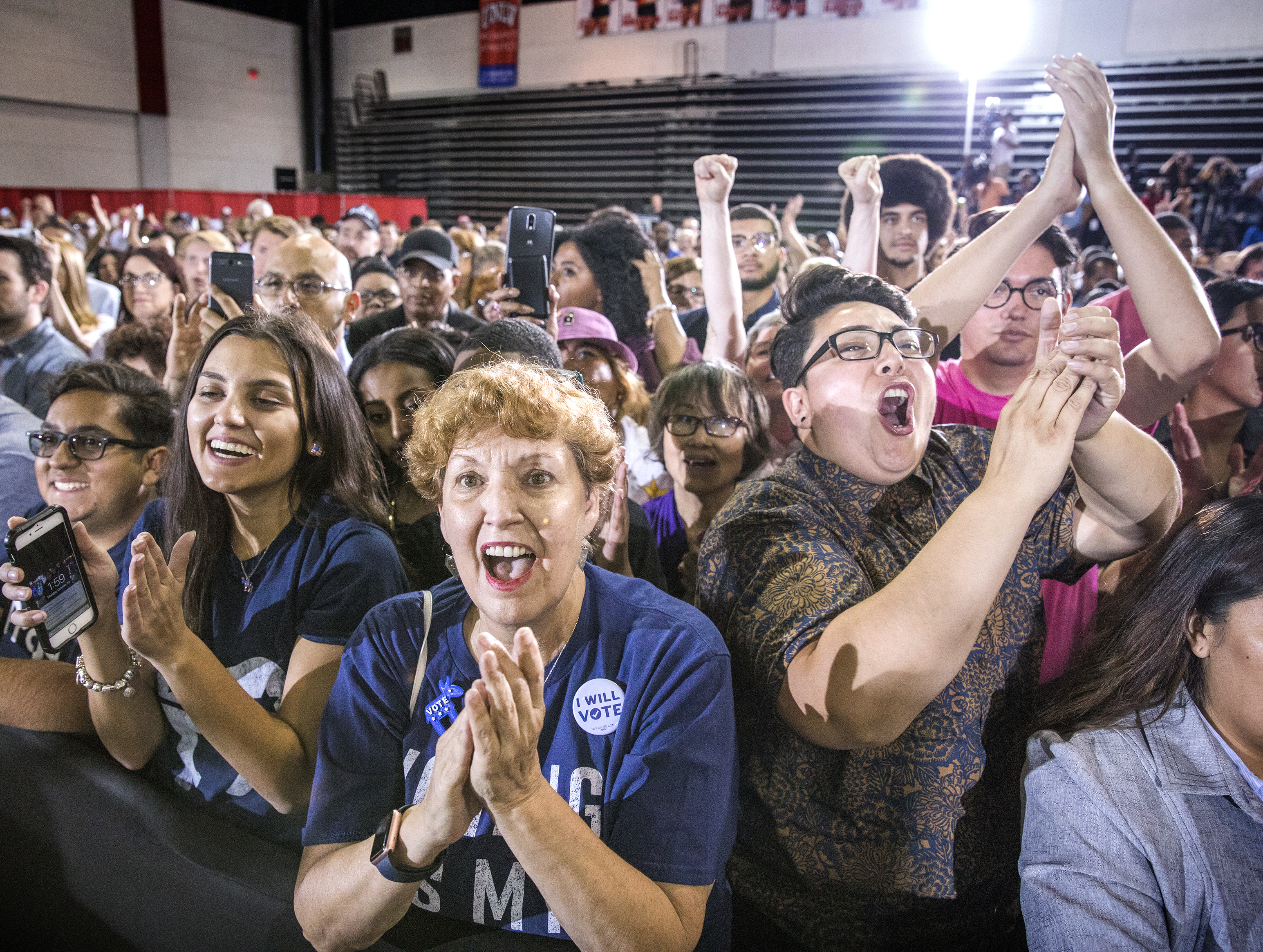 The rally was Obama's first public appearance in Nevada since October 2016, when the former president appeared at a campaign stop for Hillary Clinton and then-candidate Catherine Cortez Masto. Obama won Nevada in the 2008 and 2012 presidential contests.
The speech comes two days after a pair of high-profile campaign events kicked off the start of Nevada's two-week early voting period. President Donald Trump made a return trip to Nevada to stump for Sen. Dean Heller and gubernatorial candidate Adam Laxalt in rural Elko, while former Vice President Joe Biden implored Democrats to stop moping and "remember who the hell we are" during a Saturday rally in Las Vegas.
The Monday rally included entertainment from the musical group Salt N Pepa, which dedicated their 1994 ode to good men, "Whatta Man," to Obama. It also featured a performance from Colombian reggaeton music star J Balvin.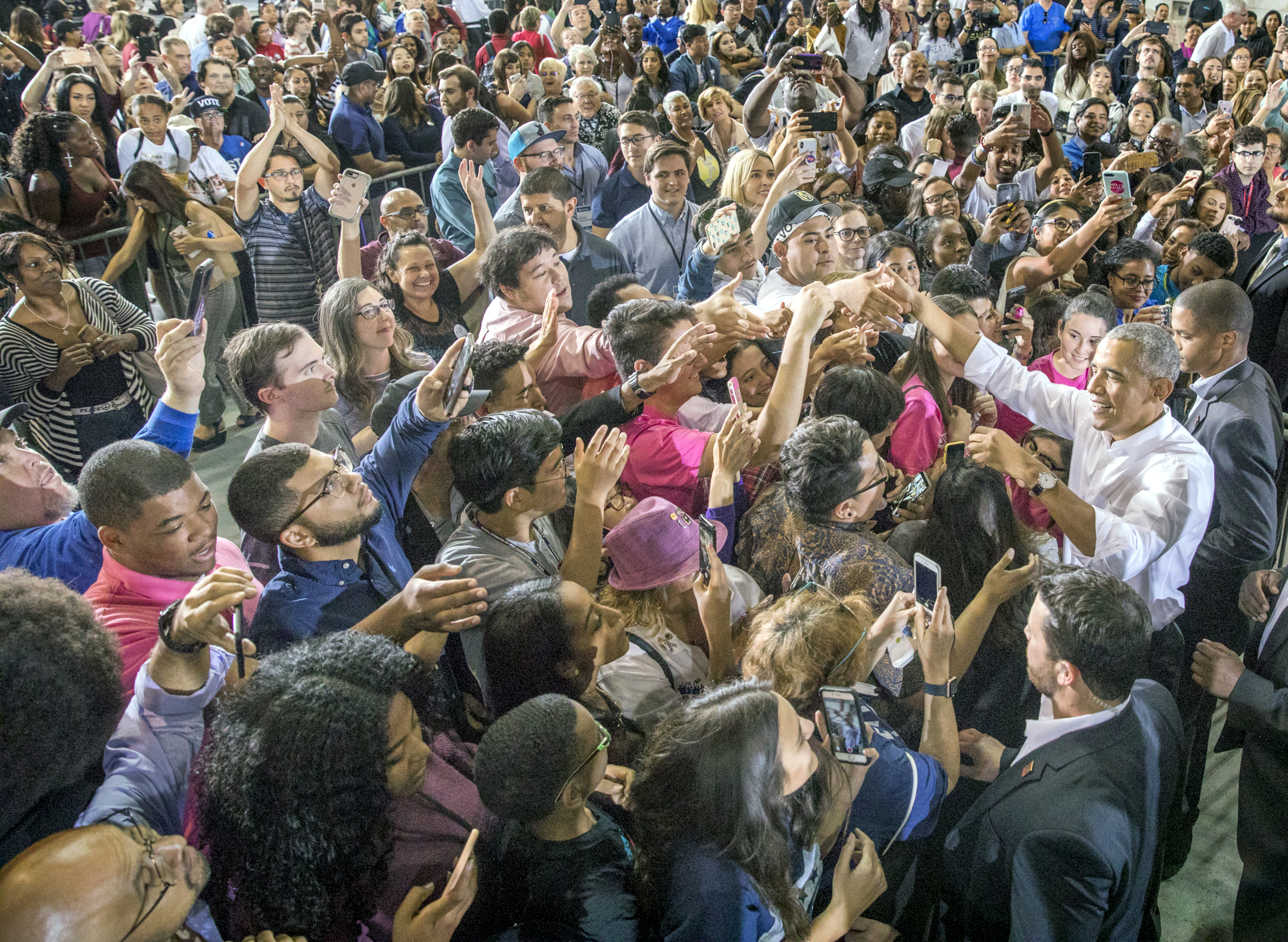 Obama defended his own legacy in the speech, pushing back against President Donald Trump's boasts that he's boosted the economy to historical highs.
"So when you hear all this talk about economic miracles right now, remember who started it. Remember who started it." he said. "I hope people notice that they run things into the ground and we have to come and clean things up."
The former president also criticized one of Trump's top achievements in office — the massive overhaul in the federal tax code that lowered individual and corporate tax rates. Obama said it overwhelmingly favored the wealthiest while criticizing Republicans, including Senate Majority Leader Mitch McConnell, for saying they planned to cut entitlement programs such as Medicare and Social Security to manage the federal deficit.
"They handed out $1.5 trillion dollars in tax cuts, aimed at billionaires and corporations. It was not done for you. $1.5 trillion. They didn't even pretend to pay for it. Deficits shot up," he said. "When I was president and I was trying to fund early childhood education, or trying to fund infrastructure, they would say no, we can't do that. Deficits are too high, it's an existential crisis. Then suddenly, when it comes to giving a trillion and a half dollars for folks who are already sitting pretty, didn't need it, weren't even asking for it. Suddenly, deficits are no problem."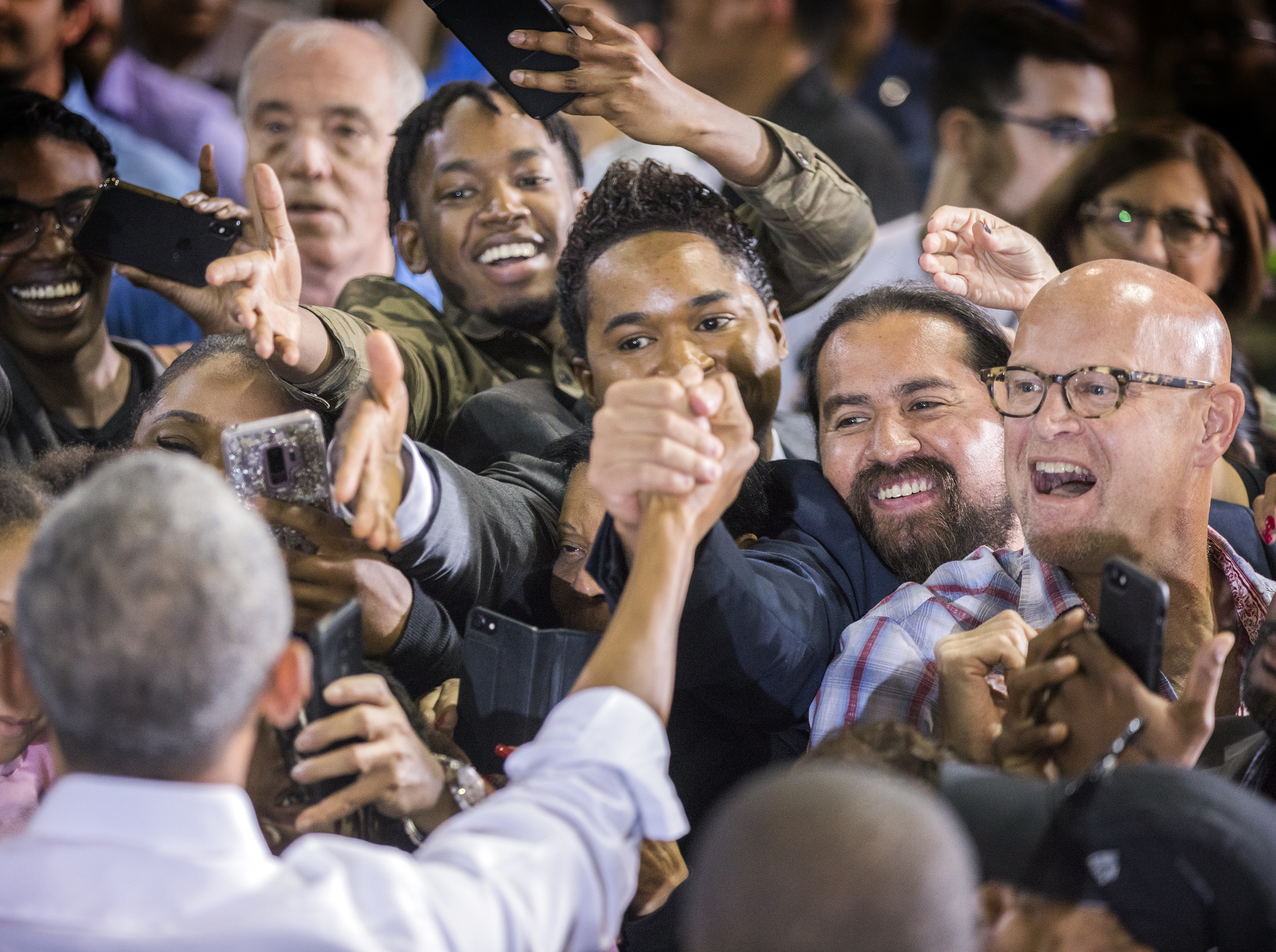 Obama also decried the influence of limitless campaign spending from PACs and people who "pledge to take on corruption and then plunder away," blaming Republicans for "bending over backward" to avoid tackling "corrupt politics."
"I have to say this kind of politics, it's not actually conservative. It's radical. It's a vision that says we're going to protect our power not matter what, even if it hurts the country," he said. "We're going to divide the country and make everybody angry, even though we know that's not actually going to create jobs or put food on the table or pay the rent or make sure health care is protected. It's a vision where the few people who can afford those high priced lobbyists and unlimited campaign contributions, they set the agenda."
Obama also criticized Republican Sen. Dean Heller — once a Trump critic who has moved closer to the president since 2016 — for not taking action against the administration.
"The current senator, he doesn't seem willing to stand up to this," he said. "He just goes along, Even when you get a sense he knows it's not right. But it's okay, he just goes ahead and goes along."
But the former president tried to sound a positive note amid policies he said Americans shouldn't be OK with.
"The good news is I'm kinda hopeful. Because I'm starting to see out of this political darkness a great awakening of citizenship around the country," he said.
The president's appearance and pleas for voters to head to polls comes amid a push for both parties to bump up their pre-election day turnout numbers via the state's two weeks of early voting.
Among those getting involved is 18-year-old Riese Howard, a UNLV student who's interning for the campaign of Democratic Senate hopeful Jacky Rosen. It'll be her first time voting.
"I registered to vote at my high school earlier in the year and I think people care a lot more now," she said, adding that she's not worried that Republicans might maintain their dominance in the upcoming election.
Jorge Garcia, 18, is a politics major who skipped class to attend the rally and has also been encouraging his friends to get involved.
"I recently moved here for schooling and I realized that Nevada needs a lot more Democratic votes than my home state California," he said. "I'll be voting for Jacky Rosen just for the fact that I believe that preexisting conditions should be covered and I think immigrants need us now more than ever."
He's been posting on Instagram, Twitter and Facebook trying to get his friends to register to vote; a few sent him back screenshots as proof that they did.
"I feel like misrepresentation is one thing that stops people from voting. Because they feel one vote doesn't make a difference," he said.
William McCullough had seen Obama in Las Vegas before, but this time brought his adult son with him to this rally. He said he's tired of business as usual.
"I think change has to occur. What's going on with the president we have now — he's totally embarrassed the United States," said McCullough, who's 65 and retired from a career in law enforcement.
Newly on Medicare, McCullough said health care is his biggest issue going into the election. But he's also anxious for resolution on the immigration issue.
"They need to get together and they need to take care of this whole immigration," he said. "So many jobs that are here, we're not willing to do. So we need people that are willing to work."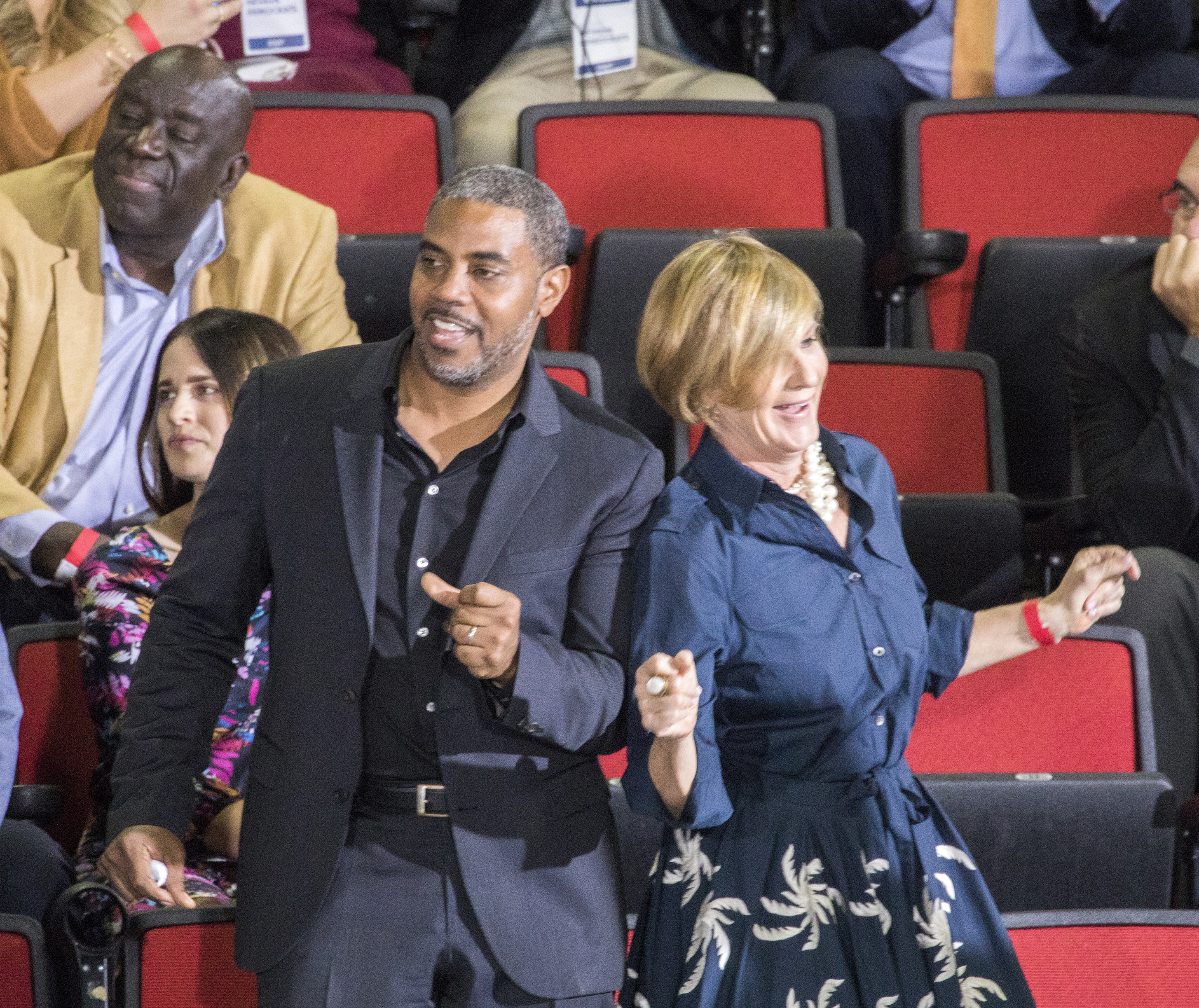 Democrats campaigning for some of the top state offices had a chance to rail on Republicans in power ahead of Obama's speech. Rep. Dina Titus decried the current president as "the worst president in the history of the United States."
"We're Democrats. We don't sit around crying and moping and wringing our hands. No, we effin' fight back," she said.
Rosen, echoing many of her campaign's attacks against Heller, said he was guilty of the "biggest broken promise in modern Nevada history," in voting for bills that would repeal significant portions of the Affordable Care Act last summer.  
"Seniority doesn't mean much if you can't tell the president no, does it?" Rosen said. "He thinks everything President Trump touches turns to gold. Seriously, he said that. It doesn't sound like a Nevada senator to me. It sounds like someone who thinks his number one job is pleasing President Trump."
What stood out most for attendee Christina Hood, a 38-year-old supervisor on the Las Vegas Strip and a mom, was the call to address women's rights and climate change and leave the country better for the next generation.
"It was very inspirational and now instead of waiting for Nov. 6 to go vote, I want to go now," she said.
Disclosure: Steve Sisolak and Susie Lee have donated to The Nevada Independent. You can see a full list of donors here.
Stories
Candidate Trackers
Endorsements, Ads, Policies, Visits
& More
visit now
Comment Policy (updated 10/4/19): Please keep your comments civil. We reserve the right to delete comments or ban users who engage in personal attacks, use an excess of profanity, make verifiably false statements or are otherwise nasty.