Escuelas del Condado Clark culpan a sindicato de maestros por ausencias del personal
En el expediente, el Distrito Escolar del Condado Clark dijo que una escuela se vio obligada a cerrar luego de que 29 de sus 33 maestros se ausentaron.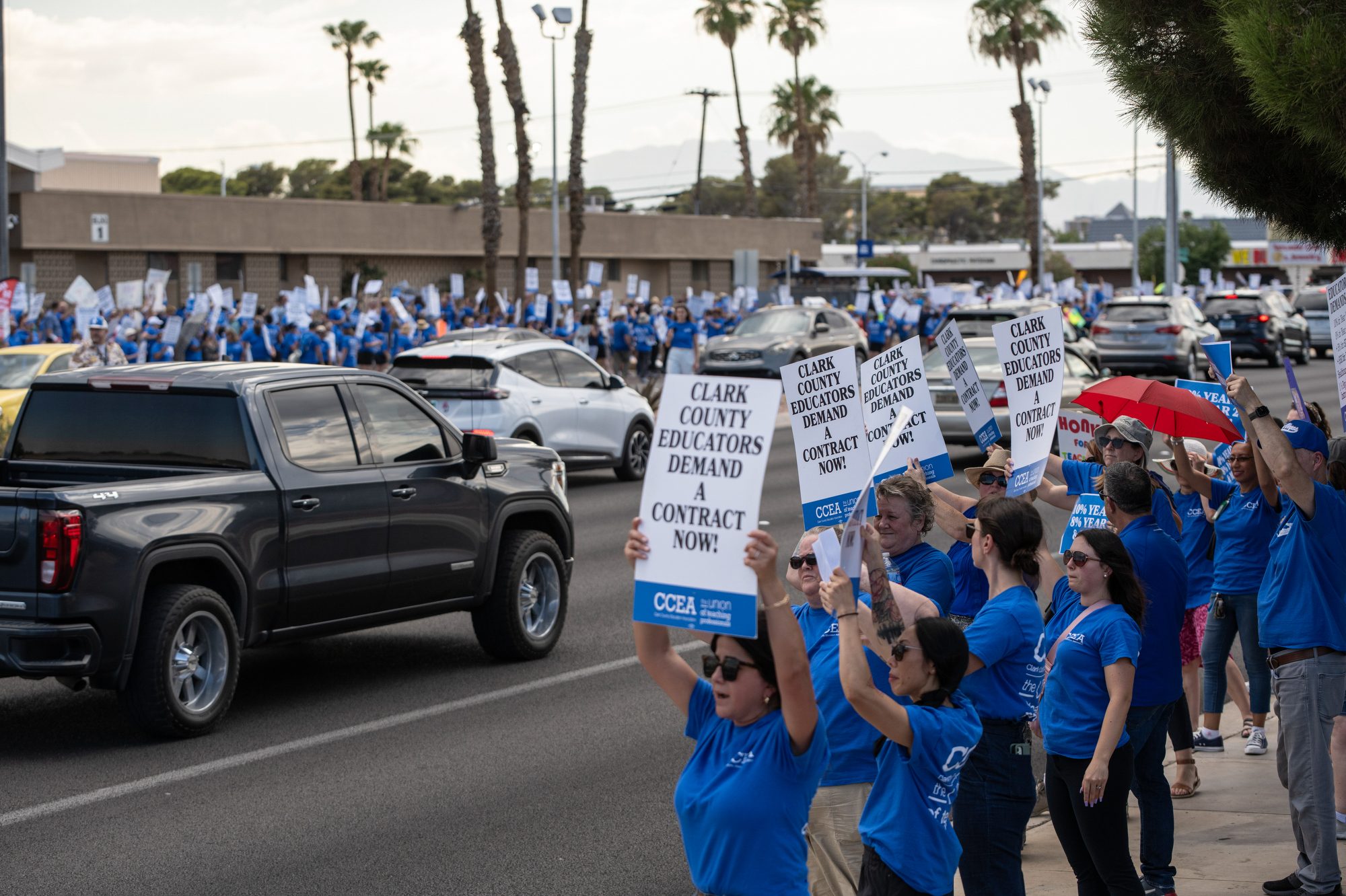 El Distrito Escolar del Condado Clark (CCSD) interpuso una moción de emergencia contra el sindicato de maestros Asociación de Educación del Condado Clark (CCEA) por una serie de ausencias de maestros a lo largo de las recientes dos semanas, mismas que han provocado el cierre de al menos tres escuelas y han afectado las clases en otras dos.
El CCSD solicita al tribunal que le otorgue una orden de restricción temporal y una orden judicial preliminar "para detener la continuación de una huelga de maestros autorizados representados por [la Asociación de Educación del Condado Clark]".
Según la ley de Nevada, las huelgas de empleados públicos que incluyan a profesores son ilegales. La ley estatal define una huelga como cualquier paro concertado del trabajo, la reducción o interrupción de las operaciones por parte de empleados públicos, incluyendo las ausencias basadas en falsos pretextos, por ejemplo, una enfermedad inexistente.
En la moción de emergencia presentada el lunes, el CCSD insta al tribunal a obligar al sindicato a desalentar y rechazar nuevas acciones que violen las leyes anti-huelgas de Nevada.
"El distrito, los estudiantes y las familias en el Condado Clark seguirán sufriendo a menos que el tribunal prohíba la continuación de estas huelgas", afirmó el CCSD en la moción de emergencia del lunes.
La CCEA no respondió de inmediato a una solicitud de comentarios. El sindicato había dicho anteriormente que no tenía conocimiento de las ausencias de la semana pasada y negó que estuvieran "asociadas de alguna manera con acciones de la CCEA ahora o a futuro".
El sindicato y el CCSD están en medio de una intensa disputa debido a las propuestas de aumentos salariales para los maestros.
Las ausencias de los maestros se dieron días después de la junta del sindicato del 26 de agosto, donde los miembros votaron a favor de tomar las llamadas acciones laborales.
El director ejecutivo de la CCEA, John Vellardita, dijo en una entrevista previa que esas acciones incluirían posibles quejas si los docentes se vieran obligados a trabajar horas extras, participar en protestas y tener un acercamiento con el Gobernador Republicano Joe Lombardo.
A principios de agosto, el distrito escolar presentó una queja sobre las acciones laborales que la CCEA había estado amenazando con tomar desde julio, lo que el distrito interpreta como una huelga ilegal.
Durante una audiencia el 22 de agosto, una juez del Condado Clark negó la solicitud del distrito para una orden judicial contra su sindicato de maestros, pero ella dijo que estaba dispuesta a revisar el tema con poca anticipación, si fuera necesario, si había evidencia de una huelga o un intento de huelga.
The Nevada Independent is raising $200,000 by Dec. 31 to support coverage of the 2024 election.
Tax-deductible donations from readers like you fund this critical work.
If you give today,your donation will be matched dollar-for-dollar.
Give + Get Matched
Featured Videos