To mandate or not to mandate? Small business owners grapple with employee vaccinations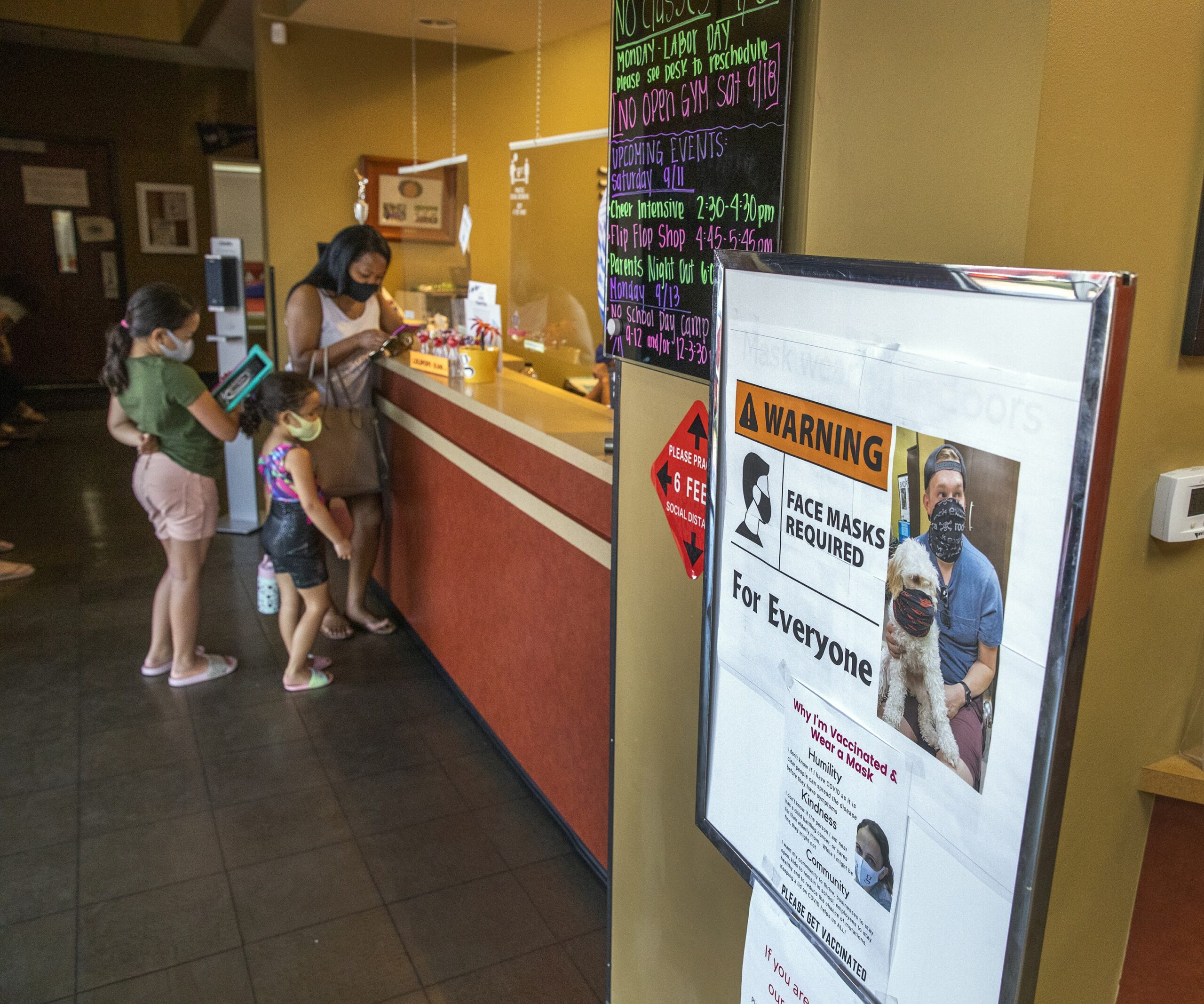 All Cassie Rice wants to do is coach.
The Henderson gym owner wishes she didn't have to require her staff and kids to wear hot, stuffy masks during practice. She doesn't want to be thinking about her employees' vaccination status. She's a gymnastics coach, not a doctor, epidemiologist or virologist.
But she also doesn't want to see any of her youngest gymnasts, not yet eligible for the shot, fall ill with COVID-19. She doesn't want another employee out on quarantine. She doesn't want to see her gymnastics team lose its third dad in a year and a half to the virus.
For the last several weeks, Rice has been gently nudging her employees to get vaccinated. She has sent emails sharing vaccine research and data. She has told her staff she prefers they get the shot. She isn't hiring anyone new that is unvaccinated.
The nudging has only gone so far, though. Rice estimates there are about 15 unvaccinated holdouts among 90 employees between her family's Henderson and Summerlin gyms.
When one told Rice she believed there was still too much "mystery" around the vaccine, Rice tried to persuade her with an analogy.
"I just said, 'I think when you're thinking about being an expert, I'm an expert in the field of gymnastics, so people can ask me questions about that. But we are not experts in epidemiology or science in any way. We have to defer to people who study this for a living,'" Rice said. "'A parent can't come in and tell me the better way to teach this gymnastics move. They don't know. That's how it should be with this.'"
Rice has drafted a letter, one she's leaning toward sending. In it, she has outlined a new company policy: that employees get the shot or be tested weekly for the virus.
Her coaches, some of whom have been with her for the last 15 to 20 years, are like family, Rice said. But she is also a firm believer in the vaccine.
"We're trying really hard to do it slowly and really think through it and make a good decision that takes into consideration the staff we really love," Rice said. "We're not wanting to kick a member of our family out, but I believe in this being a safety issue. So, then do you follow that principle, or do you follow the principle of supporting your family?"
It is a question some small business owners supportive of the vaccine in Nevada and across the nation have been asking themselves in recent weeks as the Delta variant continues to spread and the vaccination campaign inches forward.
The considerations are complex: Some, like Rice, fear losing longtime employees. Some worry about whether a vaccine mandate will stymie their ability to hire new employees in an already-competitive labor market. Others are grappling with whether they feel comfortable requiring their employees to get the shot, even though they support vaccination.
They are thinking through the consequences of not requiring their employees to get vaccinated, too. Companies have reduced hours or scaled back operations as a result of employees testing positive or quarantining. They worry about the worst-case scenario — that the situation gets so bad again that they're forced to close their doors like they did in March 2020.
For some, it's more than all of that: They don't want to see employees they care about as humans — not just workers — fall ill, or worse. It's more than just business sense; it's also about protecting them.
"We had one of our staff member's husbands go in the hospital for a while, and they were really worried about him," Rice said. "It just creates so much stress."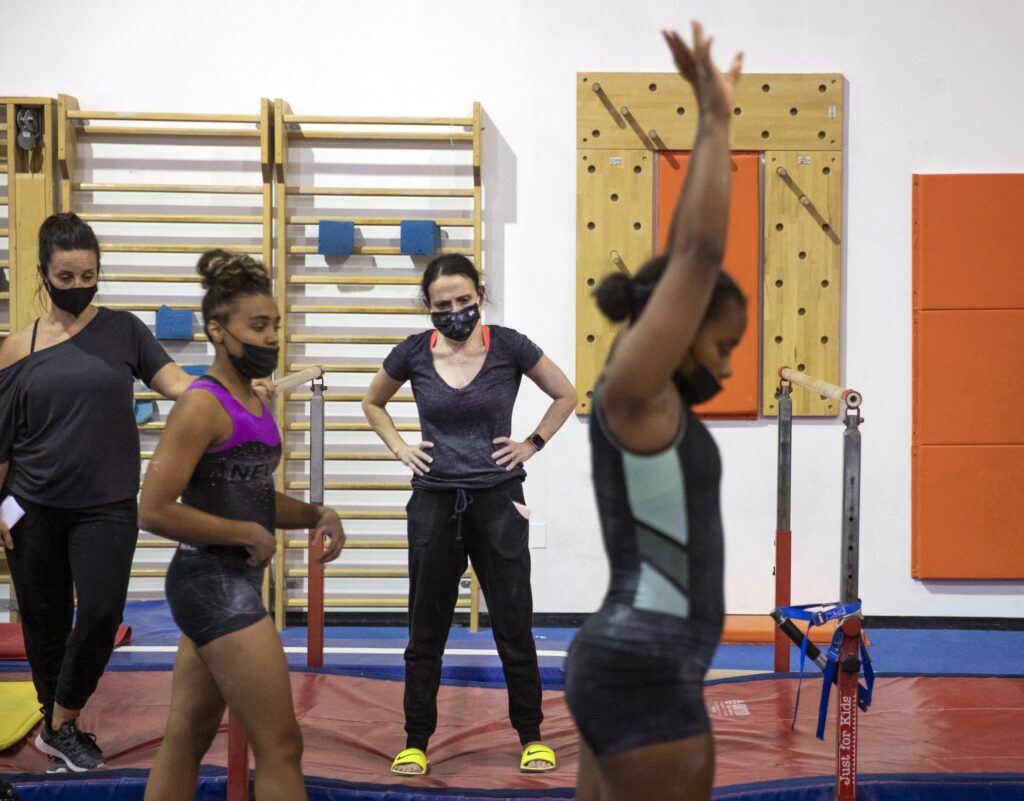 While a wave of large corporations announced employee vaccine mandates over the summer, some had hoped full approval of the Pfizer vaccine last month would promptly set off an even larger wave of mandates, including among small businesses.
There is no tally of how many Nevada businesses have implemented employee vaccine mandates to date, but interviews with business owners, human resources representatives and chamber leaders over the last two weeks suggest they're currently more an exception than the rule.
That will soon be changing, though.
President Joe Biden announced on Thursday that all businesses with 100 or more employees will be required to mandate vaccination or weekly testing for their workers, a policy expected to affect as many as 100 million Americans, though it has already faced political pushback and threats of litigation. The smallest businesses, including Rice's, aren't subject to the new mandate, though the new federal rule may encourage some to voluntarily follow suit.
The new mandate aside, businesses large and small will still be faced with the question of whether to go further and require all employees to get the shot, eliminating any testing option. Public health experts say vaccination-only policies are the gold standard for virus mitigation, as vaccines remain the most effective method of preventing the spread of COVID-19.
Several private and public sector entities have already adopted or are in the process of adopting such policies, including the federal government, which announced a vaccination-only policy for all federal workers and contractors on Thursday. In Nevada, MGM Resorts, the Clark County School District, the Department of Corrections, the Department of Health and Human Services and the Nevada System of Higher Education all have implemented or are in the process of implementing similar policies for some or all of their workers.
If scientists, public health officials, family doctors, public information campaigns and the lure of cash prizes can't convince people to get vaccinated, the thinking goes, maybe a mandate from their employer will.
In the vaccination campaign, mandates may just be the final frontier.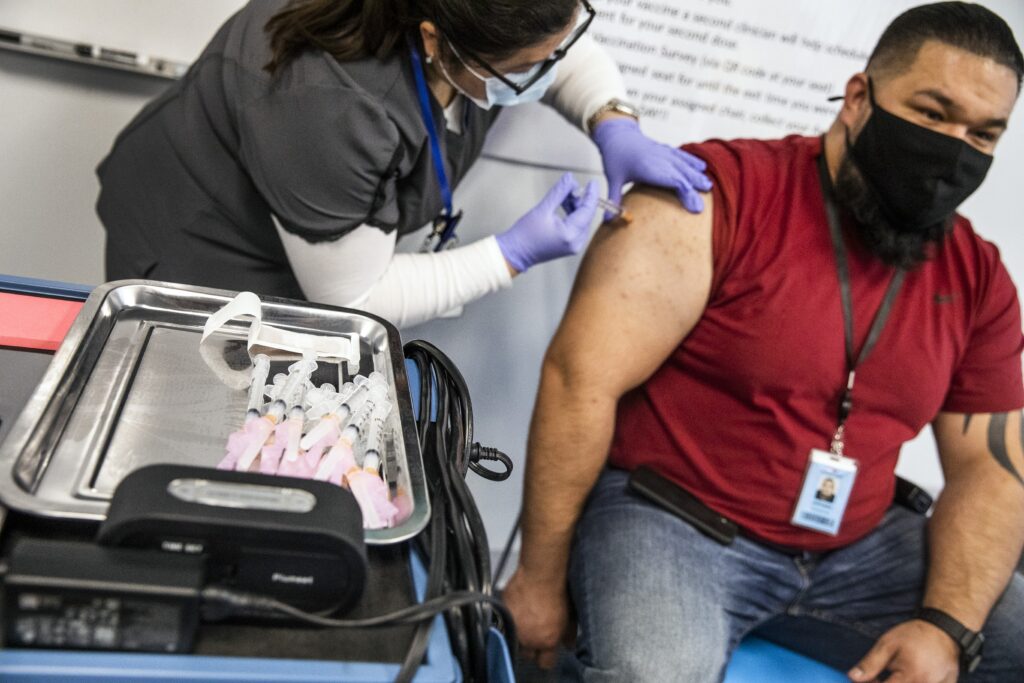 'The right thing'
Tisha Overman, who runs a small engineering firm in Las Vegas with her husband, was surprised by the reaction she got last month when she told her employees they had to get vaccinated: None.
She knew there were a couple holdouts among TERPconsulting's staff of 30, but she had also been open about the fact that a vaccine mandate might be coming, dependent on the COVID-19 vaccine receiving full approval from the Food and Drug Administration. As soon as that approval came, she sent a message to her team letting them know that vaccines were required and asked staff to forward her a copy of their vaccine cards within a week. She told them she was available if they had any questions.
There were no questions.
"I was fully expecting to have a dialogue. I was fully expecting to have to educate myself on exemptions and what's appropriate for exemptions, but it didn't come up at all," Overman said. "The small number of people who had not been previously vaccinated got vaccinated immediately after the announcement."
The vaccine mandate, Overman said, has been a "definite positive" for their business, both because they believe in the importance of vaccination to keep themselves and their employees safe and because a number of their clients are requiring staff to be fully vaccinated in order to visit job sites. (TERPconsulting's clients span a number of different industries, including health care, education and hospitality.)
"Both things can be true at the same time," Overman said. "You can try to do the right thing and believe the right thing is the financially viable thing."
The pandemic hasn't been an easy ride for business owners. Though Overman said they were "incredibly lucky" to be in a construction-adjacent business that was allowed to operate during the spring 2020 shutdown, she highlighted the interconnectedness of business in Southern Nevada, where the hospitality industry reigns.
"As business owners, and just as members of the community, we have a responsibility to do everything in our power to not go through another shutdown, and that means following the rules and trying to keep the economy going," Overman said. "We have an altruistic community feeling about it, but we also have a very realistic business feeling."
As small businesses in recent weeks started to think through what implementing vaccine mandates might look like, some turned to their local chambers of commerce for help. Prior to the federal government's announcement, chambers hadn't been pushing business owners either way. Instead, they were informing them that vaccine mandates are allowed under state and federal law and helping them navigate the mechanics of how to enforce them, sometimes using their own vaccine mandates as a model.
The term "vaccine mandate" is used broadly, though there are actually a number of ways to approach a mandate: Vaccination for all employees, vaccination plus weekly testing for unvaccinated individuals and vaccination for new hires only.
Under the new federal rule, all businesses with 100 or more employees will be required to have a vaccine plus weekly testing policy in place, at the minimum, though businesses could choose to go further by requiring vaccination either for all employees or for new hires, with no testing opt-out. Small businesses, which aren't subject to the new rule, will continue to face the same dilemmas over whether to implement vaccine mandates.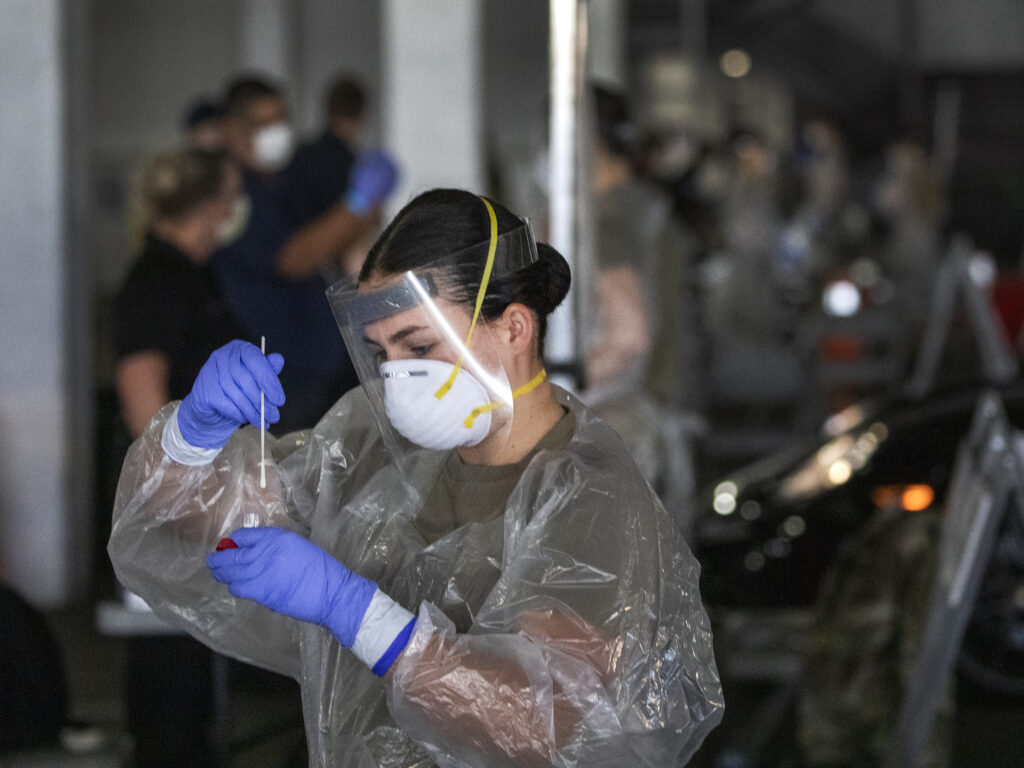 While some have argued against vaccine mandates as overly burdensome, Ann Silver, CEO of the Reno + Sparks Chamber of Commerce, framed them as another requirement employers might enact as a condition of employment, similar to a background check or drug screening.
"Every individual business owner may have a political view, religious view, social view, moral view about vaccines, and I'm not inquiring about that. I'm just letting them know they can require it if they wish to," Silver said. "The more I can spread that word, the more the chance that businesses pick up that opportunity."
Silver, in an interview last month, said she didn't know how many of the chamber's 2,300 members had put in place or were considering employee vaccine mandates, though she said she was pleased that the chamber's entire leadership class — which represents a couple dozen businesses in the region — said they had gotten the shot.
"That's a good indicator. They're all coming from different businesses and industries," Silver said. "Whether it was required or they did it on their own, I was thrilled to see that 100 percent compliance."
While some had hoped the recent full approval of the Pfizer vaccine would spark a wave of employee mandates, it didn't play out that way in practice. Chamber leaders, in recent interviews, said they hadn't seen an uptick in inquiries from member businesses about employee vaccine mandates as a result of the Pfizer approval.
Federal officials are now trading hope for a mandate.
"We've been patient," Biden said on Thursday, speaking directly to the unvaccinated. "But our patience is wearing thin, and your refusal has cost all of us."
Prior to Biden's announcement, Mary Beth Sewald, CEO of the Las Vegas Chamber, said what seemed to have an impact on small business interest in vaccine mandates were the decisions large employers, including those in the casino industry, made. While many of Las Vegas's biggest resorts have long had vaccination and testing programs, MGM Resorts was the first major gaming company to establish a full vaccine mandate with no testing opt out. (That policy is, for now, limited to salaried employees and new hires.)
"[The resorts] are definitely leading the way, and they've kind of pulled the Band-Aid off creating these policies to keep people safe," Sewald said. "The big picture, really, is we want to reduce the number and trend of COVID cases, and the best way for us to do that is to create a safe environment through vaccinations, negative COVID tests, mask wearing and continuing the social distancing."
But it's been a slow process. In an interview before the White House's announcement, Sewald said that while some businesses have already implemented vaccine mandates, others are still ramping them up and putting plans in place.
"It's really about finding the right balance for their employees and for their customers as well," Sewald said. "Having a policy that requires proof of vaccination or weekly COVID tests for their employees, it really does make a lot of sense in keeping the workplace safe."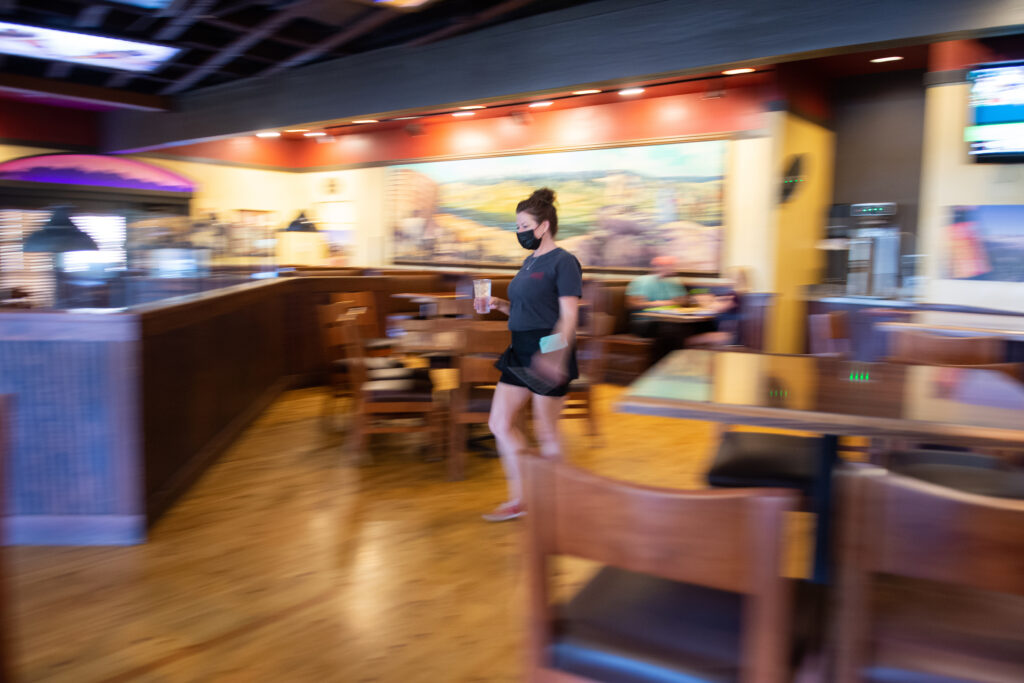 'Incredible cost'
Vaccine mandates are easier said than done, even for business owners who strongly support vaccination, something that helps explain why employee vaccine mandates weren't more common before the Biden administration moved in that direction this week.
Take Tom Young, brewmaster and owner at Great Basin Brewing, who is getting ready to host the brewery's fourth on-site vaccination event, called "Shot and a Beer," on Thursday. Young is hoping this one will be a particular draw, with vaccines administered inside the brewery itself, next to tanks of beer.
"We're working hard to make this planet a better place one pint at a time," Young said. "That sounds kind of silly and stupid and far-fetched, but it's something where you have to walk the walk."
As dedicated as the brewery has been to supporting Northern Nevada's vaccination effort, Young said there are still a handful of holdouts on his staff — about 10 people out of 120.
Young, in an interview last week, said the brewery had discussed establishing an employee vaccine mandate, though he would rather staff get the shot of their own volition. (All staff get rewarded with a free six pack of beer as soon as they've gotten their second shot.)
But from a strict business standpoint, the benefits of an employee vaccine mandate are clear, Young said. He has personally experienced the crunch of having several staff members out sick with COVID, and he also feels a responsibility generally to protect the members of the public who come into the brewery.
He also remembers what the shutdown last spring was like, when he had to lay off 55 of 115 employees. He says it's one of the hardest things he's had to do.
There's also the real, human cost. Young said he recently learned a 65-year-old musician who had played at the brewery passed away from COVID being on a ventilator in the intensive care unit.
Last week, Young said he was mulling a modest vaccine mandate that would require all new staff to be vaccinated. But the Thursday announcement appears to have made the decision for him, though he is waiting to see the full details of the new rule and how it might take into consideration full- and part-time employees.
"The data is clear. Scientific endeavors overwhelmingly point to the value of getting more and more folks vaccinated. It is our best weapon so far to curb the spread," Young said in an email following the White House's announcement. "We will staff up for our Thursday Shot and a Beer event, inviting all procrastinators and those whose excuses have been exhausted and get started with the Pfizer first or second shot or the one and done Janssen vaccine. It is the right thing to do."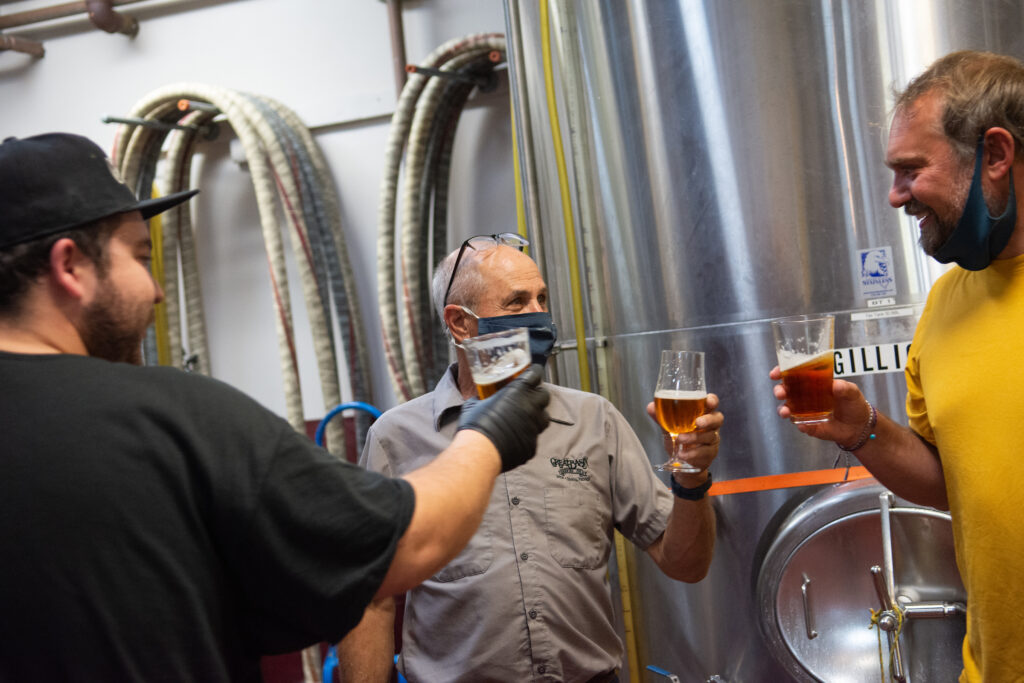 For many businesses, the already-difficult labor market, which has caused staffing shortages, adds an extra layer of complexity to the decision, particularly when it comes to considering vaccine-only mandates. In an interview last week, Mary Beth Hartleb, CEO of human resources firm Prism Global Management Group, said that's why she hasn't been recommending employee vaccine mandates to her clients.
"I think you really need to take into consideration our extremely, extremely difficult labor market right now. I've never seen it like this in 30 years doing this type of work," Hartleb said. "When you look at that, are you really going to hold somebody to a vaccine when there's other things you can do to keep people safe, etc., and lose all that institutional knowledge, have to replace these positions, train people? I mean, that's an incredible cost to a business."
Fears about losing workers to vaccine mandates may be overstated, though, and changing with time. Though polling on vaccine mandates varies depending on how the question is asked, a recent Axios-Ipsos poll found that 43 percent of unvaccinated Americans would get the shot if their boss required it, up from 33 percent a month ago. Nationally, only about 14 percent of Americans say they definitely won't get the COVID-19 vaccine, while another 10 percent are still in the "wait and see" phase and 3 percent say they'll get it if required, according to the Kaiser Family Foundation's vaccine monitor survey.
(On the other hand, a Gallup poll in August found that 38 percent of U.S. employees would either oppose or strongly oppose their employer requiring all employees to get the shot, and a Washington Post-ABC News poll showed that 72 percent of unvaccinated people whose employers don't currently have mandates said they would quit if they couldn't get a medical or religious exemption to the requirement.)
At least in some instances, job seekers may see employee vaccine mandates as a benefit. Such was the case for Amber Seifert, who left her job with an HVAC company to work for the Boys and Girls Club of Truckee Meadows in August.
Seifert estimates she was one of just about a quarter of employees at her old job who had gotten the shot, as vaccinated employees were allowed to go without a mask if they submitted a copy of their vaccine card to the company. It created an uncomfortable situation, she said, where everyone knew who was vaccinated and who wasn't.
"Previously, it was kind of like, 'Oh, you're vaccinated. So that's what you think about this and that's how you believe about this,' making it political," Seifer said. "It's definitely relieving to be working somewhere where the vaccine is required because it's not polarizing. There's not going to be a stigma on you because you're vaccinated. Everybody just is."
Seifert takes the issue particularly seriously because she contracted COVID-19 last fall. While her primary symptoms were body aches, fever, fatigue and loss of the sense of taste and smell, the virus caused optic nerve damage that required her to get an MRI, a spinal tap and drop 20 pounds in three months or face having a shunt inserted into her brain.
"Everything is okay now, but it's just been a lot to deal with," Seifert said.
Scott Muelrath, CEO of the Henderson Chamber of Commerce, believes some people who have been putting off getting the shot while unemployed may voluntarily decide to get vaccinated upon returning to the labor force.
"You could see people coming back into the job market and that could be a reason why they choose to get vaccinated and they haven't thus far," Muelrath said. "That maybe could result in an uptick in vaccinations."
After Thursday's announcement, many business owners will no longer have a choice in establishing some level of a vaccine mandate. Muelrath, in an email, described the decision as "not unexpected."
"This adds the further directive and clarity that will spur people to action as to being vaccinated, whether they like it or not," Muelrath said. "And one step closer to making it required for all, no doubt – no matter what the business size."
The Vegas Chamber, in a statement on Friday, said that while many Las Vegas companies, including the chamber, have implemented vaccination-testing policies, it was concerned about the new vaccine mandate happening by presidential executive order without debate outside of the legislative or regulatory process.
"While many companies are voluntarily taking proactive measures to fight the spread of COVID, mandating them to do so through Executive Order sets a worrisome precedent and creates a slippery slope for future potential mandates on employers and employees," the chamber said.
Meanwhile, owners of the smallest businesses, unaffected either way by the federal mandate, will have to base their decisions on the complex calculation of whether it would be better to weather the toll that a COVID outbreak would have on their workforce or mandate the vaccine and risk losing a portion of their employees. Which scenario would have the greater impact on their ability to keep their doors open?
"What's the point of all this money given out to help businesses get back on their feet if a customer is walking in and possibly in a contagious state … you're then saying, 'Okay, now I have no choice but to quarantine them and basically shut down,'" Silver, head of the Reno + Sparks Chamber, said. "I think the mask and vaccine capability should be strengthened by a communal decision that we want to continue commerce in our daily lives."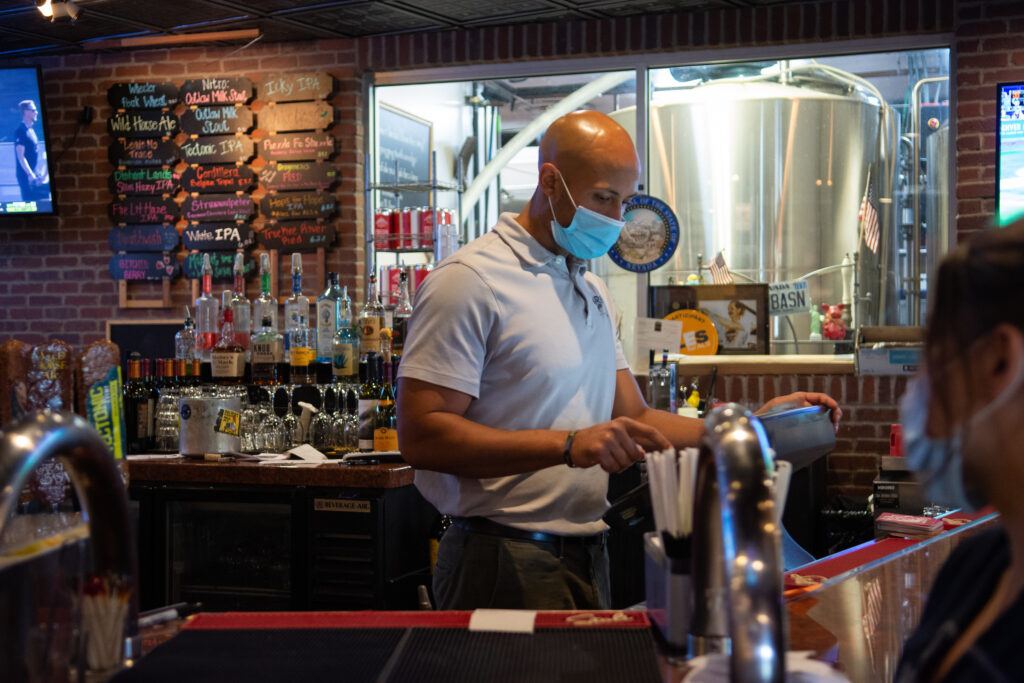 'Shifting the assumption'
For those involved with the state's COVID-19 vaccination effort, there's a glimmer of hope that employee vaccine mandates will move the needle on the overall vaccination effort.
"The business community, they are a critical part of this effort," Heidi Parker, executive director of Immunize Nevada, Nevada's only statewide immunization-focused nonprofit, said.
Dr. Andy Pasternak, a family medicine doctor in Reno, said employee vaccine mandates — or even just talk about potential vaccine mandates — are one more thing that will encourage people to think about getting the vaccine. And for those who are, he encourages them to talk with their doctor before doing so.
"I have had a few people that are like, 'Okay, my employer is mandating this now, which vaccine do you think would be right for me?'" Pasternak said. "There are some differences, so I like to talk to them about which one might be the best for you."
Amid all the hand-wringing over vaccine mandates, Ellie Graeden, founder and CEO of Talus Analytics and an adjunct faculty member at Georgetown University's Center for Global Health Science and Security who has been consulting with the state on its COVID-19 response, noted they actually aren't as foreign as people might imagine.
Vaccination, Graeden noted, is the default for kids, who are required to get certain shots to attend school. There isn't a mechanism in place to broadly require adults to get vaccines, she said, because they have already gotten them as kids.
"The only reason that we haven't had the conversation about mandates for adults is because we already dealt with our mandates when we were kids," Graeden said. "This is the first new disease where we're actually needing to talk about how you get that first wave of vaccines into the adult population."
Making vaccinations mandatory, Graeden said, may actually reduce some of the stigma around getting the shot and what vaccination might mean about someone's personal political leanings or beliefs.
"I think that's a real value with these mandates. You're shifting the assumption from being, 'Oh, this is your choice, you're doing it because you believe in it,' to 'I have to,'" Graeden. "That actually does shift the discussion as well and I think actually depoliticizes it in a lot of ways."
Employee vaccine mandates may also just be the start. While vaccination mandates for the general public are still uncommon in Nevada — unlike in San Francisco and New York, where vaccination is required for indoor bars, restaurants and gyms — they do exist.
The Las Vegas Raiders are requiring proof of vaccination to attend all home games at Allegiant Stadium, while organizers of the Life is Beautiful festival have required guests to have proof of vaccination or a negative COVID-19 test for entry.
Conventions, meanwhile, are adopting their own policies: Attendees of the HIMSS21 Global Health Conference & Exhibition last month were required to be fully vaccinated in order to attend, while two future conventions – the National Association of Broadcasters and the Consumer Electronics Show – announced in August their own attendee vaccination policies.
At the same time, a Gallup survey released this week found that 61 percent of Americans favor vaccination requirements for air travel, 53 percent for dining out and 56 percent in office or work settings.
"I do believe commerce is the answer here … It often takes some brave person that says, 'This is what I'm going to do, and the rest of you be darned,' and others will follow," Silver, the head of the Reno + Sparks Chamber, said. "It takes a real leader to be brave and have strong shoulders to say, 'This is what's necessary, and I'm going to do it.'"
This, public health experts say, is why the private sector's involvement is key to the vaccination effort. It means that mandates aren't really mandates at all.
Don't want to work for this company? No problem. Don't want to attend this concert? No problem. Don't want to attend a Raiders game? No problem.
The choice is yours.
For more information, check out The Nevada Independent's vaccine mandate tracker here. You can also more pandemic coverage here and find the latest COVID-19 data on our data page.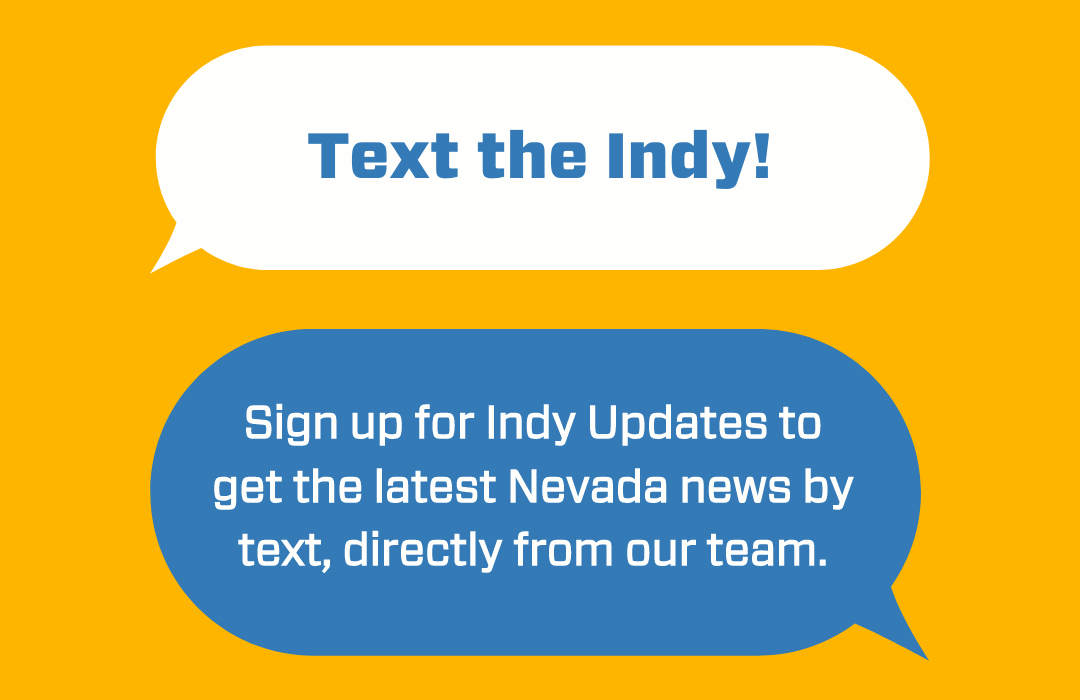 Featured Videos
Comment Policy (updated 4/20/2021): Please keep your comments civil. We reserve the right to delete comments or ban users who engage in personal attacks, use an excess of profanity, make verifiably false statements or are otherwise nasty. Comments that contain links must be approved by admin.