Five destinations you should visit before the next Nevada Day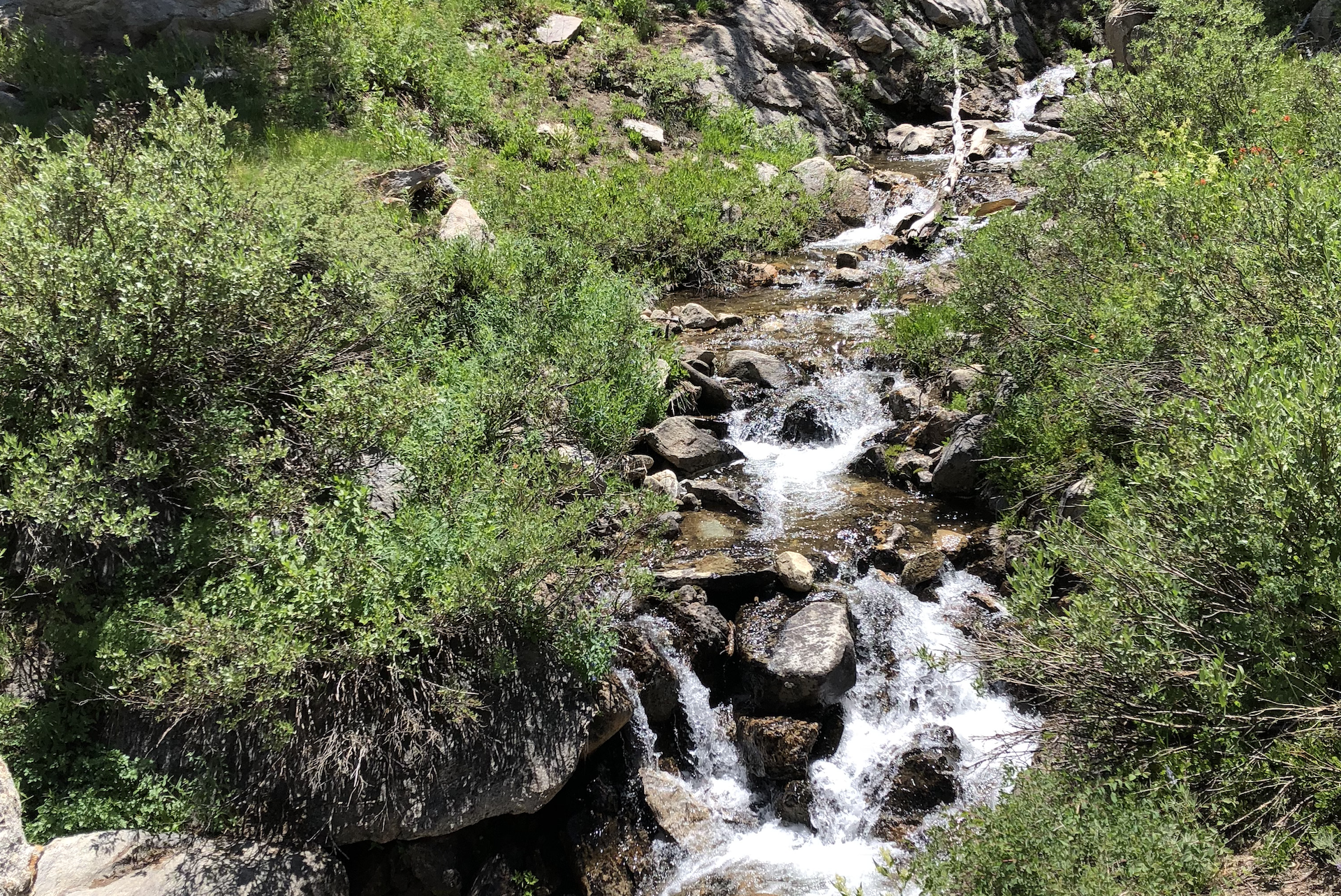 The leaves are turning yellow, then red, then brown. The crispness of the weather is beginning to be felt even when the sun is up. Vacant retail store sites have temporarily become costume shops. Coffee shops are advertising sugary caffeinated beverages spiced with a mixture of cinnamon, nutmeg, clove, ginger and sometimes allspice. State and local governments, including schools, are once again taking a Friday off before the last weekend of the month.
Yes, Nevada, there is a Nevada Day — and it's here once again.
There are a number of ways to celebrate our state's birthday.
You could relive our state's rushed path toward statehood by printing out a copy of the state Constitution and sending it to someone in our nation's capital as a telegram via Western Union's former telex/cablegram network. At today's rates, sending a 46,840 word telegram would only cost you $35,164 — an absolute steal compared to the $59,229 our forefathers spent to electronically expedite our path to statehood, especially after adjusting for inflation. According to the Federal Reserve Bank of Minneapolis, you would need $1.15 million in today's dollars to reach the equivalent purchasing power of 59,229 greenbacks.
I'm not saying you should. I'm saying you could.
Alternatively, you could write a list of destinations in each county in Nevada that you believe speaks to something unique and special about the state and our shared history.
That's what I did. Here are the first five:
Carson City: Capitol complex
Most states, when faced with the opportunity to plan their capitals, simply looked over the shoulders of our nation's capital and copied its homework. Expansive grassy malls, majestic administrative buildings and wide planned streets, all hallmarks of the L'Enfant Plan used on the banks of the Potomac, are common sites in many of our nation's state capitals. Picking on our neighbors, California, Idaho and Utah even built white Neoclassical-style capitol buildings, just like the one Congress meets in.
Nevada, however, has always had a more … reluctant relationship with its state government.
That relationship is reflected and expressed in the comparatively humble capitol complex in downtown Carson City. Built at a scale more akin to a college campus than a traditional capital mall, the capitol complex can be circumnavigated on foot in about 15 minutes.
Unlike other state capitals, there's no central street in Carson City leading visitors straight to the capitol complex. Where California has Capitol Mall and Utah has State Street, both of which end at the front entrance of their respective state capitol buildings, Nevada has King Street — a street which, owing to the subsequent construction of the Ormsby County Courthouse, ends a block west of the original capitol.
Of course, it didn't help that the Lincoln Highway, the predecessor of modern-day U.S. Highway 50 and the primary route from Carson City to California, was rerouted to Clear Creek Canyon, which is 3 miles south of the capitol complex.
Consequently, today's visitors to the capitol complex must drive by it instead of to it. The most common way to drive by it is by taking Carson Street, which used to double as the main highway through town before Interstate 580 was built roughly a decade ago.
There's a metaphor regarding the usual level of foresight exercised by our state government in its decision to center the capitol's front entrance on a route that now serves as a residential collector road. There's also likely a metaphor somewhere in the capital's then-county government's (Carson City annexed Ormsby County in 1969) ability to build one of its buildings in the middle of that road.
Perhaps you'll think of at least one of those metaphors before you complete your first lap around the capitol complex, provided you either think quickly or walk slowly.
Churchill County: Project Shoal Nuclear Test Site Monument
Fallon's Cantaloupe Festival is unlike anything else in the state. Frey Ranch, meanwhile, is the state's first craft distillery. Visiting either or both would give you a pleasant, unique, Nevada-centered experience.
There is one site in Churchill County, however, that says more about the state and its role in our nation than any other.
After a decade of above-ground nuclear testing, radioactive fallout levels were noticeably and steadily increasing across the world. Elevated levels of Strontium-90, a radioactive byproduct of nuclear fission, was found in the nation's food supply, including wheat and milk. Fallout from above-ground nuclear tests conducted at the Nevada Test Site in Nye County likely gave John Wayne, along with thousands of local residents downwind of the tests, cancer.
The United States wasn't the only country visibly testing nuclear bombs. The Soviet Union also had an actively radioactive nuclear program (intentionally or otherwise), as did the United Kingdom (intentionally or otherwise). None of these programs were conducted with anywhere near as much care and foresight as you'd hope for. Castle Bravo, a nuclear test conducted by the United States, irradiated several Pacific islands and fisheries used by Japanese fishermen. The Soviet Union's Tsar Bomba test, meanwhile, demonstrated enough destructive power to cause third-degree burns over 60 miles from its detonation site and broke windows in villages hundreds of miles away in neighboring countries.
The rest of the world — including, frankly, many of the citizens of the nuclear powers — were becoming increasingly angry and afraid of the short- and long-term destructive potential of nuclear weapons tests. To address this anger, the three nuclear powers signed the Partial Test Ban Treaty in 1963, which prohibited nuclear tests in the atmosphere, outer space, under water, or anywhere else that might cause radioactive fallout to drift outside of their respective national boundaries.
The Partial Test Ban Treaty, as the name might suggest, did not ban nuclear tests outright. Instead, most nuclear powers would subsequently test their weapons underground. That, however, created a strategic problem for the world's nuclear powers — how would each of them know if their competition was successfully testing nuclear weapons or not?
To help answer that question, at least for the U.S. government, the Department of Defense and Atomic Energy Commission commissioned Project Shoal. As part of that project, the government drilled a hole about 30 miles southeast of Fallon, placed a nuclear bomb that was slightly less powerful than the one that leveled Hiroshima inside of it, detonated it, then waited to see what the detonation looked like at the neighboring Nevada Test Site.
What makes the Project Shoal site particularly unique is that, unlike most of Nevada's nuclear test sites, it's quite possible — and quite safe, even in a passenger car, provided it hasn't rained recently — to drive to the Project Shoal site. Higher ground clearance, by contrast, is recommended if you plan on visiting the Project Faultless site near Tonopah.
Clark County: The Strat
The Strat is tall.
Is it nice? Is it hip? Is it grand? Is it cutting edge? Look, The Strat … The Strat is tall. The Strat is very tall.
The Strat is uncomplicated. Do you want to be up high? There is no tower higher in the United States than The Strat. Are there taller towers? Sure. There are 18 towers worldwide that are taller than The Strat. The nearest of those is the CN Tower in Toronto.
Do you want to go to Canada to see a taller tower? I didn't think so. Who would want to do that?
The Strat is a throwback.
Modern corporate casino-resorts operate with the benefit of decades of hindsight on how to attract people and convince them to part with their hard-earned money. Consequently, when a modern resort thinks about retooling or expanding, they make business plans, with spreadsheets and reports and databases and layers of management. Each of these pieces exist to predict as many possible futures as possible to the holders of the billions of dollars of capital needed to convert concrete and steel in the desert into alpha — into not just profit, but enough profit to beat all other potential sources of profit those billions of dollars in capital could be invested in instead.
The Strat was most decidedly not the product of careful analysis carried about by well-trained and impeccably educated casino business professionals.
The Strat was the product of a guess, a guess made by a man who made a fortune guessing correctly what people wanted out of a casino resort.
The Strat was the product of Bob Stupak.
Stupak was a gambler. He gambled on a poker game against an Apple II Plus (he won). He gambled on politics (he lost). He gambled on board games (he pushed).
Stupak owned a casino. If his casino wanted customers, it needed to continue to attract more attention than its competition.
A really tall tower attracts a lot of attention — at least at a distance.
So, following the same business logic used by the underpants gnomes in "South Park" and Kevin Costner's character in "Field of Dreams," Stupak gambled that having the tallest tower in the valley, if not the planet, would draw all the attention he needed to convince people to go just a little further north on Las Vegas Boulevard than the rest of the Strip and put money in his resort.
Did he have any hard numbers to back that hunch up? Sure: 1,149 feet.
Based on that number alone, Stupak bet everything he had on his tower.
He lost. Las Vegas' tallest guess filed for bankruptcy. Now it's another corporate casino, just like the rest of them — only taller.
John L. Smith, one of The Nevada Independent's fellow columnists, wrote a book about Stupak and the path that ultimately led the Stratosphere to become The Strat. It's worth the read.
Douglas County: Douglas County School District Board of Education meeting
Douglas County has so much beautiful scenery to recommend.
There's Lake Tahoe, of course, though it's frankly getting loved to death these days. Even so, the resorts at Stateline are uniquely equipped to lodge a large number of visitors.
There's the Carson River Valley, which is not only where Nevada first became Nevada — Genoa, founded in 1851 by Mormon pioneers, was Nevada's first non-indigenous settlement — but is also arguably one of the most idyllic places on Earth. The eponymous river sustains field after gorgeous field. The Sierra Nevadas rise suddenly from the otherwise flat valley floor from the west, its oft-snow capped peaks bringing an undeniable sense of majesty and awe to the landscape.
There's Topaz Lake, one of several reservoirs sustained by the chronically overdrawn Walker River, which is nestled quietly into the Sierra Nevada foothills.
All of it is worth visiting at least once. They are all truly some of the most classically beautiful places Nevada has to offer.
Perhaps it's because of Douglas County's idyllic scenery that it seemed like a good idea to elect the narrow majority of school board members there who are currently shoveling scarce education dollars out of the local school system and into Reno attorney and former Republican governor candidate Joey Gilbert's pockets. When you live in the perfect place, every change that touches you, no matter how small or remote, must be for the worse. How could it not? If perfect could somehow become better, it wouldn't be perfect, right?
So yes, bring in an ambulance chaser and bring back the Salem witch trials. Hunt for liberals in one of the most reliably conservative school districts in one of the most reliably conservative counties in the United States. Kick kids out of locker rooms for failing to confirm with some retiree's vision of how genders are supposed to express themselves. Treat the current superintendent like he's secretly a communist plant. Blow the district's annual legal budget in a few months.
Want to see a witch hunt in action? Or, better yet, do you want to do something to stop it? Consider visiting a Douglas County School Board meeting. According to the board's online calendar, its next meeting is Nov. 14.
Elko: Lamoille Canyon
Nevada Day is Nevada's birthday. Roasting a good friend on their birthday isn't completely unheard of but it's usually considered a little rude to do so without warning them first.
So let's end on an earnestly positive note.
Lamoille Canyon is worth the drive. If you've never been there, you should go there before it burns down.
Right. Positive note. Sorry.
Lamoille Canyon, and the Ruby Mountains more generally, is stunningly beautiful, especially if you visit it between June and October. As the snow melts during late spring, waterfalls appear next to the road as you drive up. Wildflowers bloom in every color and variety. The mountain peaks are tall and jagged, the valley floors narrow and hidden. Entering the canyon is like visiting a postcard from some distant alpine country.
Nevada has no shortage of places to go where you can get away from it all. It's a big, empty state. Just get on a road, pick a direction and drive for an hour or two. Now you're away from it all.
But where are you going?
Lamoille Canyon is a place worth going to when you're getting away from it all. It is, however, away from it all. It takes about four hours to drive there from Reno or seven hours to drive there from Las Vegas. If you have a three-day weekend to spend on getting there and back, you're going to have a much better time than you will if you try to drive there, walk around for a bit, and then sit in the car for several hours heading back home the next day.
Can you fly to Elko and visit Lamoille Canyon from there? Yes, you technically can. There is one commercial flight between Elko and Salt Lake City each day. If flexibility or money are important to you, you're probably better off driving.
It's important to have a destination. If you don't already have one, consider making Lamoille Canyon your next.
If, however, you'd prefer to visit a destination in one of the counties I haven't already covered, come back next week. Nevada is a big state with a rich history and 12 more counties to visit.
David Colborne ran for public office twice. He is now an IT manager, the father of two sons, and a weekly opinion columnist for The Nevada Independent. You can follow him on Mastodon @[email protected], on Bluesky @davidcolborne.bsky.social or email him at [email protected].
The Nevada Independent is raising $200,000 by Dec. 31 to support coverage of the 2024 election.
Tax-deductible donations from readers like you fund this critical work.
If you give today,your donation will be matched dollar-for-dollar.
Give + Get Matched
Featured Videos