Gov. Steve Sisolak delivers the State of the State address at the Nevada Legislature on Wednesday, Jan. 16, 2019. (David Calvert/The Nevada Independent)
Freshman Orientation: Sen. Melanie Scheible
February 11th, 2019 - 1:55am
This is one in a series of profiles of legislative newcomers.
SEN. MELANIE SCHEIBLE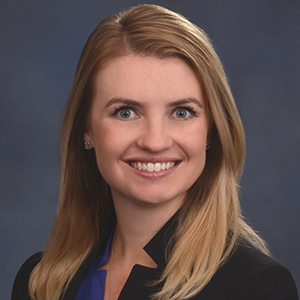 Freshman Democrat who succeeds Republican Sen. Becky Harris, who stepped down in 2018 to lead the state's Gaming Control Board

Represents District 9, which includes the southwest corner of Las Vegas, including parts of Spring Valley and Summerlin

District 9 leans Democratic (38 percent Democratic, 31 percent Republican and 31 percent nonpartisan or other in the 2018 election)

Scheible defeated three other candidates in the 2018 Democratic primary with 69.4 percent of the vote, or roughly 4,400 votes.

She then defeated Republican Tiffany Jones in the general election by 11.2 percentage points, or about 6,200 votes.

She will chair the Natural Resources committee, as well as sit on the Government Affairs and Judiciary committees.
FAMILY AND EDUCATION:
Born in Sacramento, Scheible grew up in Reno and graduated from Reno High School. She received her bachelor's in public policy from Stanford University before eventually receiving a law degree from Columbia Law School. In her free time, she likes to volunteer, whether it be for politics, the LGBTQ community or her local food bank.
CAREER:
Since 2017, Scheible has worked as a deputy district attorney in the Clark County district attorney's office. Before becoming a prosecutor, she worked in the DA's office as an Appeals Unit Law Clerk. During her time in law school, Scheible worked as a mediator with federal administrative law judges, assisted in pro bono representation of clients in civil rights cases and did pro bono work in Uganda for the human rights nonprofit Chapter Four.
ON NEVADA AND THE ISSUES:
What are your top three priorities for the 2019 legislative session?
I think our state's top priority needs to be improving our local public schools. Nevada kids deserve smaller class sizes, fully credentialed teachers, and adequate supplies like paper and pencils. My colleagues in both the Senate and Assembly have been working hard to develop comprehensive policy proposals to improve our schools and I will be working in partnership with them to make sure those policies are passed and implemented.  
I am also honored to be chairing Natural Resources for the 2019 Session. We need to continue to have tough conversations about water allocation and I am ready to bring all the stakeholders to the table to design smart, forward-looking policies.  The Natural Resources Committee will also be addressing wildlife issues and working to protect Nevada's wilderness.
During the campaign, I heard many constituents' concerns about health care, and that will be a major focus for me in the upcoming session. I am introducing two bills this session that help improve Nevada's health-care system. One prevents kids' Medicaid coverage from lapsing.  Another bill seeks to ensure that community clinics are reimbursed at the same rate as other medical providers, so they can keep their doors open to the members of our community who rely on them most often.
What programs/parts of the state government could be cut? What programs/areas need more funding in 2019?
I think we certainly need to find more funding for public education, which is why I fully support moving the marijuana tax dollars from the rainy day fund to invest in public schools. This will be my first legislative session, and I am looking forward to learning more about our state's budget and finding out if there are other areas where we can cut spending in order to better fund our public schools and other vital services like our police officers and firefighters who keep our communities safe.
What specifically should Nevada do to improve health care this session? How about education?
In addition to the two bills I am introducing to ensure better coverage for children on Medicaid and equitable funding for community clinics, I am working with other legislators to protect Nevadans with pre-existing conditions. No one should be unable to qualify for insurance coverage based on a pre-existing condition, and I am committed to preventing that from happening in Nevada.
Nevada's public education system is the foundation of our community. I grew up in that system and I am proud and honored to fight for the next generation of students to graduate from Nevada public schools. Dedicated, talented teachers who treated every student as an individual had a huge impact on my development. Every child deserves those kinds of teachers, and those teachers deserve to be paid like the professionals they are.  Raising teacher pay is the right thing to do for the fantastic teachers who already live and work in Nevada, and it will help us to attract and retain more great educators.
Should Nevada raise its Renewable Portfolio Standard to 100 percent by 2050? If not, what should the state's RPS compliance standard be?
Yes, [I] supported the passage of Question 6 during the 2018 election and I believe increasing our RPS to 100 percent by 2050 is smart public policy. One of Nevada's greatest natural resources [is] 290 [days] of endless sunshine. Our state should take full advantage of that resource and be a leader in the renewable energy market and I believe raising our RPS will help get us there.  
Do you support modifying or eliminating current property tax caps in state law?
I talked to many constituents about this issue during my campaign and I am committed to both increasing funding for our educational system, and keeping home ownership affordable.  Achieving both goals will be a tough job, and that's what District 9 elected me to do. I am ready to spend the session studying and learning about the economic impacts of various policy proposals currently on the table in order to come to a decision that best reflects the values of the families in District 9. Most importantly, I will be seeking the input of the residents of District 9, who invite to call, email, or visit me in Carson City.
Are there any particular issues on which you see yourself working across party lines? If so, which ones? If not, why not?
I hope to work across party lines on numerous issues throughout the session. As the chair of the Natural Resources Committee I will be working with members of both parties to protect Nevada's wilderness and conserve our natural resource. I am also proud to be part of the first legislature in the country that is comprised of a majority of women. This group of women comes from both parties and I am committed to working with them as a team to make this session successful.
This interview was edited for length and clarity.
Comment Policy (updated 3/21/19): We welcome reader comments on our stories. However, in keeping with our general policy of transparency, accuracy and accountability, we do not accept comments from anonymous accounts. Anonymous accounts are those without a valid first and last name. Any such comments will be deleted, and anonymous users will be blocked from commenting further. We also will block commenters who use offensive language, engage in personal attacks or state things that are verifiably false.
get our morning newsletter,
The Daily Indy
INDYMATTERS PODCAST
CAFECITO CON LUZ Y MICHELLE
@TheNVIndy ON TWITTER