Adam Laxalt, Republican candidate for Nevada governor, talks to Vietnam veteran Joseph Morganso during a campaign event at the Veterans House in Las Vegas on Wednesday, Jan 24, 2018. (Jeff Scheid/The Nevada Independent)
Governor candidate Laxalt unveils veteran policy priorities, fields questions on marijuana, Medicaid
January 24th, 2018 - 5:10pm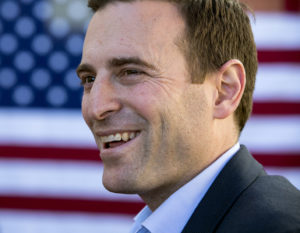 Republican Attorney General Adam Laxalt, who's running for governor, unveiled a plan Wednesday that he says will build on Gov. Brian Sandoval's successes helping veterans and that will make Nevada the most "veteran-empowering state" in the country.
He also answered questions from a handful of reporters on topics including a proposed ballot measure banning sanctuary cities, his stance on fixing the lack of banking in the marijuana industry, the Trump administration's opioid emergency declaration and his position on work requirements for Medicaid recipients.
Laxalt's plan includes setting up a single point of contact for veterans resources in the state, reestablishing the Veterans Suicide Prevention Task Force, making it a priority to hire veterans in state government and convening a regular Veterans Summit so members of the veteran-serving community can exchange ideas. Laxalt served in the Navy as a Judge Advocate General.
"We are in a unique time when people want to support veterans. Those who served in Vietnam did not get that experience and unfortunately, they're late coming but I think our country is finally honoring their service. People want to help veterans," Laxalt told supporters in an event held at the Veterans Village in downtown Las Vegas. "But people that haven't served need to understand that a lot more needs to be done. And whatever they think the sacrifice is, it's actually a lot more. I have three little kids — an infant and two little baby girls. If I was deploying now … I would've missed the birth of my child. And that is tough."
He also said he was forming Veterans for Laxalt, a coalition of campaign supporters who have served in the military. Among the members: former U.S.S. Cole Commander Kirk Lippold; Lt. General Buck Bedard, USMC; wounded Marine veteran Dylan Gray; and retired Army Colonel George Del Carlo.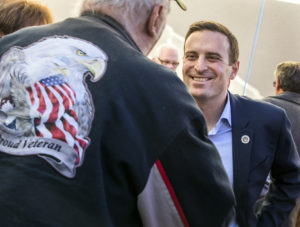 Supporter Mike Colian, who attended the event, said he thinks Laxalt will be an even stronger ally for veterans than Gov. Brian Sandoval, whose work has included spearheading the ongoing construction of a veterans nursing home in Northern Nevada and, along with Laxalt, approving a memorial for fallen soldiers that will be built near the capitol building in Carson City.
"Laxalt is a veteran himself and he started a legal program for veterans that's really important," said Colian, referring to Laxalt's pro bono legal aid initiative, the Office of Military Legal Assistance. "Gov. Sandoval, I mean, he respects veterans, but I don't think he's pushed enough issues for veterans as governor."
After the event, Laxalt fielded media questions in a series of brief interviews:
Comment Policy (updated 3/21/19): We welcome reader comments on our stories. However, in keeping with our general policy of transparency, accuracy and accountability, we do not accept comments from anonymous accounts. Anonymous accounts are those without a valid first and last name. Any such comments will be deleted, and anonymous users will be blocked from commenting further. We also will block commenters who use offensive language, engage in personal attacks or state things that are verifiably false.
get our morning newsletter, The Daily Indy
INDYMATTERS PODCAST
CAFECITO CON LUZ Y MICHELLE
@TheNVIndy ON TWITTER