Group seeking to boot Sisolak from office fails to gather enough signatures to proceed with recall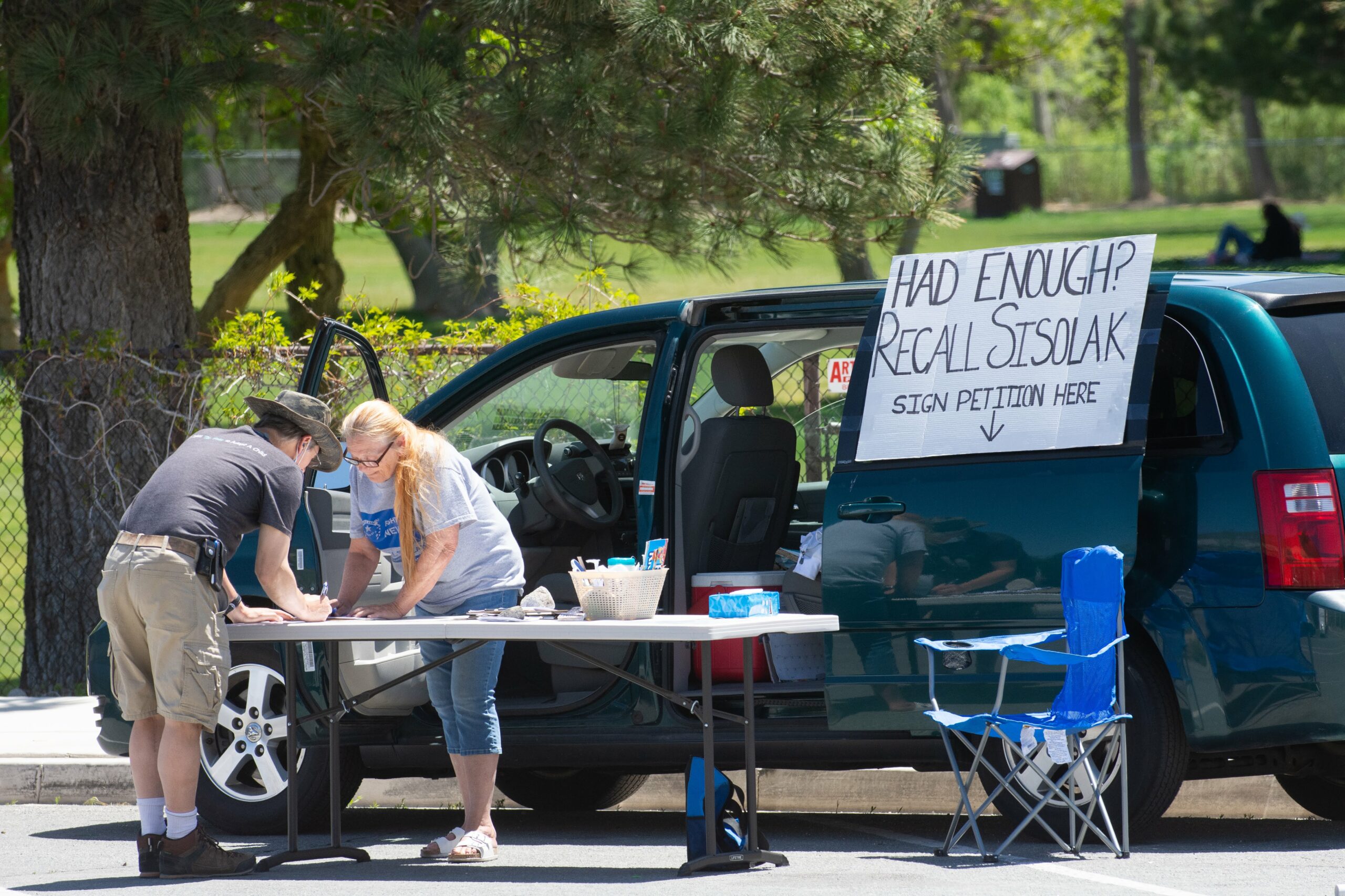 A group seeking to recall Democratic Gov. Steve Sisolak has fallen more than 200,000 signatures short of what it needed to qualify the petition for the ballot.
A raw count from the secretary of state's office said Fight For Nevada gathered 33,105 signatures in the 90-day period allowed for the petition. The group needed to gather 243,995 signatures to move forward to the signature verification phase.
"The recall petition has been deemed insufficient and no further action will be taken," Wayne Thorley, deputy secretary of state for elections, said on Wednesday. "Fight For Nevada and Governor Sisolak have been notified."
Sisolak's office did not comment beyond saying it received notification of the development. Robert Barnes, a lawyer representing Fight For Nevada said another recall effort was coming.
"Just the beginning, not the end," he said in an email. "More civil rights suits also likely."
Fight For Nevada filed paperwork to recall Sisolak in February, citing numerous grievances against the Democratic governor including his support of gun control legislation, limits on private wells, reporting mileage to the DMV and a false claim that he supports a state income tax. Recalling the governor has been a rallying cry at some of the protests against his coronavirus shutdown orders.
The group did see about 1,100 more signatures in the last month and a half of its campaign compared with the first 45 days, but the energy of the shutdown demonstrations was not enough to put the petition over the edge.
Fight For Nevada argued that the shutdown was in fact hampering the signature-gathering effort, saying in a lawsuit that they believed they would be able to meet their goal "but for the unanticipated and unprecedented pandemic of COVID-19." They sought an extension of the 90-day signature gathering period and proposed that it end at the same time that Nevada's state of emergency ended.
Federal Judge Richard Boulware ruled against the request, saying plaintiffs didn't prove that the pandemic was the reason the petition lagged.
"That Plaintiff was already so far from its goal by March 30, 2020 gives less credence to the argument that the emergency directives, as opposed to other reasons, such as a lack of diligence, prevented Plaintiff from acquiring the requisite signatures," he wrote. "Plaintiff has not argued or established that the deadline itself could never be satisfied and is therefore facially unconstitutional."
Support was higher in Nevada's 15 rural counties, with signature counts totaling anywhere from 5 percent of registered voters in Carson City to 23 percent in Esmeralda County, which is the least populous county in the state. The petition garnered signatures equivalent to 2 percent of registered voters in Washoe County, and half of one percent of registered voters in Clark County.
To proceed with a recall effort, supporters need to collect signatures equal to 25 percent of voters who cast a ballot in the last election involving the official they seek to recall — in this case, the 2018 election.
Successful recalls against governors are rare. In the last century, just three governors have been recalled and forced to run in a special election.
Updated at 9 p.m. on May 20, 2020 to add comment from Sisolak and Fight For Nevada lawyer.
Signature breakdown by county