Harry Reid, former Senate majority leader and Democratic kingmaker, dies at 82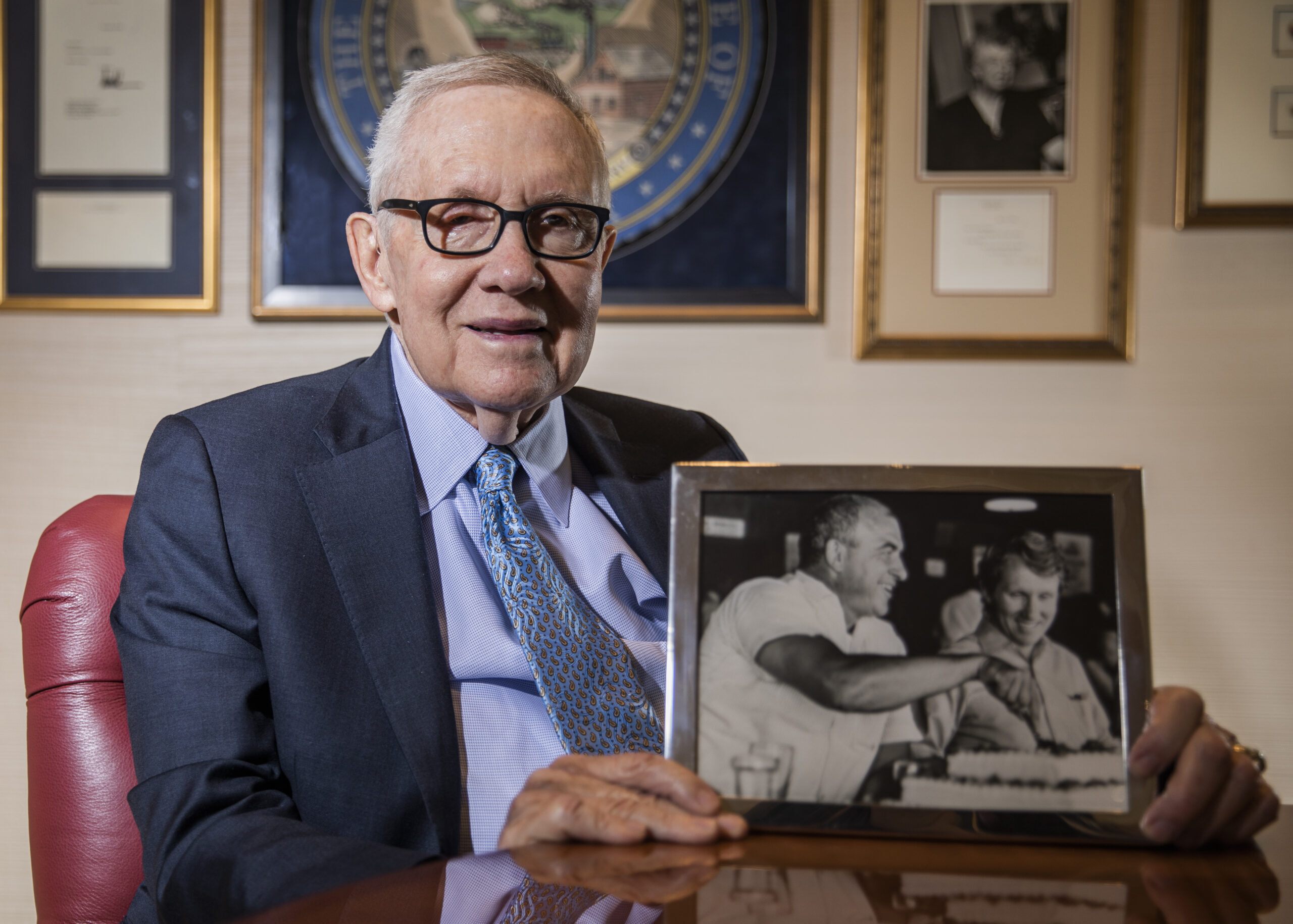 Harry Reid, who rose from abject poverty in rural Nevada to become one of the most influential state and national leaders, died at home on Tuesday after a four-year battle with pancreatic cancer. He was 82.
In a statement, Reid's wife of 62 years, Landra, described her husband as a "devout family man and deeply loyal friend" and said he passed away peacefully surrounded by family.
Reid was thought to be nearing the end of his life when he underwent surgery in 2018 for pancreatic cancer, which has one of the lowest survival rates. Last summer, however, Reid announced that he underwent an experimental surgery and was declared in "complete remission" and cancer-free.
"We greatly appreciate the outpouring of support from so many over these past few years," Landra Reid said. "We are especially grateful for the doctors and nurses that cared for him. Please know that meant the world to him."
Over more than three decades of service in Congress, Reid earned a reputation for fighting relentlessly to protect his home state and everyday Americans. As Senate Democratic leader for a dozen years, he played an instrumental role in passing the Affordable Care Act and shepherding through Congress pivotal economic recovery legislation in the wake of the Great Recession.
"I wouldn't have been president had it not been for your encouragement and support, and I wouldn't have got most of what I got done without your skill and determination," former President Barack Obama said in a statement.
President Joe Biden called Reid "a dear friend and a giant of our history."
"If Harry said he would do something, he did it. If he gave you his word, you could bank on it. That's how he got things done for the good of the country for decades," Biden said in a statement. "Harry looked at the challenges of the world and believed it was within our capacity to do good, to do right, and to do our part of perfecting the Union we all love."
Reid also spent considerable time focusing on water, energy and public lands, issues at the forefront of a state that was undergoing rapid growth. In 2020, Reid said more than half of his congressional papers dealt, in some form, with the environment.
A savvy dealmaker and sometimes polarizing figure who made as many enemies as he did friends, Reid still earned the respect of colleagues in both parties — sometimes turning former enemies to friends. Soft-spoken with a sharp tongue, Reid compelled those around him to listen.
Reid took a no-holds-barred approach to politics, directly calling bankers to bail out the faltering CityCenter project on the Las Vegas Strip and falsely claiming Mitt Romney hadn't paid his taxes in 10 years.
He helped Nevada punch above its weight on the national political stage by advocating that the state hold the first-in-the-West caucus in the nation in 2008, a move that has left Nevada's presidential nominating contest just behind those in Iowa and New Hampshire. The caucus has brought droves of presidential contenders through the state every four years for the last four election cycles, elevating the state's profile nationally.
He also turned the Nevada State Democratic Party into a well-oiled political operation — nicknamed the Reid Machine — responsible for securing numerous Democratic victories in close races over the last decade.
"To say Harry Reid was a giant doesn't fully encapsulate all that he accomplished on behalf of the state of Nevada and for Nevada families; there will never be another leader quite like Senator Reid," Gov. Steve Sisolak, a Democrat, said in a statement. "To me, he was a mentor, a father figure, and someone I trusted to always give it to me straight."
Despite the heights to which he rose, Reid never forgot his humble beginnings in the small town of Searchlight, prizing hard work, opportunity and independence above all else. In a farewell speech on the Senate floor in 2016, Reid shared what he believed to be the key to his success.
"I didn't make it in life because of my athletic prowess. I didn't make it because of my good looks. I didn't make it because I am a genius. I made it because I worked hard," Reid said. "I tell everyone, whatever you want to try to do, make sure you work as hard as you can to try to do what you want to do. I believe that is a lesson for everyone."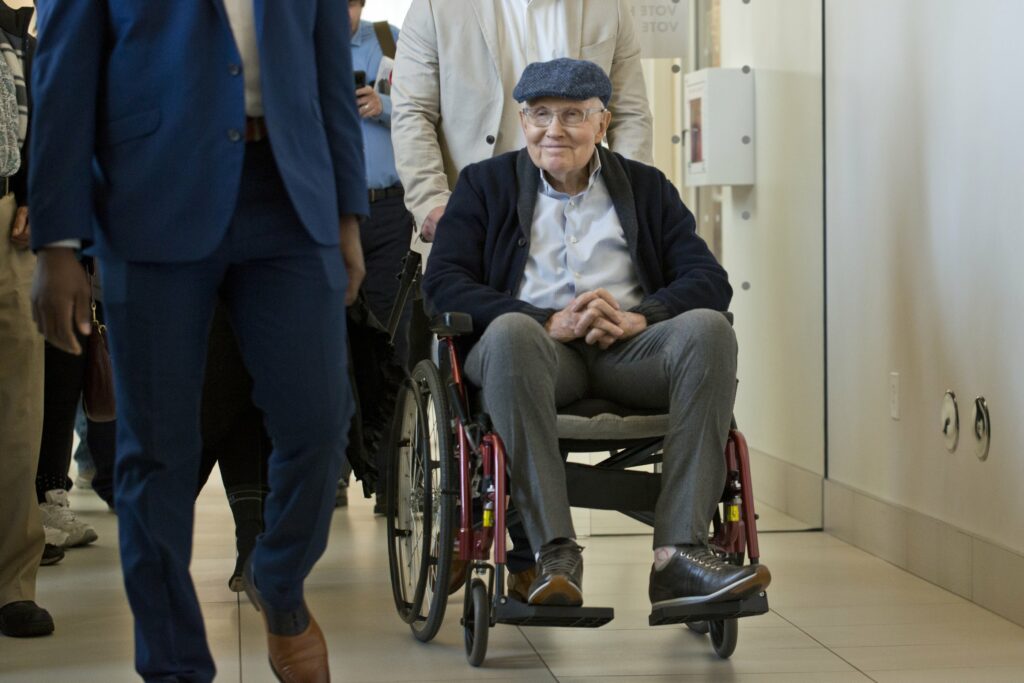 The boy from Searchlight
Reid was born in Searchlight, once a mining boomtown near Clark County's southernmost tip, on Dec. 2, 1939. His father, Harry Sr., was a hard rock miner with an eighth grade education, and his mother, Inez, did laundry for the brothels and casinos and never completed high school. Reid lived in a small cabin without indoor plumbing and attended a two-room elementary school with one teacher for eight grades. As a small kid, Reid sometimes accompanied his father to the mines underground and learned to swim in a brothel swimming pool.
With no high school in Searchlight, Reid hitchhiked 40 miles to attend Basic High School in Henderson. There, Reid, an athlete who was voted student body president his senior year, tried to shrug off his Searchlight roots.
"When I went to college, when I was in high school, law school, I just didn't want to talk about Searchlight. I was kind of embarrassed about it," Reid said during his 2016 farewell address. "It was kind of a crummy place. I didn't show people pictures of my home."
Reid met his high school sweetheart, Landra Gould, at Basic High School. Two years after graduating, in 1959, the two eloped against the wishes of her parents; her dad, a Jewish immigrant, opposed her being with someone with no religion. Her parents later accepted the marriage and the two converted to Mormonism, though they celebrated major Jewish holidays until her parents died.
In 1961, the Reids had their first child, Lana, with four sons to follow: Rory, Leif, Josh and Key.
Landra wasn't Reid's only lasting relationship born out of his time at Basic High School, though. Reid developed a relationship with one of his teachers, a man by the name of Mike O'Callaghan, who would serve as his boxing coach, mentor, adviser and friend — in addition to the 23rd governor of Nevada.
"I can remember that first day of school. In walks this big man. He had a remarkable comb-over. I can still remember his comb-over," Reid told The Nevada Independent in 2019. "We were too unsophisticated to understand, but he walked with a slight limp. We didn't know why. We figured he looked like such a creep that it wouldn't be long until we took care of him."
O'Callaghan, who lost his left leg below the knee serving in the Korean War and received the Purple Heart and the Bronze Star for valor, challenged one of the bigger kids, who had beaten up a smaller kid, to a fight. Reid recalled O'Callaghan hitting the kid so hard that he crashed to the floor.
"O'Callaghan told me after that that he'd thought he'd killed him," Reid said.
Whenever Reid needed help, O'Callaghan was there: When Reid was heading off to college in Utah, O'Callaghan arranged a scholarship; when Reid was attending law school in Washington, D.C. and needed money, O'Callaghan demanded that then-Rep. Walter Baring, at the time Nevada's only congressman, give Reid a patronage job; and when Reid flew back to Nevada to take the bar exam and was tight on money, O'Callaghan showed up at the airport with a $50 bill.
"He always, always took care of me. Why, I don't know. But he always liked me. And, of course, I loved the man. My admiration for him grew as time went on," Reid said. "He's the only real mentor I've ever had. He's somebody that was honest with me."
Reid graduated from Utah State University in 1961 before attending law school at George Washington University. He worked nights as a Capitol police officer, the job O'Callaghan helped him secure, to pay his bills and support his young family. While working on Capitol Hill, Reid became friends with Jim Bilbray, who was also a law student from Nevada working as a Capitol policeman. Bilbray would eventually replace Reid when he was elected to the Senate.
"He was a great studier," Bilbray told the Las Vegas Sun in 2016. "I never knew anybody who worked as hard as Harry Reid, and that was true when he was in law school just as much as how he is in Congress."
In service to the state
After law school, Reid returned to Henderson where he worked as city attorney helping to revise the city charter and work to extend the city's boundaries by securing federal land.
As a 28-year-old, Reid was elected in 1968 to the Assembly, where he introduced the state's first air pollution legislation and worked on consumer protection laws. There, he developed a longstanding friendship with former Sen. and Gov. Richard Bryan; the pair were called the "gold dust twins" when they served in the Assembly and passed the Nevada Bar Exam together in 1963.
"Never in the history of the State of Nevada on any level of government have there been two elected officials who have worked more closely together," Reid said in a tribute to Bryan in 2000. "We were the only two freshmen in that 60-body legislature. That was the beginning of our love for the legislative process."
In 1970, Reid was elected as Nevada's lieutenant governor — the youngest in the state's history when he took office at age 31 — serving alongside O'Callaghan, who had just been elected the state's governor.
But Reid's political career wasn't all smooth sailing. Four years later, Reid ran for the U.S. Senate for the first time, losing by 624 votes to former Gov. Paul Laxalt. He then ran for Las Vegas mayor the following year, losing by an even wider margin.
O'Callaghan, still governor, gave Reid a boost. In 1977, O'Callaghan appointed Reid as chairman of the Nevada Gaming Commission, where he tried to clean up the gaming industry, much of which was under the influence of organized crime elements.
Reid had a legendary dust-up with organized crime associate Frank "Lefty" Rosenthal in 1979 that was caught on film by a Las Vegas television news outlet. Reid also led the Gaming Commission's vote to place mobster Tony Spilotro into Nevada's List of Excluded Persons, commonly referred to as the "Black Book." The job tested Reid's resilience and grit. In 1981, Landra Reid had a close brush with death when the mob attempted to blow up the family car.
"I can still remember that," he said in 2016. "Fire trucks came. Police cars were there. I can remember my 5-year-old boy looking out the window at all that. I can imagine it had a tremendous impact on him."
Despite the threats — and an investigation into whether Reid was in the pocket of the mob, of which he was cleared — Reid remained at the helm of the Gaming Commission for five years. When he tried to offer his resignation to O'Callaghan, his mentor urged him to stay the course.
"That was hard. That was the hardest thing I did in my life. It was so difficult. I went to O'Callaghan and I said, 'Mike, I can't take this. This is too hard on my family …' He said, 'If you decide to drop this, it'll be the biggest mistake you ever made in your life. You'll regret it for the rest of your life.' So I hung in there," Reid said in a 2019 interview with the Independent.
Congressional tenure
In 1982, Reid took a second shot at Congress, winning a race to represent Nevada's newly created 1st Congressional District. He served two terms before he was elected to the Senate in 1986.
One of Reid's first pieces of legislation in the House was the Taxpayers' Bill of Rights, which established provisions to protect taxpayers from the Internal Revenue Service, passed with the help of Sen. David Pryor (D-AR) and Sen. Chuck Grassley (R-IA).
Reid, with his quiet demeanor and sharp political acumen, accumulated power both at home and within the Democratic caucus in Congress. In 1998, after he was re-elected to his third term in the Senate, Reid was selected by his colleagues to serve as assistant Democratic leader, or whip.
In Congress, Reid developed a reputation among both Democrats and Republicans back at home as a tireless advocate for Nevada, often brokering bipartisan alliances and breaking with his own party to do so. For instance, Reid worked with then-U.S. Sen. Dean Heller (R-NV) to oppose Yucca Mountain becoming a nuclear waste repository and protecting Lake Tahoe.
While Reid said he did not set out in Congress intending to focus on environmental issues, such as water and public lands, both became a key focus for him as the representative of an arid state with nearly 85 percent of its land owned by the federal government.
"I believe that Nevada is a very sensitive state," Reid said last year. "Climate change started affecting us some time ago, and I'm glad that I was vigilant and did what I could to protect it."
Reid used his perch in the Capitol to broker land deals across the state and settle long-running disputes over water. He authored legislation that protected millions of acres of wilderness and at the same time, allowed for growth and development as Las Vegas boomed. Reid described his approach as consensus-building, but he was not afraid to also lay down a marker.
Reid was adamant about forging a settlement on the Truckee River that brought more water to the Pyramid Lake Paiute Tribe, working to start correcting the environmental injustice created by federal diversions that siphoned water away from the lake in the early 20th century.
Reid, who treasured youthful visits to local springs only to find them trashed years later, became a fierce champion of the outdoors. As a congressman, he authored and passed a bill in 1986 that established Nevada's first national park, Great Basin National Park. As part of his efforts to protect and preserve Lake Tahoe, Reid invited President Bill Clinton and Vice President Al Gore to the lake; out of the visit, the annual Lake Tahoe Summit was born, bringing together elected officials across all parties united with the common goal of protecting Lake Tahoe.
His efforts extended far beyond legislation. As one of his last acts, Reid played a key role in convincing President Barack Obama to designate Gold Butte National Monument.
Reid pushed for a federal cleanup of the polluted Anaconda Copper Mine, writing letters and op-eds. Reid, sensing the urgency to act on climate change and Nevada's potential to produce solar, also turned his sights on coal and the state's utility. Reid pushed for the early closure of the Reid Gardner Generating Station, built next to the Moapa Band of Paiutes reservation. He also was responsible for axing a proposal to build four coal-fired power plants outside of Ely, boasting that he personally called financial firms and pressured them to walk away.
"I did things that no one would do," he said in 2019. "I called the head of a hedge fund. I said, 'I don't know how I can get even with you. But you mark my word, I will get even in some way. I don't know how. You back out of that deal to build that plant or you've got me just out there looking at everything you do.' So, I did that with all four of them, and they all backed out."
At times, Reid's positions frustrated environmentalists. His land deals helped enable urban growth, and he actively supported a proposal to ship water from rural Nevada to the state's urban core. In 2003, the Los Angeles Times ran a story documenting how Reid used some of these bills — and other official actions — to benefit special interests throughout the state, some of which were represented by Reid's family members.
Reid also came under fire in 2006 after collecting $1.1 million from a land deal in Las Vegas, though he denied any wrongdoing.
Reid was an advocate for the mining industry, protecting an 1872 mining law that Democrats and environmentalists had pushed to reform for decades. The law places few restrictions and no royalties on mining that occurs on federal public land.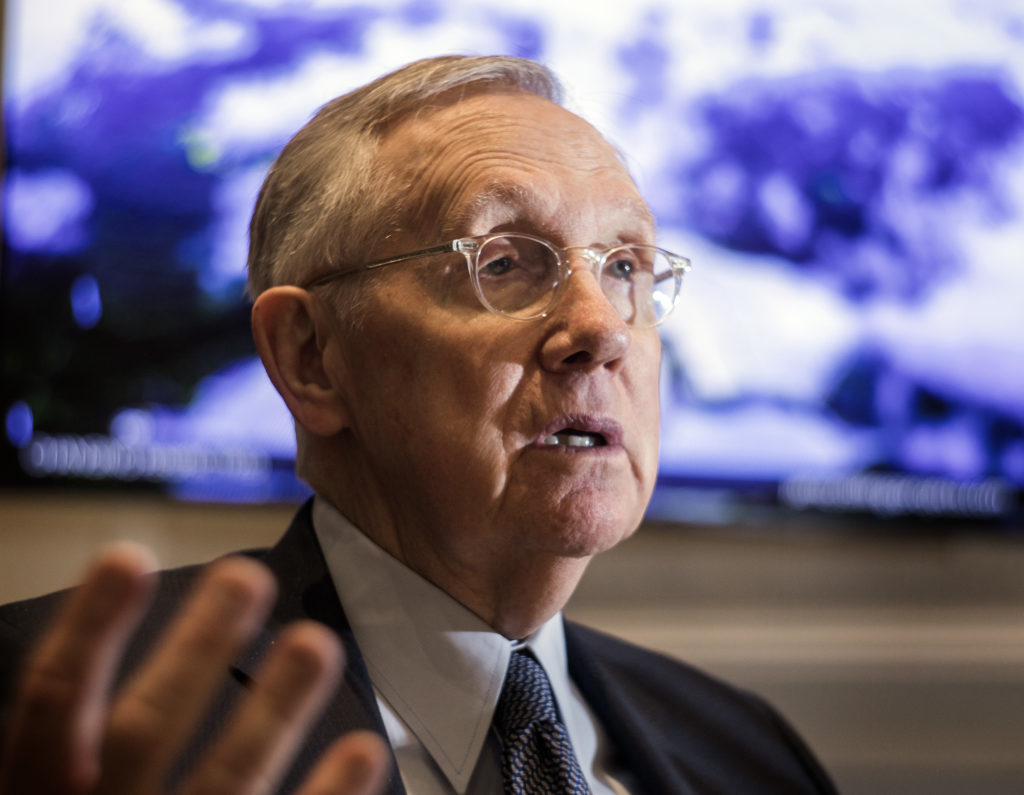 Leading the Senate
As time went on, Reid accumulated power in Washington and rose to serve as Democratic leader in 2005, giving him a key role in crafting historic legislation for more than a decade.
Notably, Reid played a critical role in the passage of the Affordable Care Act, which the late senator once described as his favorite, but hardest, fight in the Senate.
"There were many times I called the president and said, 'Mr. President, I don't have the votes, I can't get this done.' And he would say it had to get done, it's more important than my re-election. So I would go back and try again. But it was so hard to do," Reid said during a 2020 IndyTalks event.
In the end, Reid persuaded U.S. Sen. Ben Nelson (D-NE) — in addition to a number of other reluctant senators — to vote in favor of the legislation with state-specific carve outs, securing the 60 votes needed to pass the historic health care law.
"Legislation is the art of compromise, and sometimes people forget about that," Reid said.
Health care was personal to Reid, who grew up largely without it. When his brother broke his leg riding a bicycle, they never went to a doctor. When his father needed a tooth pulled, he did it himself. In high school, Reid worked long hours at a service station to save up $250 to buy his mom a false set of teeth to replace the ones she slowly lost after being hit in the face with a softball as a young woman.
And at 32, Reid lost his father, who was struggling with depression, to suicide.
"As I learned more about my dad, I know how important health care would have been for him, to be able to see somebody to try to explain more to my dad so he could understand himself a little better," Reid said in his 2016 farewell speech.
As Senate majority leader when the Great Recession hit, Reid worked with a Republican president and played a key role passing legislation to aid homeowners in danger of foreclosure and to stabilize the real estate market. He also helped pass multiple stimulus bills injecting hundreds of billions of dollars into the U.S. economy.
Reid earned a reputation as an advocate for immigrants and Latinos during his 2010 election campaign when he decided to bring the DREAM Act, allowing young immigrants to apply for legal status, up for a vote in the Senate. His opponent, Sharron Angle, ran an ad calling Reid "the best friend an illegal alien ever had." Latinos turned out in droves to support Reid, helping him win re-election with the help of the Culinary Union.
"We proved that election that Hispanics can make a difference. I wouldn't have won that election, but for the significant turnout of Hispanics voting for me, and as a result of that, around the country, people recognize that they should do more to coalesce around the Hispanics and make them part of the process," Reid said in 2020.
He also worked with Sens. Max Baucus (D-MT) and Ron Wyden (D-OR) to fully fund a program known as payment in lieu of taxes, or PILT — federal payments to local governments that help offset losses in property taxes because of nontaxable federal land within their boundaries, key in rural Nevada and other rural portions of the country.
Reid often believed the ends justified the means. For instance, Reid helped save the $9 billion CityCenter project on the Strip when MGM Mirage, now MGM Resorts International, a 50 percent partner in the project, was struggling to secure financing and was teetering on the edge of bankruptcy. Reid directly called banks himself, which some argued represented an abuse of power.
Former MGM CEO Jim Murren said in a 2009 interview that he asked Nevada's congressional delegation — specifically Reid — to call banks and lending institutions in an effort to find the last $1.2 billion of financing needed to keep the project from shutting down.
"Obviously nobody carries the weight that Harry Reid does from a standpoint of being able to gain access to the most senior people that needed to know what was going on," Murren said. "I asked him [to help]. I spent a lot of time with Sen. Reid on the phone during our crisis period."
"No one in their right mind would have done what I did," Reid said in a 2019 interview with the Independent. "No one would have done that. Now, I have a love affair with [MGM Resorts' late founder] Kirk Kerkorian going back a long, long time. So, part of it was because I had such admiration for him. But what I did there, I called presidents of banks, threatened them any way I could. I called the emir of Dubai or whatever the hell it was."
But Reid added that he decided to do so because of a "personal conviction that what I was doing was right."
Reid also developed relationships with many Las Vegas power brokers. He became acquainted with Kerkorian as an attorney representing the businessman's brother in the 1960s and 1970s and continued a close relationship over time with the developer closely associated with the creation of some of the largest properties on the Las Vegas Strip.
In June 2015, following Kerkorian's death at age 98, Reid took to the Senate floor to discuss his friend, calling his relationship with him "one of the special things in my life."
Reid and the late Sheldon Adelson had a mutual respect for one another, despite the role of the Las Vegas Sands Corp. founder as a high-profile benefactor to Republican candidates and conservative causes, such as opposition to internet gaming expansion.
In a 2015 interview after the Adelson family purchased the Las Vegas Review-Journal, Reid described Adelson as a "nice person" and a "friend."
"I've known Sheldon Adelson for a long time. I knew him when he was a Democrat. He and I have a good relationship," he said.
Politicking and dealmaking
Perhaps nowhere was Reid's Machiavellian approach more apparent than when he took to the Senate floor to claim that then-Republican presidential candidate Mitt Romney hadn't paid taxes in 10 years, a claim that was later given a "Pants on Fire" rating by PolitiFact.
"Looking back, could I have handled it differently? Perhaps. But what I did at the time I thought was the right thing to do and as I look back I don't feel any guilt whatsoever," Reid said during a 2020 IndyFest event.
He also orchestrated the appointment of up-and-coming Republican Brian Sandoval to the federal bench in 2004 in an effort to sideline someone who he thought of as a significant political threat. And, in an effort to stave off a possible U.S. Senate challenge from Sandoval in 2016, Reid threw his political weight behind Lucy Flores for lieutenant governor in 2014 as a political blocker, preventing Sandoval from leaving at the midterm
Reid's political gamesmanship made him a skilled dealmaker, famously giving up a chairmanship to get Republican Sen. Jim Jeffords to switch parties and give Democrats full control of the Senate. But it also made him polarizing.
For instance, Reid and Senate Democrats eliminated the 60-vote requirement for most presidential appointees. While the move was condemned by Republican Senate Leader Mitch McConnell at the time, it set the stage for Senate Republicans to go a step further in 2017, lowering the vote threshold for Supreme Court nominees, too.
"We made it so that Obama's presidency became a success. He will go down in history as one of the great presidents. Why? Because we passed Obamacare, the Affordable Care Act. We passed the most significant change in Wall Street in the history of the country with the Dodd-Frank legislation. We did lands bills, we did all kinds of things, which wouldn't have happened," Reid said during a 2020 IndyFest event.
In recent years, Reid advocated that Democrats eliminate the filibuster, which has effectively stymied the passage of legislation with fewer than 60 votes.
"The filibuster, it's not a question of if it's going to be gone, it's only when it's going to be gone. The filibuster has outlived its usefulness," Reid said during the 2020 event. "You can't have a democratic body that allows 60 percent of the vote to have a majority. The sooner we get that done, the better off we're going to be, and it's going to happen. It's not a question."
Reid is also responsible for cementing Nevada's role on the national stage, pushing for Nevada to become an early caucus state in 2008 in an attempt to boost voter registration numbers ahead of his own close re-election campaign in 2010. But Reid, in a 2019 interview, acknowledged he didn't initially want the state to have early-caucus status.
"I was against it to begin with," he said.
His feelings changed with time, though. After a turbulent 2020 Democratic presidential caucus, Reid called not only for Nevada to switch to a primary but for it to hold the first presidential primary in the nation.
"I'm glad to have fought to make Nevada the first Western state in the Democratic nominating process since 2008, and we have proven more than worthy of holding that prominent early state position," Reid said.
In March 2015, Reid announced he would retire at the end of his term after breaking a number of ribs and bones in his face and suffering eye damage in an exercising accident earlier that year. He handpicked his replacement, Nevada Attorney General Catherine Cortez Masto, who defeated then-Rep. Joe Heck (R-NV) by 2.4 percentage points in the 2016 election.
Following his retirement, Reid became co-chair of the MGM Resorts Public Policy Institute at UNLV, created to promote bipartisan solutions addressing workforce issues. Former Republican House Speaker John Boehner — who once told Reid, "Go fuck yourself," during fiscal negotiations — was Reid's co-chair.
Reid's presence loomed over Nevada politics even after the official end of his political service. He left behind a robust field machine responsible for electing Democrats up and down the ballot for more than a decade, securing Democratic control of the governor's mansion for the first time in 20 years, as well as both chambers of the Legislature, in 2018.
Nevada, however, is far from being a lock for Democrats. Cortez Masto is expected to face a tough election fight against former Attorney General Adam Laxalt.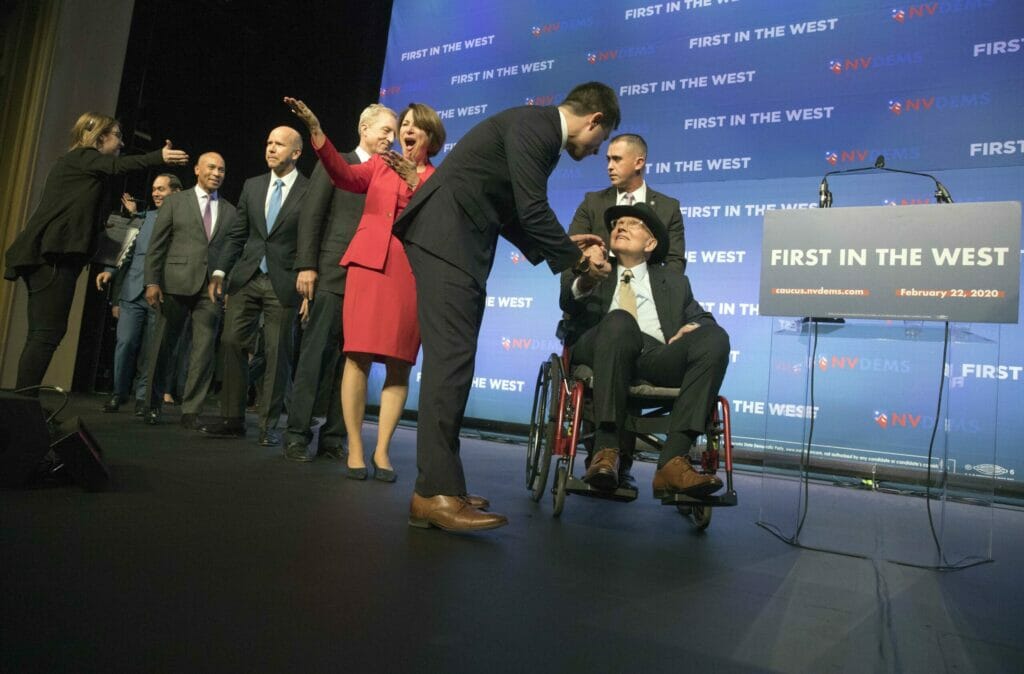 A lasting legacy
One of the traits Reid prized, perhaps above all else, was loyalty. It's a value he learned from O'Callaghan.
"He said, 'Everything is secondary to loyalty. It doesn't matter how smart somebody is, what a good résumé they have, what kind of education they have, their experience. The only thing that matters when you have someone working for you is loyalty.' And I've tried to do that," Reid said in 2016.
Reid used his dominant position in national politics, over several years, to make appointments, offer recommendations and help jumpstart careers. Today, former Reid staffers and allies can be found scattered across Washington, D.C. and the states. And in Nevada, the political operation Reid built lives on in the form of Nevada Democratic Victory, a coordinated campaign run out of the Washoe County Democratic Party headquarters.
"I decided many years ago that my friends were spending all their money on TV, that I wasn't going to do that. I was going to build a state Democratic Party, and I did that. We did it not by having a bunch of volunteers having marches and singing Kumbaya," Reid said in the 2020 IndyFest interview. "We put money into a state party, and we developed in the state of Nevada, a 12-month state party. They were as active the day after Christmas as they were the fourth of July."
Earlier this year, the Clark County Commission approved renaming McCarran International Airport — named for the influential yet controversial U.S. Sen. Pat McCarran, who left behind him a legacy of racism, anti-Semitism and xenophobia — to Harry Reid International Airport. The new name was formally dedicated on Dec. 14. During his time in Congress, Reid helped support the airport, including by allocating more than $1 billion for a new airport terminal in the stimulus bill.
Reid's family remained his top priority throughout his life. In recent years, his wife, Landra, continued to accompany him to many public events, with the two often spotted holding hands.
"She's never changed. She's 74 years old. She could win a beauty contest today. She is the nicest person. She has been a wonderful mother, a terrific wife to me," Reid said in a CNN interview in 2015. "I wish there was a way I could express to everyone how fortunate I am."
Update at 12:05 p.m. on 12/29/2021: This piece has been corrected to reflect that Sen. David Pryor is from Arkansas (D-AR), not Alaska (D-AK).
Howard Stutz and Daniel Rothberg contributed to this report.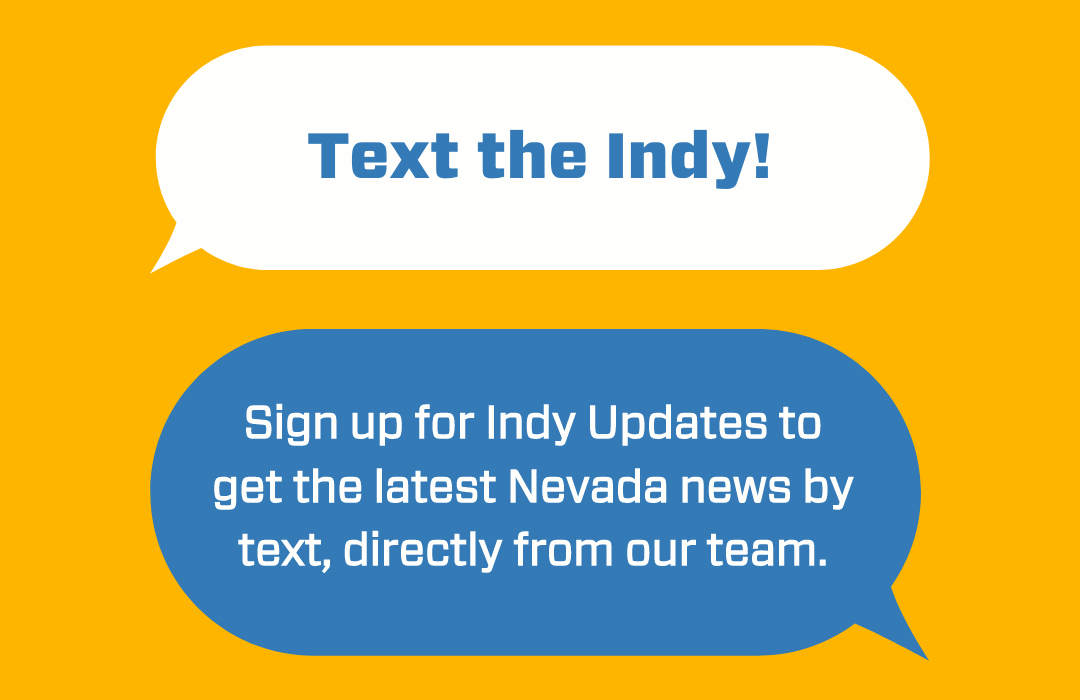 Featured Videos