In lieu of debate, Republican governor candidates tackle taxes, Me Too and gun control in televised interviews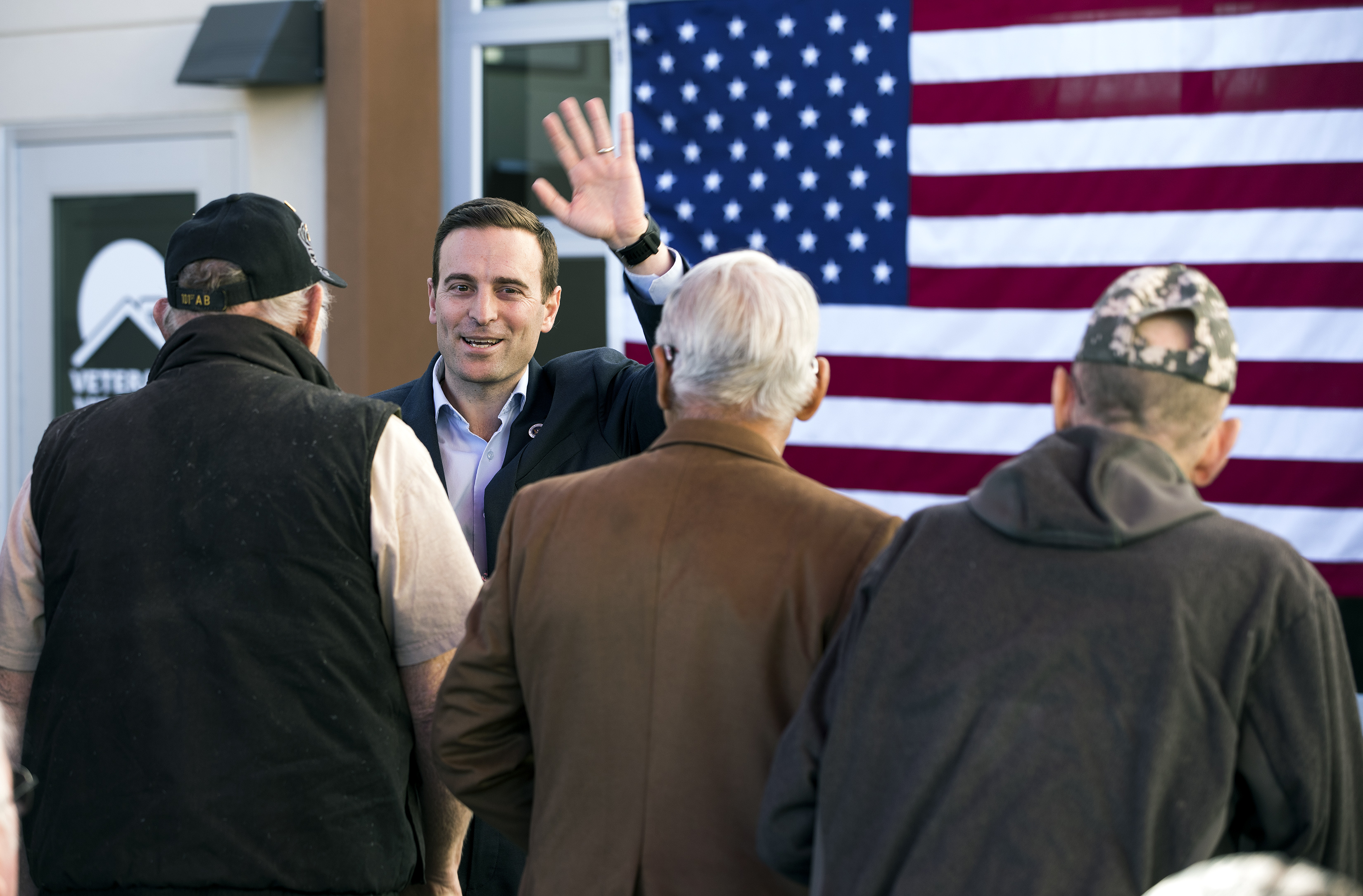 Four Republicans who hope to take the reins as Nevada's next governor fielded questions on everything from repealing taxes to fighting sexual harassment in televised interviews aired Tuesday on Las Vegas CBS affiliate KLAS-TV.
The interview format was a last-minute adjustment of what was supposed to be a three-person televised debate akin to what the Democratic gubernatorial frontrunners — Clark County Commissioners Steve Sisolak and Chris Giunchigliani — did last week. The station announced the change after the controversial late addition of little-known candidate Frederick Conquest, and after it said it mistakenly informed Treasurer Dan Schwartz early this month that he had met all participation requirements.
The campaigns of Schwartz and bike shop owner Jared Fisher raised the specter that well-funded frontrunner Adam Laxalt, who has not taken up other invitations to debate, was somehow behind the transition to a less-confrontational format.
The candidates tackled a host of questions about their plans to address background checks on gun sales, possible revamps to a state economic development office and if they would support repealing the Commerce Tax — a levy on businesses that make more than $4 million a year and that was championed by Gov. Brian Sandoval during the 2015 legislative session.
Below are responses the candidates had to questions posed to all contenders and to a set of candidate-specific queries.
(The Nevada Independent has opted not to include the responses of Conquest, a perennial candidate who has not met our publication's standards of candidate viability and has not reported any campaign expenses for the statewide office.)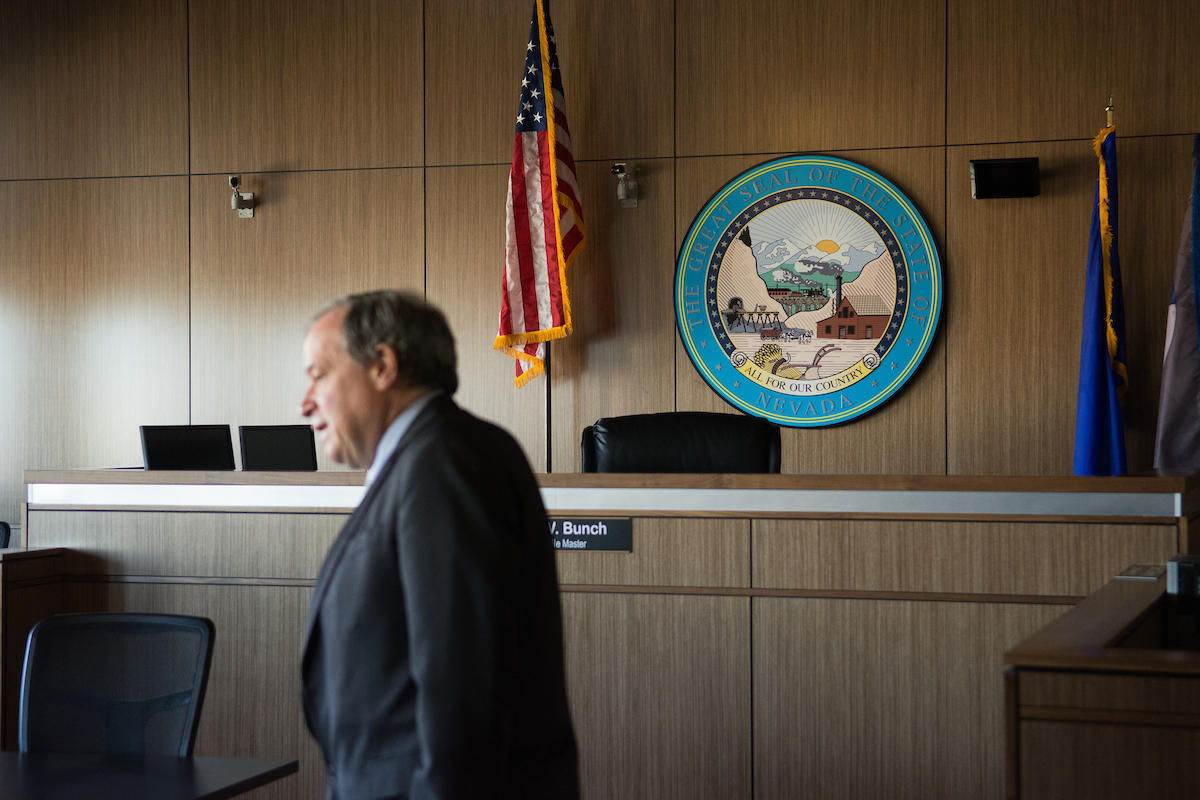 Gun background checks
Nevada narrowly voted in 2016 to expand background checks to private gun sales and transfers, in addition to those already happening for sales through licensed firearm dealers. Laxalt, who is endorsed by the National Rifle Association and who publicly opposed the measure, has come under fire after his office issued an opinion declaring the initiative could not be implemented.
"I support background checks and I think we've got a very strong background check regime in the state of Nevada today," Laxalt said, adding that "we led the charge of banning bump stocks, and I absolutely support making sure we're doing everything we can to get guns out of the hands of people who should not have them."
He also noted that he convened a half-day summit of law enforcement officials and other stakeholders on school safety after a mass shooting in Parkland, Florida, although it's Sandoval whose school safety task force is doing the work long-term to develop anti-violence policy recommendations. 
"I think the biggest concern is for people that get their hands on guns illegally, and putting more restrictions on law-abiding citizens that follow the rules and are simply expressing their 2nd Amendment rights — that's [not] something that's going to make us safer. Most law enforcement agrees with that."
He said he wants to see if there are gaps in the existing background check system, and said the state needs to improve its mental health services, including implementing mobile crisis response teams in law enforcement agencies that can address mental health episodes.
Schwartz said that probably 99 percent of Nevadans know how to handle a gun.
"I'm not going to touch guns," he said. "But what I am concerned about, as you said, is the mentally ill, criminals who get their hands on assault rifles. And what I'd be in favor of and I've actually talked to the NRA on this, is some sort of ban or certainly registration requirements for criminals or the mentally ill. They should not have guns, our kids should not be mowed down in classrooms."
Fisher said he generally opposed the concept of background checks despite not owning any guns, and said the government should simply enforce existing laws and look to addressing other causes of gun violence.
"People collect guns because they're collectors. They collect them for their own safety. They collect them because they love to go hunt," he said. "And these are reasons that people do collect guns, so I don't believe that we should implement new legislation to restrict these people with their 2nd Amendment right, and I think we already have enough laws in place."
A state agency you'd like to eliminate
Candidates were asked if there's a state agency they'd like to eliminate immediately upon assuming office.
"No that's not on my radar," Laxalt said, pointing out that his office has streamlined operations and returned nearly $30 million back to the state. "There's always ways to be more efficient and I'm proud that we were actually able to do more with less. So certainly we will look to implement a similar concept. Can you perform this mission more efficiently and in a more streamlined manner?"
Schwartz suggested he might overhaul the Governor's Office of Economic Development.
"Its intent is great, it certainly has tried to do the right thing, but all it has done is hand out tax abatements to industries that don't need them, and in the process, has really undermined the tax base, the revenue base of this state," he said. "We can't build schools, we can't build roads if we don't have the funds to do it."
Schwartz also had a more global criticism of the state.
"This state has just been financially and economically mismanaged. And sadly, I know the governor is very popular, he's been one of the sponsors for the entire situation," he continued. "Why is it that we had an education tax increase and we're 50 out of 50?"
Fisher said he would first implement a statewide executive efficiency program (dubbed SWEEP) that he claimed could cut significant chunks of the state budget by eliminating wasteful spending. Pressed further, he said he would look to school administration and the state attorney general's office.
"As I look over to the attorney general's office, I don't understand what all of those people are doing over there, honestly," he said. "To be honest with you, it's most departments that I've seen, through the past year of campaigning, I'm baffled in some sense that we waste so much of the taxpayer's money."
Economic development programs
The governor hopefuls were asked what they might change about termed-out Sandoval's efforts to give major tax incentives to large companies seeking to locate in Nevada.
"This is the governor's approach to try to diversify our economy, to try to jumpstart it. I'm not going to second-guess whether a lot of those decisions were correct or not correct," Laxalt said. "I think we're at a point in time in the economic development world where we should start focusing a little less on large taxpayer incentives to bring companies in."
He said the state could be the most economically competitive in the American West if it keeps taxes and regulations low.
"We're seeing what's happening in California that businesses are frankly fed up," he said. "I'll be more focused on creating an environment where we'll attract businesses without necessarily having to do those large incentive packages."
Schwartz said the state itself is its own selling point.
"We have no corporate income tax, no state income tax, no personal income tax … for the price of a garage in Los Angeles you can buy a house in Nevada. Our regulatory agencies respond in days and weeks, not years," he said. "This is a great place to do business. Why did we take away the state sales tax for Apple computer? They just announced a $100 billion buyback. It makes no sense."
Fisher generally defended the idea of economic incentives to attract new businesses to Nevada.
"If you don't put money out, you're not going to attract business in," he said. "We as a state, we cannot expect people just to move to Nevada to open up businesses. Most of the time it comes down to the dollar. I mean, some CEOs will move to different states based on they want to live there, or whatnot, but at the end of the day it comes down to the number. You've got to create some kind of an incentive."
Still, he panned the special tax legislation passed for troubled electric car manufacturer Faraday Future as "bad negotiating," and said he would use his business experience to avoid bad deals for the state.
"We don't have to sell the whole farm to bring companies here, we need a good negotiator," he said.
Me Too movement
Candidates were asked what they'd do in response to the Me Too movement against sexual harassment.
"What we've seen across the country is it's simply irreprehensible. It's hopefully something that future generations are simply not putting up with," Laxalt said. "It just has to be a priority and will be a priority if I'm the governor of this state."
Laxalt said in his office, there are policies to ensure women feel safe reporting harassment, whether it be to a male or female manager.
But the attorney general has been criticized for keeping the endorsement of Storey County Sheriff Gerald Antinoro on his website even after Antinoro faces an ongoing civil suit related to sexual harassment and wrongful termination from his former top deputy. Asked by a prominent Northern Nevada developer to look into the claims against the sheriff, Laxalt's office wrote in an April 10 letter that they had forwarded the complaint to the appropriate "investigative unit" and didn't confirm whether or not his office was investigating the allegations.
He was asked why he didn't renounce the support.
"I hope the voters understand that while there's this kind of political theatrics going on and people demand an immediate rejection or endorsement — this case was referred to my office just a few weeks ago," he said. "I have career prosecutors and investigators working on it and I've said this before — it's not covered of course because they want to use this as a political battering ram — I'm not going to do or say anything until that investigation is complete.
"I think if I were to come out and unendorse or endorse at this stage of the game it would predict or pre-judge the investigation," he said.
A moderator pointed out that a local investigation had already concluded Antinoro had pressured an employee for sexual favors.
"I don't want to say anything about this until my office has included the investigation," Laxalt said. "It will conclude its investigation and we'll move forward or not move forward and at that point in time I can address this political side ... but I believe it's proper to wait until our office has completed its review."
Schwartz said he wouldn't put up with discrimination and opposed the concept of non-disclosure agreements, which have prevented some people from going public with their accusations.
"I have zero point zero zero percent tolerance for any discrimination whether it's by sex, nationality, race, whatever," Schwartz said. "There shouldn't be non-disclosure agreements ... I think they're unconstitutional."
Fisher suggested that as governor, he would have his office force the attorney general's office to "do their jobs more" in combating sexual harassment, and said he would take his own moral values into office.
"I don't stand up for people who lie, people who steal or people who cheat. Those are three things that I always ask people when I interview them," he said. "I don't stand for those things, and I won't stand for those things in Carson City."
Raiders stadium
Laxalt said he was resigned to the fact that the Raiders stadium would move forward, even though the funding mechanism was controversial.
"It's being built. It's coming, Clark County issued the bonds, so you know the state's on the hook and obviously we're going forward that's not something that I plan on undoing," he said. "But if you're asking whether I would support a professional stadium with taxpayer funding as governor of Nevada, that's not something I would look to do."
Schwartz has been highly critical of the project.
"We'll see in a year from now, but it's my belief that the Raiders and the stadium authority do not have the money to finish this stadium," he said. "It is a stadium that is afloat on a sea of debt with no apparent way to pay it back except for the public portion which has already been paid for."
Fisher was not asked about the stadium project.
Backfilling a Commerce Tax repeal
Laxalt and Schwartz have both opposed the Commerce Tax, a levy on businesses that make more than $4 million in Nevada revenue each year. They were asked how they would backfill the hundreds of millions of dollars the tax is bringing in each biennium.
"I'm very confident that we can replace that funding if necessary," Laxalt said. "Let's not forget how small a percentage that is of our revenue. It's 2.3 percent of the general fund spending, less than 1 percent of our overall spending. What we saw in 2017 — we saw a lot of increased revenues to the state. There is no reason to think with what's going on in Las Vegas and frankly all across Nevada that that is going to slow down."
Aside from the bullish economy, he also argued that marijuana taxes are yielding more than projected and that he can find efficiencies in state government.
"The bottom line is I do pledge to keep the education funding where it is," Laxalt said. "If we have more surplus, education is a big priority and I will look to try and find ways to increase our education spending."
Schwartz also dislikes the tax, but didn't rule out adjusting other rates.
"I will get rid of the Commerce Tax if elected. I will get the $750 million back from the stadium. I want to put an end to this abatement for everyone policy that we seem to be following," he said. "I'm not saying I'm going to raise taxes, but we tax our gaming industry at the lowest rate in this country and in the world - 6.75 percent. ...We need to look at that."
Pardon for Fred Steese
Laxalt alone was asked about why he was the lone vote on the Nevada Board of Pardons Commissioners in favor of a pardon for Fred Steese. After spending decades in prison for a murder, a judge issued a rare order of actual innocence for him.
When Steese's pardon came up for consideration, Laxalt initially asked if he could abstain from the vote. Told he couldn't unless he had a conflict of interest, he eventually voted no.
Laxalt defended the decision, saying his criteria for such determinations is the opinion of local district attorneys: "These are the career prosecutors who have been living and breathing cases like Fred Steese for 20 years."
He said Steese had been convicted of murder and had been in and out of prison during his life. 
"For me this simply wasn't a tough call," Laxalt said.
He added that there's a misconception that the system is unfairly prosecuting a lot of people.
"My threshold will be pretty high," he said about pardons decisions. If elected governor, his vote will be the deciding one on whether the pardon is granted. "I'm always going to err on the side of public safety."
How do you build a high-speed train?
Schwartz was asked about the details of his plan to build a high-speed railway linking Las Vegas and Reno.
"I think it's a great idea because it will open up Nevada for development in all the areas that haven't had development," he said.
Of the $25 billion price tag, $5 billion would come from the federal government and $20 billion would come from private investors.
"I've lived overseas in Hong Kong, I've lived overseas in Paris. They've built the trains, people have come," he said. "We don't have the density here but we get from 45 to 50 million visitors a year. Properly promoted, they're all going to be riding the train, in addition to the people from California who are going to be building their factories here and who are going to be taking advantage of it."
Red Rock development
Fisher and his wife, Heather, are vocal opponents of an effort by prominent Las Vegas developer Jim Rhodes to build several thousand homes on the site of a gypsum mine near the Red Rock National Conservation Area. A controversial vote in February 2017 drew hundreds to a meeting of the Clark County Commission over a proposed zoning density rule, and thrust the issue of development near the conservation area into statewide politics.
Fisher said he didn't have a problem with developing the site as long as Rhodes is following the one home per two acres zoning rule for other areas near the park, but said any heavier density of homes would threaten the site's status as an "economic powerhouse."
"There's some things that need to be protected, and that's one of them," he said. "Jim Rhodes has every right to use his land as he purchased it. But he does not have the right to go in and change it just for himself."
Disclosure: Steve Sisolak

 and 

Chris Giunchigliani

 have donated to The Nevada Independent. You can see a full list of donors here.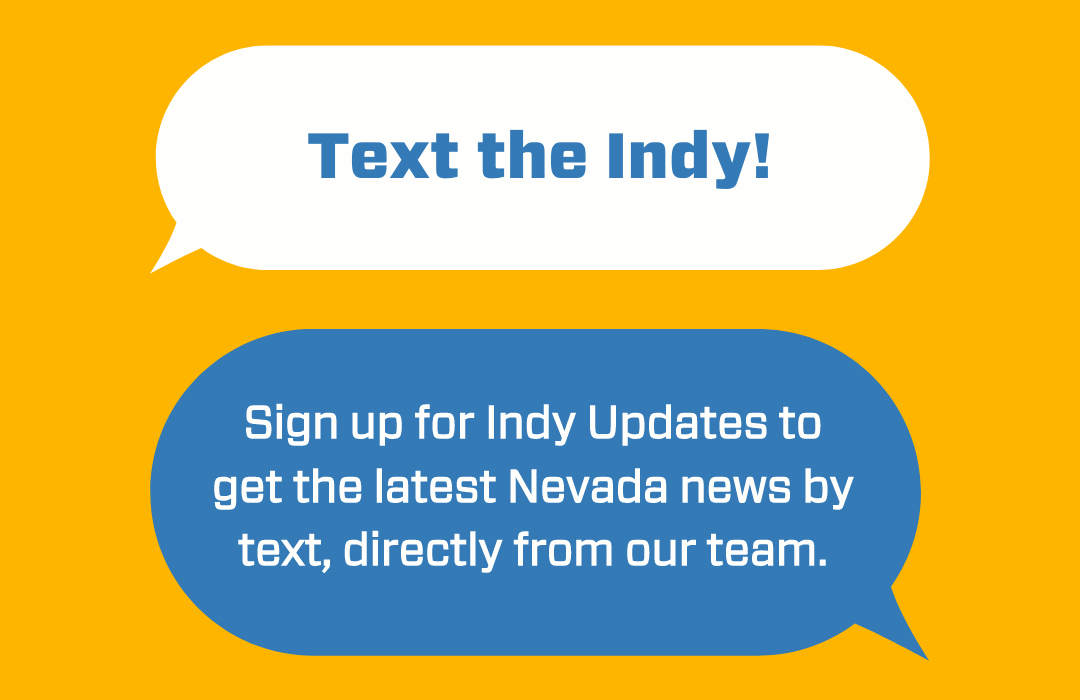 Featured Videos