In push to highlight education policies, can Lombardo follow Youngkin's path?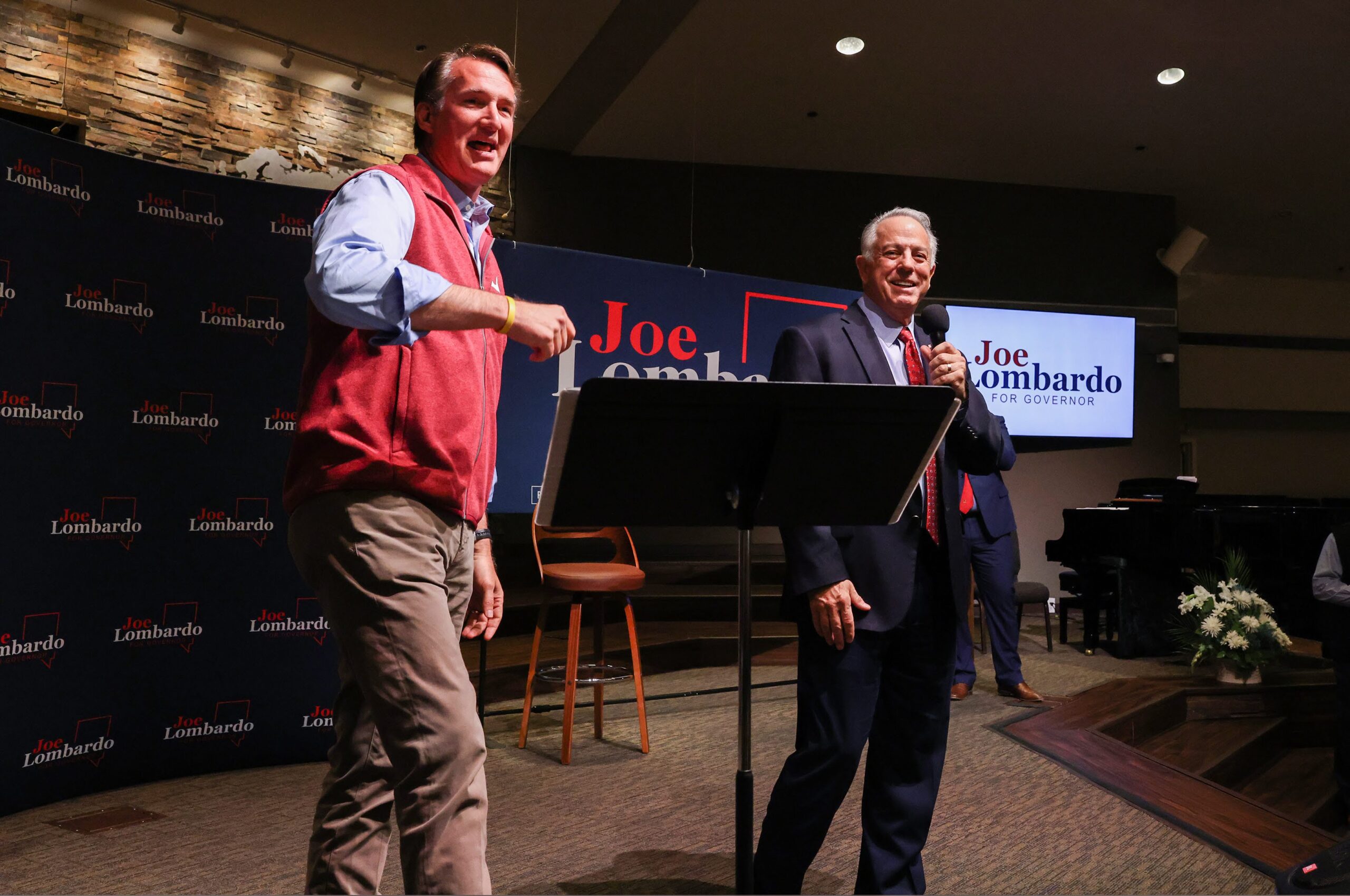 Clark County Sheriff Joe Lombardo is amping up his gubernatorial campaign's messaging on education, leaning into the playbook of Republican Virginia Gov. Glenn Youngkin in his effort to become "the education governor."
During a campaign event last week alongside Youngkin, Lombardo spoke about making education a priority, highlighting his recently-released education plan and tying the success of education in Nevada to economic diversification and public safety.
"It's real simple, right? You make it a priority," Lombardo told the crowd of more than 200 people at Liberty Baptist Church in Las Vegas. "Anything you make a priority, you can address the problem. That's crisis management. Make it a priority, figure out ways to address it, and then assess it."
He also highlighted low rankings for Nevada's education system, citing a review that placed the state 50th out of 51 for education in a ranking that included all states and Washington D.C.
"We haven't had it as a priority in our state, and now we're starting to feel the suffering," he said.
In a closely watched governor's race last year, Youngkin focused heavily on education, addressing parents' frustrations with school closures driven by the COVID-19 pandemic and harshly criticizing race-related changes to school curriculum. He flipped Virginia red, only a year after President Joe Biden defeated former President Donald Trump by more than 10 points in the state.
Youngkin also highlighted similarities between Nevada and Virginia under Democratic leadership during the pandemic. He pointed to lockdowns, business closures, schooling conducted over screens, repeating a question after each point: "Does that sound familiar, Nevada?"
Throughout much of the off-year cycle, Youngkin stood near even or slightly behind his Democratic opponent in polling. But just as Youngkin won over an electorate that had trended blue in recent cycles — last year, he became the first Republican to win a statewide election in Virginia since 2009 — Lombardo also directed his message at a broader audience.
"He's got the title of the education governor," Lombardo said of Youngkin. "But I'm going to take it away from him."
Though the national political climate and sky-high inflation rates have pushed the economy to the top of voters' minds this year, education remains a key concern in Nevada. Fourteen percent of Nevada voters identified education as their top issue, second only to the economy at 44 percent, in a July poll from The Nevada Independent and OH Predictive Insights.
At a second event with Youngkin in Reno, Lombardo told reporters that he would fight against a national abortion ban if Congress were to pass one, the Associated Press reported, despite his previous promise to be a "pro-life governor." His comment came after Sen. Lindsey Graham (R-SC) proposed a near-total abortion ban after 15 weeks, one that if passed, would supersede Nevada's laws protecting abortion access up to 24 weeks. Lombardo previously expressed support for a theoretical ballot initiative proposing a 13-week abortion ban with exceptions for physical health, rape and incest.
Lombardo defended his choice of venue during the morning event at Liberty Baptist Church, whose founder has harshly denounced homosexuality, calling the church leaders his friends. He also pointed to a proclamation from Democratic Gov. Steve Sisolak celebrating the church's anniversary in 2019.
Still, Lombardo was primarily focused on education last week, including expanding on some ideas included in his priority list for education released earlier this month.
He brought up an idea to break up the Clark County School District, the fifth largest in the country by enrollment. Though he did not commit to supporting a district breakup, he called for a "comprehensive effort" to evaluate such an effort and "determine whether competition is better than that whole hierarchical … this way we've always done it."
Lombardo also wants to change the mindset of "attendance vs. performance" in schools, taking issue with giving students grades for just showing up, and specifically pointing to his support for the state's Read by Grade 3 program, which he said was "scuttled" by Sisolak.
Though the program and funding for early literacy interventions remains in place, a bill approved by Sisolak in 2019 removed a requirement to hold students back if they failed to read at grade level by third grade.
Like Youngkin's rally against race-driven education in schools, Lombardo's plan for education also calls for a ban on "social-reform curriculum." Though Lombardo's campaign did not initially identify specific examples of such curriculum being taught currently in Nevada schools, it later provided The Nevada Independent with reported examples of sexually explicit materials discovered at schools in Clark County.
His campaign also highlighted "equity and diversity resources" for teachers in Washoe County School District that "promote specific political and ideological agendas," including "teaching tolerance" resources available through Learning for Justice, which seeks to be "a catalyst for racial justice in the South and beyond."
Editor's Note: A version of this story appears in Indy 2022, The Nevada Independent's newsletter dedicated to comprehensive coverage of the 2022 election. Sign up for the newsletter here.
The Nevada Independent is raising $200,000 by Dec. 31 to support coverage of the 2024 election.
Tax-deductible donations from readers like you fund this critical work.
If you give today,your donation will be matched dollar-for-dollar.
Give + Get Matched
Featured Videos