Indy Gaming: MSG Sphere president exits following corporate restructuring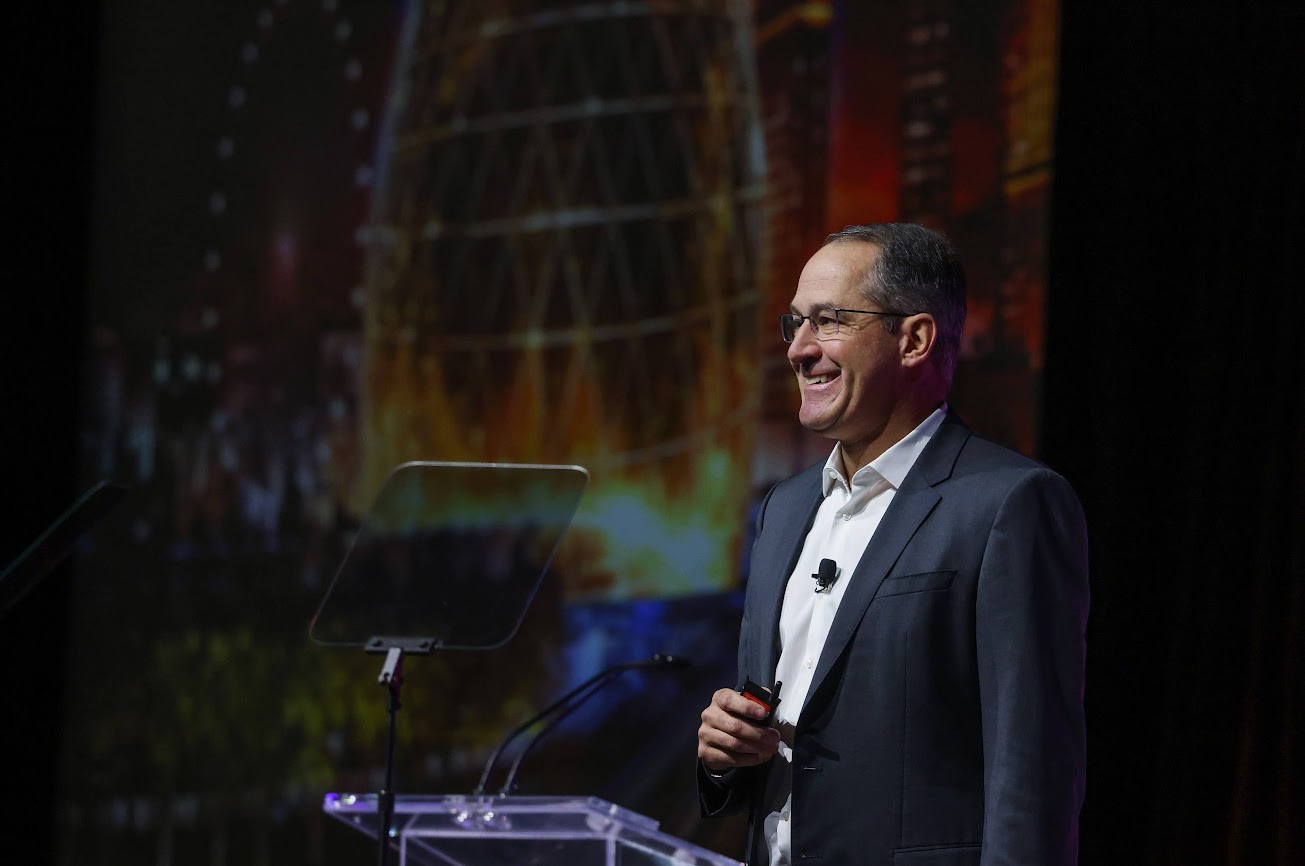 Good morning, and welcome to the Indy Gaming newsletter, a weekly look at gaming matters nationally and internationally and how the events tie back to Nevada.
If a colleague or associate emailed this newsletter to you, please click here to sign up and receive your own copy of Indy Gaming in your inbox. - Howard Stutz
---
Less than a week after the announcement that legendary rock band U2 would launch the nearly $2.2 billion MSG Sphere at The Venetian, developer and operator Madison Square Garden (MSG) Entertainment switched out the leadership of the high-tech entertainment venue.
The change coincides with a proposed spin-off that would create two distinct companies for shareholders; MSG Entertainment, a pure-play live entertainment company, and MSG Sphere Corp., which would be comprised of the company's MSG Sphere, MSG Networks and Tao Group Hospitality businesses.
The process is expected to be completed by the end of March.
James Dolan, chairman and CEO of Madison Square Garden Entertainment, will also become chairman and CEO of MSG Sphere Corp. Dolan will oversee the final months of the Sphere's development. The project has been under construction for almost four years and is expected to open in September.
Separately, MSG Sphere President Lucas Watson left the project last week.
The leadership change was first reported by The New York Post on Feb. 14 and confirmed to The Nevada Independent by MSG Entertainment.
"As MSG Entertainment gets closer to the opening of MSG Sphere in Las Vegas, we will be simplifying and streamlining our commercial structure for the venue, while leveraging existing expertise across the MSG family of companies. With these changes, Lucas Watson has decided to exit the organization, and we wish him well in his future endeavors," according to a company statement.
Watson spoke about the Sphere's planned audience experience during a presentation in January as part of Preview Las Vegas 2023, an event focused on economic development and sponsored by the Vegas Chamber of Commerce.
"Whether it's the launch of the rocket ship, or the punch in the boxing club, you'll literally feel like you're in the spacecraft or in the ring," Watson said. "And in addition to sight, sound, and vibrating seats, Sphere is designed to touch and inspire all of your senses. (The) Sphere can deliver winds to the audience that will blow their hair back."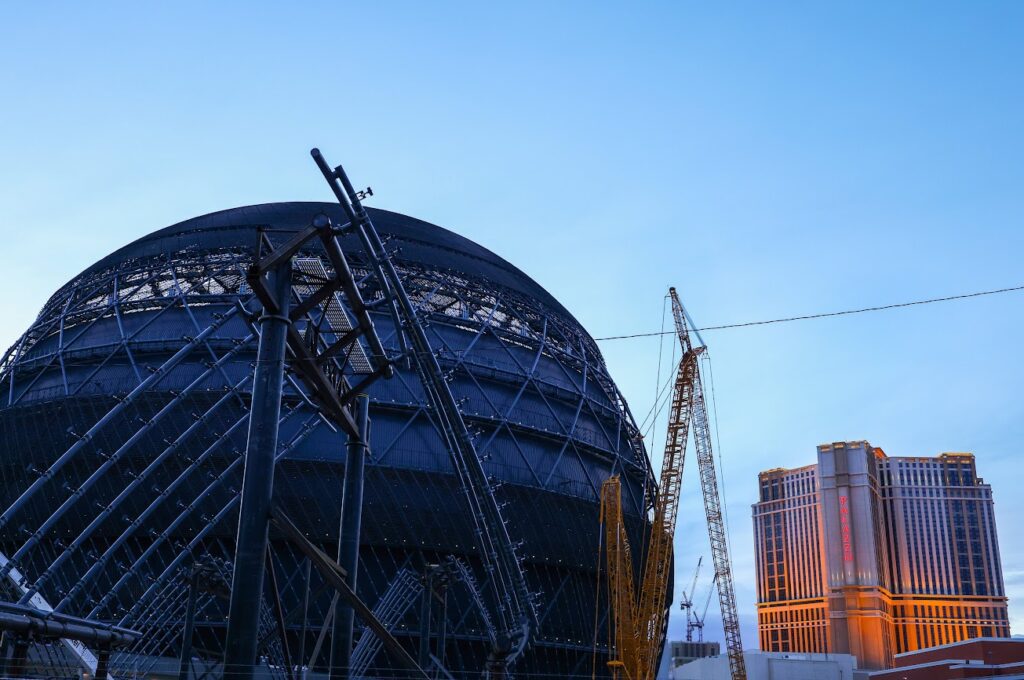 Watson was complimentary of Dolan, who is credited with creating the concept of the Sphere.
"This is his vision from 2016 and he had the courage to bring it to life through the adversity of COVID," Watson said. "From the start, Jim has been passionate in saying the Sphere should inspire and educate people about the power of science, technology, engineering and math."
The Sphere includes a 580,000-square-foot exosphere with an outdoor programmable LED screen that will be installed by the end of the month. Inside the planned 17,500-seat venue, a 160,000-square-foot interior LED display will wrap around the audience for what MSG executives have termed an "immersive visual environment."
The venue is expected to include live entertainment and unique programming created at the Sphere's studios in Burbank, California.
During this month's quarterly earnings conference call, executives said the Sphere's construction cost estimate, which has risen several times since construction began, remained at $2.175 billion.
When the company's spin-off is completed, MSG Sphere Corp., which would include Tao Group Hospitality and MSG Network, will retain a 33 percent ownership in MSG Entertainment.
MSG Entertainment Corp. will include theaters in Chicago, Madison Square Garden – the iconic New York City arena – as well as Radio City Music Hall, the Radio City Rockettes and the troupe's associated touring business. MSG Entertainment will retain the company's sports booking businesses, which include the NBA's New York Knicks and NHL's New York Rangers. The teams are owned by the MSG Sports subsidiary.
In an investor presentation, MSG said the separation of the businesses "creates more focused investment profiles as well as enhanced strategic and financial flexibility for both companies."
---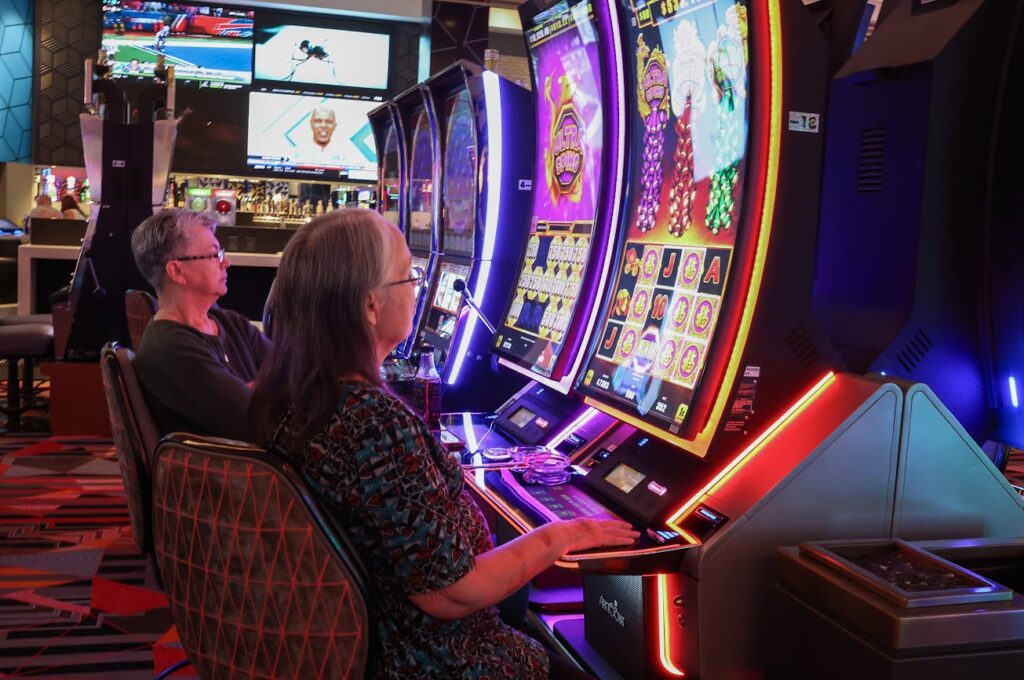 Online gaming revenue up 35 percent in 2022, but expansion still a question
Revenue from legal online casino gaming in six states grew 35 percent to $5 billion in 2022, but that figure might not be enough to encourage other states to approve the activity.
The American Gaming Association (AGA) said last week that commercial casino revenue topped $60.4 billion in 2022, smashing the previous year's record-setting total by almost 14 percent.
Research analysts from the Washington, D.C. trade organization broke out commercial casino industry revenue into four categories – slot machines, table games, sports betting and iGaming. The largest increases came from the latter two.
Sports betting, which saw a nearly 73 percent increase to $7.5 billion in revenue, is legal in 33 states and Washington, D.C. and doesn't show any signs of slowing.
Online casino gaming didn't expand to more states last year. Still, the 2022 revenue increase was notable because all six states have commercial and/or tribal casinos.
"I think iGaming represents an important opportunity but is it really helping to grow the pie?" AGA CEO Bill Miller said on a conference call last week. "I think that has been the biggest question for a number of the traditional brick-and-mortar operators."
During the gaming industry's months-long shutdown of casinos in 2020 due to the pandemic, iGaming "became a lifeline," Miller said. In 2022, four of those online casino states – Michigan, Pennsylvania, New Jersey and West Virginia – saw double-digit overall gaming revenue growth.
So why is online casino expansion moving at a slower pace than the rapid growth experienced by sports betting over the past five years?
Miller said traditional casino operators had been hesitant to support legalized online gaming because of concerns it would take away revenue from their brick-and-mortar businesses.
That is one reason Nevada remains hesitant to expand online gaming beyond poker, which was approved in 2013. There is just one active site operated by Caesars Entertainment and based on its World Series of Poker tournament. Smaller casino operators led by Station Casinos banded together in 2021 to oppose any online expansion unless it was first considered by the governor's Gaming Policy Committee and approved by state lawmakers.
MGM Resorts International CEO Bill Hornbuckle took an opposing stance, saying Nevada's gaming industry is "missing a significant opportunity for growth" amid reluctance to legalize online casino gaming. But he noted, "there's a whole contingent of folks who own a lot of brick and mortar (casinos) in this state" that does not favor legalizing internet casino gaming.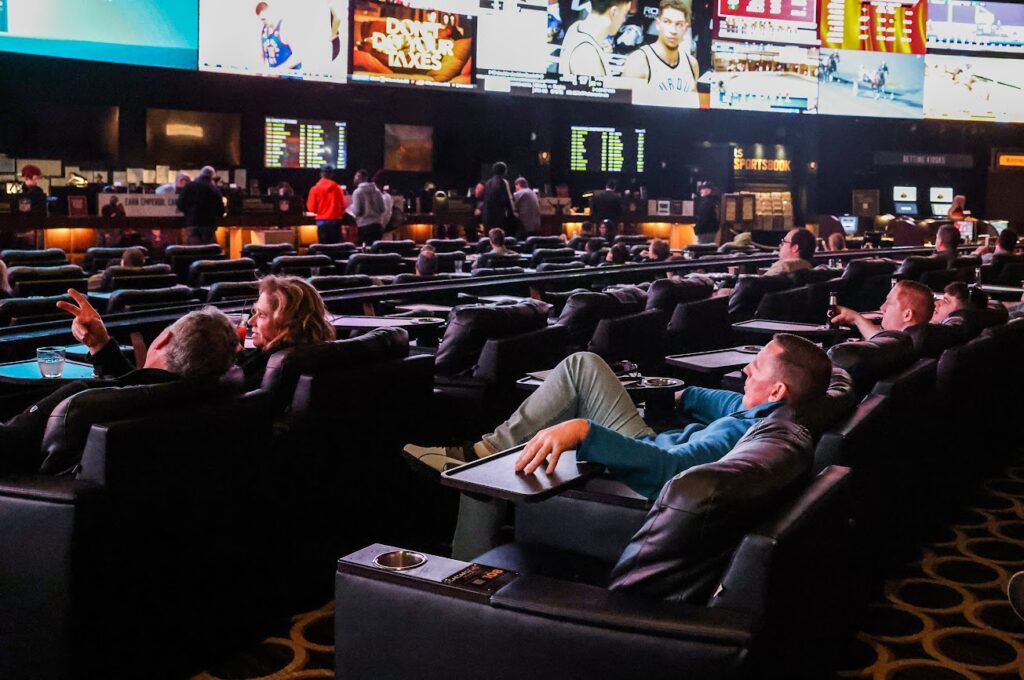 Miller said five states – Illinois, Indiana, Maryland, New Hampshire and New York – were considering online casino legislation this year.
However, Eilers & Krejcik Gaming, in the Southern California-based advisory firm's most recent monthly online gaming outlook, suggested New Jersey, which wants to allow casinos to expand their online gaming operations to include the state's racetracks, is the only possible growth market.
"Online casino has been and remains a far tougher political sell than online sports betting, thus the decision to limit our legislative outlook to a relatively small number of states," the firm's analysts wrote.
But the continued reluctance hasn't slowed expansion talk.
Last year, gaming equipment provider and developer Light & Wonder commissioned a study by VIXIO GamblingCompliance that found expanding legal online casinos to additional states could produce annual revenue of more than $30 billion with tax revenue of $6.35 billion.
The report looked at the potential financial results if internet gaming were legalized in the 42 states that allow land-based casinos, mobile sports betting or both.
As for sports betting, Miller remained buoyant about continued expansion. He said legislation is being debated in Georgia, Hawaii, Kentucky, Missouri, Oklahoma, South Carolina, Vermont and Texas. Several of the bills would require voters to approve sports betting.
Miller predicted sports betting could be legal in 40 states by the end of the year and noted that sports betting revenue was 20 percent of total gaming revenue.
"It's up to 57 percent of all American adults, 146 million, that now live in a legal marketplace," Miller said. "It's really remarkable to see, but the (states) that are remaining all have unique circumstances."
---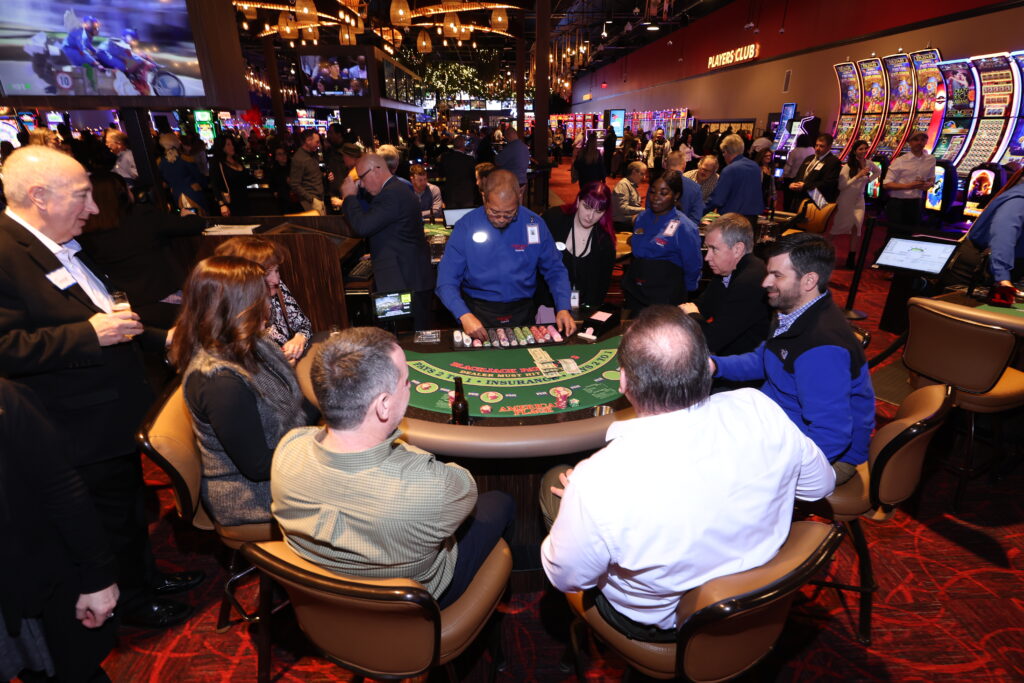 Full House opens its temporary Illinois casino to a full house
Full House Resorts' temporary casino 40 miles north of downtown Chicago opened Friday, giving residents of Waukegan, Illinois a hint of the Las Vegas company's $500 million American Place set to open in a few years.
In a text message shortly after the public was allowed into the facility, Full House CEO Dan Lee said the space was "almost at full capacity."
JMP Securities gaming analyst Jordan Bender, who attended the opening, confirmed Lee's observation.
"Full House was given less than one day to communicate that the property was opening to the public (and) visitation well outpaced our expectations given the circumstances," Bender wrote in a research note. "Nearly every gaming position was filled within the first two hours of opening."
Named "The Temporary Casino by American Place," the 75,000 square-foot tent-like structure has 1,000 slot machines, 50 table games and several dining options, including two modified Airstream trailers selling locally brewed craft beer and grab-and-go items. The property employs 500 workers.
Las Vegas-based Circa Sports has been approved to launch sports betting operations at The Temporary.
The white tent is transformed at night into a large-scale illuminated art display through a projection system.
Lee said The Temporary is using the far end of the 28-acre site that will eventually be a parking lot for the permanent casino, "so customers can get used to going to the location."
The company plans to begin construction on American Place in the next six months.
The permanent resort will have a larger casino with 1,500 slot machines, 60 table games, a Circa sportsbook, live entertainment, restaurants and other non-gaming amenities. A boutique hotel with 20 villas will open initially and a 150-room hotel is part of the second phase.
B Riley Financial gaming analyst David Bain noted the casino is the closest gaming property to 1.2 million people. Some 12 million people live within a 75-mile radius and major arteries include Interstate 94, the primary north-south connection between Chicago and Milwaukee.
The casino is the sixth for Full House and marks the company's fifth state, joining operations in Nevada, Colorado, Indiana and Mississippi. This summer Full House is expected to open the $180 million, 300-room Chamonix Casino Hotel in Cripple Creek, Colorado, adjacent to its Bronco Billy's Casino.
---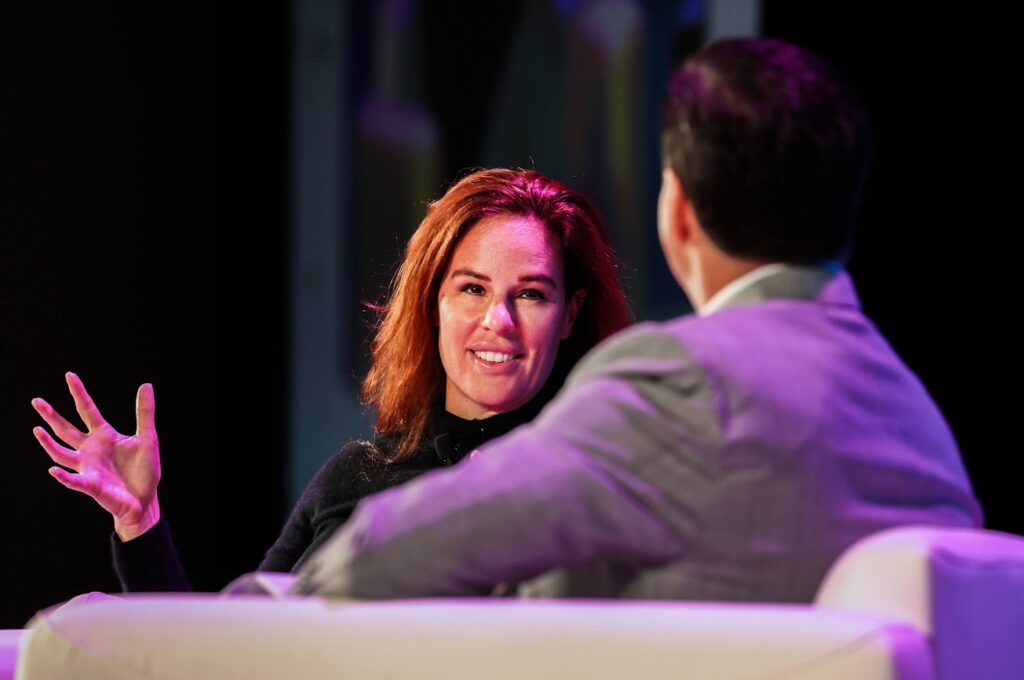 Quotable:
Via press release from Penn Entertainment
Penn Entertainment took full ownership of sports betting subsidiary Barstool Sports last week, paying $388 million for 64 percent of the sports betting and content company. Penn bought 36 percent of Barstool in 2020 for $163 million. Now in its 20th year, Barstool has more than 200 million followers of its digital content, including podcasts, video, social media, live events and pay-per-view. Penn launched its sports betting operations in 2020 under the Barstool brand.
"Our focus has always been to create relevant and entertaining content for our fans and to deliver strong results for our partners. It's exciting to have that vision recognized and to be able to put it to work inside of Penn. We have the best fan base on the planet, and we look forward to doing even more for them with Penn's support."
- Erika Ayers Nardi, CEO, Barstool Sports
Via press release from Anaxi
Anaxi, the iGaming content subsidiary of Aristocrat Technologies, announced its first partnership a year after the business was established. The division, which converts Aristocrat's casino-based slot machine titles for use by online casinos, signed a deal with BetMGM for the digital gaming giant's internet gaming business.
"This is the first content release for Anaxi, and we look forward to continuing to innovate and create online gaming experiences that entertain our partners and players."
- Cath Burns, executive vice president, Anaxi
Via press release from Eilers & Krejcik Gaming
Gaming industry executives Buddy Frank and Dennis Mead will be joined by Charlie Fey – who is credited with creating the first slot machine in 1898 – in being inducted into the EKG Slot Awards Hall of Fame on Thursday during the advisory firm's annual awards event in Las Vegas. Mead is the fifth inductee in the game development category and Frank is the third inductee under the slot operations category. Fey will be honored for his key contributions to slot machine game development.
"Both Dennis and Buddy have made substantial contributions to the gaming industry and are well deserving of this honor and the decision to honor Charles Fey is significant given his invention sparked an entire industry."
- Todd Eilers, principal, Eilers & Krejcik Gaming
Updated at 9:55 a.m. on 2/22/2023 to clarify the new corporate structure for MSG Entertainment.
The Nevada Independent is raising $200,000 by Dec. 31 to support coverage of the 2024 election.
Tax-deductible donations from readers like you fund this critical work.
If you give today,your donation will be matched dollar-for-dollar.
Give + Get Matched
Featured Videos