Indy Gaming: Nevada casino regulators call cryptocurrency a 'complex' topic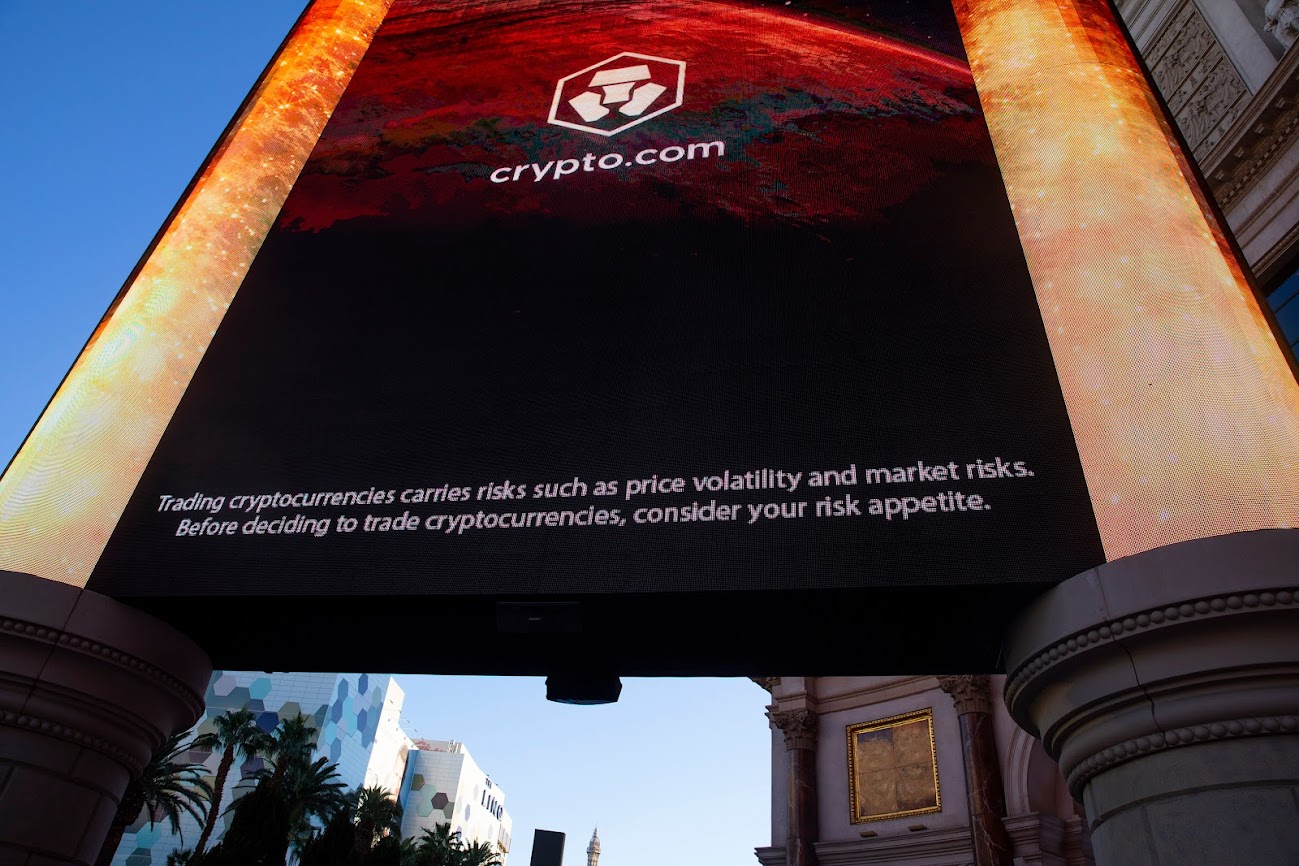 Good morning, and welcome to the Indy Gaming newsletter, a weekly look at gaming matters nationally and internationally and how the events tie back to Nevada.
If a colleague or associate emailed this newsletter to you, please click here to sign up and receive your own copy of Indy Gaming in your inbox. - Howard Stutz
---
Volatile pricing fluctuations that can wipe out billions of dollars worth of cryptocurrency values is one of among many reasons why Nevada gaming regulators haven't allowed Bitcoin or other financial payment methods tied to blockchain technology to be used on the state's casino floors.
There is also the need to establish a regulatory structure to ensure taxes are collected and payment activities don't run afoul of federal anti-money laundering laws.
That's not to say, however, that the Gaming Control Board has shut the door on cryptocurrency.
Chairman Brin Gibson told the Legislature's Joint Interim Standing Committee on Revenue last week the agency is open to suggestions from gaming companies supporting the use of cryptocurrency.
"We've told the industry to please bring your proposals to us," Gibson said during a two-hour public hearing on the subject, which included a presentation on cryptocurrency trends by two representatives from the Federal Reserve Bank of San Francisco.
"We will vet (the proposals) and if there's something that looks viable, we will move in that direction," Gibson said.
He added that most of the cryptocurrency interest has come from gaming equipment manufacturers and businesses that handle financial transactions and money services — not from individuals looking to gamble with cryptocurrency. The casino industry in Nevada and nationwide, however, has been more focused in the past 18 months on expanding the use of cashless gaming technology that uses digital wallets and other backend technology.
"I have not been approached by any licensee pushing hard for the use of cryptocurrency on actual gambling transactions," Gibson said.
A measured response by gaming regulators was embraced by committee chair Sen. Dina Neal (D-Las Vegas), who admitted she was "not a fan" of the relationship between cryptocurrency and gaming.
"I'm looking at some (bill draft requests) in the space," Neal said without elaborating on the direction she was headed.
Ben Kieckhefer, a former state senator appointed to the Nevada Gaming Commission last year, attempted to alleviate Neal's concerns. He supported Gibson's comments that regulators are committed to working with the industry on any cryptocurrency adoption "to move in a direction that is reasonable and necessary."
Kieckhefer cited legislative efforts going back five years that added a definition of a blockchain and language concerning virtual currencies into Nevada law. He authored legislation in the last session that created an eSports Technical Advisory Committee, where he said additional discussions will arise concerning the use of virtual currencies.
"I think that that's a good place for us to be right now, as cryptocurrency itself continues to evolve and as the gaming industry tries to figure out the right fit," Kieckhefer said.
Several casinos – three properties owned by downtown gaming operator Derek Stevens and Resorts World Las Vegas – have cryptocurrency exchange kiosks on gaming floors. The devices, which are similar to automated teller machines, allow customers to exchange Bitcoin and other digital currencies for cash that can be used at a table game or slot machine.
Stevens, in a February interview, said most of the kiosk's transactions in his casinos involve people using the machines to exchange their cash for cryptocurrency.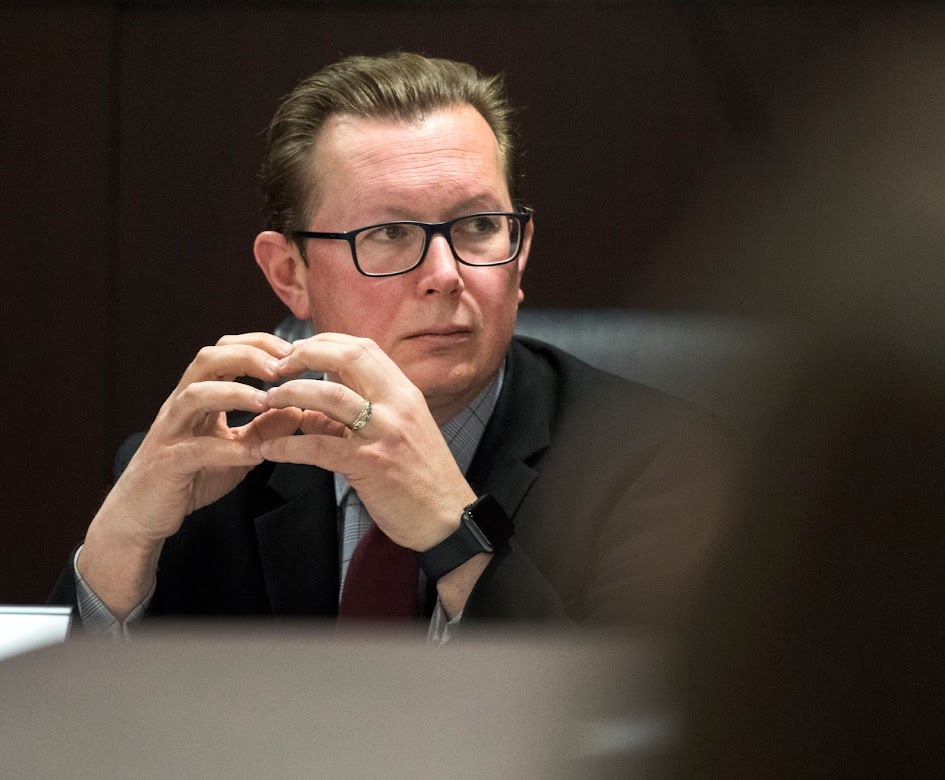 In the past few months, cryptocurrency valuations have experienced substantial increases and declines with little forewarning.
In late January, a report that the Biden Administration was preparing a comprehensive government strategy on cryptocurrencies prompted a cryptocurrency market meltdown that saw roughly $130 billion of value disappear in one day.
Last month, the New York Times reported the collapse of two cryptocurrencies developed by a South Korean investor took a toll on the entire market. A dramatic drop in the price of Bitcoin and other cryptocurrencies caused a $300 billion crash across the crypto economy.
It's those types of value fluctuations that concern Jim Barbie, chief of the control board's technology division. He said any gaming regulations would have to include some type of patron protection or reserve requirement for casinos on wagers handled with cryptocurrency.
He offered up a scenario in which a patron might place a future wager on the outcome of the Super Bowl using cryptocurrency. Any fluctuation in cryptocurrency pricing between when the sportsbook accepts the bet and when the winning ticket is cashed could cause major issues.
"You can actually win the wager and be paid in cryptocurrency, but if the value of the cryptocurrency has deflated, you could potentially lose money on that endeavor," Barbie said. "There is a unique facet to the gaming space when it comes to making use of cryptocurrency."
The Federal Reserve representatives profiled cryptocurrency buyers as mostly male between the ages of 25 and 34 with an annual income of more than $100,000. Of those who own cryptocurrencies, 69 percent view their stake as a long-term investment.
Gibson said there were a handful of unregulated cryptocurrency-based casinos on the internet which are not located in the U.S.
"One of the reasons why cryptocurrencies are so attractive for that kind of gambling is that it's difficult to trace the activities back to any individual," Gibson said.
Gaming regulators said their key concerns are having the ability to collect gaming taxes from cryptocurrency transactions and ensuring there are zero issues with illicit activity that would raise the concerns of the U.S. Department of Treasury's Financial Crimes Enforcement Network (FinCEN).
"Our posture is not one of rejection," Gibson said of any cryptocurrency proposals offered by the gaming industry. "We're just trying to get in front of something that is so complex."
---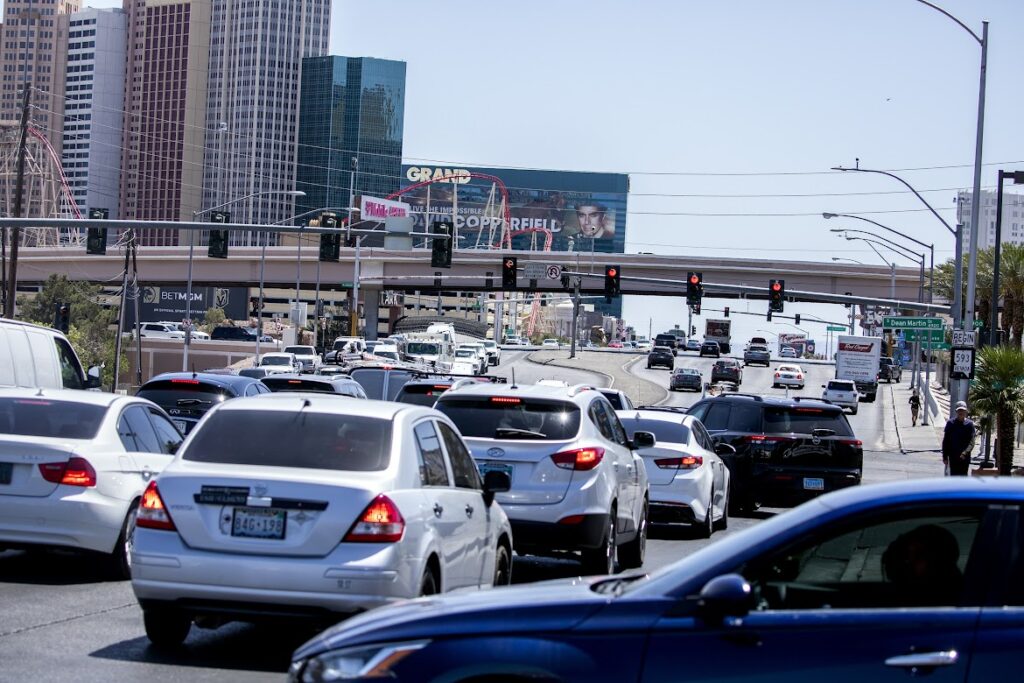 Changes to I-15/Tropicana interchange to be done with resort corridor growth in mind
By the time a $305 million redevelopment of the Tropicana Avenue interchange with Interstate 15 is completed in 2024, the Strip could see several hotel-casino expansions that would bring additional traffic and visitor volume to what Gov. Steve Sisolak referred to Tuesday as the "gateway" to the resort corridor.
Additionally, a $1 billion, 33,000-seat Major League Baseball stadium might be under construction near the Rat Pack-era Tropicana Hotel Casino if the Oakland A's follow through with a relocation to Las Vegas.
Nevada Department of Transportation Director Kristina Swallow said the lack of a baseball stadium or other projects would not render the project obsolete before it's even completed, though. She said NDOT and developers looked much further out than the two-year construction timeline as it sought to anticipate changes in the area.
Swallow suggested planners considered potential developments as far out as 2040.
"All of the modeling is based on the additional traffic that we could anticipate, whether it's one specific development or another," Swallow said. "We anticipated growth into the design."
The 60-year-old Tropicana Avenue bridge will be completely rebuilt and widened, and its height will be raised an additional four feet above I-15. The current flyover ramp that takes southbound I-15 drivers above the overpass and eastbound on Tropicana will also be partially reconstructed and raised.
The project will be completed in four phases — portions that will cause the largest traffic interruptions will begin later this summer.
The I-15/Tropicana Interchange project is being constructed with funds from the $1 trillion infrastructure package signed into law last year by President Joe Biden. Transportation Secretary Pete Buttigieg and Sisolak were joined by members of Nevada's congressional delegation and state and local elected officials in kicking off the project during an hour-long event at Allegiant Stadium.
Discussions surrounding improvements to the Tropicana interchange were taking place well before 2016, when the construction and financing of the $1.9 billion Allegiant Stadium was approved by state lawmakers and then-Gov. Brian Sandoval. At the time, NDOT said it had a $190 million project in the works to remodel the Tropicana interchange sometime after 2020.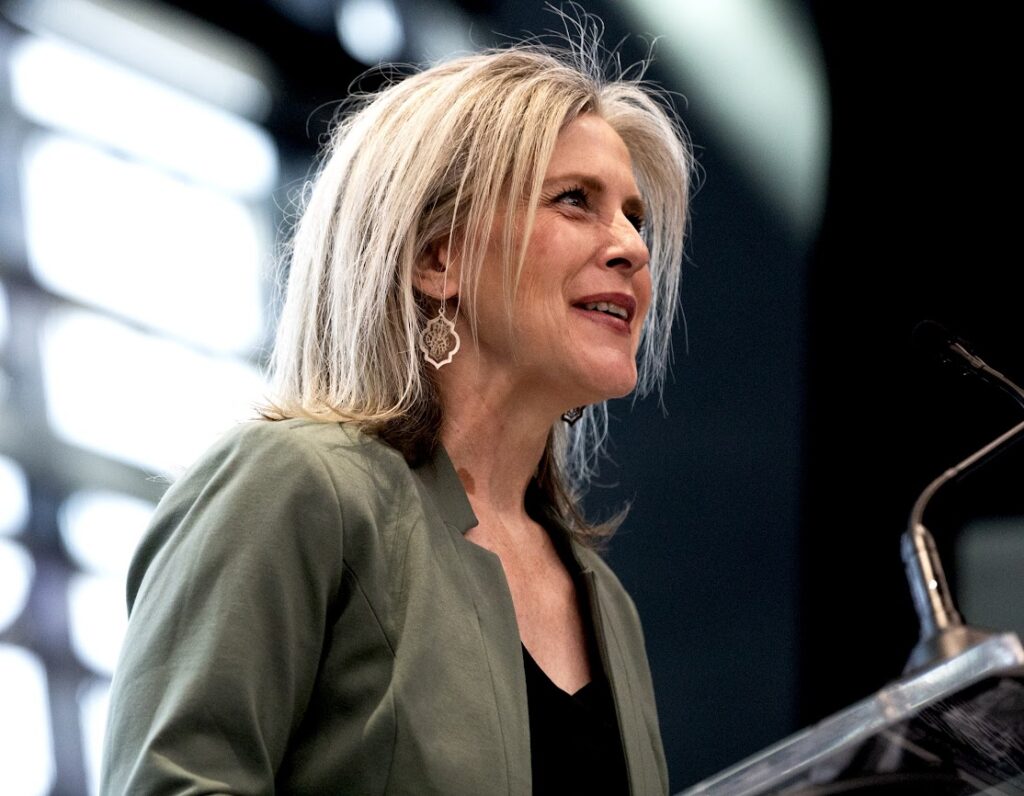 In addition to widening and lengthening the Tropicana Avenue bridge over I-15 and improving the existing flyover, NDOT will add high occupancy vehicle (HOV) ramps and separate the through traffic on Dean Martin Drive from the Tropicana Avenue intersection.
Swallow said the construction timelines will consider special events in the area, such as Las Vegas Raiders football games at Allegiant Stadium, Vegas Golden Knights games at T-Mobile Arena, and weekends with high visitation that can bring as many 300,000 visitors to Las Vegas.
Two major events – Formula One's Las Vegas Grand Prix in November 2023 and Super Bowl LVIII in February 2024 – will take place while the interchange is under construction.
Swallow said construction documents will limit road closures, including how many take place and their timing.
"Our contract actually went above and beyond and I believe (the project) has significantly fewer closures," she said. "We have ongoing weekly and frequent conversations with all of the major stakeholders to make sure that we're all on the same page to know when things are going to happen."
Swallow said Project Neon, which renovated a large portion of I-15 between Sahara Avenue and U.S. 95, had similar road closure issues, but NDOT took extraordinary steps to alert the public.
"I imagine we're going to have similar themes along those lines, and we'll be announcing (closures) with as much notice as we can possibly have," she said.
---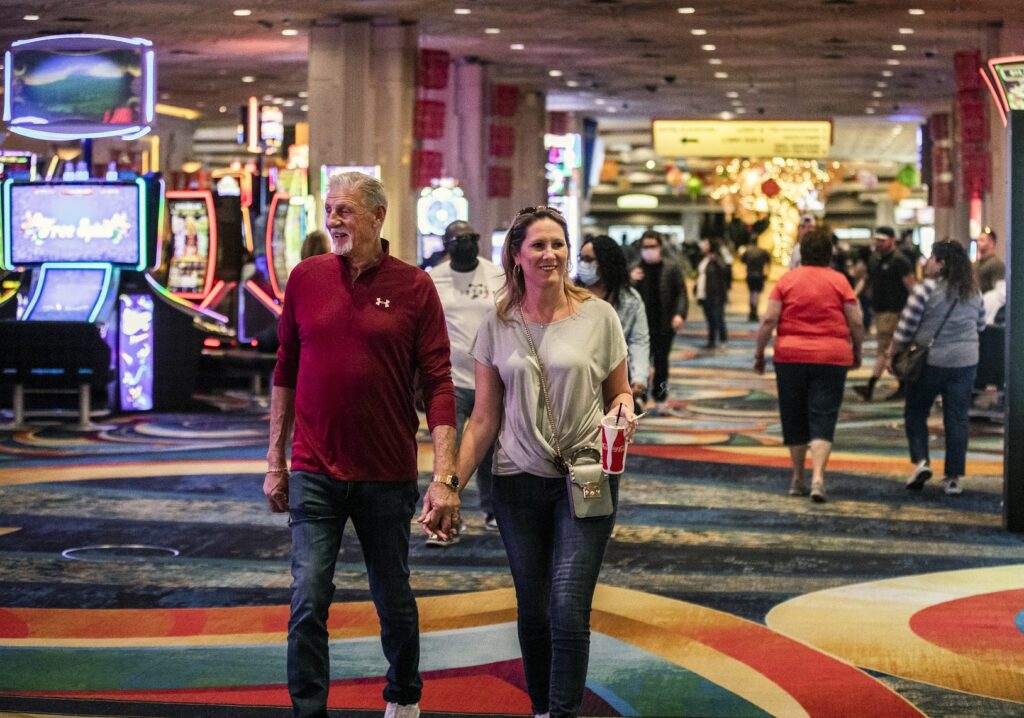 Analysts have mixed views on Las Vegas visitation trends
Las Vegas visitation in April was roughly 4 percent below pre-pandemic numbers from 2019. The average daily hotel room rate of $177.12 was 62 percent above rates from a year ago and 36 percent higher than April 2019, though.
In fact, the average rate was the highest ever recorded for a single month, according to the Las Vegas Convention and Visitors Authority.
Other signs show the figures holding up in May and continuing into June.
According to Macquarie Securities gaming analyst Chad Beynon, group and convention businesses that canceled January events at MGM Resorts International's Strip properties because of the Omicron variant rebooked during the second quarter.
"As that business comes back, we think this should help shore up midweek average daily room rates and further strengthen pricing power," Beynon told investors.
Other analysts, however, are skeptical that the trend will last.
Truist Securities gaming analyst Barry Jones said tracking by his firm shows Strip hotel room rates decelerated in May, with reductions continuing into June and July.
"We've also heard concerns that sustained inflation could show an impact," Jonas said.
Gaming executives during first-quarter earnings calls told analysts the Strip showed resiliency to high consumer costs associated with rising inflation.
Jonas credited the Strip's "robust" event calendar in April, which included the NFL Draft and four nights of shows by Korean pop performers BTS at Allegiant Stadium and helped drive gaming revenue to an April record of $593.4 million.
However, Jonas said, "We're on the lookout for any negative impact from macro-inflation headwinds."
Deutsche Bank gaming analyst Carlo Santarelli noted the EDC music festival, which took place over three weekend days in May, caused late demand for hotel room nights that exceeded expectations.
He told investors in a research note the room request surge was viewed "as a fairly positive indicator that, to date, elevated gas prices and overall costs to visit Las Vegas, have not slowed spontaneous demand from the drive to markets."
But he also questioned whether events — such as EDC or the late-April NFL Draft — were as lucrative for the gaming floors as they were for the hotel side of the resort business.
Santarelli said he expects the predicted figure of more than 600,000 attendees for the draft will ultimately prove to be over-inflated, with the actual attendance coming in at roughly half of the predicted total.
"Given the nature of the draft and the fact that it is free to attend, we do not believe it drew a crowd with high gaming spend propensity," Santarelli said. "We would also note that Strip room rates on the Thursday night of draft weekend were low. Accordingly, we don't believe the draft was a meaningful needle mover for Strip operators."
---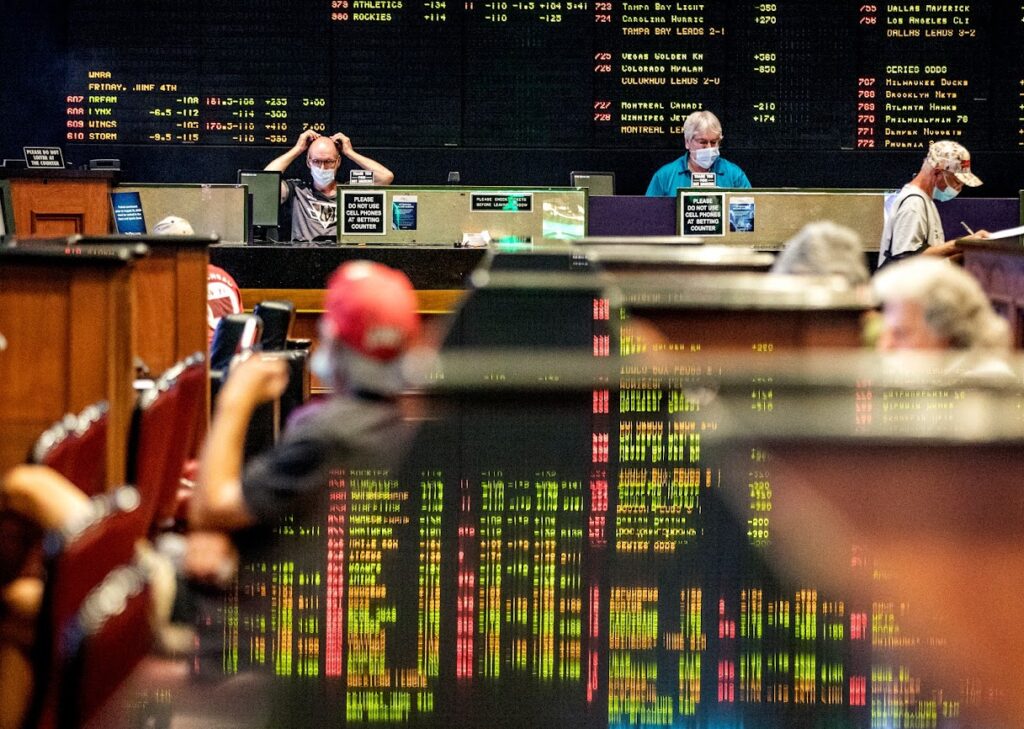 Does Las Vegas Sands have its eye on digital sports betting provider Kambi?
Since announcing plans to enter the digital gaming arena more than a year ago, Las Vegas Sands Corp. has been somewhat secretive about its plans.
The company has said little about its two most public moves, the hiring of a veteran investment executive last July to oversee Sands' digital operations and an undisclosed investment into sports betting technology provider U.S. Integrity in April.
Last week, advisory firm Eilers & Krejcik Gaming speculated Las Vegas Sands could make a much larger splash.
In a research newsletter sent to gaming industry investors, analyst Chris Krafcik named Las Vegas Sands as one of a half-dozen potential suitors of Kambi Group Plc, a developer of sports betting platform services used by casinos worldwide, including commercial and tribal gaming locations in 14 states. Kambi offers retail and online sports betting platforms.
Krafcik suggested a recent 24 percent increase in Kambi stock that came when its peers in the online gaming and sports betting fields have declined in value had piqued the analyst's interest.
"That dynamic has led to an increase in Kambi for-sale speculation which, if true, naturally raises questions about potential acquirers," Krafcik wrote.
Among the list of possible buyers – private equity firms, gaming technology providers and sports betting operators – was Las Vegas Sands.
"The company has long been on the hunt for (business-to-business) assets and was rumored to have kicked the tires at Evolution [another sports betting platform] earlier this year," Krafcik wrote. "On face value, Kambi would appear to fit within Sands' current strategic (method of operating)."
Kambi is headquartered in Malta, is traded on the NASDAQ Stockholm Exchange and has a U.S. office in Philadelphia. Its platform, which includes oddsmaking services, technology for profiling customers, and operational equipment, allows a casino to offer sports betting and assume the financial risk without having to hire an operator.
A spokesman for Las Vegas Sands did not respond to a request for comment.
During the company's first-quarter conference call in late April, Sands President Patrick Dumont said the company hasn't changed its perspective on entering the online gaming space since it first announced the idea in January 2021.
"We take a very long-term perspective on digital," Dumont said. "I think what you'll see over time is us make investments in small companies where we think they have a competitive advantage in the (business-to-business) space that has a lot of growth potential."
Among the other companies Krafcik listed as potential buyers for Kambi was gaming equipment provider Aristocrat Technologies, which doesn't have a sports betting platform.
The Nevada Independent is raising $200,000 by Dec. 31 to support coverage of the 2024 election.
Tax-deductible donations from readers like you fund this critical work.
If you give today,your donation will be matched dollar-for-dollar.
Give + Get Matched
Featured Videos