Joe Lombardo hizo un llamado a la unidad en su primer discurso como gobernador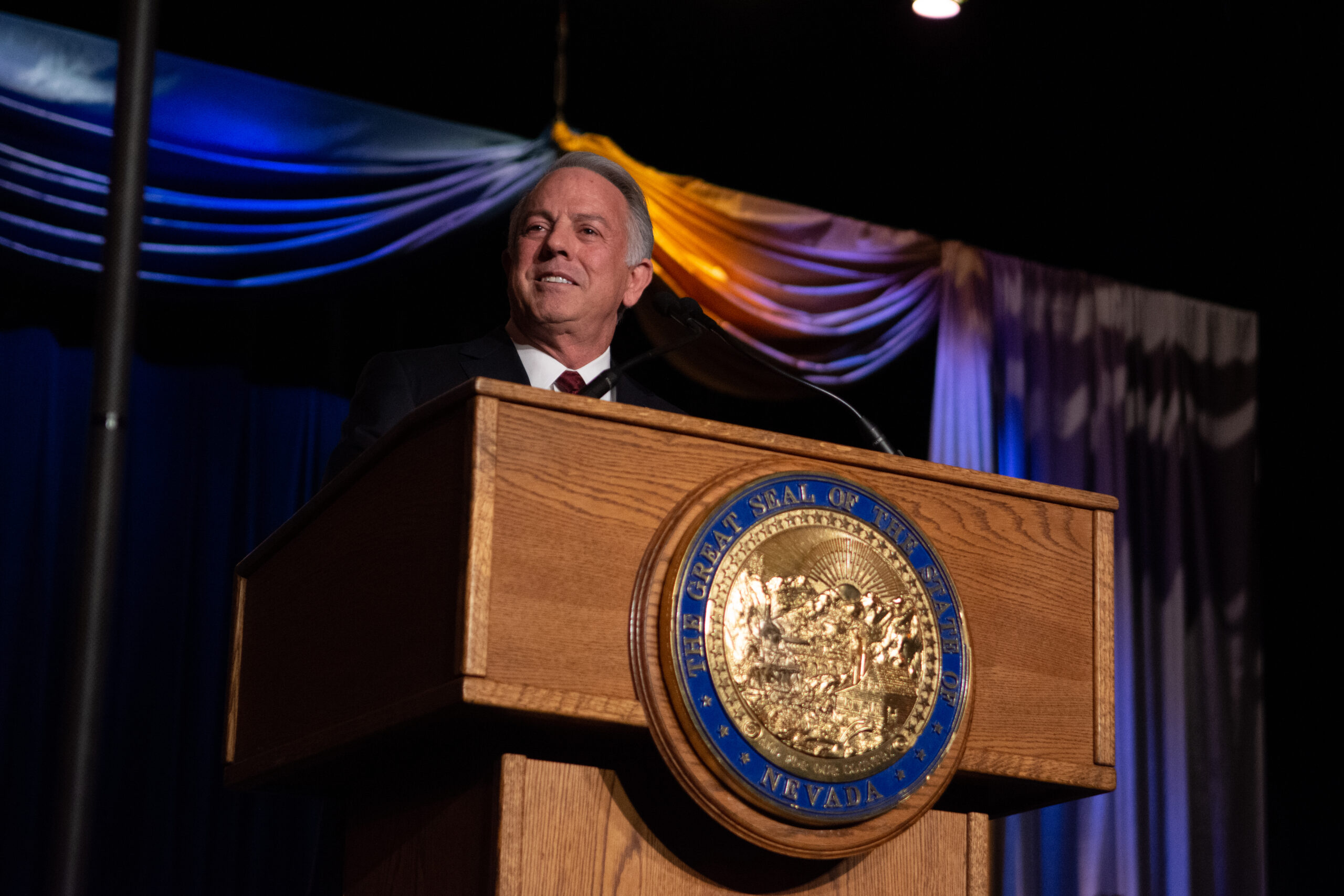 Esta nota fue traducida al español y editada para brevedad y claridad a partir de una versión en inglés.
Más de 700 personas desafiaron calles cubiertas de hielo este martes para celebrar en el Centro Comunitario Carson la juramentación del 31° gobernador de Nevada, el Exalguacil Republicano del Condado Clark Joe Lombardo, quien declaró que el estado estaba en el "umbral de otra gran era para Nevada".
Aunque Lombardo, de 60 años, fue juramentado oficialmente el lunes en una ceremonia más pequeña, el evento de inauguración le permitió compartir su visión del rumbo que tomará el estado durante los próximos cuatro años.
En su discurso, que se enfocó en la "manera de Nevada", Lombardo reiteró las promesas de campaña de no aplicar nuevos impuestos, ampliar la elección escolar, y eliminar legislación "blanda con el crimen", al tiempo que pidió la unidad entre los nevadenses, independientemente de su afiliación política.
Lombardo afirmó que, como gobernador, "asumirá la causa de los ideales conservadores", incluyendo la "responsabilidad personal, disciplina fiscal y una interferencia gubernamental limitada".
"Mientras cosechamos la promesa de un nuevo día, quiero que sepan que estoy totalmente comprometido con devolver el futuro en donde le pertenece: en manos de la gente", aseguró Lombardo. "Esa es la manera de Nevada".
Aunque las ceremonias de inauguración de gobernadores suelen celebrarse al aire libre frente al edificio del capitolio, los funcionarios realizaron el evento bajo techo después de una poderosa tormenta invernal que dejó sin electricidad a decenas de miles de habitantes del norte de Nevada.
Al evento asistieron cinco exgobernadores de Nevada, incluidos Steve Sisolak y Brian Sandoval, junto con los "copresidentes inaugurales" de Lombardo, entre ellos el magnate hotelero de Las Vegas Robert Bigelow, quien fue el donante más prolífico de la campaña de Lombardo.
Lombardo rindió juramento ante la jueza de la Corte Suprema de Nevada, Lidia Stiglich.
"Si creemos lo suficiente en nosotros mismos y confiamos unos en los otros para superar la adversidad, sin importar la magnitud, nunca fallaremos", dijo Lombardo.
En noviembre, Lombardo ganó la gubernatura por 1.5 puntos, derrotando a Sisolak, el primer Demócrata en ocupar el cargo en dos décadas. Sisolak fue el único gobernador titular en perder este ciclo electoral.
Durante su campaña, Lombardo prometió ser el próximo "gobernador de la educación", promocionando la elección escolar y expresando su oposición a medidas disciplinarias no sancionadoras en las escuelas conocidas como "justicia restaurativa".
El 23 de enero, Lombardo pronunciará ante la Legislatura un discurso sobre el estatus del estado, en el que se espera que comparta prioridades específicas para la próxima sesión legislativa.
The Nevada Independent is raising $200,000 by Dec. 31 to support coverage of the 2024 election.
Tax-deductible donations from readers like you fund this critical work.
If you give today,your donation will be matched dollar-for-dollar.
Give + Get Matched
Featured Videos