Old attacks, new political climate play in race for Nevada's swing House seat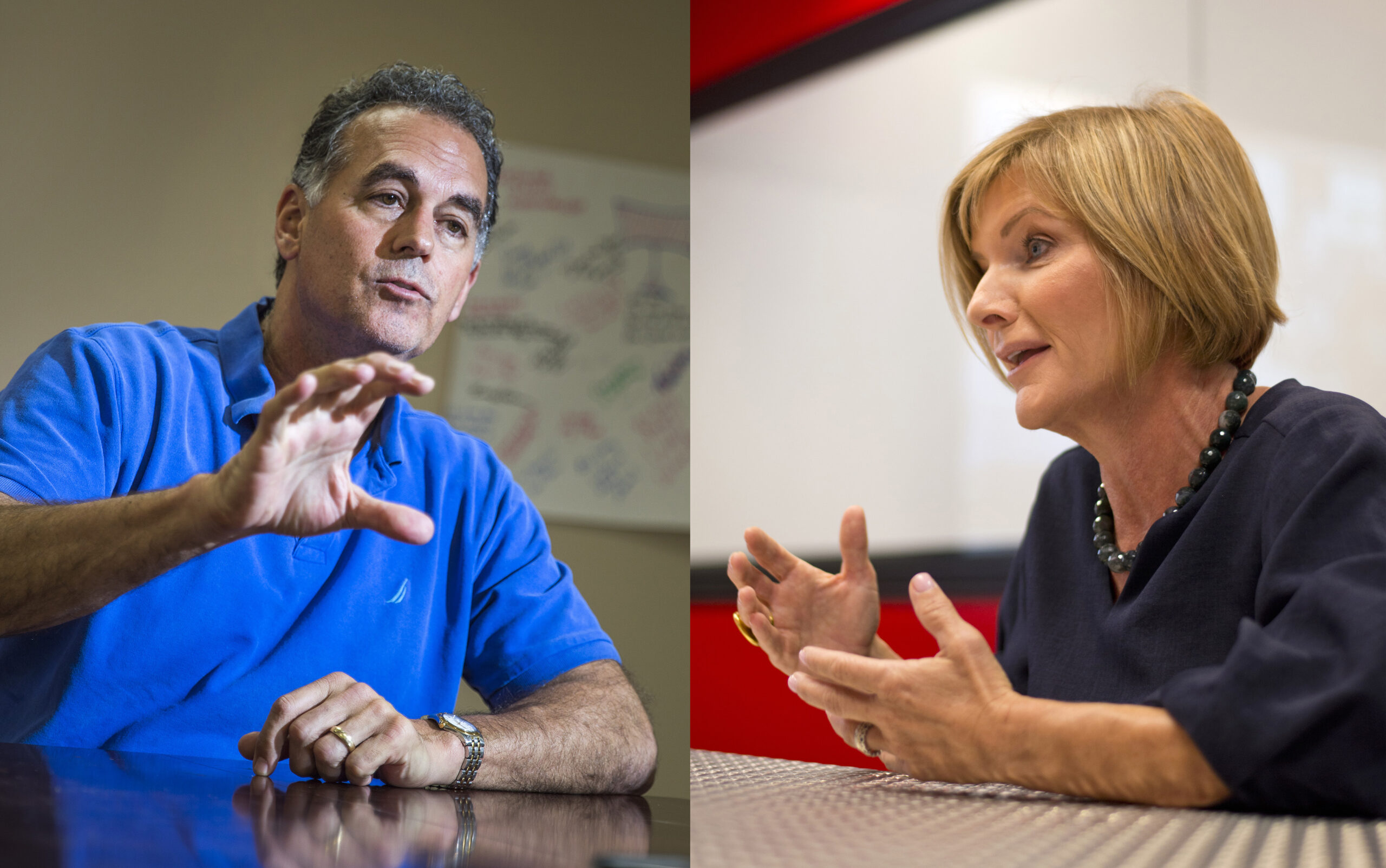 In some ways, history is repeating itself in Nevada's purplest congressional district.
Businessman Danny Tarkanian, a Las Vegas Republican and son of the late UNLV basketball coach Jerry Tarkanian, is facing off this fall against education advocate and philanthropist Susie Lee to represent an open, swing House district that stretches from Summerlin to Searchlight. But substitute Lee's name for that of the district's current representative, first-term Democratic Rep. Jacky Rosen, and it could easily be the year 2016 and not 2018.
Making his sixth bid for public office, Tarkanian is once again facing a bevy of attacks over his past business dealings, including his role as a registered agent for several companies later found to be running telemarketing scams (an attack he once won a defamation lawsuit over), a $17 million judgment obtained against him by a federal government agency in the wake of a real estate deal gone bad, and several hundred thousand dollars he received in salary and loans from the children's basketball charity he runs.
The attacks have been repeated so many times that the ads Democrats are running against him now have plot. In 2016, a Democratic super PAC ran a campaign ad featuring a Tarkanian-esque character burying old campaign signs and business documents in a hole he dug in the desert; this year, the same super PAC has a sequel where the buried signs and documents surface from those holes and are pawed at by a coyote as a tumbleweed blows by.
Though she has remained positive in her ads, Lee dismissed Tarkanian in an interview as a "perennial losing candidate running for one office after another" who "has a slew of ethical baggage that he carries with him."
But Tarkanian believes that this year will be different than the 2016 election, which he lost to Rosen by a narrow 1.2 percentage points even as President Donald Trump carried the district by 1 point. He said that he is pushing back harder this cycle on what he described as the "lying and deceitful and defamatory ads" from Democrats.
"That's our biggest difference, responding aggressively," Tarkanian said. "And I think that's getting out to people."
It's shown in his campaign ads. Earlier this month, he released an ad saying that Lee and House Minority Leader Nancy Pelosi are "bankrolling vicious attack ads, making claims that were proven untrue in court," and this week released a second spot featuring his mother, Democratic Las Vegas City Councilwoman Lois Tarkanian, calling on Lee to "stop the lies."
"You tell this lie over and over and over again and people will believe it," Lois Tarkanian said. "And I don't think people realize what it does to the rest of the family."
At the same time, Lee, who is running as a political newcomer and moderate Democrat as Rosen did, is facing similar lines of attack to those used two years ago. Where a Rosen-as-marionette danced on stacks of hundred dollar bills and was portrayed as a puppet of the Democratic establishment, Lee's face appears next to Pelosi's at the top of a hammer bell carnival game. (Ads against Lee also seek to paint her as out of touch by pointing to the 17 properties she owns with her casino executive husband, a perception she tries to counteract on the trail by talking about her working-class roots in Ohio.)
Lee acknowledged similarities between herself and Rosen, including her desire to work across party lines as part of the House Bipartisan Problem Solvers Caucus as Rosen has. But she said that she is focused on highlighting her positive record working for a nonprofit dropout prevention organization.
"It wasn't based on Democrat or Republican or independent. It was really about looking at the problems facing our community and trying to find a path forward and produce a program that really got results," Lee said. "I've been very clear that I'm willing to work across the aisle. I think my track record demonstrates I've done it in the past."
And 2018 is not 2016. For starters, it is a midterm election, which means less wind in the sails of Democrats who historically turn out in higher numbers during presidential election years. Out of the eight terms it has existed, Nevada's 3rd Congressional District has only been represented by Democrats for two terms, with both victories (Dina Titus in '08 and Rosen in '16) in presidential election years.
But Lee said that she is encouraged by strong early voting turnout numbers from Democrats, who have banked a few thousand vote lead between early votes and absentee ballots in the first few days of voting statewide but only a 500 vote margin in the 3rd District. She also thinks she has a strong shot at winning over nonpartisan voters, who make up 23 percent of registered voters in the district.
"They really focus on the quality of the candidate, and what I'm hearing from voters in this district is they want to see someone who will be really committed to working together," Lee said.
The political climate is also different than it was two years ago. Although the district voted for President Donald Trump in 2016, there remains a question of how happy the suburban voters are about what the president has accomplished during his first two years as president and what Congress has done to further that agenda
Tarkanian — who was nudged out of a U.S. Senate primary and into the House race by President Donald Trump and has been running an "America First" campaign — is betting that voters' support for Trump's accomplishments will help buoy him to victory. At campaign events, Tarkanian often talks about the economy, the U.S. relationship with North Korea, border security and school choice.
"It's a clear distinction on the issues, and I will win easily if that's where the focus stays on," Tarkanian said.
But Lee is focusing on where she believes the administration and Congress have fallen short over the last two years, namely, Republicans' attempts to repeal and replace the Affordable Care Act last year. She said it is the "number one issue bar one" that voters talk to her about at the doors and out at community forums.
"People are incredibly worried about the rollback of the Affordable Care Act and what impact it's going to have here in Nevada," Lee said. "The Affordable Care Act was not perfect. There need to be some changes made to it, but Nevada saw a large decrease in uninsured people here in Nevada and they're really concerned that those gains are going to be rolled back."
Lee also said that she believes there are issues on which she can work across the aisle with the Trump Administration, including infrastructure spending, which she said is "incredibly important" to ensuring the future of Nevada's tourism industry.
"We in Nevada need to be really hyper-focused on bringing that type of investment money to our state," Lee said.
Although the race is still included on national lists of top House races to watch this year, many rankings have moved the seat to "lean Democrat" — it was considered a swing seat last year — despite the Democrats' meager 1.6 percentage point voter registration advantage over Republicans. That's reflected in spending totals from outside groups, which have been generally less enthusiastic about devoting resources to the seat this year compared to other races especially as Republicans and Democrats battle for control of the House in other swing seats.
The district received the most third-party spending, which includes money spent directly by super PACs and tax-exempt nonprofits in support of or in opposition to a candidate, of any House race in 2016 with a total of $16.9 million spent. This year, it ranks 27th on a list of races with the most outside spending with $7.3 million spent so far.
On the left, the Democratic Congressional Campaign Committee, the Democratic party's arm focused on House elections, has been responsible for almost all of the spending ($2.9 million) apart from a small $146,000 assist from the House Majority PAC, the main super PAC backing House Democrats. On the right, Congressional Leadership Fund, a super PAC with ties to House Speaker Paul Ryan, has poured $2 million into the race and the pro-Trump super PAC America First Action has spent $1.4 million, while the National Republican Campaign Committee has pulled out of Nevada altogether and is focusing its resources elsewhere.
And on the candidate side, Lee has by far outraised and outspent Tarkanian — by $2.1 million and $1.8 million, respectively. But Tarkanian said that it just means that he has to use his dollars wisely.
"We have a lot less bandwidth, so we have to be more effective with our messaging," Tarkanian said.
For her part, Lee said that she's "feeling good" about the race though she acknowledges it will likely be a close one. Tarkanian, too, said he's fighting for every vote in a race that could again come down to a percentage point by going to every event he possibly can, including some events where he is the only Republican candidate in the room.
"I'm going to every single place, including Democratic strongholds, talking about the issues, explaining away the lies that my opponent is saying," Tarkanian said. "We're trying to get out to as many of the voters as we can. A few thousand votes may determine it."
The Nevada Independent is raising $200,000 by Dec. 31 to support coverage of the 2024 election.
Tax-deductible donations from readers like you fund this critical work.
If you give today,your donation will be matched dollar-for-dollar.
Give + Get Matched
Featured Videos