On the Record: Democratic House candidate Amy Vilela on climate, health care and Ukraine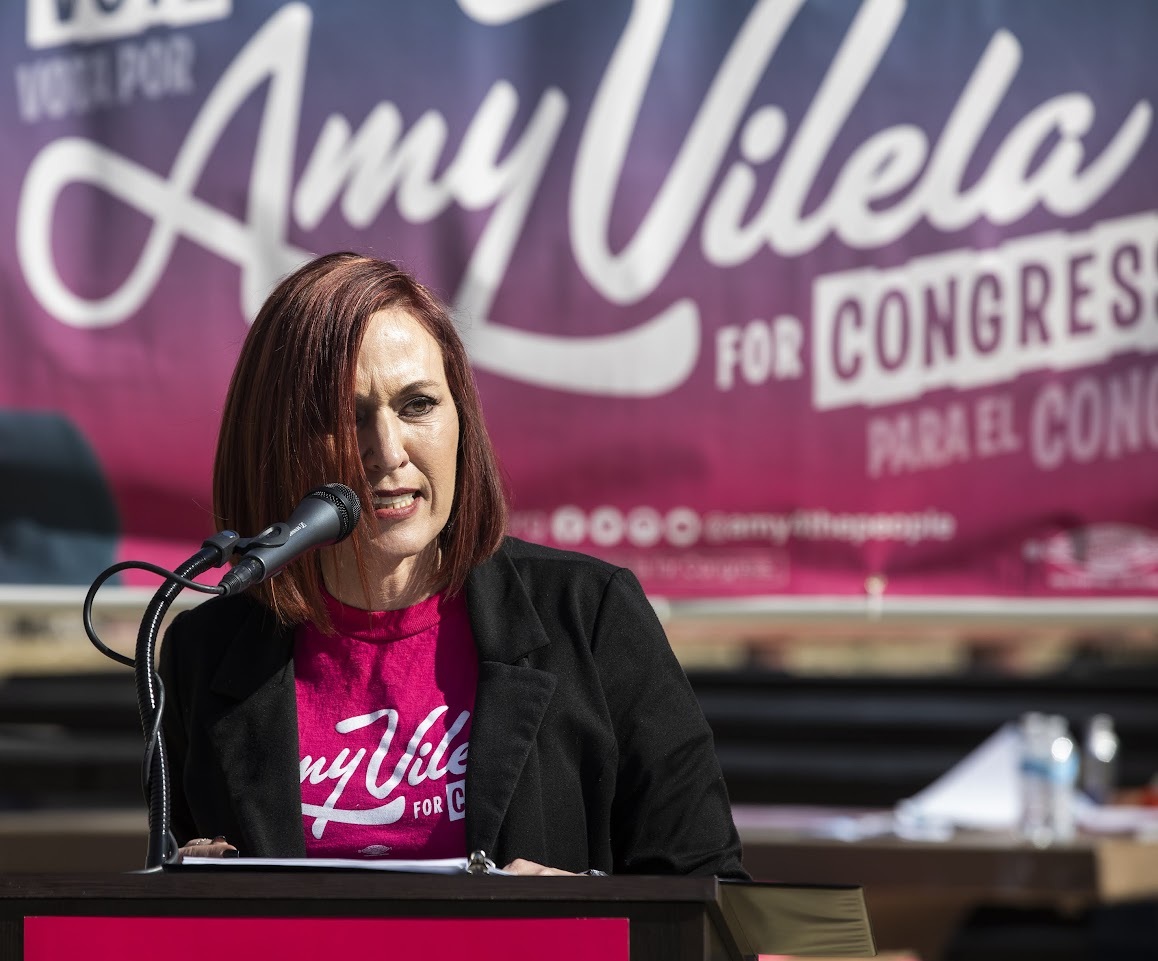 Progressive Amy Vilela is challenging five-term incumbent Dina Titus (D-NV) in a primary for Nevada's Congressional District 1, a usually safe-blue district that has recently become more competitive after redistricting added tens of thousands more Republican voters to the mix.
Vilela previously ran for District 4 in 2018, when Rep. Steven Horsford won the Democratic primary with 61 percent of the vote. Vilela garnered just 9 percent of the vote, but that year, she gained a significant public profile as a progressive.
She was featured in the Knock Down the House documentary alongside other prominent progressives Rep. Alexandria Ocasio-Cortez (D-NY) and Rep. Cori Bush (D-MO), as the film captured their grassroots campaigning during the 2018 primary elections.
In a wide-ranging interview last week with The Nevada Independent, Vilela said her opponent could have fought for "bold, progressive policies that would make a real change in working class lives" but has not done so during her nearly decade holding the seat.
Though she is a proponent of the Green New Deal, defunding the police and Medicare for All, Vilela shrugged off the "progressive" label, arguing simply that she would fight harder for change in Congress than Titus.
"It's really not who's more progressive or not. It's really about how we fight and the level of energy that goes into this. This is not a time to be complacent," she said. "We have to be actively organizing. We have to be actively engaging our constituents."
Still, Vilela faces an uphill battle in unseating Titus this June. The incumbent Democrat has served in the House for five terms, including four as the District 1 representative, and won her 2020 Democratic primary by more than 70 points.
Titus also ended March with more than $1.1 million in her campaign war chest, compared with less than $50,000 for Vilela.
During the hourlong sit-down interview, Vilela weighed in on everything from rapid inflation and the housing crisis to abortion access and immigration. Below are highlights from the discussion.
Differing from Titus on government spending
When asked whether she would have voted differently than Titus on any legislation, Vilela pointed to the Infrastructure Investment and Jobs Act. Vilela said she would have voted against the $1.2 trillion bill to force a vote on Democrats' Build Back Better Act — a sweeping economic package that failed after being uncoupled from the infrastructure package amid opposition from moderate Senate Democrats.
"​​We had an opportunity at that point to withhold our vote on the infrastructure bill to hold out for the Build Back Better bill, which a handful of progressives did," she said. "We may not have gotten everything we wanted out of the Build Back Better bill, but we would have gotten something. And instead they caved."
At the time, just six House Democrats, all prominent progressives, voted against the infrastructure bill.
Approved by Congress in the fall, the package delivered more than $4 billion to Nevada for roads, bridges, airports and broadband.
Vilela described the measure as a "giveaway to corporations" and called for an end to corporate PAC donations to Congress.
"I disagree with taking money from union busters, like Amazon, like my opponent is," she said. "When it comes down to it, we cannot continue to serve the interests of corporations over the interests of people."
Data from the Federal Election Commission shows Titus has received $7,500 from Amazon this cycle. Vilela said that she has not received corporate PAC donations.
Vilela also attributed problems with inflation to what she described as "profiteering," arguing that too much COVID-19 relief money was given to large corporations and that consumers have suffered as those companies have continued to bring in high profits. She said Congress could address rising prices by putting limits on how much companies can mark up certain goods, such as gasoline.
Ukraine and military spending
As Russia wages a war against Ukraine, seeking to claim land from the neighboring nation, the United States has sent billions in financial aid to Ukraine. Last week, the House approved another aid package for the country totaling $40 billion — a large portion of which is dedicated to military support.
Though Vilela said she supports providing humanitarian aid to Ukraine, she spoke against funding military assistance for the country and against involving the U.S. in foreign conflicts.
"I am adamantly opposed to remaining in any foreign conflicts, especially when there's so much that needs to be done here at home for our working class," she said.
She added that she was against "constantly monetarily funding the military industrial complex," and said the U.S. should be "pushing for every diplomatic resolution we can" in the Ukraine-Russia conflict.
As federal officials consider sending more aid to Ukraine, Vilela pointed to health care and student loan debt as other issues that she believes need to be addressed with federal funding. Titus voted in favor of the $40 billion aid package and has been supportive of "robust security assistance for Ukraine."
On Joe Biden
Vilela said she would give President Joe Biden an incomplete grade for his performance in the last year and a half and that the presidency could be in danger for the Democratic Party if he does not deliver on his promises.
According to Politifact's Biden promise tracker, which monitors 100 campaign promises it considers to be the most important, Biden has kept 17, has 45 "in the works," has compromised on four and has been stalled on 23.
The promise tracker shows that Biden has only broken one promise, which was to block new fracking on federal lands.
"If he doesn't start making some changes and really start delivering on those key promises that he made, I feel that our presidency is in jeopardy. And I think he needs to take swift action now. He needs to make good on his promises," Vilela told The Nevada Independent. "And make sure that he is actually addressing the needs of the constituency and the working class."
And it's not just the president who needs to keep on top of their promises, she said. Any Democrat who is running right now should.
"The seats are really at risk if we don't start delivering on promises," Vilela added.
Climate change
As a strong supporter of the Green New Deal, a bill that was introduced in the House in 2019 and never advanced, Vilela said the bill — which aims to reduce the country's greenhouse gas emissions — would also address the housing and water crisis in Southern Nevada and help diversify the economy. Even in a Republican-led Congress, she said it could come to fruition.
"We have to be working constantly around the clock. This is not a time to be complacent, it's a time to actually go in to organize and to make sure that we're in this fight 100 percent," Vilela said. "We need to once and for all end our addiction to fossil fuel."
Vilela opposes the Clark County lands bill, which would expand the Las Vegas metro area through more development and designate public land for conservation. She said the bill would increase the size of Las Vegas to the size of St. Louis, adding to commute times, carbon emissions and housing developments that would strain water resources. The Southern Nevada Economic Development and Conservation Act, also called the Clark County lands bill, is said to include a net 30,633 acres for affordable housing and business growth.
In recent news, Lake Mead has dropped to a historically low level, resulting in its third pump, also known as the "low lake level pumping station," being turned on and allowing Las Vegas officials to pump out water from even deeper.
Vilela suggests that building up instead of out could help both water and housing crises. "We are literally running out of water and running out of time," she said.
According to a report by Central Climate, a climate researching organization, published in 2019, Las Vegas is one of the country's fastest warming cities. Between 1970 and 2018, the city saw an average temperature increase of 5.76 degrees fahrenheit.
Vilela has criticized Titus for not supporting the Green New Deal, but Titus has previously expressed concerns that it could "push" toward nuclear power. Vilela also disagrees with the use of nuclear power.
Housing affordability
Vilela's proposals for housing affordability include the Green New Deal, building up instead of out, capping rent prices, limiting the amount of properties investors can own, and offering more down payment assistance.
She also said the issue of decreasing rates of Black homeownership should be addressed and there should be more investment in existing communities, such as East Las Vegas.
"[The Clark County lands bill] is a further disinvestment from those hard hit communities, a disinvestment from the east side. The east side is lacking so many things. We do not invest in the east side like we do in Summerlin or like we do in Henderson," she said. "It's largely been the home of disinvestment for a long time. It's time for us to invest back into these communities to build sustainable housing."
Titus, who introduced the Clark County lands bill along with Sen. Catherine Cortez Masto, said that the bill would demonstrate "it is possible to accommodate Clark County's population growth while prioritizing affordable housing and the environment."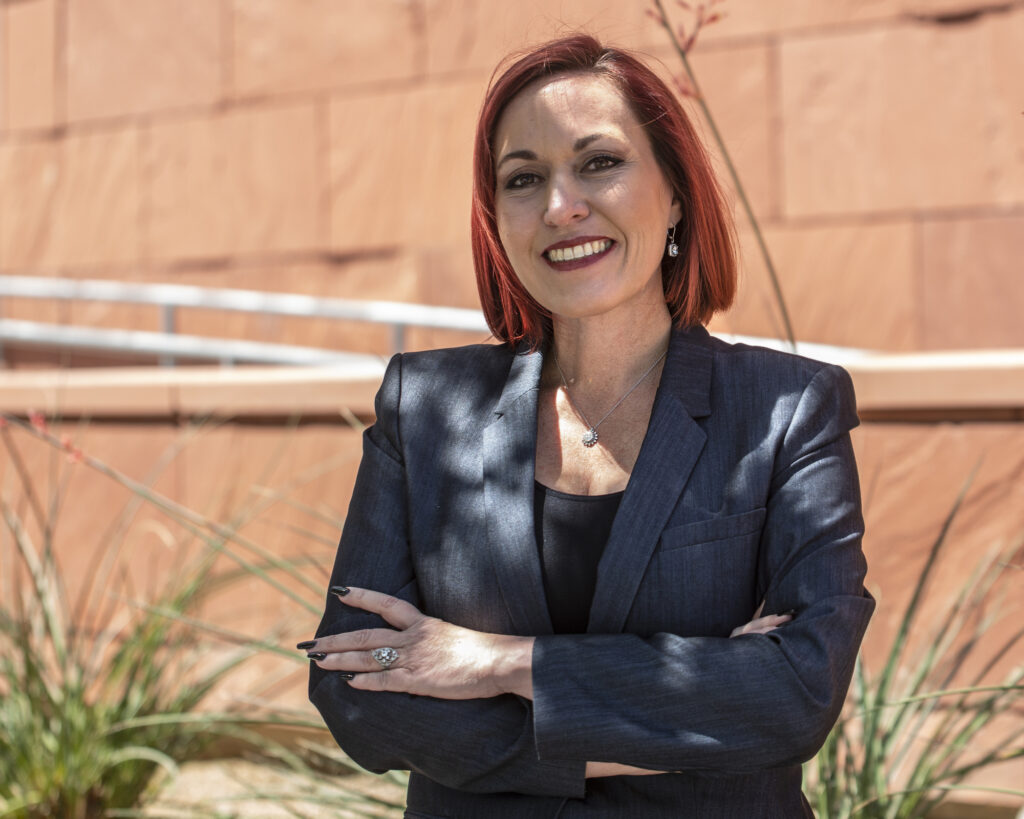 Minimum wage
Vilela said she believes in tacking growth of the minimum wage to inflation, which she said would put the federal minimum wage around $22 an hour — about triple the current minimum wage of $7.25 per hour and more than double Nevada's minimum wage.
A measure approved by state lawmakers in 2019 gradually increases the minimum wage by 75 cents each year until 2024, when it reaches $11 an hour for those who are offered health benefits by their employer and $12 per hour for those who are not offered qualifying benefits.
"We have to have a livable wage. I mean, we're not even to the point of being $15 an hour. You can't even get a one-bedroom home in Las Vegas. You can't even sustain that on $15 an hour," she said.
Health care
Vilela is a proponent of a Medicare for All, single-payer, national health insurance program — one that would be funded simply by taxes, rather than by private health insurance companies, employers and the government as it is now.
Vilela's passion for overhauling the country's health care system was spurred by the death of her daughter, Shalynne, who died at age 22 from a blood clot after being denied care for a lack of health insurance.
In recent years, Medicare for All has gained more national attention, particularly with support from Sen. Bernie Sanders (I-VT). Vilela pointed to polling that shows support for the policy from 70 percent of voters. But additional polling shows that more than half of Republicans oppose the single-payer plan.
Nevada's Culinary Union is one of the highest-profile opponents to Medicare for All, as members of the union have their own health care plan. In response to that opposition, Vilela described herself as "pro-union" and said she thinks Medicare for All would allow the union to bargain for other benefits. (The union has endorsed Titus in the District 1 race.)
"Imagine how wonderful it would be for unions," she said. "Everything else that we want — better pay, longer vacations, better retirement plans — we have to forgo all that because we have to fight to save our health care."
Though proposals for Medicare for All have made little progress in Congress, Vilela said the idea was not partisan, and she compared fighting for the idea to previous fights for civil rights, including the fight for women's suffrage. She also emphasized the importance of making changes to health care in Nevada.
"We have some of the least access and affordability to health care, and we have one of the highest uninsured rates in the nation," Vilela said. "What's happening now, it's not working for Nevada. We need to move to a universal health care plan."
Abortion
As the U.S. Supreme Court appears poised to overturn Roe v. Wade this summer, eroding federal protections for abortions, Vilela said there were two options to protect abortion rights at the federal level: "codify it into law or pack the courts."
"​​This is very scary, and I think we need to do whatever measure is necessary," she said.
Though abortions in Nevada would remain protected up until 24 weeks into pregnancy after a 1990 ballot measure enshrined protections for the practice into state law, Senate Democrats failed to pass a bill last week to codify the right to an abortion into federal law.
Senate Minority Leader Mitch McConnell (R-KY) also described a national abortion ban as a possibility if Roe is indeed overturned.
"I believe that we need to guard this," Vilela said. "This is a woman's right, and we should not be having to argue this again."
Immigration
Vilela and her family are currently navigating the complex immigration system like many around the country, as she and her husband help her sister in-law and her family from Brazil become legal residents. 
Nevada has an estimated 210,000 undocumented residents as of 2016, according to a Pew Research Center report. Vilela wants a path to citizenship and immigration reform, including permanently reversing Title 42, a COVID-era public health law that allowed the quick removal of migrants to reduce the spread of the coronavirus and was first introduced in 1944.
She also called for politicians to "stop using our immigrant communities as political footballs."
"It's time for them to stop living in fear… We also need to stop the mass deportations and separating families at the border," Vilela said. "These are people's lives, people that have been here and they are participants in our community and they deserve a pathway towards citizenship."
Crime and policing
Like some other progressive Democrats, including Vilela backer Rep. Cori Bush (D-MO), Vilela called for changing how police are funded to instead invest resources in social services, echoing calls from the "defund the police" movement.
Specifically, she said police departments could use funds that have been aimed at "militarizing our police" — a term used to describe the outfitting of police with military equipment and powerful firearms — to instead "hire more social workers, hire people that understand crisis."
"We don't want to see people being shot down because they're having a mental health crisis, and I don't want to see officers having to go through that either," she said. "I think there's a real common-sense way of approaching that."
Vilela also called for criminal justice reform, condemning the jailing of people for nonviolent drug offenses related to cannabis, and she tied ongoing rises in crime to feelings of desperation. She has pointed to investing in health care, housing and education as ways of addressing that issue.
"We've seen a rise [in crime] during COVID because people felt despair," Vilela said. "When you have a future, when you're having a good-paying job and you're able to buy a home … you're less likely to go out and commit crime. So we need to address the core reason underlying why we have so much despair and crime."
Correction: May 16, 2022. This story has been updated to correct the details of an immigration situation Vilela's family is navigating.
Featured Videos
Comment Policy (updated 4/20/2021): Please keep your comments civil. We reserve the right to delete comments or ban users who engage in personal attacks, use an excess of profanity, make verifiably false statements or are otherwise nasty. Comments that contain links must be approved by admin.