One year since rescission of DACA, DREAMers, Democrats mark 'discouraging anniversary'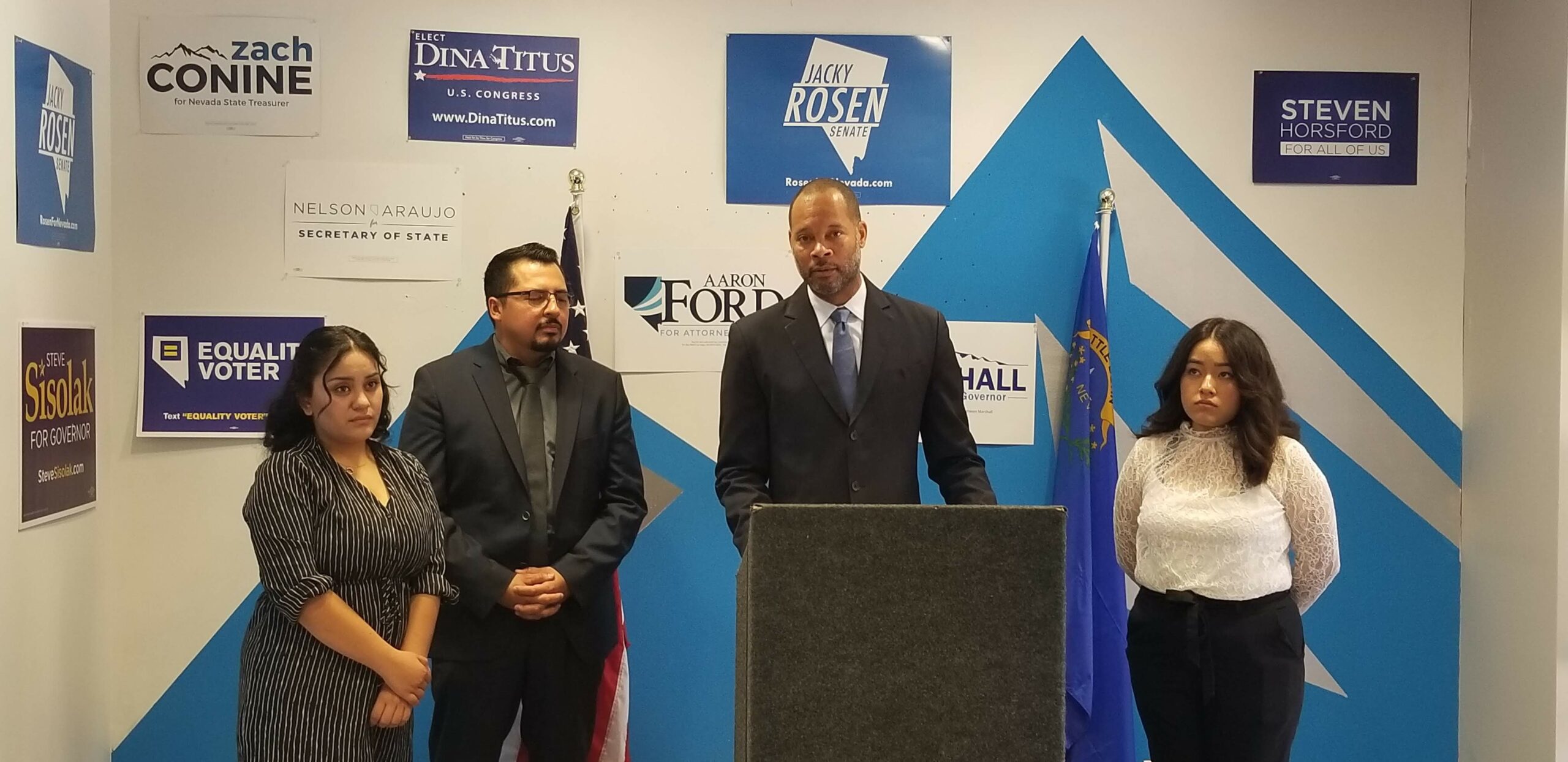 A year after the federal government terminated the program that had protected hundreds of thousands of young immigrants from deportation, DACA recipients and activists in Nevada gathered at a campaign office tucked in an East Las Vegas strip mall and renewed their calls for Congress to come up with a permanent solution to their plight.
Since the announcement last Sept. 5th that the program would be phased out, the Deferred Action for Childhood Arrivals (DACA) program has been subject to a steady stream of lawsuits, fits and starts. In limbo are nearly 700,000 DREAMers who were brought to the country illegally when they were children through no fault of their own.
"I feel very sad that it's been a year and that DACA remains cancelled," Las Vegas DREAMer Maria Nieto Orta said after a Wednesday press conference in Las Vegas organized by the Nevada Democratic Party. "Sometimes you feel very proud and you say, 'yes, I'm important to this country, they're trying to do something for me' and the next day they say 'there isn't a solution again' … this is a rollercoaster of emotions."
Her voice breaking with emotion at times, Nieto said in an interview in Spanish that the fear of not knowing the fate of DACA sometimes bubbles up among her family members, who are originally from Mexico and have not come up with a Plan B if there is not a favorable solution for DREAMers.
Nieto, who is about to turn 19, added that she's been a DACA beneficiary for three years and she just renewed her permit for two more years — an opportunity that she wants to seize to continue chasing her dream of being an immigration attorney.
"My parents tell me not to worry so much, to keep going with my head held high," Nieto said. "My grandpa tells me, 'If you keep working hard, you keep opening doors of opportunity for yourself.' That's what I want."
But it's not always easy to stay positive.
"My family is very strong. Even though they say nothing is going to happen, I know that they are also afraid that something will happen," she said. "But with God's favor, and the favor of my parents too, we're going to continue fighting."
Constant changes
Thousands of DREAMers emerged from the shadows when the Obama administration offered legal status and work permits through an executive order signed June 15, 2012.
When President Donald Trump took office, DACA's future turned cloudier and was cancelled last September.
"We cannot admit everyone who would like to come here," Attorney General Jeff Sessions said at the time, adding that DACA was an "unconstitutional exercise of authority by the executive branch."
Since its cancellation in September, lawsuits, reinstatements and partial elimination of benefits followed. Trump called on Congress to come up with a solution within six months, but the deadline came and went with no such legislation.
The politics
At a press conference Wednesday, Democrats placed the blame on Republicans in leadership — particularly Nevada Attorney General Adam Laxalt.
"When attorneys general across the nation sued the Trump administration to save DACA, Adam Laxalt refused to sign on," said Democratic Senate Majority Leader Aaron Ford, who's running to replace Laxalt and described Wednesday as a "discouraging anniversary."
Ford also placed blame on Wes Duncan, a former assistant attorney general in the Laxalt administration and Ford's Republican opponent.
"Laxalt's deputy, who's now running to replace him as attorney general, has said that he wants to continue Laxalt's legacy," Ford said. "And he was a part of the team that refused to stand up to Donald Trump when he tried to end DACA. Nevadans deserve better."
(Duncan has said that while he's appreciative of the contributions of immigrants, he believes immigration policy should be set by Congress in collaboration with the president.)
Laxalt had sued in 2015 against an executive order that would have expanded eligibility to DACA and created Deferred Action for Parents of Americans (DAPA) — a program that would have also extended legal status to the parents of DREAMers. But he's said little about immigration issues more recently as he runs a gubernatorial bid, and did not sign onto lawsuits either trying to preserve or trying to end DACA.
In a brief interview with The Nevada Independent in May, Laxalt explained why he sued in 2015 but stayed out of the fray more recently: DACA is different because there are already people in the program. DAPA was a new idea with no enrollees, he said.
"I felt it was appropriate for the system to work itself out. This is a congressional problem they've created. We still hope there's some resolution to our entire system, as well as DACA," he said.
Other Republican candidates have expressed more affirmative support for DREAMers, including former Rep. Cresent Hardy and Sen. Dean Heller. But both have said they don't support a "clean," standalone fix that doesn't include other concessions from Democrats, such as more funding for border security.
"I know the other side would just like to have DACA by itself. But it doesn't solve the problem that caused the DACA challenge in the first place," Hardy said.
Heller made similar statements.
"I'm going to continue to support these DACA individuals and give them the help and support they need, but I also believe at the same time that there has to be border security, must be border security, in the legislation," he said in January.
At the press conference, Democratic Assemblyman Edgar Flores decried the "tokenization" of DACA recipients, saying politicians like to voice their support for DREAMers around election season.
"Let's look at the candidates. What they were doing before the election season came along, before the camera was on them?" Flores said, before taking Heller to task. "Let's talk about what was happening before the Trump administration said 'I'm gonna get rid of DACA.' Where was Dean Heller? Was he out there, advocating for all these different families? Was he saying 'I'm gonna stand up and be your champion?' Or, was he sitting on the sidelines?"
Ford framed the issue as a matter of economic concern — if all DACA recipients in Nevada were to be deported, he said, the state would lose $600 million a year in gross domestic product. And Flores emphasized that the impact of leaving DACA unresolved affects not just the 13,000 or so recipients, but their spouses, children and entire social networks.
"When we talk about DACA it's not just about a small percentage of people, it's about all of us," Flores said. "And when we realized that DACA can be you and me. DACA is what you see in the mirror, because there's no difference between a good contributing Nevadan, and a DACA recipient; they're the same exact individual."
The Nevada Independent is raising $200,000 by Dec. 31 to support coverage of the 2024 election.
Tax-deductible donations from readers like you fund this critical work.
If you give today,your donation will be matched dollar-for-dollar.
Give + Get Matched
Featured Videos