Ryan Bundy is free and running for governor. But is anyone listening?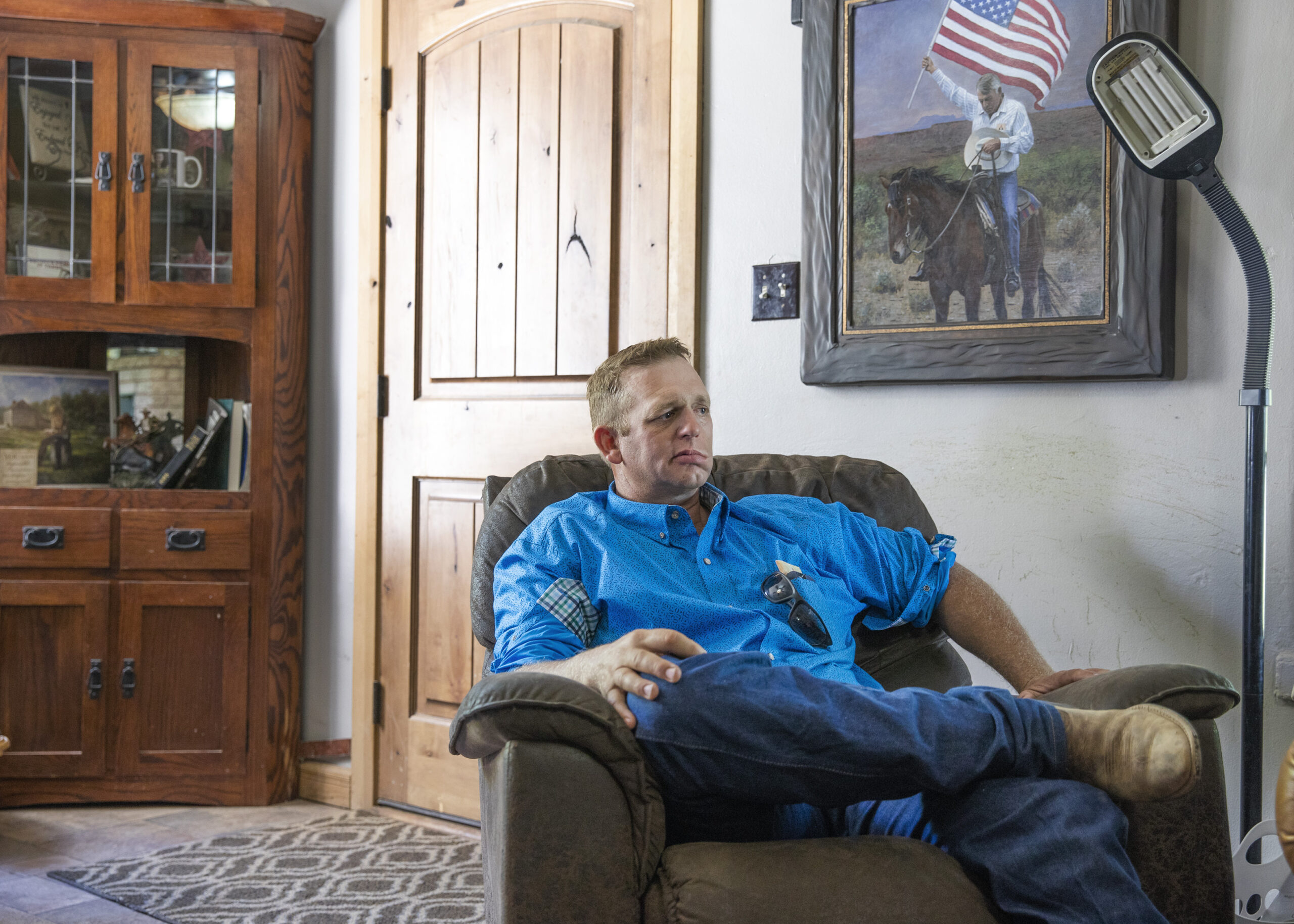 On a hot morning two weeks after the Fourth of July, Ryan Bundy sat in his living room in Mesquite in a blue button-down shirt, pocket Constitution over his breast. His right boot was planted firmly on the brown carpet, left leg crossed over, white cowboy hat resting on his knee.
He said he was starting to spend time campaigning in other parts of the state and had visited Elko and Boulder City.
Pahrump, too, his wife Angela reminded him.
Standing up and moving to the kitchen, Bundy poured a cup of tap water into a canteen, readying himself for the roughly 15-mile drive from his home to the Bundy family ranch in Bunkerville.
"This is processed water," he said. "So it's clean. It's good water."
Over the past four years, Bundy's life has centered on his family and the ranch, which sits between the muddy Virgin River and the red sandstone structures within Gold Butte National Monument. He helped lead his family's armed 2014 standoff with federal land managers as they impounded hundreds of Bundy cattle that had illegally grazed near Gold Butte for decades.
Two years later, Ryan Bundy joined his brother and other supporters at an armed takeover of an Oregon wildlife refuge. Then Bundy spent nearly two years in jail awaiting trials in what many perceived as slam-dunk cases for the federal government. But despite the striking televised images of two armed standoffs that made the little-known Bundy family a household name, prosecutors failed to gain a conviction in two separate trials, and the family walked free.
And now he's running for governor.
Three months after a federal judge dismissed the second case due to prosecutorial misconduct, Bundy announced his candidacy on a platform that the state needed to more aggressively challenge the federal government. During a three-hour interview in July, Bundy drew a direct connection between the standoff and why he was running. He said the state and Clark County, which encompasses Mesquite and Las Vegas, failed to protect his family's ranch.
"So again, why am I running for governor?" Bundy said. "It's because I have no faith and no confidence in any of those that are currently there or who are running to protect my rights. And it's not just mine, but it's the rights of all the people in Nevada… It's not just about land."
In reality, there was little state or county officials could have done in 2014 to prevent federal agents from executing a court order to capture Bundy's cattle, which had illegally grazed on federal public land for more than two decades. And there was little they could have done to prevent Bundy from facing charges. The dispute was with the federal government, whether they liked it or not. But when you don't recognize the federal government's authority to manage public land — a belief that guides much of what Bundy says — you don't see it that way.
In the final weeks of the 2018 gubernatorial campaign, many are watching to see whether Bundy will affect the race. Republicans worry that Bundy, who is polling at about 4 percent, may pull votes from Attorney General Adam Laxalt in rural areas, where turnout is critical for the GOP. Prominent Nevada Republicans have asked Bundy to drop out of the race. He has consistently declined, in part, because Bundy remains frustrated with Laxalt and the state.
"The state and the county have a responsibility to protect my rights," he said. "And they have failed to do so. And particularly Adam Laxalt, being in the position of attorney general for Nevada, has failed to do so... He's in a position to have asserted Nevada state law, to have protected us from this incarceration by protecting our rights. And yet he's done nothing."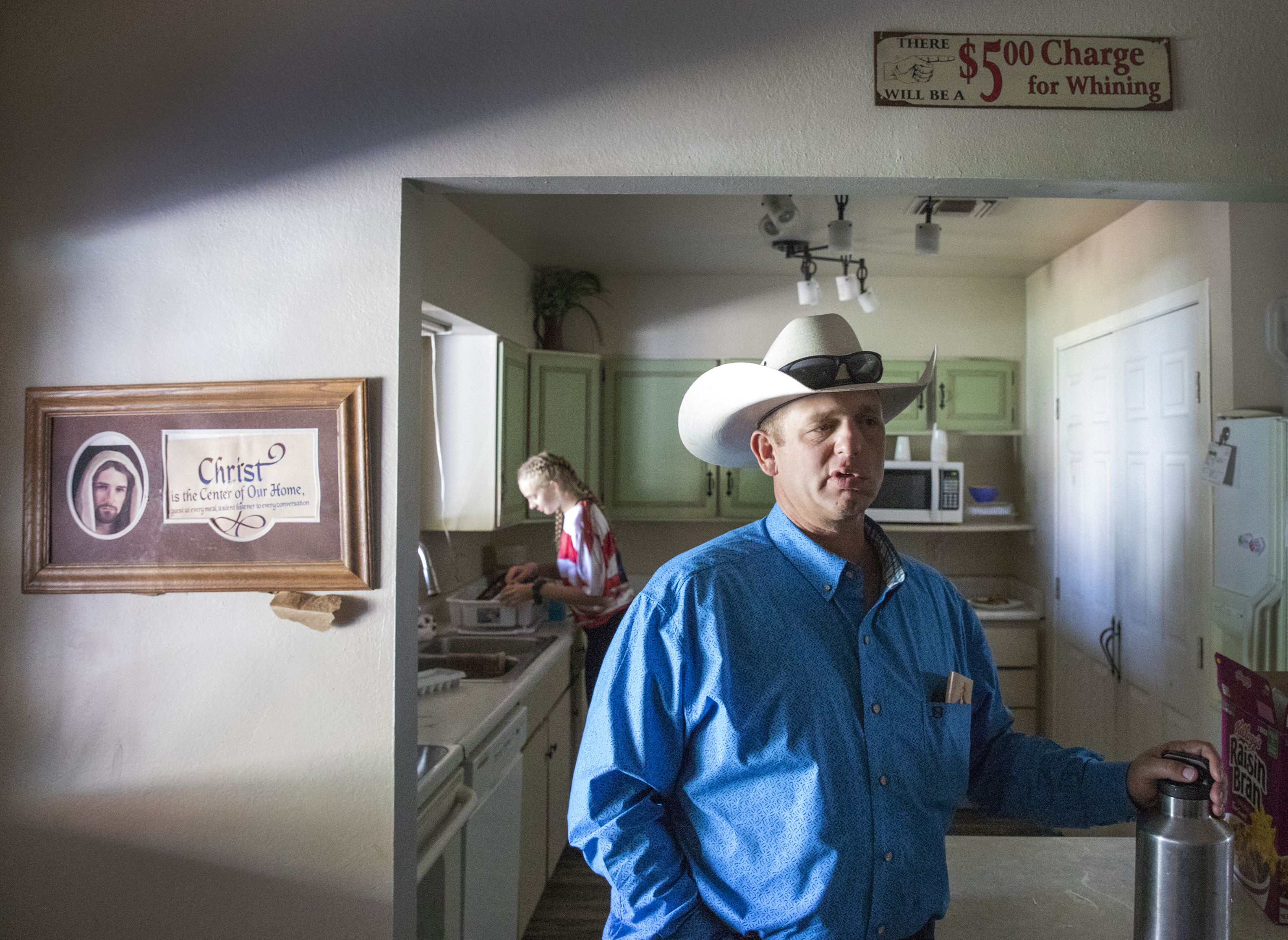 Above the kitchen door in Bundy's Mesquite house was a sign that read, "There will be a $5 charge for whining." His canteen full, he rested his hand on the lid and started talking about his position in the race. As Bundy spoke, his mouth curved toward the side, a result of nerve damage from a childhood accident. Bundy receives so many comments on this that he created an entire section on his website dedicated to his "crooked smile." When he was 7 years old, he fell off the bumper of a car while he was picking melons with his brother and his father. As Cliven Bundy backed up the Ford, it ran over part of his face, Bundy explained on the site.
"Lately there have been some questions regarding my good looks," Bundy wrote before recounting the details of the accident. "Everyone wonders what happened to me. Some assume that I always have a wad of tobacco in my mouth; and, others have called me awful names."
Many have dismissed Ryan Bundy because of it, said Peter Walker, an Oregon State University professor who wrote a book about the 2016 occupation of the Malheur National Wildlife Refuge. He said in an email that he was at once surprised and not surprised that Bundy was taking his grievances to traditional politics after having spent so years railing against the elected government.
"It bothers me that some people look at his facial disfiguration and infer that he's somehow dimwitted," Walker wrote. "Nothing could be further from the truth. Acting as his own attorney, Ryan Bundy defeated some of the top federal prosecutors in the country not once but twice."
"Ryan is very smart, and I don't believe for a minute that he seriously thinks he's going to become governor and succeed in throwing the federal government out of 'sovereign' Nevada," Walker added. "Like the Malheur takeover and the Bunkerville standoff before that, however, Ryan Bundy's campaign for governor gives him a megaphone to speak to the public. So, in that sense I'm not surprised at all. But what's the actual goal? I believe that when Ryan Bundy inevitably loses his bid for governor, it will enable him and his family and supporters to say that they tried to achieve their goals through conventional political means and it didn't work."
If that is the underlying goal, Bundy did not let on that day in July. He spoke as if he wanted to win, and it was clear that he understood his position running as an independent in a tight race.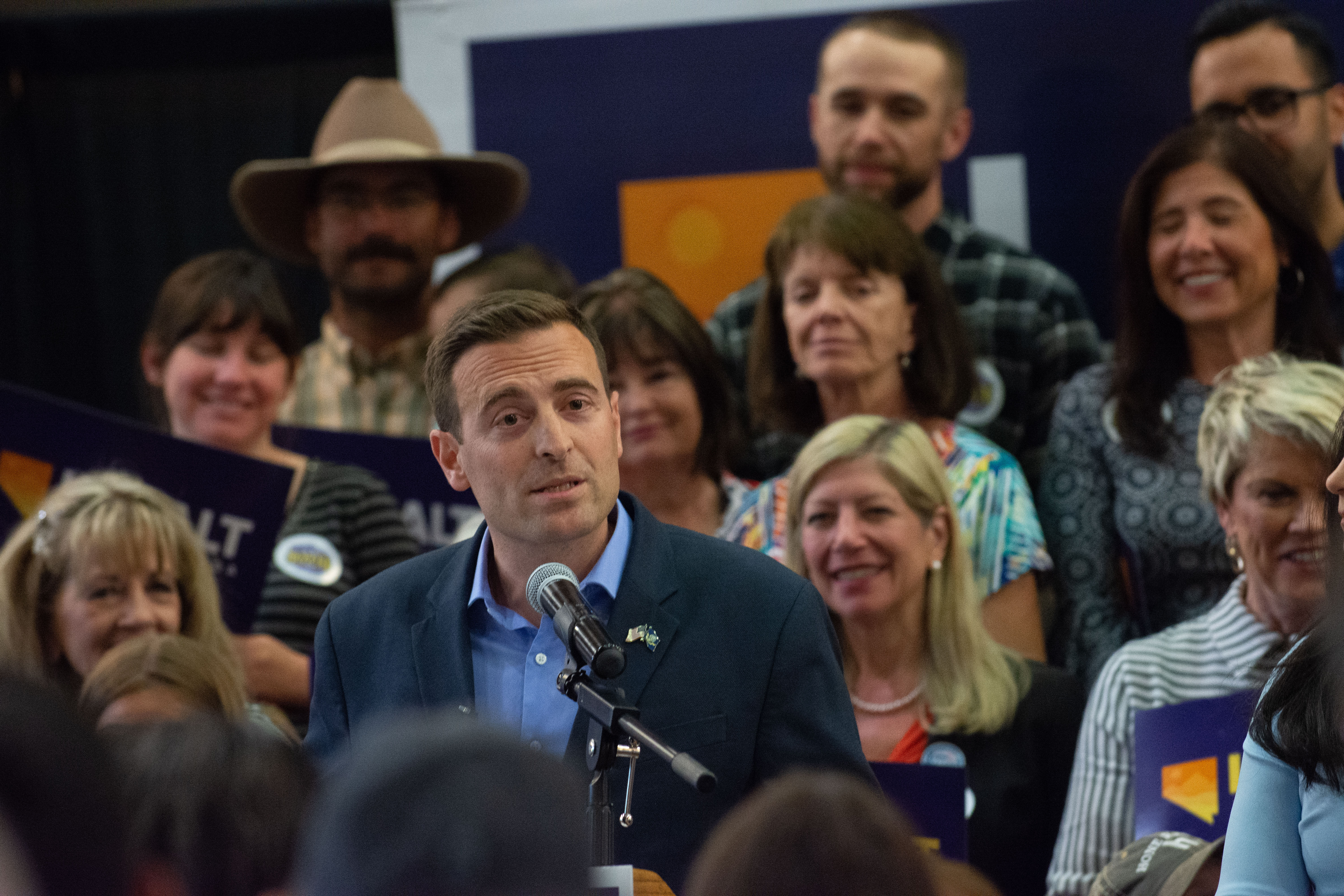 Not far into the conversation, Bundy said he recently had a face-to-face conversation with Clark County Commission Chairman Steve Sisolak, who wanted him to participate in a gubernatorial debate. Sisolak, a Democrat, is in a tight race with Laxalt, and Bundy said he thought Sisolak only wanted him in a debate to raise his profile and take away votes from Laxalt.
"I'm sure he believes I'm going to detract from the Republicans," Bundy said. "And that is just fine. He actually told me that he will not participate in a debate unless I'm there also."
"He said Laxalt doesn't want me involved," Bundy added. "But he insisted I be involved."
***
One of the Nevada Republicans who has tried to convince Bundy to drop out is Elko County Commissioner Demar Dahl, a veteran of the "Sagebrush Rebellion," a movement in the 1970s to transfer federal land to state and local governments. The Sagebrush Rebellion flared up in state legislatures across Western states, but the issues were especially acute in Nevada.
Since the 70s, disputes have continued to reemerge across the state. In 1991, the U.S. Forest Service impounded Nye County rancher Wayne Hage's cattle, prompting a decades-long legal fight. In 1993, the same year Nye County passed a resolution that federal land belonged to the state of Nevada, Cliven Bundy stopped paying fees BLM required to graze cattle on public land. One year later, Nye County Commissioner Dick Carver led armed protesters and bulldozed a road in the Toiyabe National Forest that had been previously closed. In 2014, Cliven Bundy, with the help of anti-government protesters, challenged federal agents at an armed standoff.
In 2018, Bundy declared his candidacy for governor on a land transfer platform — a direct echo of the policies and beliefs held by Dahl and dozens of other longtime Nevada rural residents.
Dahl goes back a long way with Cliven Bundy. When Dahl ran against Sen. Harry Reid in 1992, the elder Bundy helped rally support around Mesquite. Dahl said Cliven Bundy was courageous for continuing to ranch in Mesquite at a time when Clark County was buying out other ranchers.
"I have a great deal of respect for him," Dahl said. "He is a very courageous person."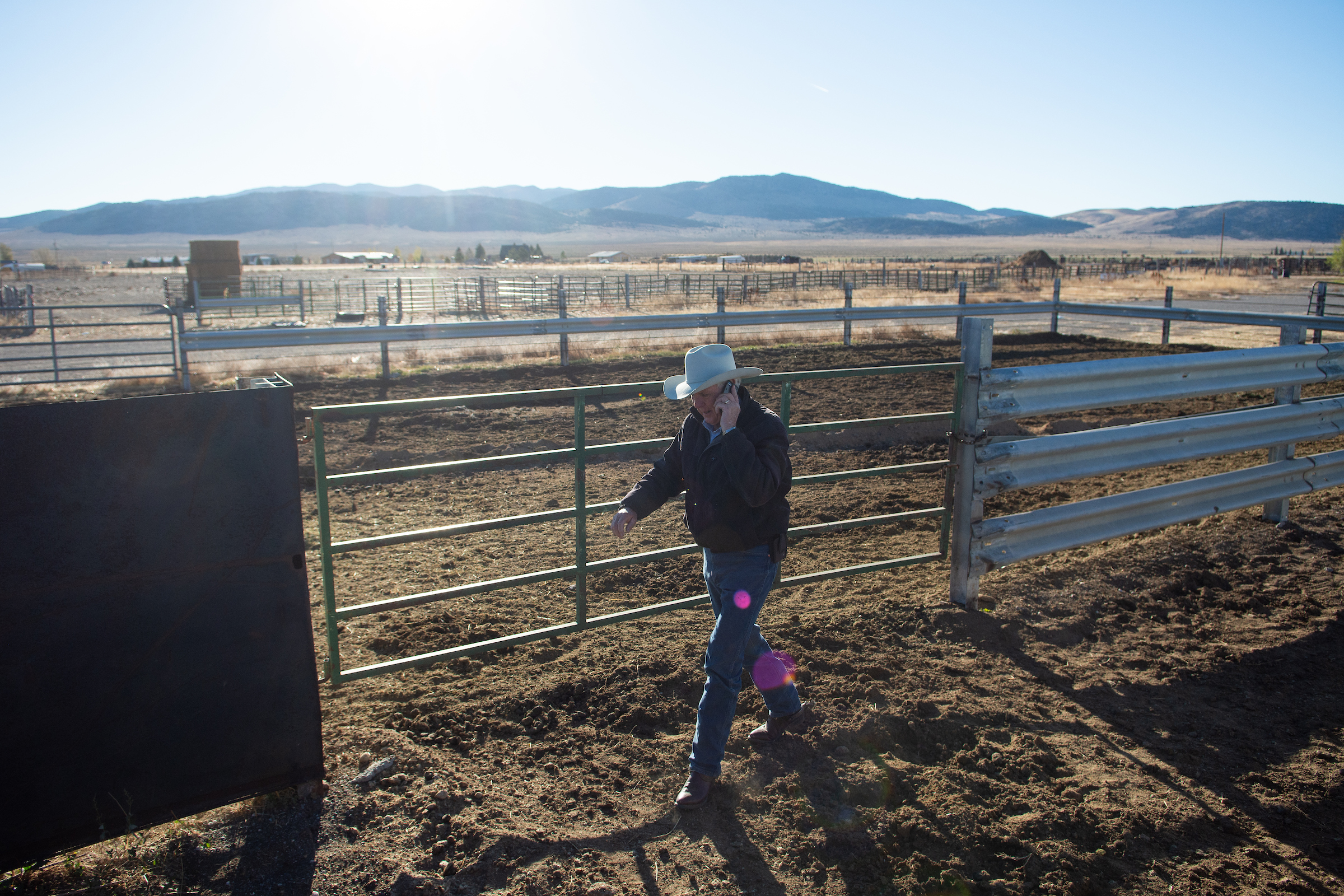 But not long after Bundy announced, Dahl traveled to the Bunkerville ranch to convince Cliven Bundy's son to drop out. Other prominent Nevada Republicans have too. None have been successful in convincing Bundy that running could undermine the issues he cares about.
"I tried to talk him out of the idea of doing it because I was afraid that he would take enough votes away from Adam that he could give the election to Sisolak," Dahl said in September.
"And I could not convince him," he added. "I spent an hour at least with him and then an hour with him and his dad trying to convince him that this was not a good thing for him to do. But he was determined and he is still doing it. And my concern is that it may give us a Democrat governor, which I think especially for us people in Northern Nevada, is a terrible situation."
Dahl and nearly all other county commissioners outside of Clark County support Laxalt.
And the attorney general's judicial philosophy is by no means antithetical to the ideas of the Sagebrush Rebellion. In cases involving the Greater sage-grouse, groundwater and the scope of the Clean Water Act, Laxalt has pushed back against greater federal control on public land.
In 2016, the bipartisan Conference of Western Attorneys General said in a report that there was no solid legal rationale for turning over control of federal land to local governments. Achieving that goal should be done through Congress, they said. Idaho's Republican Attorney General Lawrence Wasden, who led the report, wrote that his office "concluded that there was no legal basis for a court action seeking to force the United States to turn these lands over to the state."
Laxalt cast the sole vote not to approve the report.
But Bundy is not dropping out.
That is not surprising. The Bundy family has never been concerned about making its presence known.
***
Since the standoff, the area around the Bundy Ranch in Bunkerville has returned to its quiet status quo. Gone are the armed militiamen and anti-government protesters who traveled from across the West, rallying to the cause as the Bureau of Land Management (BLM) executed the court order to round up hundreds of Bundy cattle trespassing federal land. Gone are the TV crews and national pundits that descended on Interstate 15 to provide quick commentary on an armed confrontation with a complicated backstory. Gone are the contractors that captured about 400 cattle, only to release them when BLM agents decided to let the Bundy family walk free.
Only the Bundy family remains present in Bunkerville, and they remain closely watched.
In June, Ryan Bundy and his father attended a planning meeting for Gold Butte National Monument, which encompasses the land the Bundy family views as having a right to use, despite the fact that it is managed by the federal government. At the meeting, Cliven Bundy called environmental groups "aiders and abettors of the illegal creation of the monument," the Mesquite Local News reported. And on Sept. 21, as the state commenced work on abandoned mines, Cliven Bundy called the Clark County sheriff, and deputies responded to the ranch.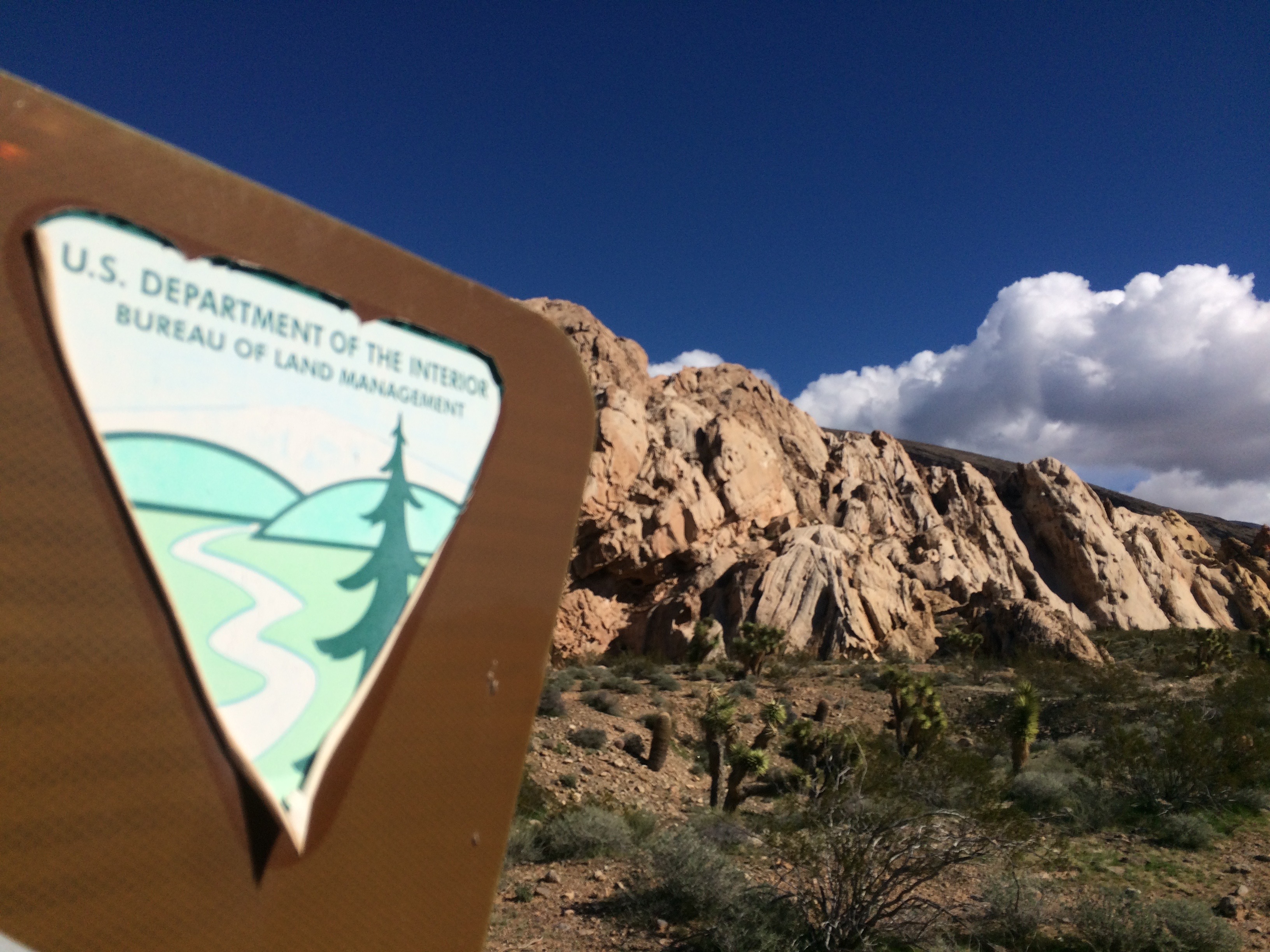 Before deputies arrived in September, workers for the Nevada Division of Minerals had arrived in the area to fence off abandoned mines. Cliven Bundy worried they were violating his water rights. Cliven Bundy called the Las Vegas Metropolitan Police Department. Metro did not take a report but, according to the sparse notes of the service call, the state and the Bundys talked over the issues, and the abandoned mine crew adjusted its work to avoid any conflicts over water.
In Reno, Bundy said "there was no incident" with the workers.
"We had a conversation with them," Ryan Bundy said after the event in Reno. "We did call the sheriff because we didn't know exactly what was going on. Sheriff's deputies came out, and we just voiced our concern that our water rights were being monkeyed with."
But what Bundy called a non-incident caused enough concern that the local BLM office pulled out of a Nevada Public Lands Day event planned for Gold Butte the following weekend. After hearing about the incident, officials with the land agency made a last-minute decision not to participate out of "the interest of safety," a spokesman for the local BLM office confirmed.
"It was decided we would not have anyone go out on that Saturday," the spokesman said.
The Bundy story is a technical one about grazing allotments, national monuments, animal units, the Taylor Grazing Act, the Endangered Species Act, the desert tortoise and the consequences of urban growth. It is also a story about trust and information befitting our times, a story about what and who we believe — and how both are knocking on the gates of establishment politics.
By most accounts, the event on Sept. 21 was a non-incident. But when it involves the Bundys, it is hard to tell what is and isn't an incident. Just as the Bundys offer a different interpretation of the Constitution and federal law, the Bundys themselves are perceived in different ways by the wide spectrum of Americans involved in the patchwork of using and managing public land.
Just as there is no one way to view the family, there is no one way to view Bundy's candidacy.
Beliefs are what makes Bundy run. For Bundy, the election is not just about being governor and it is not just about Laxalt, whom he said did not do enough to support the family during and after the standoff. For Bundy, the campaign is about his view of the law. What makes Bundy run is his worldview, a set of beliefs that the federal government's power over the land is unconstitutional.
To understand that viewpoint is to understand how the West developed.
In Mesquite, where Bundy lives, the signs of urbanization are everywhere. Encircled by federal land, the town is a desert outpost alongside the Virgin River, a tributary of the Colorado River that ends in Lake Mead. Once a rural area, there are now retirement communities, golf courses and resorts. In 1990, Mesquite's population was 2,046. Today, there are more than 18,000 people. Much of the water in the Virgin River is no longer used in the valley. Instead, it is leased to the Southern Nevada Water Authority, which uses it to bolster Colorado River supplies.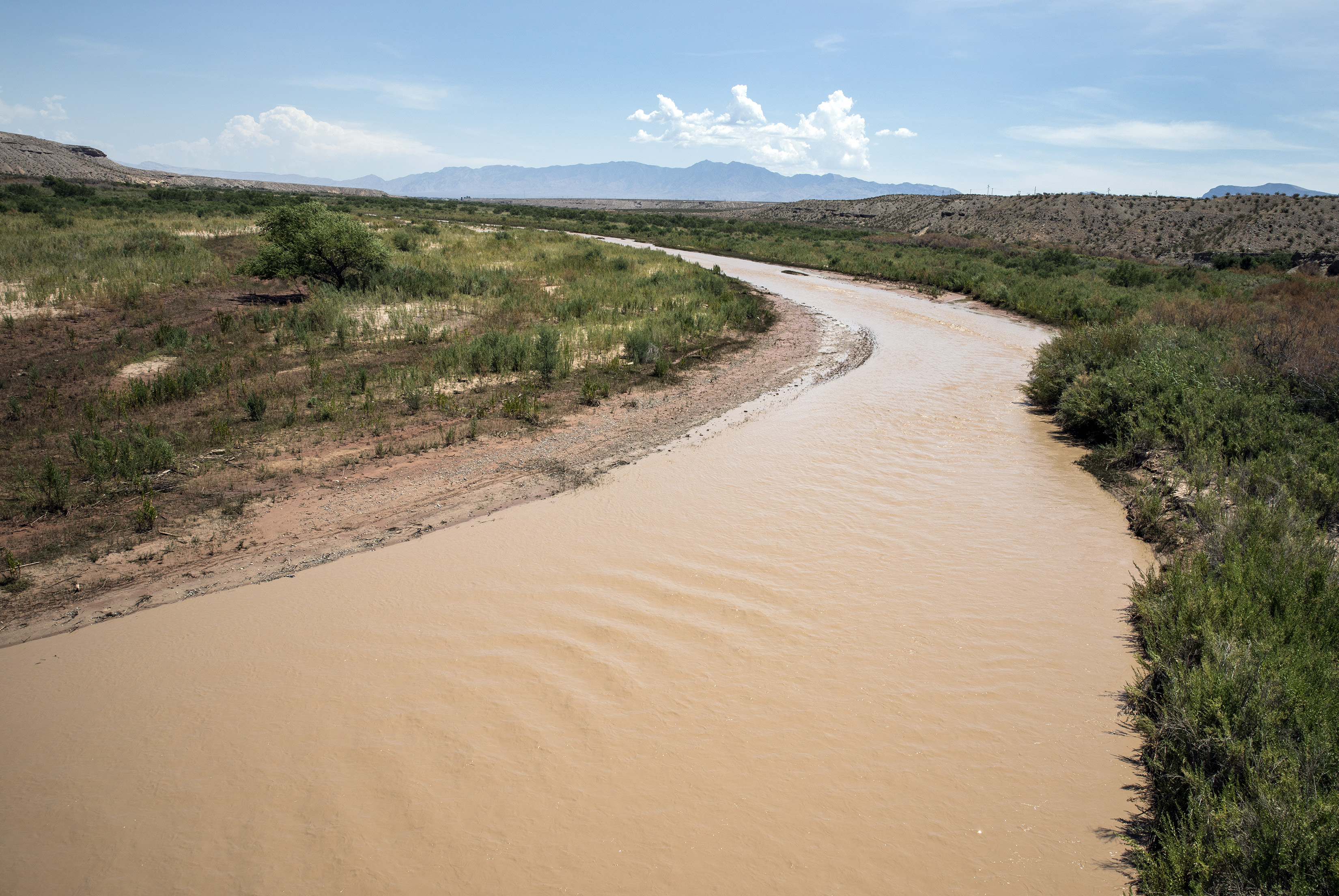 On the way from his house in Mesquite to the ranch, Bundy started talking about this.
"I don't know if you notice, [but] see these fields right here, they're dried up," Bundy said, pointing out the car window. "They haven't been used for several years. That's because the water has all been transferred to Las Vegas so these fields go unproductive, dormant."
The federal government manages the majority of land in the American West, including more than 85 percent of the land in Nevada, for multiple uses. A voter in Las Vegas, 81 miles away from Mesquite, might pick up a T-shirt that says "Keep Public Lands Public" and think that all public lands are open spaces preserved for low-impact activities like hiking or backpacking.
In actuality, outdoor recreation is only one of the activities that occur on public land. Across Nevada, there are grazing areas, mines, military bases, geothermal plants, solar arrays, dams and windmills scattered across federal land. In permitting these projects, Congress requires the federal government to consider the environment and ensure activities like grazing don't harm birds or reptiles protected under the Endangered Species Act. But it wasn't always that way.
Cliven Bundy's parents purchased the Bunkerville land in 1948, and his family has ranched and farmed in the area near Mesquite since the 1870s. In those years, the rules have changed.
When it became clear in the late 1800s that the West, because of its aridity, would be difficult to settle, the federal government began playing a larger role in managing Western land. The U.S. government constructed dams and organized grazing allotments through the Taylor Grazing Act of 1934. Ranchers were required to get a permit and pay a fee to graze cattle in an allotment.
Over the next 70 years, Congress continued passing rules like the Endangered Species Act that put additional restrictions on grazing and development. Although there were other dynamics like market consolidation at play, these rules often hit rural communities like Bunkerville the hardest.
For the Bundys, it became personal in the early 1990s when the U.S. Fish and Wildlife Service listed the desert tortoise under the Endangered Species Act, limiting grazing and putting the brakes on growth in Las Vegas. With the region looking to expand, Clark County began buying grazing permits from Mesquite ranchers. Once the county owned a permit, it could retire the permit and conserve the land for tortoise habitat. If the county set aside enough rural land, the federal government said Las Vegas could keep growing its urban footprint in tortoise habitat.
In effect, preservation came at a cost. As Las Vegas grew outward into undisturbed land, it had to offset its impact elsewhere, and it did that by purchasing grazing rights from ranchers.
"As the urban area of Las Vegas expands, you have to have a greater degree of protection elsewhere… The problem is the ranchers in Clark County are in the middle of that space," said Leisl Carr Childers, an associate history professor at Colorado State University who has studied the area near Mesquite. "That middle ground where ranchers operate is going to get squeezed. And that's precisely what happened. That lines up with exactly the way Cliven Bundy and his family has always explained the problem — that they are being forced out of Clark County."
But the Bundys never blamed the county. They blamed the federal government.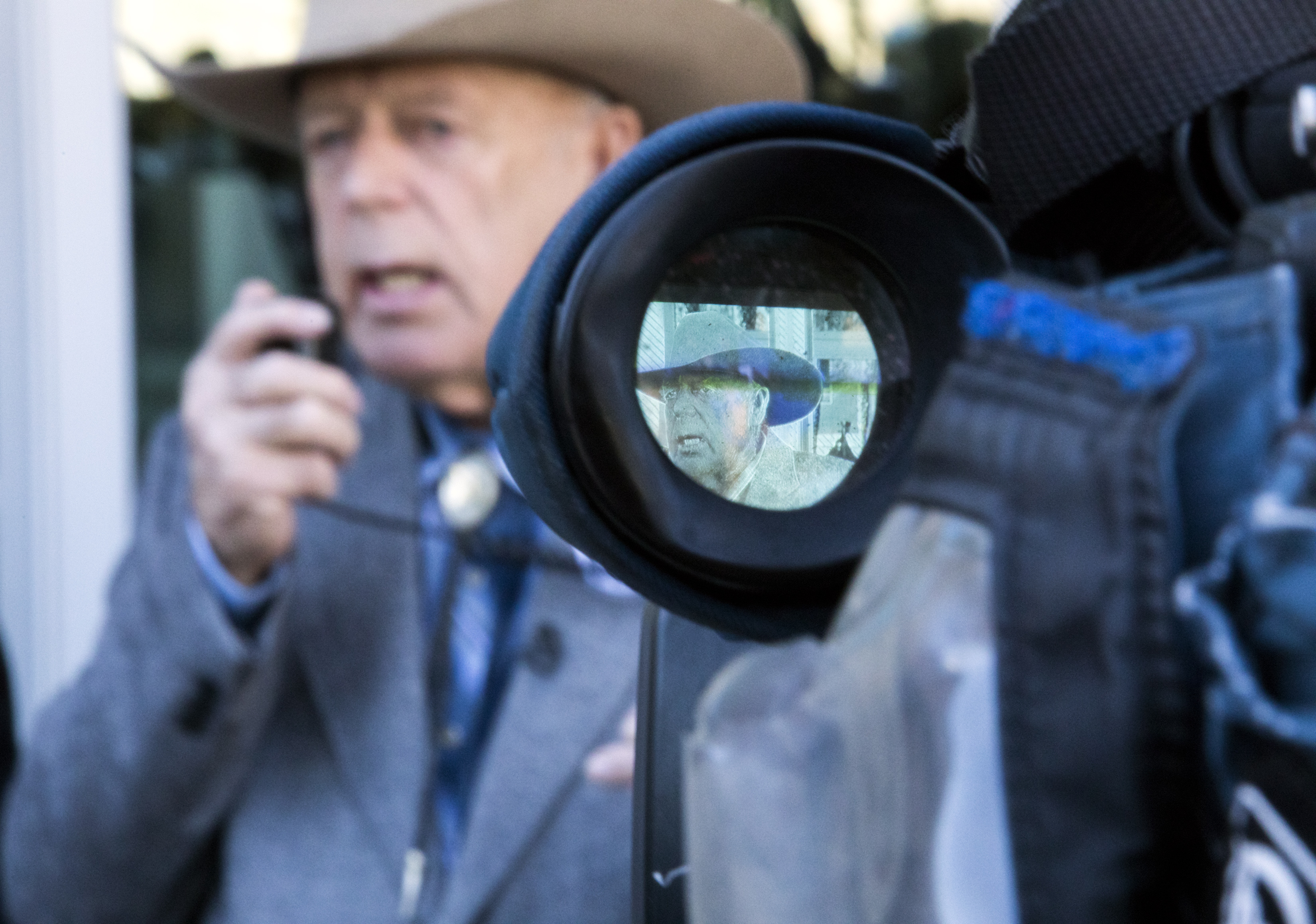 They saw the Endangered Species Act as the root issue. Instead of selling out, Cliven Bundy doubled down. In 1993, he stopped paying his grazing fees to the federal government, in part because of the new restrictions to protect the tortoise. And he continued to ranch at Bunkerville. For the federal government, Cliven Bundy was grazing illegally, refusing to play by the rules.
Ryan Bundy is picking up where Cliven Bundy left off, taking the cause to conventional politics. At the center of Ryan Bundy's worldview is a belief that, in most cases, it is unconstitutional for the federal government to control public land and for Congress to have passed environmental laws like the Endangered Species Act. All it would take to push out the federal government, Bundy has said, is a governor who was willing to stand up to Washington D.C. and say "no."
Almost all mainstream Republicans and Democrats disagree with that approach, arguing that achieving Bundy's goals would take a successful court case or an act of Congress.
Bundy would say they have the wrong information.
"We shouldn't be asking for powers back," Bundy said in July. "We shouldn't be asking for land back. We shouldn't be fighting these stupid little cases when there is no authority for Congress to have those powers or authorities to begin with. We've allowed them to have it through our own ignorance, our own negligence to assert our proper authority."
Most of Bundy's endorsements have come from Republican anti-establishment politicians. His most significant backer is Rep. Ron Paul, the Texas congressman who ran for the presidency as a libertarian in the 2008 and 2012 Republican primaries. A Nye County Commissioner, Donna Cox, also endorsed Bundy after Laxalt said he would not support late brothel owner Dennis Hof, who won a primary for an Assembly seat representing Pahrump.
It is in Nye County where Bundy's presence in the race could make a difference.
In 2015, Cox introduced an anti-BLM resolution with Cliven Bundy's support, the Pahrump Valley Times reported. The rural Southern Nevada county, the third-largest county in the contiguous United States, is close to the Bundys, and they have made frequent appearances at county commission meetings. They are well-known there. A few months before the resolution, Cliven Bundy had appeared at a meeting, telling commissioners to reject the BLM's authority.
The resolution to say "no" to the BLM ultimately passed in the commission.
***
In the car ride from Mesquite to the ranch, Bundy noted when the vehicle had passed the family's historical rangeland, which he described as starting at the foot of the mountains and extending to the peninsula of Lake Mead and what is now inside Gold Butte National Monument.
"Lawfully, it's not a monument and lawfully this is not federal land," he said, looking out the passenger seat window, with his wife, daughter and a Nevada Independent photojournalist sitting in the back seat. "That's the whole issue. I don't talk in those terms."
For Bundy, the goals pushed by the state's Republicans do not go far enough. In July, he said he disagreed with the Nevada Public Lands Council and the American Public Lands Council, groups that have lobbied Congress to transfer the control of federal land to the states.
"They are asking Congress to dispose of the land and/or give it back to the states," he said in July, leaning back on a chair at the family ranch underneath a portrait of Cliven Bundy by Jon McNaughton, a Utah-based painter who is known for his reverent oil paintings of President Trump. "And I understand their position well. ... I don't agree that Congress can give something to the state that already properly belongs to the state. And so I think their position is faulty."
Before going inside, Bundy stood in front of the ranch house scored by the sound of mooing cattle and chirping birds. Not long after 10 a.m., it was already above 100 degrees that July morning. Bundy pulled out his crinkled pocket Constitution and began reading excerpts, something his father was known for doing with the media during and after the standoff.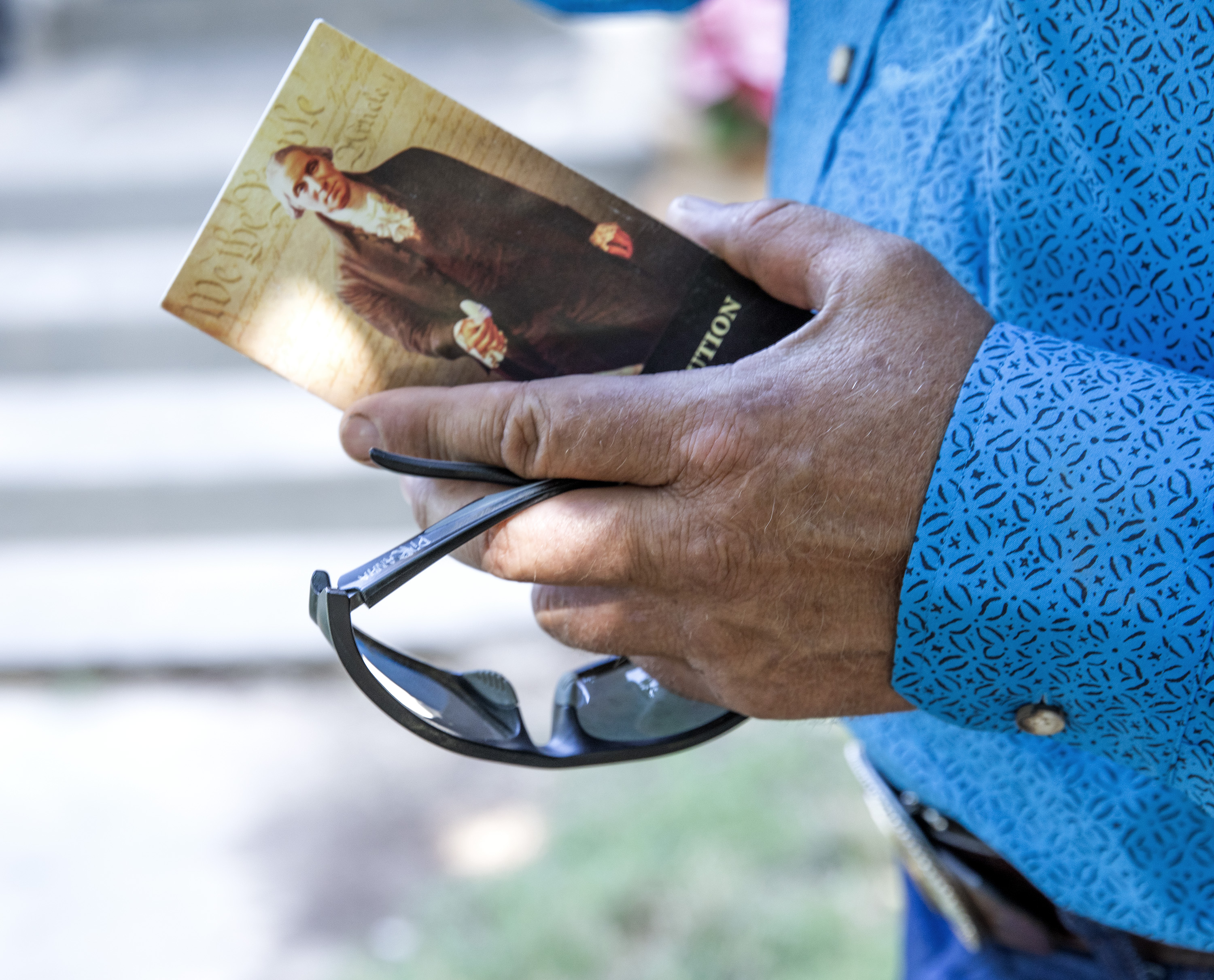 Bundy's legal basis for his claims have been tested in federal courts in the past, but they have mostly fallen flat. Bundy and his supporters have argued that the Property Clause and the "equal-footing doctrine," which describes how states should be admitted into the union, justify their belief that the federal government does not have the authority to manage public land.
"There's no case to be made that any federal court would pay attention to," Michael Blumm, a professor at Lewis & Clark Law School, told The Nevada Independent earlier this year.
In the weeks before the trial, U.S. District Court Judge Gloria Navarro allowed Bundy to represent himself in mounting his defense. During the short trial, Bundy said he was resistant to stand and he refrained from calling the judge "Your Honor." He instead called her "madam."
"I called her madam," he said later. "Because honor is a characteristic by which one earns. And they want to use it as a title of nobility. The Constitution also speaks against titles of nobility."
But another side of Bundy came out during the trial, too. According to court transcripts, Bundy emphasized an abiding connection to the land in his opening statement, talking about how "they called us river rats when we were kids" and describing the freedom he felt out on the land.
"If I could, in your minds, take you to our ranch, take you out into the hills to see the beauty of the land, to breathe the fresh air, to see the beautiful sunsets and the beautiful sunrises and the beautiful moonrises and see the mountains and the brush," he told the Las Vegas courtroom.
"Place yourself there and feel the freedom," he added. "Feel the freedom. Not all the congestion of the cars and the buildings and the people. It's an amazing feeling. That's how I grew up."
This is the side of Bundy that is hard for his opponents to square with the illegal grazing, threats of intimidation and armed protests. Opponents see him and his family as the perpetrators of not one but two standoffs with the federal government. Two years after the 2014 standoff, Bundy and his brother Ammon Bundy led a 41-day armed occupation of buildings at the Malheur National Wildlife Refuge. Like in Las Vegas, the Bundys walked free. A jury found Bundy, and the other defendants not guilty of gun charges and a conspiracy to obstruct federal employees.
Before the Nevada case was dismissed, Bundy addressed his critics in his opening statement.
"It's been brought forth that we used force and manipulation, that we extorted and that we were violent," he told the jurors. "My family's not a violent family. I'm not a violent man."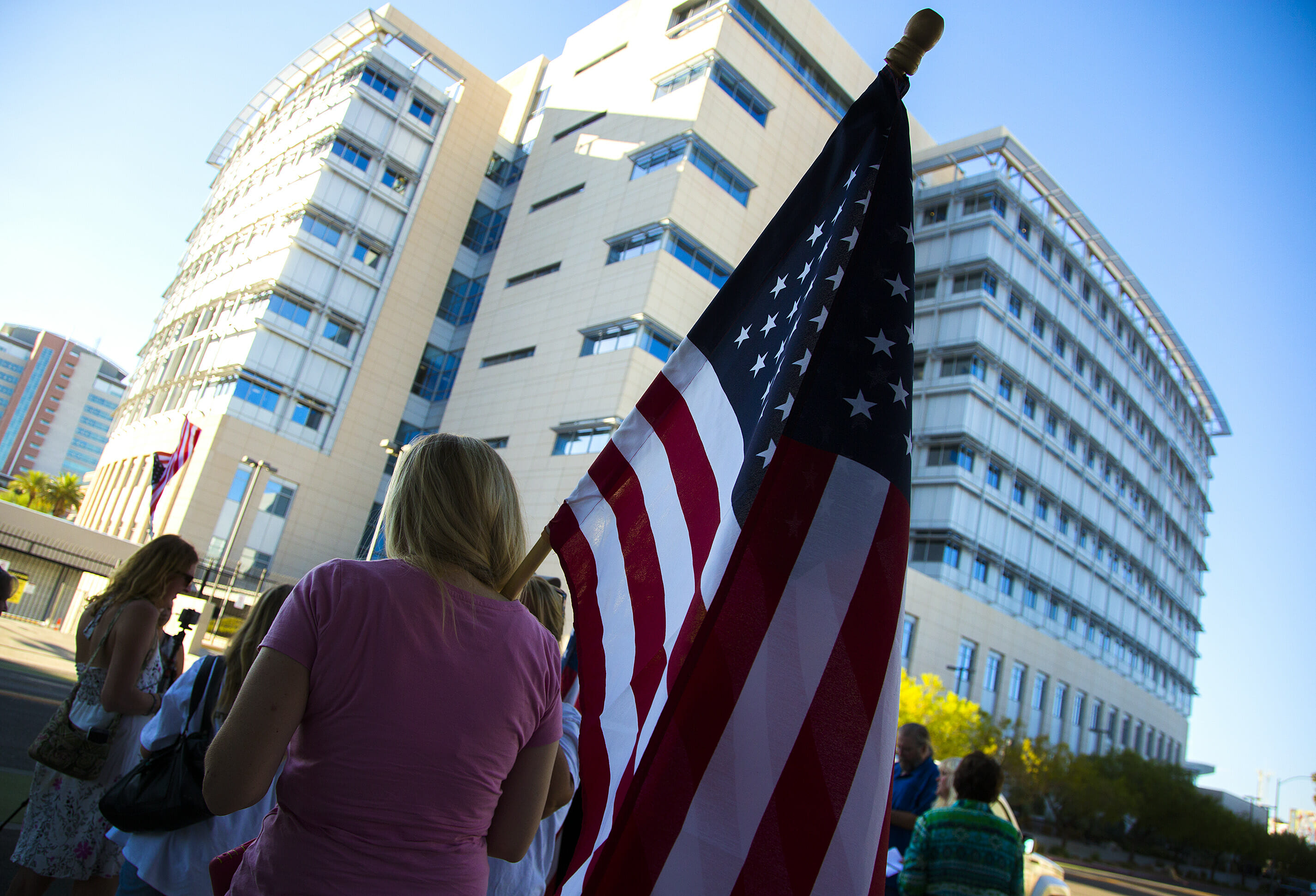 The fact is the Bundy's story, as they tell it, resonates with some people. The question awaiting an answer on Nov. 6: Can Bundy convince enough voters to swing the election in key counties?
On the campaign trail, Bundy has waded into issues that have little connection to public land ownership. Take marijuana. In his interview with The Nevada Independent, Bundy said the federal government does not need to play a role in the use or cultivation of marijuana.
"God created this Earth," Bundy said. "And he gave every needful thing — all the plants, the herbs and the fill — he gave them to man for our use and our benefit. What right does government have to regulate that? They have no darn right at all… So we've created a whole system of laws and enforcement on the War on Drugs. How many men are in jail because they've used marijuana. What right does the government have to do that? None."
The more Bundy talked about prisons and pot, the more he sounded like a libertarian activist. And the more Bundy talked, the more he sounded like someone running against a prosecutor.
"I've always heard it said that it is better to let 100 guilty men go free than it is to wrongfully imprison even one," said Bundy, sitting in the family room. "And I believe that. And yet, I see where they are imprisoning many innocent men. And that sentiment surely isn't being adhered to. They're more interested in imprisoning whomever they can imprison, guilty or not guilty. And there are a lot of innocent men imprisoned. And that's bothersome. That was an awakening."
But the Bundy family is not often viewed as well-meaning activists.
Last month, the Bundy campaign made national headlines when his campaign wrote on a website that he supported an "eye for an eye" and a "rape for a rape" crime plan. Bundy disowned the text, saying those were "not my words" and that a web developer posted it.
And despite his polite presence in a one-on-one conversation — Bundy offered us water on multiple occasions — critics say that the Bundy family has never been all that innocent. Before the standoff, Cliven Bundy referred to a "range war," which attracted dozens of militiamen to the ranch. Reid called Cliven Bundy a "domestic terrorist." The BLM's decision to back down from the standoff — and the dismissal of the federal case against the Bundys — have led many to worry that others could come with guns. It's why the BLM had "safety" concerns on Sept. 21.
In the middle are federal land managers. In interviews with several over the past year, many of them expressed concerns that the Bundys — and the government's response — have left their supporters emboldened. Erika Schumacher, who was the head of law enforcement for Southern Nevada BLM during the standoff, said there is "a huge level of frustration" among employees.
"Not a whole lot happened to these guys," said Schumacher, who now teaches at UNLV.
But Bundy's supporters see him in a whole different way, and for many different reasons. Maybe they see the conflict as protesters versus the state. Or maybe they see the Bundy fight as an urban versus rural issue. Or maybe they see the conflict as the feds violating a state's rights.
"Most ranchers aren't activists," said Childers, the associate professor of history at Colorado State University. "Most people aren't activists. But there is a layer of every society that does fall in that activist category. What I mean by activist is people who believe firmly that the world should function in a specific way and they are willing to take additional steps to help make the world function in that way… I think it is helpful to think of the Bundy's as activists."
Childers said as Oregon Public Broadcasting pointed out in its "Bundyville" podcast series, the flaw in their activism could be that they ignored the consequences of their actions on others.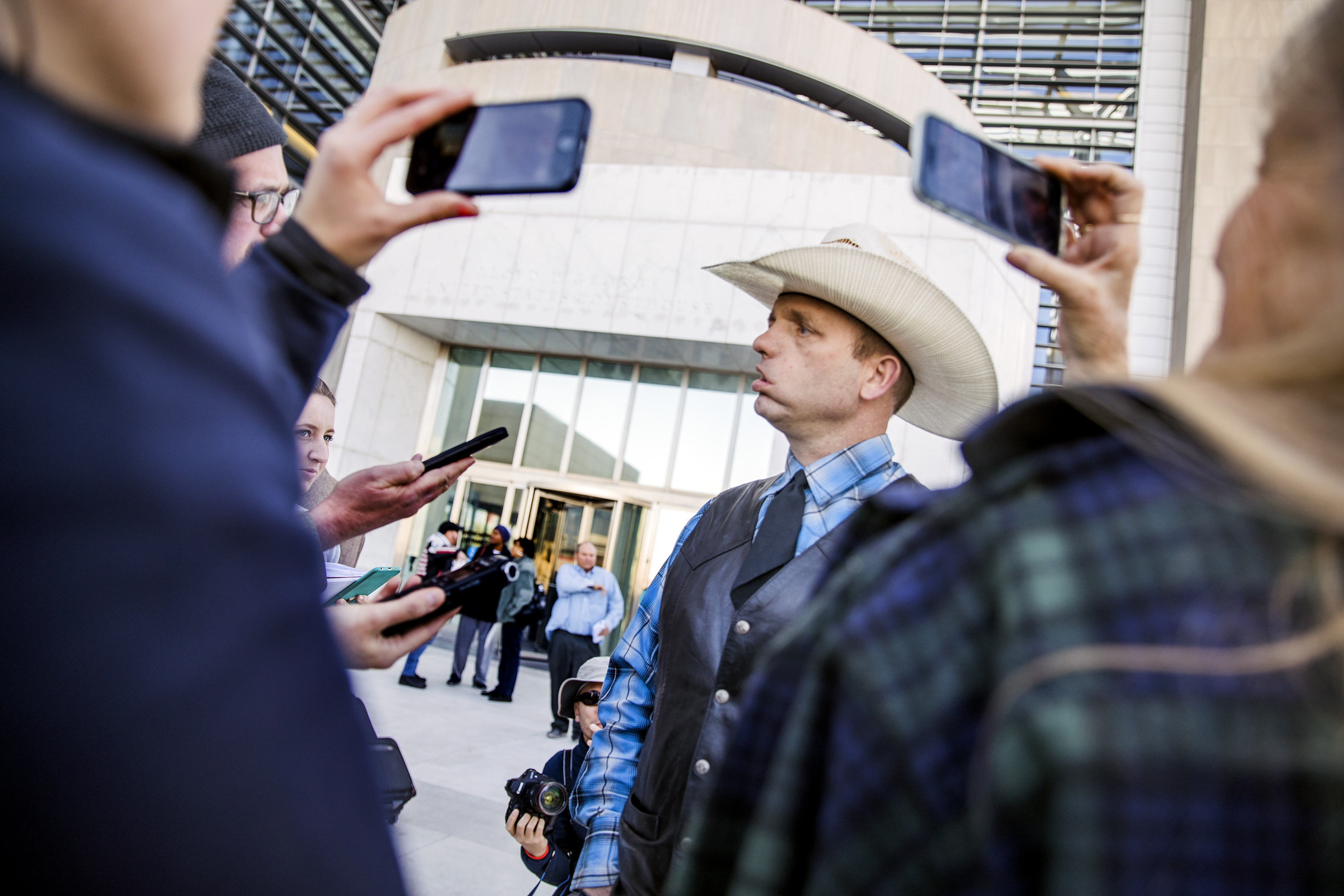 The Bundy's case is further complicated by the federal government's role. Even many of Bundy critics blame the federal government for the standoff — and the dismissal of the 2014 standoff case — because it only fueled the Bundys' belief that the deck was stacked against them.
At the trial, federal prosecutors withheld threat assessments and reports from the defense that weakened their case and suggested that the BLM responded excessively to the Bundys. These assessments suggested that the Bundys were not as violent as prosecutors cast them to be.
After learning that the prosecutors withheld these documents, Navarro, the federal judge, dismissed the case, and the Bundys walked free again. She told a Las Vegas courtroom that there had been "flagrant prosecutorial misconduct" that violated "a universal sense of justice."
Some have also criticized the standoff as a disproportionate response to a grazing issue. The BLM agent in charge of the standoff, Dan Love, was fired last year after misconduct emerged in two inspector general reports. The BLM, hearing militia groups might come support the Bundys (several did), deployed more than 100 agents, many of them armed, for a cattle round-up.
"It was a strategy that certainly was a poor one," Robert Abbey, a former BLM director who previously served as Nevada's state director, said of the standoff in an interview with The Oregonian this year. "In hindsight, the agency knew or should have known better."
***
Even if Bundy says his campaign is about more than land, the campaign is mostly about land. And the question of whether ranchers will support Bundy is a complicated one. Bundy conceded as much, describing the ranching community's support for their cause as "fickle."
When asked how the ranching community perceived his campaign, he replied: "Well that's gone up and down and changed around as the time has gone by. First of all, we were held as heroes. Then we all got arrested and everyone wanted to distance themselves from us and now they're all looking back at us again because we've won the cases. So they're a little bit fickle, I think."
In the eyes of the federal courts, whether Bundy recognizes their authority, the Bundy Ranch continues to operate an illegal grazing operation, letting cattle roam on a national monument without having a permit to do so. In the eyes of the federal government, the Bundys possess no innocence. They see the Bundy family as scofflaws standing behind threats and misinformation.
The Bundy family disagrees with that characterization. They still see themselves as ranchers, and they see their historical ties to the land — and water — as justification to graze cattle, regardless of what the law says or whether legal scholars agree their claims are meritless.
"The fact that they can't persuade an attorney general to file a suit, even in Utah, tells you how legitimate this is as a legal argument," said John Leshy, a UC Hastings professor and a former general counsel for the Department of the Interior during the Clinton administration.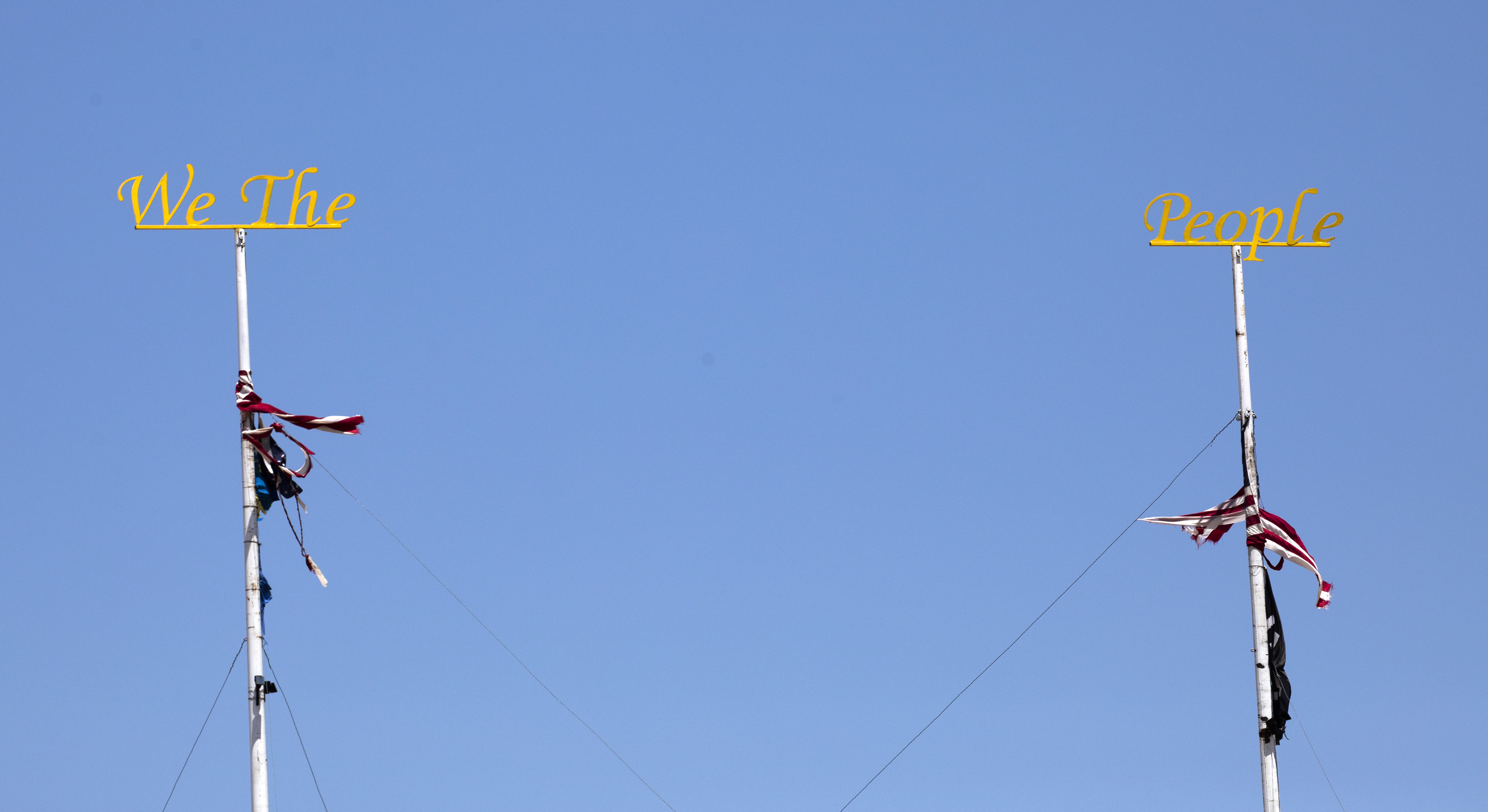 When asked if the family still had a permit to graze on federal public land, Bundy said that it was not a permit; it was a right. And it was a right, in part, because the family got there first.
"We've established that right through prior appropriation and beneficial use," he said.
Bundy's reference is a nod to the fact that Western resource law favors the region's earliest settlers. It is structured around the concept of "first in time, first in use" — that those who are first to discover minerals or divert a stream have the strongest claim to tap into the resource.
But it is not the only tenet of Western resource law, and even old rights can be curtailed.
In the ranching community, the Bundys are the exception, not the rule. If you want to graze your cattle on public land, you need a grazing permit. For many, it is a challenging fact of the range. Ranchers often express frustration about the use restrictions that come with grazing permits, but most understand that, by law, they need a permit and need to pay fees to ranch on public land.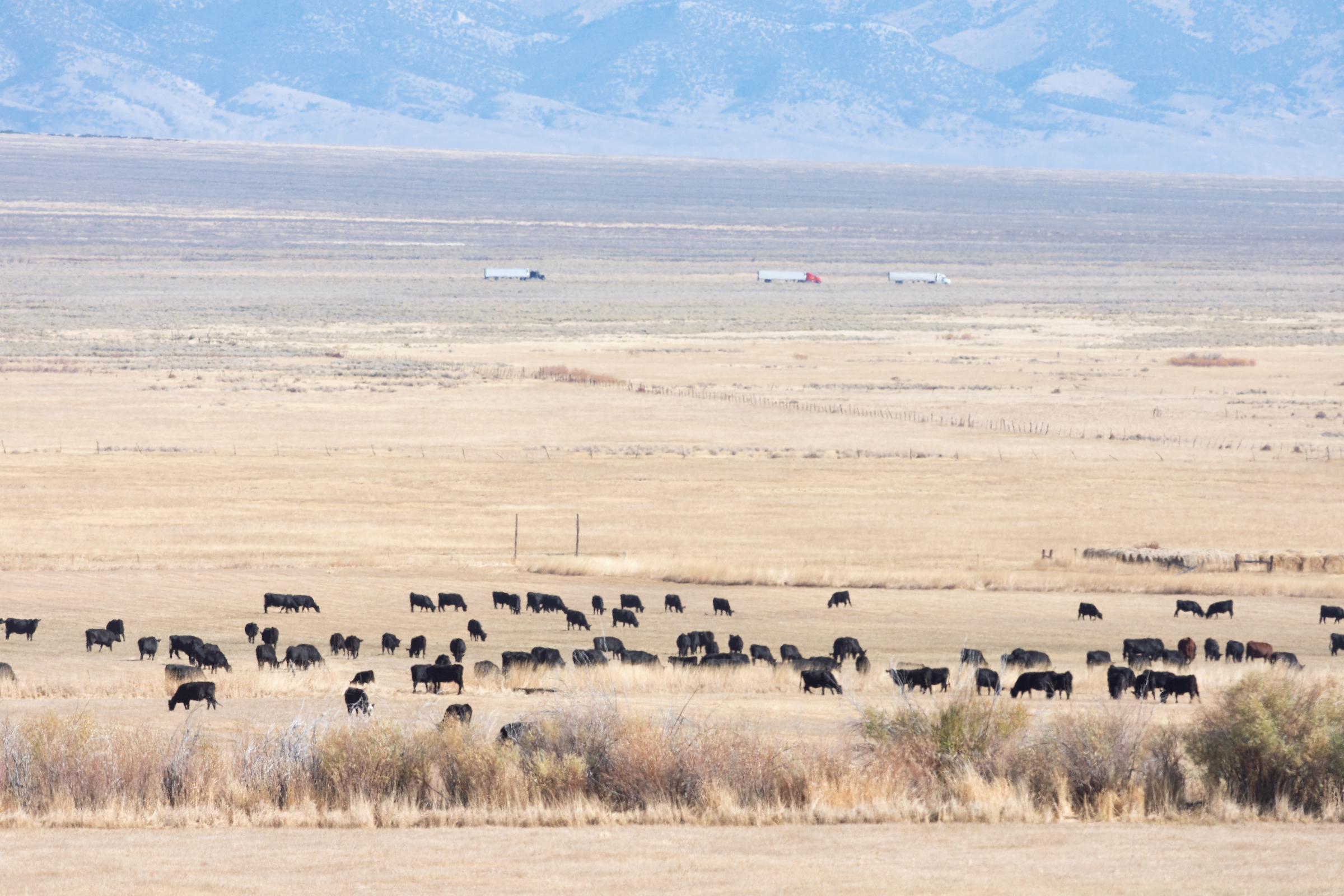 Following the 2014 standoff, the Nevada Cattlemen's Association issued a statement in support of some of the underlying issues that frustrate the Bundys and other ranchers. The Endangered Species Act, the association argued, has curbed grazing opportunities. And while the BLM is required to balance multiple uses of public land, they said the agency has often prioritized the protection of imperiled species and habitat preservation to the detriment of local economies.
Yet they were not fully supportive of Bundy's tactics or his decision to ignore multiple federal court orders to cease grazing his cattle. The organization said it supported working with land managers to solve some of the problems identified by the Bundy family, not conflict.
"With the above stated, this case was reviewed by a federal judge and a decision was rendered to remove the cattle. Nevada Cattlemen's Association does not feel it is our place to interfere in the process of adjudication in this matter. Additionally, [the association] believes the matter is between Mr. Bundy and the Federal Courts," the organization said in the statement.
"While we cannot advocate operating outside the law to solve problems, we also sympathize with Mr. Bundy's dilemma," the association's statement continued. "With good faith negotiations from both sides, we believe a result can be achieved which recognizes the balance that must be struck between private property rights and resource sustainability."
***
On a crisp Tuesday morning in October, Dahl hopped out of a semi-truck with a livestock trailer at the Elko County Fairgrounds. This was his second stop on a cattle drive fundraiser for Laxalt, a broad show of support from the ranching community. Dahl said about 30 ranches were set to donate livestock from across Northeastern Nevada, from Wells to Ely to Winnemucca.
Dahl was driving the donated cattle to a sale the next day in Fallon, where the proceeds were then donated to the Laxalt campaign. Ranches dot the area around Elko County. It was high desert but not as arid as the harsh ranching conditions near Mesquite, 430 miles to the south.
At the Elko stop, a few ranchers came to drop off cattle. Tom Barnes, a rancher from Spring Creek, a community set against the snow-covered Ruby Mountains outside of town, said he came to "support a conservative effort" and the Laxalt campaign. Barnes, the incoming president of the cattlemen's association, said Bundy's views don't represent many ranchers.
"He has a lot of different views than a lot of people in the industry," Barnes said.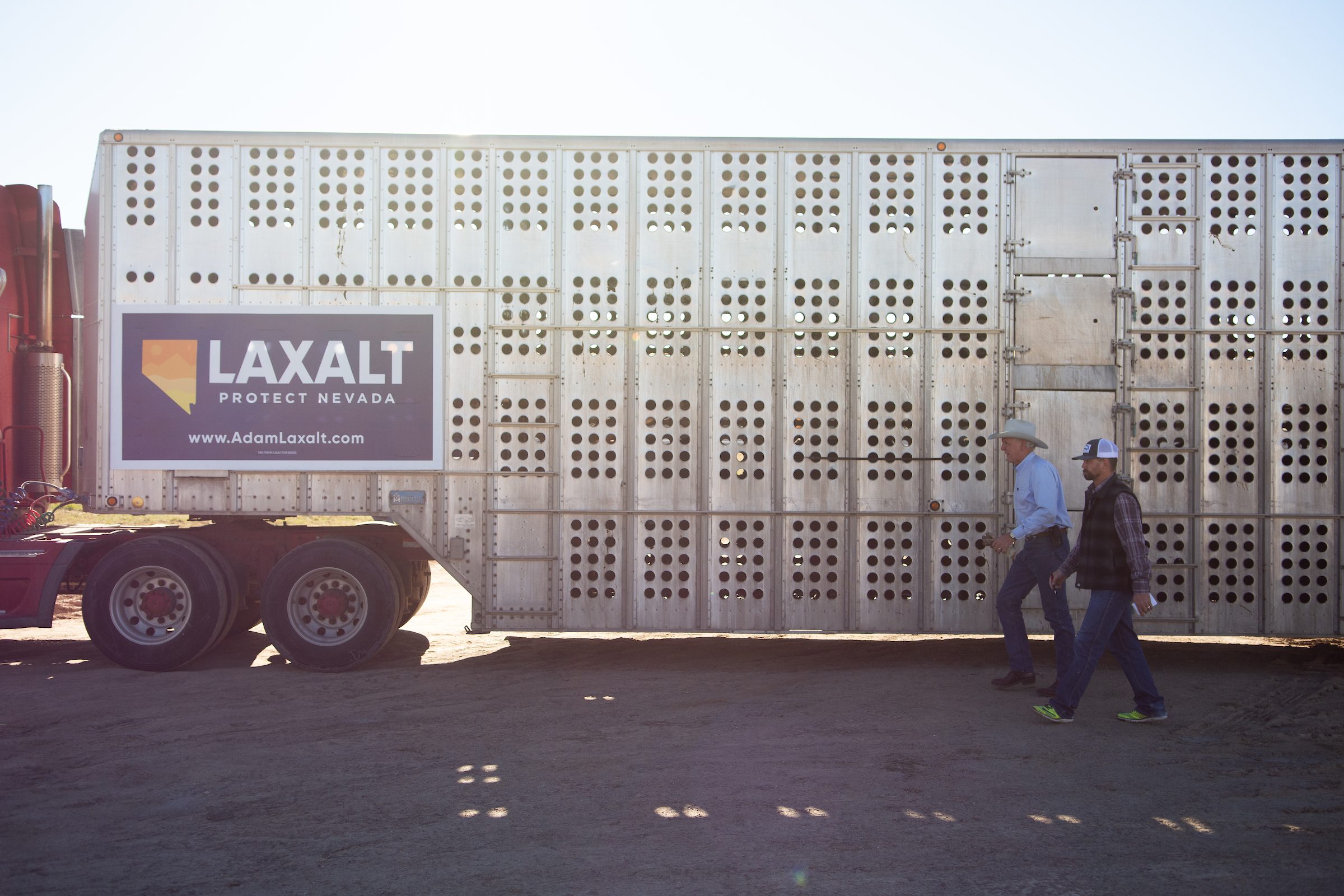 Multiple ranchers interviewed in the past few months have said they share Barnes' sentiment. They said that Bundy's support isn't necessarily fueled by the ranching community but that it instead largely comes from those who want to directly challenge the federal government.
According to his most recent campaign finance report, many of Bundy's $36,400 in monetary contributions over the past four months came from out-of-state. In addition to small-dollar donors from Las Vegas and Mesquite, his donors span the West — Idaho, Utah, California and Oregon. There are a few from Texas. There's one from New York and another from Minnesota.
Earlier this year, the secretary of state's office received an election complaint from a former Bundy supporter, arguing that Bundy was ineligible to run for office because he didn't meet the state's residency requirements. The complaint alleged that Bundy did not meet Nevada's rules for governor because he had spent time incarcerated in Oregon. The office confirmed that it received the complaint, but it came after the deadline for challenging candidate requirements, and election lawyers have said that the state would have likely found the argument invalid.
Once a Bundy supporter, Melissa Laughter, a Las Vegas Republican and a former candidate for Assembly District 4, filed the complaint. In the nearly two years since Bundy and Ammon Bundy participated in the seizure of the headquarters for the Malheur National Wildlife Refuge near Burns, Ore. in 2016, Laughter has become one of their most consistent critics in the media.
"They are wolves in sheep's clothing," said Laughter, who was raised in Southern Utah near some leaders of the first Sagebrush Rebellion. "I think it's a perversion of the movement."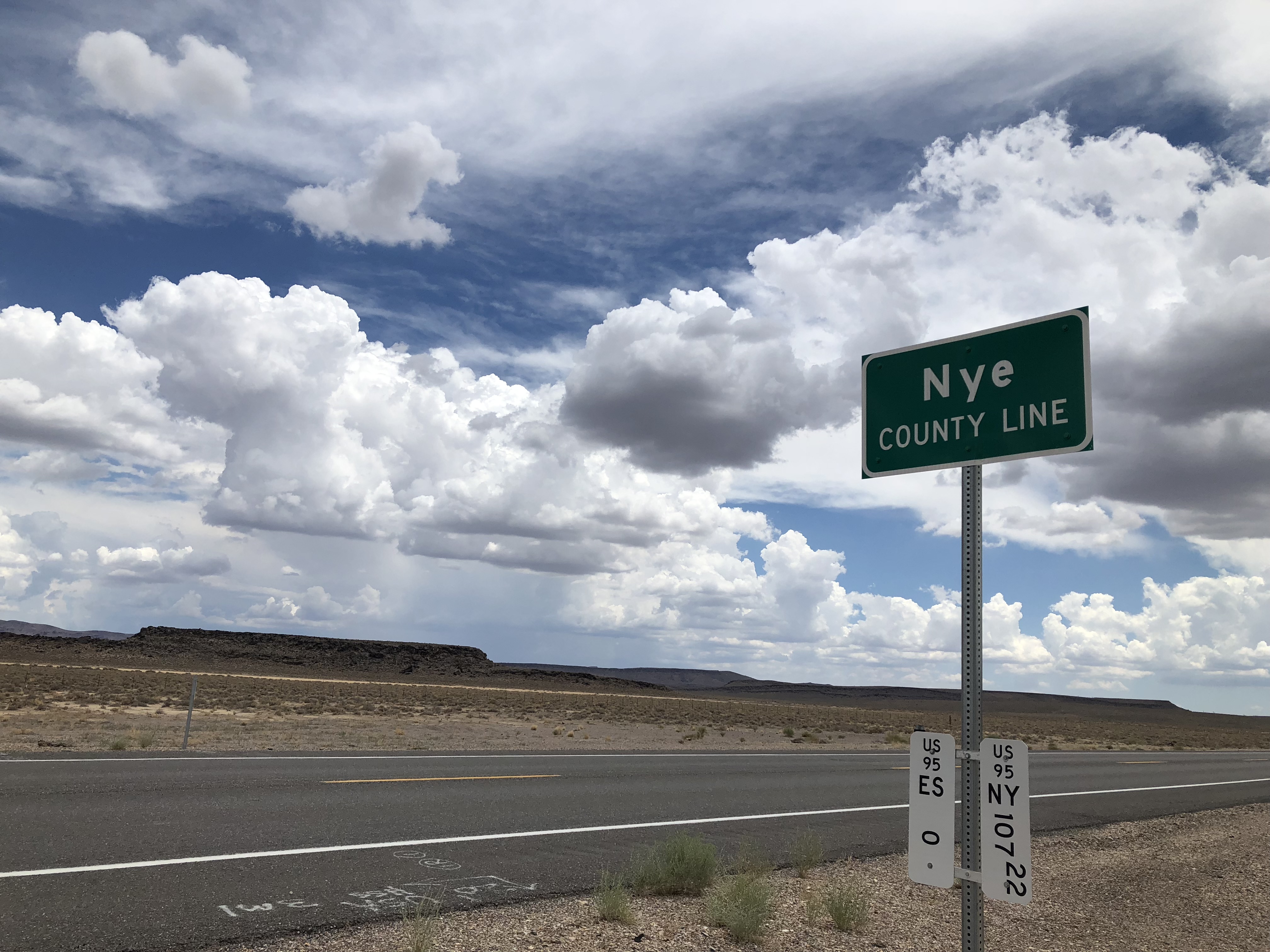 But the Bundys still have supporters in Southern Nevada. In Nye County, there are echoes of the Bundy complaints everywhere. The most pronounced one emanates from a Christian retreat in the Amargosa Valley a few miles from Pahrump. For years, a Nye County couple, Victor and Annette Fuentes, have been locked in a legal fight with the U.S. Fish and Wildlife Service over their camp in the Ash Meadows Wildlife Refuge. For years, the Fuenteses had used their Christian retreat, known as "Patch of Heaven," for summer camps and baptisms.
In 2010, the stream they used for baptisms was diverted by the Fish and Wildlife Service to protect flows for more than two dozen endangered species. The Fish and Wildlife Service, which manages all the land around them, has said it had a prior right to their water.
Frustrated that land managers were interfering with their property rights, the couple sued and appealed their case to the Supreme Court. Laxalt's office wrote an amicus brief for Patch of Heaven, saying the state "has a vital interest in protecting the constitutional and property rights of its residents from diminution by federal overreach or constitutionally inadequate remedies."
But Annette Fuentes no longer supports Laxalt. She supports Bundy.
Bundy has taken up their cause. In April, he sent a media release for a "water rights debate" at Patch of Heaven featuring Hof, who was scheduled to talk about "guns, property and freedom."
In an interview, Fuentes said she was upset Laxalt was defending the state water engineer in a contentious Nye County dispute and felt he hadn't spoken enough at public events.
"Another thing people complain about: He's in and out the door," she said. "Ryan will fight for what's right. I thought maybe Laxalt would do that, but that's not what we're seeing."
Fuentes, who spoke on the phone to The Nevada Independent before Hof's death last week, said she was also frustrated that Laxalt would not support Hof after he won the Republican primary. She was not worried a vote for Laxalt could send Sisolak to the Governor's Mansion.
"Laxalt should have worried about that before he opened his mouth," she said. "I am so tired that we have got to vote for the party and not the person. I'm done with that. That is why we have what we have in this country right now. That's why we have the garbage going on that we have."
***
At the heart of the Patch of Heaven dispute is the Endangered Species Act, the same tension that lurks beneath the Bundy dispute. Cliven Bundy stopped paying for his grazing fees three years after the U.S. Fish and Wildlife Service listed the desert tortoise as threatened.
"What I have recognized from most of the environmental endeavours is they do not protect the species that they claim to protect," Ryan Bundy said. "What they do end up doing is taking control of people's lands and resources. They control people's lives. They end up running people out of business. They overall do damage to the economy and livelihoods. But they don't really serve to protect the species. So they use the species as a ploy to gain other controls."
At times, the Bundys have directed their ire at one particular group: The Center for Biological Diversity. As with many issues the Bundy's raise, they pick up on a sentiment shared by many rural Westerners, but take it to its extreme. The environmental non-profit, which takes a hardline approach in the courts to enforcing the Endangered Species Act, is a thorn in the side of many groups. But the Bundys have expressed their frustration with them in the strongest of terms. Earlier this year, Ammon Bundy called such environmentalists "an enemy to humans."
"They live by a different doctrine," Ammon Bundy said at a range rights conference in California. "And it is not based upon Christian principles. It is based upon a completely different theology."
Patrick Donnelly, the state director at the Center for Biological Diversity, defended his group's work, adding that he does have a philosophical difference with the Bundys. Donnelly said his worldview puts the protection of other species at a similar level to the needs of humans.
"There is a philosophical argument that life — the desert tortoise, the Devil's Hole pupfish or some amoeba somewhere — has the intrinsic right to exist and that humans have no right to roam the Earth raping and pillaging as we see fit for our own personal benefit," he said.
He said biodiversity is at the root of what makes Earth habitable for humans.
"Biodiversity is why we have clean drinking water and why we have clean air and the fount of our sustenance — food, medicine, all of it," Donnelly said. "Protecting that biodiversity is paramount to the continuance of life on Earth."
Polling shows that most Americans support the Endangered Species Act. Many associate it with charismatic animals like the bald eagle. Desert tortoise preservation is a tougher pitch to make.
Like Bundy, Laxalt taps into a feeling in rural counties that the balance between development and the environment is out of step. Many environmental regulations, including the Endangered Species Act, often pushed by bureaucrats in Washington, D.C., have presented challenges for rural counties, especially in a state like Nevada where towns are surrounded by public land.
Laxalt has made similar arguments about the Endangered Species Act. When first running for attorney general in 2014 Laxalt told the Review-Journal editorial board that he would sue over the act as one of his first actions in office. Laxalt has challenged the federal government on its use of its act. In 2015, he sued over conservation plans to protect the Greater sage-grouse, an imperiled bird that could be listed in 2020, a designation that would harm rural economies.
Laxalt told the Review-Journal in 2014 that the act was "not working for Nevada" and that people were "terrified." In March, Laxalt reportedly called the BLM an "enemy of our state."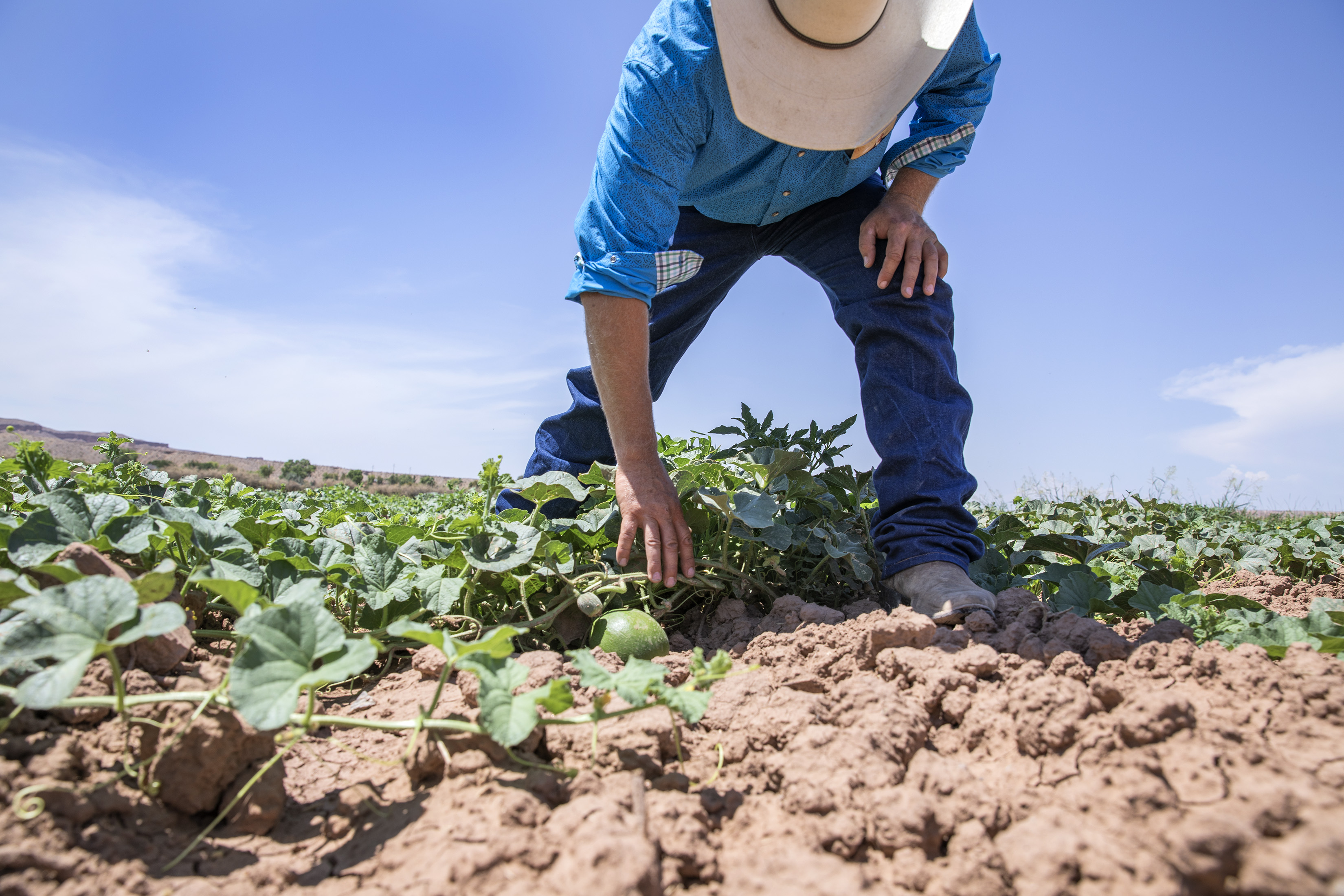 It's just that Bundy goes further — he goes to the furthest point possible, to a religious point.
"While the proximate causes of the Bundy family's opposition to government control can be linked to specific environmental laws, at the root of the Bundy family's political views is a much deeper and highly idiosyncratic, fringe interpretation of the Constitution and the Bible," wrote Walker, the professor from Oregon State who published a recent book on the Bundys.
For the Bundys, this is religious, an existential cause and a reading of Mormon scripture that is opposed to government that restricts freedom — to do things like graze whenever you want.
"God created this Earth and he gave the Earth to man so that he might live on it," Bundy said. "So these people that are wanting to create wildernesses and so forth and prevent people from going on it — whose design are they trying to carry out? It's certainly not a godly sign. I do believe in being a good steward upon the land. I don't believe in just thrashing it and wasting it."
Religion is also what makes Bundy run, and Bundy does not care what you call him for his views. Bundy's critics accuse him of being an extremist, but the term does not offend him.
"Extreme is just going about something with fervor," he said on the hot day not long after the Fourth of July. "What's wrong with being extreme? I don't see the negativity in that terminology."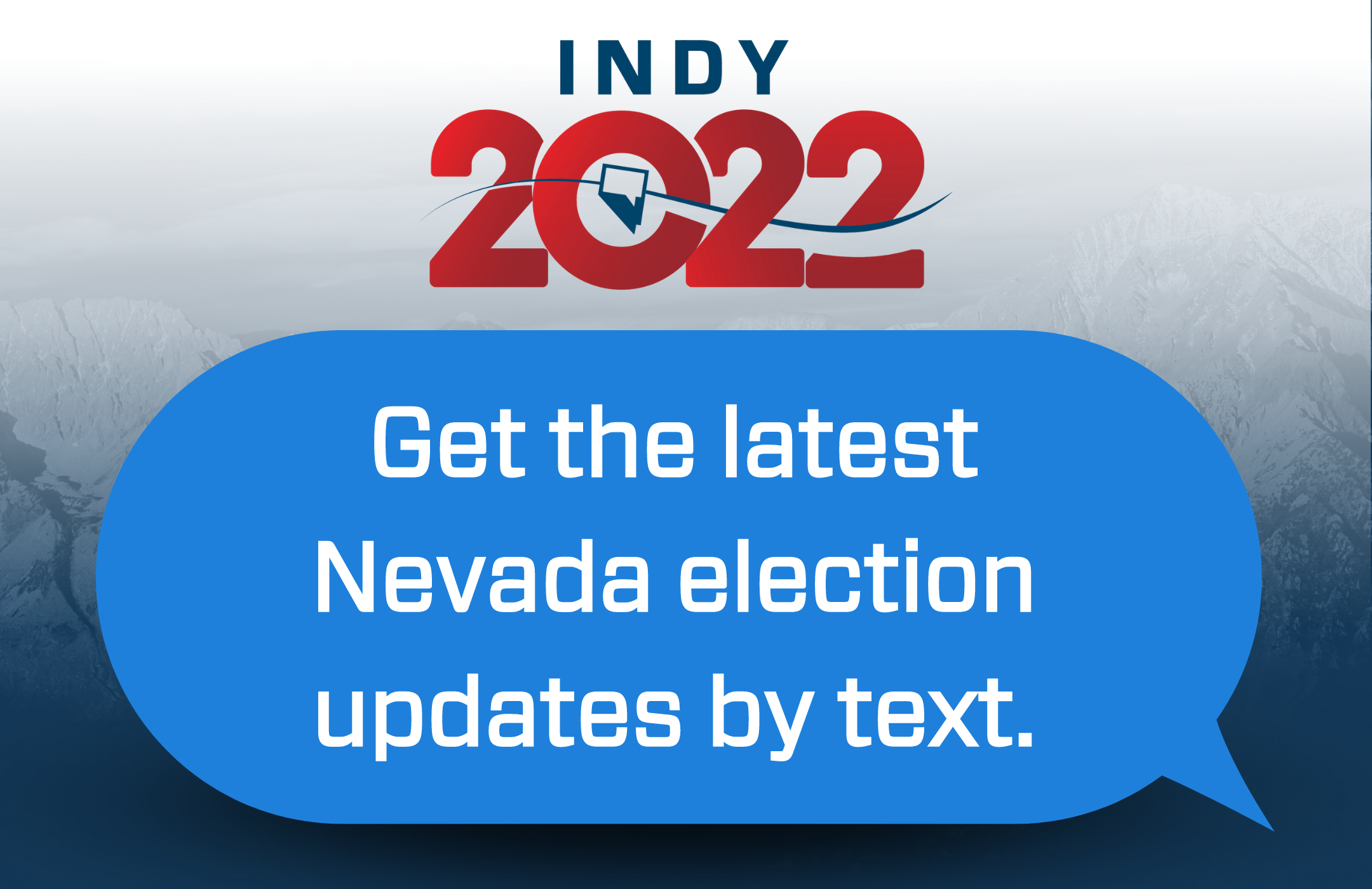 Featured Videos
Comment Policy (updated 4/20/2021): Please keep your comments civil. We reserve the right to delete comments or ban users who engage in personal attacks, use an excess of profanity, make verifiably false statements or are otherwise nasty. Comments that contain links must be approved by admin.