Sanders noncommittal on sex work, highlights tribal outreach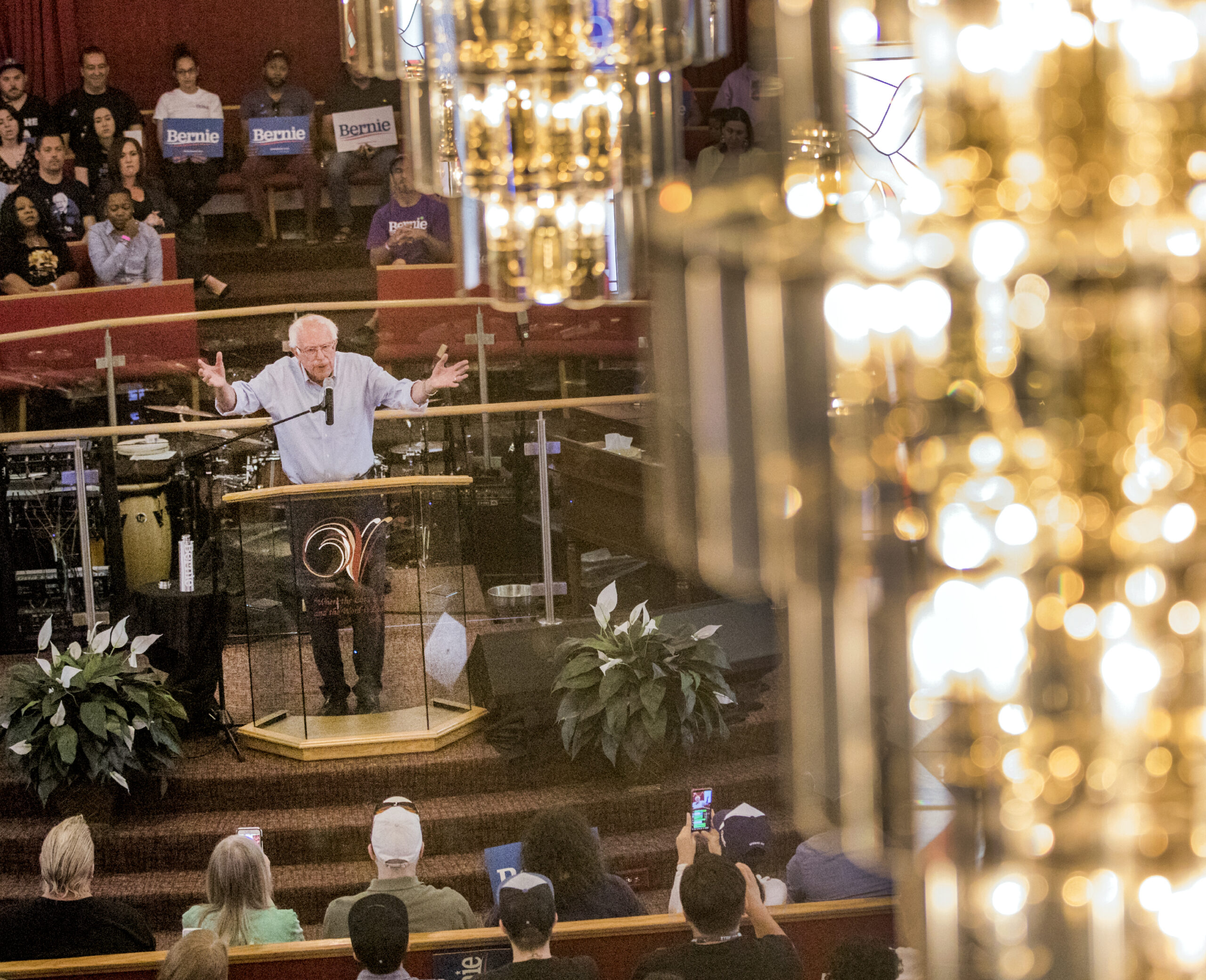 Vermont Sen. Bernie Sanders, standing at the pulpit of a church on the Historic Westside on Saturday, faced a litany of questions from his acolytes from how to address the high cost of prescription drugs to ongoing concerns over police brutality.
But there was one issue the Democratic presidential hopeful did not likely anticipate addressing — twice — in the house of the Lord: his position on sex work.
"How are you going to proceed with not conflating sex work with human trafficking?" one woman, seated behind Sanders in the choir, asked. "What are we going to do about FOSTA-SESTA? Because self-determination is at the root of everything your platform stands for." 
Signed into law last year, the two bills known as FOSTA and SESTA aimed at cutting down on online sex trafficking. But advocates for sex work say the pair of laws has only made it more dangerous for sex workers and conflate consensual and nonconsensual sex work.
Sanders, as he has before, demurred — even asked about it a second time here in the Silver State, the only place in the U.S. where sex work is legal in some jurisdictions.
"The answer is we're going to take a hard look at it, but I'm not going to give you a definitive answer now, because what you don't want and I don't want is an increase in sex trafficking. We don't want that," Sanders said. "It's a complicated issue but there are two sides to it and I promise you we will take a hard look at it."
In an interview with The Nevada Independent, Sanders indicated he may take a position on the issue at some point during his campaign.
"Maybe we will, I think we may. We haven't been asked about it," Sanders said. "You know, when I'm busy running around the country, it's hard to do this study. These are issues that deserve serious consideration and not off the top of my head responses."
Roughly 500 people packed the pews of Victory Missionary Baptist Church to see Sanders speak on Saturday. Later in the day, he participated in a veteran round table and addressed a crowded room of supporters at an East Las Vegas office opening.
Sanders, in his interview with The Independent, declined to say whether the Legislature should've gone further this session when it passed a bill to raise the minimum wage in Nevada to $12 an hour, and instead touted legislation he has introduced in the Senate, where Republicans are in control, to raise the federal minimum wage to $15 an hour and a companion bill in the Democratic-controlled House expected to soon come up for a floor vote.
"Our job, then, is to put as much pressure as we can on the Republican leadership, on [Senate Majority Leader] Mitch McConnell to get a vote on that bill in the Senate," Sanders said. "I'm going to work as hard as I can on that because I think it is a disgrace that we have tens of millions of people in this country are working for 10, 11, 12 bucks an hour and nobody can make it on those wages."
To those who argue a $15 an hour wage is too high, Sanders said that the legislation will have a phase-in period and would homogenize wages across the country.
"It's not just this employer or that employer," Sanders said. "It's everybody."
The Vermont senator declined to comment on a decision by the Justice Department earlier this year on the Wire Act, which put the future of online gaming in the state in limbo, saying he hadn't studied it enough. The department said last month that it wouldn't enforce its new interpretation of the law — that it applies to all forms of interstate gaming and not just sports betting — until 2020.
"I realize the gambling industry is very, very important here, but I don't want to say something off the top of my head without having thoroughly studied it," Sanders said. "So I apologize. It's a fair question."
He also said that tribal outreach will be an ongoing portion of his campaign. His Nevada team met with local tribal members at Western Shoshone National Council Chief Johnny Bobb's annual peaceful protest and sacred walk earlier this year and released a video highlighting the opposition of local tribal communities to the construction of a long-term high-level nuclear waste repository at Yucca Mountain.
"We have committed terrible crimes against the Native American people, and even today as we speak, there are reservations with an employment rate that is much too high. The educational systems are inadequate, health care is inadequate," Sanders said. "We are going to finally give the Native American people the respect that they ought to."
Sanders said he wasn't familiar with a joint venture to mine in Nevada between Barrick Gold and Newmont Mining, the two biggest gold producers in the state, announced earlier this year, but that he is concerned generally about the concentration of ownership in the country.
"Look at agribusiness, large mergers taking place, the pharmaceutical injury, large mergers taking place, mining, large mergers taking place," Sanders said. "That suggests to me that we need an attorney general — and I will appoint that attorney general — who is pro-consumer and understands the antitrust law in this country will start breaking up these huge concentrations of ownership."
He also reiterated promises to get the pharmaceutical industry to slash their prices by 50 percent and take the country away from its dependence on fossil fuels.
"When we do that in our country and around the world, we are going to create many millions of good paying jobs and we're going to save the planet for our children and our grandchildren and future generations," Sanders said. "This is a moral imperative."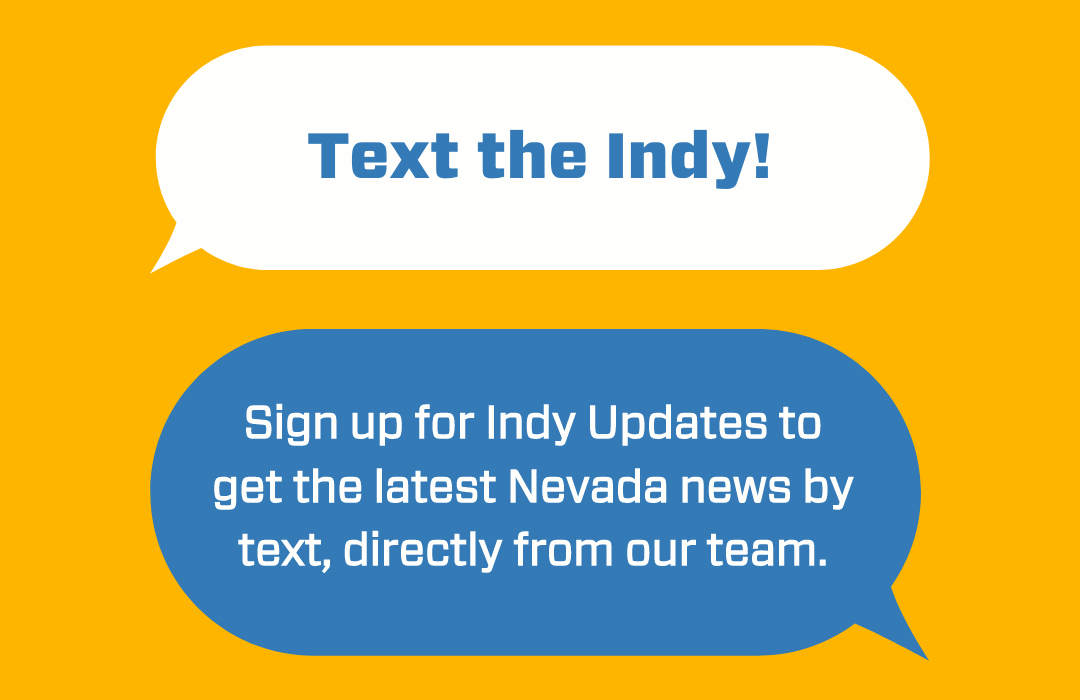 Featured Videos