Thousands of Culinary workers keep the Strip running. Now, Democratic presidential hopefuls need their help too.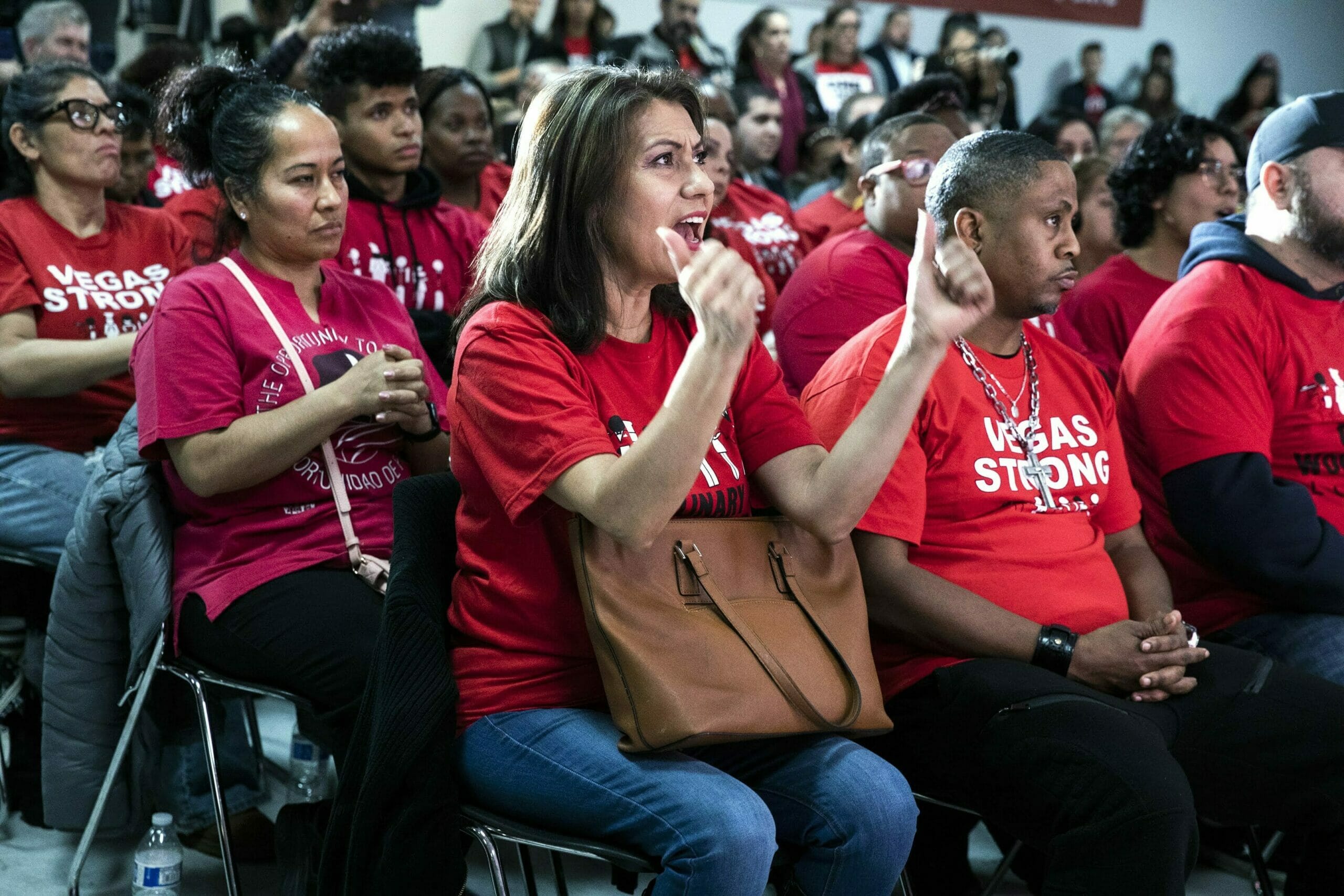 They make your bed and tidy your room. They pour your drinks. They cook your food. They carry your bags.
They're also the ones who could help determine the next Democratic presidential nominee, and, by extension, the next president of the United States.
They are the members of the Culinary Union Local 226.
If the Strip is the heart of Las Vegas, the members of the Culinary Union are the blood that flows in its veins. The union's 60,000 members hail from 178 countries, speak more than 40 different languages and are predominantly women.
They're guest room attendants, cocktail and food servers, porters, bellmen, cooks, bartenders, laundry and kitchen workers, and they're also known for their organizing prowess. They helped Harry Reid win a close U.S. Senate race in 2010, and, though the union stayed officially neutral ahead of Nevada's 2016 Democratic presidential caucus, attendees of caucus sites on the Las Vegas Strip — designed to reach casino workers — overwhelmingly broke for Hillary Clinton, helping buoy her to victory in the state.
Now, they're preparing to potentially make waves in the 2020 Democratic presidential primary. The president of the union's national affiliate, UNITE HERE, said the union hopes to endorse on a national level ahead of the Feb. 22 caucus in Nevada, where the union's support stands to make the biggest dent.
That's why three Democratic presidential hopefuls trekked to the union's Las Vegas headquarters this week — to court that coveted caucus vote. In an industrial pocket just north of the Stratosphere, hundreds of red-shirted union members filled chairs and stood in the back of the white-walled union hall to hear the candidates make their pitches and, perhaps more importantly, make their own pitches to the candidates.
There are a lot of issues on the minds of Culinary Union members this election, immigration, the economy and protections for labor, among them. But there is one that rises above them all — health care.
Roughly 130,000 Culinary members and their families are insured under a special kind of union health trust called the Culinary Health Fund. The plan is paid into by employers for each hour worked by their employees, and the fund is jointly administered by a board with equal employer and union representation.
Union members also have a state-of-the-art health center in East Las Vegas where they can receive concierge-style health care in a building that feels more like a Las Vegas resort than a health clinic. Urgent care is open 24 hours a day, seven days a week. Labs and radiology can be performed on site. Generic prescription drugs are free.
Democratic presidential candidates complain of a broken health care system. But the Culinary Union's health plan is the rare example of something that's actually working.
"They all are looking for how to protect their health care," Geoconda Arguello-Kline, the union's secretary-treasurer, said in an interview after the final town hall with former Vice President Joe Biden on Wednesday. "They heard the message from Senator Warren, the message from Senator Sanders and the message from the vice president, and they all are going to come to their conclusion."
Just what conclusion that might be is anyone's guess.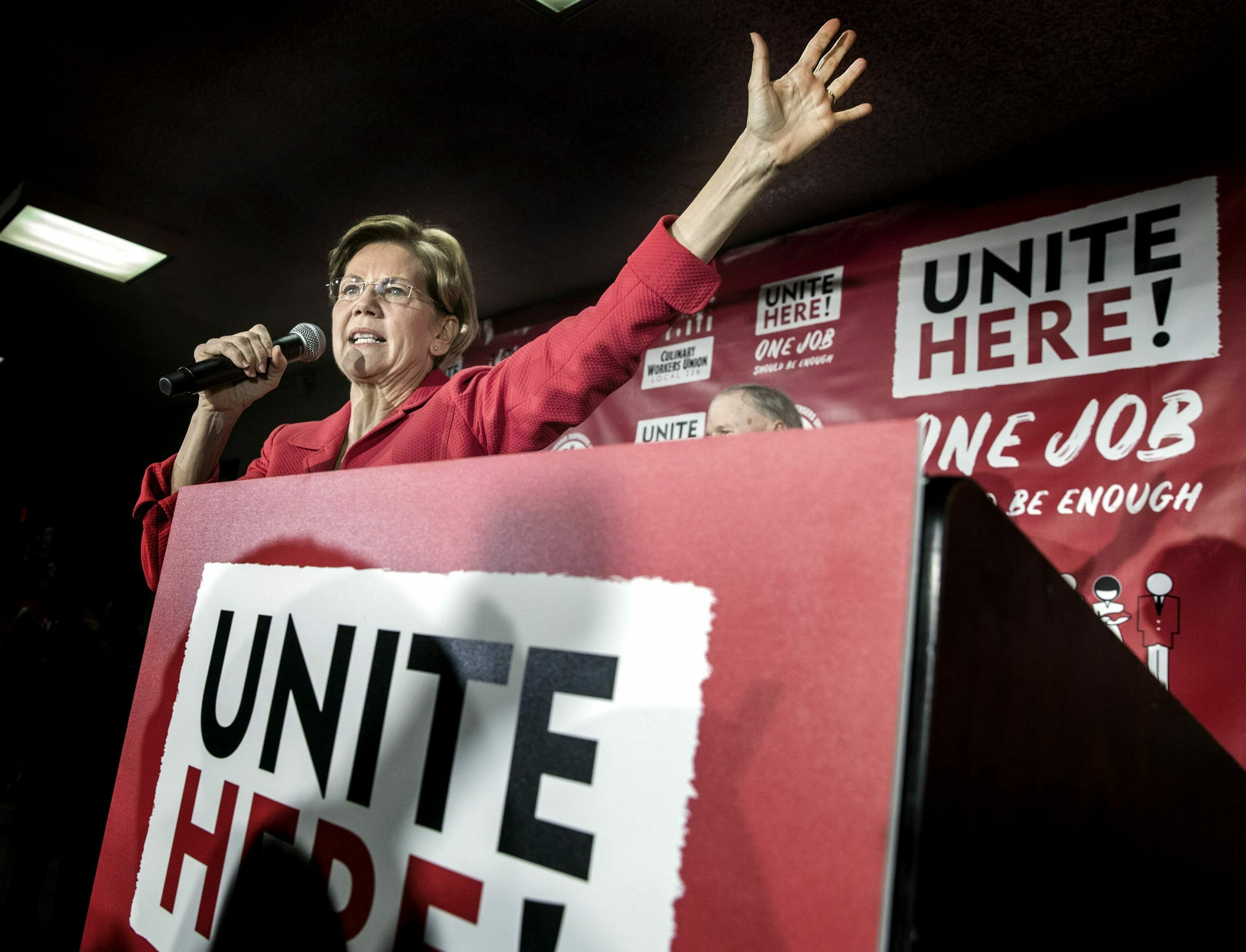 Massachusetts Sen. Elizabeth Warren and Vermont Sen. Bernie Sanders faced tough questions from union members at the town halls concerning their Medicare for all proposals, which would implement a single-payer, government-run health insurance system and, on its face, eliminate the plan that the union has bargained for over decades.
Warren, at a town hall Monday night, didn't directly address that latter point. Instead, she told members of the Culinary Union that she was "just totally knocked out" after she toured their health center earlier in the day.
"What you experience, what you count on for yourself and your family [isnt'] supposed to change," she told them.
What would change, she said, is that the "1 percent" and big corporations would pay for their health care.
The following morning, Sanders was a bit more direct. The Vermont senator told union members Tuesday that his Medicare-for-all plan would save their employers $12,000 per employee, per year, savings that would be required to flow back into workers' pockets. The union audience applauded, despite heckling from a small contingent in the back who shouted "union health care, union health care."
Biden, the third candidate to visit the union this week and the only one who doesn't support Medicare for all, received enthusiastic applause when he declared that Culinary Union members would be able to keep their health plan if he becomes president.
"Here's the big thing: Where I come from, I don't like people telling me what I have to choose," Biden said. "So, 160 million people who have busted their neck, walked down picket lines, gave up pay, took hits in order to get significant health care coverage, you get to keep it under my plan. You don't have to give it up."
But Biden had an entirely different health care issue to contend with that is also an existential threat to the union's health plan — a 40 percent tax on high-cost health plans like the Culinary Union's that was a key funding mechanism in the Affordable Care Act. The former vice president was a critical booster of the federal health care law when it was working its way through Congress a decade ago, and his health care plan today is built around enhancing the law rather than replacing it entirely as some of his opponents favor.
Biden, asked by a union member whether he will support the tax as president, framed the issue as essentially a moot point by the time he gets into office. The House voted to repeal the tax, which never went into effect, earlier this year, and he said he was "confident" that Republicans would soon finish the job in the Senate as part of their overall efforts to dismantle the Affordable Care Act. He also said he is counting on other funding mechanisms to fill the gap created by the repeal of the tax.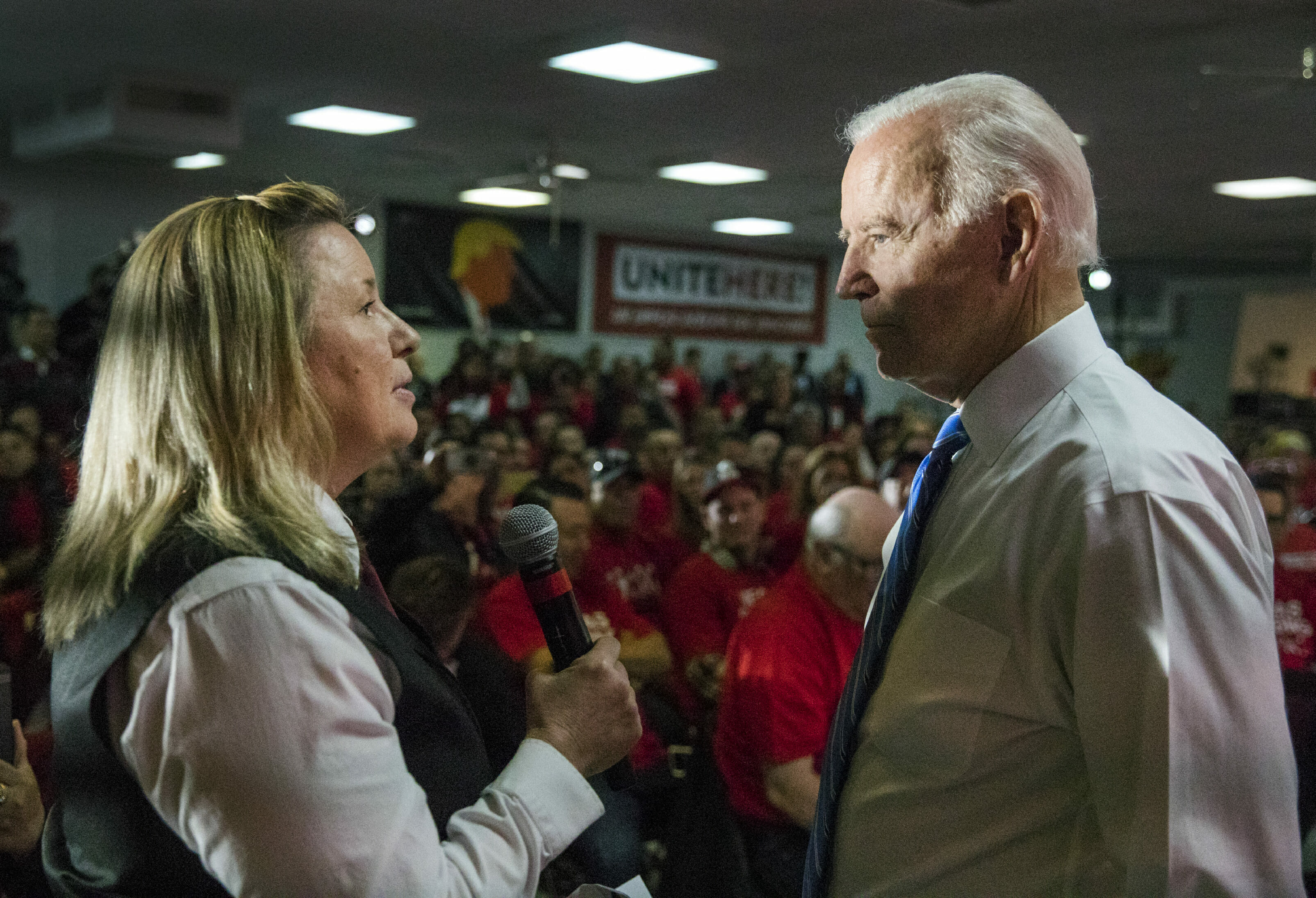 But none of those three answers on health care entirely resolved the concerns of union members, leaders say.
"Oh, no," UNITE HERE President D. Taylor said in an interview on Wednesday. "I think we have to have obviously a lot more, because I think like most Americans, we're just digging into this, and we're not policy wonks."
The clock is ticking, though. Only 73 days remain until Nevada's Democratic caucus, which is the first-in-the-West presidential nominating contest and the third behind Iowa and New Hampshire.
Taylor said the endorsement process isn't actually that complicated, though they try to be democratic.
"What has happened in the past is the executive committee of the union has made a decision on that, and that's really it," Taylor said.
He said conversations about the union's endorsement are ongoing — most recently at a union meeting last week in Houston — and will continue at another meeting in January. Asked whether they have time to get it done, Taylor didn't hesitate.
"Absolutely," he said. "Absolutely we can get it done."
It is unclear to what extent candidates' positions on Medicare for all will factor into the union's endorsement. While the Culinary Union has a robust health plan, other national affiliates of UNITE HERE do not, and friends and extended family members of Culinary Union members might not either.
"We're trying to get to a UNITE HERE endorsement that covers locals from Miami to Seattle. It's complicated. People have different viewpoints," Taylor said. "I mean just in this room we have airline catering workers who don't have health insurance, so some of this stuff sounds great. We have some members here who love their insurance. So even within our union people have different perspectives."
For the Culinary Union leadership, the issue is a bit more black and white.
"I think that the members were really happy. You heard everybody clap," Arguello-Kline said, referring to the moment when Biden declared that union members would be able to keep their health plan. "I think they were all looking for an answer like that, and I think, well you saw the room got really excited about that."
And the excitement of the room matters. In 2008, the union endorsed Barack Obama, but Hillary Clinton won seven of the nine at-large caucus sites on the Strip — meaning that the rank-and-file union members had balked at their leaders' endorsement.
Sanders roused the crowd early on in his town hall with a long list of adjectives about President Donald Trump that turned into a call-and-response with the crowd.
"Pathological liar," he said.
"Yes!" they chanted.
"Corrupt," he said.
"Yes!" they responded.
"Racist," he said.
"Yes!" they responded.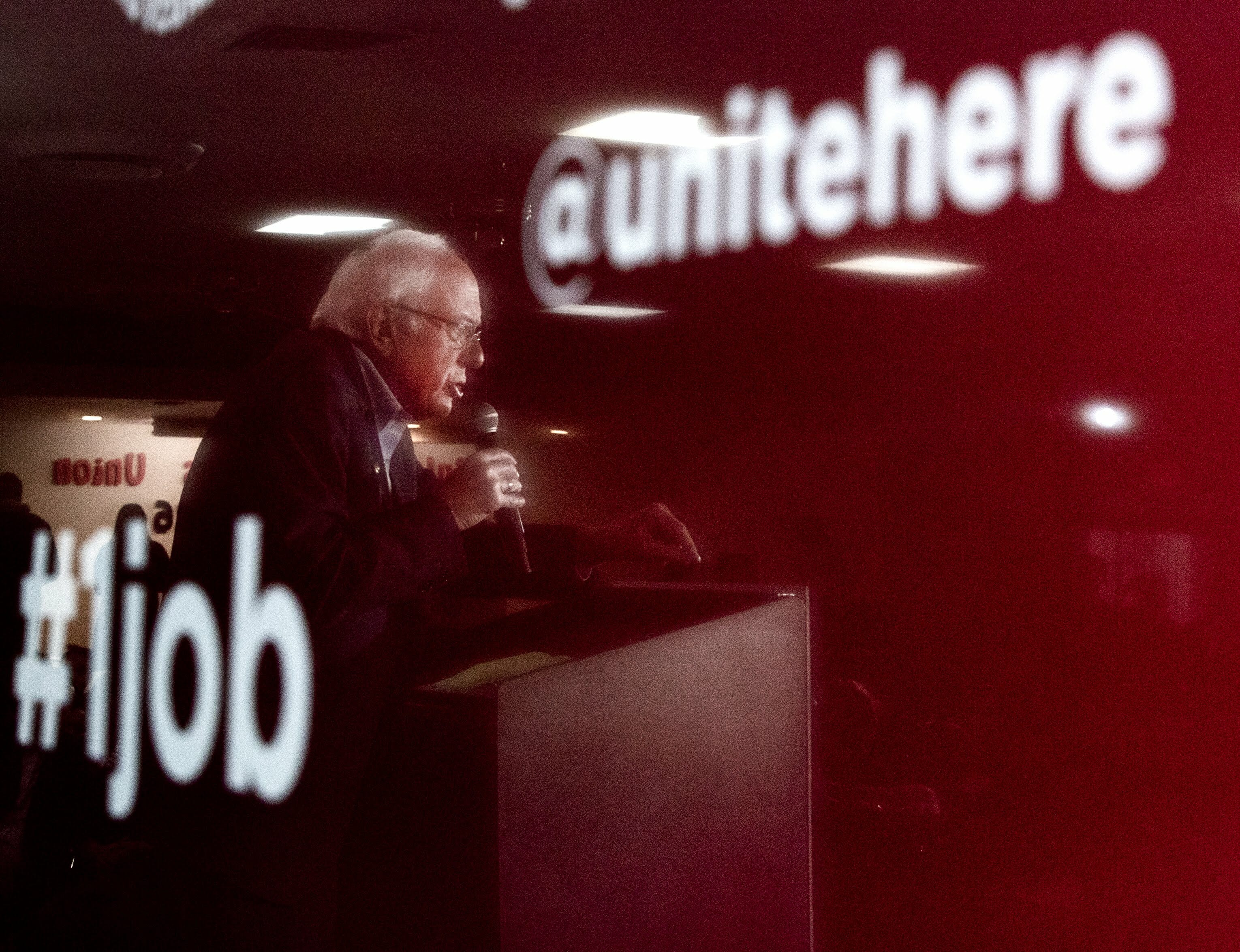 The former vice president paced intently around the room during his event, staring deeply into the eyes of those asking him questions and earning bouts of applause mixed with the intense silence of a crowd rapt with attention.
Warren energized the crowd at moments, such as when she laid into Station Casinos, the company whose properties the Culinary Union has been trying to unionize since 2016, by calling them out as an example of who "Washington is working great" for and called for employee representation on corporate boards. Otherwise, she largely struggled to gain traction with the union crowd.
"I grew up out in Oklahoma. Dead silent. No Okies out there? Okay," she said, to some laughs from the crowd as she began her introduction.
It's not necessarily that union members didn't like her — they may not know her yet. Of the three, she's the only one who hasn't run for president and has the least name recognition. She also still isn't well known by voters of color in Nevada, and the Culinary Union is 54 percent Latino, 15 percent Asian and 10 percent black.
But, as Taylor noted, that's why the union hosted the three town halls this week. It's still early, and union members are just now starting to pay attention to the Democratic field in earnest, he said.
"It's been great for our members that they got exposure, they started asking questions and also they started relaying to the candidates what's important to them," Taylor said. "It's a process."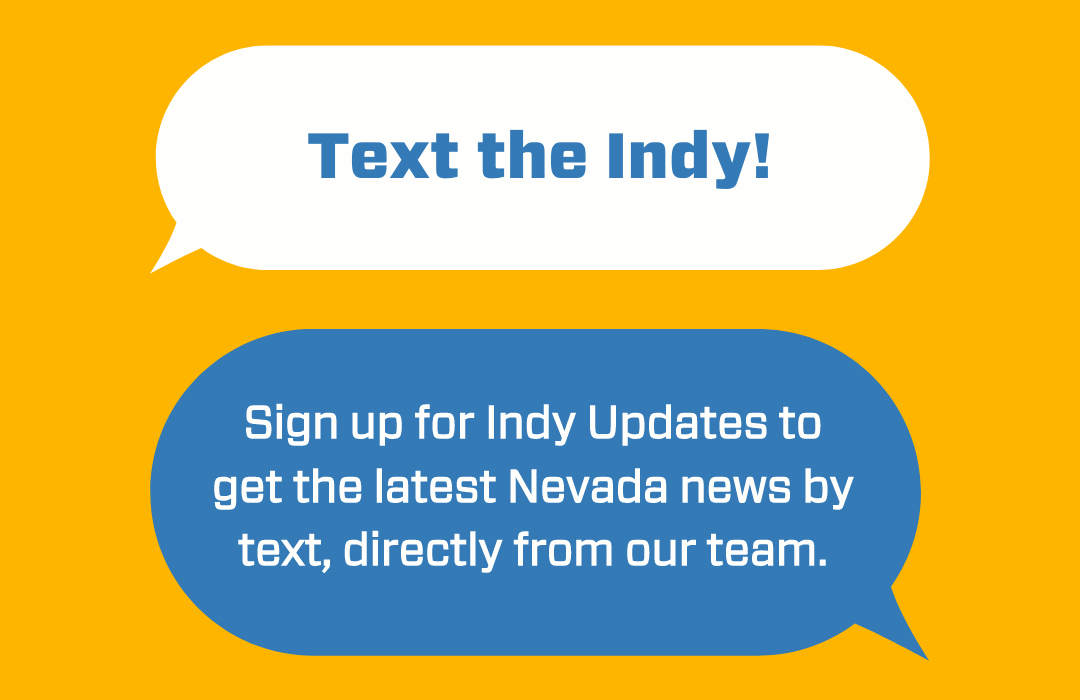 Featured Videos