U.S. Senate candidate Jacky Rosen speaks with volunteers during a canvass launch event at the home of Clark County Democratic Party Chair Donna West in Las Vegas on Monday, Nov. 5, 2018. (Daniel Clark/The Nevada Independent)
Tight races, high nerves as candidates vie for votes ahead of crucial midterm election
November 6th, 2018 - 2:20am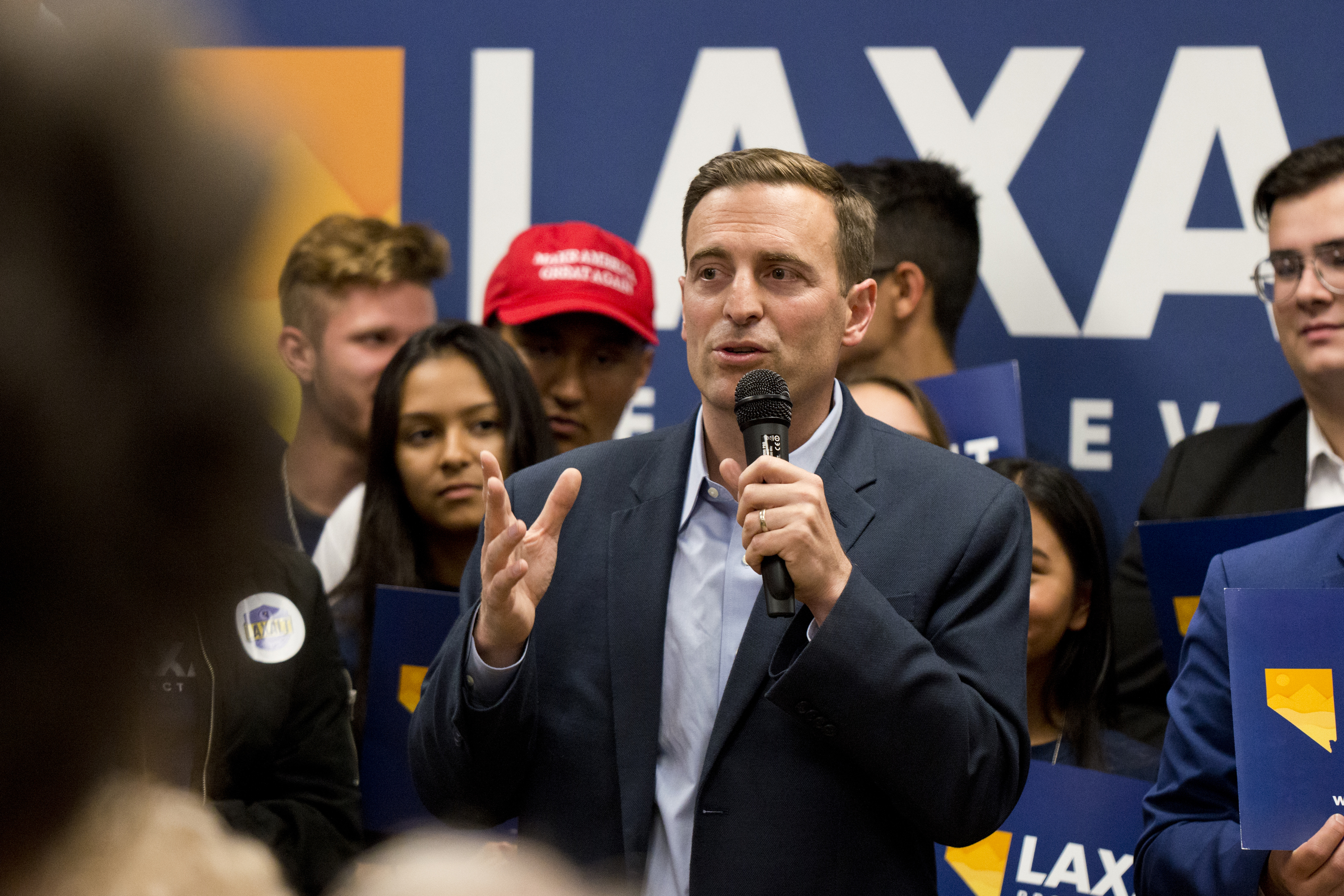 On the eve of the election, a lineup of Republican candidates had crowded into a Las Vegas campaign office to fire up staff and volunteers as TV cameras rolled.
Their chants of "Adam! Adam!" and predictions that they'd be turning Nevada red on Tuesday came as early voting returns show about 22,000 more Democrats than Republicans statewide have cast ballots early. That's a 3.5 percentage point lead for Democrats — a notable gap that Republicans hope they can close with their traditionally strong Election Day turnout and with a ground game that's more refined than in years past.
"We're in the bottom of the ninth, we're down one, there's a runner on third base. We need to hit a home run," said Republican attorney general candidate Wes Duncan, before urging attendees to tell everyone they know to get out and vote.
Attorney General Adam Laxalt, who's running for governor, also projected confidence, saying he thinks voters see a clear choice in their candidates for the top statewide post.
"We feel great about this race," Laxalt said in a speech, before shaking a few hands and avoiding the press by slipping out a back door. "We believe that there are going to be enough Nevadans to put me in the governor's office."
With polls opening at 7 a.m., voters will have the final say Tuesday on how effective the campaigns were in turning out an unusually engaged electorate for a non-presidential year. At stake is a Senate race that Democrats need to win to have any hope of wresting control of the chamber from Republicans, the closest gubernatorial race in the country and a ballot measure that will determine the future of the state's energy market.
Campaigns have spent much the last two weeks of October making their final pitches, flying in surrogates from President Donald Trump to former President Barack Obama in an effort to rev up support from their parties' bases. They've also appealed directly to voters by knocking on doors, flooding airwaves, and crowding mailboxes in an attempt to persuade undecided voters — and cast aspersions on their opponents in an attempt to dissuade otherwise decided ones.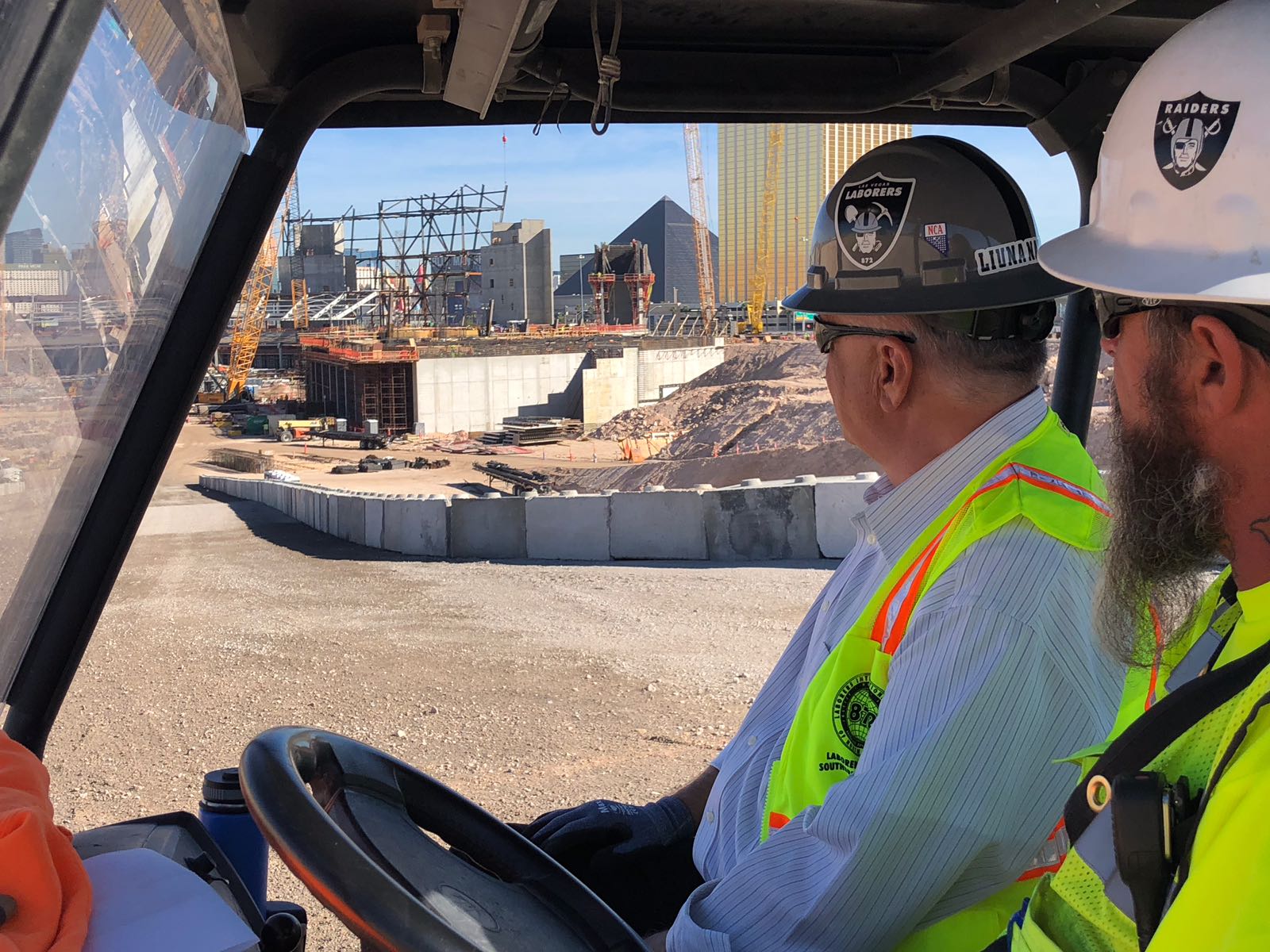 Amid a packed day of events ranging from pizza with community college students to a lunch with union workers at a hospital, Democratic gubernatorial candidate and Clark County Commission Chairman Steve Sisolak started Monday at a place closely associated with him — the 62-acre construction site that will soon host the $1.9 billion domed stadium on the Las Vegas Strip.
Dressed in a reflective vest and steel-toed boots after touring the site, Sisolak largely pivoted away from questions about President Donald Trump's effect on the race and whether he felt confident about his chances after the first two weeks of early voting, acknowledging only that it remained "tight." Flanked by a posse of union members, the Democrat jumped at a chance to extol the help his campaign has received from organized labor and the benefits of large-scale construction projects.
"You're looking at between these two sites, here and the (Las Vegas) Convention Center where we're going, it's 30,000 construction jobs," he said. "That's putting a lot of people to work. Those aren't numbers. It's important to understand those are families, there's a family and a person behind every one of those numbers."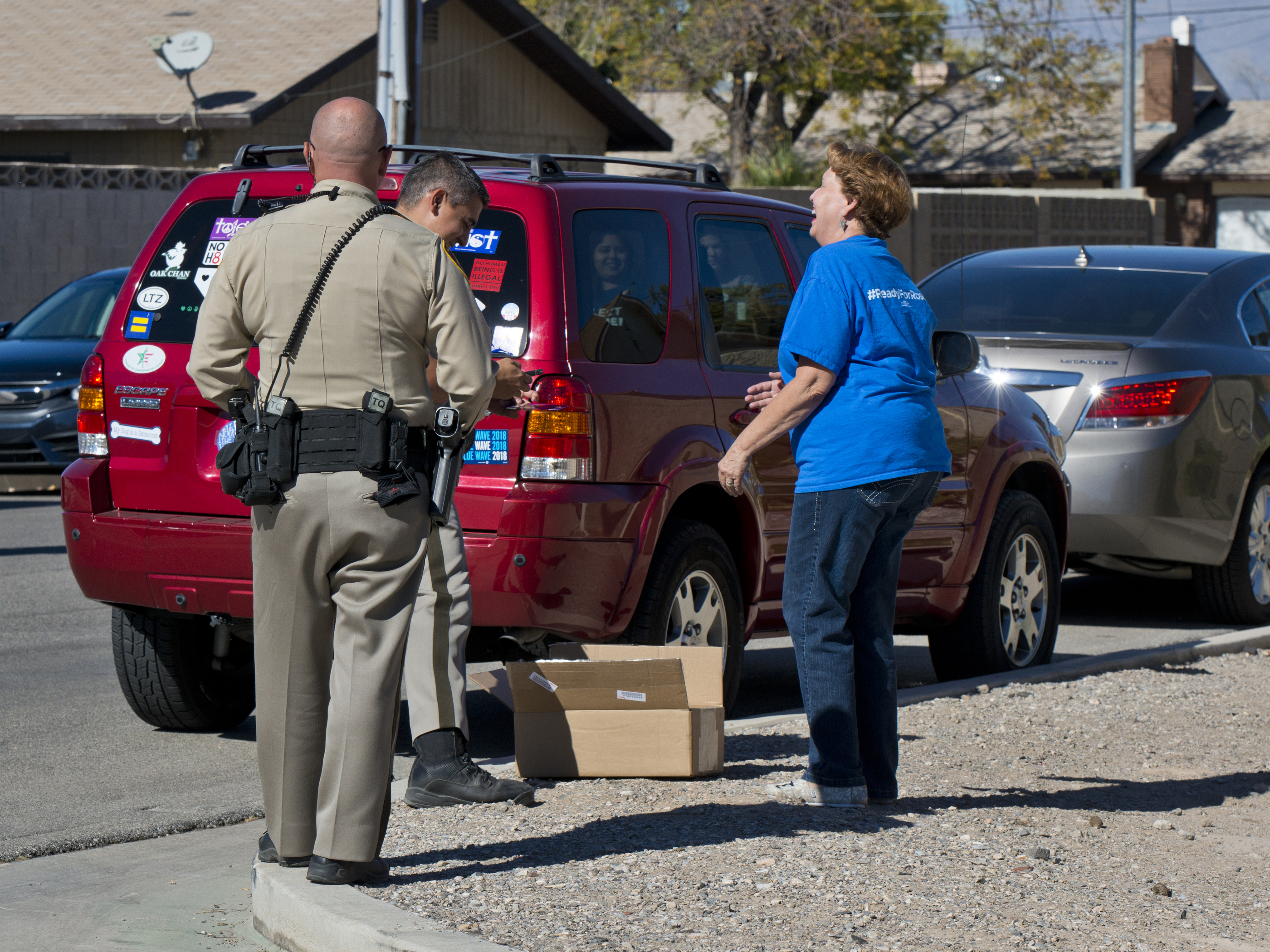 Democratic Senate candidate Rep. Jacky Rosen spent the lunch hour talking to supporters at the home of Clark County Democratic Party Chair Donna West, whose garage has been a home base for canvassers. Rosen's campaign, on guard in the tense political climate, called for police after finding a suspicious package outside West's home.
Police carefully opened the cardboard box. To the relief of those gathered, the only thing inside was campaign literature.
Meanwhile, Republican Sen. Dean Heller's Twitter account showed he was doing interviews with Reno media outlets, visiting Northern Nevada campaign offices and making calls to supporters on Monday to get out the vote in his closely watched race.
In Henderson, a trio of men wearing cowboy hats were seen walking on a sidewalk Monday evening carrying a large sign for nonpartisan candidate Ryan Bundy, along with Nevada and "Don't Tread on Me" flags. On the opposite side of the busy street was a megaphone-wielding man carrying a sign for Laxalt, whose campaign is seen as the one with most to lose to the conservative Bundy.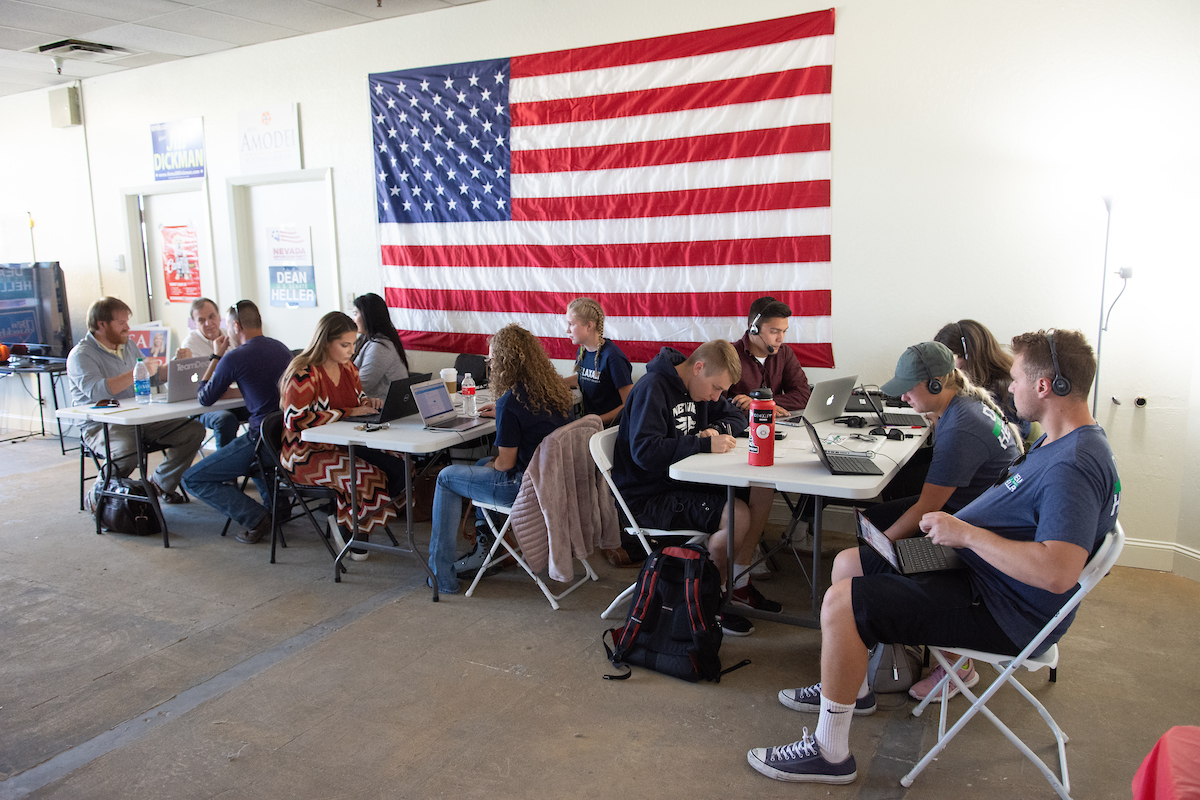 Foot soldiers
Behind the candidates are small armies of dedicated, if tired, staff and volunteers.
Off a busy street in Reno on Friday afternoon, Amanda Flocchini sat at a table in an office cluttered with campaign signs to re-elect Heller. Flocchini, a recent UNR graduate, was four days away from finishing her first campaign, making phone calls and knocking on doors in an attempt to bolster the Republicans' ground game in Northern Nevada.
What she expected for the next four days: "Probably not a lot of sleep."
"It's really about trying to make as much voter contact as possible," Flocchini said.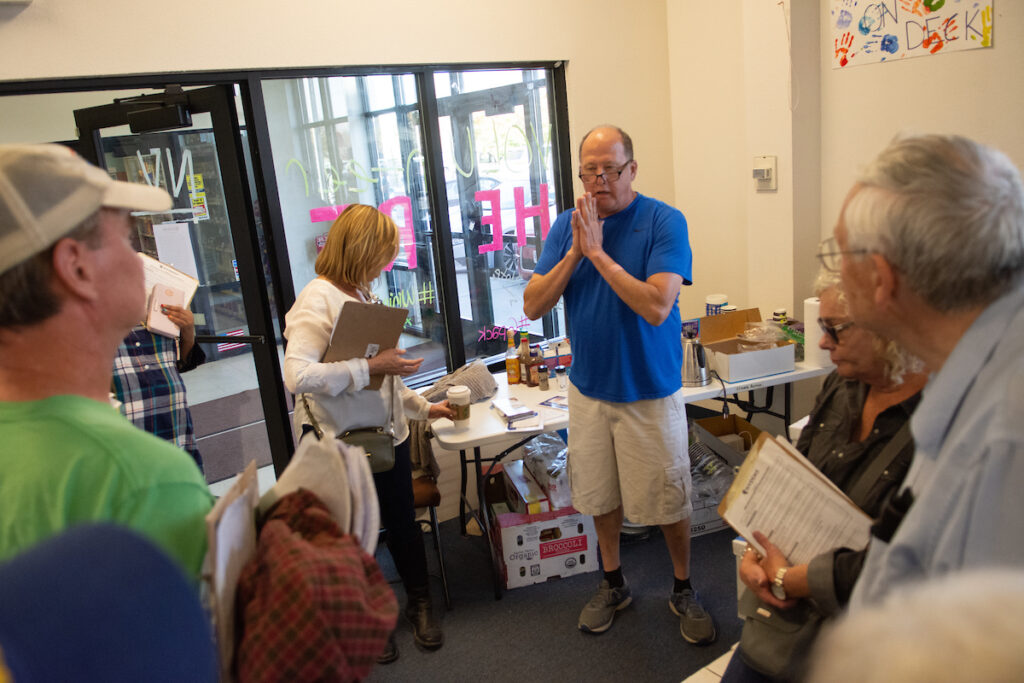 On Thursday, a few miles from the Heller basecamp, Pam Jonidis was preparing her campaign materials to go door-knocking just after hearing from Heller's opponent, Rosen, who stopped at the Democrats' Sparks campaign office.
Jonidis described herself as having been an apathetic voter in the past, rarely going out to vote and campaigning once for former President George H. W. Bush in Florida. Jonidis is no longer a Republican, and she said her partisan leanings have shifted even further to the left since 2016.
"This year, the last two years, I'm so disgusted at what I'm seeing happen in my country," Jonidis said. "Not only President Trump. [It's] everything that happened in Congress this year."
The path to victory for statewide candidates is likely to run through Flocchini's and Jonidis's backyards — Washoe County. While Democrats work hard to boost turnout in blue Clark County and Republicans appeal to their red base in the rural counties, Washoe is the famously purple swing county that has the potential to make or break campaign on either side of the aisle.
And Democrats bested Republicans in Washoe County during the two week early voting period, securing an 1,800-vote lead. Democrats' statewide lead is boosted by a 47,000-person lead in Clark County, which was mitigated by a 27,000-person lead for Republicans in the rurals.
Those numbers look more like what they do during a presidential year, which usually sees higher levels of voters turning out than a midterm election. Total turnout in the two-week early voting period was at about 40 percent compared to about 25 percent in the 2014 midterm. And organizers like Flocchini and Jonidis, who have been working on the ground, said it was apparent that voters across the spectrum were paying attention this year.
"We're really pleased to see [the high turnout]," Deanna Spikula, the Washoe County registrar, said on Monday. "It's going to be busy out there if we see the same amount of turnout as we did in early voting. We're glad people are engaged in the process."
Eric Herzik, who chairs the political science department at UNR, said he thought the surge in engagement was a reaction to the divisiveness of the Trump presidency.
"Democrats really see some of their core constituencies at risk," he said. "The core Trump Republican Party just wants to confirm his greatness. You've got two sides that are entrenched and just talking past each other."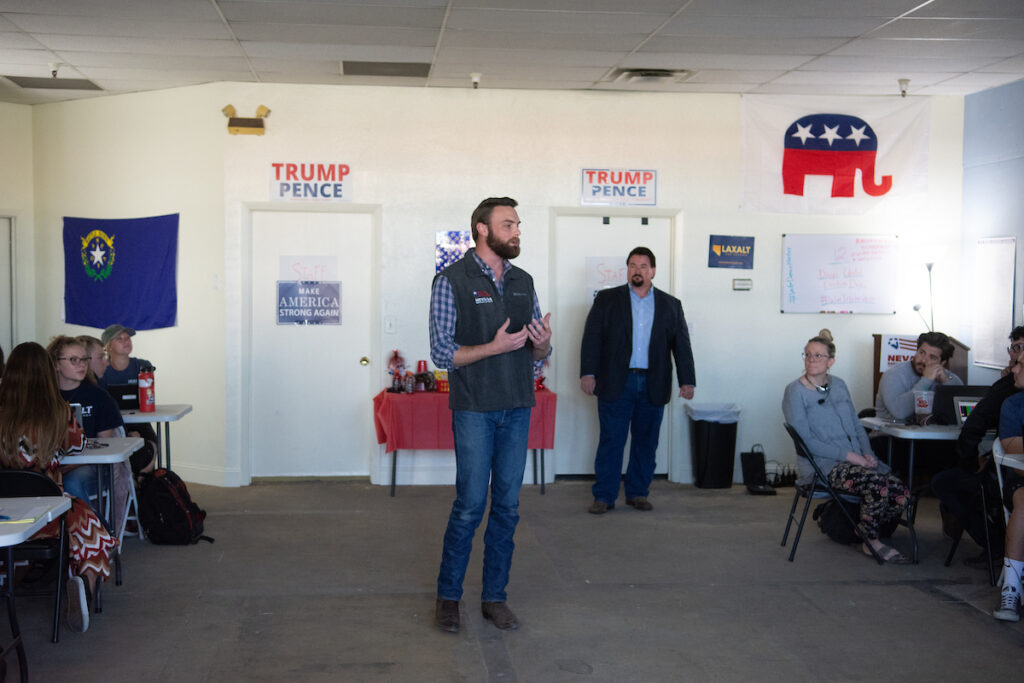 But the high numbers of turnout this year may also be a byproduct of the effort that the Democratic and Republican parties in Nevada have put into the midterm election this year with so much at stake.
The Republican voter turnout operation has traditionally lagged behind that of Democrats. But the Republican National Committee landed early in Nevada this year — in June 2017 — and has built up a massive voter data operation and volunteer infrastructure that they are hoping will carry them to victory. In August, Republicans hit one million voter contacts in Nevada, more than they had contacted during the entire 2016 cycle.
Democrats, meanwhile, have revved up the so-called Reid machine, named for former Senate Democratic Leader Harry Reid, which has helped propel their party to victory over the last few election cycles including the blue wave of 2016. The Culinary Union, a critical part of the machine, has had 350 guest room attendants, bartenders, bellmen, cooks, and others working up to 12 hours a day canvassing through Election Day and will have knocked more than 385,000 doors and had one-on-one conversations with 84,000 voters across the state.
Though Democrats lead in early voting — including the slim lead in Washoe County that Herzik described as "significant" — it's not looking like a "blue wave" year just yet. Herzik said that depends on today's turnout and another increasingly big factor: the independent voter.
In the last decade, the number of active registered nonpartisan voters in Nevada has increased to about 22 percent of the electorate. This year, they have been courted by all sides. Out of the 629,922 voters who cast ballots in early voting, about 21 percent were nonpartisans.
Candidates themselves even seem prepared for a range of possible outcomes as the state's top races remain in doubt. Duncan quickly listed off a host of issues he could work on with Democrats if Laxalt were to fall short, including mental health treatment, transitional housing and psychiatric ERs.
"You're going to have to work with whoever is in the governor's office to try and do the best for the state," he said.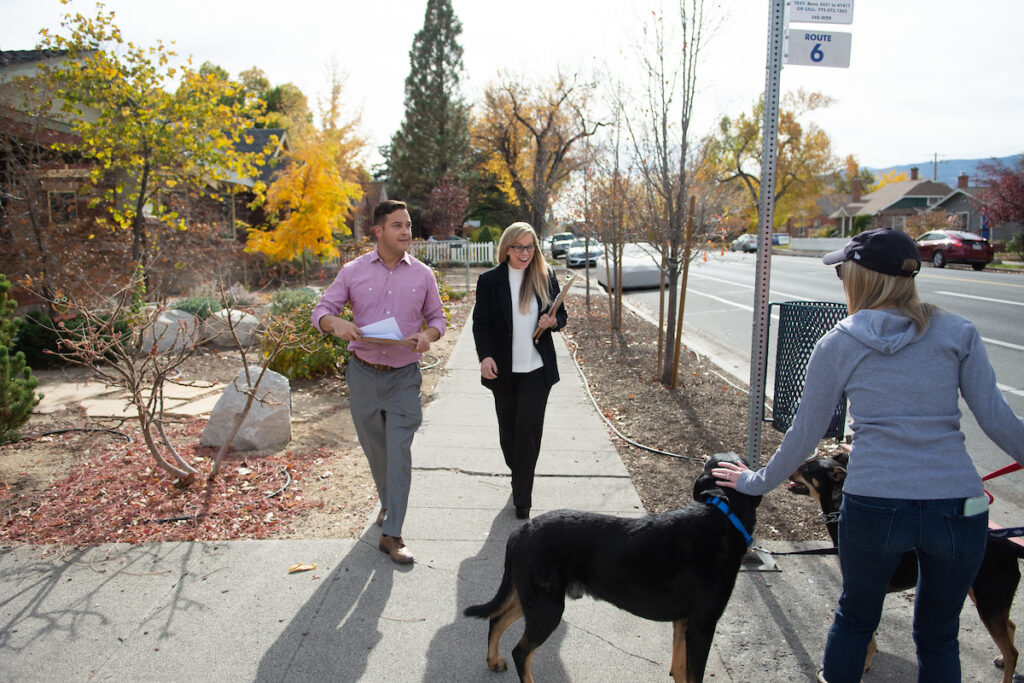 Keeping an eye on the polls
With two tight races for Senate and governor, partisan and federal observers are expected to join voters at the ballot box. On Monday, the Department of Justice announced that it selected Clark County and Washoe County as two of the 35 jurisdictions where the agency would send personnel to monitor local compliance with federal election laws.
Spikula, the Washoe County registrar, called the decision routine, noting that the department sent monitors in 2016. On Monday morning, two of the monitors came to the office to share contact information and introduce themselves to county officials, Spikula said.
"They've been here in 2016, and we welcome all of our observers to come, whether they be partisan observers or any other observer that wants to watch the process," she said.
On Monday, U.S. Attorney Dayle Elieson also announced that Allison Reese, an assistant attorney, will handle complaints filed with the Justice Department. Such complaints would cover issues such as voter intimidation and or buying and selling votes. Unlawful behavior can be reported to the Justice Department's Civil Rights Division online or at 800-253-3931.
Stories
Candidate Trackers
Endorsements, Ads, Policies, Visits
& More
visit now
Comment Policy (updated 10/4/19): Please keep your comments civil. We reserve the right to delete comments or ban users who engage in personal attacks, use an excess of profanity, make verifiably false statements or are otherwise nasty.