Tracker: Who's running in Nevada's 2024 presidential primaries and caucus?
This article will have rolling updates on who has filed to run in the state's presidential preference primaries on Feb. 6 and GOP caucus on Feb. 8.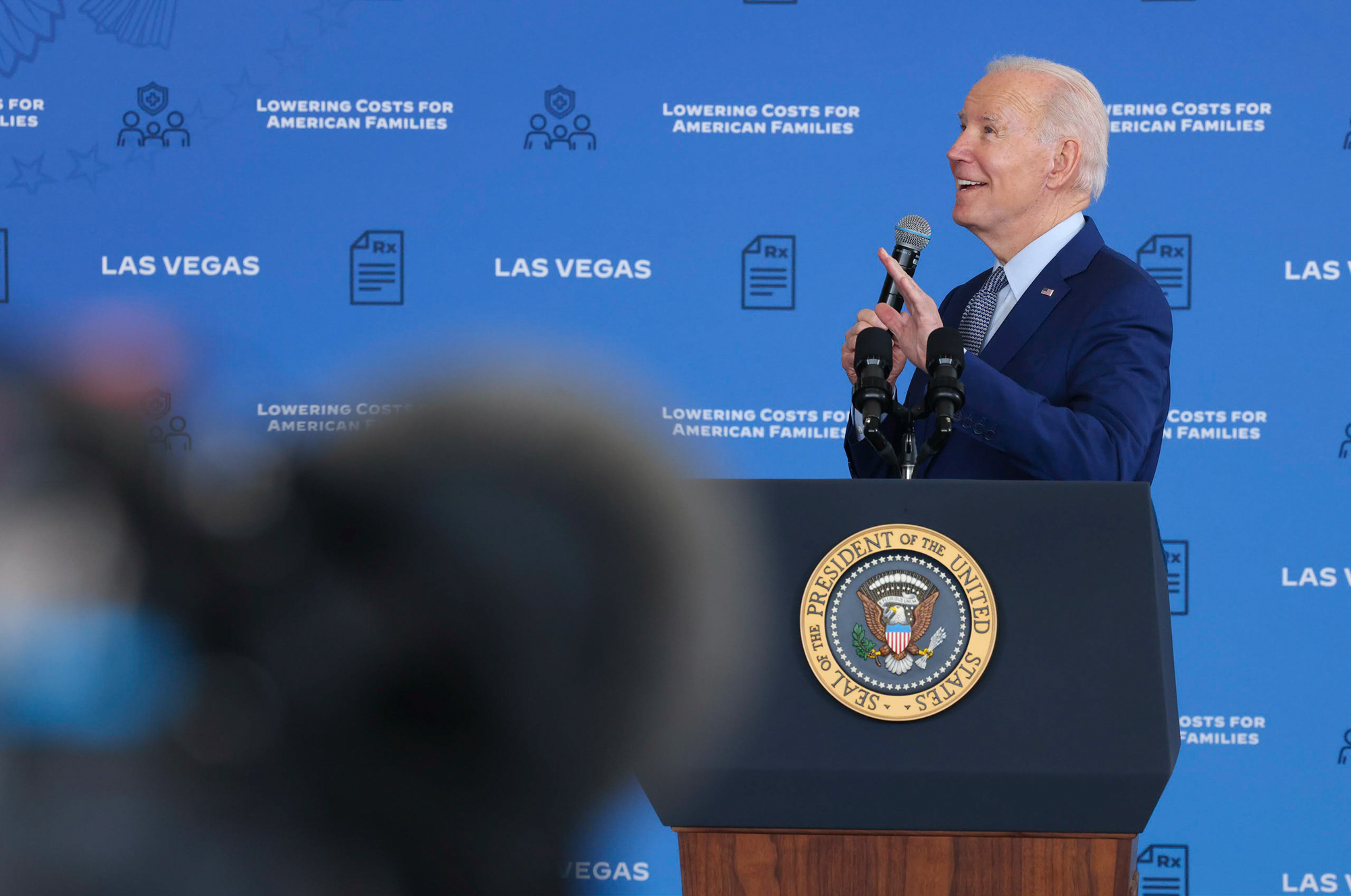 In February, Nevada Democrats and Republicans will vote for presidential candidates running to be their party's nominee on the 2024 general election ballot.
The filing period for the state-run presidential preference primaries began Monday, Oct. 2, and candidates have two weeks, until Oct. 16, to file their candidacy for either the Democratic or Republican primary.
If two or more candidates from a major political party file to run, the state is required to hold a primary for that party on the first Tuesday in February of a presidential election year, which will fall on Feb. 6 in 2024. A primary will not be held only if one or zero candidates file to run — though with two candidates of each party already filed, this would only happen if candidates withdraw from the ballot.
But drawing some candidates away from the primary filing is the Nevada Republican Party's planned presidential caucus, which is set for Feb. 8, two days after the primaries. The party will use the results of the caucus, and not the primary, to determine how it will award the state's presidential delegates at the Republican nominating convention.
The Nevada GOP is charging a ballot access fee of $55,000 and barring candidates from participating in both elections, meaning some candidates — most notably former President Donald Trump — are set to run in the Republican caucus, rather than the primary.
Filing for the Republican caucus began Sept. 1 and runs until Oct. 15, according to the Nevada GOP.
Read here to learn more about the primaries and caucus.
Below, The Nevada Independent will have updates on who has filed to run in each election. The list of candidates may change after the end of the filing period, as candidates have one week after Oct. 16 to withdraw their candidacy. Electors may also challenge the candidacy of a presidential candidate for up to five days following the end of the withdrawal period.
Primary ballots will also include an option of "none of these candidates" — a ballot selection unique to Nevada that allows voters to participate without supporting a specific candidate.
Republican primary candidates
Oct. 16: Nikki Haley. The former South Carolina governor and former U.S. ambassador to the United Nations has put little focus on Nevada, instead focusing campaigning on other early nominating states.
Oct. 16: Donald Kjornes. The South Dakota resident is a former real estate agent.
Oct. 13: Tim Scott. The U.S. senator from South Carolina became the second major candidate to file for the state-run primary, rather than the party-run caucus. Scott's candidacy is a long shot effort, as he has averaged seventh place in Republican presidential polls, according to FiveThirtyEight.
Oct. 12: Mike Pence. The former vice president opted to forego the party-run caucus and instead will run on a ballot that will not include Trump, his former running mate. The decision means Pence, who has struggled to gain momentum in polls, will not receive Nevada delegates at the Republican National Convention.
Oct. 12: Hirsh Singh. The New Jersey resident has a professional background in engineering and in 2017 ran for New Jersey governor, finishing third in the Republican primary. In 2020, he finished second in the New Jersey Republican primary for U.S. Senate.
Oct. 6: Heath Fulkerson. A Reno resident whose website makes references to both a run for president and "House of Representatives." Fulkerson is the second Republican to file for the GOP primary, ensuring that — so long as no candidates drop out — the state will hold a Republican presidential primary on Feb. 6, two days before the planned party-run caucus.
Oct. 2: John Anthony Castro. The Texas resident, 39, has drawn attention for filing legal challenges in multiple states (including Nevada) to exclude former president Donald Trump from the ballot under the 14th Amendment's "insurrection" clause, which bars from office any person who "engaged in insurrection or rebellion" after taking the oath of office.
Republican caucus candidates
Oct. 15: Ron DeSantis. The Florida governor, who has consistently placed second in Republican presidential primary polls behind Trump, filed to run alongside the front-runner in the caucus. His decision, first reported by the New York Times, comes as his campaign apparatus has criticized the Nevada GOP for changing the rules to benefit Trump.
Oct. 14: Ryan Binkley. The businessman and pastor is the co-founder of the Texas-based Create Church and president of business consulting company Generational Group.
Oct. 13: Chris Christie. The former New Jersey governor and prominent Trump foe became the fourth major candidate to file for the party-run caucus on Friday. Though he has tried to carve out an explicitly anti-Trump lane, Christie's bid remains a longshot, with FiveThirtyEight's national polling tracker ranking him sixth in the field of top candidates.
Oct. 11: Doug Burgum. The North Dakota governor, a long-shot candidate who has primarily self-funded his campaign, has a background in technology business and a net worth of $1.1 billion, according to Yahoo Finance.
Oct. 10: Donald Trump. The former president remains popular among Nevada Republicans and is the front-runner to be the Republican nominee for president, despite facing 91 felony charges and multiple criminal trials in the spring.
Sept. 19: Vivek Ramaswamy. The 38-year-old biotech entrepreneur and the youngest candidate in the Republican field was the first candidate to file for the Nevada GOP caucus.
Democratic primary candidates
Oct. 16: Mark Prascak. He is a filmmaker based in Pennsylvania.
Oct. 16: Superpayaseria Crystalroc. The Democrat is an Idaho resident.
Oct. 16: Frankie Lozada. The New York resident campaigned for a New York congressional seat last year.
Oct. 16: Gabriel Cornejo. He is an entrepreneur based in Las Vegas.
Oct. 13: John D. Haywood. He is a North Carolina man who also ran in the 2012 Democratic presidential primary.
Oct. 12: Stephen Leon. He is an entrepreneur based in Arlington, Virginia.
Oct. 12: Donald Picard. The Massachusetts resident works as a software engineer in Cambridge.
Oct. 11: Jason Palmer. The Maryland-based Democrat is a general partner at an education-focused venture capital firm.
Oct. 11: Joe Biden. The president is running for re-election and is the favorite to again become the Democratic nominee. In the 2020 general election, he won the state's six electoral votes after defeating Trump by a margin of 2.39 percentage points.
Oct. 10: Stephen Lyons. The Maryland resident is a plumber based in Damascus.
Oct. 9: Marianne Williamson. The self-help author and spiritual leader has visited Nevada multiple times, including an August trip to Las Vegas and a visit to Northern Nevada that included a rally at UNR after filing to run.
Oct. 3: Brent Foutz. The Boulder City resident lost last year in the general election for state Senate District 20. In 2020, he lost a race for Assembly District 23 by nearly 30 points to his Republican opponent.
Oct. 2: Armando Perez-Serrato. The California resident ran last year in the state's primary for governor, finishing 15th with 0.6 percent of the vote.
Update: Oct. 16, 2023 at 1:00 p.m. — This article was updated to include details about additional filings.
The Nevada Independent is raising $200,000 by Dec. 31 to support coverage of the 2024 election.
Tax-deductible donations from readers like you fund this critical work.
If you give today,your donation will be matched dollar-for-dollar.
Give + Get Matched
Featured Videos