Gov. Sandoval shakes hands with President Trump at Las Vegas Metro Police Dept. headquarters on Oct. 4, 2017. Photo by Daniel Clark.
Trump to Las Vegas: 'We know that your sorrow feels endless'
October 4th, 2017 - 10:51am
5:13 p.m.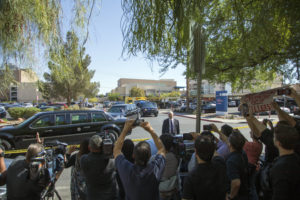 People in and around a Las Vegas hospital where President Donald Trump met with victims had praise for his decision to visit.
Dr. J.E. Coates, a trauma surgeon who operated on several people who came into University Medical Center after Sunday night's shooting, said the president was relaxed and taking selfies with staff during the stop, which was closed to the press. He went to the hospital rooms of at least five people with only his wife Melania and his security detail in tow.
"He very graciously spent a lot of time in each patient's room talking to them," Coates said. "I think it meant a lot to the patients to have him show up so they seemed really happy, very pleased, very excited."
Outside the hospital, bystanders were mostly positive about Trump's trip.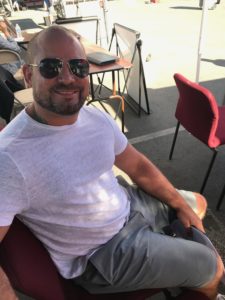 "As a country, there's so much divide right now, and if anything, an event like this should help to bring people together -- just like 9-11, how much the country rallied together," said Rich Clementi, who's from New Orleans but was in Las Vegas for a convention and came by to donate blood. "I think that President Trump coming out here is what a leader should do."
Virgil Wilson, 81, was also in line to donate blood near the hospital. His grandfather was the first lawman killed in the line of duty in Las Vegas in 1928, and Wilson said giving blood was "an honor. It's part of his legacy to be a giver."
Wilson also said he's a big Trump supporter and was "particularly glad" that the president paid a visit.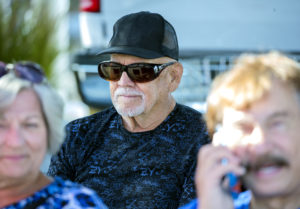 "I hope that he's comforting to the families. He's a businessman so I don't think that's his first reaction," he said. But, "he also has a human side. Once in a while it comes out. I think this would be a great time for that human side to come out."
Jay Camarena, who works near the hospital and came to see the action, said he hoped Trump's response to Las Vegas would be different than with hurricane-ravaged Puerto Rico, which has been punctuated by a beef between the president and San Juan Mayor Carmen Yulin Cruz. She has criticized his comments toward the territory as "insulting" and said he's downplayed the suffering of the Puerto Rican people.
"I hope President Trump's visit is for good, and that he doesn't repeat what he did in Puerto Rico," Camarena said. "I hope he finally steps up and does something good for the community for the United States and for his people."
4:18 p.m.
Sen. Catherine Cortez Masto said she had a brief conversation with President Donald Trump and First Lady Melania Trump during his visit to Las Vegas Wednesday in which she thanked them for the words of comfort they offered to the community and for coming to show support to the injured and families of victims.
The president and the congressional delegation spent time at University Medical Center Wednesday morning, meeting with patients, their families and hospital staff. Cortez Masto said she and the rest of the delegation spent time talking with patients on one floor, while the president visited another.
"It was incredible — one gentleman who was there with his wife and son — they all got separated and he got shot in the leg and thank God somebody put a tourniquet around his leg with a belt," said Cortez Masto, whose niece also attended at the country music concert where a gunman opened fire on 22,000 festival goers but escaped unharmed. "Somebody picked him up in a truck and delivered him."
At Las Vegas Metro Police headquarters, Cortez Masto said she listened in on a roundtable discussion between the president, Las Vegas Mayor Carolyn Goodman, law enforcement officers, local religious leaders and survivors of the attack.
"The president had a few remarks, just about the response of Metro and everybody else and words of comfort for those who survived," Cortez Masto said.
The senator noted that she signed on to Sen. Dianne Feinstein's bill to ban "bump stocks," devices that convert semi-automatic weapons into essentially automatic ones by speeding up the discharge of ammunition.
"I'm going to be absolutely vocal about that when I get back to Washington D.C.," Cortez Masto said. "People are suffering. People had someone they knew there, a friend or a loved one. We're just a community in mourning right now."
1:34 p.m.
President Donald Trump lauded the law enforcement officials who responded quickly to the mass shooting at a county music festival on the Las Vegas Strip Sunday night, including one off-duty officer who lost his life and another who is still in the hospital, speaking to first-responders at police headquarters Wednesday afternoon.
The president met with law enforcement, firefighters and other first responders — "heroes" who lived through that "horrible moment, that horrible night" — at Metro Police headquarters for about an hour. Trump was joined by Gov. Brian Sandoval, all six members of Nevada's congressional delegation, Las Vegas Mayor Carolyn Goodman and Attorney General Adam Laxalt at police headquarters.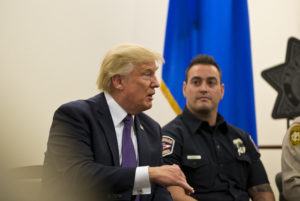 Reading from prepared remarks, the president, in a roughly 10-minute address, sounded notes of unity and praised the people of Nevada's "incredible courage, character and resolve."
"We know that your sorrow feels endless," he said. "We stand together to help you carry your pain. You're not alone. We will never leave your side."
Trump said that one Metro officer — Tyler Peterson — he visited at University Medical Center Wednesday was only on his second day on the job when the shooting began.
"Within minutes he joined a group of officers rushing between flying bullets to clear the fairground and save lives," he said.
The president also honored Charles Hartfield, a 34-year-old military veteran and off-duty Metro officer who was among those slain in the shooting.
"His death is a tragic loss for this police force, for this city, and for our great nation."
Introducing Trump, Sandoval thanked the president for visiting Las Vegas, as well as Las Vegas Metro Sheriff Joe Lombardo and the entire police force for quickly jumping into action Sunday night and averting a further loss of life. He also thanked people from across the country and across the world for their support and generosity.
"Yes, we're hurt. We're hurt badly," Sandoval said. "But we're not broken."
He said that Nevadans will "never ever forget this horrific event," but that "we must be glad, we must be good, we must be brave and we must have faith."
As Trump delivered his remarks, a handful of first responders left the building. A Nevada Highway Patrol trooper said the president thanked them for their actions during the brief encounter.
Prior to the press conference, the president addressed a gathering of first responders, including an off-duty firefighter who remained to help victims and several dispatchers, in a separate room inside police headquarters. Lombardo introduced the president to the member of the SWAT team who was the first person to engage the suspect, a K-9 officer who also assisted and two police officers who partnered with the Mandalay Bay security guard upon entering the hotel.
"I was a fan before this — you know that," he said, according to a pool transcript. "Everyone in this room knows that. A big fan before this. And I guess, if you could be more of a fan, I guess I'm even more of a fan now. But you showed the world, and the world is watching. And you showed what professionalism is all about, because that was about as fast — something like that could take place for hours and hours and hours, and you can't figure it out."
12:15 p.m.
After spending more than an hour at the University Medical Center on Wednesday, an emotional President Donald Trump touted the professionalism and "tremendous bravery" shown by survivors and medical professionals who treated victims of the Sunday mass shooting in Las Vegas.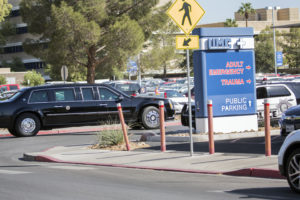 Speaking briefly to gathered press at UMC, Trump said he had met "terribly wounded" patients and credited them and hospital staff for "an incredible tribute to professionalism," saying that some of the victims of the shooting would be released in the coming weeks and days.
"It makes you very proud to be an American when you see the job that they've done," he said.
The president declined to discuss any potential legal restriction on guns or firearms, saying "we're not talking about that today." Trump did not reveal any new information about the shooter, 64-year-old Stephen Paddock, whom he called a "very sick individual."
Asked by a reporter about a recent NBC report detailing tension between Secretary of State Rex Tillerson and the president, Trump said he had "total confidence" in Tillerson and called the story "fake news" and "totally phoney."
Trump is scheduled to visit the headquarters of the Las Vegas Metropolitan Police Department next.
11:54 a.m.
University Medical Center, which treated more than 100 victims of the shooting, was surrounded by a thick layer of security even before President Donald Trump's motorcade rolled around the back for a visit with patients and hospital personnel. The first lady waved from the window of a limousine to bystanders along the sidewalk behind the hospital.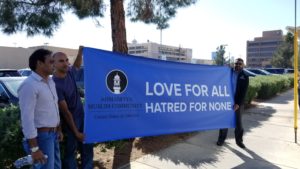 Among the bystanders were four members of the Ahmadiyya Muslim Community who carried a large banner reading "Love for All, Hatred for None." Asked how they'd evaluate Trump's message so far, they said they hoped for one that would unify people.
"There should be no divisive messages and the message that is portrayed needs to include everybody and bring everybody together," said Rizwan Ahmad, who came from Milwaukee to join other members of his faith community in Las Vegas.
The group is trying to recruit one blood donor for every victim of the shootings. There were nearly 600.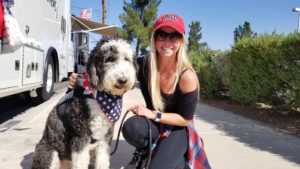 Mallory Miller, 26, had brought her therapy dog, a bandana-wearing sheepadoodle named Lucy, to offer comfort. While she wasn't able to get into the hospital because of the activity surrounding the Trump visit, Lucy was delighting people at blood donation stations.
"It's nice to have a little companion for people to be able to pet her and be at ease," said Miller, who has a degree in social work.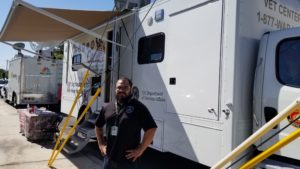 Idling near the action was one of three Veterans Administration mobile counseling units that has responded after the shooting. The unit usually offers counseling for veterans with post traumatic stress disorder, but switched gears this week to work with families of victims and National Guard members who lost a colleague in the shooting.
"Most combat veterans volunteered having some idea that they're possibly going to be in danger," said Edward Martinez, an Army veteran who was staffing the van, about the difference between combat veterans and shooting victims. "No one's volunteering for any of this stuff."
10:51 a.m.
President Donald Trump and First Lady Melania Trump have arrived in Las Vegas, with plans to visit victims and first responders just three days after the worst mass shooting in modern U.S. history left 59 dead and more than 527 wounded.
The President arrived at McCarran International Airport mid-morning on Wednesday, flying in on Air Force One accompanied by Nevada Sen. Dean Heller, Rep. Mark Amodei and House Majority Leader Kevin McCarthy. They were greeted by a slew of Nevada officials including Gov. Brian Sandoval, Las Vegas Mayor Carolyn Goodman, Attorney General Adam Laxalt and Metro Sheriff Joe Lombardo.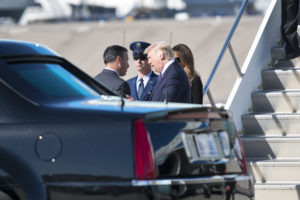 The president did not appear to take questions from reporters after arriving at the airport, and departed with his wife and the governor after speaking with state and local officials for several minutes. The shattered window on the 32nd floor of the Mandalay Bay — where 64-year-old Stephen Paddock rained fire down at a crowd of 22,000 attending a country music concert late Sunday — was visible from the landing strip.
Lombardo briefly told reporters that Marilou Danley, Paddock's girlfriend who was out of the country at the time of the shooting, would be speaking with FBI agents at the agency's Los Angeles field office later today.
Trump is expected to visit University Medical Center and Las Vegas Metropolitan Police department headquarters before departing — the entire trip is expected to take around 3 and a half hours. It's the president's second trip to Nevada since taking office in January, visiting Reno in August to speak at an American Legion conference.
The president tweeted earlier Monday that he and his wife were leaving for Las Vegas and that "everyone remains in our thoughts and prayers."
I will be landing in Las Vegas shortly to pay my respects with @FLOTUS Melania. Everyone remains in our thoughts and prayers.

— Donald J. Trump (@realDonaldTrump) October 4, 2017
Rep. Jacky Rosen and Senator Catherine Cortez Masto will accompany Trump during his visit, their offices said.
Comment Policy (updated 10/4/19): Please keep your comments civil. We reserve the right to delete comments or ban users who engage in personal attacks, use an excess of profanity, make verifiably false statements or are otherwise nasty.