Washoe schools superintendent submits resignation less than 2 years after hiring
Superintendent Susan Enfield said she will continue to work "intensely" until her last day, Feb. 9.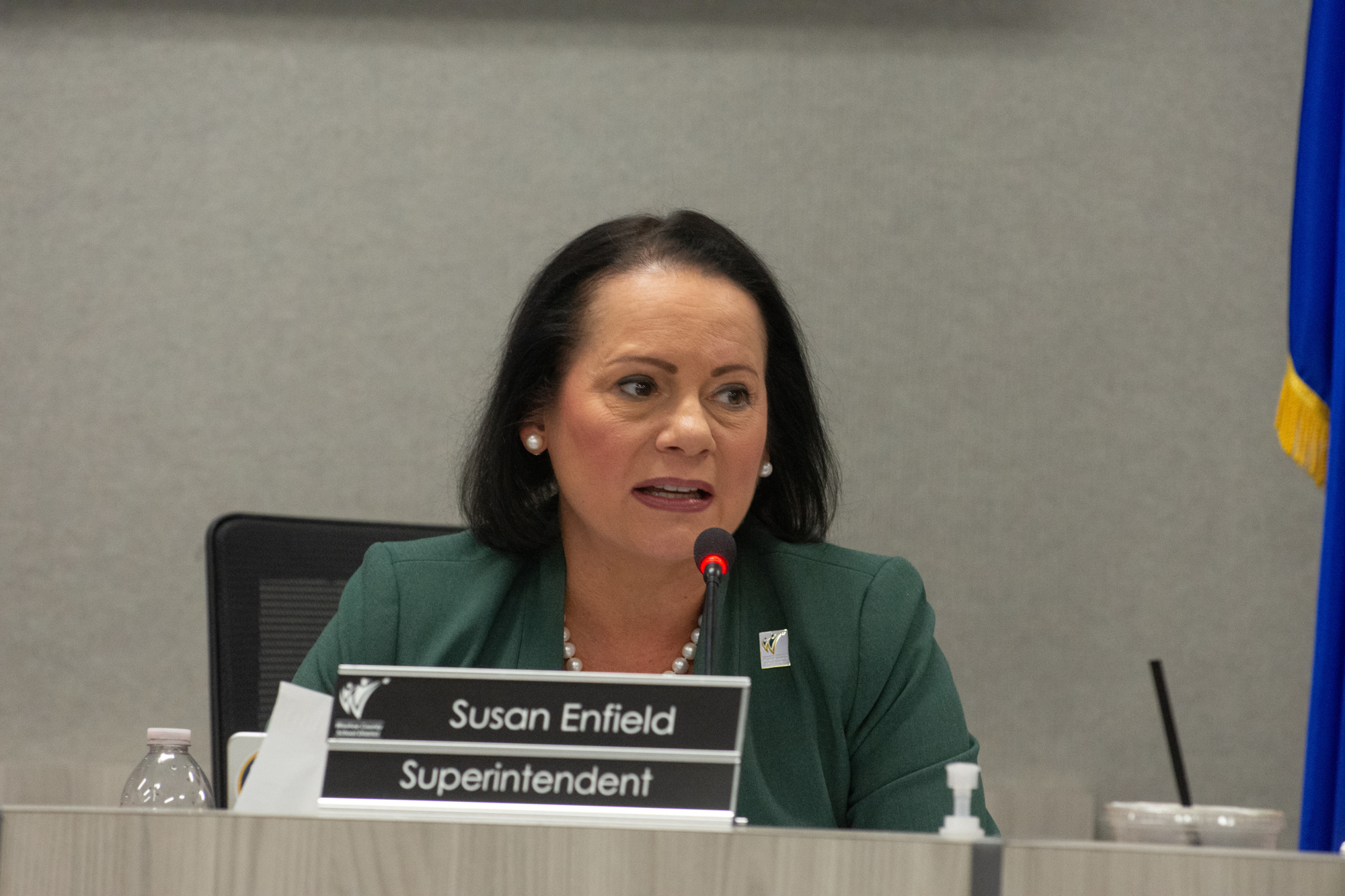 Washoe County School District (WCSD) Superintendent Susan Enfield is leaving the state's second-largest school district in February to return to Washington state to spend time with her family and pursue other opportunities.
During a Monday press conference at the district's administrative building in Reno, Enfield said she's always preached to her colleagues and staff the importance of putting health and family first, and now she is putting her own advice into practice.
"I had to make the difficult decision that the right thing for my family right now was for me to put them first, and to pursue, unfortunately, other opportunities that will take me away from here," she said.
Enfield didn't specify how long she had been thinking of resignation, but said she had a "moment of clarity" last week and felt at peace with the decision.
Enfield, 55, has served as the district's superintendent since July 2022 after previous Superintendent Kristen McNeill announced she was retiring. Prior to joining WCSD, Enfield had worked as the superintendent of a Seattle-area school district for about 10 years. Her previous 10-year tenure was one of the traits that most impressed the majority of the board during the hiring process, as WCSD has struggled with superintendent turnover.
Enfield's last day will be Feb. 9, 2024.
Enfield said in a Monday statement addressed to WCSD community members that she was proud of her work as superintendent, including the adoption of a "bold" three-year strategic plan focused on academic success and students' social-emotional well-being as well as the passage of "historic and long overdue" staff compensation increases.
"I also want to assure you that while my nickname is 'Duck' I have no intention of being a lame duck in the coming months," Enfield said in the statement. "I will be leading and working just as intensely as I have since I arrived, until my last day serving as your superintendent."
District trustees are expected to discuss next steps at a future meeting, which could include selecting and hiring a firm for a national superintendent search and appointing a possible interim superintendent if needed. At the Monday press conference, Board President Beth Smith could not immediately say when that board meeting would take place or how much the search for a new superintendent would cost the district, but estimated it would generally cost around tens of thousands of dollars.
During the press conference, Enfield said she will work with Smith and district staff to ensure a "seamless and smooth transition."
Last month, the Washoe County School Board rated Enfield's performance last school year as "effective." Smith had called Enfield's first year a "remarkable" start, though Trustee Jeff Church noted concerns about ongoing safety issues and academic performance within the district.
Earlier this month, Enfield received a cost of living increase of $40,900 and was scheduled to receive another increase of $7,018 next year, which would have raised her salary from $310,000 to $358,000. It's still lower than the salary of Clark County schools Superintendent Jesus Jara, which is about $395,000 a year.
She is the third Nevada superintendent to announce their departure in the past month.
In early November, the Douglas County School Board approved former Superintendent Keith Lewis' resignation, which came after months of strife between him and the school board, including his public concerns about high legal fees since Republican politician Joey Gilbert was hired as legal counsel and a power struggle playing out through proposed changes to bylaws.
In late October, Lyon County Superintendent Wayne Workman announced he would be leaving his district at the end of the school year to spend more time with his family.
Superintendent turnover has increased during the pandemic in Nevada and across the country. A new analysis by ILO Group, an education consulting firm, found that the trend has continued post-pandemic with 1 in 5 of the nation's 500 largest school districts experiencing a superintendent departure last school year.
Reporter Tabitha Mueller contributed to this story.
The Nevada Independent is raising $200,000 by Dec. 31 to support coverage of the 2024 election.
Tax-deductible donations from readers like you fund this critical work.
If you give today,your donation will be matched dollar-for-dollar.
Give + Get Matched
Featured Videos