Shoppers enter Cardenas Market during the first day of early voting on Saturday, May 26, 2018. (Jeff Scheid/The Nevada Independent)
Latina voters weigh in on why they're voting, what's shaping their decisions
November 4th, 2018 - 2:05am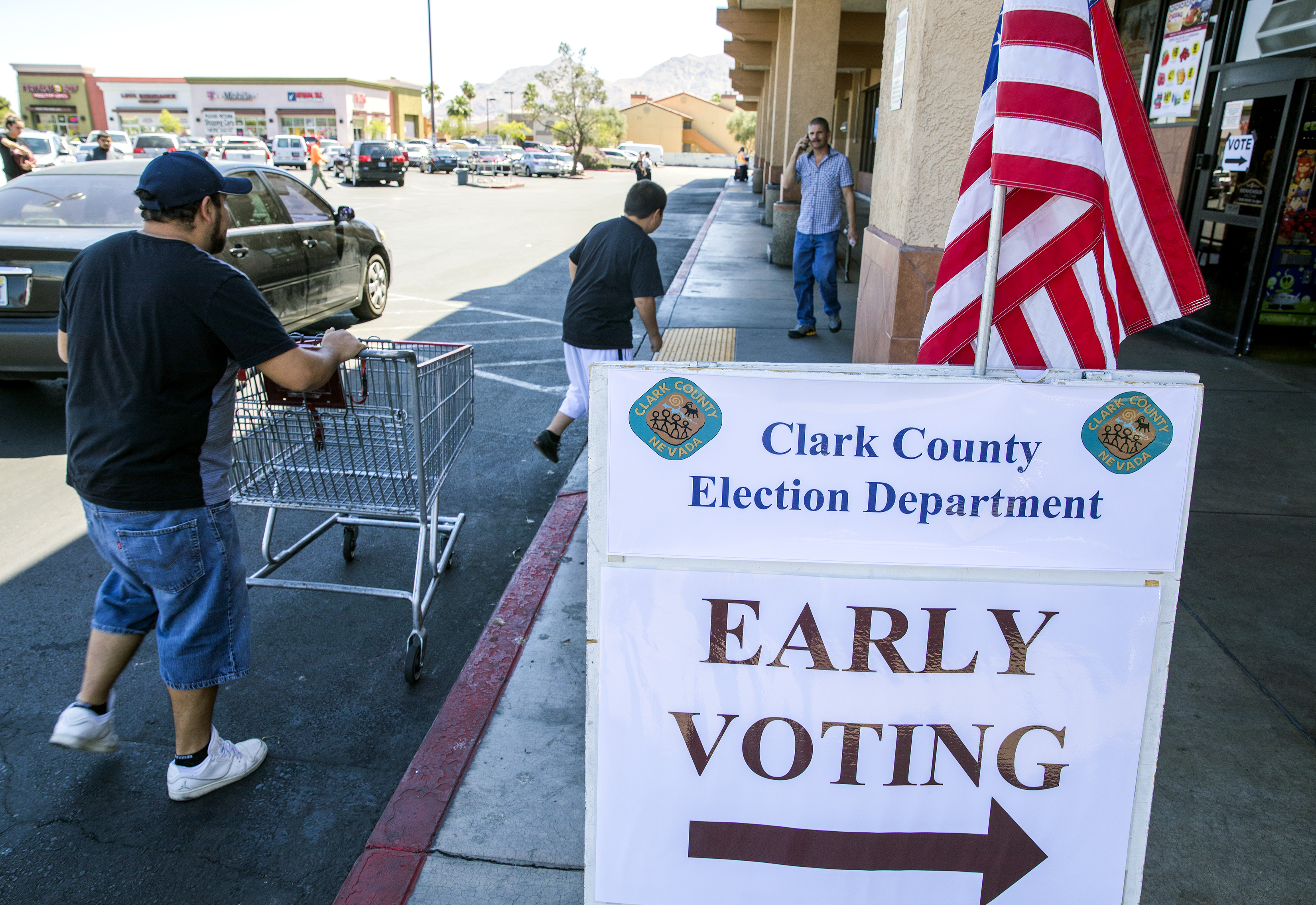 This story has been translated and edited for clarity from its original Spanish version.
From surveys and speeches to non-stop ads and campaign promises, it's clear candidates are courting Latinos ahead of Tuesday's general election.
Hispanic voters were credited with pushing Democratic Sen. Catherine Cortez Masto and Hillary Clinton over the finish line in 2016 in Nevada, although there's always speculation about how active they'll be from cycle to cycle.
But what lies beyond the numbers? What's pushing voters toward the Democratic or Republican parties?
The Nevada Independent en Español talked with members of the Latino community in Las Vegas to understand their thoughts on the candidates, why they participate, and what they think of the image Latinos have in the United States. Here are some of their stories.
Laura Nowlan – Owner of a recruitment agency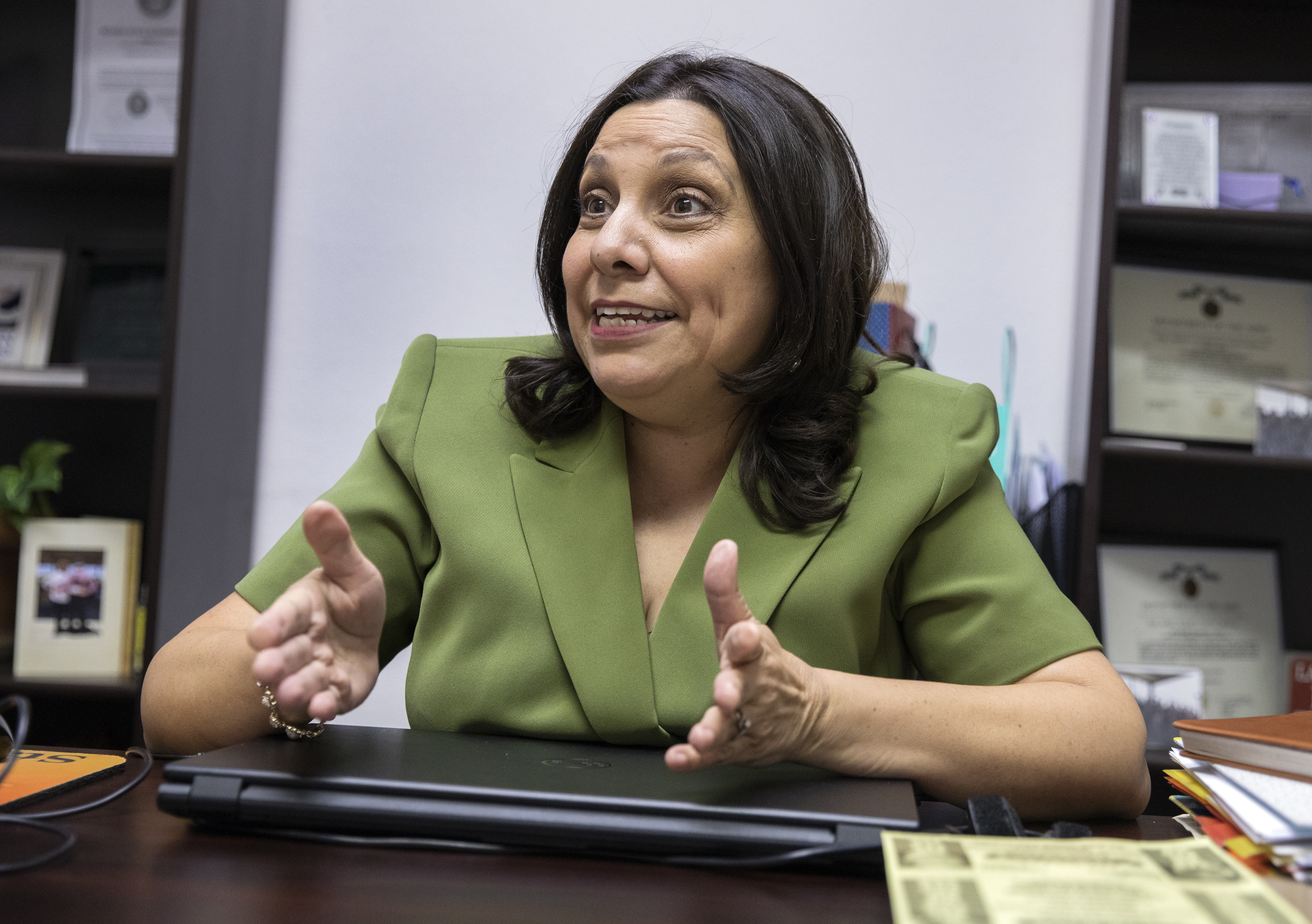 "Waking up to a new reality" is how Laura Nowlan described her experience joining the Republican Party, just after the first term of President Barack Obama had come to an end.
Family and fiscal issues not only influenced her life as an immigrant, but shaped her political leanings to the point that she became part of a group of Latino entrepreneurs  who rallied with presidential candidate Donald Trump in Las Vegas in 2016.
"Many people are afraid to disclose their political affiliation. I'm not. Before, I used to be a Democrat," she said. "I felt God whispering to me Trump's name. I heard his name during church services. Then one day they called me to ask me if I wanted to meet him, and I accepted."
A few days after her 50th birthday, sitting in her office still decorated with balloons from the party, Nowlan told The Nevada Independent en Español that only a select group of people attended the meeting and were asked not to reveal their encounter with Trump.
"Since I met him in person, I stopped caring about what people said about him," she said. "I just focused on hearing God telling me that Trump was going to win."
Another factor that led Nowlan to abandon the Democratic Party was when the Obama administration implemented DACA, a program she considers to be like a "Band-Aid."
Nowlan was 3 years old when her parents brought her and her two brothers to the United States from their native Mexico.
She was able to gain legal status when she was 18 years old, thanks to the amnesty President Ronald Reagan signed in 1986 that granted legal status to more than two million undocumented immigrants.
"The approval of DACA was just meant to keep us quiet for a while," she said. "When President Trump put everything in the hands of Congress, for me it was the best decision he could have made."
Currently the program's future is caught up in court. Although Trump asked Congress to reach a solution within six months, the deadline came and went and no fix has passed.
Despite criticism towards DACA, Nowlan considers herself a DREAMer, with a history of self-improvement. She built her own recruitment company and a non-profit organization that helps other businesses and the community.
With regard to political campaigns, the entrepreneur said they should focus more on educating the community rather than attacking each other.
"I think political campaigns are using fear tactics," she said. "I don't want to hear about all the bad things your opponent is doing. I want to know what you're going to do."
Sandra Salinas — Owner of a Tax Preparation Business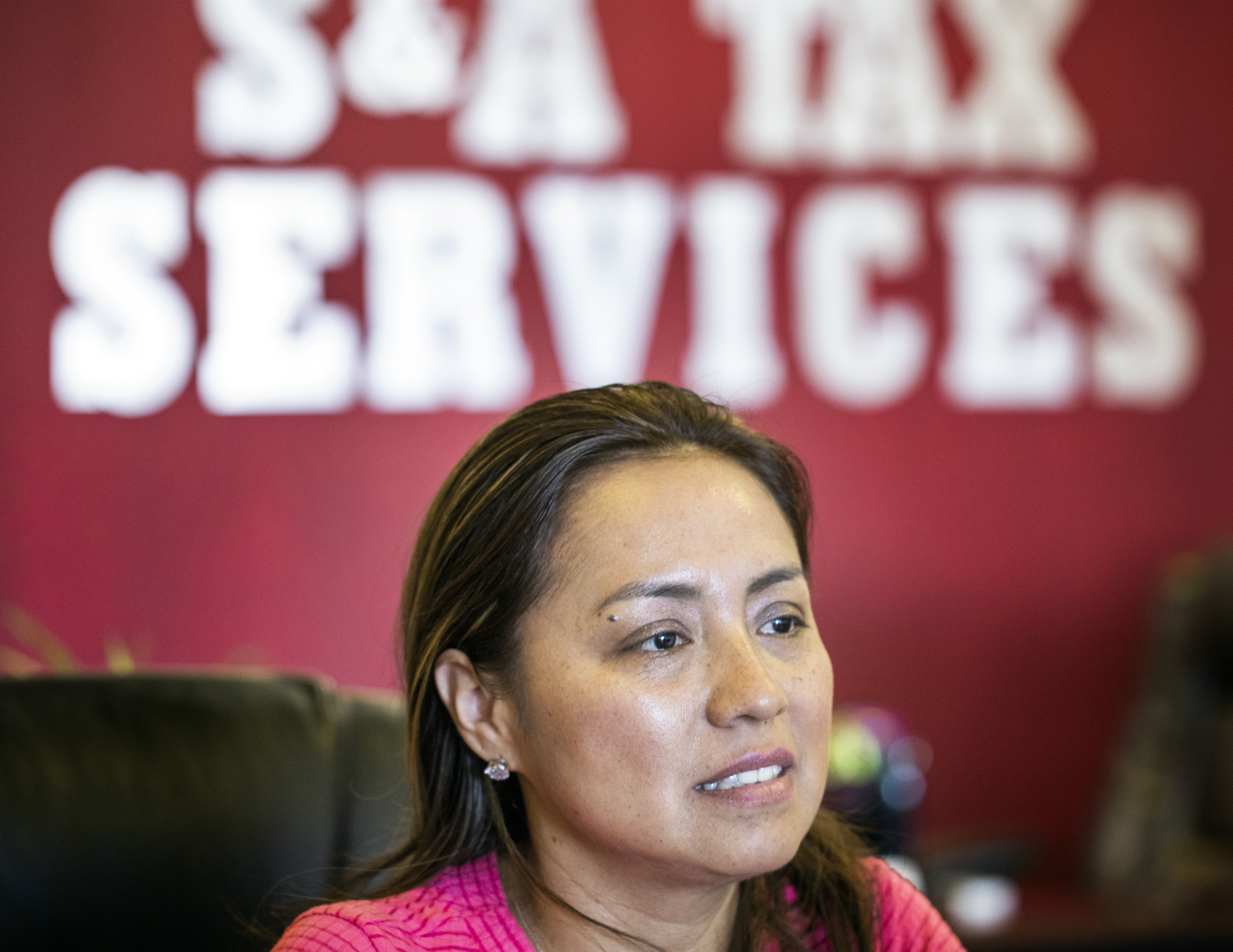 Sandra Salinas couldn't help but smile when she said that she and her son voted for the first time in this election.
"We are like little children when Christmas comes ... very excited," she said. "Not because we are voting, but because we can contribute something to this country."
Salinas and her son, 22, hit another major milestone earlier this year when they both became U.S. citizens.
Interviewed in her office located in east Las Vegas, Salinas said she supports Democrats.
In fact, she decided to cast her ballot for the first time at an event where Sen. Catherine Cortez Masto and Senate hopeful Rep. Jacky Rosen voted in at the Cardenas Hispanic grocery store on Oct. 26.
"The main reason for me to become a citizen is exactly this moment, the elections," she said. "We have a moral obligation, not only with ourselves, but with people who don't have legal documents in this country."
Shortly after Salinas, 42, came to the United States, she found a job as a nanny. Then she learned English and, three years ago, she became the owner of a tax preparation business.
Getting there wasn't easy. She first worked for a family that was in charge of this type of business, and a few years later, when she felt she was ready,  she ventured out on her own.
Starting from scratch, she would promote her services by placing business cards on the windshields of cars that were parked outside supermarkets.
Salinas would like to see entrepreneurs reflected more in the public perception of Latinos in the U.S. — including in the messages that political campaigns and the Trump administration promote.
"There are a lot of Latinos that for some reason don't have legal documents, but their eagerness to get ahead is so meaningful ... I know people who have two full-time jobs, they don't sleep — Latinos are the ones who work very hard," she said. "I think that because of them there should be immigration reform and we should treat them more humanely, not call them criminals."
Salinas said she notices a difference in how campaigns and political parties approach the community. While Democrats focus on what they have done and what they will do for the community, Republicans haven't approached Latinos and generally they have a negative connotation of them, she said.
"I think everyone here has a friend who is Latino," she said. "And when you get to know a Latino you understand that person is going to help you, that is a very hard-working person, and just wants to have a dignified life."
Another factor is Trump's rhetoric, which Salinas said has generally stoked division and polarization in the country.
"Not everyone who comes to this country is a criminal. Some probably are, laws have been made for them, but they don't have to classify all of us the same way," she said. "Latinos who seek equal rights — I think that is our power. It's a way of saying 'I'm here, I'm a person and I deserve to be treated humanely.'"
Salinas also said that politicians need to focus on improving education — a top issue among Latinos.
"Change for Latinos begins at school, because future voters are children from Latino families," she said. "Parents support a political party. Kids will observe if they get the job done, and then they will decide who to vote for."
Rosemary Flores – From Democrat to Republican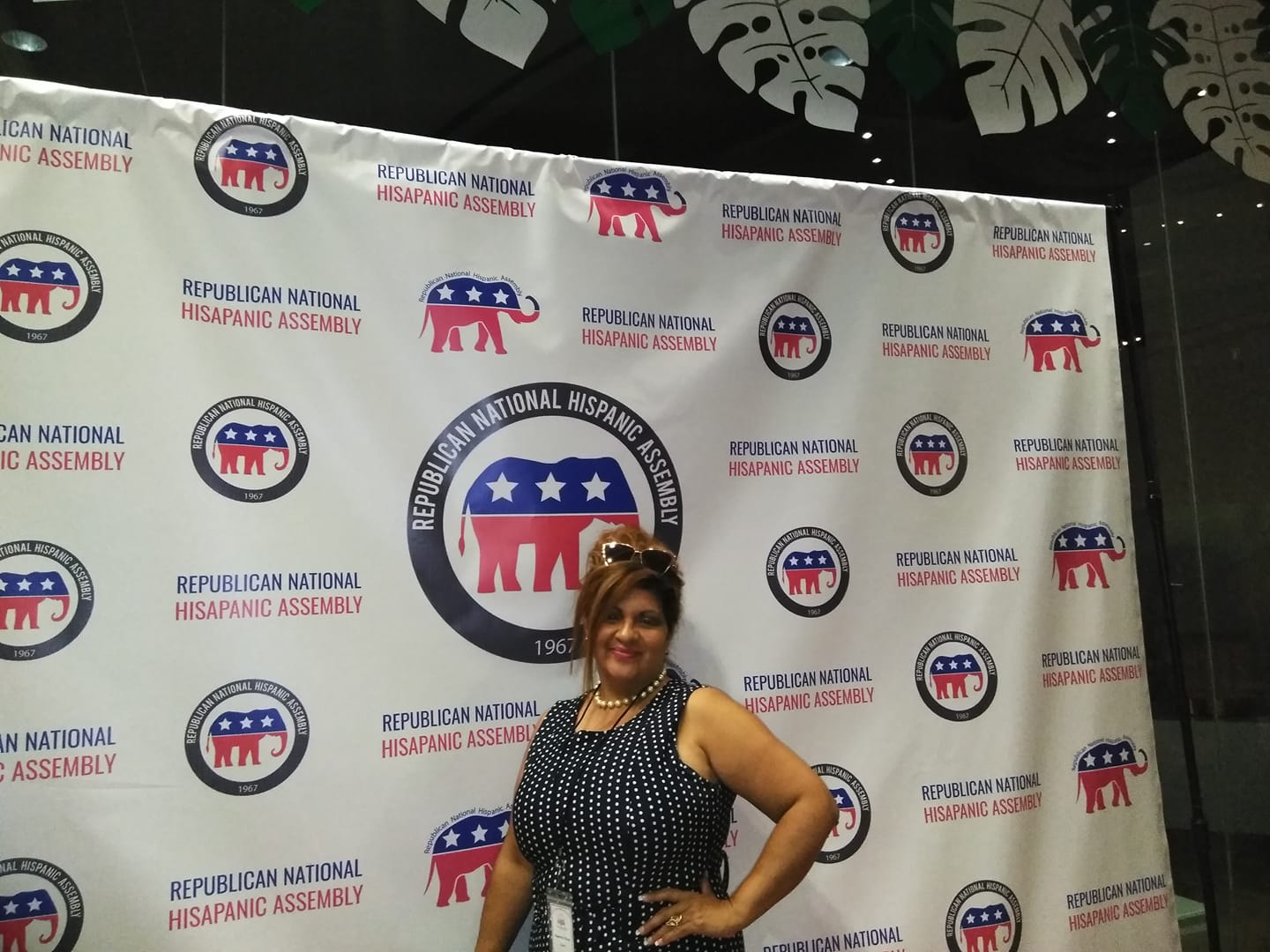 Rosemary Flores said she joined the ranks of activism in the Republican Party because what she believes is at stake in the election.
But Flores, who is originally from San Antonio, Texas and arrived in Las Vegas in 1982, hasn't always belonged to that party.
Flores, who describes herself as pro-immigrant, said she registered as a Democrat at 18 and stayed that way until the age of 53, when she divorced the party who she had been loyal to for several decades.
Her pivot came during the Obama administration, when thousands of unaccompanied migrant children traveled from Central America to the border of the United States fleeing from poverty or violence. Flores said that the abuse some of the migrant children suffered on their journey from Central America through Mexico in the hands of human traffickers, and inside of some detention centers in the United States, made her realize the issue was not being addressed properly.
"After seeing the injustices done by President Obama and the Democratic Party, knowing that women and children were experiencing deplorable situations in detention centers, that made me change my views about the party," she said last month in an interview at a candidate forum organized by the Republican Party that focused on school choice. "We need to fix the immigration system, and not allow people to enter the country who are endangering themselves and putting their children's lives at risk. You see a lot of people crossing the desert."
Although during the Trump administration there have been changes and cancellations to programs that for years have protected thousands of immigrants from deportation and granted them work permits, Flores said she believes the administration wants what is best for everyone.
"I don't think Latinos are treated differently," she said. "There is a lot of diversity in our country, people of different nationalities, and I think we get a fair deal."
Another factor that motivated Flores to join the Republican Party was that she is against abortion. She believes that supporting Democrats would go against her values, referring to the accusations against Planned Parenthood for the alleged sale of fetal tissue, resulting in an investigation by the Trump administration last September. The Health and Human Services Department released a statement on September 24, 2018, saying that it would review all federal contracts for obtaining fetal tissue.
"We know that's real life within a woman's womb," she said. "I want mothers like me who still believe in these principles and values, to know that there is a difference between both parties. There is a liberal party which doesn't respect certain values ​​and principles. And that's why I'm now Republican."
Sandra Willis - Owner of a cleaning business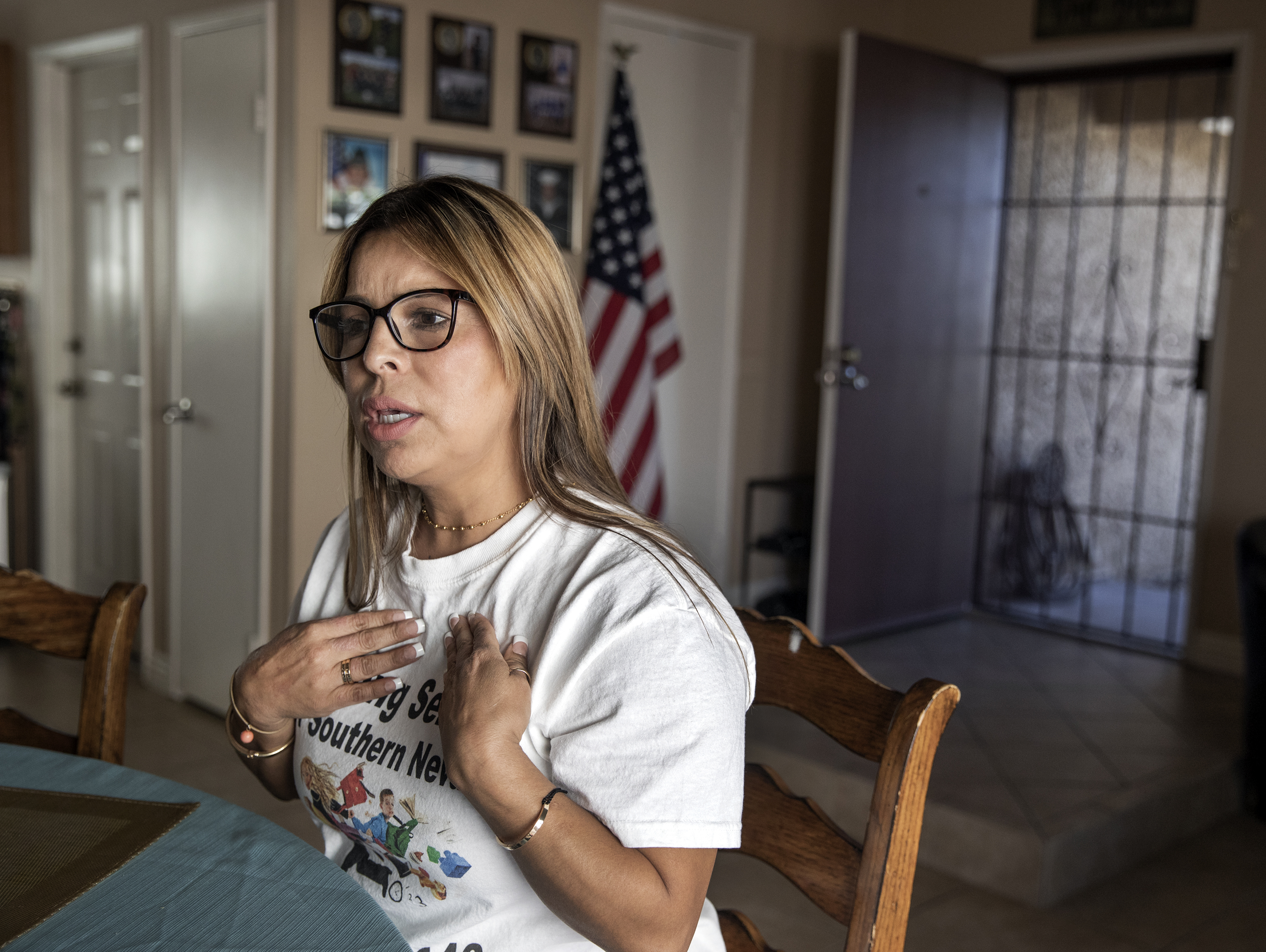 An American flag and pictures of young men in Army and Navy uniforms are the first things you see when you walk inside Sandra Willis' home in southeastern Las Vegas.
Willis, 47, said she became a naturalized 15 years ago, and that she feels honored to see that her two sons are now serving their country.
She also has two girls and wants to demonstrate to them the strength she learned from her mother, who brought her from her native Colombia as a child.
That is the image she hopes the public has about Latinos who live in the United States, because she believes an anti-immigrant discourse has prevailed this election season especially since Trump took office.
"Sometimes they believe Latinos are very lazy, that they just bear children, or want the government to support them, but I say we are the opposite of that," she said. "Right now, with this new government, we are sticking up for ourselves. Especially as a woman, I have Latino daughters. I want them to realize they have rights, they shouldn't keep quiet, that's why we can go out and vote, that's why we have a voice."
Willis wanted to take a more active role in her children's future. So about two months ago, she decided to volunteer in the campaign for Rosen, who she sees as a hardworking, family-focused woman who knows Nevada well.
The owner of a housekeeping business since 2014, also believes this election is an opportunity for Latinos to show that they're interested in other issues aside from immigration, including registering to vote and tracking what happens in Congress.
"We need education, no matter which party you sympathize with," she said. "We all have an opinion, but if we get the right education, we can decide as Latinos what is best for our future and our family."
This mom said Latinos must open their minds and learn more about politicians and their proposals to determine whether they represent their needs.
"We need to call our people and ask them, 'What is your opinion?' 'What do you need?' 'What don't you understand, so that I can explain it to you?'" she said. "We must knock on doors and say, 'And if you don't believe what I'm telling you, I have to respect that, thank you for hearing me out' and move on to the next door, which may open up to you with open arms."
Irma Aguirre - Restaurateur
Politics have been an integral part of Irma Aguirre's family since her childhood. Originally from El Paso, Texas, Aguirre registered as a Republican when she was 18.
Since then, she has been active in Republican causes, including making her restaurant available for a roundtable Trump had with Latinos in Las Vegas in 2016. That decision drew strong criticism and even death threats.
Aguirre said in a phone interview that her father, who was previously a Democrat, became disillusioned with the party during the Reagan administration and redirected his support towards Republicans. She followed his footsteps.
Aguirre, who arrived in Las Vegas in 1970, said criticism of the president on the issue of immigration was "erroneous, irresponsible and absurd," and added that while Trump's rhetoric tends to be divisive, Republicans and Democrats should work together to unite the American people regardless of their ethnicity.
"The conversations [in the media] aim to try to see the president as anti-immigrant. What he is saying is we want you to come to this country, but in an orderly and proper manner," she said. "We need to know who enters the country, for the welfare of all citizens, including Latinos."
Aguirre believes that just days before the midterm elections, efforts of both Republicans and Democrats to win the Latino vote can improve, including their political campaigns, which should focus on messages about how they can help improve the quality of life of the community for all.
"There are several politicians that during election campaigns say things that, according to them, are what Latinos need to hear," she said. "I know that Latinos aren't looking for freebies. They're hard-working people that simply want to provide what is necessary for their families."
Maria Rebolledo - First time voter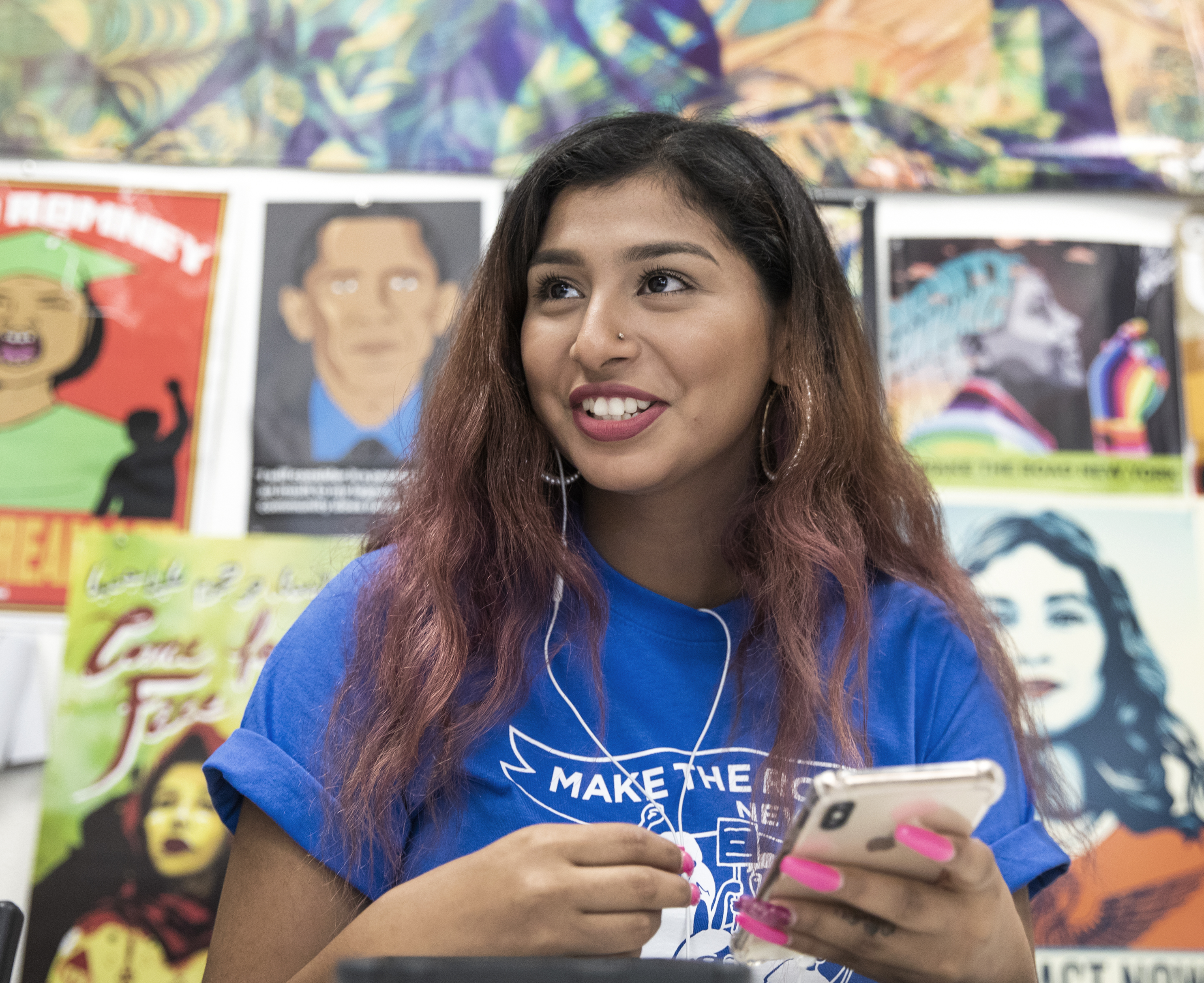 Motivated by an Oct. 20 event that kicked off the start of early voting in Nevada, Maria Rebolledo, who will vote for the first time in this election, greeted the Democrat candidate she wants to become the new governor of the state.
"I've noticed that Steve Sisolak does care about Latinos," she said. "He said he wants to do a good job with the community of Nevada."
Rebolledo said in an interview that current policies on immigration prompted her to participate as a volunteer with the Make the Road Nevada organization because her parents are Mexican immigrants who came to the United States in search of a better future. She disagrees with the negative image the Trump administration has about immigrants.
"I think it's inhumane what our president calls us. He says we are criminals," she said. "There is a stereotype about our people, a stereotype that isn't true. We must teach people who we really are. "
For Rebolledo, who is 18 and studying at Rancho High School, voting in this election represents an opportunity to give a voice to those who aren't eligible to vote. She also wants to see changes in the law, including a health-care system that is more accessible.
"Seeing how the results of the elections of 2016 affected our people, made me think a lot," she said. "Although I couldn't do anything then, it did affect me and now I want to make a difference."
***
Comment Policy (updated 10/4/19): Please keep your comments civil. We reserve the right to delete comments or ban users who engage in personal attacks, use an excess of profanity, make verifiably false statements or are otherwise nasty.