Protesters in support of temporary protected status disembark from a bus while holding a demonstration in front of the Welcome to Las Vegas sign on Tuesday, Aug. 21, 2018. (Jeff Scheid/The Nevada Independent)
Immigrants celebrate injunction in favor of TPS program; order raises specter that cancellation was racially motivated
October 5th, 2018 - 2:20pm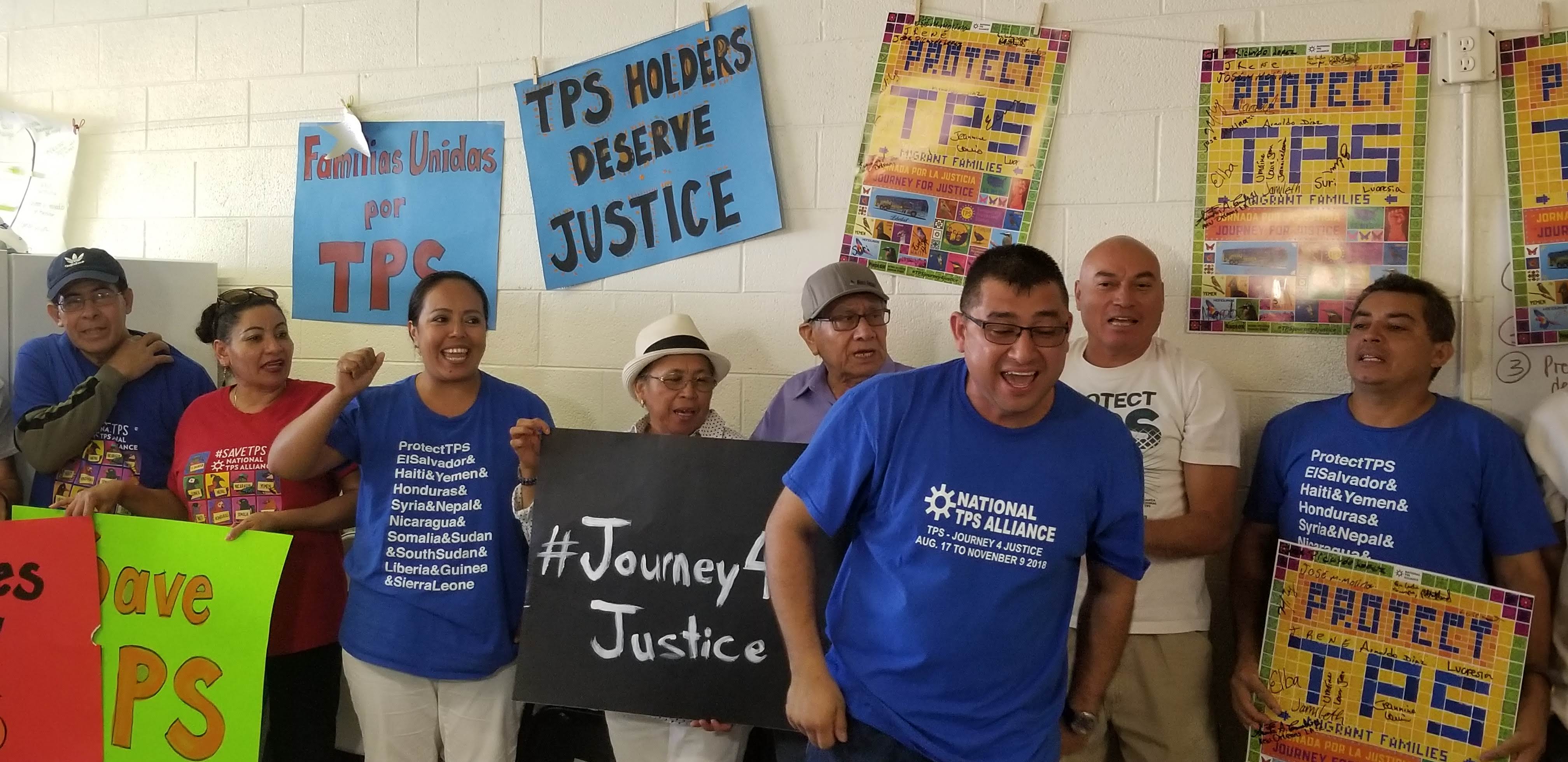 María Mendoza said she was reading her Bible when she found out about a court decision that could affect the future of more than 300,000 immigrants like her.
"I wanted to scream, I wanted to jump … I was so happy," Mendoza, who is originally from Honduras and has been a TPS beneficiary since 1999, said in an interview in Spanish after a pro-TPS group's press conference in Las Vegas on Thursday.
San Francisco-based federal District Judge Edward Chen issued an injunction Wednesday evening that blocks an order from the Trump administration to end Temporary Protected Status (TPS) for Sudan, Nicaragua, Haiti and El Salvador. It's welcome news — if not a permanent resolution — for huge numbers of people who have been living legally in the U.S. for sometimes decades but would otherwise be forced to leave or face deportation in the coming months.
Mendoza said that even though Honduras is not part of this particular lawsuit against the government, she supports a national movement that seeks permanent legal status for TPS recipients, who have otherwise had to renew their status, pay fees and go through a background check every two years or so.
Now a cook in a Las Vegas restaurant, Mendoza said that she decided to come to the U.S. in search of a better life and that TPS has allowed her to work legally to support her family, including her daughter, who was born in the U.S., will soon turn 18 and is pursuing a college degree.
The immigrant mother said that she's worried by the constant changes in immigration policy under the current administration and that even though she could expose herself to deportation if TPS is eliminated, neither she nor her daughter would return voluntarily to Honduras because they already have a life in the U.S.
"If TPS didn't exist for me, it would close the door for me," she said. "I can't imagine what my life would be like … I think things will resolve. I have faith in God."
Judge suggests 'animus against non-white, non-European immigrants'
Chen issued his temporary block on the Trump administration's plan to cut off protections for the four countries, arguing that the measure would cause irreparable harm for beneficiaries and adding that there was evidence that racism influenced the decisions the end to TPS protections for nationals of several different countries.
"Because there is evidence that President Trump and/or the White House influenced the DHS on the TPS decisions to at least raise serious question on the merits, the remaining issue is whether there is evidence that President Trump harbors an animus against non-white, non-European aliens which influenced his (and thereby the secretary's) decision to end the TPS designation," Chen wrote in the 43-page decision. "As plaintiffs have catalogued, there is evidence of such as reflected by statements made by President Trump before, during, and after the TPS decision-making process."
Chen's order also indicated that the Trump administration failed to demonstrate what concrete harm was done by allowing the TPS beneficiaries to stay in the U.S.
And it suggested that the process of deciding whether a country deserved an extension changed under the Trump administration — from assessing the overall condition of a country to only looking at whether the event that prompted the initial designation — a hurricane, for example — was still having an effect on the country.
The order is effective immediately and requires immigration authorities to maintain the TPS program as-is for El Salvador, Sudan, Nicaragua and Haiti while a class-action lawsuit filed in March proceeds in the courts. A handful of other pending lawsuits are in courts around the country, covering beneficiaries from the rest of the 13 countries that currently have TPS or recently lost it.
It's unclear where the program will go from here. The order gives the government 15 days to explain how it will continue the status quo for the program while the lawsuit plays out, but that could include setting up a plan to have beneficiaries renew their status, a plan to automatically re-enroll beneficiaries, or something else, according to Mayra Salinas, a lawyer with the UNLV Immigration Clinic.
The government could also appeal the injunction. Salinas said TPS recipients do not need to take action immediately, but should watch out for developments.
"They do need to pay attention in the next couple of weeks to see how the government responds," Salinas said.
Ten TPS beneficiaries from those four countries, along with five American citizen children whose parents depend on TPS, sued the government this spring over the cancellation of TPS. They were backed by the American Civil Liberties Union (ACLU), the National Day Laborers Organizing Network and the law firm Sidley Austin.
The plaintiffs argued that the Trump administration's interpretation of the rules for the program was unconstitutional.
Chen said the plaintiffs also raised serious concerns that the administration's move was "based on animus against non-white, non-European immigrants in violation of Equal Protection guaranteed by the Constitution."
Fight for a permanent solution
Last year, the government announced it would either cancel or offer a final extension of the legal status for hundreds of thousands of TPS beneficiaries who have been living in the United States after their home countries were affected by natural disasters or major conflicts, and who would be in danger if they returned to their homes.
Activists and immigrant advocacy groups have continued to carry out events at the national level including forums and a caravan that began in mid-August in California, visited Las Vegas and Reno, and plans to conclude in Washington, D.C. just after the election to lobby Congress.
Although TPS is designed to be temporary and the government argues that the conditions of the countries in question have improved to the point that the protection isn't necessary, the court order cites internal government emails making the case that termination was being sought even though the countries were still widely understood to be in bad shape.
Many beneficiaries, especially Salvadorans who have had the protection continuously for almost two decades and constitute the majority of beneficiaries, say that they have put down too deep of roots in the U.S. to be sent back to their homeland. About 200,000 American citizen children have at least one parent who has TPS, which means terminating the program could lead to those families being separated.
Donis Hernández is originally from El Salvador and has had TPS since 2001, when an earthquake devastated the Central American country that had already suffered a brutal civil war, and President George W. Bush extended protections to Salvadorans in the U.S. who likely could not return home to safety.
Hernández said he's encouraged by Chen's order, but he still worries about the future and his family, which prompted him to join the Nevada TPS Committee and participate in an advocacy tour with the national caravan.
He said in an interview that he's part of a mixed-status family — his 14-year-old daughter was born in the U.S., while his 19-year-old son is a beneficiary of DACA, a program that the Trump administration canceled in September 2017 and, like TPS, has been the subject of lawsuits.
Hernandez said the activists' efforts appear to be bearing fruit, and that the injunction "also it gives us more energy to keep going in the fight so we gain permanent residency."
There are several bills in Congress that would give the activists what they want — legal permanent residency — but they have not advanced.
"We can't return to our countries … they aren't prepared to receive us," said Hernandez, who sells products online, works in construction and is a homeowner. "I was filled with not fear, but sadness to know that as much as we have contributed to this country, they say from one day to the next, 'You know what? You have to leave.'"
Comment Policy (updated 10/4/19): Please keep your comments civil. We reserve the right to delete comments or ban users who engage in personal attacks, use an excess of profanity, make verifiably false statements or are otherwise nasty.