Amid shifting patchwork of laws and moratoriums, evictions play out on a courtroom stage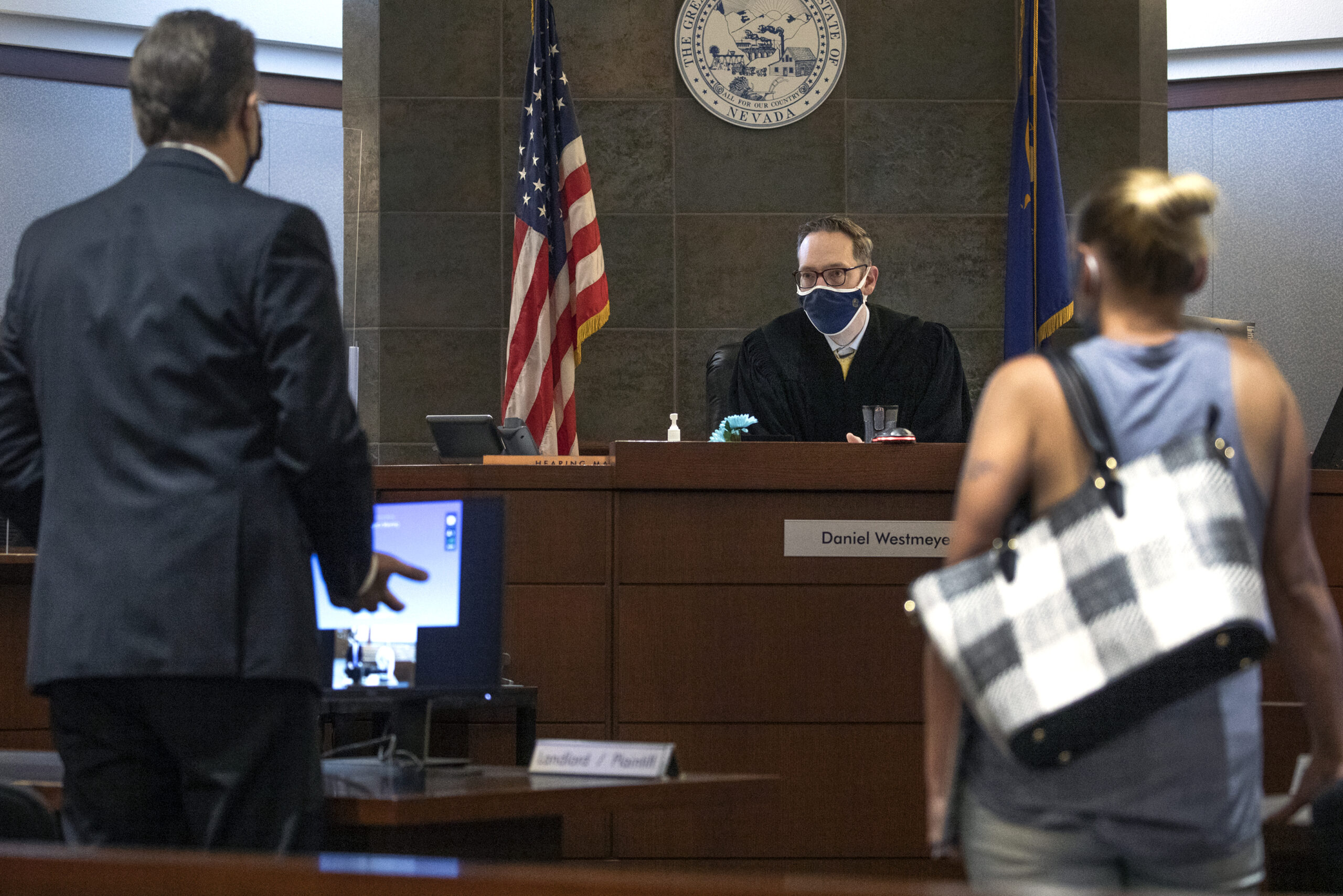 Editor's note: Given the sensitive nature of eviction hearings and the potential ramifications for individuals going through the eviction process if their identities were publicized, names and other identifiers have been changed or omitted in instances where a plaintiff or defendant did not explicitly give permission to be featured.
The sounds of shuffling papers are the only breaks in the silence blanketing the packed courtroom on the first floor of the Las Vegas Regional Justice Center.
The court clerk's voice crackles from laptop speakers as the judge appears, triple-checking the microphone and mute button to connect with people participating virtually. It's here in eviction court that thousands of Nevada renters will find out whether or not they can stay in their homes.
On the day he showed up to the Las Vegas Justice Court wearing a baby-blue T-shirt and black jeans to fight against a 30-day no-cause eviction notice after defaulting on his rent in May, "Brian" said he tried to apply for rental assistance but never received a response from the Southern Nevada Housing Authority.
"I never asked for help before. So my mom said, 'Go and try them, and they usually help you with the rent vouchers,' so I tried and I tried and nobody ever got back to me," he said during the hearing, punctuating his words with broad gestures.
The tenant's nonpayment of rent placed the case under the umbrella of the state's recently implemented eviction prevention measure, AB486. But Hearing Master David Brown determined that the law ultimately did not apply because the tenant did not have a pending or active rental assistance application.
"It's incumbent upon a tenant to push the ball down the road. And with a default back in May, you needed to have done something to show that you've used best efforts," Brown said.
The ruling meant that the eviction could take place within the next three business days. Crestfallen, Brian dropped his head and slowly walked out of the court.
"Good luck to you sir," Brown said.
The entire exchange lasted roughly nine minutes.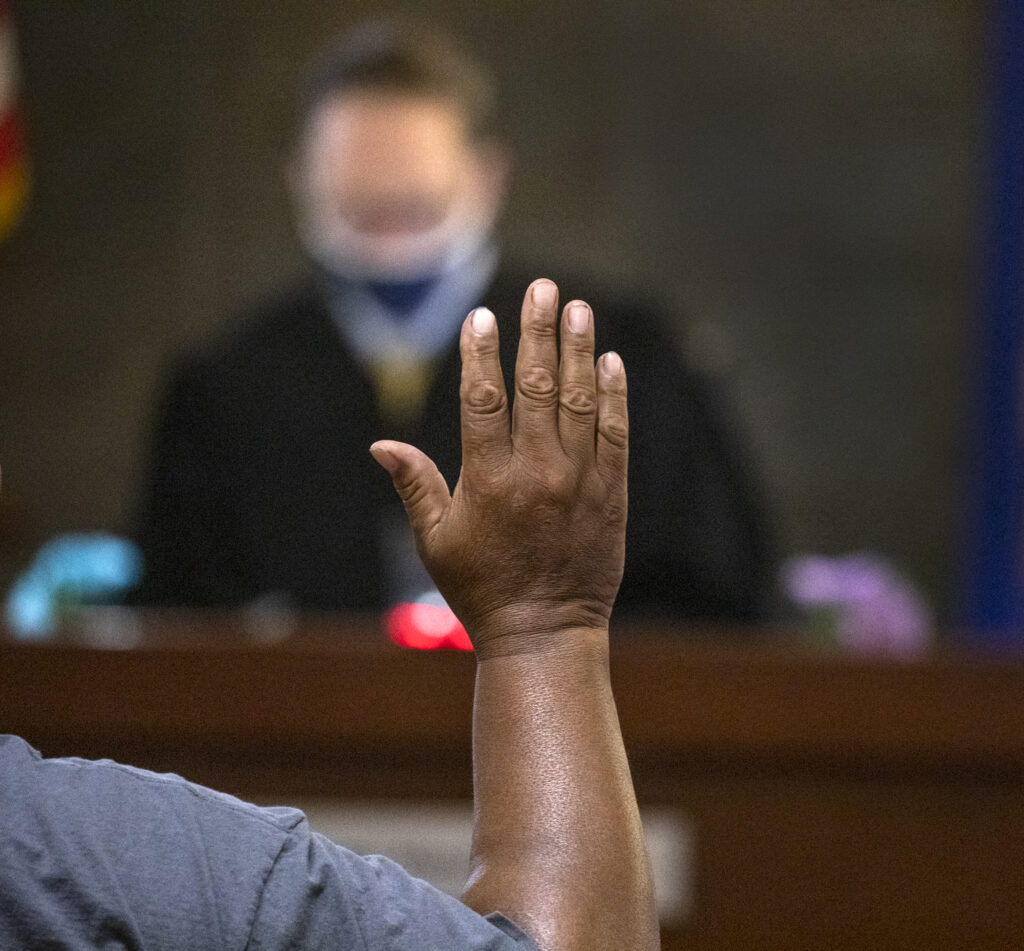 Across Nevada, an estimated 46,000 households — or about 9 percent of renter households in the state — are behind on rent. Their futures play out every week in virtual and in-person courtrooms, acting as stages for the resolution of evictions under a shifting set of guidelines.
Some disputes take five minutes to resolve; some are dismissed immediately or do not even escalate to a hearing because one of the parties did not show up. Other hearings can last a half-hour or longer. Some of the verdicts are followed by sighs of relief; expressions of disappointment or indignation accompany others.
To understand how eviction laws are being applied and interpreted following the implementation of AB486 and the lifting of the Centers for Disease Control and Prevention's eviction moratorium, The Nevada Independent monitored dozens of courtroom hearings in the northern and southern parts of the state from mid-August to early September.
August marked the final lifting of an 18-month long patchwork of federal and state eviction protections when the U.S. Supreme Court overturned a federal eviction moratorium in counties with substantial or high COVID-19 transmission rates.
The state's implementation of a new law to ensure people are not evicted while awaiting rental assistance established additional protections for tenants facing eviction for nonpayment of rent. But in a state with a uniquely expedited and murky eviction process, the new law and lack of precedence have created uncertainty for everyone involved, not just tenants and landlords.
"A lot of the people who work with landlord-tenant law professionally have had whiplash since COVID started because it seems like there's a new law every couple of weeks," Nevada Legal Services Senior Attorney Daniel Hansen said. "So you've really got to keep up on it."
An emotional 'carnival of horrors'
Many of the shifts around the state's eviction laws have been confusing for tenants, some of whom may have only vaguely heard about the moratoriums or other protections and are not guaranteed rights to a lawyer to guide them because evictions are classified under civil, not criminal, law.
Under AB486, for the law to protect a tenant, the tenant must have a pending application for rental assistance, Hansen said. But that may not be obvious to tenants who thought a phone call was enough to demonstrate that they were working on getting rental assistance.
"I could certainly see how a tenant would not necessarily intuit that," Hansen said. "All you see is 'notice to evict' and then you panic and stop processing information."
Tenants often experience what Hansen described as an emotional "carnival of horrors" before they can figure out the next steps they need to take.
Holding a packet of papers, "Lola," a gray-haired woman using a walker, arrived at the Las Vegas Justice Court on Sept. 2 to defend herself against a non-payment of rent eviction.
Though Lola had said she applied for rental assistance, her landlord said she checked the rental assistance portal that morning and did not see anything pending.
Hearing Master Daniel Westmeyer said that he had the same information as well — nothing in the system under the tenant's case number, name or address.
"Ma'am, do you have anything?" Westmeyer asked.
Stumbling a bit over her words, Lola responded that she had help filling out the application but she added that she is "computer illiterate." After some back and forth discussion, she confidently handed over a piece of paper that included a handwritten statement summarizing her attempts to apply for rental assistance.
Westmeyer told Lola that she needed to prove she had a pending rental assistance application and that a handwritten statement was not going to cut it.
"You understand why I need something more than just what you wrote down on a piece of paper, right?" he said. "You can understand why that might be not enough?"
Lola said she understood, but emphasized that she did apply for rental assistance — her voice catching as she asked for more time "because the computer is not giving me nothing."
Westmeyer noted that he already gave her additional time and said he could not give her more. The eviction could take place as early as three business days after the hearing.
One of the court marshals wished Lola "good luck" as she exited the courtroom.
Jim Berchtold, the directing attorney for the Legal Aid Center of Southern Nevada's Consumer Rights Project, said that though eviction notices contain directions for the next steps in the eviction process, those directions are often written in legal jargon and may be unclear to the average person.
"Many tenants have never stepped into a courthouse before their first eviction hearing, and now they're supposed to come in and navigate this frightening process and figure out their legal defenses to avoid an eviction," Berchtold said. "It's just overwhelming for them."
The process is further complicated by the fact that tenant protections within AB486 are not all-encompassing — even tenants who receive rental assistance and are caught up on rent can still be evicted.
"I'm trying to sell the house," one landlord told Brown during an in-person hearing on Aug. 12. He explained that the tenant was all caught up on rent and there were no other issues, but he had still filed what is called a "no-cause" 30-day notice — giving tenants who don't have a lease 30 days to move out of a residence, with no reason needed.
Though the case had nothing to do with rental assistance or nonpayment of rent, Brown said that because the landlord had received rental assistance in the past, he could not go through with the eviction until 60 days after the rent was paid and dismissed the case.
"Well, I suppose I'll be back in 60 days," the landlord said as he gathered his belongings.
Receiving rental assistance is critical for tenants facing eviction for nonpayment of rent. Under AB486, landlords cannot evict a tenant for nonpayment of rent as long as the tenant is actively pursuing rental assistance, or if the landlord is not cooperating with the rental assistance process or has refused to accept rental assistance.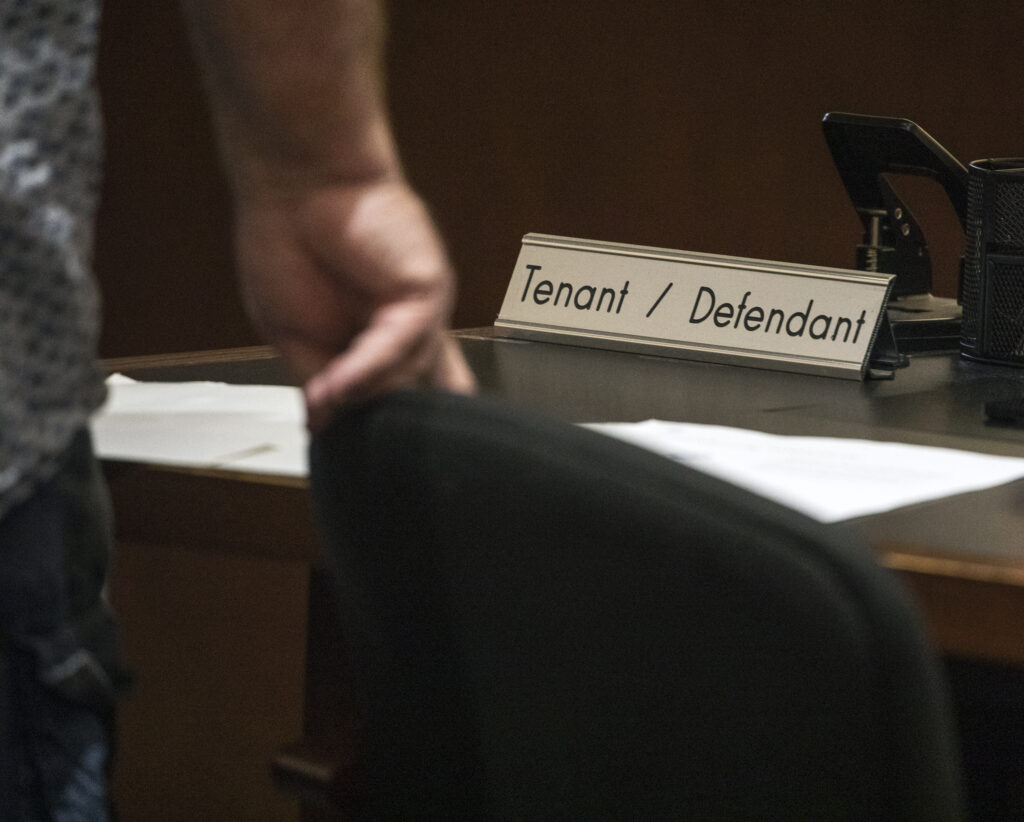 As of July 31, the state has received about $208 million in federal rental assistance through the first round of the federal Emergency Rental Assistance Program and has distributed about $60.6 million, or roughly 29 percent of the funds, to Nevada households.
So far, the assistance has helped thousands of tenants remain housed and kept landlords up to date on their housing payments, according to CEO Teresa McKee of Nevada Realtors, a statewide association representing more than 19,000 real estate agents in Nevada.
One caveat realtors are worried about is a provision within the eviction prevention law allowing landlords to apply for rental assistance on behalf of a tenant behind on rent. So far, none of the $5 million allocated for landlords applying on behalf of tenants has been released.
The funds, supplied through the American Rescue Plan Act, have been processed and allocated in line with federal guidelines, state officials said. But the holdup is stemming from the need to carefully review applications and ensure that tenants are unable to be reached to apply for assistance through the general Emergency Rental Assistance Program before tapping into the more limited landlord program which officials hope will only be used as a last resort.
Property managers connected to the association have been working to avoid evictions, but that has not been easy, McKee said.
"The arrangements are still harming the landlords and the property managers that they've had to maybe even take less money or give a repayment period over a long period of time," she said. "And those are just the ones that have professional property managers managing them. I think for mom-and-pops that tried to do it on their own, they're the ones that are truly suffering from still not getting any payments."
Navigating the eviction process alone
Not all eviction disputes are related to the nonpayment of rent.
On Aug. 12, two landlords and a tenant found themselves in the Las Vegas Justice Court facing off during a hearing following a five-day lease violation notice. The tenant was running an auto repair business out of the property without a permit and had unauthorized pets on the property — a chicken and a duck.
The hearing came after mediation during which the tenant agreed to vacate the property by Aug. 10 but then did not do so because he applied for rental assistance. The tenant, a middle-aged man with curly salt-and-pepper hair and a tattoo covering his left forearm, stood at the defendant's desk, shoulders slightly hunched, hands splayed out on the chair in front of him.
The landlords, dressed in matching gray-black slacks stood at the plaintiff's desk across from him.
The first question? Whether the tenant had a pending rental assistance application.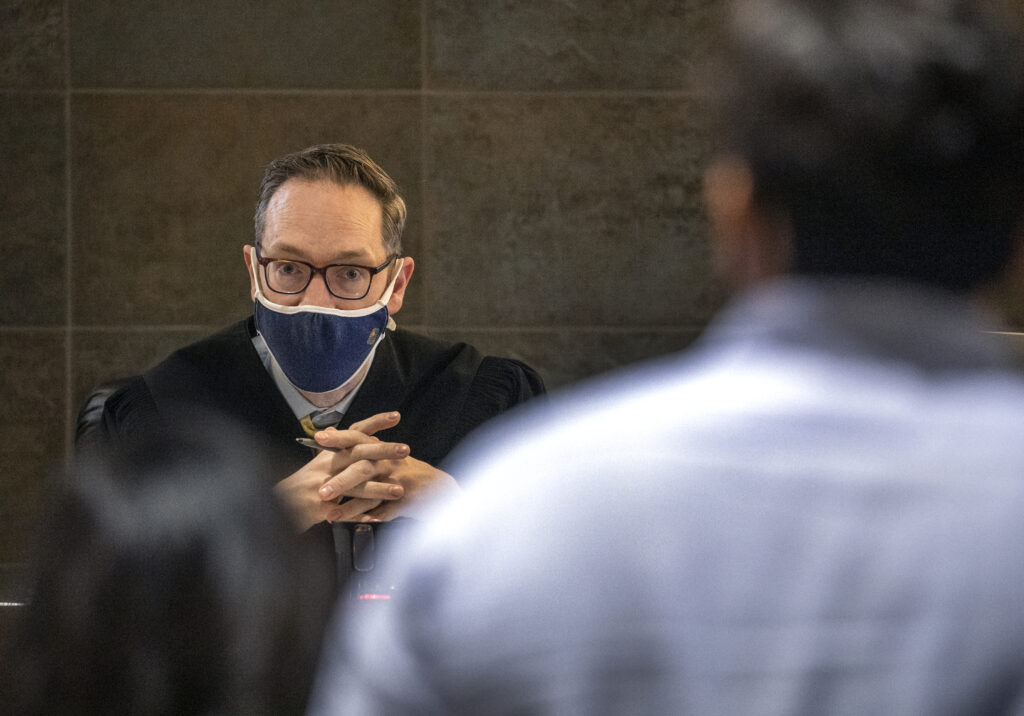 The tenant, "George," had a letter from Clark County's rental assistance program asking him to submit his documents. Though he had the documents, George said he had not yet submitted them.
Because George was just starting the application process, Brown ruled that AB486 did not apply, as the provisions of the law require that the rental assistance application be pending or approved.
"The court can't find that that is sufficient evidence for a four-month default to constitute best efforts," Brown said.
Hansen said that tenants who try to navigate the legal system alone are often adrift, unaware of their rights or what strategies they need to employ to preserve those rights.
If a tenant does make it to court, fear can often lead them to talk about all of the ways they have been wronged or hurt, and that can distract from the defense, Hansen said.
"You're dealing with people's housing, you're dealing with a lot of fear of sleeping out on the street in 24 hours and you're in a panic, and you're not reading closely or carefully," he said. "It's easy to get caught up in the emotion of it — that's a big pitfall for tenants."
In the case of the lease violation and mediation agreement, George admitted that he did not stop operating his auto repair business within the agreed-upon timeframe but said he no longer owned the chicken and duck.
The landlord countered that he had photographic evidence of the animals on the property and the tenant was still in violation of the mediation agreement and lease.
Regardless of what was happening with the duck and chicken, George would have had to stop his repair business within the agreed-upon time frame, Brown said, adding that there was no moratorium or pause in effect that would stop the eviction from going forward.
Avoiding a court hearing
Experts say the vast majority of eviction cases never make it to court. Tenants will move out after they receive a notice, or do not file an affidavit so that an eviction hearing can take place. Sometimes landlords do not follow up with the court to get a lockout notice.
In one Reno Justice Court case, the court called up a tenant and a landlord but neither showed up. Because the landlord failed to appear to provide any evidence of facts alleged in the complaint, the court dismissed the case.
Another common occurrence is when the landlord shows up to court, but the tenant fails to appear — leading to a guaranteed eviction order.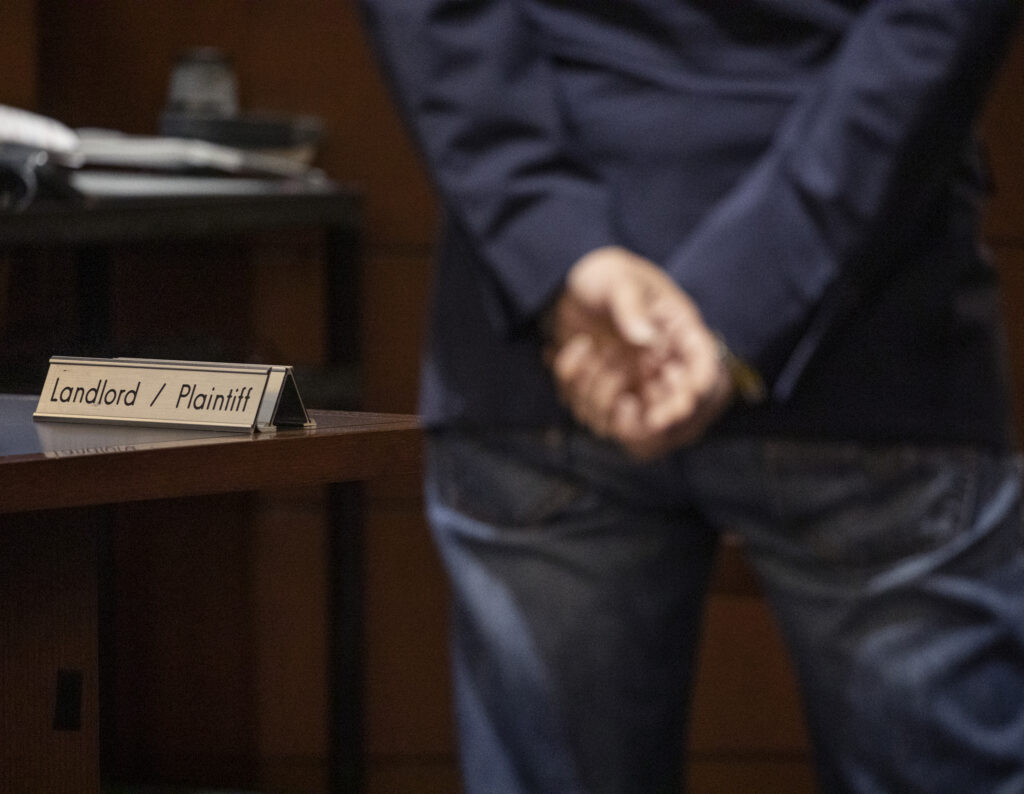 In a 30-day pay-rent-or-quit eviction hearing in Las Vegas on Sept. 2, a tenant filed an affidavit indicating they applied for rental assistance but then did not show up for the hearing.
The landlord's attorney said they had received no communication about the assistance and wanted to know whether the court had updates.
Westmeyer, the hearing master, said that based on county documents, the rental assistance program had reached out to the tenant via email, telephone and mail, but received no response.
Because staff from the rental assistance program could not reach the tenant and there was no pending application, Westmeyer determined that the tenants did not actively pursue their application for rental assistance and therefore AB486 did not apply — subsequently granting the summary eviction.
But many landlords and legal aid groups aim to avoid ever reaching the eviction court hearing process by using a new mediation process authorized by the Legislature in a 2020 special session.
Part of AB486 includes an optional mediation route that pushes a hearing date out at least 30 days and allows a landlord and tenant to try to settle a case out of court. But landlords and attorneys alike say that the mediation program is used more for expediting rental assistance disbursement than resolving disputes.
Henderson-based real estate broker Geoffrey Lavell said that oftentimes an eviction notice can jump-start communications between a tenant and a landlord, especially when a tenant does not respond to phone calls, emails or other attempts at communication.
"The beautiful part of the mediation program is that it has expedited [rental assistance]," Lavell said. "But it's not being effective in any other sense."
The program has unrealized potential for fostering better relationships, renegotiating leases and payment plans or determining a move-out date that works for both parties, Berchtold added.
"A lot of landlord-tenant relationships by this point are pretty acrimonious. There are issues on both sides," he said. "People are kind of seeing [mediation] as a way to access the rental assistance, which it is, but it's also a way to maybe move over and address all of the other issues that have cropped up during the pandemic."
Berchtold hypothesized that the lack of understanding about the potential of mediation to help matters might be why tenants are not showing up to mediation.
Lavell manages about 245 rental homes. He said that the majority of the properties are owned by small-scale landlords who have been struggling to make mortgage payments and keep on top of daily upkeep costs during the pandemic. In all the mediations he has helped facilitate, Lavell said that with the exception of one tenant, they helped tenants and landlords access rental assistance quickly and solve issues of back rent.
"I think it's important for property managers and landlords out there in communication with the residents to move through this process together ... and get those monies freed up so that they can pay their mortgages, they can pay past due invoices," Lavell said.
A sigh of relief
In a small, windowless conference room, Ryan Callahan and his mother Kim Callahan sat with their legal aid attorney, facing a computer screen and waiting for their Aug. 18 hearing in the Reno Justice Court to start.
When Ryan received a three-day nuisance eviction notice from the landlord, Kim said she thought she would have time to find a place because of the moratorium. Then she realized that the moratorium did not apply to Ryan's situation because the eviction notice was not related to nonpayment of rent.
"That's when I, in earnest, started calling to get some help," Kim said. "Fortunately we were directed here."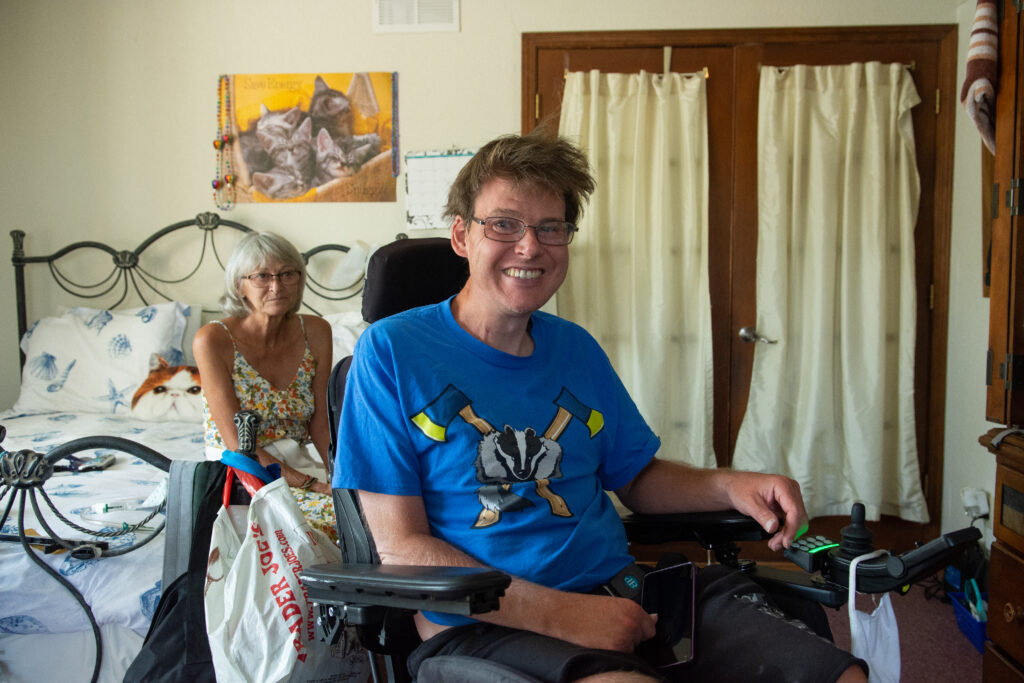 Ryan Callahan was born at 30 weeks gestation, and he has cerebral palsy and hydrocephalus — a buildup of water on the brain. Strokes over the years led to the loss of the use of his right arm. He now requires help from a home care aide to get him in and out of his power wheelchair and assist him with daily tasks.
About 20 years ago, he moved into a communal low-rent home in Reno for people with disabilities, touted as affording its residents independence, a healthy, hot meal each weekday and space that meets Americans with Disabilities Act standards.
Since he moved into the house, Ryan said he hasn't missed any of his $800 monthly rental payments or had issues with the other residents of the house, which is why the notice came as a surprise. Neither he nor his mother had received an eviction notice before and neither was sure what to expect.
"The suspense is killing me," Callahan said as he waited for Judge Pierre Hascheff to start the hearing.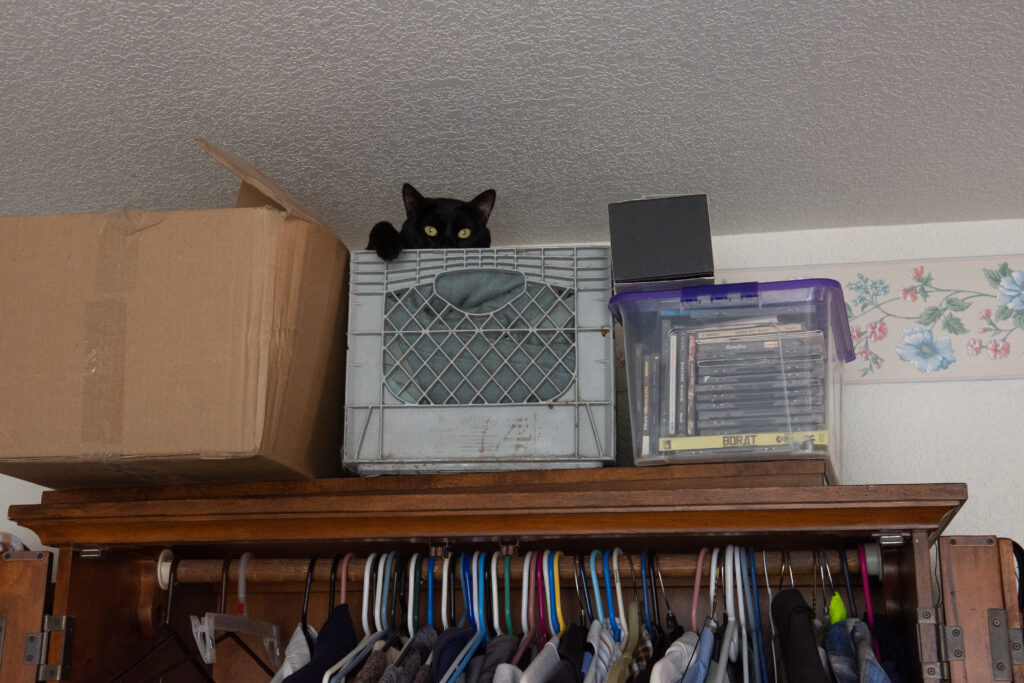 Kim said she felt stressed because if the judge ruled in favor of their landlord, Ryan would need to move out, but because of a shortage of home aid workers caused by the pandemic and high rental prices, she was unsure of where or whether they could find a place for Ryan.
When the judge finally started the hearing, his first questions surrounded the operations of the house and the landlord's lack of explanation for why Ryan was a nuisance in his legal filings.
Though the landlord claimed that Ryan had destroyed property and was combative with the other tenants and the house manager, Hascheff dismissed the case because there was no proof presented that Ryan was destructive or in any way met any of the terms of the nuisance violation.
"There's nothing in the notice that indicates that he was destructive … there's no proof attached to that," the judge said. "You have to be specific, every detail, with attached proof. The reason for that is that the tenant can see exactly what is the problem, so that he has an opportunity to try to fix it."
After the hearing, Ryan and Kim exhaled in relief. They were lucky. Many tenants in Nevada do not have an attorney representing them in eviction court, which can make the difference between a lockout or dismissal.
"I knew nothing about Nevada Legal Services until all of this. And it's been a godsend," Kim said. "If I had done this on my own we would be walking out with a completely different outcome, just because I didn't know how it all worked."
Photographers Jeff Scheid and David Calvert contributed to this report.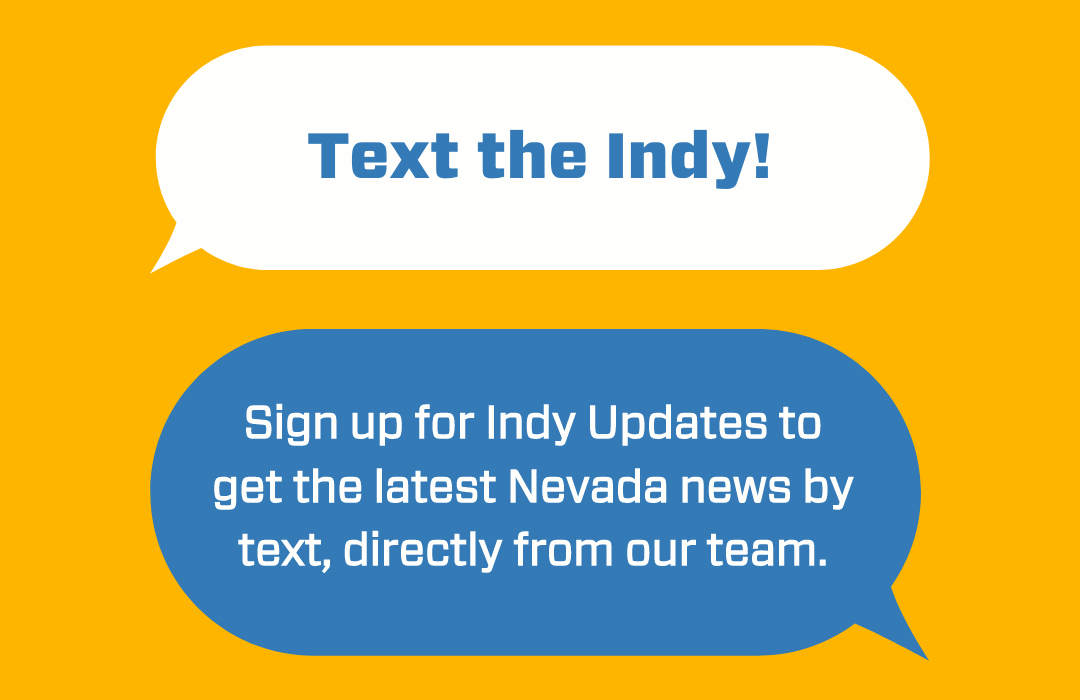 Featured Videos
Comment Policy (updated 4/20/2021): Please keep your comments civil. We reserve the right to delete comments or ban users who engage in personal attacks, use an excess of profanity, make verifiably false statements or are otherwise nasty. Comments that contain links must be approved by admin.