As Clark County brings back partial mask mandate, still no decision from school districts, colleges on student mask requirements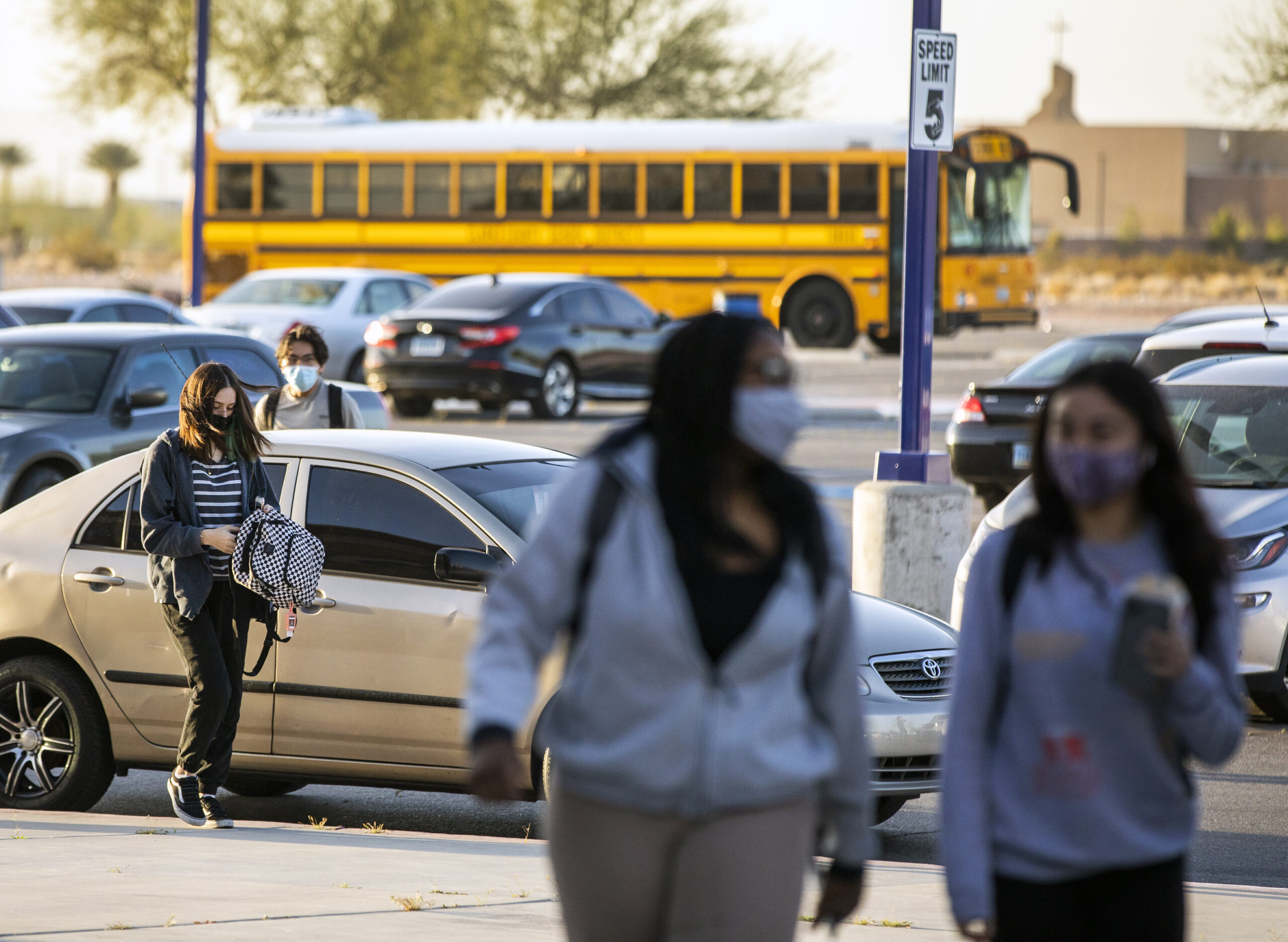 As school supplies fill store aisles and August inches closer, it's unclear whether face masks should be added to back-to-school shopping lists.
The cloth coverings became a staple of student attire when schools reopened campuses during the last academic year. Then COVID-19 vaccines rolled out and case counts began dropping in the spring, prompting many districts and colleges to follow new CDC guidance and relax face mask policies.
Fast forward six to eight weeks, and the K-12 and higher education systems are facing a boomerang effect: With the more transmissible Delta variant escalating COVID-19 case counts and vaccination rates stagnating across the state, education leaders are once again mulling whether face masks should be required for students and staff when in-person learning resumes next month.
The Clark County School District took an initial step in that direction Tuesday, announcing that employees would be required to wear face masks starting today through at least Aug. 17. The move followed the Clark County Commission's decision to mandate face coverings for employees working in indoor public places. The Southern Nevada Health District also recently advised that both vaccinated and unvaccinated people wear masks in crowded indoor venues such as grocery stores, malls, large events and casinos.
"We have to do something because we can't afford to allow hospitals to become [even worse] in terms of their crowding," Commissioner Jim Gibson said during an emergency meeting Tuesday.
Earlier this week, the American Academy of Pediatrics updated its guidance, recommending that children older than age two wear face masks regardless of vaccination status. The Academy described it as a "layered approach," noting that masks are proven to reduce virus transmission and will help protect children not yet eligible for the vaccine. Universal masking also dovetails with the organization's "strong recommendation" that schools resume in-person learning after months and, in some cases, an entire year of distance education.
It's a stricter stance than even the latest Centers for Disease and Control recommendation, which says face masks should be worn inside schools by students and staff who are not fully vaccinated.
"We need to prioritize getting children back into schools alongside their friends and their teachers — and we all play a role in making sure it happens safely," Dr. Sonja O'Leary, chair of the AAP Council on School Health, said in a statement. "The pandemic has taken a heartbreaking toll on children, and it's not just their education that has suffered but their mental, emotional and physical health. Combining layers of protection that include vaccinations, masking and clean hands hygiene will make in-person learning safe and possible for everyone."
But, so far, most school districts appear to be taking a wait-and-see approach regarding face mask policies for students. The Clark County School District has not revised its policy, which went into effect June 1, making masks mandatory for students in fourth and fifth grade but optional for students in pre-kindergarten through third grade or those in grades six through 12 who have been fully vaccinated. (The policy aligns with a directive Gov. Steve Sisolak issued in May.)
Clark County School District officials have remained mum on any pending modifications. The memo sent to employees Tuesday noted that there are no changes to student health and safety protocols during the Extended School Year services happening right now.
The Washoe County School District hasn't changed course with its mask policy either. As it stands now, Washoe students age nine and younger do not need to wear a face mask. All students age 10 and older must wear a face mask, though, regardless of vaccination status. The same goes for district employees.
Washoe County Superintendent Kristen McNeill has joined other superintendents in requesting updated guidance from the Governor's Office and the Nevada Department of Education, district officials said. Additionally, staff are tentatively planning to present 2021-2022 school year reopening plans with the Washoe County School Board on Tuesday. COVID-19 mitigation efforts will be part of that discussion.
"The health and safety of our students, families, and staff is of the highest priority to our district and we also know this has been a very emotional topic in districts and communities across the country," Washoe County School District officials said in a statement. "We want to be sure we are following guidance while continuing to review the most recent guidance from the Centers for Disease Control."
The Carson City School District, meanwhile, isn't requiring face masks for students or staff this upcoming year. But district officials are highly encouraging face mask use for unvaccinated individuals older than two and leaving the door open for "temporary use" if a localized COVID-19 outbreak occurs.
The Nevada State Public Charter School Authority is telling the schools under its umbrella that they should follow CDC guidelines and recommendations, said Rebecca Feiden, the organization's executive director. The Charter Authority has a board meeting later this month and is closely monitoring coronavirus-related data.
"The situation is kind of rapidly evolving," she said. "I think the (Clark County) Commission meeting (Tuesday) is evidence of that."
Any decision school districts make will likely yield some vitriol.
Face masks continue to be a divisive symbol of the pandemic despite research showing their effectiveness in curbing the spread of the virus. School boards across the nation and in Nevada have encountered often-tense pushback from parents who disagree with mask mandates. While it's difficult to quantify how widespread parent opposition is — only the most vocal tend to show up for meetings — those who have taken an anti-mask stance often cite religious freedoms, health concerns largely debunked by medical professionals, frustrations about the unevenness of mask policies or some combination therein.
But it's not just parents launching an offensive.
The Elko County School Board sent Gov. Steve Sisolak a letter last month urging him to not implement any mask or vaccine mandate for future school years.
"We spent the last school year managing a district of nearly 10,000 students during a pandemic. Needless to say, we learned a lot of lessons along the way," the letter states. "The most important lesson learned is that children, having been blessed with amazing immune systems, are extremely resilient. The board recognizes this resilience and the importance of parental/ guardian choice in regard to the welfare of their children."
On the flip side, some educators are speaking out about their concerns entering a new school year sans a mask mandate. Della Scott, a kindergarten teacher at Ruby Duncan Elementary School in Las Vegas, said she has fired off more than a dozen messages to Clark County Superintendent Jesus Jara and board members since the end of May expressing her fears — most notably that adults, like herself, could pass the virus onto young children ineligible for vaccination.
Scott, who worked the Summer Acceleration program, said a COVID-19 case occurred at her school during that time despite overall low enrolment numbers. Most classrooms, she said, had fewer than 10 students for the summer program.
"It really isn't to ruffle any feathers, to make a political statement," she said. "That's not my case here. I got into education to be there for kids and to be a voice for kids. It would tear me apart if one of my kiddos got sick."
The Governor's Office did not respond to questions posed in an email by The Nevada Independent about the possibility of school mask mandates. In the Las Vegas and Reno areas, many students head back to school Aug. 9.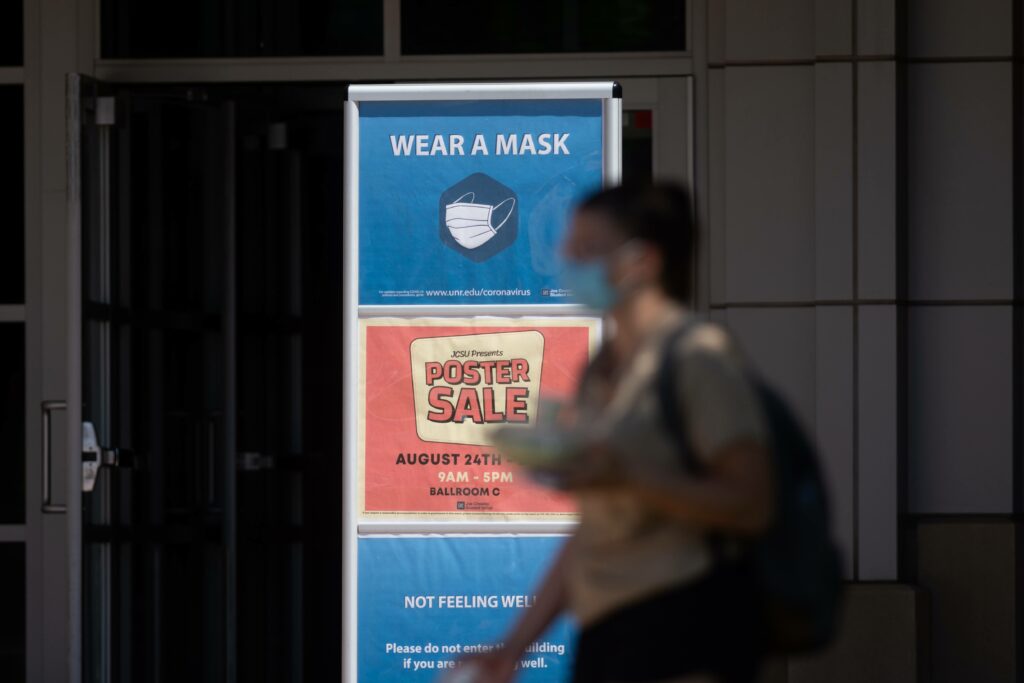 At NSHE, system administrators fall in line with county rules
After more than a year under the strictures of the many preventative measures meant to slow the spread of COVID-19, the Nevada System of Higher Education moved in May to lift the mask mandate for the fully vaccinated, ushering in — at the time — one of the first signs that the college experience of the before times could return.
Now, as the delta variant has gripped Las Vegas and roughly a day after the Clark County Commission ushered in a new mandate, NSHE released its own memo that the employees of UNLV, CSN, Nevada State College, the southern branch of DRI and the System Administration office would all be subject to the new rules — the first step back for a system eager to return to normal.
Citing the Southern Nevada Health District's warnings of rising cases and low vaccination rates, the new guidance does not apply either to non-working students or to those visiting a college campus. NSHE Chancellor Melody Rose said in the memo that the system continued to encourage students and staff to get vaccinated, closing in part by saying "Increasing vaccination rates is the primary key to ending the COVID-19 pandemic."
Looming over these decisions is the rapidly-approaching start of the fall semester. When COVID first struck the U.S. last March, colleges and universities were among the many institutions that pivoted almost entirely to remote workspaces, with some Nevada institutions moving as much as 80 percent of instruction to fully-online courses.
As a containment measure for the virus, those restrictions were likely key in minimizing case-spread on Nevada campuses. Institutional contact tracing at the time found that what few outbreaks did occur — notably one large case spike concentrated among UNR students last fall — were spurred by off-campus activities, and that few cases of COVID spread in classrooms or other campus facilities.
With access to vaccines now widespread, few of the restrictions that likely prevented on-campus spread last fall are set to continue this year. But as young people, in particular, have been slow to get the vaccine, some epidemiologists say the congregation of students, faculty and staff in classrooms, common areas or residence halls could spur yet more viral spread.
"In residential campuses that had largely on-campus presences last year, many of those places served as hotspots for transmissions in their community," Brian Labus, a UNLV professor specializing in communicable disease surveillance, said. "So those same concerns exist right now, and they're probably going to be even worse with the Delta variant and low vaccination rates. When you bring a lot of people together, there's always that potential for enhanced transmission."
Though statewide COVID restrictions were lifted in early June, NSHE did not lift its own capacity restrictions until July 1. In the time since, it has been difficult to assess whether 100-percent capacity summer classes or other summer work at colleges and universities has spurred any viral transmission, even in hard-hit Las Vegas.
NSHE reports institutional COVID data on a weekly basis, and the number of new cases has remained in the single or low double digits for months. Those small numbers make an increase of even four new cases — the difference between the last week of reported data (9 cases) and the week prior (5 cases) — look comparatively large, especially when the number of people on campuses remains small compared to a full academic semester.
But neither NSHE nor any of its eight institutions track vaccination status of students or employees, and Labus said that the likelihood that many college students still remain unvaccinated remains high.
"We know that the younger people are, the less likely they are to get vaccinated," Labus said. "With college students, we're talking about 18 to mid-20s or so, and so that's the group with low vaccination rates. So I would expect it to be lower than the average for our overall community."
The system announced in May that it would explore the possibility of a vaccine mandate for NSHE students. But such a mandate — which, months later, does not exist in any form in Nevada and has not moved past the internal planning stage — would be contingent almost entirely on the formal approval of the vaccines by the FDA and a lifting of the current emergency use authorization.
Only then would the system pursue any kind of vaccine requirement, likely through an existing state law that allows schools to require vaccines for other illnesses, such as the measles, mumps and rubella or tetanus vaccines.
As a result, such a requirement would come not through NSHE or through regents, but through the State Board of Health, which decides which vaccinations are or are not required for enrollment.
The ultimate legality of college vaccine mandates is still being tested in the courts. But proponents of college-level mandates won a key victory this week when a vaccine requirement at Indiana University was upheld by a federal judge.
Still, with no formal framework in place to enforce a mandate and just weeks left before the start of the semester, any possible vaccine requirement at NSHE institutions would likely emerge sometime in the fall or into the winter.
Concerns remain among some students and faculty that the risk of the pandemic may be higher this fall than was anticipated when restrictions were lifted earlier this year.
"I think that I'm definitely a little nervous coming back to campus, especially because 100 percent capacity is something I haven't seen in a really long time, especially as a student," Caren Yap, a junior at UNLV and the university's student body president, said. "I haven't completed a full year of college without COVID. So it's just unprecedented territory for me."
Yap said she was hopeful, however, that careful planning and vaccine outreach could avoid campus-shut downs or large outbreaks.
In going remote, she said, the university lost not only the benefits of face-to-face teaching, but also nearly all of college's extracurriculars — sports, residence halls, events, and more. In coming back, Yap pointed not only to an opportunity to bring those experiences back for thousands of students — including many who have never stepped foot on UNLV's campus — but also a long-awaited justification for tuition and fees costs that have only grown larger.
"I think it's very frustrating to see that tuition increase," Yap said. "And as long as we transition back into person, I don't think that this increased price will get any easier, but I do think that it'll at least be more worth the money compared to logging on to Zoom for however many hours a day, staring at a screen."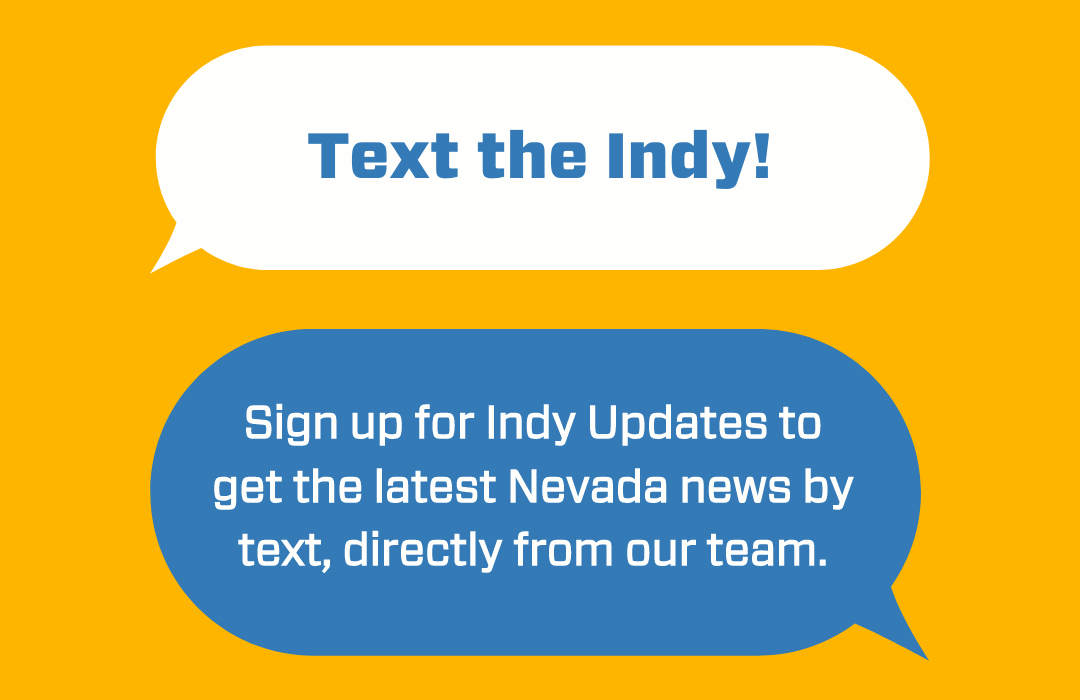 Featured Videos