Breaking decades-long norm, Nevada's competitive governor's race unlikely to feature debate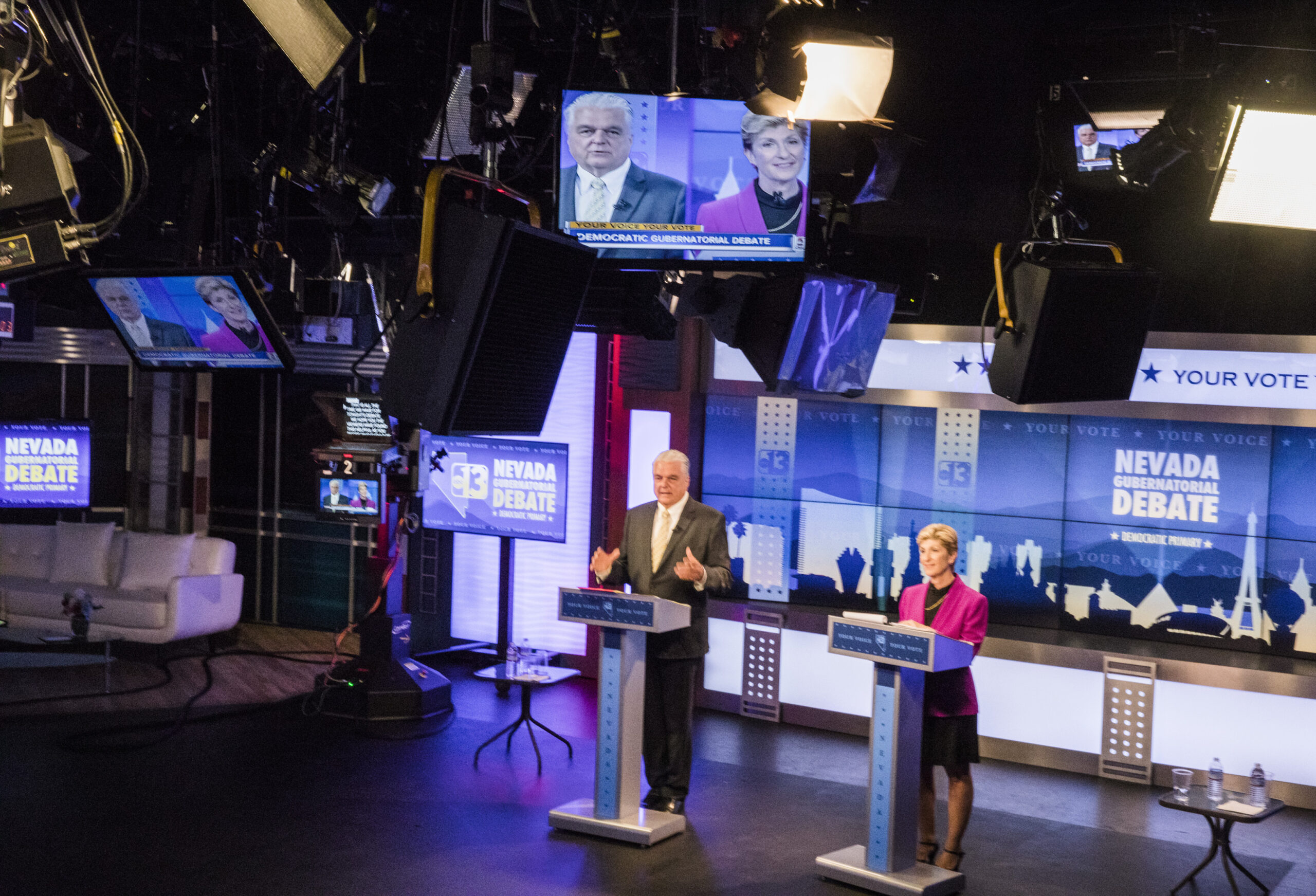 Nevada voters are about to weigh in on a governor's race that's closer than any has been in decades, with implications for the health care of hundreds of thousands of people and the future of public education.
But Election Day will come without a major rite of passage for candidates to such a consequential race, and especially one polling within the margin of error. It will be the first time in more than three decades that there hasn't been a debate in a competitive Nevada gubernatorial race.
"I think it's a travesty that a debate is not going to occur," said professor Jacob Thompson, who coaches UNLV's award-winning debate team and teaches a class on political debates.
With a week left until early voting, negotiations about a debate have devolved into accusations that the other side isn't coming to the table. The Adam Laxalt campaign says the GOP nominee accepted a debate hosted by the Las Vegas Review-Journal two months ago and the Steve Sisolak campaign didn't tell them until too late — early this month — that the Democrat wouldn't do it.
"There are 34 days to go, and we're going to focus on talking straight to the voters without playing Steve Sisolak's games," Laxalt campaign manager Kristin Davison told the Review-Journal.
The Laxalt campaign did not return messages seeking further clarity on the debate situation or whether the campaign would accept an alternative debate Sisolak has agreed to with CBS affiliate, KLAS-TV. Earlier, spokesman Parker Briden told the Review-Journal that the Laxalt campaign was not moving forward with other debates until they received word about the Review-Journal debates and said Sisolak's rejection of it came at "the last second."
The Sisolak campaign has questioned the potential fairness of a debate hosted by the Las Vegas Review-Journal, which is owned by the family of Republican megadonor  Sheldon Adelson. The paper has also run a series of pro-Laxalt editorials, culminating with an endorsement on Friday.
"We accepted a fair debate with Nevada's CBS affiliates and Univision," said Sisolak campaign spokesman Grigsby Crawford. "It's disappointing Adam Laxalt does not believe a debate is important enough to come to the table and move forward."
Compare that to 2010, where candidates Republican Brian Sandoval and Democrat Rory Reid faced off in three televised debates and one joint appearance that turned into an impromptu debate. Debates were also held between gubernatorial candidates in 2006, 1998 and 1994. Candidates in the state's other top race, for U.S. Senate, are scheduled to debate on Friday.
Thompson says he sympathizes with the Sisolak campaign's position.
"If I only let my teams debate against other schools in front of the primary funder of our debate team, I think that other schools would have an argument to make about that being potentially unfair," he said.
But Eric Herzik, a political science professor at UNR, says it appears both sides are trying to avoid a matchup.
"I think it's overstated," Herzik said of Sisolak's argument, "but it's a plausible excuse for Sisolak. Because even though I think Laxalt is more than happy to not debate, I don't think Sisolak is knocking on the door saying 'let's debate.'"
Both sides have a lot to lose in a debate, he said.
"It's easy to blame Laxalt. He isn't that accessible to the press … Laxalt tends to talk to supportive groups and is very scripted on his talking points, so the debate format is not kind of his strength," Herzik said. "But Sisolak can come out very combative and might not fare very well in a debate."
The case for debates
Thompson says debates fill a void that can't be accomplished in other communication formats, such as press releases or speeches.
"The debate tells you really important things that normal campaign messaging never can," he said. "Number one, it tells you about the quality of the candidates' mind, their ability to think on their feet, to put together coherent sentences that could potentially inspire or not, and their ability to handle pressure, which is really an important question in a race for an executive office."
He also noted that televised debates reach an audience wider than any other in-person appearances, and that voters leave them more informed than they came. He pointed to research that shows about half of viewers in presidential debates say that it was the instance where they learned the most about the candidates. They also do better in pre- and post-debate tests about the candidates.
"So voter education about candidates' policy positions and their character is demonstrably higher following a single debate," Thompson said.
And then there's the benefit for the candidates of preparing for a debate.
"One of the greatest parts about debate preparation, is that if you're doing it correctly, you work hard to see both sides of the argument," Thompson said. "Republicans have some good ideas, Democrats have some good ideas, there ought to be things they can work together on ... and debate preparation is a good way to do that."
Some political scientists believe that while the overall effect is small, debate performance in presidential contests has an unmistakable impact on overall poll numbers. But Herzik is skeptical that it would change the outcome of a race.
"The debates have really become so scripted and the candidates are now so practiced to stay on their talking point that ti's rare to get the faux pas that hurts one of the candidates," he said. "It takes a major error that then takes the campaign off of its message not necessarily in the debate but in the following week."
A changing campaign landscape
Social media has also given candidates more ways to talk to their base, potentially removing pressure to debate.
"In the past … a televised debate was the primary means to get a direct conduit to voters, outside of 30-second commercials," Herzik said. "Now you have social media, you have all the external groups spending. There's no lack of seeing these candidates."
Laxalt has released a trio of detailed written policy platforms on economic development, education and health care, although not in an open venue where the press was invited to ask questions of it. Sisolak has released a health care platform, and held some roundtables on topics including criminal justice reform and domestic violence prevention, although campaign staffers have cut short time for journalists to ask questions.
"Those are poor substitutes for debates, honestly," Thompson said. "We're missing out on a very unique messaging format … Most important about the format is it is comparative — we don't ever get to see the candidates side by side except in a debate."
Sondra Cosgrove, president of the League of Women Voters of Nevada, said candidates need the heat turned up. She wants to see them communicate with voters rather than communicating at them.
"I want to see someone under pressure, to get a question they're not expecting," she said. "If you're going to run for office I want to know how you're going to deal with unexpected events, how you're going to behave when you're under pressure — because we've seen people that seemed reasonable when they're running and then they get into the office and lose it."
Still, the national League of Women Voters has raised concerns about the increasing limitations on debates since at least 1988. That's when league President Nancy Meuman announced that the group wouldn't be participating in presidential debates because the parties' demands and restrictions on the forum were squeezing all the risk out of debates.
Cosgrove said her chapter doesn't even attempt to organize debates anywhere because the campaigns' demands are so onerous, if they don't reject debates point blank. She said she now advises her members to track down candidates at events and ask them questions one-on-one.
"So then the burden is being shifted over to the voter," she said. "Now I have to spend a ton of time tracking down every single candidate to ask them a question."
Laxalt did debate his Democratic opponent Ross Miller twice in his 2014 race for attorney general. One of those included what Herzik described as a faux pas on Miller's part, in which the Democrat questioned Laxalt's military service by suggesting "it seems like you were processing paperwork."
But it appears Laxalt will avoid any debate vetting this cycle.
While Sisolak faced off with his primary opponent Chris Giunchigliani in two televised debates this spring, a scheduled Republican primary debate including Laxalt fell apart and was eventually replaced with four consecutive, 12-minute, one-on-one interviews with candidates. Campaigns for Republican underdogs Jared Fisher and Dan Schwartz accused Laxalt's campaign of orchestrating the inclusion of perennial candidate Fred Conquest, which became a poison pill and led to the ultimate demise of the debate.
So are debates dead? Thompson hopes voters won't stand for it.
"One thing that I hope is that there will be increased public pressure for debates in the state. This could potentially lead to people demanding that their candidates participate in at least one debate in order to be eligible to receive the nomination or something like that," Thompson said. "I also think people that support the candidates should call the campaigns, call the candidates, email them that they want a debate in front of a neutral arbiter."
Cosgrove said the future of vigorous, revealing debates is unclear, with powerful political parties willing to go to great lengths to ensure their candidate is insulated from potential gaffes.
"I think it's going to be up to the voters to decide how they feel about that," she said. "If it upsets them, do they want to speak out about it? Are they going to punish one of the candidates by not voting for [them]? At the end of the day I don't think that's going to happen."
***
DEBATES IN PAST NEVADA GOVERNOR RACES
2018 - DEBATE UNLIKELY: Republican Attorney General Adam Laxalt faces off in a tight race for the open governor's seat with Democratic Clark County Commission Chair Steve Sisolak. Polls have the race within the margin of error.
Sisolak proposed in June that the two meet up for a series of three individual debates, including one in Northern Nevada, one in Southern Nevada and one hosted by a Spanish-language outlet.

Laxalt's campaign

announced in August

that he accepted the invitation of the

Las Vegas Review-Journal

, Spanish-language network Telemundo and KSNV Channel 3 — the Las Vegas NBC affiliate owned by Sinclair Broadcast Group — for a debate that will be broadcast in Las Vegas and Reno on Monday, Oct. 15. The

Las Vegas Review-Journal

is owned by the family of Laxalt benefactor Sheldon Adelson.

Sisolak's campaign

announces

Oct. 3 that it declined the debate Laxalt accepted, but is accepting a debate with KLAS: "While we appreciate the invitation from the Sinclair station (Channel 3) and the

Las Vegas Review-Journal

, the continued skewed coverage of our campaign from the

Review-Journal

's editorial page quickly proved that we would not be walking into a fair debate," Sisolak campaign spokesman Grigsby Crawford said.
2014 - NO DEBATE: Gov. Brian Sandoval faced Democrat Bob Goodman, who emerged after Democrats failed to filed a serious contender and who garnered fewer votes than "none of these candidates" in the primary. There were no debates. Sandoval won in a landslide.
2010 - DEBATES: Republican Brian Sandoval and Democrat Rory Reid face off in at least three televised debates, and turned at least one joint appearance into an impromptu debate.
2006 - DEBATES: Democrat Dina Titus debates Jim Gibbons.
2002 - NO DEBATES: Republican incumbent Kenny Guinn, seeking re-election, does not debate Democratic state Sen. Joe Neal. Guinn won the race with 68 percent of the vote.
An Oct. 13 story in the

Review-Journal

notes "a dearth of donations is making it impossible for Neal to buy advertising. He wants to debate Gov. Kenny Guinn on television, but stations so far have turned him down, writing the race off, he said."
1998 - DEBATES: Republican Kenny Guinn debates Democrat Jan Laverty Jones. Guinn won the race with 52 percent of the vote compared with Jones' 42 percent.
1994 - DEBATE: Incumbent Democrat Bob Miller debates Republican challenger Jim Gibbons. Miller won the race with 53 percent of the vote to Gibbons' 41 percent.
1990 - DEBATE: Democrat Bob Miller faced Republican Jim Gallaway. Miller won the race with 65 percent of the vote compared with Gallaway's 30 percent.
1986 - DEBATE: Democrat Richard Bryan faced Republican Patty Cafferata. Bryan won easily, 72 percent to 25 percent.
This story was updated at 10 AM to reflect that both Miller and Bryan had debates.
The Nevada Independent is raising $200,000 by Dec. 31 to support coverage of the 2024 election.
Tax-deductible donations from readers like you fund this critical work.
If you give today,your donation will be matched dollar-for-dollar.
Give + Get Matched
Featured Videos