DeSantis joins Nevada Republican caucus; Haley to run in primary
The Florida governor's decision comes after a super PAC supporting DeSantis sharply criticized caucus rules adopted by the state party.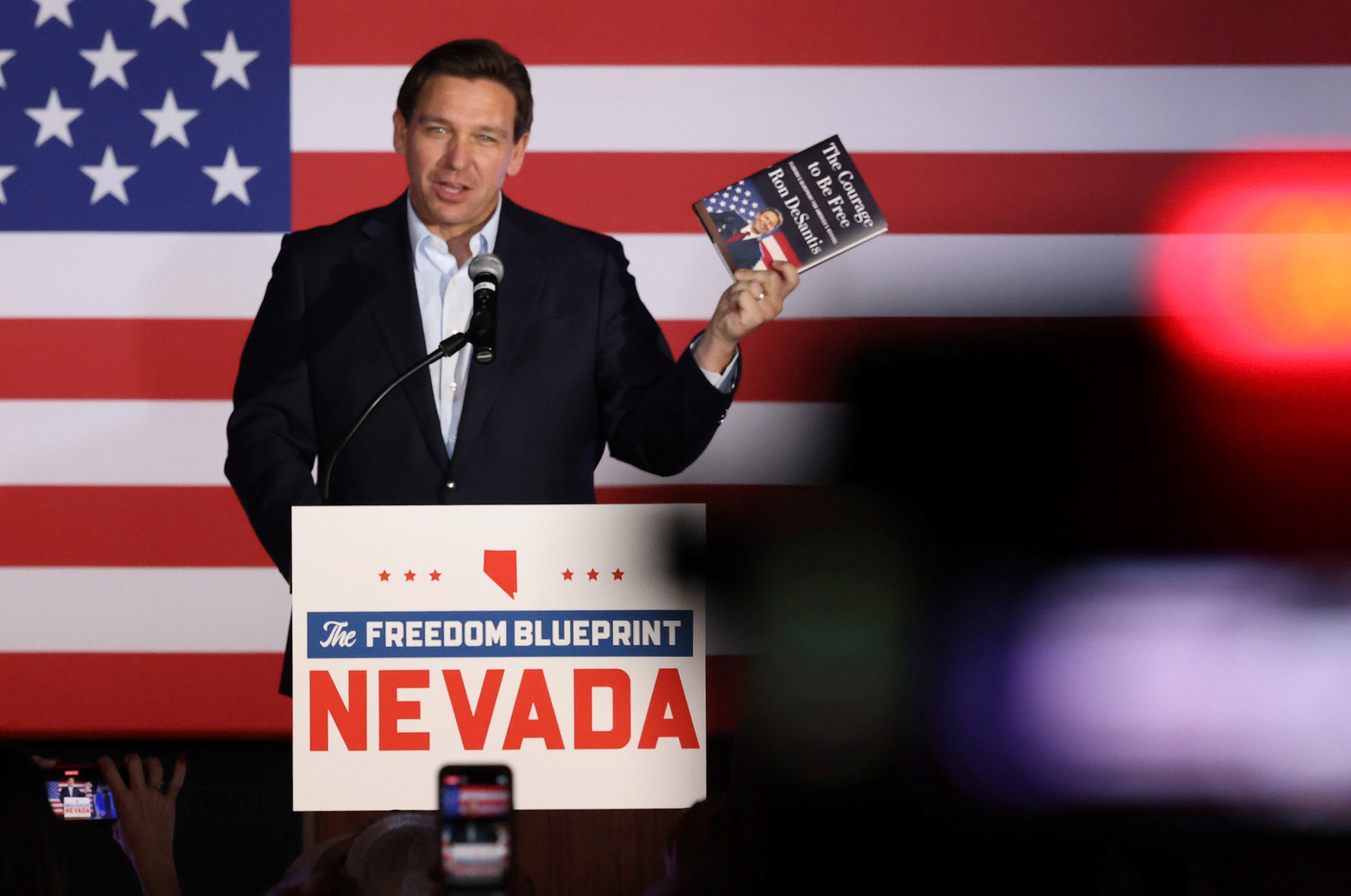 Florida Gov. Ron DeSantis has filed to run in the Nevada Republican Party's presidential caucus, his campaign told The New York Times in a story published Sunday.
His decision to skip out on the state-run presidential primary will allow DeSantis to win delegates in the party-run caucus, depending on how he performs in a contest that also includes former President Donald Trump. A campaign spokesperson told The New York Times that "DeSantis is committed to earning every single delegate available."
Meanwhile, former South Carolina Gov. Nikki Haley intends to file for the state-run primary, NBC News' Natasha Korecki reported. Haley's decision will leave her unable to win any delegates in Nevada, but could allow her to win a statewide presidential nominating contest that does not include Trump and DeSantis on the ballot.
A 2021 state law passed with Democratic and some Republican support requires Nevada to hold a presidential primary election if more than two candidates file to run with the secretary of state's office. Though the Nevada Republican Party plans to allocate delegates via results of the caucus (which will be held two days after the primary in February), some candidates have nonetheless opted to file for the Trump-free primary.
The filing periods for the caucus and primary both end Monday. That marks an extension for the caucus, after the Nevada GOP originally set Sunday as the close of the filing period, Nevada GOP Chair Michael McDonald told The Nevada Independent.
State GOP leaders have sought to pressure candidates to enter the party-run caucus and eschew the state-run primary. That includes adopting rules that prevent any candidate filing in the caucus from also filing in the primary, as well as limiting delegate allocation only to candidates in the caucus.
The pro-DeSantis Never Back Down super PAC has also sharply criticized rules adopted by the Nevada GOP that would exclude PACs from engaging in electioneering during the caucus itself, a rule PAC spokespeople have charged is designed to hamper Trump opponents. At the end of August, Never Back Down ended its door-knocking operations in Nevada, NBC News reported.
Other major candidates have split on whether to chance the primary or commit to the caucus.
Trump committed to the caucus process early, amid media reports that his campaign was behind the push to box out DeSantis' super PAC. He joins entrepreneur Vivek Ramaswamy, former New Jersey Gov. Chris Christie, North Dakota Gov. Doug Burgum and DeSantis.
Former Vice President Mike Pence, however, became the first major candidate to opt for the primary on Thursday. He was followed shortly after by Sen. Tim Scott (R-SC). Both candidates have seen their campaigns sputter into the fall, with particular struggles for Pence, who has struggled to fundraise for two consecutive quarters amid ballooning campaign debt.
Arkansas Gov. Asa Hutchinson, who has polled far behind other major candidates in the race, has not yet filed for either contest.
Find the complete list of candidates who have filed for each presidential nominating contest, including the Democratic primary, here.
Update: Oct. 16, 2023 at 11:37 a.m. — This article was updated to reflect Nikki Haley's decision.
The Nevada Independent is raising $200,000 by Dec. 31 to support coverage of the 2024 election.
Tax-deductible donations from readers like you fund this critical work.
If you give today,your donation will be matched dollar-for-dollar.
Give + Get Matched
Featured Videos